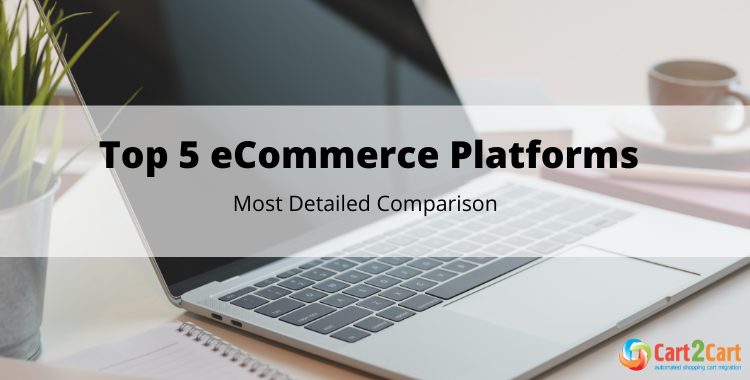 Choosing the proper eCommerce platform can be challenging. Currently, the market offers you thousands of options. Thus, to make the store profitable, you have to pick the shopping cart that meets your basic needs, and provides you with all the necessary functionality. In today's post, we'll compare the top trending eCommerce solutions based on five categories. Which one will appear to be the best choice for you? Read on to know the difference between Shopify vs Magento vs WooCommerce vs OpenCart vs PrestaShop.
Top eCommerce platforms compared:
Shopify vs Magento vs WooCommerce vs OpenCart vs PrestaShop: In Search of the Best eCommerce Platform

Let's start our eCommerce platforms' comparison with one of the industry leaders - Shopify.
Shopify is a hosted shopping cart. Thus, all the code issues are handled directly by Shopify. Nevertheless, it gives you full control over the coding of your online store(HTML & CSS).
Today Shopify is one of the best and most reliable eCommerce software that serves 2,042,854 live websites worldwide. If you are looking to build a complex yet easy-to-use online web store, Shopify is exactly what you need. It is a "pure" eCommerce builder.
Being one of the most dynamically developing eCommerce solutions, Shopify is famous for implementing groundbreaking and unique features. Due to its integration with Amazon, users can add the latter as a sales channel and sell products from Shopify Admin panel. Besides, Shopify Buy Button helps sell products via WordPress, Wix, Weebly, tec.
#User-friendliness
Shopify is super user-friendly. It's a drag-and-drop interface, simple tools, easy theme editing to ensure a seamless user experience even to eCommerce newbies. Polished and stylish, Shopify admin panel is an excellent example to be followed by other eCommerce market's solutions. Moreover, the platform has a simplified checkout process which makes the customer experience even more trouble-free.
#Price and extra costs
Shopify offers merchants a 14-day free trial. Monthly subscription cost starts from $29 for basic plan. Please note that you'll also have to pay the credit card rate - maximum is 2,9%+30 cents per purchase (depending on your pricing plan).
The other option is to use online payments. Transactions via the Shopify payment system will be free of charge, yet get ready to pay up to 2% for using external payment gateways, e.g., PayPal. Therefore, maintaining a store can be a bit expensive, since monthly fees will scale up with the revenue growth.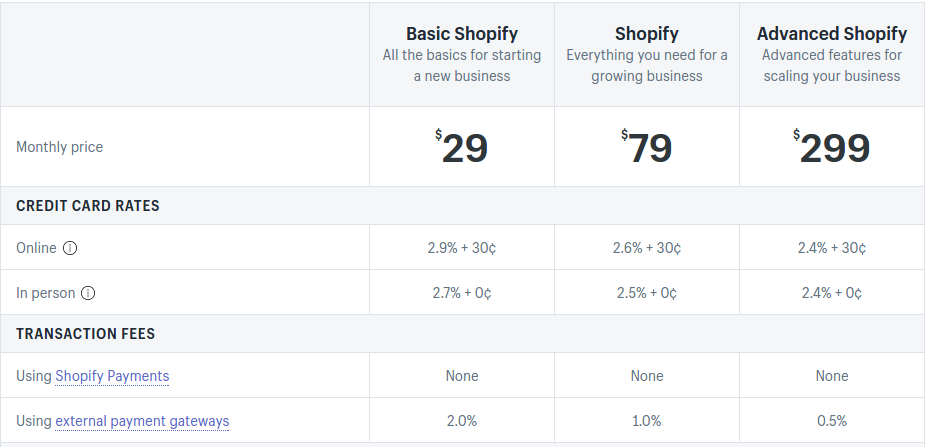 #SEO
Shopify is highly SEO-optimized. All the pricing plans include the basic SEO features: editable title tags, meta descriptions, pages URLs, ALT tags for images, customizable image file names, etc.
According to the eCommerce Platforms research, Shopify SEO score is 98 out of 100.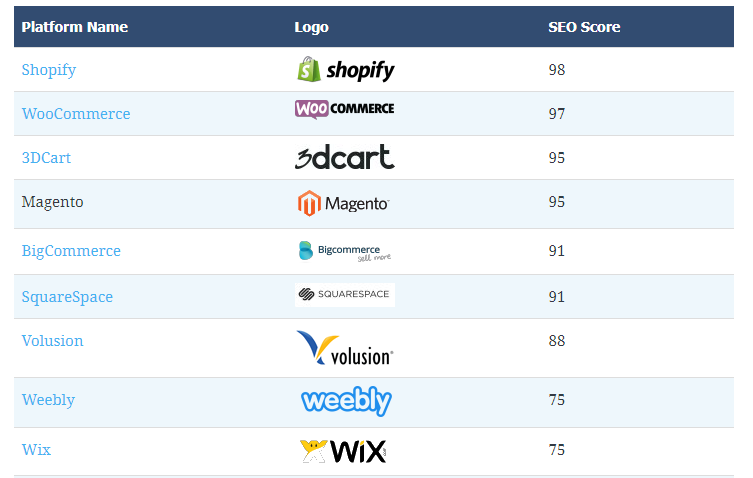 #eCommerce Templates and Design
Shopify has a huge theme store with numerous beautifully designed and responsive e-business templates. But since Shopify is a hosted shopping cart, the customization options are a bit limited.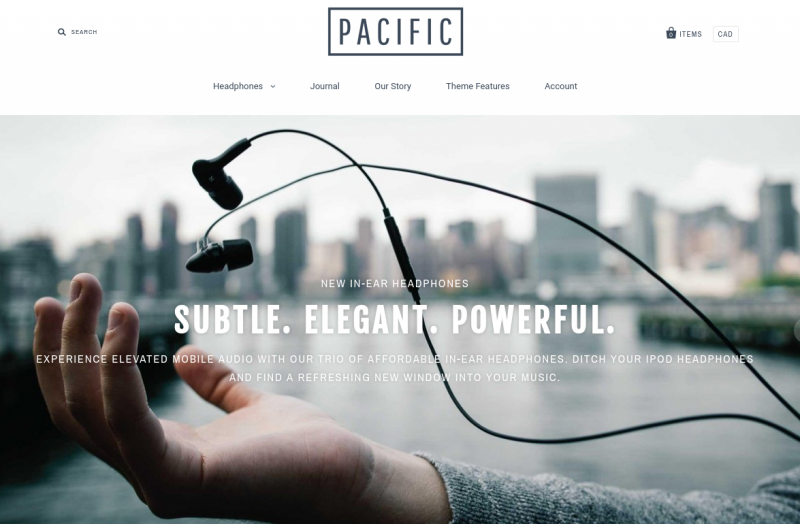 Currently, Shopify offers users 9 free and 70 paid templates. The prices for the premium ones start from $100.
#Customer Support
Client servicing is one of Shopify's strongest points. The company offers 24/7 responsive customer support via email, phone, live chat, and online forum. In case anything happens to your store, you will surely get someone to solve the issue.
Besides, Shopify offers merchants different guides and tutorials available in the Help Center.
Do you want to switch to Shopify from another platform? Perform an automated free Demo migration in just 30 min.

Magento is the next one in our Shopify vs Magento vs WooCommerce vs OpenCart vs PrestaShop.
Currently, Magento is the most flexible eCommerce platform on the market. Being literally a masterpiece of software craftsmanship, it offers nearly unlimited possibilities for tech-savvy store owners.
As of June 2020, the company stopped the official support of all the Magento 1.x versions. Therefore, the store owners need either migrate to Magento 2.x or look for some decent alternative.
The platform supports multiple currencies and tax rates per location, product type, or customer group. It easily integrates with different payment systems, e.g., Paypal, Stripe, Amazon Payments, etc.
Moreover, Magento comes with a professional look and well-organized categories. It offers the top-notch eCommerce functionality and lots of options for building an ideal e-store. Every detail is taken into account: from promotions to private sales and customer segmentation.
As mentioned above, Magento is a fully open-sourced platform with an extended plugin architecture. This eCommerce solution allows you to modify the code and extend the store's functionality with unlimited custom features.

#User-friendliness
Magento, unlike Shopify, is not that user-friendly. With the release of Magento 2, the platform became much more comprehensible, but still, it is rather an obscure solution. Magento is not the best option for those who have only basic or limited tech knowledge. But if you decide to choose it for your store, get ready to learn the basics of this platform.
#Price and extra costs
When it comes to pricing, Magento Commerce 2 is free to download and use. Furthermore, you don't need to pay any monthly subscription. It is the perfect choice for small or medium-sized businesses.
Another option is Magento EE or the Enterprise Edition. It is ideal for large businesses, and the price depends on the size of your store. To find out the exact pricing, one needs to contact Magento specialists.
Users should keep in mind that even though Magento is free, lots of its plugins are available for an extra cost. Furthermore, you'll need to pay a monthly fee to a hosting provider. Business owners should also buy a domain name and SSL certificate. Considering Magento's resource intensity, it won't be cheap.
Shopify Lite Review 2021: Affordable Alternative for Your Business
#SEO
When it comes to SEO, Magento is one of the leaders in the Shopify vs Magento vs WooCommerce vs OpenCart vs PrestaShop battle. The platform is extremely SEO-optimized and offers all the necessary functionality to end up high in search results. But don't forget that nothing comes "preconfigured" with Magento. So, you'll need to learn all the tips and tricks of the optimization principles.
Lots of SEO settings are available in Magento out of the box. These include meta tags for products and home pages, images optimization, canonical tags for categories and products, edits of robot.txt files, etc.
In fact, according to eCommerce Platforms research Magento SEO scores 95 out of 100, and that is great result!
#eCommerce Templates and Design
Due to its popularity, Magento has a wide range of templates. All the Magento Marketplace themes are user friendly, customizable and responsive to any devices. They look impressively attractive.
Currently, there are 10 templates available at the Magento Marketplace. You can find both free (1) and paid templates (10). The price for the paid ones starts from $30.
Additionally, it is possible to download amazing free/paid Magento themes from other marketplaces, e.g., ThemeForest or Template Monster.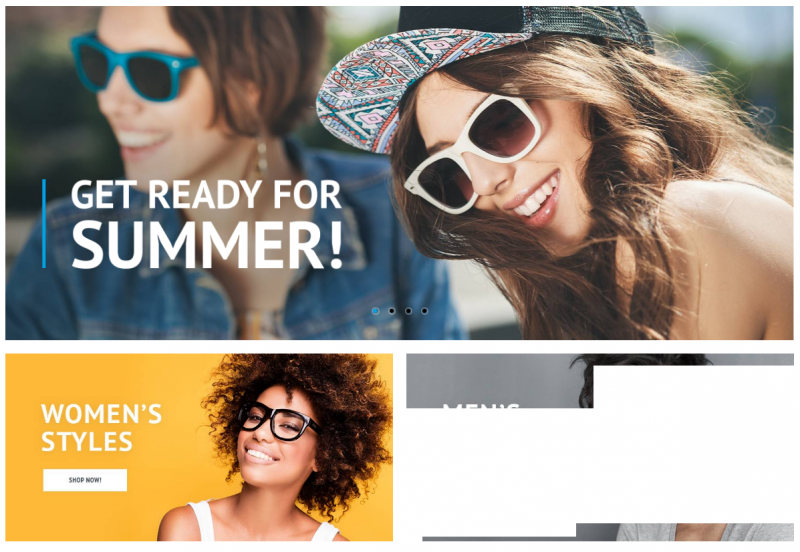 #Customer Support
Using an open-source platform requires you to deal with all the arising issues yourself. However, lots of additional information can be found on the official website, Magento Help Center, and blog. Unfortunately, due to the free and open-code nature, Magento users can not get help via live chat, phone, or email.
Luckily, Magento has an extensive developer community. It includes answers to nearly every platform-related question. Besides, users of paid Enterprise Edition may count on Magento technical support. It will deprive them of searching the answers on numerous community forum threads. Also, Magento provides specialized free educational courses, which could help understand the platform's features better.
Wish to perform Magento migration and gain the highest flexibility? Try out a Free Demo migration to Magento with Cart2Cart.

Now we will continue our Shopify vs Magento vs WooCommerce vs OpenCart vs PrestaShop comparison with the most popular eCommerce plugin - WooCommerce.
WooCommerce is among the world's most respected shopping carts. It comes as a free plugin to the industry's dominating content management system WordPress. WooCommerce is a perfect solution for those who want to build an online store from the ground up or start selling products using their existing WordPress blog or website.
Currently, WooCommerce is home to 2,957,113 live websites.
WooCommerce is a highly flexible and adaptable open-source solution. Therefore, its code is freely available for users to view, modify, and contribute.
The plugin has all the essential eCommerce features, e.g., numerous product types, payment gateways, delivery settings, tax control, stock tracking, coupon system, discount coupons, etc. Also, it is fully compatible both with WooCommerce native plugins and WordPress extensions and themes. WooCommerce itself offers a wide range of official extensions and templates.
#User-friendliness
WooCommerce can boast of a high level of user-friendliness and ease of use. However, to set up a store will be more challenging when compared to Shopify.
Since WooCommerce is a plugin, not a subscription-based solution like Shopify, you'll need to handle a couple of things before setting up a store. However, WooCommerce is less complicated and easier to use than Magento. Once the plugin is installed and activated, you'll get an intuitive and powerful interface with an onboarding wizard. It consists of five steps and takes you by the hand through every crucial element.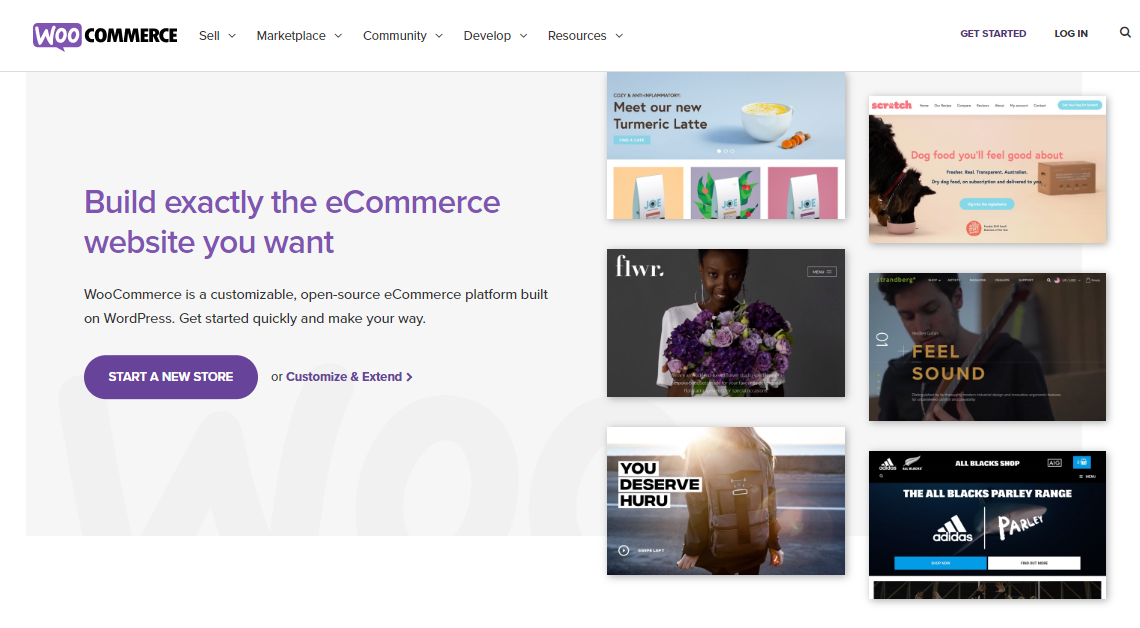 #Price and extra costs
Given that WooCommerce is a free eCommerce plugin, it receives constant free updates. But if you need more than just basic options, the company offers priced extensions for SEO, payment gateways, marketing, shipping, store management, etc. Their price ranges from $19 up to $249. Additionally, business owners have to take care of the web hosting and domain.
#SEO
Due to a wide range of customizations and access to the store's source code, WooCommerce is totally SEO-friendly.
The main advantage of WooCommerce is the highest level of WordPress content integration and the availability of third-party plugins. As a result, it provides users with specific options and unlimited SEO potential.
As for the SEO rating, WooCommerce scores 97 out of 100 in the eCommerce Platformssurvey.
#eCommerce Templates and Design
When it comes to design, WooCommerce has a serious advantage over Shopify and Magento. Setting aside specifically-designed WooCommerce themes, you can make any WordPress theme work with your plugin. There are numerous templates available on the web.
Therefore, you can choose any of the WordPress themes, and integrate it into your WooCommerce store.
Besides, it is possible to find beautiful templates on the various third-party websites (e.g., ThemeForest). Please note that you can customize every theme to meet your store's needs and requirements.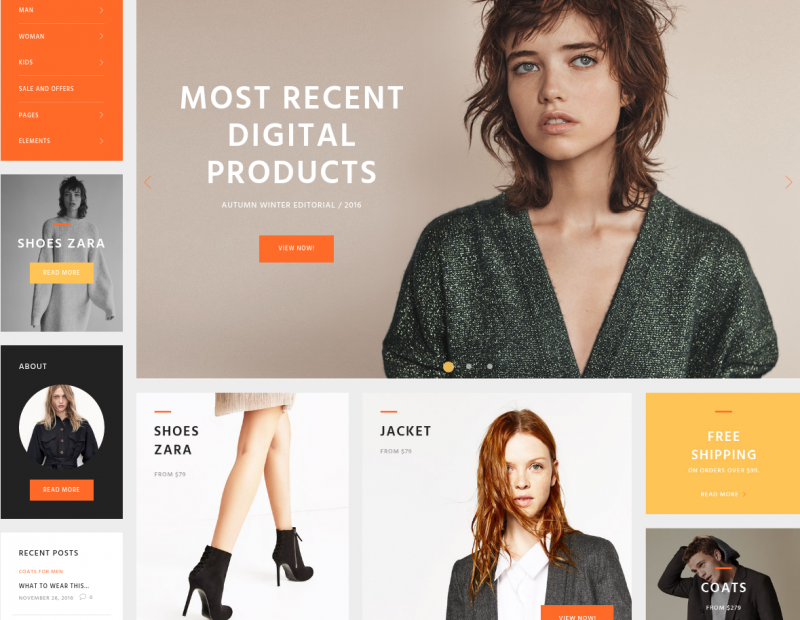 If you're building a WooCommerce store from scratch, we advise you to use the default theme called Storefront (it is available for free). It focuses on all the important elements of an eCommerce store and helps you create an effective selling strategy.
#Customer Support
As we've already mentioned, you can download the WooCommerce plugin for free. Therefore, the company doesn't provide its users with the direct customer support. Similar to Magento, you can edit the source code and try to solve issues on your own. Alternatively, there's a possibility to appeal to numerous WordPress forums and blogs. Also, WooCommerce has an extensive Documentation page and lots of useful guides.
Are you impressed with WP plugin? If you wish to launch a WooCommerce import,start a Free Demo migration now and meet your perfect match just within 30 min.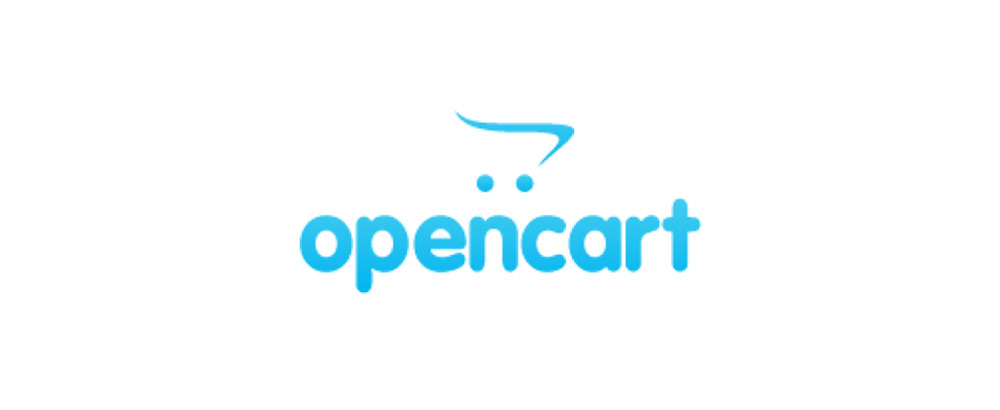 OpenCart is the next solution in our in-depth Shopify vs Magento vs WooCommerce vs OpenCart vs PrestaShop comparison.
Being a free open-source platform, OpenCart will be a perfect fit for small to medium-sized businesses. This software is based on PHP, therefore any merchant with a background in that programming language would benefit from it.
The platform follows a core-extensions model. So, if you need to enhance the overall functionality, get ready to install some add-ons. Fortunately, OpenCart has an enormous range of extensions available at the Extensions Store.
This shopping cart can boast of an impressive speed due to the AJAX technology. OpenCart is loaded with all the basic functions necessary to run an eCommerce store.
What's more, OpenCart multi-store function allows its users to manage and monitor multiple stores from a single admin panel. Also, the solution allows customers to have shopping cart facilities, upload unlimited products, categorize them, etc.
Another of OpenCart's prominent features is the ability to work with multiple languages and currencies. It makes this platform really great for market expansion.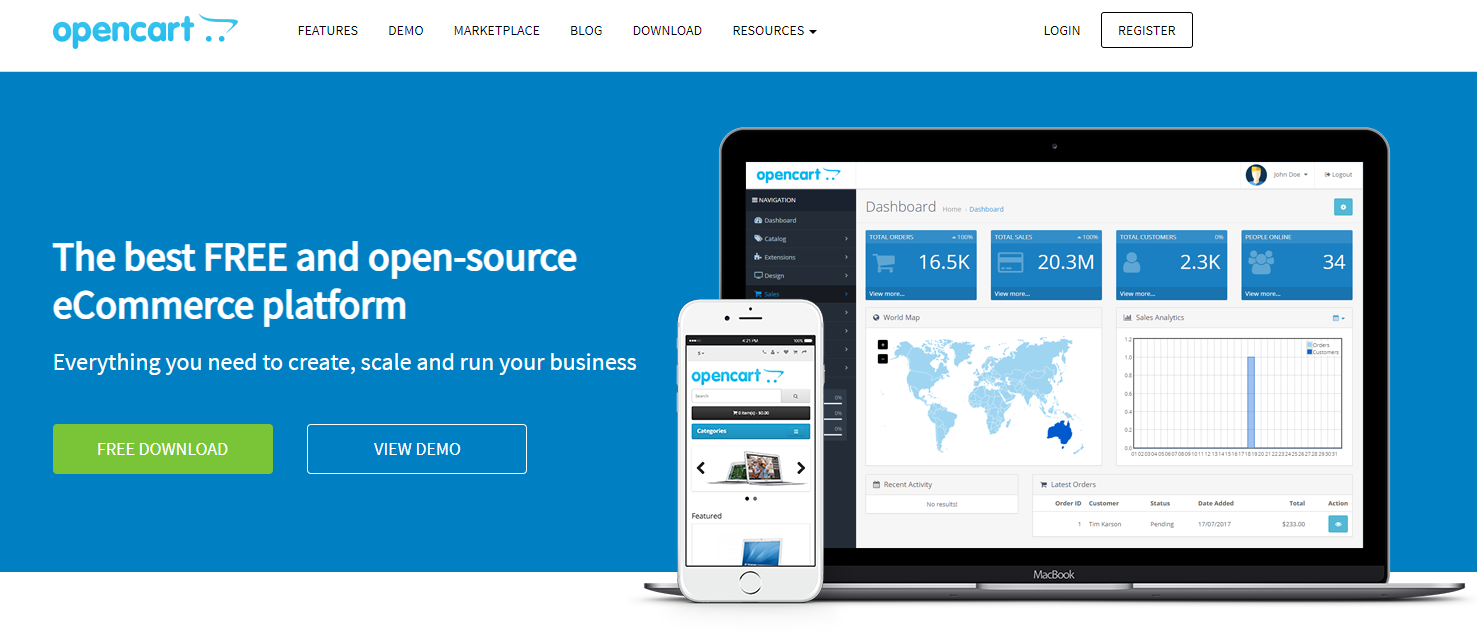 #User-friendliness
OpenCart is rather a user-friendly and effective platform. It comes with a highly intuitive and well-designed interface. It's easier than Magento, though a bit more challenging to use than WooCommerce.
Quick setup process and a responsive interface make the platform an easy tool for non-tech savvy users. You can easily add products, change or edit a store even with limited technical knowledge.
#Price and extra costs
When it comes to open-source platforms, the word "free" sounds a bit tricky. Of course, OpenCart is free to download, use, and even upgrade. However, it doesn't mean that you will run your store with no extra costs.
To begin with, you are responsible for your hosting and security of a store. Therefore, the basic expenses will include a domain name, hosting provider, and SSL certificate. Additionally, you will have to buy various extensions.
If you are willing to try out OpenCart with no downloading, the company offers two free demos. The first one shows how the Storefront looks like. The other provides access to the Admin panel.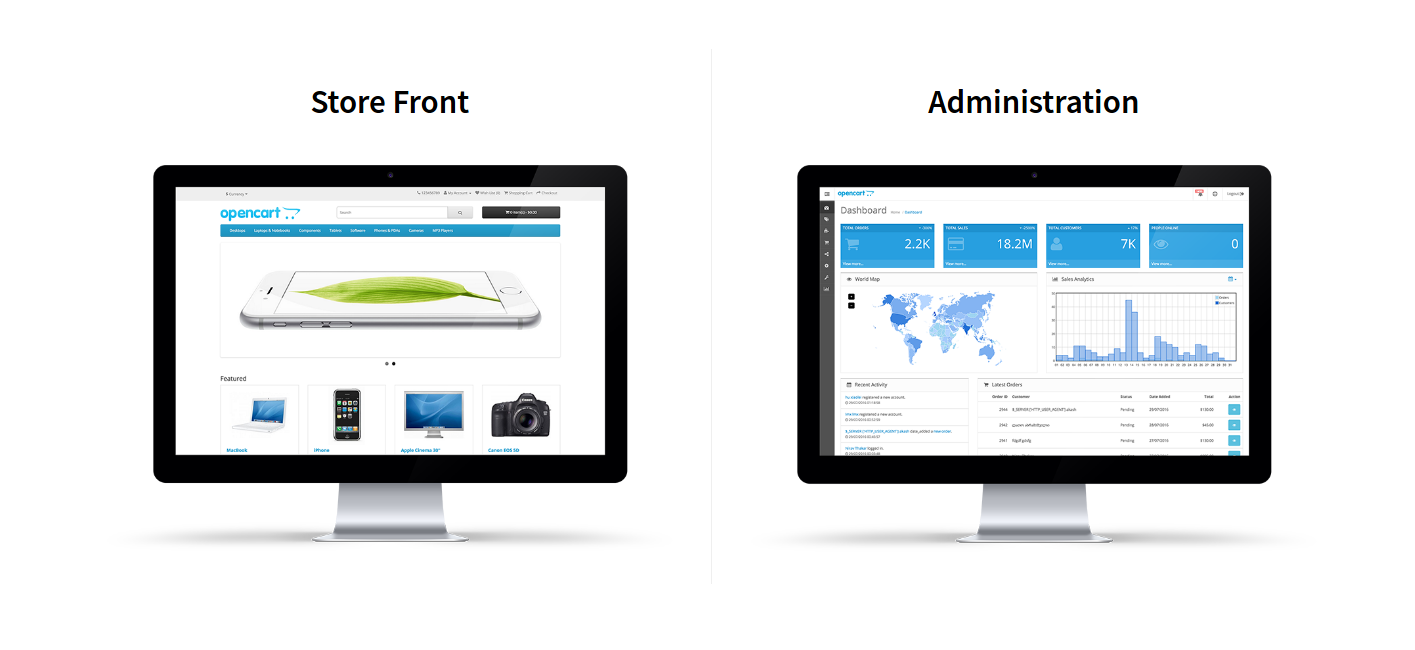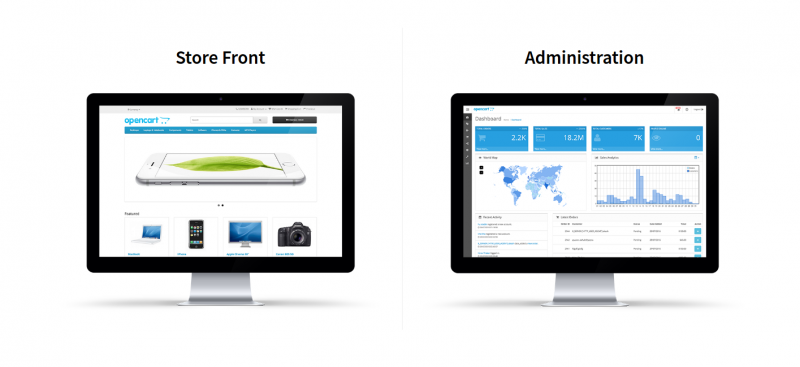 #SEO
When it comes to SEO, OpenCart is neither better nor worse than any other platform featured in our Shopify vs Magento vs WooCommerce vs OpenCart vs PrestaShop comparison. It has all the necessary SEO features you'd expect from a high-end eCommerce solution. OpenCart makes it possible to get your store to the top of SERP pretty quickly.
Store owners can assign meta keywords and descriptions to all product and category pages, title and header tags. Additionally, OpenCart copes well with creating great SEO URLs out-of-the-box. Perhaps, it even surpasses WooCommerce.
There are also many great plugins to boost your store's SEO performance.
#eCommerce Templates and Design
OpenCart offers plenty of professionally designed and responsive themes. There are both free and paid templates available at the Official Marketplace.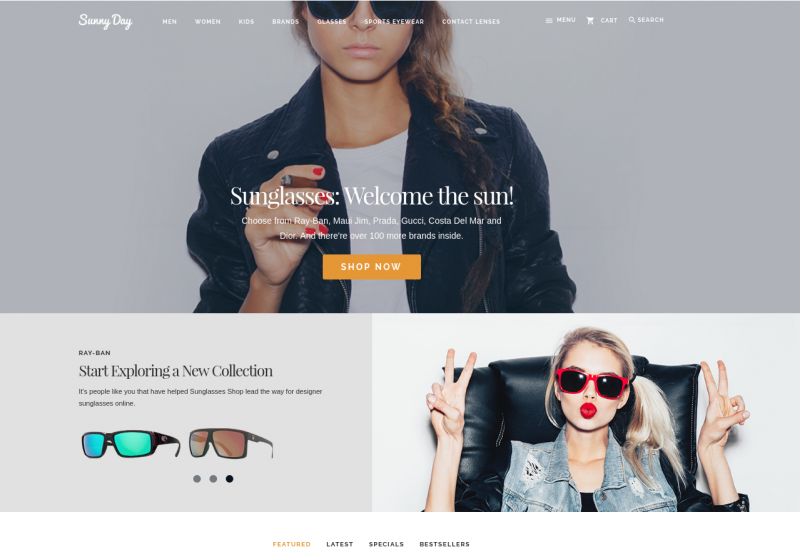 That said, you'd need some basic HTML, CSS, and JavaScript knowledge to apply it to your store correctly. This makes template management a bit more complicated than in WooCommerce or Shopify.
Besides, there are plenty of additional templates available at the 3rd party resources (e.g., ThemeForest, Template Monster, etc.). If you're unsure which one to pick, we recommend you spend some time playing with demo versions before making the purchase.
#Customer Support
The official website provides merchants with extensive documentation, video tutorials, and a blog. Fortunately, OpenCart forums are very active. So, you'll easily find a developer or shopping cart representative willing to answer your questions. Also, it is possible to reach the company's representatives via phone or submit a web ticket module.
Dedicated Support offers two options: One-time fix and Monthly payment. Both cost $99. Follow the link to get more details: OpenCart support pricing.
Captivated by platform's features and want to perform OpenCart migration? Switch your current shopping cart by setting up a free Demo migration with Cart2Cart.
Take your e-business a step forward towards success!
Migrate to any of the described platforms with Cart2Cart just in a few mouse clicks.
Migrate now

The last, but not least in our Shopify vs Magento vs WooCommerce vs OpenCart vs PrestaShop comparison list is PrestaShop - a proud owner of "Cutest Logo Ever" award.
PrestaShop is one of the market's leading shopping carts. It is a happy medium between the complexity of Magento and Shopify's beautiful simplicity. As all the four open-source solutions in our list, PrestaShop takes advantage of a freemium business model. Therefore, it means one main thing - it's free to download and use.
PrestaShop software allows merchants to establish a completely customizable, up-to-date store in a few minutes. There are no license fees or revenue percentages.
According to statistics, PrestaShop has 308,496 live websites worldwide. It is worth mentioning that PrestaShop comes with 500+ already built-in features to start an online business.
Unique features like Intelligent Merchant KPI and Forecasting make PrestaShop's statistical facilities even more impressive. By the way, PrestaShop offers you eCommerce Analytics to evaluate the traffic and make insightful decisions to increase customer conversions and grow the audience.
What is really impressive, PrestaShop has Ebay integration which allows you to export product listings straight to eBay, Amazon, Google Shopping and other popular marketplaces.

#User-friendliness
Building a PrestaShop store from scratch is easy. However, business owners still need to find a reliable hosting and install the software themselves. Once you've started running your store, the daily operations seem to be relatively simple due to an intuitive Admin panel.
PrestaShop has a customizable front end and a simple-to-comprehend back end. Therefore, it is very user-friendly. Also, it is possible to improve the store's internal functionality with extra modules.
The solution has a very sleek and modern dashboard, which provides quick access to all the store's settings and info on its performance. Yet, due to an extensive feature set, we consider it to be less understandable than the ones offered by WooCommerce or Shopify.
#Price and extra costs
Being an open-source shopping cart, PrestaShop is entirely free to download and use. But, you will definitely need to invest some extra money in it.
As any other open-code solution, it requires a paid web hosting. Hosting fees can vary depending on a hosting provider. Also, it is impossible to build a fully-functional store without purchasing several paid modules or a good looking template.
#SEO
PrestaShop has a great and versatile set of in-built SEO features. You can edit each page, add high ranking meta tags and even generate SEO-friendly URLs to make your products recognized by search engines.
All in all, PrestaShop gives you the ability to benefit from URL rewrites, Google sitemaps, canonical URLs, redirects and many other SEO features.
#eCommerce Templates and Design
PrestaShop Official Marketplace offers users over 3,000 web templates. It has the vast selection of customizable eCommerce themes. All the Prestashop templates are of high standard, and their various front-end features ease the shopping process.
It's also worth mentioning that there are lots of templates from the 3d-party developers. The pricing for PrestaShop certified partners' templates starts from around $38.
#Customer Support
With PrestaShop, you may either use the reference materials available on the official website (e.g., FAQs, user guides, training courses, etc.) or choose one of the pre-paid support plans. They include different levels of support, but the pricing is rather high. The least expensive plan is $249 per month for 3 hours of support.
Also, PrestaShop has a diverse user community that comes together to solve problems via different forums and services, and you can always call upon some help with your store.
Moreover, PrestaShop provides its users with expert and comprehensive training materials to ensure that you get your online store's maximum.
Wish to start selling with PrestaShop but don't know where to start? PrestaShop Starter Pack is exactly what you need to launch your ecommerce store and start selling right away.
Which eCommerce platform suits you best?
Bottom line
To sum up, we must admit all the shopping carts in our Shopify vs Magento vs WooCommerce vs OpenCart vs PrestaShop comparison have lots of similar and different stunning features. If you wish to find your perfect match, make sure to consider all your business needs and requirements. Don't rush, test the platform if possible and then make a carefully planned and weighed decision.
In case you feel that your current platform's functionality is not enough for your store, and you wish to change it for one of the 5-top listed, perform the switch with Cart2Cart automated shopping cart migration service
| | | | | | |
| --- | --- | --- | --- | --- | --- |
|   | | | | | |
| Usability | 5 | 3 | 4 | 3 | 4 |
| Pricing | 4 | 3 | 3 | 3 | 3 |
| SEO-friendliness | 5 | 5 | 5 | 5 | 5 |
| Themes and Templates | 5 | 5 | 4 | 4 | 4 |
| Tech Support | 5 | 3 | 4 | 3 | 3 |
| Average Rating | 5 | 4 | 4 | 4 | 4 |
Cart2Cart automated tool will swiftly migrate your eCommerce data e.g., product, orders, customers, categories across platforms.
The migration process is remarkably swift and secure. There is absolutely no need to worry about your e-business performance because the store will be live during the whole migration process, which will last no longer than a few hours.
Are you ready to switch your platform and move the store to another solution? Take your chance and perform a free Demo migration today!