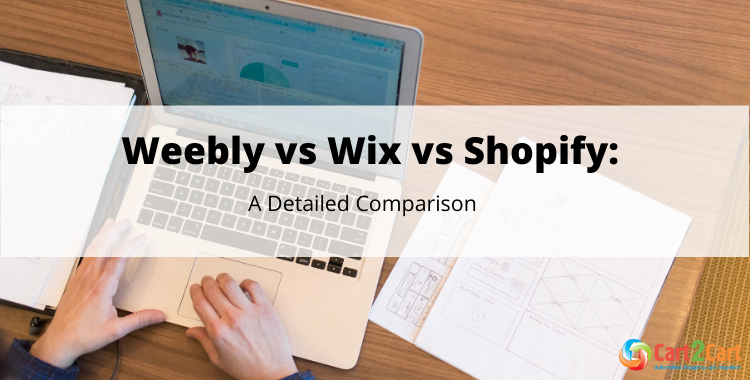 At present, the eCommerce market is full of effective platforms, capable of bringing your online shop into the limelight. Still, some merchants rise to the top, getting everything that they want, and others take places at the back of success, enviously watching. Who do you want to be: an observer or a master of fate, holding all the cards? If the latter, keep reading and be attentive. In this post, we're going to pit Shopify vs Weebly vs Wix against each other to make them take off masks. Fasten belts, guys, the party is getting started!
Imagine web wanderers visiting your site for the first time, what do they expect to get from you? Truly beautiful, functional, appealing, easy-to-use eStore with a lot of options for the optimization of the shopping process, that doesn't need them to spend all day long to find something. Not much, but not a little either. Let's look closer to determine which of these platforms can accomplish such a task.
"Shopify vs Weebly vs Wix: Choose Your Platform" is your comprehensive guide to navigating this pivotal decision. Whether you're a seasoned entrepreneur looking to expand your online presence or a budding e-commerce enthusiast ready to embark on your digital journey, this article aims to shed light on the strengths and weaknesses of these three platforms.
Our goal is simple: to empower you with the knowledge needed to make an informed choice. As we delve into the intricate details of Shopify, Weebly, and Wix, we'll examine their user-friendliness, customization options, e-commerce tools, pricing structures, and more. By the end of this comparison, you'll have a clearer understanding of which platform aligns best with your unique needs and aspirations.
Join us on this exploration through the digital marketplace, where we'll unravel the intricacies of Shopify, Weebly, and Wix, and help you chart a course towards e-commerce success. It's time to choose your platform and embark on your online business journey with confidence.
Brief Intro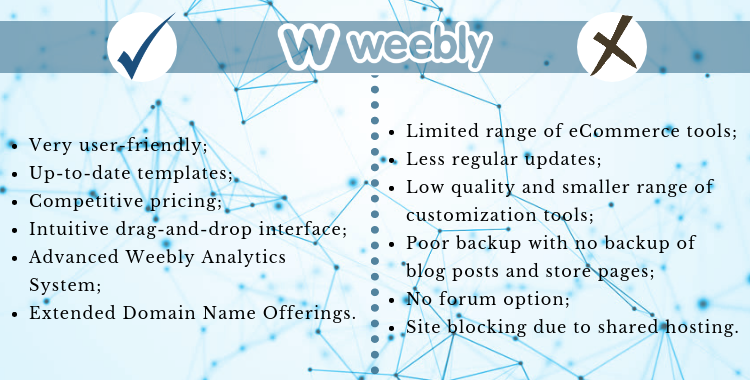 Weebly contains a variety of essential tools that you can use for building a website or store from scratch. Its set of templates now includes a great choice of on-trend mobile-responsive designs. Unlike Wix and Shopify Plus, it allows you to download the full code to your website and customize it, but if you don't have any tech skills, that advantage makes no sense. Weebly also has 40+ pre-designed themes and layouts for every type of store to help you get started. The platform enables each user to add and install more helpful apps and lets you create a fully customizable and controllable business.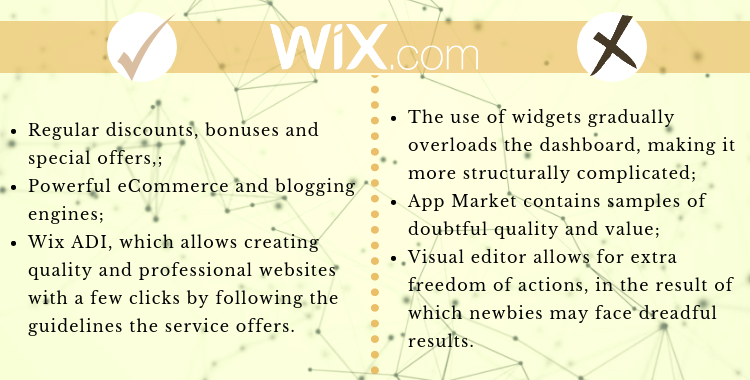 Officially launched in 2006, Wix is a well-known drag-and-drop sales panel, and currently hosts 8,519,305 live websites. It's more appropriate for small and medium-sized businesses, looking to give life to an online store quickly, cheaply, and easily. Wix helps not only to create free websites but also provides you with lots of designs and templates. The development team continuously improves its services and adds features. The very best aspect of using Wix for your website hosting is building your store from the ground up or using one of the many beautiful templates.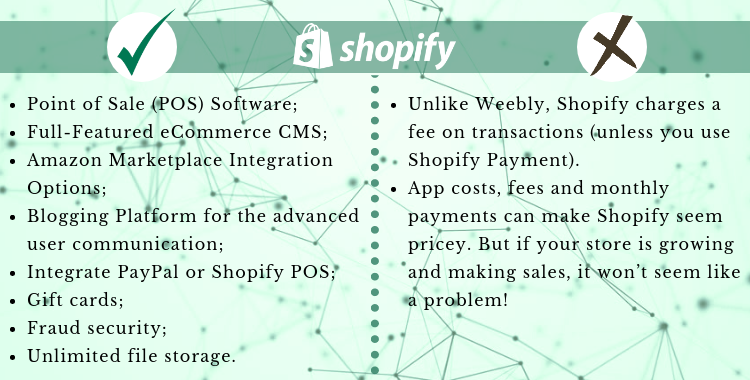 Shopify was initially created for selling. Established in 2007, Shopify can boast of extremely rapid growth in popularity. This platform currently powers over 6,287,373 live websites. In case you need a clean, responsive, smartly designed eCommerce site, then Shopify is for you. The solution requires no tech skills. There are many stunning templates to choose from. Its sales panel offers a PCI compliant, secure shopping cart, and payment gateway solution.
Shopify vs Weebly: Which Is the Best Among Business Site Builders
Shopify vs Weebly vs Wix: Help & Support

When it comes to migration to a new, unfamiliar platform with various features and secrets, every newcomer needs a guide. To put it simply, knowledgeable customer service. Weebly offers users support via live chat, email, and help center. Regarding phone support, that's where hidden charges hit the floor: you should upgrade to a Pro or Business plan for that exclusive option.

Wix, on the other hand, has 24/7 phone and email support. Users can get answers to their most burning questions via social media or official blog. Moreover, there's a Help Center with numerous reference documentation, FAQs, and community forums. The one thing that this solution lacks is the live chat option. But the team has promised to add it anytime soon.
Shopify provides many support channels on each plan 24/7. No matter how many times you ask for help, or how basic your questions are, their experts know their stuff and deal with it. Such top-quality service is polite, competent, quick to respond to your issue, and always offer helpful solutions.
Willing to migrate to Wix? Read our post "Why Migrate to Wix? The Question Answered"
Shopify vs Weebly vs Wix: Value for Money
Comparing pricing policies Shopify vs Weebly vs Wix is a taught question because it's like comparing bicycle vs SUV. Assuming you're not going to take on a long trip with a bunch of luggage, the second option will completely satisfy your wallet. But the two vehicles are far from being horsepower, yeah?
Weebly offers 3 paid plans for online stores (price ranges between 12 and 38$ per month). It's more expensive than Wix, but each of the options covers basic features right up to advanced eCommerce functions. You're also able to use an unlimited free plan and stay on it as long as you want. But keep in mind that to sell products, you must be on a paid Weebly plan. And to sell over 25 products, you must be on the Business plan. Above all, to get the SSL certificate you must upgrade to the Business plan as well.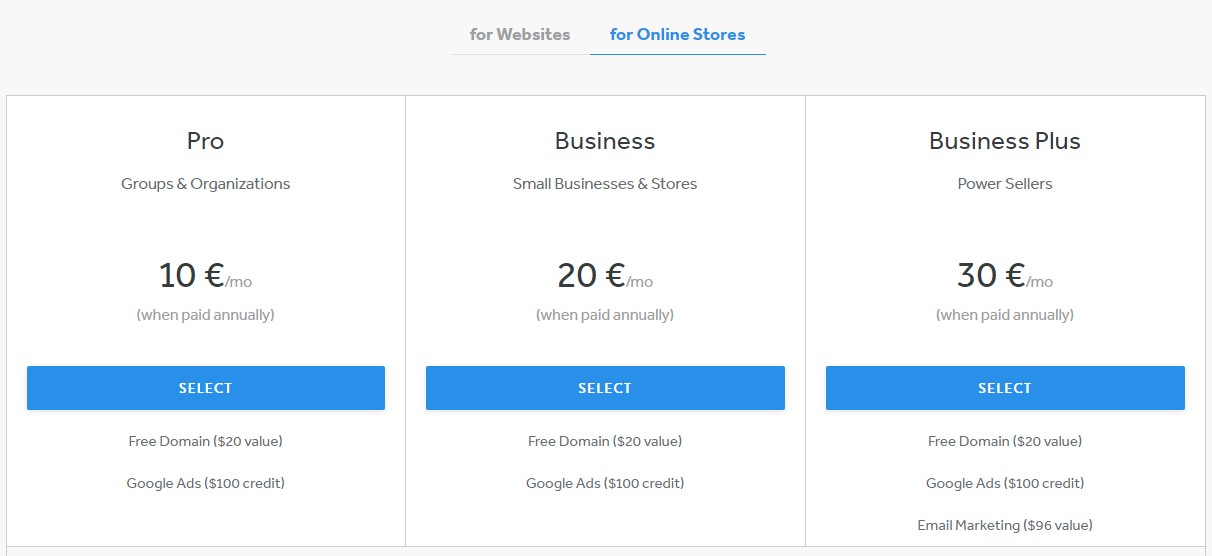 Wix has 7 paid (3 eCommerce and 4 website ones) and free plan as well (priced from 5.12 to 41.03$). Understandably, you'll be able to sell products only within one of the three Business & eCommerce plans. They offer a range of options that will help you get started online: unlimited bandwidth, 20-50 GB storage depending on a plan, access to Google analytics, free domain, social media logo files, VIP response, etc.

Shopify is more expensive (prices range from 29 to 299$ per month). Shopify offers many more features on their cheapest plan than Wix does on their most expensive. Supposing money is your most significant sore point, Shopify Lite (9$ per month) is a perfect fit to consider. Going with that option allows you to sell on FB, chat with customers on Messenger, add products to any website or blog, and accept credit card payments.

Shopify vs Weebly vs Wix: Design Flexibility
Wondering how to increase online sales? Don't challenge the website visitors via turning their happy browsing into a quest. The good design eliminates all the unnecessary details. Sounds easy? Actually, not at all. Many merchants can spot an excellent looking eStore but have a harder time figuring out how to get there. If the web-page discourages visitors, its usability, robustness, loading speed, and a broad range of high-quality products have no point.
Weebly tends to simplicity, clarity, brevity, and its templates reflect that. They may be more fundamental than Shopify's, but they're crisp, stylish and well-designed. There are three types of customization, depending on your tech talent, development skills, and web design experience. A user may use readymade templates, customize a theme, or create and integrate a personal model. Weebly's theme store has 15 design options for eShops. All themes are mobile-responsive, and you can change them even when your site goes live.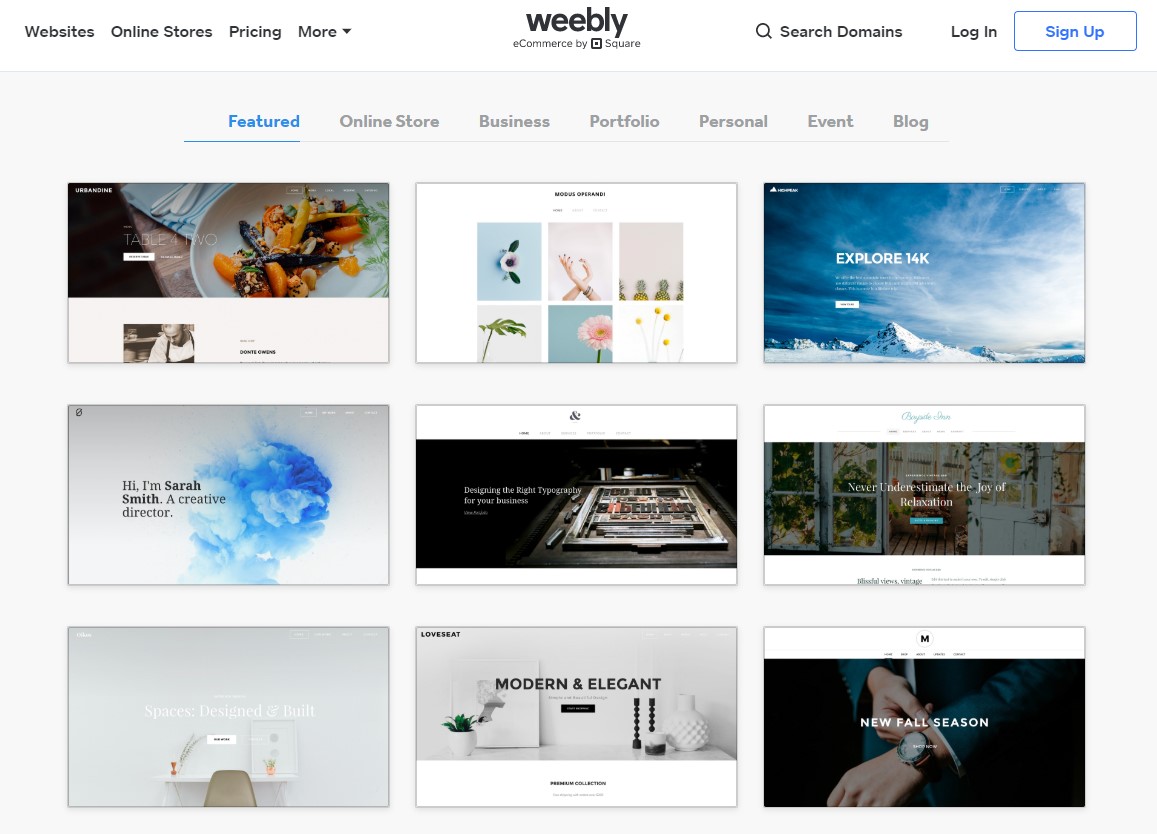 In terms of design, Wix has lots to offer. The sales panel provides 700+ professionally-designed, mobile-friendly templates. If you're good at coding, make sure to try out an additional option for advanced API customization - Wix Code. The most significant drawback about all Wix's templates is that you can't switch them midway through the editing process, so think about this carefully before deciding which theme is the right one for you.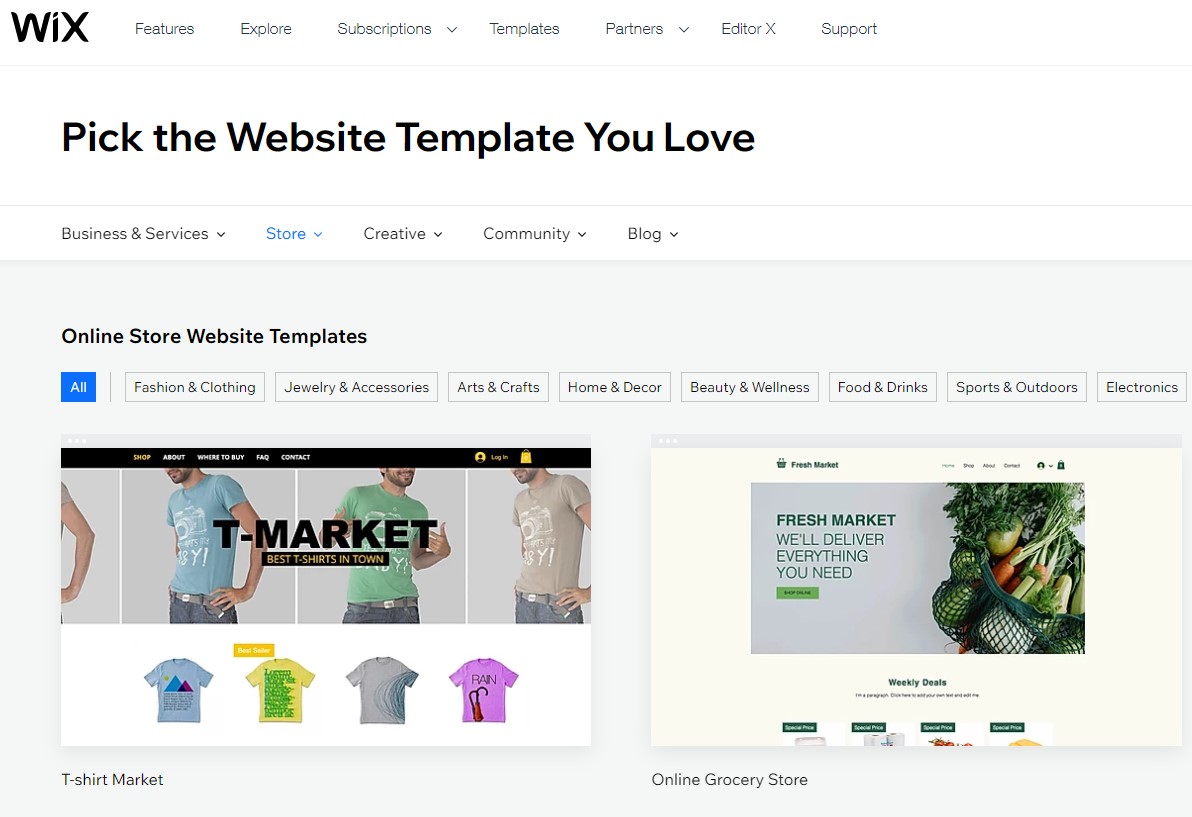 Shopify, likewise, offers more than 100 professional-looking themes, ensuring the creation of elegant, sophisticated websites for your eStore. It is also compatible with mobile shopping and has readymade email templates for your communication needs. You can browse themes by industry. Some come with the chosen plan, others cost extra, starting from $140. There's no obligation to use paid templates, but once you're making sales, it might be a good investment.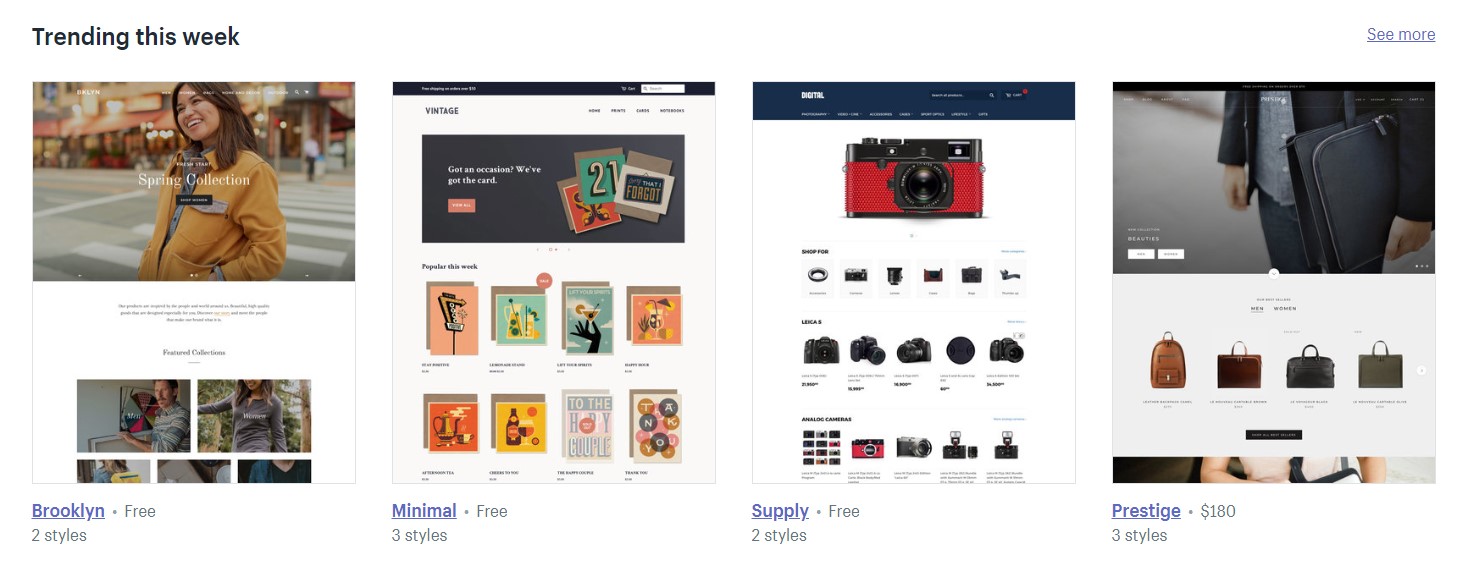 Shopify vs Weebly vs Wix: App Market
Weebly App market contains over 300 extensions. Additionally, 50 are free, and you can even submit your ideas for new apps. The company regularly adds new applications to extend the functionality of your website. It is possible to aff all the store's extensions at the click of a button. There's no messing around sorting out the integration. The apps are fully-integrated – you won't need to customize any code to add them to your store.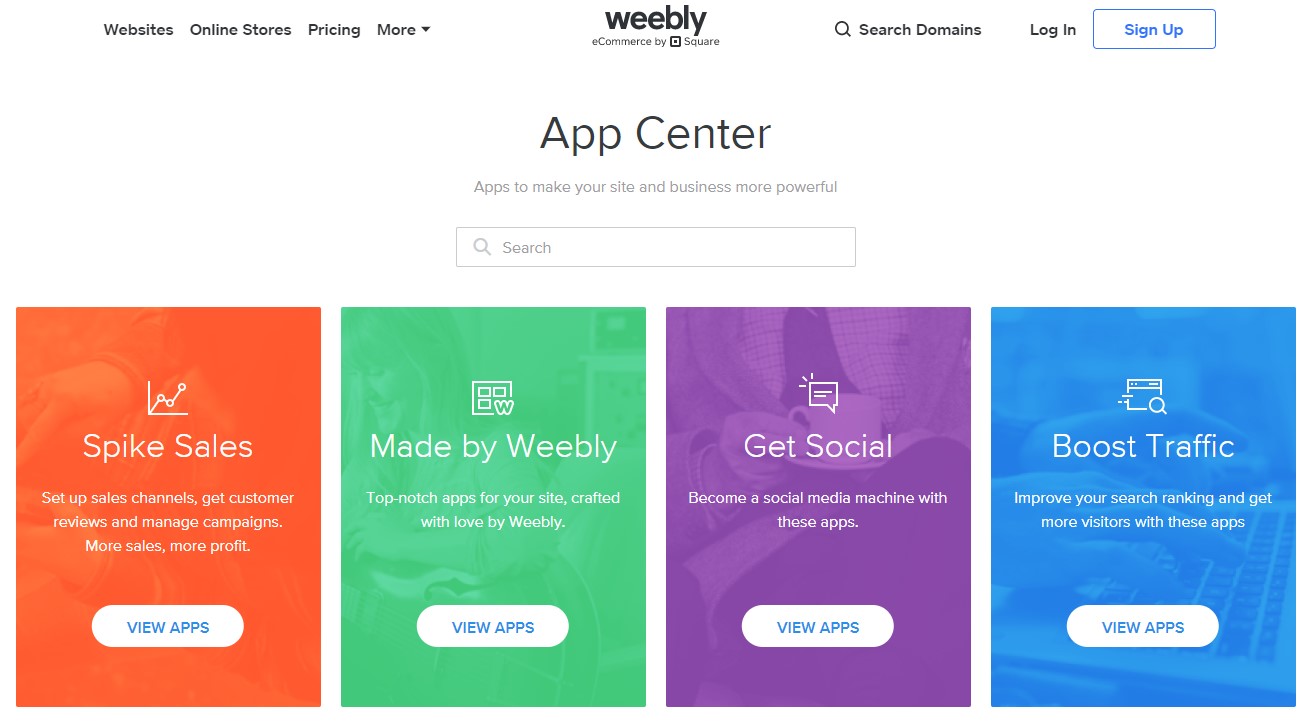 Wix App Market also offers a wide range of applications (both in-house and third-party). The extensions are all well-developed and have high functionality, ranging from eCommerce ( e.g., shipping, accounting, order management, etc.) to adding social features like Facebook Comments.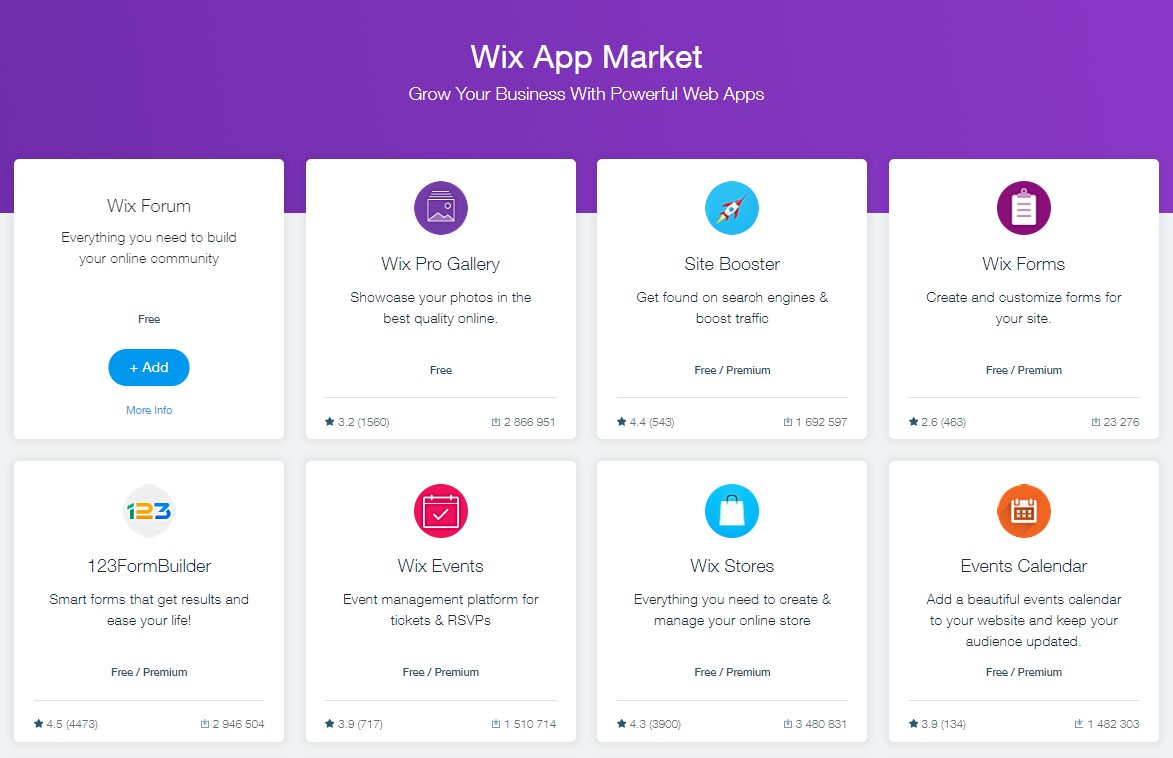 Shopify's App Store is one of the best in the business. You can choose from over 1200 reasonably straightforward and easy to implement apps, covering social media integration to taxes. These apps don't just let you add fancy new features and extend your store. They free up your time by doing mundane jobs for you. You can then get back to what's important: enhancing functionality and selling products.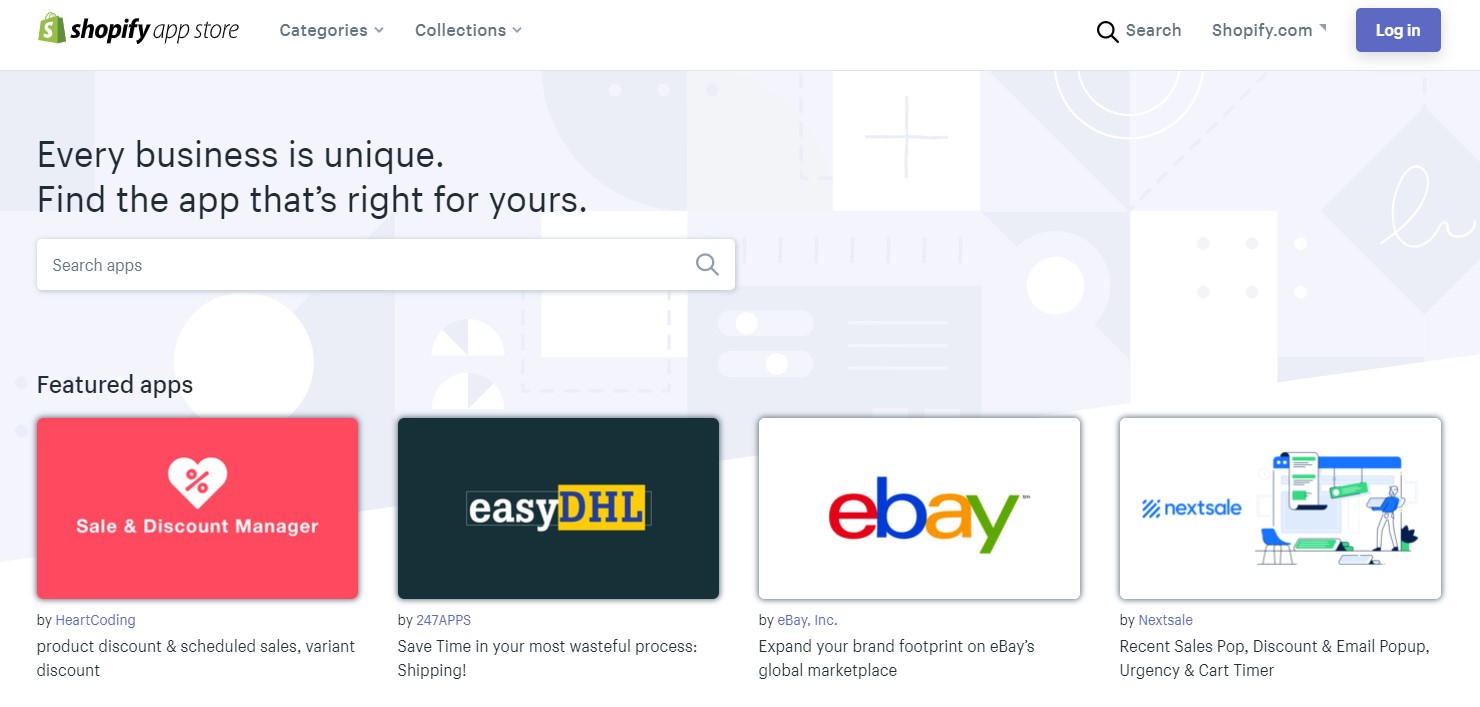 Shopify vs Weebly vs Wix: SEO Optimization
What's the good of being smartly-designed, easy to use, and handy, if nobody knows that and can't find your eShop within top positions of the search engine? That's why SEO capabilities become such crucial and dependable criteria when choosing an eCommerce platform.
Concerning on-page SEO, Wix offers all the necessary features to boost your store's rankings. eCommerce newbies can get the advantage of an extensive SEO guide and a Wix SEO Wiz. This AI-driven tool asks users a series of personalized questions and improves SEO characteristics, based on the given answers.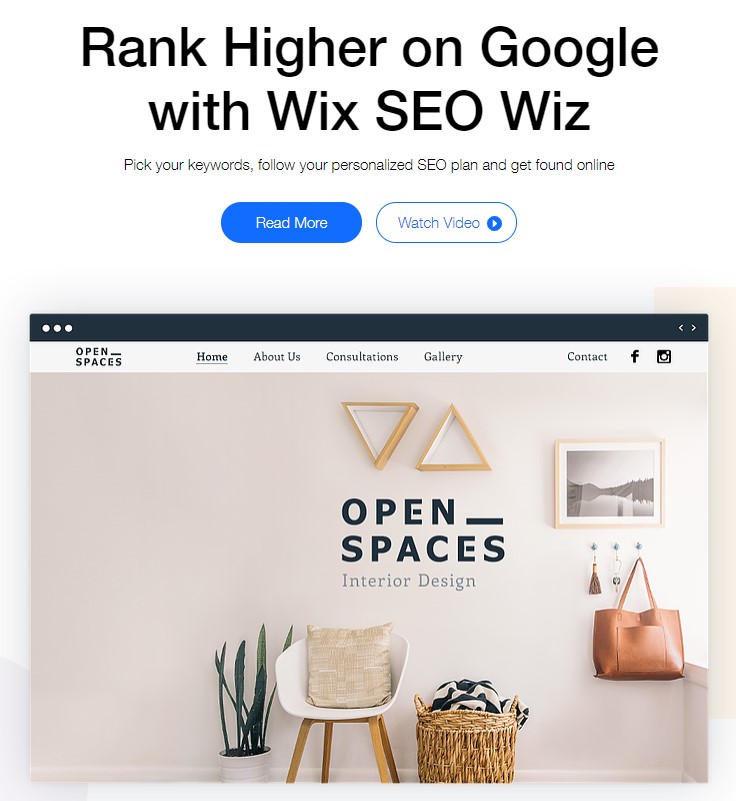 Meanwhile, Weebly's SEO functionality enables business owners to quickly obtain organic traffic from most search engines. The same is true with Shopify, as it has efficient, robust SEO support, analytics features and knows how to drive traffic to your online store.
Shopify vs Weebly vs Wix: Usability
Weebly comes with a clear, understandable interface. Its beautiful dashboard ensures quick and simple access to the data, blog comments, product description, web-page statistics, useful tips, and store orders. Moreover, one needs no coding skills and web development experience since all the content you will add to the page falls into specific containers (boxes). Thus, you'll never be stuck on the question of how to sell on Weebly? Due to this approach, you won't face problems when transferring the content you need from one theme to another.
Wix is a drag-and-drop website builder as well. While with many popular platforms, you can drop the elements to certain areas/blocks only, working with Wix, you're free to place those literally anywhere on the page. This approach is also known as "absolute positioning." It gives users full creative freedom. What's more, Wix offers another option for store establishment - Artificial Design Intelligence (Wix ADI). It automates the process of template creation with the help of store-related questions.
As for Shopify, it lacks drag-and-drop functionality. Its dashboard is user-friendly and has tips and instructions displayed upfront to help you set up a store quickly. All in all, Shopify has a steeper learning curve but offers more advanced features. Even if you're non-technical, it's effortless to master this platform.
Take your e-business a step forward towards success!
Migrate to any of the described platforms with Cart2Cart just in a few mouse clicks.
Migrate now
Let's Recap
In the ever-evolving landscape of e-commerce, selecting the right platform for your online store is a decision that can significantly impact your business's success. Today, we stand at the crossroads of choice, where the possibilities seem endless, and the competition fierce. Among the myriad of options available, Shopify, Weebly, and Wix stand out as three prominent contenders, each offering its own set of features and capabilities.
What's better, Wix, Weebly, or Shopify? In a nutshell, we have three great options. Shopify will be an ideal option for bigger businesses looking for an all-around, top-notch eCommerce solution. It's user-friendly, flexible, and has lots of features to help your business thrive. And in case you want more than your current sales panel can give, don't wait - migrate to Shopify! Wix, contrarily, will suit smaller stores that have a relatively small range of items for sale. It offers lots of creative control, a wide range of templates, and first-class blogging functionality. If that's what you are looking for - transfer all your store's data to Wix.
Further read: check out our post on Squarespace vs Wix comparison.
The professional looks and impeccable performance Cart2Cart rewards its customers with would cost an arm and a leg to be implemented independently. You should probably have known that from fellows who got their feet wet in eCommerce and didn't succeed. Try Free Demo and migrate to a different platform leaving behind all empty moments and fails. Your dream store is a matter of a few clicks!