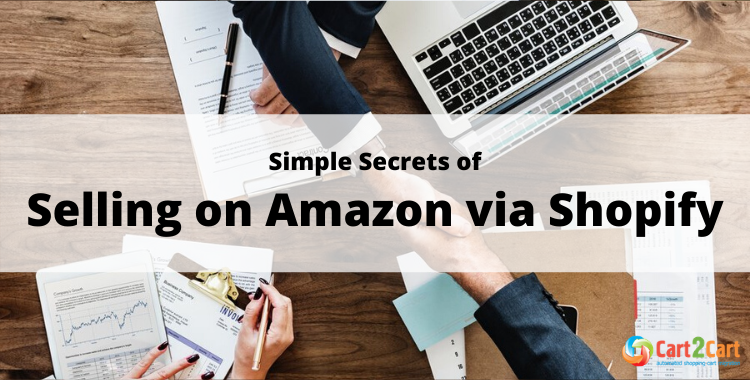 Shopify and Amazon are two undisputed kings of the eCommerce market that provide unprecedented opportunities to e-merchants for business growth. They are often treated as one of the most famous rivalries of all times with some huge differences that make one competitive to another. Keep reading to know more how to take advantage of Shopify Amazon integration.
Shopify & Amazon. The Basics
Shopify is one of the most advanced and talked-about eCommerce solutions that has all the necessary tools required to set up an online store and make it live.
A Shopify store is not any different from any online store built with other platforms, like BigCommerce, Wix or other great shopping software. - when customers visit such shops, they can only buy products from a single seller.
Amazon, contrastingly, is a full-fledged marketplace with millions of shoppers from all around the globe. According to recent industry figures, Amazon is a huge retailer that sells its own products with close to 300 billion U.S. dollars.
Shopify vs Amazon. The Differences
When it comes to the differences that set Shopify and Amazon apart, consider the following:
On Shopify, you and your brand shine through, but shipping logistics and customer acquisition are on you.
On Amazon, logistics and customers are taken care of, but your brand is lost among thousands of the same kind.
Instead of leaving one in favor of another eCommerce solution, there is another opportunity for you: benefit from both giants by combining them together.
Why to Start Selling on Amazon with Shopify?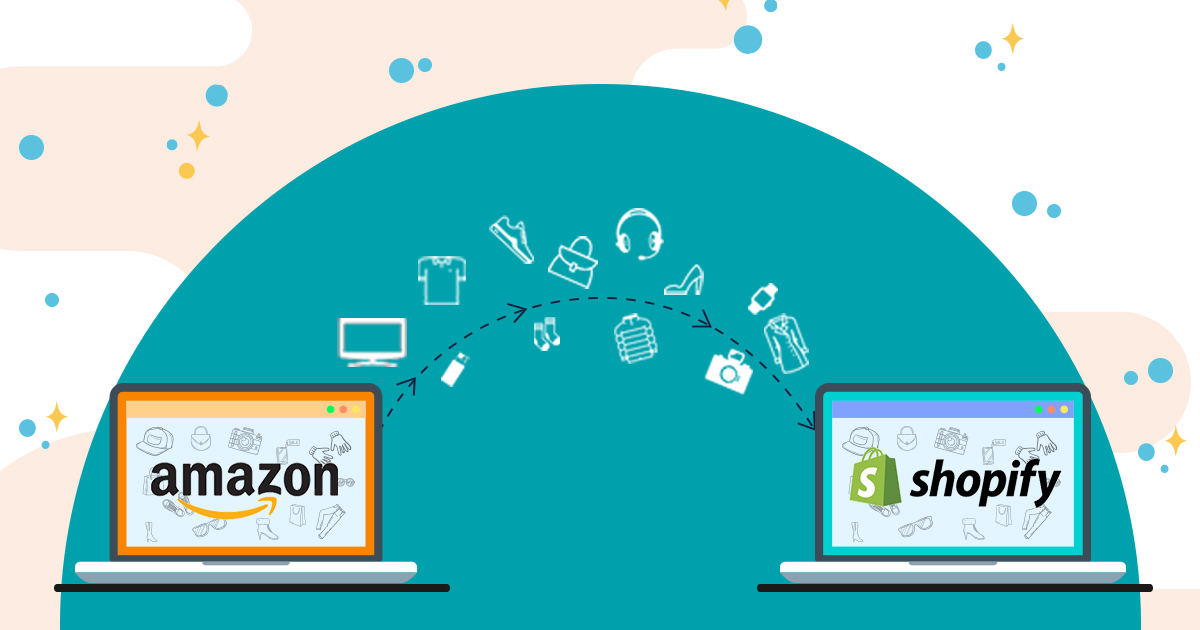 The plans for Shopify Amazon Integration were first negotiated in September 2015. This a long-awaited integration with the world's biggest marketplace is aimed to connect Shopify's large merchant base with millions of potential Amazon customers and increase their sales rapidly by reaching new extensive audiences.
What Makes Shopify The Best eCommerce Platform to Migrate To
Applying the multi-channel approach for your eCommerce business became easier. Now you are able to add Amazon as a Sales Channel in your store and create Amazon listings from existing products and fulfill orders directly within Shopify admin panel.
Shopify will also sync your available inventory within all active sales channels. With the snapshots of your top stock keeping units and shipping costs made within multiple channels, you'll get the fullest picture of your business performance.
The experts admit that the ability to integrate and partner with major players in the industry — like Amazon and Facebook — is one of the reasons for the Shopify's popularity nowadays.
Grab this unique opportunity!
Run a free Demo migration with Cart2Cart and start selling on Amazon via Shopify right now!
Start free Demo now
Short List Of Benefits Of Selling On Amazon With Shopify
Create new Amazon listings in Clothing and Accessories and offers for existing Amazon products in any category directly from Shopify
Fulfill Amazon orders directly from Shopify
Sync product details, images, and variants to your Amazon Seller Central account
Regulate your revenue from Amazon sales with the help of Shopify report
Link products from Shopify with your existing Amazon listings for any category
Shopify WordPress Integration: Take Advantage of The Great Combo
How to implement Shopify Amazon integration?
Сonnect Your Shopify With Amazon
Before you start selling on Amazon, please, make sure that your Shopify store meets the following requirements:
Your Shopify account should be active.
Your store needs to have prices in USD.
You must not be shipping your products using Fulfillment by Amazon
If your store fits the demands above, you need to follow the next steps to sell on Amazon via Shopify:
Add Amazon as a Sales Channel
Log in to your Shopify and click + icon next to "Sales Channels" and find Amazon here.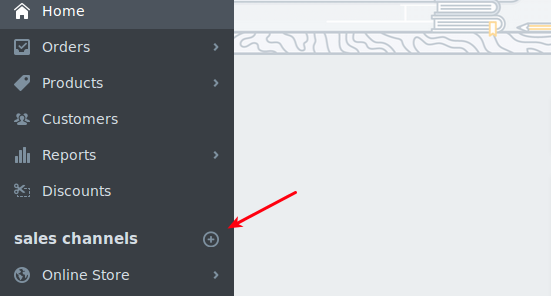 Then click 'Add' to confirm.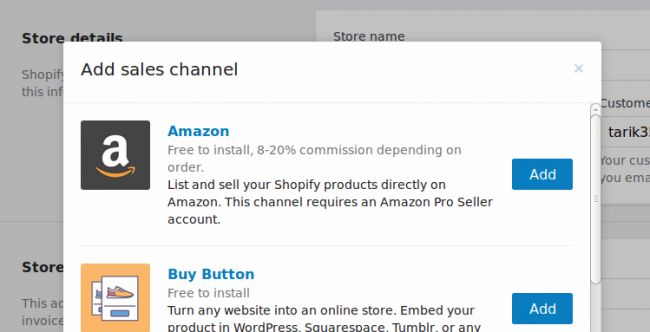 Register as a Professional Seller
In order to sell on Amazon with Shopify, you have to register as a Professional Seller and upgrade to an Amazon Seller Central Professional account.

Open the Amazon Services and click 'Start selling'. Here you will have to fill in your name, email address, and choose a password to create your seller's account.

Shopify vs Amazon: Which One is the Better for Your Business
Apply for Category Approval
After creating the Professional Seller Account you need to get the approval from Amazon that your products fit the categories.
Create Amazon Listings for Your Products
Before you can start selling on Amazon, you'll need to create listings for your products. You can do this from Shopify. Click on Amazon under the Sales channels section, and then on Create Listing. Choose the product you want to list and click on Select product.
Claim Existing Amazon Listings in Your Shopify Store
If you are already selling on Amazon in any of categories, you can claim existing Amazon listings in your Shopify store. The listings from your Professional Seller's Account will be noticeable from your Amazon Listings page in Shopify.
Set Your Inventory Tracking Policy
You are able to use your store's inventory settings for every Amazon listing in Shopify, or you can choose the manual managing of your Amazon inventory.
Start selling on Amazon
Congrats! Now you can Start Selling on Amazon with Shopify and reach new audiences.
Shopify is currently treated as the leading shopping cart that is trusted by more than 1,000,000+ active businesses of various shapes and sizes all over the globe.
If you are still not using Shopify as the platform for your online business, believe us, you're losing a lot. But everybody knows that 'when there is a will, there is a way'. You can effortlessly migrate from your current eCommerce solution to Shopify by using Cart2Cart.
What is Cart2Cart?
Cart2Cart is the world's #1 and industry leading shopping cart migration service which performed over 250,000 successful migrations. It lets you migrate your store's data from than 85+ eCommerce platforms to Shopify with no programming or developer services needed. This service will move products, orders, customers, categories, product images and variants, CMS pages and other related entities automatically. In addition, you can check the approximate cost of migration via online Cart2Cart estimator.

What is important, Cart2Cart provides customers with 24/7 Support and Assistance, that means the staff is always there for you to provide answers on any migration-related questions and help get to your destination shopping cart quickly and safely.
If you want to switch your platform for Shopify all you need is to follow a few steps below.
How to Migrate Your Online Store to Shopify. 2020 Best Practices & Recommendations
How to Migrate to Shopify. A Brief Instruction
Specify your source & target carts and provide your stores' URLs and access details
Choose what entities you want to migrate
Get through the Free Demo migration
Perform Full migration and wait for results
The whole migration process will take a couple of hours but it will not affect your current store performance - users will be able to make purchases during the whole process of data transfer.
Additionally, we offer affiliate and partner programs. Cart2Cart migration services can save you money or earn you money through referrals.
Take a look at your new Shopify store right away with the Free Demo migration offered to you!