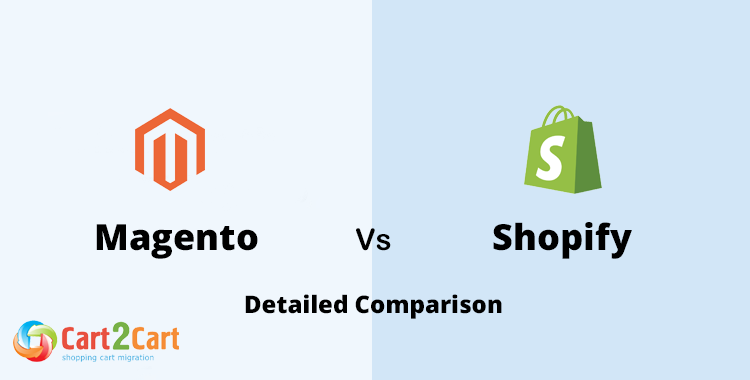 Shopify and Magento are both excellent e-commerce platforms, the main difference between the two is that Magento is an open-source solution while Shopify is a hosted platform.
In this article, we will examine the two e-commerce platforms in detail.
What is Magento?
Magento is an open-source platform that is free to install on your computer. However, that does not mean Magento is free. You will have to pay for web hosting, security, and extensions to provide your store with the necessary functionalities.
Magento has established itself as one of the best e-commerce platforms in the e-commerce industry. It is a powerful platform meant for enterprise-level businesses with their own development teams, who can use their coding skills to customize Magento sites fully.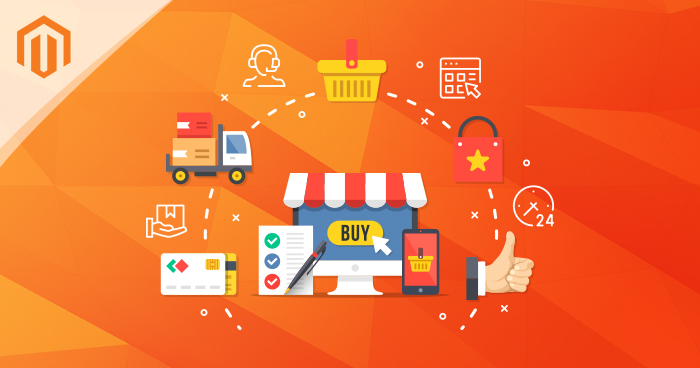 Its open-source technology allows users the ability to determine the look and functionality of their online store.
In addition, Magento puts everything an online merchant needs at users' disposal, including search engine optimization, analytics, marketing features, and much more.
In particular, Magento was designed to handle any size store. This is a platform that scales with you as your business grows.
In addition, Magento makes it easy to succeed in commerce with an extensive variety of plug-ins and themes to enable any kind of online store.
Magento powers 267,000 stores altogether on the internet.
What is Shopify?
Shopify is a cloud-based and hosted website builder requiring no coding experience. Shopify allows users to build and customize an online store and sell products and services across multiple channels.
Shopify works as a SaaS (software as a service) tool - offering software solutions necessary to set up, design and run an e-commerce store. Users pay a monthly subscription to use the software.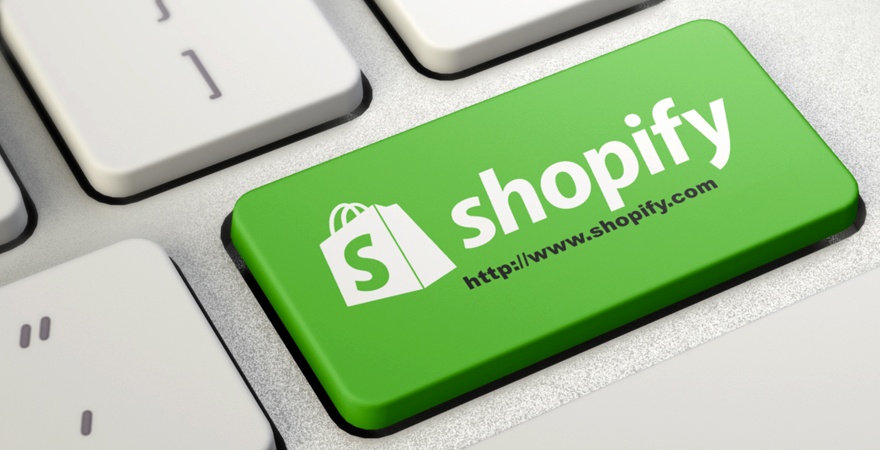 Shopify features plans ranging from $29 for basic to $299 for advanced plans, with access to the admin panel where you can build a fully functional online store, from front-end to back-end.
The platform is hugely popular and a big player in the e-commerce market. Shopify powers more than one million online stores in 175 countries and accounts for $319 billion of global economic activity.
Cost Comparison: Shopify vs Magento
Cost of Using Shopify
Shopify has five pricing plans.
Starter
For $1, you can use the Starter plan for 3 months to sell products through social media.
Basic
Everything you need to create your store, ship products, and process payments.
Monthly subscription price: $25, $19 if paid yearly.
The plan includes basic reports, up to 1,000 inventory locations, and 2 staff accounts.
Shopify
Monthly subscription price: $65, $49 if paid yearly.
The plan includes professional reports, up to 1,000 inventory locations, and 5 staff accounts.
Advanced
Monthly subscription price: $399, $299 if paid yearly.
The plan includes a custom report builder, up to 1,000 inventory locations, and 15 staff accounts.
Shopify Plus
Shopify Plus is an enterprise solution that starts at $2,000 per month.
Cost of Using Magento
Currently, Magento has three pricing plans: Magento Open Source, Magento Commerce, and Magento Commerce Cloud.
Magento Open Source Cost
Magento Open Source is free to install, but it's not useable out of the box. You will have to pay for web development if you don't have the skills to do it yourself. In addition, companies have to pay for hosting, a domain, and data security.
All that will come to an overall cost of $15,000 for a basic Magento Open Source website.
Magento Commerce
Magento Commerce is a premium, paid-for option. The Magento Enterprise pricing is based on a company's gross sales revenue. The price of the license depends on a company's annual revenue, as can be seen below.
| | |
| --- | --- |
| Average Gross Sales Revenue | Magento Commerce Cost |
| $1,000,000 | $22,000/year |
| $1,000,000 - $5,000,000 | $32,000/year |
| $5,000,000 - $10,000,000 | $49,000/year |
| $10,000,000 - $25,000,000 | $75,000/year |
| $25,000,000+ | $125,000/year |
Magento Commerce Cloud Cost
The Cloud edition is specifically for large enterprises dealing with massive sales volumes. With this solution, all data is securely backed up in the Cloud.
| | |
| --- | --- |
| Average Gross Sales Revenue | Magento Commerce Cloud Cost |
| $1,000,000 | $40,000/year |
| $1,000,000 - $5,000,000 | $55,000/year |
| $5,000,000 - $10,000,000 | $80,000/year |
| $10,000,000 - $25,000,000 | $120,000/year |
| $25,000,000+ | $190,000/year |
Ease of Use Comparison: Shopify vs Magento
Ease of use – Shopify
A Shopify store is easy to setup. The platform guides first-time users through all the steps when they start building their store.
Shopify is a drag-and-drop website builder, which anyone with or without technical knowledge can use.
When comparing Shopify to Magento, you'll find that Shopify is a beginner-friendly option. With Shopify, anyone can build a website on their own.
In fact, one of the biggest selling points of Shopify is that users don't need to know how to code to use the platform. With the easy drag-and-drop editor combined with over 6,000 apps to ease the process, you can build a store to be proud of.
Shopify has many templates that can easily be customized to suit the needs of anyone who wants to run a business online.
Ease of use – Magento
Since Magento is built for enterprise businesses, it is more complicated to build a website using Magento. The learning curve will likely be steep if you have coding skills.
If you don't have coding skills, you'll need to hire need a developer to set up your website and integrate extensions to customize the site.
The platform allows users complete freedom to customize their website, but that freedom comes at a price. Users need in-depth technical know-how to install the software and build an online store.
Not tech-savvy users need to hire developers to build a store for them if they want a Magento store. To give you an idea of the technical knowledge that's required to build a Magento store: you need to know Javascript, PHP, CSS, HTML, and MySQL.
Verdict: This round goes to Shopify. It is much easier to build a website with Shopify than with Magento.
Design and Themes Comparison: Shopify vs Magento
Shopify design and themes
Both Magento and Shopify offer free and premium themes. The themes of both platforms are responsive, so they can be viewed on a range of screen sizes. This is important because a large proportion of buyers use their mobile devices to do their shopping.
There are 70 free and paid themes on the Shopify App Store, but there are many more for sale online. In the Shopify Theme Store, you can find mostly premium professionally designed e-commerce website templates priced between $150 and $350.
These prices may seem high, but it's cheap compared to hiring a developer to design a website from scratch.
Due to Shopify's proprietary coding, the extent to which you can modify the themes is limited. Things like colours and fonts you can easily customize, and you can add a number of different pages, but beyond, this, there is not much you can really change,
If you want to make any fundamental changes, you have to edit your theme code using HTML, CSS, and Liquid.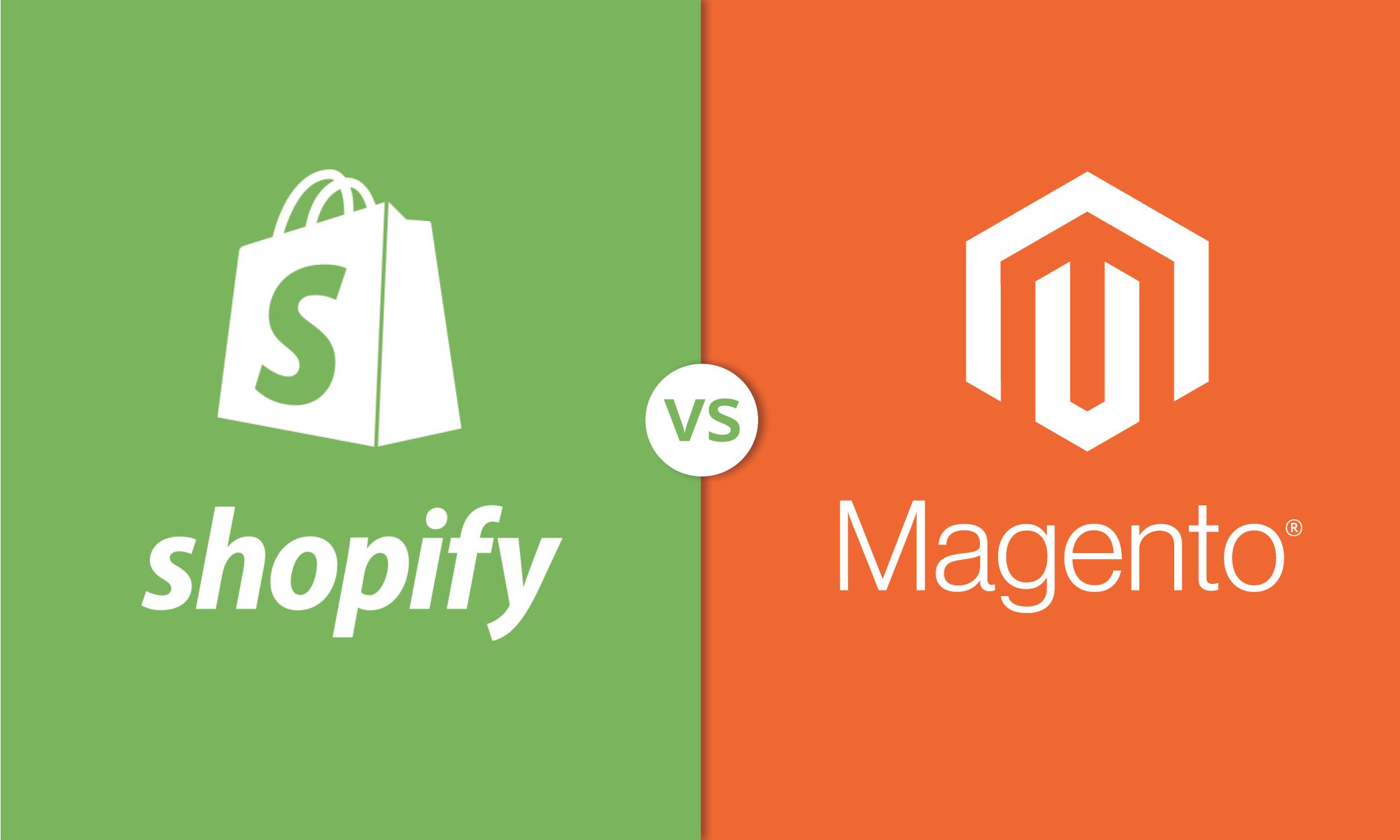 Magento design and themes
While the most expensive themes on Shopify cost $350, Magento templates can cost up to $12,000.
Magento users can choose between Magento's custom themes and ready-made themes. Magento has two custom themes, Luma, a ready-to-use theme that is fully responsive, and Blank, literally a blank theme that developers can use to create a website from scratch.
If you want your e-commerce store to look like no other online store, you should choose Magento's custom design solution. If you go with this option, you will need to hire a development team to design a highly individual theme for your website.
Custom designs are the obvious choice for individuals who want 100% personalization, but they are not cheap. Be ready to pay big bucks, as hiring a development team is expensive. Just one developer can cost $50,000 to $60,000 per year.
The other option open to you is readymade themes. A readymade Magento theme is ideal for store owners on a budget. These themes offer a complete visual design and pre-built layouts, which makes creating a website quick and affordable.
Readymade themes can be found online, created by developers who upload their designs for sale on websites like ThemeForest. You can also buy a ready-made theme from the Adobe store. The average price for a ready-made theme is $100.
Verdict: This round goes to Magento because it offers more options – you can completely customize your store or go for a readymade theme that speeds up the process.
Payment Methods Comparison: Shopify vs Magento
The number of payment options a website offers relates directly to its income potential – the more gateway choices, the more customers you'll be able to serve.
Also, the lack of finding their preferred payment gateway is a major reason why customers don't go through with their purchases.
Payment Options in Shopify
Shopify has its own integrated payment gateway called Shopify Payments. It works like other payment gateways like PayPal or Stripe, processing and accepting payments. With Shopify Payments, store owners don't need to connect to a third-party payment provider like PayPal.
Shopify also supports more than 100 payment gateways. If you decide to use one of them rather than Shopify Payments, you have to pay Shopify transaction fees.
Payment Options in Magento
Magento comes with its own built-in payment methods, but the platform also supports more than 150 third-party payment options. Magento does not punish its users with transaction fees for using third-party payment gateways.
Apps and Add-Ons Comparison: Shopify vs Magento
Both platforms enable merchants to install apps, extensions, and add-ons to enhance the functionality of their stores.
Shopify
According to Shopify's website, there are 8,000 apps available in its App Store. There are free and premium apps for every conceivable business need, including email marketing, shipping, dropshipping, order tracking, social media advertising, marketing, sales and more.
Shopify's App Store helps merchants to run a thriving business online.
Magento
Magento Marketplace has over 5,000 extensions to choose from. Almost 2,000 of them are free. Many of them cost just $30, but some great ones can cost you up to $2,000.
Remember that you may have to add the cost of a developer's skills to the price of the WooCommerce extension.
With Magento extensions, you can add all sorts of functionality to your store, from automated emails, and integrating social media feeds, to advertising banners and marketing campaigns.
Verdict: Both Magento and Shopify have more than enough extension possibilities for store owners, but installing extensions on Magento requires coding. It may be a good idea only to buy extensions from reputable sources that you trust.
SEO Comparison: Shopify vs Magento
You can achieve search engine optimization for your online store on both platforms. Both platforms allow you to change the page title and description, add alt text to images, and more to improve your site's ranking on search engines.
Shopify
Shopify makes it easy to change page titles and meta descriptions, and add headings and alt text. And Shopify gives its users access to the popular Yoast SEO tool, which lets you evaluate the quality of your on-page SEO.
Shopify gives you full control over your robots.txt file so you can let Google know which pages it is allowed to crawl. You can also add 301 redirects to let search engines know when a page has been moved. Shopify actually reminds users when it needs to be done and creates the redirect for them when an URL is changed.
Magento
Magento is excellent with SEO. The platform provides users with a host of SEO guides and also on-page prompts. Users can edit image alt tags and customize URLs to help search engine users find your web pages more easily. All of these are built-in features, too.
Magento allows users to create independent page titles that promote a better click-through rate. The platform also allows users to create custom H1 tags and edit them easily to attract site visitors.
Verdict: Magento is the SEO winner. It has more built-in SEO features than Shopify, which has to depend on apps for proper SEO functionality.
Customer Support Comparison: Shopify vs Magento
Shopify Support
Shopify support is some of the best in the business. Shopify has a professional team available 24/7 for phone, email, and live queries. In addition, there are community forums, video tutorials, a help centre, and API documentation.
However, some users have commented that if the query is of a technical nature that involves coding, you might not get the support you need from the usual support team. You might stand a better chance of getting help from the Shopify community forum.
The other option is to hire a certified Shopify expert to resolve your issue.
Magento Support
Magento is not a hosted solution, so it doesn't offer support as such. Live chat, phone, or email support is only available on the Magento Commerce Cloud plan.
But users are not stranded at all. They have a user community and loads of experts around the world to turn to for help and support.
Instead, Magento users can benefit from an excellent user community. At the moment, you can receive informative advice from Magento experts all around the globe. Besides that, there is an active help center that provides all-time support, as in the image below: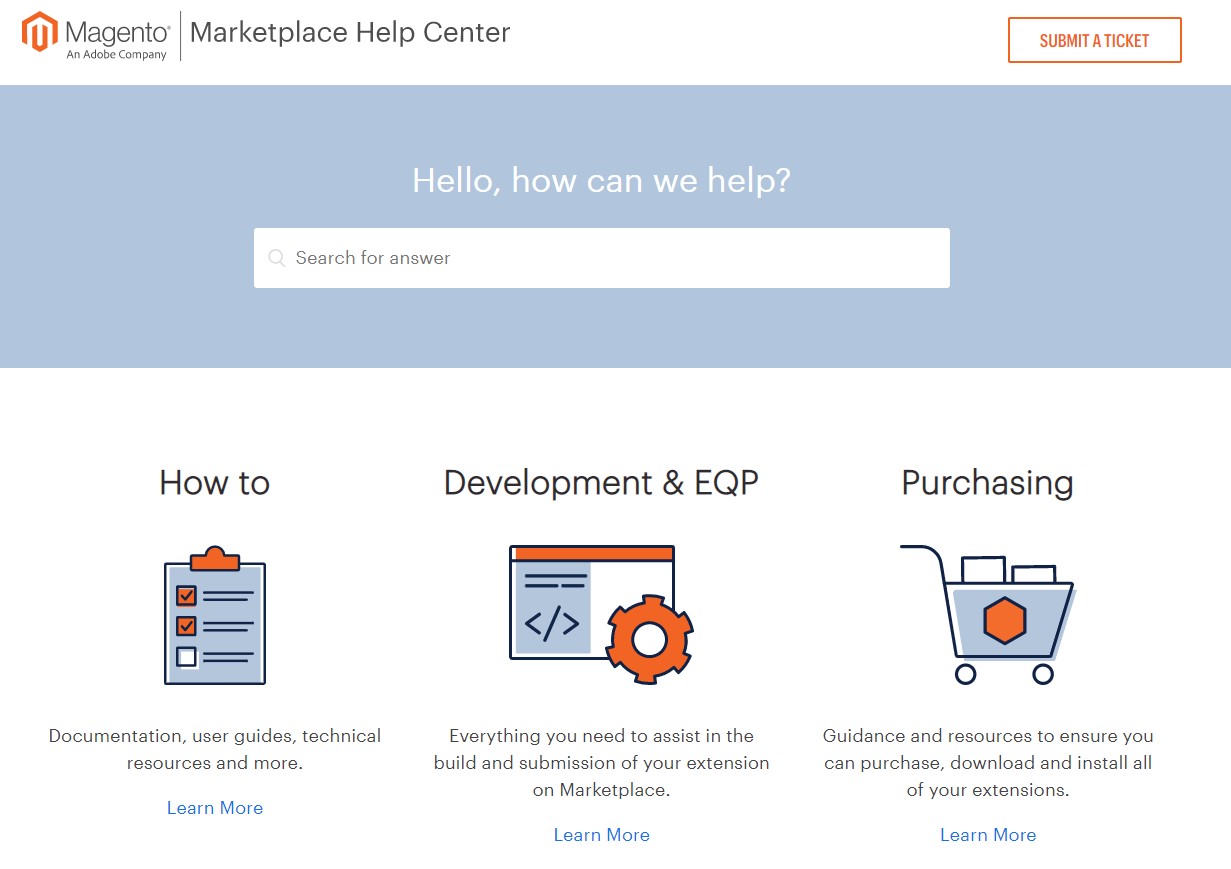 Magento also has an online help center with loads of resources.
Verdict: Shopify comes out tops as it provides excellent customer support via phone, email and live chat support, while Magento users have to turn to other users for information and support.
Security Comparison: Shopify vs Magento
Shopify Security
As a hosted solution, Shopify is responsible for the security of its websites. Shopify has to ensure that all stores are PCI-compliant, in other words, that they meet the security standards of the Payment Card Industry Security Standards Council and that card transactions and cardholder data securely are processed securely.
For their part, all store owners must follow basic security rules and enable two-factor authentication and implement the use of strong passwords.
However, store owners are responsible for the safety of their store data and should ensure that they back up their stores regularly. Shopify does back up all store data but doesn't give store owners access to it in case something goes wrong.
Magento Security
Magento is not a hosted solution, so users must make their own hosting arrangements. Store owners are responsible for the security of their e-commerce websites.
They must always make sure that they are working with the latest version of Magento. They are also responsible for ensuring that plugins or themes they may be using are not compromised in any way.
Before using third-party themes and plugins, users must ensure that they don't contain malicious code.
Magento users must follow proper password practices, including implementing two-factor authentication.
In addition, like Shopify users, Magento users must also update their stores regularly. A backup lets you restore your e-commerce website to a previous version as if the breach never happened.
Verdict: It's probably easier for storeowners to go for Shopify because less depends on them. If you don't want to be responsible for the technicalities of ensuring site security, then Shopify is the solution for you.
Magento vs Shopify: Comparison Table
| | | |
| --- | --- | --- |
| | Shopify | Magento |
| Nature of platform | Hosted platform/ technical issues taken care of | Open-source solution/user must pay for hosting/ domain name/ security |
| Pricing | Monthly subscription fee | Free open-source platform but need to pay web developers |
| Ease of use | Drag-and-drop editor/ suitable for beginners | Requires coding skills |
| Build time | Fast, it's possible to build a store under an hour | Time-consuming/have to build website from scratch |
| Design and Themes | 17 free themes and 70 paid themes | Open-source platform offers limitless customization |
| Sales Features | Abandoned cart recovery, customer segmentation, Instant Purchase, secure payments, Elastic Search | Abandoned cart recovery, discount codes, unlimited products, website and blog and over 100 payment options |
| Plugins and Integrations | Over 6,700 plugins | About 5,000 extensions |
| Marketing Tools | Email campaigns, advertise and sell on social media, support multilingual sites | Few built-in marketing tools/ depends on integrations |
| Payment Options and Transaction Fees | Shopify Payment = no transaction fees. Supports 100 payment options = translation fees | Supports 150 third party payment gateway options |
| SEO | Built-in tools and SEO extensions | Built-in SEO/super customizable |
| Security | SSL Certificate and PCI-DSS compliant | Owner is responsible for all security certificates |
| Customer support | 24/7 phone, email, and live chat support, plus community forums, help center, API documentation, and video tutorials | Chat, phone, and email support only for the Magento Commerce Cloud plan, other users must depend on other Magento users and Magento experts for help |
Magento vs Shopify – Which is better?
Both Magento and Shopify give you an online store. Both have sales and marketing benefits. The main difference between the two is the fact that Magento is open-source, allowing complete design freedom, and you don't have to pay monthly subscriptions year in and year out.
On the other hand, Shopify has all the features you need to run a successful e-commerce store. A Shopify store is fairly quick to set up, and you have constant technical support.
There's only one reason to choose Magento over Shopify: if you have very ambitious plans to expand globally, expect to succeed in this goal, and have deep pockets to start the venture.
FAQs
What are the main differences between Shopify and Magento?
Shopify is reasonably easy to use, but users are limited when it comes to the customization of their websites. On the other hand, Magento allows full customization, but it requires in-depth technical skills.
Do you have to pay for hosting with Shopify or Magento?
Shopify is a hosted e-commerce solution, so you don't need to pay for hosting. Magento users have to pay for hosting because it's an open-source solution.
Can you migrate your Shopify store to Magento or vice versa?
Yes, you can migrate your store. You can use a cart migration tool like Cart2Cart to migrate your store.
Are you considering migrating your store? Don't spend too much time worrying about it. Once you have made up your mind to do it, contact Cart2Cart. This cart migration tool will move your entire store and all your store data safely and securely while you keep selling from your existing store.