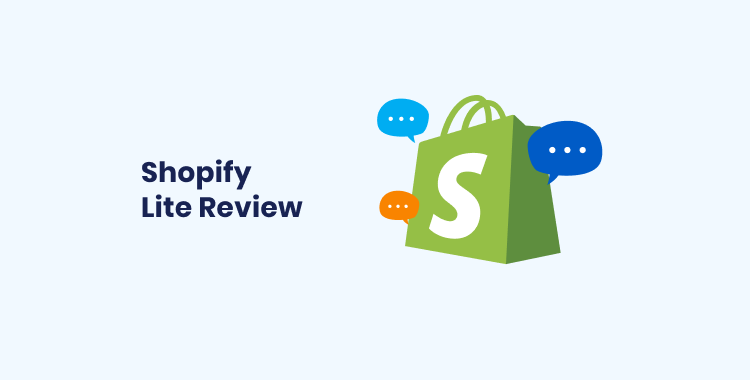 Before we dive into this Shopify Lite review, here's an interesting stat for you. A recent study indicates that global eCommerce sales topped a whopping $4.28 billion in 2020. The Shopify Lite plan is designed to help budding entrepreneurs get a sizable slice of that pie without breaking the bank to do it. This review explores why the plan has quickly become a top choice for business startups.
What Is Shopify Lite Plan?
Shopify Lite brings something a little different to the table from the conventional plans you might have come across so far. It is specifically designed for businesses looking to integrate a Buy button to their current website, blog, or social media channel or conduct in-person sales via POS Lite.
Shopify Lite Review: Main Features
While the plan comes with the standard features for the Buy button, POS sales channels, Finances report, and Overview dashboard, it does not have the online store sales channel synonymous with the other Shopify plans. Here's what it does have.
Considering to move your business to Shopify? Test the platform by running a free demo migration now!
Embeddable Buy Button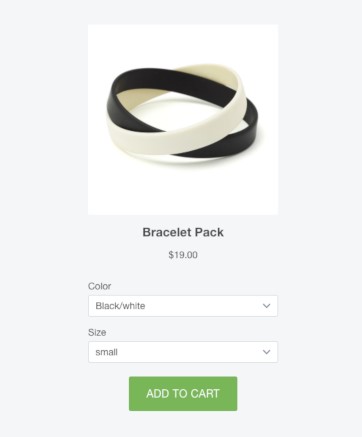 No Shopify Lite review would be complete without discussing the all-important Buy button that sets this plan apart from its competition. What is Shopify Lite Buy button? The whole idea behind it is – it allows you to sell anything from anywhere without the hassle of running a full-blown online store.
All you have to do is generate embeddable product cards and shopping cards and add them anywhere on your website. It works regardless of what type of site you're running – we're talking blogs on Tumblr, Squarespace, WordPress; homepages and landing pages; and portfolio websites. It even works with social media platforms like Facebook and Instagram.
We especially like the fact Shopify Lite lets users customize the Buy button to match their brand. That way, you don't have to worry about it standing out like a sore thumb when visitors browse your website. It gives them a subtle nudge to purchase a product or service without seeming too pushy – and you wouldn't want to do that.
In-Person Selling via Shopify POS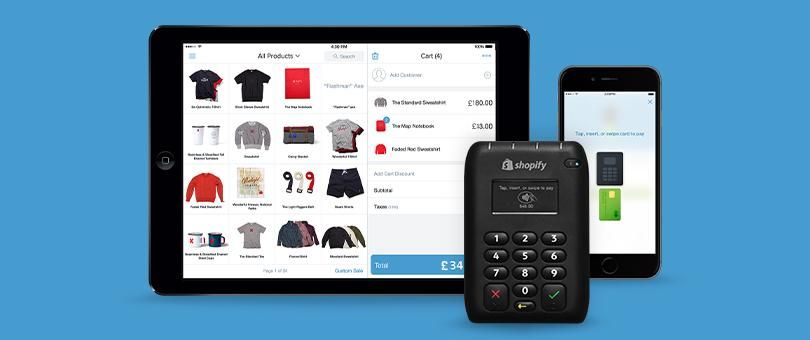 The plan supports in-person sales via the Shopify POS Lite app and card reader. This feature is ideal for anyone looking to sell physical products at a pop-up store, trade store, or farmers' market. You can conveniently receive payments via credit card using your Android or iOs device regardless of where you are.
Custom Order and Invoice Creation
Shopify Lite allows merchants to create custom orders, phone-based orders, and wholesale orders conveniently. We particularly like that you can rely on it for new line items or existing products and even incorporate customizable shipping rates or one-time discounts for your customers.
The best part is – once you've built a new order, all you need to do is click "Pay with credit card" to enter your customer's billing details into your Admin dashboard. You can also select "Email invoice" to send a bill directly to your customer. You can even add a customized message in your email and a link they can click on to direct them to a pre-filled checkout form.
Overview Dashboard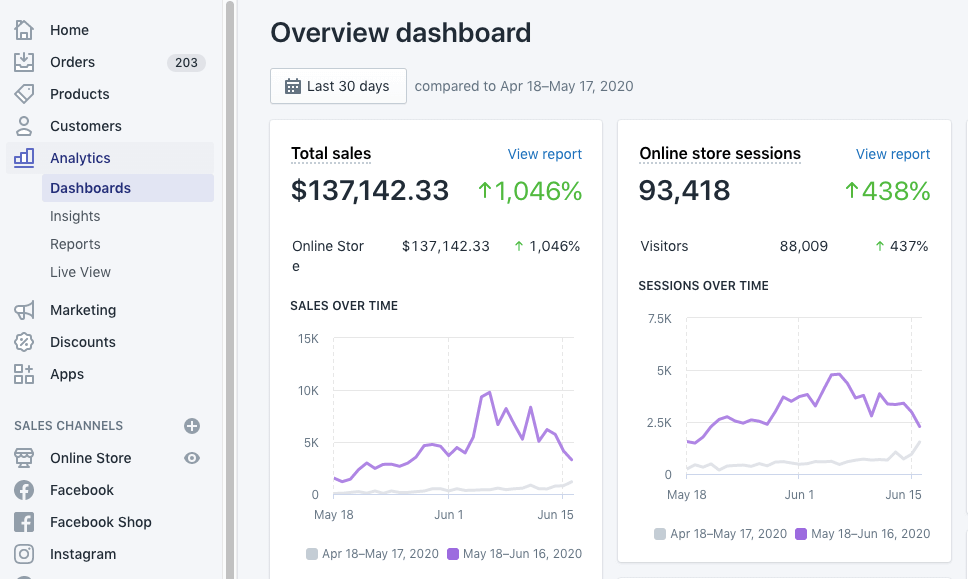 If there's one thing we want to emphasize in this Shopify Lite review, it's – how important it is to track your site data. It's the only way you can keep an eye on performance and make the necessary tweaks to optimize your sales. This plan comes with an Overview dashboard that lets you:
Compare your current sales volume to that of a previous period
Compare the performance of different selling channels
Monitor the average value of your orders
Monitor your sales trends over a specific duration
View your traffic sources
The Overview dashboard provides you with invaluable insight into your store's performance and your customers' behavior. You can view metrics in both numerical and graph formats.
Finances Report

Another critical element of the Shopify Lite plan is the analytics – more specifically – the Finances report. It gives you detailed information about your transactions from a financial standpoint. You can view the total sales made over a particular period, broken down into individual transactions, including sales, shipping amounts, and returns.
You also get to view monetary transactions for both payments and refunds, based on the payment providers. Suppose you would rather view a summarized version of all your sales, expenses, gross profits, and liabilities. In that case, this information is readily available on the Finances summary page of your Shopify Admin.
Other Shopify Lite Features

The features we've detailed so far are exclusive to the Shopify Lite plan. Nonetheless, here's a list of additional perks that come with all plans – including Lite.
24/7 customer support – You can contact the Shopify support team via Live Chat, email, or phone, regardless of the time of day.
Abandoned shopping cart recovery – Sends automated emails to customers who exit your website without completing checkout.
Customizable gift cards – Offers a great way to attract new customers and is available in flexible denominations.
Discount codes – Provides an incentive to new and existing customers to shop in your store and even lets you promote your products through social media.
Fraud analysis – This is a built-in feature that flags potentially fraudulent transactions and orders to avoid losses and chargebacks.
Order management – This lets you view customer orders, the order status of each item, and manage the shipping process.
Product management – You can conveniently add products and images to your Shopify admin, add variants based on item color and size, and automatically update products sold in the POS.
Staff logins – This feature lets your staff access the Admin dashboard and complete basic tasks while restricting access to sensitive information.
Unlimited online storage and bandwidth – There are no additional costs associated with the number of images and files you upload or the number of visitors who go to your site.
Unlimited products – There's no limit on the number of products you can sell via the Buy button.
Shopify Lite Pricing

Pricing is a significant pain point for most business owners. The good news is – Shopify Lite hits the mark as far as costs go. The plan goes for $9 per month, which is a far cry from some of the more expensive solutions on the market right now.
If you want to set up an online store later down the line, you can always upgrade to any of the other Shopify plans without losing the Lite features you've come to love. Basic Shopify, Shopify, and Advanced Shopify all have the features you find in Shopify Lite plus more, depending on the scale of your enterprise. The flexibility you get with the Shopify $9 plan is why it has several positive Shopify reviews online.
Shopify Lite Review: How to Use Shopify Lite
To reiterate, Shopify Lite was created for individuals and businesses who want to sell their products online without committing to running and maintaining an online store. It is also ideal for individuals with an active website who want to dip their toes in the eCommerce world. All this is made possible by embedding the Buy button onto your website.
Here's how to use Shopify Lite.
Log in to your Shopify admin and click the + button displayed next to the heading labeled Sales channels.
Click Buy Button on the Add sales dialog that appears, and then select Add channel.
Next, navigate back to the admin dashboard and go to Buy button.
Click Create a Buy Button, and then select Product Buy Button for a single item or Collection Buy button to integrate multiple buttons for several products within the same web page.
Choose the item(s) you want to sell from the admin catalog or find it/them using the search function.
Click Select and customize the Buy button's checkout behavior, layout style, product variants, etc.
Click Next, then select Copy code.
Navigate to the site's web page where you want the Buy button displayed and open its HTML editor.
Identify the position within the HTML code where you want the button to appear, then paste the code there and save your changes.
Keep in mind that before you can create a Buy button, in step 4 above, you'll need to have added the product in question to your Shopify Admin before making it available to the Buy button sales channel.
Shopify WordPress Integration: Take Advantage of The Great Combo
Once you create it, it also generates a different cart. You can customize the action of your Buy buttons based on how you want them to behave when a customer clicks on the product(s). For instance:
Add product – Adds the product to the customer's shopping cart
Direct to checkout – Directs the customer to the checkout page to purchase the item
Open product details – Allows the customer to view the product description and select any variants before adding it to their shopping cart
Shopify Lite vs Basic Comparison
Here's a detailed Shopify Lite vs Basic comparison of plan features.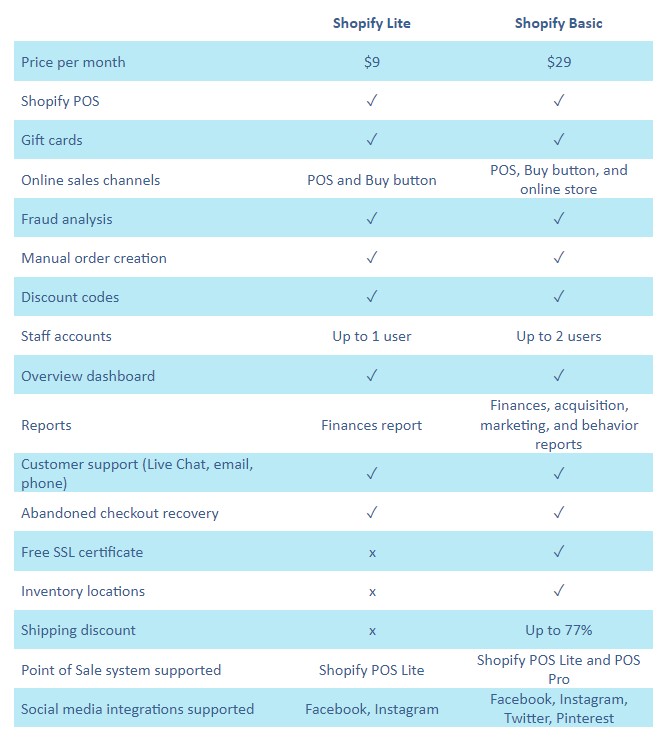 Shopify Lite Pros and Cons
Below is a list of perks and drawbacks of the Lite plan.
Pros
Affordable price point
Compatible with any type of website
Easy to embed the Buy button and shopping cart in the website's HTML code
Real-time syncing of online and in-person sales
Supports phone-based orders
Works with existing websites without having to set up an eCommerce store
Cons
You can't use it to build a fully-fledged online store
Lacks social media integrations for Twitter and Pinterest
Higher credit card fees compared to other plans
Shopify Lite Review: The Verdict
The major takeaway from this Shopify Lite review is – it's a great option to consider if:
You don't want to maintain a full-blown online store; or
You want to test the online retail space by selling a few products on your existing website or blog.
While the plan features fundamentally target businesses that don't require a virtual storefront, it is flexible enough to upgrade to higher Shopify pricing tiers when you're ready to set up an online shop.
If you're thinking of switching from one eCommerce solution to another, you need a foolproof way to migrate all your product, order, and customer data for seamless service delivery. Cart2Cart is the industry leader when it comes to shopping cart migration.
Wish to migrate your online business to Shopify or any other supported platform? Sign up today for a free demo.