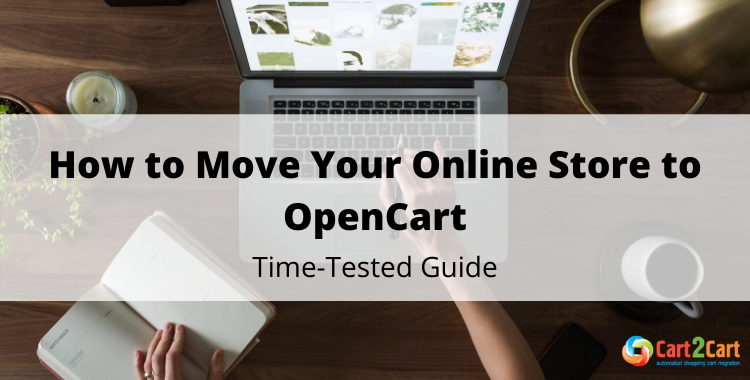 If you're looking for a way how to migrate your store to OpenCart, we'd like to meet you half-way and present an easy-to-follow guide on OpenCart migration. Take time to read the post and get all your migration-related questions answered.
With so many shopping carts available in the realm of the eCommerce industry, OpenCart has managed to become one of the choicest options. The platform doesn't require a lot of time for its configuration but provides great opportunities for store development. eCommerce beginners running small- and medium-sized online stores usually find OpenCart a perfect go-to to power their online business.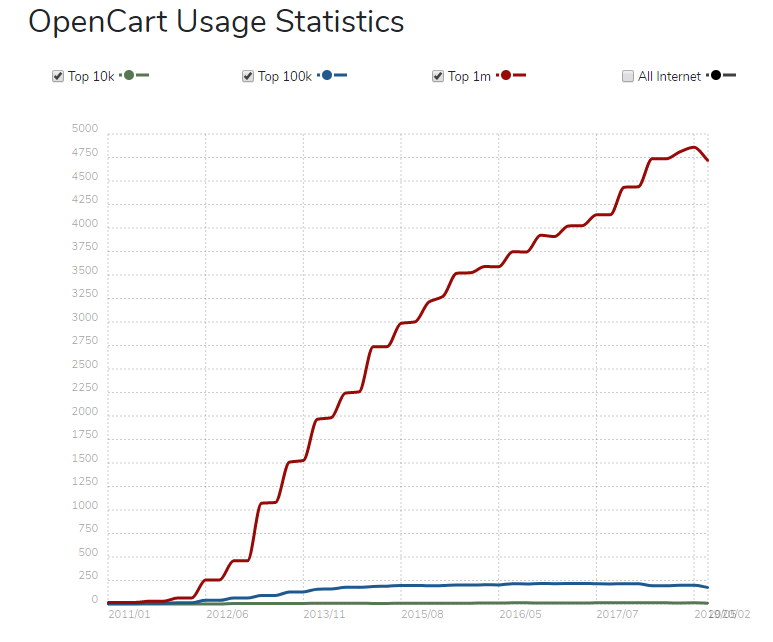 OpenCart Benefits. Short Overview
Here's a brief look of OpenCart advantages that make 959,952 websites all around the world gravitate towards it:
It has an intuitive interface. With a clean and simple interface, the learning curve is virtually nonexistent. This makes OpenCart an excellent fit for both novice and expert entrepreneurs.
It allows expanding the online business internationally. OpenCart has all the functionality required to set up an online store in multiple languages, multiple tax zones, and different currencies.
It has a thorough reporting system. With OpenCart, store owners can use different types of reports that allow e-merchants make well-informed business decisions and calculate sales per definite period of time.
It offers dozens of add-ons. A vast library of themes and modules make it possible to improve the performance of any online store and to make it feel and look as required.
It boasts of a huge community. Thanks to the active and vibrant community of experienced OpenCart developers and programmers you can get technical support round the clock.
If you've already made the decision to migrate to OpenCart but want to avoid the data migration hassle, keep reading the post to discover how to go through the replatforming without digging into mountains of codes and scripts.
OpenCart Migration
Taking into account the enormousness of manual database transfer and the cost of hiring a 3rd party developer, the need for an automated migration tool is becoming more understandable.
Automated database transfer is an innovative and non-techie-friendly way. Cart2Cart aims to save online entrepreneurs all the trouble that comes with store transfer.
How to Migrate to OpenCart: Where Should I Start?
Plan thoroughly
The key to error-free migration is careful planning. Take the time to estimate the resources needed, make out a step-by-step transfer checklist, and build a migration team.
Perform content audit
When conducting eCommerce replatforming, it is important to have a full overview of the store data. This includes store content audit and analyzing what data to be moved, consolidated, or even removed. This MOZ guide can come in handy for you.
Choose the best moment to migrate
It is strongly advised to perform replatforming during a low-traffic time as it will minimize the impact in case something goes wrong.
Is it possible to recreate my current store on OpenCart platform?
In layman terms, store migration involves copying the data, design, and functionality and transferring it to the corresponding OpenCart platform. However, with the help of automated converters like Cart2Cart, it is possible to export only store data elements (like products, product images, related products, category images, manufacturers, etc.). The reason is - the design and store functionality transfer is impossible. Basically, it would mean building an online shop from scratch, just with the same look and functionality.
What store data can I import to OpenCart?
Currently supported data types that can be migrated with Cart2Cart are:
Products (product tags, product variants, product images, product categories, downloadable products),
Custom fields,
Category images,
Manufacturers(manufacturer images),
Taxes,
Customers (customer billing/shipping address),
Orders,
Coupons,
Reviews,
Blogs (blog posts),
Multistore,
Multiple languages,
Multi currency, etc.
Is it possible to transfer the customers' passwords to OpenCart?
Yes, Cart2Cart allows migrating customers' passwords to OpenCart. But to guarantee the swift and accurate passwords transfer, it is necessary to install the Cart2Cart OpenCart Passwords Migration Plugin on your OpenCart store before the migration. For more info go here.
Will migration affect my SEO?
Well, your SEO can really be affected in case URLs of the transferred products will change. To avoid this, it is recommended to pick the "Migrate categories and products SEO URLs" additional option (see the details). For more detailed and in-depth info on how to migrate SEO read this post.
Pre-Migration Checklist
Create OpenCart store
Though most OpenCart hosting providers offer a 1-click installation, you can set up a store manually. Before the installation, make sure you have your FTP credentials and database information handy. Visit the official OpenCart page and download the latest version of the platform. Following the instructions provided there you'll have your OpenCart installed.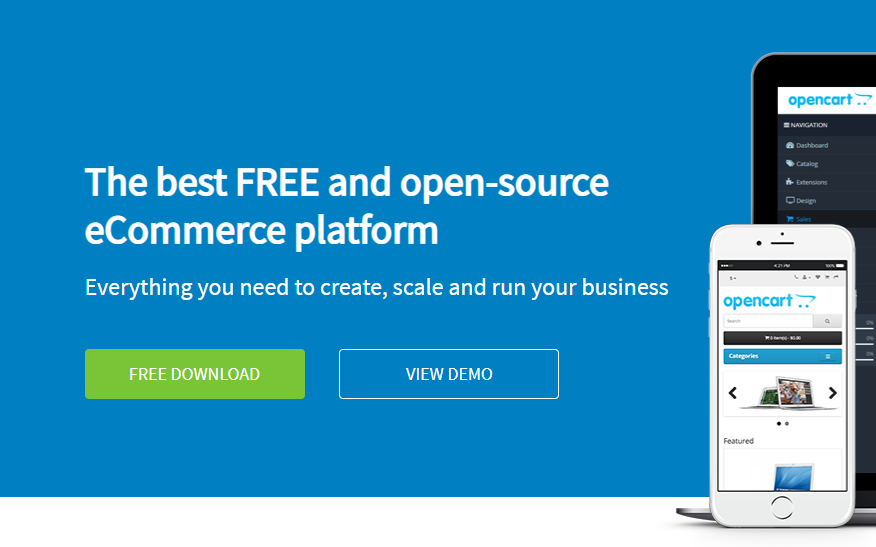 Note: It is not recommended to customize the theme on your OpenCart store before the migration. Extra configuration at this point could interfere with the process of the database migration.
Find your stores' access details
Take time to prepare the store's URL address and FTP credentials (if migrating from an open-source cart) or the store's API details (if migrating from a hosted solution).
Run demo migration
Now when you've made all the necessary arrangements and are prepared well, it's time to do Demo migration. This will allow making sure you're ready to click the Go button.
How to Migrate to OpenCart. Cart2Cart Roadmap
Set up the source & target stores
Provide your source and target stores access details. More specifically, start by choosing your current store platform from the drop-down menu of options. Provide the required data depending on the type of your current platform (see above). When done, scroll past the source cart section and proceed to the target cart area (that is OpenCart). Type in your OpenCart admin URL, login and password and click the Choose Entities button.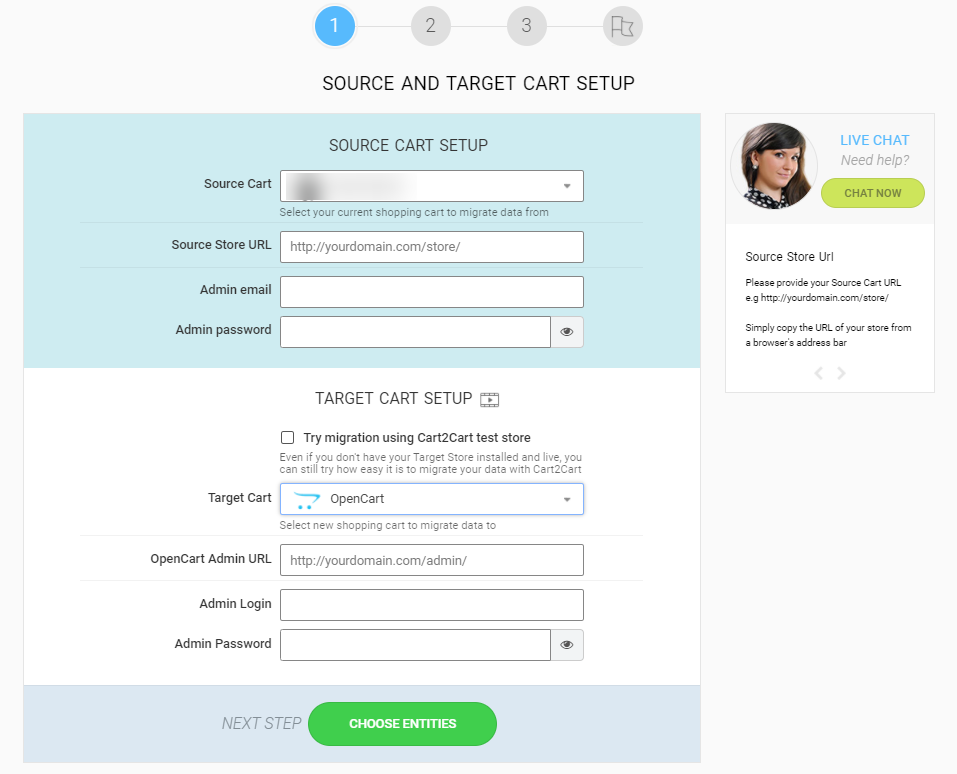 Specify data entities & additional migration options
The next step entails choosing the specific data types that you want to transfer to OpenCart. Cart2Cart tries its best to accommodate all the essential eCommerce elements - so if you want to transfer all your current eCommerce stuff you can tick the "All Entities" checkbox.

Apart from store data entities, you can customize your OpenCart migration even more by choosing the Additional Migration options. You can, for instance, Preserve customer and product IDs on your OpenCart. It is also possible to Migrate categories and products SEO URLs and Migrate images from product descriptions, categories descriptions and blog posts description, etc.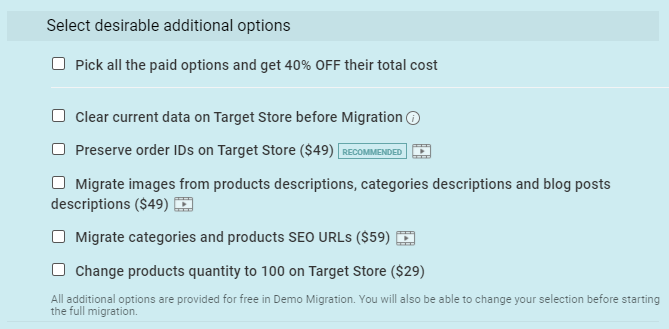 If you want to have a general idea of how your new OpenCart store will appear once the migration process is finished, you can take advantage of the Demo migration. It's completely free of charge and the whole transfer process usually takes up to 15 minutes.
Perform full OpenCart migration
If you're happy with the Demo results (see the best way to check your Demo results), you can proceed to launch a full migration. Because the service is charge based, you will be billed at this step.
Note: The total cost includes the number of entities and additional options you've chosen to customize your OpenCart migration.
Once you've settled the payment, Cart2Cart will transfer your entire database to OpenCart. While Cart2Cart is conducting the whole migration process, you won't be experiencing any downtime. In other words, your current store will be 100% up so you'll keep selling.
How to Migrate to OpenCart. Post-Migration Tips
As soon as you have the OpenCart migration finalized, there are still some things that you should perform before the new store goes live. To be more specific:
Monitor your frontend area - check if your products/customers/orders are visible in catalogs, and onsite search is working.
Crawl your site- if broken links are encountered, fix them by redirecting them or removing altogether.
Perform a test purchase to see if everything runs in the right way. Do that a few times just to be safe.
Note: If new orders, products, customers or other entities appear on your newly-launched OpenCart store after the migration - you can make use of the Recent Data Migration and transfer all the new store data to OpenCart (or just the data entities you select).
A Final Note
Although migration to OpenCart may be a problem-solving necessity, it is associated with a lot of risks, as any ecommerce transfer is. This all-the-way guide will help you go through the replatforming not only without confusion, but also with the least third party help necessary.
So, go ahead, catch this opportunity and launch your risk-free Demo migration right now. Shortly, you'll be able to reap the benefits of OpenCart and take your online business a level up.
Want to get professional help with your OpenCart migration? Turn to Cart2Cart Support Team and get all your migration-related questions answered.