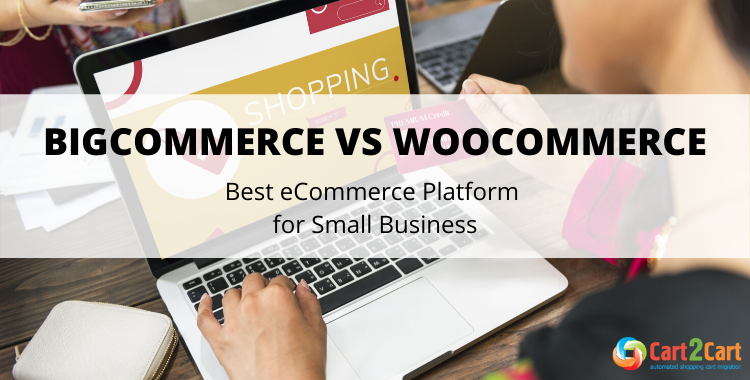 There are dime a dozen of eCommerce solutions availabe at the web market that provide everything needed to build and manage an online store. Think twice before choosing the software to settle your estore on - making the wrong decision can have a negative impact on your online business for years and cost you a fortune and time to rectify.
According to Google Trends stats, WooCommerce's popularity is rapidly increasing in search trends, but in recent years BigCommerce tries its best to catch up. It still has a lot more catching up to do, but its popularity is growing as well.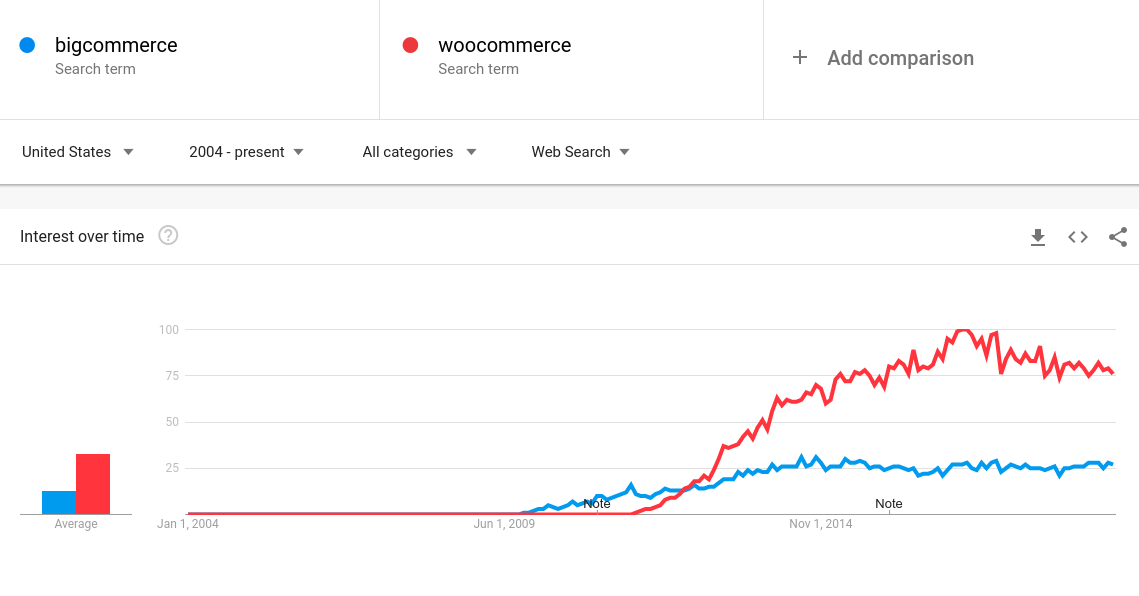 What Is the Difference Between BigCommerce vs WooCommerce?
Both WooCommerce and BigCommerce are robust and fast-growing solutions, and there's no outspoken leader between them. In short, if the budget is your crucial priority, go with WooCommerce, as BigCommerce pricing bites a little. Looking for an all-in-one solution, that doesn't require any tech skills? Give BC a try.
BigCommerce vs WooCommerce. Startup
When considering to start an online shop, you should really look at the pros and cons of going with a dedicated hosted platform like Bigcommerce or a self-managed WordPress Woocommerce CMS. Both BigCommerce vs WooCommerce have a lot to offer either a beginner and an advanced merchant and narrowing down your options can be tricky. Here, we compare and contrast the two platforms so you can find out more about the drawbacks and benefits of counterparts.
BigCommerce
In 2009 Aussies Eddie Machaalani and Mitchel Harper launched the SaaS ecommerce solution now known as BigCommerce. It's famous for its high reliability, ease of use, beautiful templates, multifunctionality, and quality consumer support. Cloud-based and user-friendly, this platform helps merchants from all levels of experience and revenue sell their products online successfully. But if going with BigCommerce, bear in mind, that there is room for improvement, when it comes to advanced features or customizability for large retailers and companies. It's up to you, whether it matters or not, but Cart2Cart believes, that BigCommerce has much more advantages than disadvantages, especially for small business.

WooCommerce
With more than 3,876,748 live websites on the board, WooCommerce becomes one of the most popular, well-known and best WordPress plugins. No wonder, thanks to its expandability, flexibility, and robustness, the number of loyal clients is growing without letting up. Since its establishment in 2001, up to date, the platform boasts of 7+ million downloads throughout the world. But the most important feature, which keeps WooCommerce at the top of the league for a considerable time, is free of charge. This bling enables you to decide on experiments and to try many different methods or strategies when running your business. No loss - no fear, right? Since sometimes courage works miracles. Perhaps it's a great time to take action?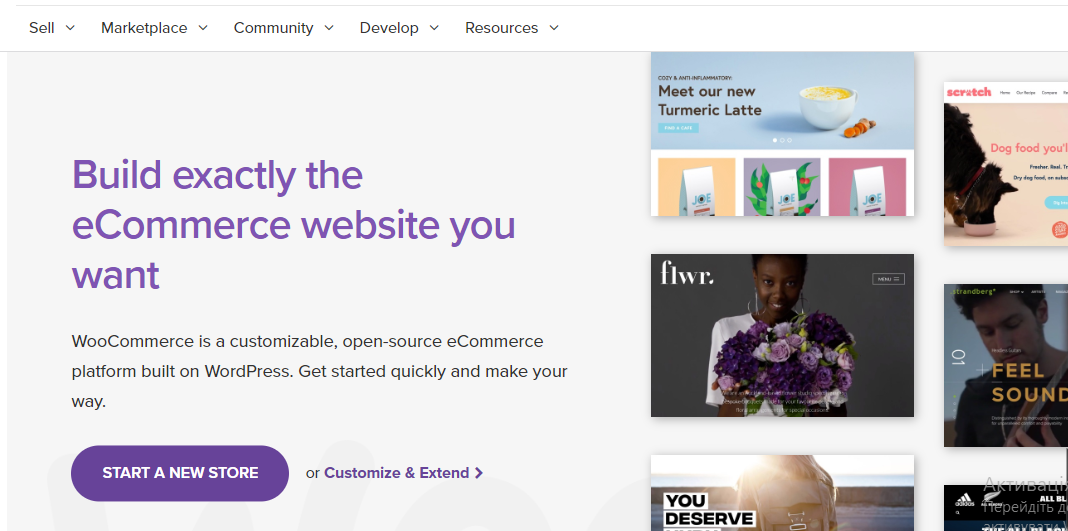 BigCommerce vs WooCommerce. Technical Support
It's commonly known, that teamwork provides promising prospects, especially when sifting through the countless options for a new eCommerce site is overwhelming. We mean, who'd turn a helping hand down, being far from coding and programming skills (mainly if this helping hand is knowledgeable and tech-savvy customer service)?
BigCommerce
As for BigCommerce support, this platform is diversity itself. It empowers customers with numerous help options, proposes 24/7 personal tech support via different channels, like email, live chat, and phone. Fortunately, this kind of help is available at all levels. In case you'd prefer to take matters into your own hands, BigCommerce has lots of online auxiliary resources as well:
Developer Documentation: guidance notes on old-school Blueprint themes and brand new Stencil outlines as well; API guides for building integrations
Strong Platform Community: you can find experienced developers to customize your eStore;
Webinars: the archive of the topical videos are at your disposal;
Guides: how-to documentation, eCommerce best practices, troubleshooting articles for setting up and managing your online shop;
BigCommerce Forum: in case you've bumped into a common problem, find the solution and bring to light any difficulties you may encounter;

University: a number of professional video tutorials that lead you through the basics of using BigCommerce.
If you'd rather contact BigCommerce technical support directly, you're welcome to use:
Phone: visit the official page for numbers by country;
Live Chat;
Web Ticket;
Email;
Social Media Profiles: keep in touch with BigCommerce via their Facebook and Twitter profiles.

WooCommerce
WooCommerce would also never abandon its customers, but as in the case with most free open-source platforms, the personal customer service here is quite limited. Unfortunately, you cannot get help through social media, email, or phone, although you can submit a web ticket. Via live chat, WooCommerce will immediately give the response to your request. But there's a reason for such restricted tech support: one of the best things concerning WooCommerce is that it's straightforward download, use and set up. The installation process takes you through a simple setup wizard with hits and instructions, all you have to do is picking up your currency and tax rates, setting up a payment gateway and building the main WooCommerce pages such as your Shop, Cart, and Checkout.
You will be in need of advanced customer help if you decide to equip the site with lots of non-Woo products. Thus you'll be prompted to make these third-party products invalid before they can provide any aid.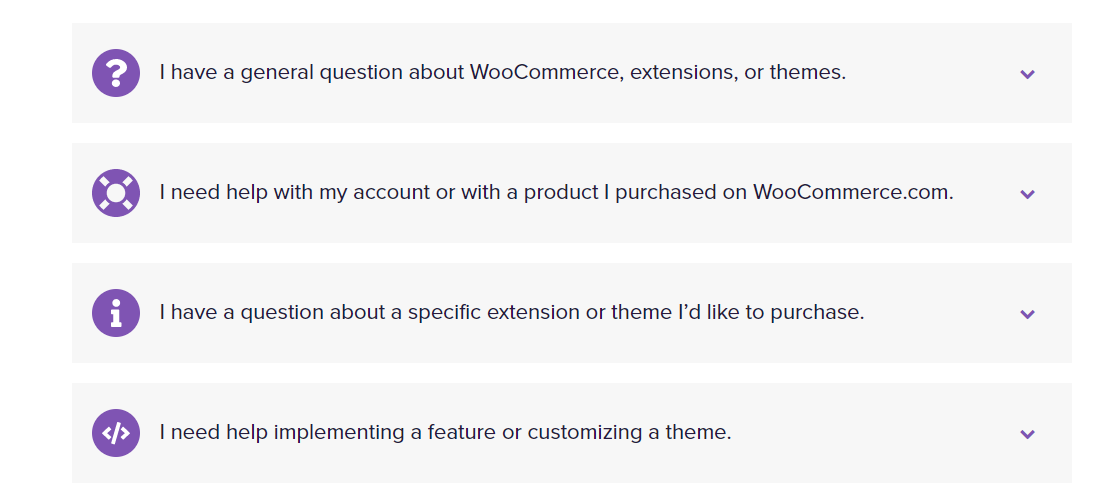 Simply put, WooCommerce lets you access lots of self-help options, including:
FAQs;
Community Forum;
Blog;
Documentation and how-to writings;
Woo-experts for hire.
Please, note: WooCommerce plugin integrates with WordPress, but they both are not the same. With questions, regarding WordPress, contact its Help Centre, instead of WooCommerce.
BigCommerce vs WooCommerce. The Trade in Question
Usually, an ideal vision falls apart like a house of cards in a blink of an eye when it comes to price. Especially, if you're looking for the trusted solution of startups and growing businesses since beginners can hardly finance too expensive platform. You're lucky, far from all sales panels will cost you an arm and a leg.
BigCommerce
Before listing available pricing plans, we should mention, that BigCommerce provides 15-day free trial with no credit cards, no transactions and no payment required. Refunds are collected on a monthly basis, and the cancellation fee isn't implemented. But there's no need to purchase the monthly plans, take advantage of a 10% discount while deciding on a one-year subscription instead.
Flexible pricing policy is one more reason, standing for the platform, as the plan cost will be determined due to your store's annual online sales. It's a different structure than some of BigCommerce's main competitors, which helps to step forward. If your profit and revenue go beyond the set amount for a specific plan, the eStore will be bumped up to the next pricing tier automatically.
Standard Plan ($29.95 per month for sales up to $50K annually); The tier includes unlimited storage, products, and traffic.

Plus Plan ($79.95 per month for sales up to $150K annually); Choosing this offer, you'll gain access to numerous marketing tools, like customer groups, shoppers segmentation, credit card storage, abandoned cart saver and etc.

Pro Plan (from $249.95 monthly for sales under $400K per year); Note: this price isn't finalized, it'll be increased by $150 per month for every additional $200K in sales, up to $3M. For this additional expense store owner gets Google customer reviews, product filtering option, and ability to bring over an SSL that you may have purchased from another SSL provider.

Enterprise Plan (custom pricing lower than Magento and Shopify Plus). This solution is a great choice for large retailers, who can afford to pay quite a lot of jack for advanced features proposed. This benefit-list involves price lists, unlimited API calls, the usage of custom product fields as product filters in the faceted search, premium account services, express routing, priority support, and strategic account management.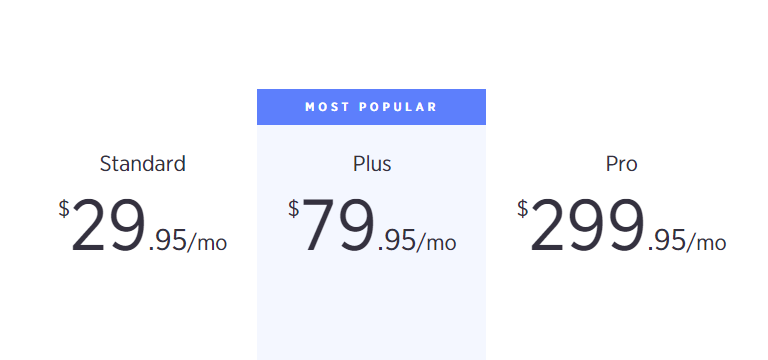 WooCommerce
Let us guess, you're wondering now what is FREE WordPress plugin doing here? It's not that simple, guys. Since excellent business is not about altruism. The great news is that WooCommerce is 100% free of charge to download! You can find it on WordPress.org and get started without paying a penny. But moving forward you'll come upon demand to pay for some extensions, WooCommerce themes or additional services over and over again. It's the inevitable result, whether you like it or not. And the first priority is buying web hosting and domain name. You also have to get a WooCommerce-ready theme. This means that the theme works with WooCommerce and will look perfect with your eCommerce pages such as products, categories, cart, and checkout.
For achieving the best use out of the platform, you'll have to purchase various add-ons and extensions, which range in price from free to hundreds of dollars. However, because many of these extensions are one-time purchases, you'll probably come out paying slightly less than you would with another popular option.
BigCommerce vs WooCommerce. Diverse Design
A website builder's remarkable strength in support, ease-of-use or something else will become insignificant if its templates are boring and poor in quality. The thing to bear in mind is: your customer does not see backstage, and doesn't want to know. All he cares about is a neatly-organized interface and high-quality products. Everything else is a hassle. Thus the platform of your choice should be capable of providing you with beautiful templates and handy design. Let's find out which platform can do it better.
BigCommerce
Bigcommerce prides itself on producing themes that are optimized for all kinds of purposes and types of eCommerce shops. Its reasonably good selection of responsive Stencil templates are pre-made for new merchants, and if you're still using legacy Blueprint designs, start thinking about an upgrade. There are free and premium templates, going for around $120-250 a piece, so no matter what you might be selling, their multipurpose nature allows being used for all kinds of stores and products. So the way to go about choosing your theme would be to look for something that's in tune with your brand. BigCommerce includes a ton of modifications for available themes (close to 500 total variations and 25 for free themes).

WooCommerce
Although WooCommerce can technically be integrated into any WordPress.com theme, we recommend using a WooTheme for a couple of reasons: First, using a WooTheme reduces headaches involved with applying WooCommerce updates to your store. Second, WooCommerce's web ticket support only applies to Woo products. Read WooCommerce's Support Policy to learn more.
WooThemes provides their free Storefront theme to all users. They also offer 14 child themes, 12 of which are priced at $39 (two are available for free). While Storefront is not the most exciting template I've ever seen, it's alright for a free theme that works smoothly with all WooCommerce updates.
Last year, WooCommerce introduced a new Storefront Powerpack extension bundle ($59 for a single site). This extension includes all of the tools that were included in the previous packages: Storefront Designer, Storefront WooCommerce Customizer, and Storefront Checkout Customizer. Storefront Powerpack gives you the ability to make changes to the look and feel of your Storefront site without touching any code. You can also look into purchasing a more complete package, the Storefront Extensions bundle, at $69.

If you'd prefer even more control over the look of your store, you can always add plug-ins or child themes or edit the HTML and CSS stylesheets. Because WooCommerce is open source, there are no limits to the customizations you can make to your platform, though you should be aware that you're less likely to benefit from WooCommerce's web ticket support if you customize your store's code.
WooCommerce comes with some styling to make it work with most themes. However, in practice, it's best to use a WooCommerce-ready theme. This is because your store pages will have been properly designed to look good with your theme. They will look more professional and be better tested.
Final Slice
There is nothing left to think about! Cart2Cart will perform your migration either from BigCommerce to WooCommerce, or from WooCommerce to BigCommerce accurately and smoothly in no time for reasonable prices. Start Free Demo, become an eCommerce leader!