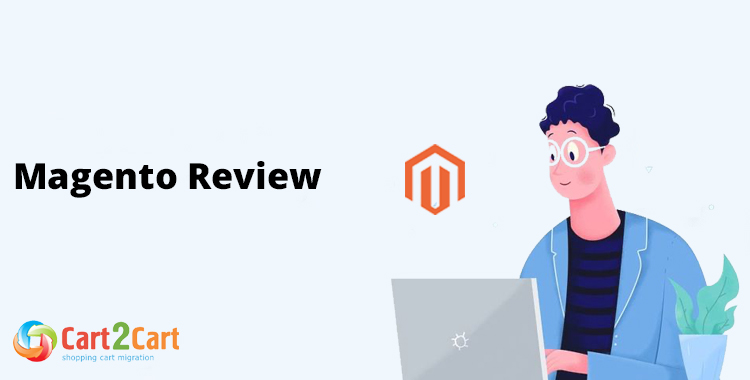 Before getting into this Magento review, you need to keep one thing in mind. Choosing the best open source eCommerce platform for your online business is the single most important decision you'll ever make. It's the difference between building a thriving, successful digital enterprise or collapsing before you ever get it off the ground. The question is: Should you choose an open-source platform or opt for a hosted solution for a more hands-off approach? This Magento eCommerce review explores the answer to this question in depth.
What is Magento?
Magento, which was recently rebranded to Adobe Commerce, is an open-source eCommerce platform that lets you build an online store from scratch. It is no doubt the most well-known self-hosted eCommerce platform, with a modest 2.32% market share. Magento is designed for medium to large-scale enterprises with plenty of wiggle room in their budget to retain full-time web developers.
Magento: Pros and Cons Comparison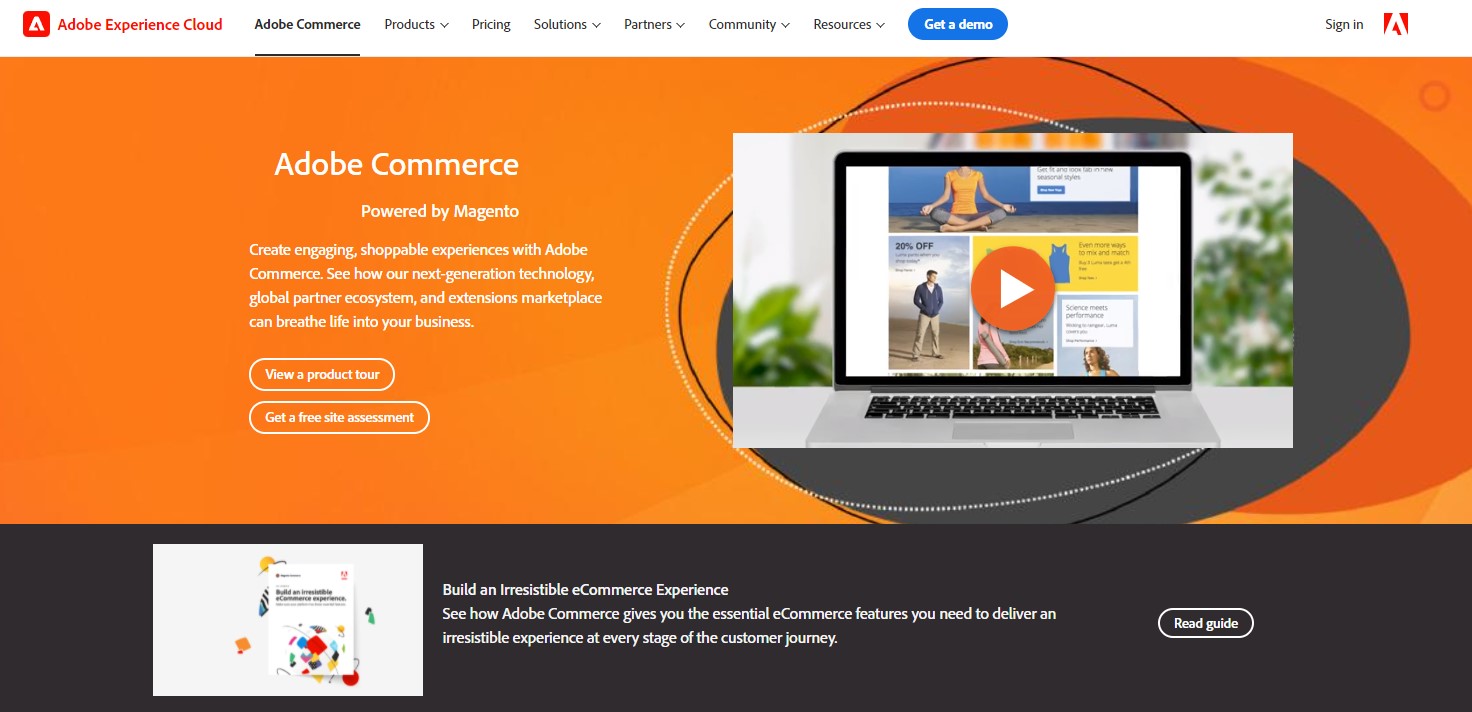 Objective Magento reviews can all agree on one thing: There's no such thing as the "perfect" eCommerce platform. They each have their fair share of advantages and drawbacks. It all depends on your business goals.
Magento Pros
It offers exceptional scalability making it ideal for growing companies
Like most free eCommerce solutions, it is open-source and, therefore, free to download
The backend end interface is expansive and comes with loads of pre-loaded features
The massive global community of Magento users and developers
There's no customization limit
Magento Cons
It is not beginner-friendly at all and is more suited to individuals with a web development background
You'll need to be hands-on when it comes to security, hosting, upgrades, and backup-related matters
The fact that it is an open source eCommerce platform means there's no dedicated customer support available
| | | |
| --- | --- | --- |
| | Pros | Cons |
| 1 | Free to download and install thanks to the open-source nature | Steep learning curve, high-tech skills needed |
| 2 | High customisability | Limited support unless you're using Magento Commerce |
| 3 | Fast page loading time | Extensions can be costly |
| 4 | Plenty of payment gateway, integration, app and add-on options | Not really geared for small businesses |
| 5 | Active global user community | |
| 6 | Impressive security capabilities | |
| 7 | Super scalability and large capacity | |
How to migrate to Magento automatedly
Magento Review: Key Aspects

Adobe Commerce is one of the most feature-rich eCommerce platforms out there. It explains why it is such a hit among large-scale enterprises. If you're operating a small business and want to dip your toe into the wonderful world of eCommerce, we suggest going for a less heavyweight solution like Shopify or Bigcommerce.
Once you're ready to flex your business muscles, hire a web development team, and scale up your enterprise, Magento would be the best platform to use. This is mainly because of the unlimited customization options you get with it.
With that in mind, here's an in-depth look into what you can expect.
Wish to test-drive Magento with no developer's help needed? Try the free demo migration with Cart2Cart now!
Ease of Use
Right off the bat, Magento (Adobe Commerce) is not beginner-friendly. If you have no coding background or experience in web development, this is not the platform for you.
As we mentioned before, it was built with medium to large-scale enterprises in mind. This means companies with a team of IT professionals on their payroll. If you're a web developer, you'll have the time of your life working with the Magento interface. The layout is highly intuitive, and the self-hosting setup process is pretty quick and straightforward. You should be in and out in no time.
We especially like how the navigational menu consolidates everything you need. We're talking sales, promotions, products, customers, and reports. You'll find everything you need at one point.

The platform relies on an FTP-dependent local installation process, which should be too hard to do if you know how to code. On the flip side, if FTP sounds like IT gibberish to you and your budget doesn't allow you to bring a web developer on board, you might want to steer clear of Magento.
Main Features
As far features go, Adobe Commerce has no shortage of them. Below are the ones that stood out.
Amazon Sales Channel
This sales channel gives users the opportunity to distribute and sell their wares on Amazon – the world's largest online marketplace – directly from their Magento store.
Best B2B Shopping Cart for your online business
ERP Integration
Adobe Commerce (Magento) lets users integrate their ERP system with their online store. That way, you can sync shipping details, customer data, inventory, and other business-critical information for enhanced efficiency.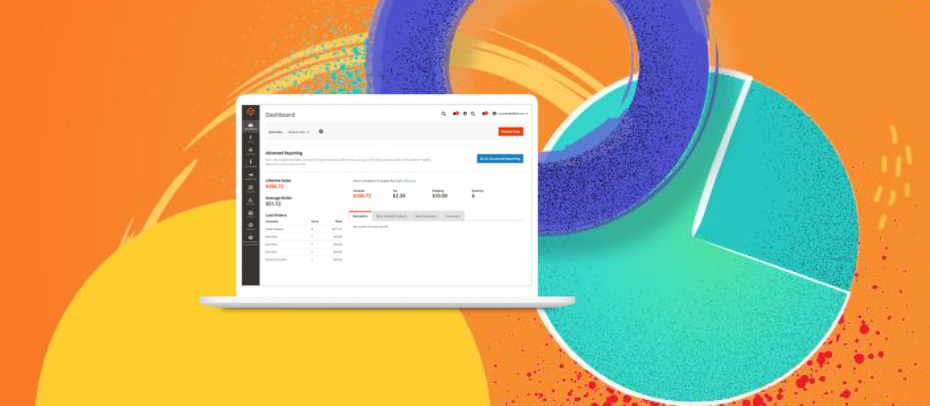 Inventory Management
This feature guarantees real-time insights into the availability of products. It ensures that customer expectations are satisfied across all sales channels.
Mobile Responsive Web Apps
The platform integrates PWA Studio. This app allows users to develop, optimize, and deploy Progressive Web Applications fast and affordably.
Multi-Store & Global Solution
Magento allows store owners to serve their customer base – consumers and businesses alike – via a single account through different digital channels. That way, you don't have to extend the resource requirements for your business.
Here's the Magento review from Brandastic:
Order Management & Fulfillment
The order fulfillment system bridges the gap between in-store and online sales. It allows for convenient, cost-effective, and flexible delivery.
Page Builder
The platform has an intuitive drag-and-drop interface that allows you to build and configure your web pages conveniently. The builder also makes for easy asset management, content staging, and previewing.
Product Recommendations
Adobe Sensei is integrated into Magento. It allows the store to make relevant product recommendations tailored to each shopper that visits the site.
Segmentation & Personalization
Magento achieves this through the dynamic display of content, pricing, and promotions to specific customers. Their selection is based on location, gender, order history, and other relevant demographic data.
Themes and Templates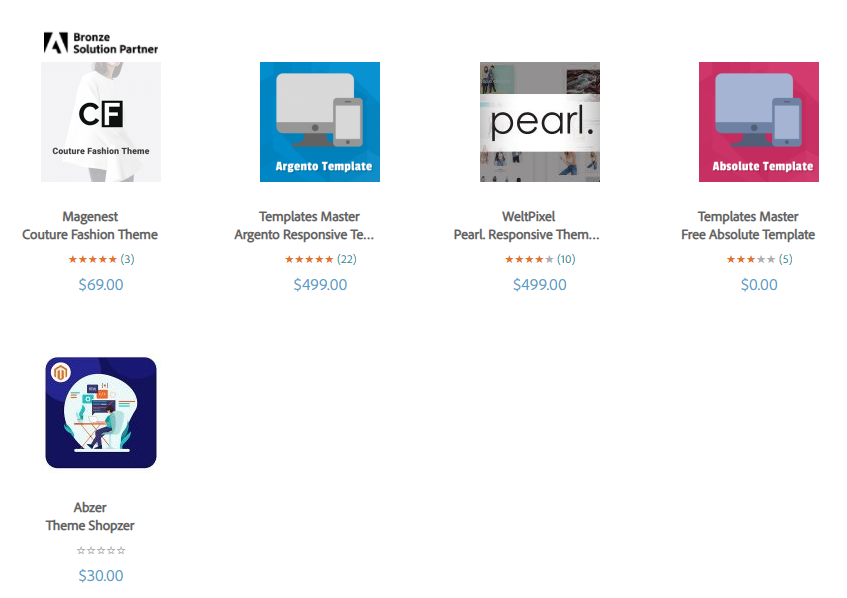 Magento's theme marketplace only offers a handful of templates to choose from. At the time of this publication, the website featured a total of 5 themes, one of which was free. While this might seem like a shortcoming, let's not forget who Adobe Commerce is built for.
Sure – if it targeted individuals with little to no web development experience, the lack of professionally designed theme templates would be an issue. However, Magento is known for its unlimited customization capabilities. Translation: It was created for web developers to build online stores from scratch.
Customization means designing it to the specific and unique requirements of the store owner. This is only possible if there's a blank slate to begin with. That's what Magento brings to the table.
That said, the custom design tools you get with Adobe Commerce are pretty impressive. The platform has everything you need to create a powerful online store and design it exactly the way you want.
Now, if you're hell-bent on using a pre-designed website template, you can browse the 400+ Magento themes and templates on Theme Forest. You'll find some pretty solid options to work with, although you will be limited in how much you can customize them to your brand. They are organized into categories like shopping, fashion, technology, health & beauty, and many more. They are all premium themes, and prices range anywhere from $39-$299.
How to migrate OpenCart to Magento
It's important to mention that just because you have a template you can use doesn't exactly mean there's no input required on your part. You still need some experience working with programming languages like PHP to get your online store to look exactly the way you want.
Make no mistake about it, though. A theme serves as a great starting point, but you will still need someone with web development experience to customize it to its full potential.
Pricing
Users have the option of choosing between two versions of Adobe Commerce: Magento Open-Source and Magento Commerce.
The open-source version is likely the one you are most familiar with. It was formerly known as the Community Edition software. It is available at no cost whatsoever and can be downloaded directly from the Magento website.
On the other hand, Magento Commerce is the premium version of the platform. It is a powerful software package designed for fast-growing businesses and large-scale enterprises. This version of Adobe Commerce offers unlimited possibilities as far as building scalable online stores go. It is not comparable to any other existing eCommerce software on the market simply because the capabilities it offers are unmatched.

Now for the meat of the matter – pricing. How much is this kind of power going to cost you? The short answer is – it varies depending on the size and needs of your enterprise. Adobe would need to review your business' Average Order Value (AOV) and Gross Merchandise Value (GMV) to come up with a custom quote.
Although the precise amount will vary from company to company, the one thing you can be sure of is – it's not going to be cheap. Then again, keep in mind that they're creating a custom solution for your company.
Going back to the open-source version of Adobe Commerce, there are a few things we need to clarify since the word "free" is often misunderstood when defining self-hosted solutions. Just because it is free doesn't mean there aren't any miscellaneous expenses you'll incur to make your online store fully functional.
For starters, you'll need to get a domain name, a hosting provider, and an SSL certificate. You'll also need to cost the server and its maintenance if you intend to do this yourself. You'll also need to think about getting back up capacity to handle any influx in traffic or unprecedented downtime.
Expenses aside, there's also the not-so-small issue of the day-to-day running of the backend. A self-hosted solution essentially means you would be in charge of fixing bugs, installing software updates, doing the upgrades as required, and handling security patches.
This isn't necessarily an issue if you have an in-house IT team doing this for you. However, you can see how that can become a full-time job if you're doing it on your own. This takes time away from running your online store.
When you factor in all these, you'll quickly realize that while the platform itself is free, everything else required to turn your website into a secure, fully functional store is not. That's something to keep in mind as well. If it sounds like you might have your hands full, consider a more straightforward hosted solution like Shopify or Squarespace.
Apps and Plugins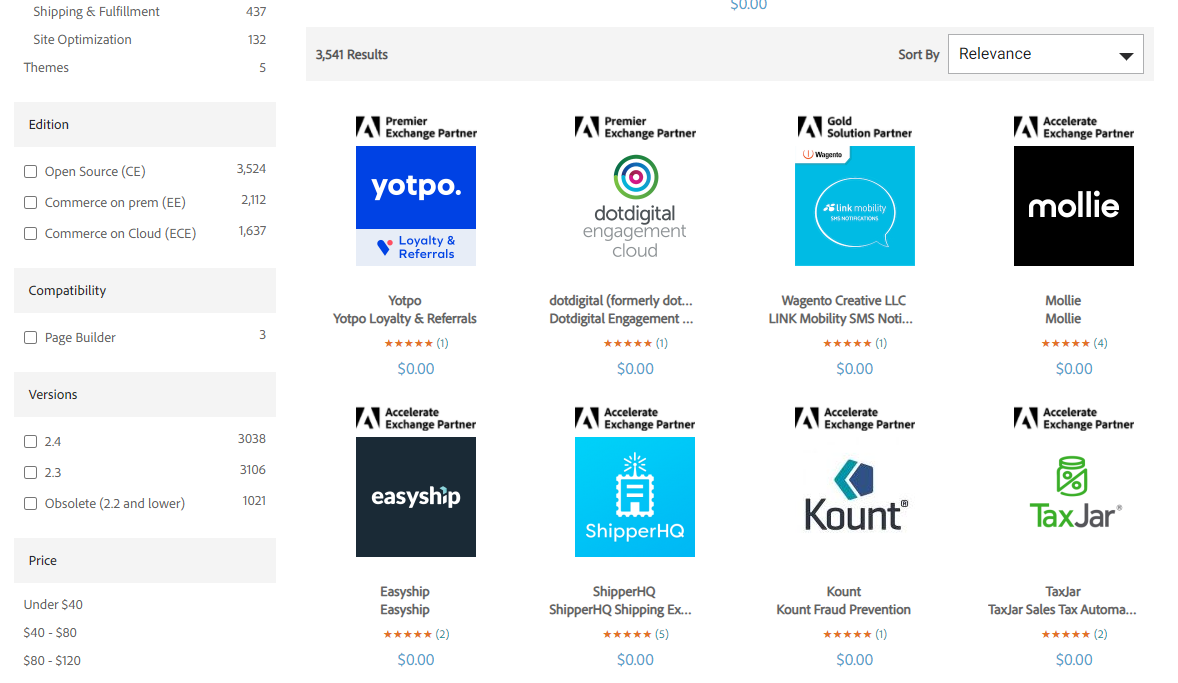 Since Magento is an open-source platform, it is ultra-easy for the global developer community to create new apps and extensions for it. As a result, it boasts 3,500+ extensions, making it one of the most impressive app collections in the eCommerce world.
The Magento marketplace features numerous extensions in the following categories:
Accounting and finance – Features tax, ERP, and accounting plugins.
Content and customizations – Includes extensions for product content, personalization and experience management, site search and navigation, rich media, translations, and localization, etc.
Customer support – You'll find dozens of Live Chat extensions you can incorporate into your online store.
Marketing – Features apps for advertising, CRM, email marketing, marketing automation, and SEO/SEM.
Payments and Security – Extensions in this category include plugins for payment integration, fraud, and checkout enhancements.
Reporting and analytics – These give store owners critical product, customer, shipping, and inventory data over a specified time frame.
Sales – This category features extensions for Point-of-Sale (POS), gifts, comparison shopping engines, and loyalty rewards.
Shipping and fulfillment – Includes Order Management (OM), cross-border fulfillment, address verification, and Warehouse Management System (WMS) apps.
Site optimization – You'll find site monitoring, performance, and hosting apps.
While some extensions are free, others are not, with prices ranging anywhere from $25 to $10,000 depending on the app in question. In some cases, this may be a one-off payment, while others may adopt a subscription-based model.
On a side note, be sure to check whether the extension you install is compatible with the version of Magento you're running. There's no sense in purchasing a plugin for hundreds or even thousands of dollars, only to realize that the app in question requires a higher version of the software to run.
All in all, the platform's extension collection is unmatched. There's everything you need to convert your online store into a fully functional website.
SEO and Marketing Tools
SEO is among the most crucial elements to consider when choosing the best eCommerce platform for your online store. After all, it's the only way you'll drive traffic to your site. More visitors mean more revenue.
Optimizing your website has to do with how you make it visible to search engines. It's how people know your business exists when they type in a search query related to the products or services you're offering.
The question then becomes: What features does Magento have to optimize your website for SEO? The good news is – a lot!
The platform comes with SEO already configured. The fact that it is open-source also means you can go in there and change things yourself at the backend.

You can change the meta title, meta description, product description, and meta keywords. You can also edit image alt-tags, product URLs, and snippets to make them search-engine friendly. We particularly like the extra features it comes with, such as redirect links, no-follow links, and Google sitemap, which all work together to make it easier for search engines to crawl your site.
All versions of Magento 2 and higher support the standard Magento SEO functionality and mobile optimization. Making sure that customers can view your online store from their mobile device without page distortion is an integral part of SEO. Magento ensures that all pages on your website can be viewed on a wide range of mobile smartphones and tablets, regardless of their screen size and orientation.
The best part is – there's no active input required on your part to optimize your store for mobile viewing. This capability is built into the platform, so no additional time, effort, or resources are required on your part.
Other SEO features you can enable (or disable if need-be) to optimize your store for search engines include:
Adopting a page title separator
Creating permanent redirects for URLs if the main key changes
Editing the category URL suffix
Editing the product URL suffix
Enabling popular search terms
Generating "product/category" URL rewrites
Using canonical link meta tags for categories
Using canonical link meta tags for products
Using categories path when defining product URLs
Marketing
On the one hand, SEO makes your site visible on Search Engine Results Pages. On the other hand, marketing allows you to upsell the products or service options you're offering.
While there's always the option to get third-party extensions to unlock a host of marketing features, some of the ones that come built into the platform include the ability to give out coupons, offer promotional pricing, and upsell your products.
Magento also comes with an email marketing feature you can use to notify customers of new and ongoing promotions and discounts. This goes hand-in-hand with the multi-tier pricing feature you can take advantage of to give customers quantity-based discounts. It gives them a subtle nudge, incentivizing them to purchase more items so that they unlock those discounts.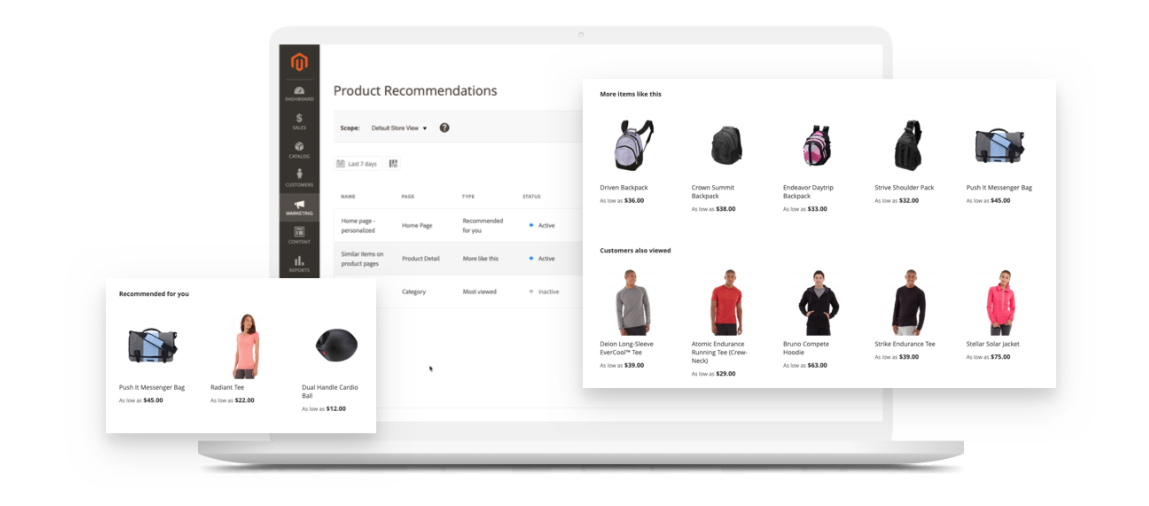 Although Magento Commerce has slightly more advanced marketing features compared to its open-source cousin, you'll still get everything you need to optimize and promote your store through add-ons. For instance, the premium version of Magento comes with customer loyalty tools, whereas the open-source version does not. Nonetheless, there are third-party extensions you can integrate into your website to take advantage of this feature.
Overall, Magento has an impressive set of SEO and marketing features. If promoting your website and making it visible to search engines rank high on your list of must-haves, you will like what the platform brings to the table.
Security
When running an online store, you have access to a lot of sensitive customer information. We're talking – names, residential/workplace addresses, credit card or debit card information, banking information, PayPal details – you name it. The fact that you have these details means that a hacker can also access them.
You don't need us to tell you all the different ways a security breach of that magnitude could end badly for both you and your business. Just ask Yahoo. You'll be fighting endless civil suits that will likely bankrupt you.
That aside, there's also the potential of you losing your online store to a hacker. They could gain access from the backend and lock you out of your own store. That's why the security features and capabilities of the eCommerce platform you choose play a critical role in the safety and security of customer data and your website as a whole.

Magento has a robust set of security features designed to prevent this. One of them protects against SQL injection attacks. These services are contained in the Security Center for store owners on Magento Commerce.
If you're using the open-source version, you will need to get your own SSL certificate to encrypt your site data. This prevents unauthorized access by hackers. You'll also have to ensure your site is PCI compliant. Other customer-oriented security features that come with the platform include Google reCAPTCHA and two-factor authentication for an extra layer of protection.
Customer Support
Since Magento is open-source, it doesn't have a dedicated customer support team. The majority of open-source platforms don't. If you run into any issues, there's a rich resource library full of dozens of user guides, webinars, informational blogs, and technical documents you can consult to get help.
If you still need your query addressed, you can post your question on any of the forums on the website that have Magento users and developers. In our experience, you will always get a response.
Magento Review - FAQs
What Is The Difference Between Magento 1 Vs Magento 2?
Magento 1 is an older version of Magento, and Magento 2 is the newer version. If you are reading this, most likely, you are migrating to Magento 2 or opening a fresh site using Magento 2.
Magento 1 websites had many page loading issues, longer checkout steps, fewer payment gateways, and ran on older PHP versions.
Magento 2 is powered by the Zend framework and operates on later versions of PHP. It has also addressed a number of the above issues present in the Magento 1 framework. All in all, there is not much issue here except that if you are considering a Magento website for the first time, get the Magento 2 since this is the updated and currently supported framework.
What Is Magento Open Source?
Magento Open Source is a self-hosted version of Magento that contains the core components of the proprietary Adobe Commerce. It requires the assistance of a very skilled Magento web developer in order to set up.
Final Thoughts
The main takeaway from this Magento 2.0 review is this: The platform offers unlimited customization capabilities for medium to large-scale enterprises. It is not beginner-friendly. You need to have a background in web development to set up a fully functional online store. Once you do, you'll be able to unlock the platform's full, unlimited potential.
When you're ready to switch from your current eCommerce platform to the best free shopping cart (Magento), you need to do so without losing data in the process. Using a data migration tool like Cart2Cart offers a foolproof way to do this in a few clicks.
Sign up for a free demo to discover how easy it is to migrate your store's product, order, and customer data to your new platform.