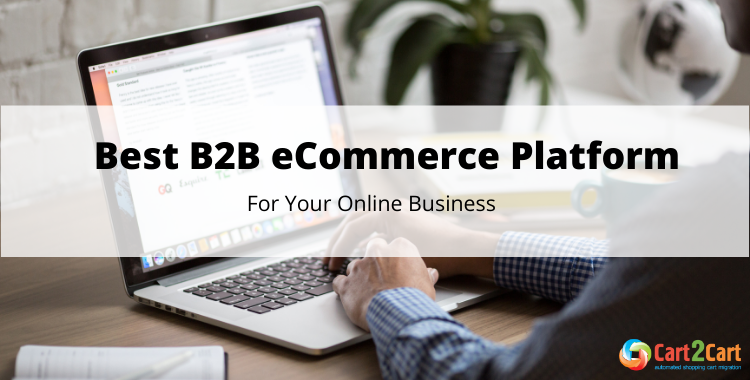 Whether your company is a start-up or well-established business, choosing the best B2B eCommerce platform is crucial if business goals are challenging. Top Commerce solutions for B2C companies are analyzed inside out, and many materials are available. Yet, once business-to-business commerce is the sphere you explore, reviews are rare. At Cart2Cart, we are always one step ahead, and the wave of B2B businesses development is the one we catch and invite you to surf with us.
What is B2B eCommerce Platform?
B2B or business-to-business is a corporate model aiming to sell goods and services to other companies. Media and eCommerce experts extensively discuss the B2B boom and predict that business-to-business eCommerce market share will be twice as size as B2C companies. Compare eCommerce sales in B2C and B2B worldwide. The chart by Statista shows the increase in B2B sales from 2013 to 2019 (in billion U.S. dollars) and the sums are truly astronomical: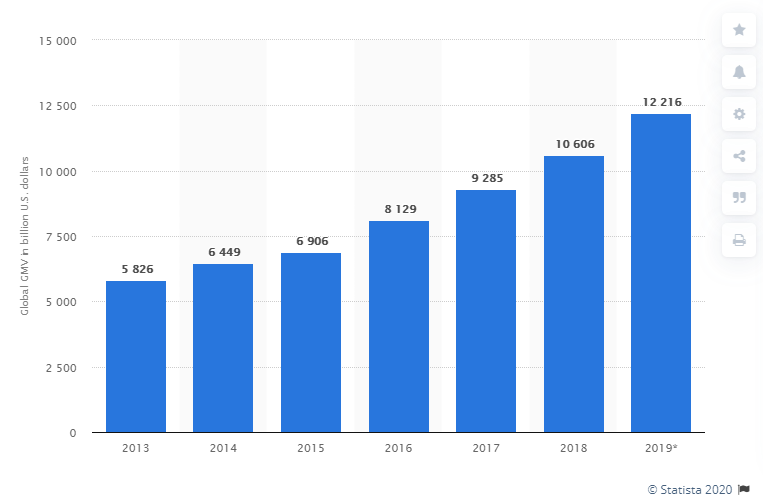 However, the growth of the global retail market has slowed considerably due to the COVID-19 pandemic and is not expected to pick up through 2023: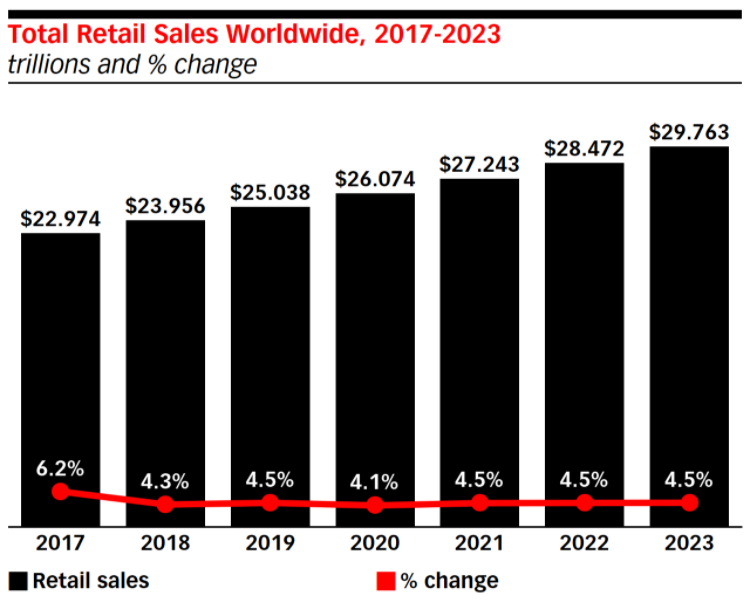 What are the benefits of the B2B eCommerce platform?
Choosing a relevant B2B eCommerce software is significant as once you've picked the wrong platform, you've invested your time and capital in vain. The storefront will not help you to achieve your ambitious goals but will create a new, massive obstacle on the way to success.
Understandably, key aspects of choosing an eCommerce software solution remain similarly important both to B2C and B2B businesses. Ease of use and ongoing maintenance, responsive designs and customization capabilities, advanced eCommerce functionality, reasonable pricing, SEO characteristics, and website data security remain similarly significant to B2B. With B2B, the list of requirements is more extensive as its business model of B2B noticeably differs from b2c. Keep the following parameters in mind while choosing the best B2B eCommerce platform.
With the help of business-to-business, merchants will not only have the possibility to sell their products online, but also gain a number of essential benefits:
Larger number of B2B buyers
Increased amount of sales channels
Higher level of scalability
Dynamic pricing for each particular client
Access to analytics
Higher average order value
Digital Customer Service
Direct integration with B2B Wholesale System
Improved brand awareness, etc.
Ideal algorithm for B2B business is found - get your customer interested and be available online to be found with ease. Closing the deal is a matter of a few clicks now. You avoid long hours of negotiations and frustrating pointless discussions. This is truly a smart alternative.
How to Choose the Best eCommerce Platform: a Unique Way You Should Try
How to Choose the best B2B eCommerce Platform?
You can use it to identify all key requirements that should impact your decision on eCommerce platform to launch and develop B2B business. Pay attention to these B2B platform features:
Functionality for self-service
High level of scalability
Custom pricing
Online negotiations and bargaining
Payment options
PCI security
Purchase history
Cross-sells and upsells
Search-engine visibility
Mobile commerce
Wish lists
Integration upfront
What are the Best B2B Platforms for Your Business?
We've pulled together this B2B ecommerce platform comparison to help you find the best eCommerce platform for your online business.
OpenCart

Opencart is a popular B2B eCommerce software. It offers users a professional look and a stylish appearance. Opencart is simple to set up and use, offering plenty of responsive templates and designs. Using an intuitive interface requires no tech knowledge and enables merchants to manage eCommerce data with ease.
Once you decide to integrate to B2B sphere the platform offers you to install Opencart B2B Marketplace module. It will turn your e-store into an advanced B2B marketplace. You will get a website where your company will be able to interact with other businesses.
The main features of Opencart B2B module:
Creation of user groups with particular rights according to their needs
Setting up sub user by your B2B customers
Products might be send for review by website admin if the client has no right to order goods
Arranging of child groups with particular parent group rights
Sending template-based emails for particular group of customers
Enabling clients to add Simple and Downloadable products
Selecting shipping method for particular seller
Catalog module configuration
Statistics on seller's income, total order, total buyers, latest order
Separate dashboard for a seller for managing orders
Creation of partner/ vendor/ customer group during registration
Direct communication between customers and admin
Learn more about OpenCart migration here.
PrestaShop


PrestaShop is open source eCommerce platform for B2B and enables high level of customization. With PrestaShop, building a website from scratch is no longer a problem. PrestaShop has vast selection of professional eCommerce themes, over numerous world-class payment solutions and gateways, integrated customer service tools and quick install features.
Once you are willing to create a B2B store based on Prestashop, there is a range of modules enabling you to personalize your e-store and adapt it to full-scale functioning in B2B eCommerce. You can take full advantage of 48 B2B modules for PrestaShop. Prestashop is an ideal choice for those willing to create a B2B store from scratch fast & easy.
The benefits of PrestaShop include:
Custom checkout
Large number of customizable themes
First-class inventory control
Customer relationship tracking
Access to reports and analytics
Extensive VAT and Tax features
Membership and registration
Social media and marketing tools
Worldwide selling
Numerous checkout variants
Multiple currency support
Follow the link to migrate your store to PrestaShop.
Shift4Shop

Shift4Shop knows exactly how to turn your website visitors into B2B customers. The software performs continuous functionality enhancements and offers more possibilities (e.g., an intuitive, mobile-friendly interface, customizable themes, controlled visibility, numerous integrations, and service for a smooth workflow to let you keep both B2B and B2C up and running).
Let's take a closer look at some of the most important B2B features of Shift4Shop:
Group our clients into B2B segments to provide them with individualized attention. It's widely known that B2B is more complicated than B2C. It requires forward-looking and superior options to use. Selling to other business, a retailer should bend to a customer, bearing in mind the nuances associated with multiple buyer experiences. With Shift4Shop, you will never face the difficulties if you want to hide your bulk pricing from B2C customers or hide your B2B website from non-registered members.
Speaking of B2B, time is the most pricey strategic asset. Shift4Shopis heavily focused on seamless customer experience. That's why all customers can save an order in the private account to be reordered in a single click. Rather than wasting time by reentering the same product regularly, Shift4Shopcustomers enjoy the benefits of an easy-to-use and intuitively designed website.
Pricing, payment, and ordering customization options
This specific functionality aims to set different budget levels, minimum order quantities, payment terms, discounts, and shipping arrangements based on customers' business types and groups. This means offering dynamic pricing that depends on order size and customer relationship.
Magento vs WooCommerce vs Shopify vs OpenCart vs PrestaShop Review
Volume bulk ordering and product quantity discounts
In most cases, B2B customers buy products in bulk. Shift4Shopenables all clients to set discounts depending on order quantity. Bulk discounts are not affected by customer group pricing and price levels and can be combined with other budget options.
Moreover, Shift4Shopoffers the Quick Order Pad is an intuitive and smooth way to streamline bulk orders significantly. It's your go-to app for wholesale products that allows adding a large number of items to an order in just a few clicks.
You can set up tax exemption and calculation rules to determine them automatically. Establish linkage between product categories and customer groups to prevent confusion.
Migrate your business to Shift4Shop with Cart2Cart.
BigCommerce


BigCommerce is a powerful eCommerce store builder enabling you to succeed in B2B sphere saving time and resources available. BigCommerce will provide you with comprehensive set of eCommerce tools out-of-the-box. You can access your audience through different social channels and integrate with most powerful eCommerce applications.
Here are the key advantages BigCommerce guarantees to B2B businesses:
Stylish and responsive B2B online store
Simplified segmentation
Discounted and custom pricing
Integration with backend systems
Access to B2B-specific payment solutions
Quote builder integrations
Per-unit cost and automatically applied volume discounts
Quick re-orders
Advanced shipping methods
Wish to transfer your business to BigCommerce? Follow the link for more info.
WooCommerce

WooCommerce is the best eCommerce WordPress Plugin that currently powers 28% of eCommerce market worldwide. To launch and manage e-store on WooCommerce is particularly easy, especially for those who are used to working with WordPress.
There are numerous of themes and plugins, specific hosting and maintenance services, and performance optimization for this online shopping solution.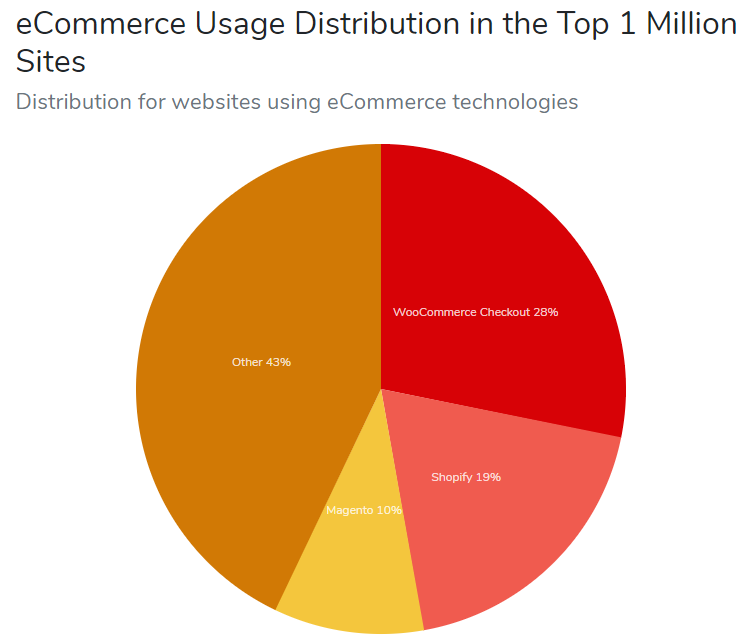 WooCommerce provides fully-featured eCommerce platform fro B2B that is particularly easy to extend - there are numerous add-ons to extend your e-store functionality. Some of them a purely wholesale B2B plugins. The others might benefit both B2C and B2B companies.
In terms of business-to-business online commerce WooCommerce will give you the following functionality:
Wholesale-friendly layout
With WooCommerce, your B2B clients will be able to select multiple products and create orders quickly and effortlessly.
Confidential information secured
The prices and business offer you create should not be available to everyone. Using WooCommerce, you can easily hide the necessary information from your public website and provide access to the wholesale version only to registered B2B customers. Create password-protected wholesale categories which are hidden from B2C parts of your website.
Increase conversion rates
Maintaining an online store on WooCommerce, you can deliver valuable information to a particular target audience and increase your brand loyalty. You are also able to segment the Audience To Increase the ROI Of Paid Advertising. With WooCommerce, you can guarantee excellent support to your clients and become a real expert in your sphere.
High level of scalability
WooCommerce helps you think in a long perspective and will provide you with the necessary functionality to expand your online store capabilities once your B2B business develops and demands more advanced eCommerce capabilities.
Join the biggest eCommerce user community by moving your store to WooCommerce.
Shopify Plus

Citizen, Tesla, Motorola, Adidas and L'Oreal are the most popular brands that are currently using Shopify Plus and are the real well-known companies that conquered B2B business. Shopify is one of the best eCommerce platforms fro B2B and powers currently over a million online shops.
The main advantages you get as a B2B merchant choosing Shopify Plus as your target eCommerce solution:
Launching multiple websites from a single backend (if necessary with different URLs)
Dedicated storefronts for international ecommerce
24/7 e-store performance ensured by hosted solution
Sales channels integrated directly into your merchant dashboard
Advanced custom pricing capabilities
Integration with Avalara for automated taxation
Powerful platform that can manage up to 8000 orders per minute
Numerous apps
SSL Certificate (storefront & checkout)
100+ and one-step check out
Planning to perform a Shopify migration? Tap the link to do it fast and trouble-free.
Magento

According to website The Forrester Wave Magento was named best B2B platform. Reviewing major features Magento offers to B2B online merchants you will agree with the claim that Magento is virtually the best eCommerce solution for business-to-business companies.
This eCommerce solution suggests a clear path forward for B2B companies that strive to enhance their customer experience and purchasing process. Magento is an all-in-one platform offering rich, built-in B2B functionality. It helps you to achieve even the most challenging business goals.
Being one of the industry leaders, Magento offers 100-inbuilt B2B features:
Reliable, cloud-based commerce
Extensive native B2B functionality
Personalized buying experiences
Custom catalog and pricing
Robust merchandising
Single platform for B2B and B2C
Easy integration with backend systems
Support of corporate accounts
Ordering that is Friction-free
Multi-Channel Selling
Effortless management and detailed reporting
Quoting and negotiations
Optimized Inventory and Order Processing
Once you opt for Magento, you can simultaneously manage B2C and B2B e-stores, constantly developing your business and increasing your profits month after month.
Decided to move to a highly-customizable Magento? All the details are here.

OroCommerce
OroCommerce is an eCommerce platform built from the ground up for B2B. This means best-in-class flexibility, customizations, and features that matter to B2B eCommerce software right out of the box. OroCommerce also includes extensive integrations and a built-in CRM to ensure the consistency and integrity of customer data across your organization.
Here are the key features of OroCommerce:
Capable to serve any B2X scenario,
Multi-website and multi-language capabilities,
Advanced roles and access permission controls,
Simple and configurable products matrix,
Ability to manage millions of SKUs,
Powerful pricing engine,
Advanced file and content management,
Vast store-front personalization options,
Workflow automation engine,
Quotes and proposals features,
Robust reporting engine,
Built-in CRM,
Extensive API.
nopCommerce

Open-source platform with limitless opportunities of customization for any business needs that is secure, reliable and beneficial for B2B & B2C - an ideal description of nopCommerce. Creating an online store with nopCommerce needs only three easy steps: choose a hosting company - install a platform - start configuring your store.
Adaptive themes with various payment and shipping gateways and plugins allow to cover all business-to-business processes and make your e-commerce website profitable. Those themes and extensions can be downloaded from the official Marketplace. For your convenience, before deepening into nopCommerce e-commerce platform you can try out Demo, which shows Admin area and Frontend to explore in detail.
Have a look at main B2B features for any size e-commerce shop:
Multi-vendor and multi-store features. nopCommerce allows its users to create a store with marketplace and multi-store functions. Your partners' user experience from your multi-vendor shop can be improved by customizing customer roles.
Multi-language and multi-currency. All nopCommerce stores can be easily scaled with language packs and multi-currency feature with automatic update of exchange rates out of the box.
Extensive order management and detailed reporting. Orders of each shop are stored under the Sales tab with lists of eCommerce platforms, wish lists, recurring payments, gift cards, return requests and shipments. Store owners may manage existing orders as well as configure ordering process.
Mobile e-commerce: adaptive design and mobile app. Websites on nopCommerce have out of the box adaptive design, it is compatible for all devices. Moreover, the nopCommerce team has developed the Web API plugin, which allows to integrate with external services, as well as mobile applications for nopCommerce stores.
Here are other features for a nopCommerce business-to-business store:
Tier-pricing.
PCI security compliance.
Advanced out of the box tax management.
AI-powered and automated marketing tools.
Take your e-business a step forward towards success!
Migrate to any of the described platforms with Cart2Cart just in a few mouse clicks.
Migrate now
Bottom Line
Our B2B eCommerce platform comparison includes TOP B2B platforms that will become your true helpers on the way to business success. B2B is developing fast, and if all predictions are correct, it is the most profitable business online merchants should strive for.
If B2B is something you are interested in, no need to worry about the limited functionality of your current eCommerce platform. With Cart2Cart automated migration service, you can always transfer your eCommerce data to another out of 85+ supported, more robust eCommerce platform for B2B and enjoy its benefits. The switch requires no tech knowledge to launch, and the actual data transfer process does not interfere with your old store performance.
Additionally, we offer affiliate and partner programs. Cart2Cart migration services can save you money or earn you money through referrals.
Ready to turn your eCommerce solution into a really powerful one? Perform Free Demo and break the highest waves of B2B eCommerce with ease!
Best B2B eCommerce Platforms for Your Business. FAQs
Which platform is best for B2B?
There are several eCommerce platforms that cater specifically to B2B businesses, offering features and functionalities tailored to the unique needs of B2B transactions. Below is the short list of the top eCommerce platforms for B2B:
Shopify Plus
BigCommerce
Magento
WooCommerce
PrestaShop
OpenCart
Shift4Shop
OroCommerce
nopCommerce
and many more...
Read the article above to know more about the specific peculiarities of each of the platforms. Note: when selecting the best eCommerce platform for B2B business, consider factors such as your business size, industry, desired features, integration needs, and budget. It's also important to choose a platform that aligns with your long-term growth goals and can accommodate your evolving B2B requirements.
Is Shopify a B2B platform?
Yes, Shopify has all the necessary functionality for both B2B (business-to-business) and B2C (business-to-consumer) businesses. While Shopify is often associated with B2C eCommerce due to its popularity among small to medium-sized retail businesses, it has also expanded its offerings to cater to B2B eCommerce needs.
Shopify Plus is the enterprise-level solution offered by Shopify, and it includes features and functionalities specifically designed for B2B operations. With Shopify Plus, businesses can create separate wholesale or B2B storefronts, implement custom pricing structures, offer bulk ordering options, and manage complex accounts. This makes Shopify Plus a viable option for businesses looking to engage in B2B eCommerce activities.
What is a B2B eCommerce platform?
A B2B (business-to-business) eCommerce platform is an online marketplace or digital platform that facilitates commercial transactions between businesses. It serves as a virtual space where businesses can buy and sell goods, services, or products in bulk quantities, all conducted through digital channels. Unlike B2C (business-to-consumer) eCommerce, where businesses sell directly to individual consumers, B2B eCommerce focuses on transactions between different companies or entities.
Which is the world biggest B2B eCommerce platform?
Alibaba.com is one of the world's largest B2B platforms and is often considered a significant player in the B2B eCommerce space. It functions as a massive online marketplace connecting businesses and suppliers from around the world. Alibaba.com offers a range of products and services in bulk quantities, making it a prominent B2B shopping destination.
How do I choose a B2B ecommerce platform?
Choosing the right B2B eCommerce platform is a critical decision that can impact your business's success. If needed, seek advice from IT professionals, eCommerce consultants, or industry peers who have experience with B2B eCommerce platforms. By carefully evaluating these factors and conducting thorough research, you can select the B2B eCommerce platform that best aligns with your business's goals and requirements.
What are the features required of a B2B eCommerce platform?
A successful B2B eCommerce platform requires a range of features tailored to the specific needs of business-to-business transactions. Here are some essential features to look for in a B2B eCommerce platform:
Custom Pricing and Catalogs
Bulk Ordering and Quick Reordering
Account Management
Integration with ERP and CRM Systems
Quote and Proposal Generation
Order Approval Workflows
Self-Service Account Management
Multi-Site Management
Advanced Search and Filtering
Flexible Payment Options
Personalized Product Recommendations
Mobile Responsiveness
APIs for Integration and Customization
Reporting and Analytics
Security and Compliance
Customer Support and Communication
Localization and Globalization
Scalability and Performance
These features collectively empower businesses to engage in efficient, personalized, and secure B2B transactions, enhancing the overall buying and selling experience. When evaluating B2B platforms, consider how well they address these essential features in alignment with your specific business requirements.