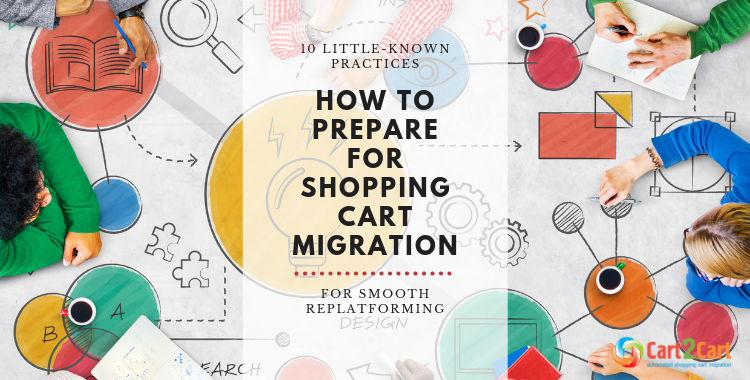 1. Prepare
Analyze your store statistics and find time when it the number of visitors is the lowest. The traffic usually falls on the weekends and increases in the middle of the week. However, the rate depends on the products and services you sell.
2. Notify
Inform concerned people about your migrate. You have to inform stockholders, employees, suppliers, customers and other visitors. Send them a message with the date and time of the migration. This procedure can minimize traffic to your site during data transfer.
3. Make a Backup
Cart2Cart doesn't delete information from your source store before, during or after migration. It just copies data from one shopping cart to another. However, the first thing you have to remember is to make backups before any serious action over your shop. There are two main ways how you can back up the database:
save on DVDs, USB flash drives or hard drives;
use backup option of your hosting provider.
Both methods are good enough to keep your information in safety.
4. Grant Access
To perform migration with Cart2Cart you will need to have store access information, so make sure it's available. Since, there are two types of shopping carts - API (hosted) and non-API (licensed) platforms you would have to provide different access information.
To start data transfer FROM or TO non-API shopping cart at your disposal should be:
Store admin panel access:
Login form URL
Username
Password
and
FTP access:
Hostname or IP address
Username
Password
During Migration Wizard you will be asked to provide store URL. This the web address of your online store.
In case your store is API-based, you need:
Admin Panel URL
Admin Login
Admin Password
Some shopping carts need API User Name and API Key for implementing migration. You can check what kind of information you have to provide and where to get it on our FAQ page.
Cart2Cart doesn't have technical requirement for migration performance. Although, read this page to check recommendations you should consider before setting shopping cart data transfer.
In addition, you need to turn off site redirects to be sure that bridge works correctly. You have a chance to do it in three ways:
Web hosting control panel
via shopping cart maintenance mode
via .htaccess file
5. Install Target Shopping Cart
Check the Supported Carts page to ensure, that desirable type is available for data transfer. To make migration possible, you have to install your Target shopping cart. Shopping carts have different technical peculiarities and installation process. Check if your hosting provider suits system requirements of your platform and If you have enough skills, make installation by yourself. Otherwise, request Target Cart Installation Service. In this case, tech engineers will help you to set up everything as needed.
Please note, this service is provided for additional cost.
Another thing you need to remember, when you perform migration, both carts (source and target) should be available online. They also should have different URLs and folder path.
In case your source or target shopping carts are modified and have non-standard configuration, data transfer is also possible. Cart2Cart tech engineers can customize your migration and make necessary modifications. For that reason request Customized Migration Service.
After these five simple steps you have all the information required for quick and successful migration. In case if you have any additional questions feel free to contact our Support Team.