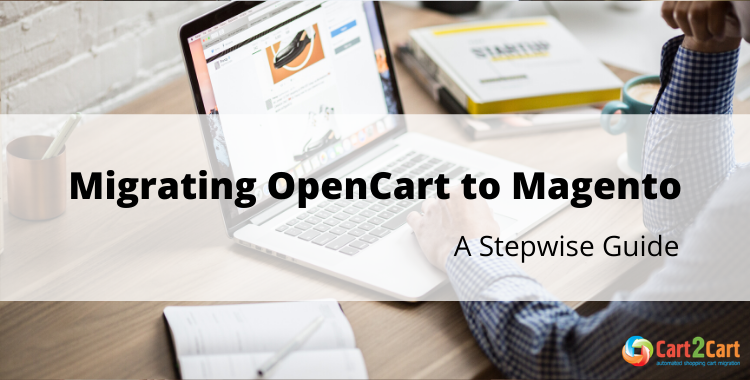 While both Magento and OpenCart are great platforms for building a fully-functional online store, they are targeted and suitable for different groups of users. If you're currently running a small or medium-sized OpenCart-based store and wish to ramp up shortly with Magento - the post is exactly what you need. Read to discover how to perform OpenCart to Magento migration without putting in much effort.
OpenCart vs Magento. What's In Common?
Here is a list of summarized features Opencart and Magento have in common:
They are open-source solutions developed in PHP.
Both are very popular with active developer communities for support.
They offer tons of add-on products to make the store look and feel as required.
Multiple languages and the majority of existing currencies are provided.
Though there is a good deal of debate on which one is better, we consider them to be not one-to-one comparison. Each solution comes with its ins and outs; that's why the final choice between them depends mostly on personal preferences and business requirements.
Why Choose Magento Over OpenCart?
No business aims to stay on a small scale for long. If your OpenCart-powered business is rapidly growing with each passing day, you might want an eCommerce solution that will adapt to the new eCommerce environment. Magento opens more opportunities for growth and higher revenues, while OpenCart is still good enough for fast, small businesses.
Automate the OpenCart to Magento transfer with the Cart2Cart Migration From OpenCart extension.
How to Migrate OpenCart to Magento? 3 Options to Consider
The automated way of OpenCart to Magento migration is conducted by specialized migration tools (like Cart2Cart) and therefore expects no technical skills at all. The converter analyzes all the source data entities, and then transfers them into the target site without human involvement in the process.
Alternatively, manual migration can be sometimes used. It involves lifting all the current OpenCart data entities and transferring it to the corresponding Magento platform. Since the procedure is technically complicated and requires strong coding skills and colossal time, it's not popular among store owners.
The assisted way is another version of manual transfer, but in this case, the job is delegated to the 3rd party developer or even a team of experts. The process is quite labor- and time-consuming, so you can expect to pay a pretty substantial amount of money to get the job done.
Here's the video tutorial for those willing to see how it works:
From OpenCart to Magento. Cart2Cart Route
Create OpenCart store
To perform the OpenCart to Magento replatforming, you need a valid Magento-based online store that you'll be importing data to. Take time to install the latest version of Magento with no additional modules or modifications and make it available online.
Setup the source & target stores
Once you've registered an account with Cart2Cart, it's time to specify the source and target store details and connect them via the connection bridge. Firstly, from the dropdown list of options, select OpenCart as the source cart and Magento as the target. When finished, on the Cart URL field, enter your OpenCart and Magento stores' domain details, and you'll be half-way done.
The next part entails setting up the connection bridge for the source and target stores in order to connect them. All you have to do is to download the .zip bridge file by clicking on the corresponding bridge link. Then once you've downloaded it to your local storage, extract its contents and paste them to the root folder of your OpenCart store using an FTP panel. When done, repeat the same procedure with your Magento store.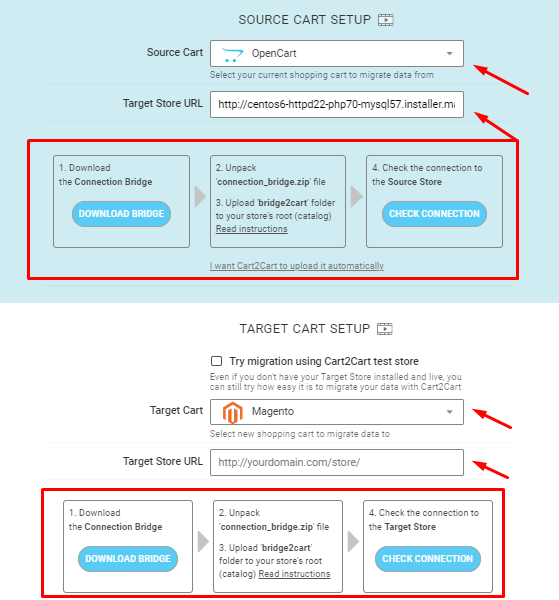 Pick the entities & additional migration options
Now when you have the source and target stores ready for migration, define the specific store entities you wish to import to Magento. These options are displayed alongside their respective checkboxes. So, go ahead and click on the matching checkboxes.
The following are the currently supported entities for OpenCart to Magento migration:
Products, categories, customers,
Orders, manufacturers, taxes,
Coupons, reviews, multistore, etc.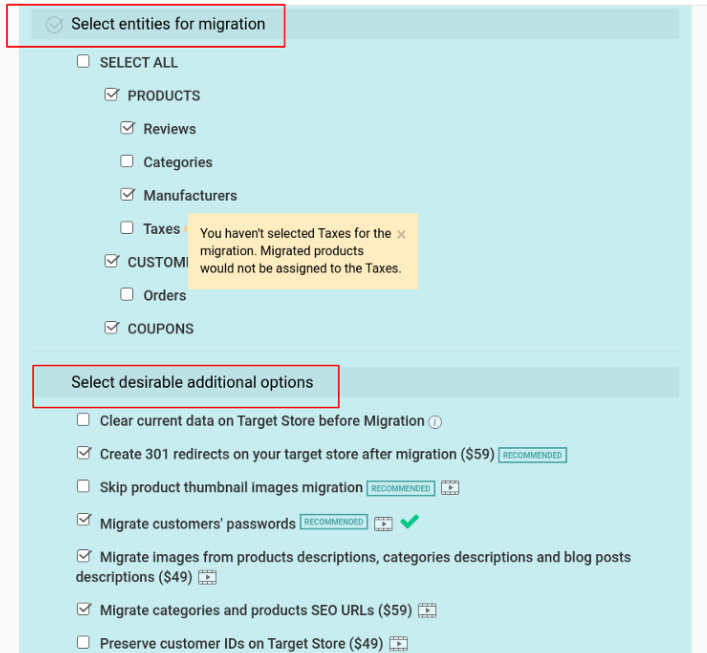 Furthermore, Cart2Cart allows broadening the migration possibilities by offering additional options like Preserve order and customer IDs on Target Store, Create 301 redirects on your target store after migration, Migrate categories and products SEO URLs, Migrate images from products descriptions, categories descriptions and blog posts descriptions, etc.
Perform Data Mapping
In case you have multiple currencies in your source OpenCart platform, you can map all of them to your target Magento cart. Make sure all of them are listed in your target shopping cart settings.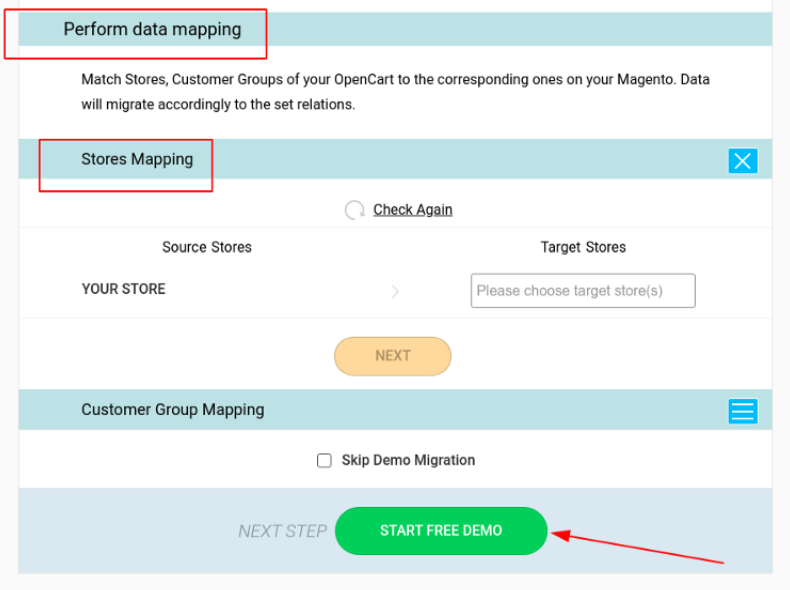 If you have chosen to migrate your orders, you can map certain order statuses from your source cart to the target cart. If there are specific order statuses that are not supported in your target cart by default, make sure to change the settings in your target cart and add the missing order status types. Only after that, you will be able to migrate that information.
Run free Demo migration
Though Cart2Cart allows skipping this step, it is advisable to run through Demo migration and transfer a few of the entities from your OpenCart-based store. It will take approximately 30 minutes of your time, but instead, you'll have an excellent opportunity to observe how the entities from your current store will look like on Magento.

Launch Full migration
If you're happy with the Demo outcome, you can proceed with the full migration. At this step, you can expect to be billed for the data transfer procedure.
Note: The final price will be based on the number of store entities & additional options you've selected to migrate.
Cart2Cart will begin transferring the store entities right after you've settled the payment. When the full OpenCart to Magento migration process is finalized, you'll be notified via email notification from Cart2Cart.
Migrate OpenCart to Magento - FAQs
How to automatically export products from OpenCart to Magento?
When configuring migration, you need to check the (Products) box in the Migration Wizard. Once done, your OpenCart store orders will be automatically transferred to the new Magento store.
Will Cart2Cart migrate SEO from OpenCart to Magento?
Definitely. You're only required to choose the Migrate categories and products SEO URLs additional option during your OpenCart to Magento migration. It will help you to preserve your current store products and categories URLs on your new Magento platform.
Can I migrate OpenCart store manufacturer images to Magento?
Yes. With Cart2Cart you can transfer manufacturer images from OpenCart to Magento. However, a free module must be installed on your Magento store before the migration.
Final Slice
When you have successfully performed the database transfer from OpenCart to Magento, it's not the end of your replatforming. There is still a lot to be done before your Magento store will be ready to welcome customers. However, with the help of the Cart2Cart online converter, you've managed to save much time.
So go ahead and start your risk-free Demo migration to see how it works on your specific store.