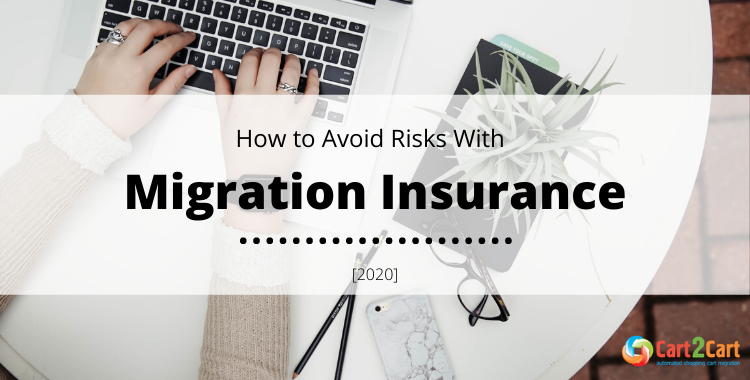 Needless to say that all spheres of our lives are exposed to different kinds of risks, and eCommerce is not an exception. Risk, undoubtedly, involves the losses and Insurance is exactly the tool allowing to minimize not only the cost of loss but also fears, tensions, anxiety, frustration associated with the future uncertainty.
Truth be told, it can sometimes happen with e-merchants that they need to restart their migration due to some circumstances. For such cases, Cart2Cart has specifically developed Migration Insurance Service to ensure their clients' migrations from interrupting and post-migration changes.
During the migration wizard, right after Demo Migration step you are offered a possibility to choose suitable Migration insurance. Different insurance periods and numbers of possible migrations can help to decide on the most appropriate solution for you.
What are the main reasons users restart their migrations?
Incorrect shopping cart installation. In case the Source or Target carts hasn't been set up properly you may face inconveniences during the migration process or inaccurate result after the data transfer. That's why you may need to restart your migration.

Modified data after migration. If you have started to customize a store after the migration is completed and discover that something went wrong and the data is being modified or corrupted - you can prevent yourself from such a situation.

Damaged data with the 3rd-party module. Diverse extensions can influence the data in different ways. If you face unpredictable results and the data has been corrupted because of some 3rd party module/app, you can restart the transfer.
What are the benefits of Migration Insurance?
Confidence. In case you face unforeseen circumstances, it's not a problem at all. Restart your migration in a few mouse clicks.

Reasonable price. Insurance price won't dramatically influence your pocket since the price ranges from only 9% to 13% of the total migration cost. If compared with the Remigration Service, which is calculated as 50% off initial Full Migration, the Migration Insurance service is definitely cheaper. Moreover, it can be done several times. Everything depends on a plan you are going to choose.

Saved time. You can decrease the time expenditures by restarting migration without contacting our Support Team, no time spent on a separate payment.
What else should you know about Migration Insurance?
Additional options. Migration Insurance doesn't provide a possibility to enable Additional options, except those that were included to your initial migration. If you wish to add new or disable some additional options, you will have to contact our Support Team.

Clear data. In order to avoid data mixingit is recommended to clear all the data after initial migration. Data clearance will be provided for free. Please note, this process is irreversible, so make sure to make a backup.
Only the initial migration can be restarted. In other words, the Source and Target stores URLs have to be the same as during your initial data transfer.
With all that in mind, ensure your migration and therefore remove all possible transfer-related risks.