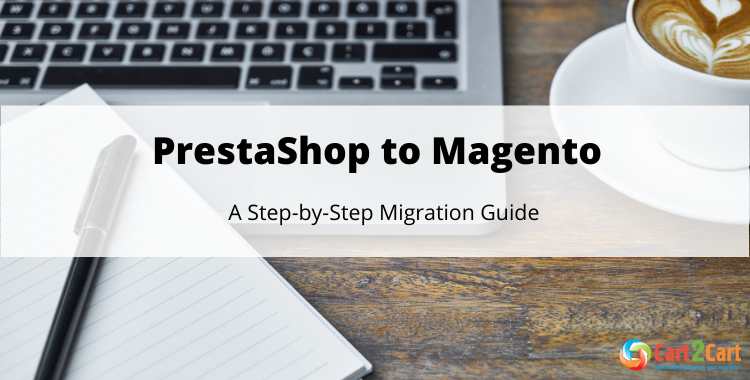 In the era when Internet shopping has taken over the ordinary brick-and-mortar stores, an online presence is a must for every self-respecting merchant. Our today's post is devoted to PrestaShop to Magento migration and contains a detailed DIY guide.
Building a digital business is not that easy as one might think. It all starts with a reliable eCommerce platform that aims at satisfying your basic needs and requirements. Also, don't forget about the themes, modules, enhancements, and other management-related issues - a real herculean task! But once your store starts growing in revenue and the number of clients, it's about time to begin searching for a more suitable solution with advanced functionality. If PrestaShop's capabilities are not enough and you wish to migrate to Magento, read on!
PrestaShop to Magento Migration. Foreword
PrestaShop and Magento are both open-source eCommerce platforms with limitless customization possibilities. They both provide you with excellent functionality to launch and manage a compelling online store. PrestaShop is home to 715,955 live websites and is best suited for small to medium stores. Magento, on the other hand, has 720,836 sites and is an ideal solution for growing to enterprise-level businesses. It has a bit of a steep learning curve and requires proficient technical skills, but will perfectly fit your evolving business needs.
If we compare the Google Trends statistical data, it is evident that Magento is more popular than PrestaShop:
Reasons For PrestaShop to Magento Migration
If you're hesitating whether the PrestaShop platform is suitable for the growing needs of your online business, take a look at the following advantages of Magento:
It is a robust and easily-scalable eCommerce solution. Magento can effortlessly cope with an unlimited number of products on your store.
SEO is its top priority. Magento creates SEO-friendly URLs and meta descriptions. Moreover, stores running on this platform are mobile responsive and work well with all the browsers and screen sizes.
Advanced customization possibilities. Everything that has been created for the Magento store (product categories, features, etc.) can be modified and enhanced if you possess the necessary tech skills.
The solution supports a variety of payment, shipment, and language options that will make the shopping procedure even more seamless.
A great variety of both free and paid plugins, which help in store management, audit, payment processing, shipping, and other daily activities.
Magento was built with sales in mind. It helps drive conversions, target customers, create promotions, make recommendations, and upsells. Its one-page checkout decreases the possibility of cart abandonment.
Migrate your PrestaShop store data to Magento with Cart2Cart Migration From PrestaShop extension hassle-free.
PrestaShop to Magento Migration. an Automated Way
Automated migration is the fastest and safest way to transfer your store's data to another platform. No coding skills are required, therefore even the newbies will cope with this simple task. Services like Cart2Cart provide users with the ability to move from one platform to another with minimum effort and no business interruption. So, if you wish to perform PrestaShop to Magento migration, follow these simple steps:
Prepare Your PrestaShop Store
Revise all the existing store's content and get rid of the unimportant or old-timey data (e.g., product details, categories, passwords, orders, reviews, etc.). Take a look at this Guide on pruning eCommerce sites, it may also come in handy.
Although Cart2Cart doesn't delete anything from your store during the replatforming, you may make a backup copy of all the info to any of the external devices. Just like a precaution to stay calm.
Make Sure Your Magento Store is Ready
Register a Magento account and install your future store. We urge you to choose the latest version of the software, since the company will stop supporting Magento 1.x starting June 2020.
If you're still not sure whether Magento will be your final destination and want to check how your store will look on this platform, make use of our free Migration Preview Service. Transfer a limited number of data from PrestaShop to Cart2Cart's test store (it will be accessible for three days).
Configure Source and Target Carts
Primarily, choose PrestaShop as your Source Cart from the drop-down menu. Copy the store's URL to the corresponding field and install the Connection bridge. You can either do it yourself or by providing PrestaShop store FTP access credentials.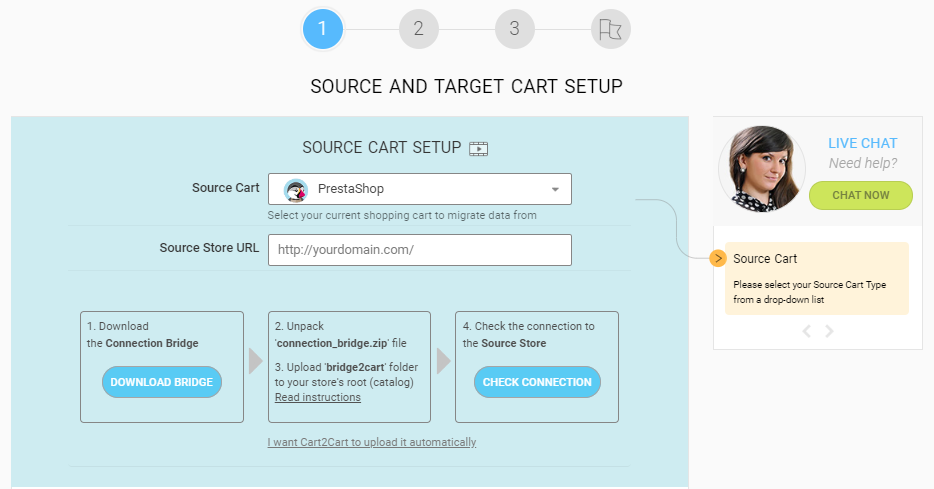 Next, select Magento as your Target cart, and repeat the same procedure with the connection bridge as described above.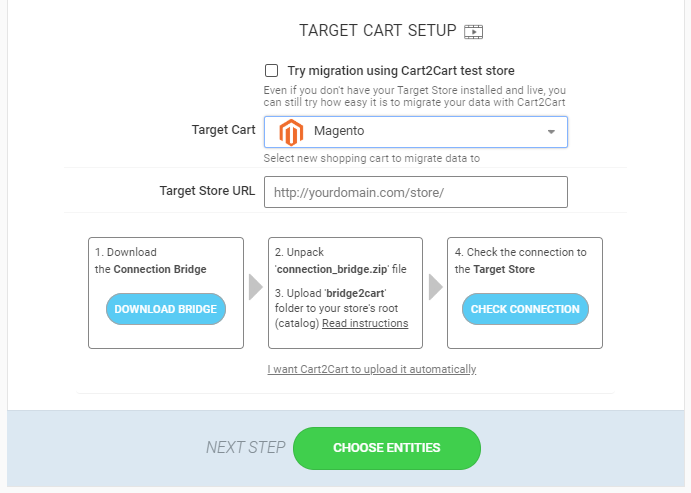 Once ready, click the Choose Entities button.
Determine Desired Data Entities
At this point, you'll have to decide which data types will be transferred from PrestaShop to Magento. The choice depends on your specific needs - you can either opt for separate data migration or move the whole store by ticking the Select All box.
PrestaShop to Magento migration supports the following data:
Products,
Reviews,
Categories,
Manufacturers,
Taxes,
Customers,
Orders,
Coupons.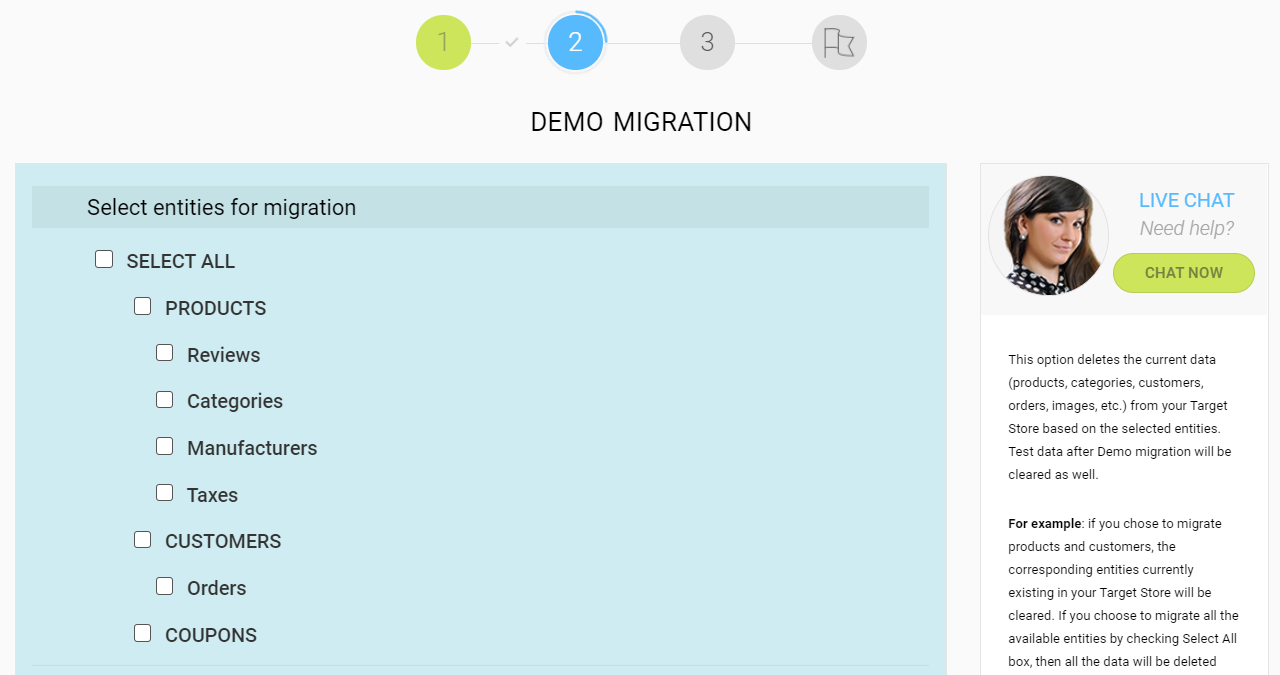 Choose the Additional Options
Besides transferring different data entities, Cart2Cart helps its users to extend the migration capabilities by choosing some of the following extra options:
If you wish to redirect products and categories URLs to the ones on the Magento store, select "Create 301 redirects on your target store after migration" option.
"Preserve order IDs on Target Store" helps you to save your PrestaShop store order IDs on a Magento after the migration.
In case you've decided to deprive your customers of password-recovery hassle, go for "Migrate customers' passwords" option. Please keep in mind that this requires you to install the free Cart2Cart Password Migration plugin.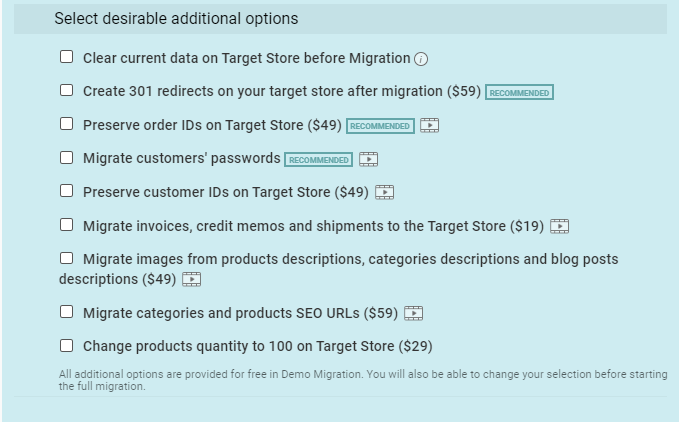 Carry Out Data Mapping
Make sure to match your existing order statuses and customer groups to the ones on the Magento store.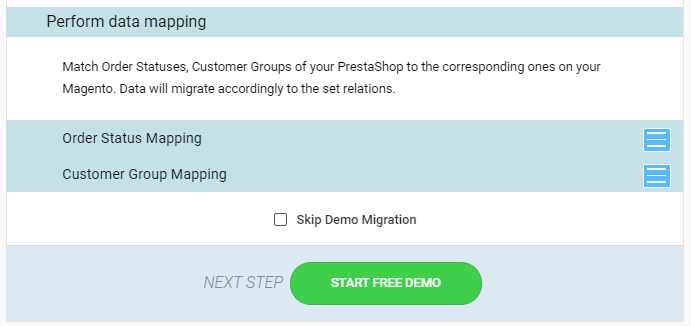 Start Demo Migration
Demo Migration is not obligatory, but it is advisable not to skip it. Moreover, it's a free option, so you have nothing to lose. The point is that it provides you with the possibility to transfer a limited set of data entities (up to 30) to the Magento platform in no time. Thus, you will not only see our service in action but will be able to test your store on a new platform.
We urge you not to close the browser window till the demo migration is over. It will take only 30 minutes.
Launch Full Migration
If the results of the Demo Migration have met your expectations, please proceed to the full migration of your store from PrestaShop to Magento. Now you can safely close all the browser windows and return to your ordinary business activities.
Also, we recommend you to watch our video tutorial to get a better understanding of how the service works:
What are the Peculiarities of Magento Migration?
Please, take into account the fact that Magento migration has some peculiar features:
You can not create an indefinite number of customers with the same email. Therefore, after the Magento import, you'll receive only one customer with a particular email.
Magento provides its clients with the fixed attribute sets. Therefore, every number of attributes can get its unique attribute set. Additional information can be found here.
Magento adds specific prefixes to the order IDs. They are based on the store's IDs. Please refer to our FAQ for more info.
Some products are being migrated to simple products. But, if your product has a variant, it will be automatically transferred to the configurable products.
It is possible to create multi-languages through the store view. Each store view can have its own relevant language. Check this FAQ for more detailed information on how to add the new language to Magento.
Post-Migration Checklist
You will receive an email notification once the Full Migration of your store is completed. Now its high time to check the newly-established Magento store:
Examine the frontend and all the links for common errors, register new users, make test purchases.
Boost your store by installing an appealing theme and all the necessary modules.
Inform your clients of the platforms' switch and encourage them to notify you of any arising troubles.
Move all the data that has appeared on the old PrestaShop store (if any) during or after the migration using our Recent Data Migration service.
Additional information on how to manage your Magento store after the migration can be found here.
Now you're equipped with all the necessary information to perform a successful PrestaShop to Magento migration. Forget all your transfer-related fears and upgrade your business to the greater heights. Let nothing hold you back!