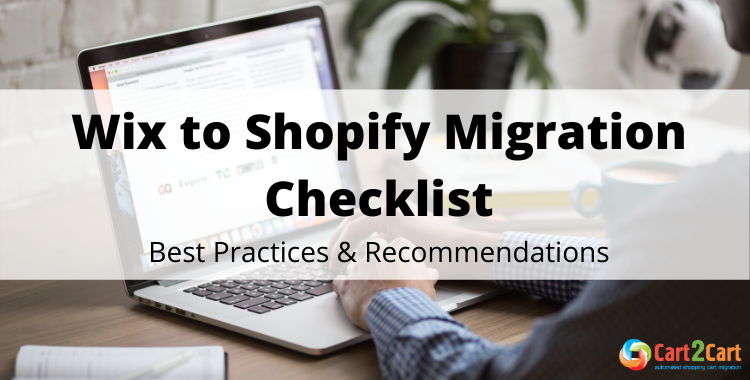 If you're planning for Wix to Shopify migration, but don't know where to start - you're in the right place. The checklist presented below has been intentionally compiled to help e-merchants go through the replatforming process smoothly and trouble-free. Though it doesn't answer all the migration-associated questions, it is still a good starting point for those Wix store owners willing to migrate to Shopify, but are at the very beginning of the path. For more detailed and in-depth info regarding each step of the process, check out this post.
Before you begin
Prepare your Wix store
Get your Shopify store ready
Wix to Shopify migration checklist
Please, read this post for more info about Shopify migration.
Post-Migration Suggestions
When you have gone through all the above-mentioned steps, there are some post-migration recommendations that need to be performed before you go live.
Wix to Shopify Migration - FAQs:
Should I change from Wix to Shopify?
There is no exact answer to your question. It all depends on your business needs & objectives. If you need a simple online store with not big assortment, stay with Wix. Contrastingly, if you need to expand your product catalog - move to Shopify.
Is it possible to migrate customers' accounts from Wix to Shopify?
Despite the fact that Cart2Cart supports customers' migration from Wix to Shopify, their accounts cannot be transferred due to the platform's technical limitations. You will need to send your existing clients an invitation to restore their accounts after the data import to Shopify is complete. You can find instructions on how to do this in this detailed guide.
Will Cart2Cart create redirects to my new products and categories after migration?
Cart2Cart does offer this service if the "Create the 301 redirects on your target store after migration" option is selected on the corresponding step of the Migration Wizard.
There is no doubt that eCommerce migration is a risky and challenging task that many store owners often tend to avoid. However, if thoroughly planned and equipped with the right tools (Cart2Cart, for example), you'll go through the migration process successfully.