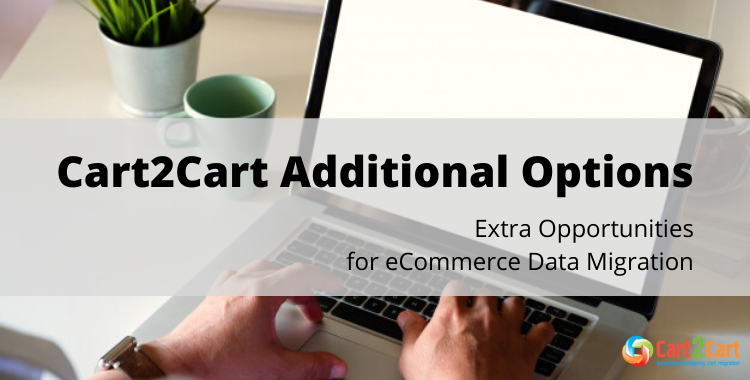 Cart2Cart Team tries its best to systematically examine the service functionality to find out new solutions to satisfy customers' needs. There are different ways how e-merchants can expand migration opportunities and make the process of data transferring even more flawless and the result even more accurate. This article focuses on these ways and provides a recap of all Cart2Cart's additional options and their explanation.
Delete current data from the Target Store before the migration
If you have already installed a desirable shopping cart and decided to create some test products in order to see how they will look like... or maybe tried to transfer data manually but while doing that understood it is not a proper solution for you - in this case, the option "Delete current data from the Target Store before the migration" is exactly what you need. It aims to help you avoid inconveniences during the migration process and get an accurate result at the end. Take into a consideration, data will be deleted according to selected entities for migration. For example, if you've picked to migrate products on the step of Wizard, only products will be deleted from your Target store. Find more info here.
Preserve product/customer/order IDs on the Target Store
This additional option provides a possibility to migrate products/customers/orders IDs to a Target store without changes. For instance, your customer #3 will be moved to Target store as customer #3. It will help you in a future store administration. Keep in mind though that this option requires clearing Target store data first. Check our article for more comprehensive information.
Create product variants based on the combinations of attribute values
With this additional option, you will save time eliminating the procedure of setting product variants for each product in the catalog. Nonetheless, each shopping cart has its own peculiarities, which you can find here.
Preserve product image URLs
The option is available for some hosted shopping carts and allows migrating the image link structure. In case the option is activated, the unchecked images will be displayed from your Source store and when it will be down, images won't be shown on a Target store anymore. That's why it is recommended to pick an option "Preserve product image URLs" and after the migration is completed, transfer folders with pictures manually. It is obligatory to save file names and folder structure. For more detailed information on how copy the folder with images from the source shopping cart, read our FAQ.
Create the 301 redirects on your target store after migration
Cart2Cart provides a possibility to create the 301 redirects of products and categories SEO URLs on your target store after migration only within a limited number of shopping carts such as:
For more detailed information about this additional option read our article Migrate SEO URLs with Cart2Cart and check out our instructional video.
Skip product thumbnail images migration
This option makes it possible to migrate only main (large) images and skip migration of thumbnail images. In case, your product images have the same size as thumbnail images, without this option, all of them will be moved. As a result, you may face duplications. If the size of images is different and you wish to transfer all of them, don't choose this option.
Change products quantity to 100 on Target Store
Sometimes, when migration is completed, e-merchants may face the situation when the products that are out of stock on Source store aren't displayed on the Target one. But there is no more place for disappointment. To avoid such a situation, Cart2Cart offers an opportunity to change the number of stock entities from Source cart to 100 on the Target cart. Here you can see how your online store will look like with and without using this additional option.
Migrate 301 SEO URLs of categories and products
301 redirects allow to set up a permanent redirection from one link to another. Such type of redirection can move a huge percentage of ranking power to the new link and, therefore, is the most suitable for SEO purposes. Using this additional option permits merchants to redirect previous products and categories URLs to the new ones on Target store.
Migrate customer's passwords
This option helps you transfer customer passwords to the target store, and thus, prevent your clients from having to recreate them after migration. It helps you provide clients with comfort.
As for now, passwords migration is provided for a limited number of carts - however, we're going to make it available for other platforms soon enough.
Watch our video tutorial about how the option works and how to use it:
Migrate invoices to the Target cart
Each order on your source store contains lots of valuable customer data. This option makes it possible to transfer info from Invoices, Credit Memos and Shipments order menus, from your current Magento store to a newer version. Here is a video:
With all that in mind, above are the additional options provided by Cart2Cart. Now you know what each of them means and can choose those that will perfectly suit your specific business requirements.