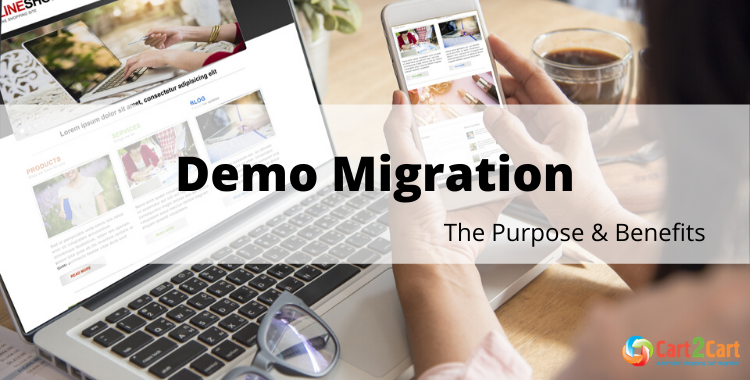 Cart2Cart is an eCommerce migration service that has been developed to make the shopping cart data migration accessible not only for tech experts but also for average users. The tool provides its users with dozens of options aiming to satisfy e-merchants business needs and requirements, and the Demo version is one of them.
Generally speaking, Demo is a demonstration of the service in action that aims to show the basic functionality of the tool. You can set up the service, see how it works with a limited number of items, and make sure it is suitable for your needs. In fact, you will perform a "reduced" trial version of Full data migration.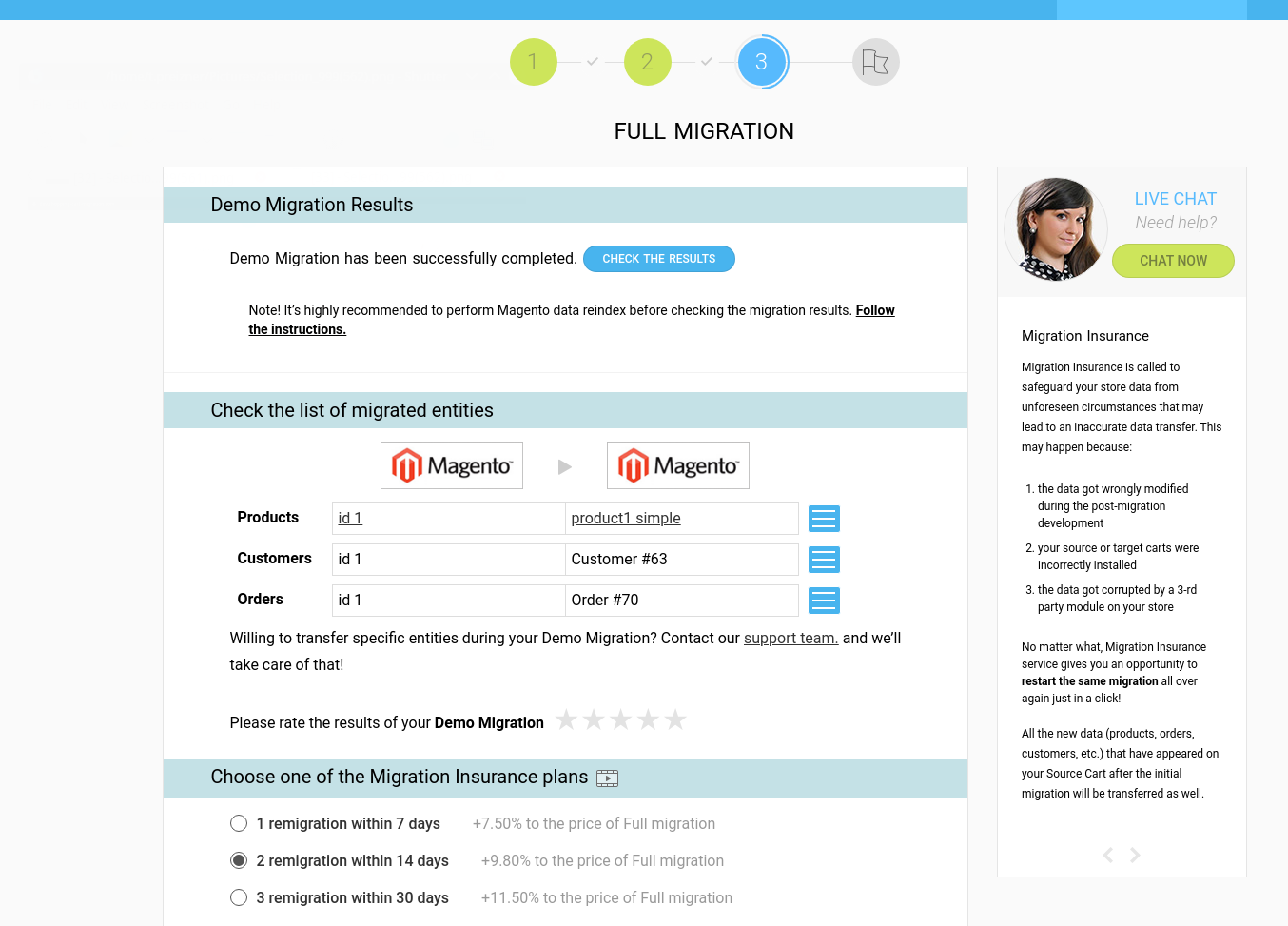 Though Cart2Cart makes it possible to skip Demo migration, it is strongly recommended to perform it. The service helps to check if the cart settings are compatible with the service and if data will be transferred properly.
Want to level up your e-store?
It takes just a few minutes to try with Cart2Cart - so set up your Demo and get ready for the new look & feel of your e-store!
Start free Demo now
Demo Migration. Basic Terms
Basically, the service can be described as:
totally free of charge.
transfers a limited number of entities.
takes no more than 10-30 minutes.
is not necessary but highly advisable.
Now, let's move on to a more detailed description of Demo migration procedure.
How It Works?
Cart2Cart Demo migration is not performed separately, as a trial version of the software. It is actually a step of the Migration Wizard. To perform it successfully, you should prepare for migration in advance. Take these easy steps:
Once you've registered the Cart2Cart account, choose the Source and Target stores.
Specify the entities you want to migrate, map languages and currencies.
When done, initiate the Demo migration.
The Demo results can be seen right on your Target store. If you are satisfied with the outcome, you can proceed to Full migration. If Demo helped you detect some issues, contact Cart2Cart Support Team and we will help you fix them before setting Full migration.
Note: You shouldn't close your browser window when Demo migration is in progress. It won't take much time and cause inconveniences. You can minimize your browser window to work on something else until the Demo migration is complete.
How Much Does It Take?
In terms of cost - nothing! Demo migration is performed absolutely for FREE so that you don't have to pay for a service before you try it. You can fund your account after you've checked Demo migration results and are ready to perform the Full migration.
In terms of time - it takes only a couple of minutes to perform Demo migration. To be more specific, the approximate time of the Demo migration is 10-30 minutes. It aims to provide you with the fastest data migration results and save your valuable time for some more important business tasks.
What Are the Benefits?
Performing Demo migration doesn't require a lot of time and effort offering many benefits instead. To be more specific:
You get acquainted with service functionality.
You make sure if everything is ready for the Full Migration.
You see the migration results on the Target store, so you know what you pay for.
How to Check Demo Migration Results?
When your free Demo migration is finalized, you receive an email notification. To check the results on a new store, you have to go back to the Migration Wizard, follow the provided URLs, and check how do they look:
On the front page of the shop (if the migrated entity has to be displayed there)
In categories that were moved
In search results by title
When done, log in to the admin panel of a new store and look at how your entities are displayed from the backend.
In case none of your products are shown on the front end of the store, you need to perform some additional manipulations on your own. The list of these actions strongly depends on the platform you are using, so here is a detailed instruction for the most popular shopping carts.
Magento
If you want to check the migrated products on a new Magento store, login to your admin panel and go to Catalog → Manage Products.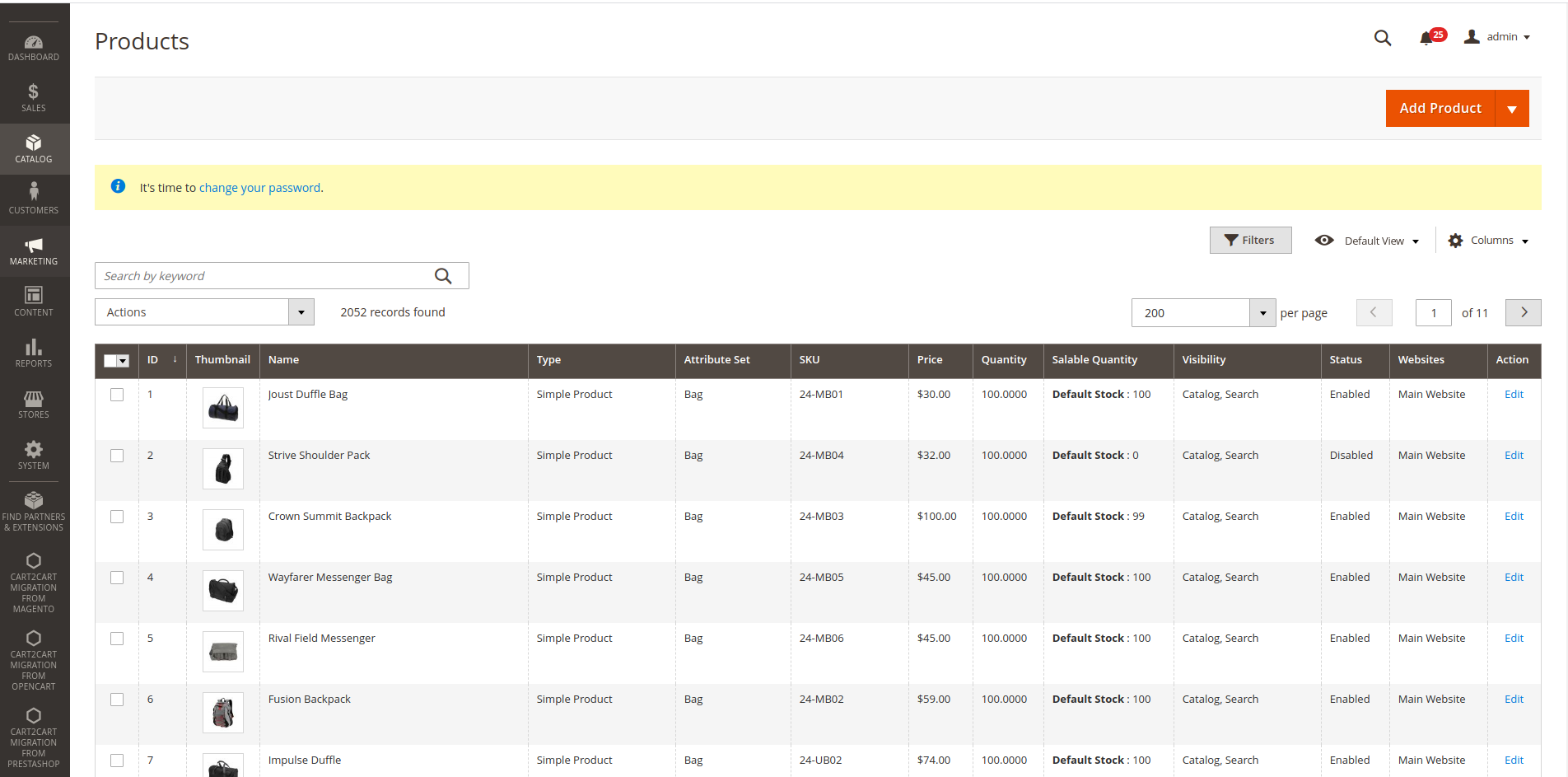 Magento is quite complicated shopping cart solution and once Demo Migration is completed, it is strongly advised to clean cache and reindex data. When done, refresh the frontend page of the store to see the transferred products.
PrestaShop
In order to see migrated products non PrestaShop, login to the back-office and go to Catalog → Products.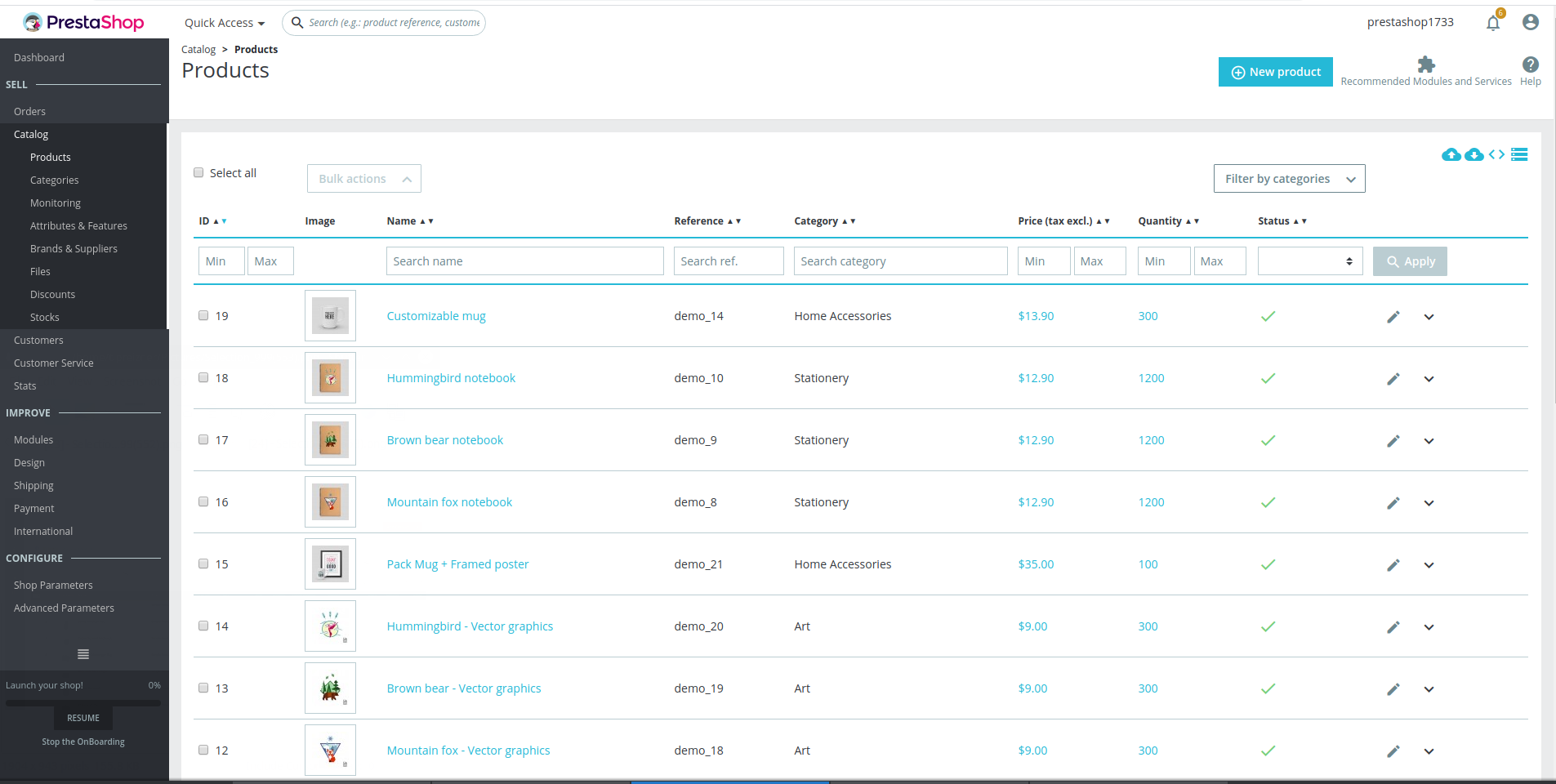 When migrated to PrestaShop, it is recommended to clean cache to see the products on the front-office. But sometimes it can happen that the products may not appear in a search results of a site. In this case, go to Preferences → Search and click "Re-build entire index" or "Add missing products to index" as appropriate in Indexation section.
Shopify
Checking the migrated products on Shopify is extremely simple. Login to the admin area and go to Products Tab.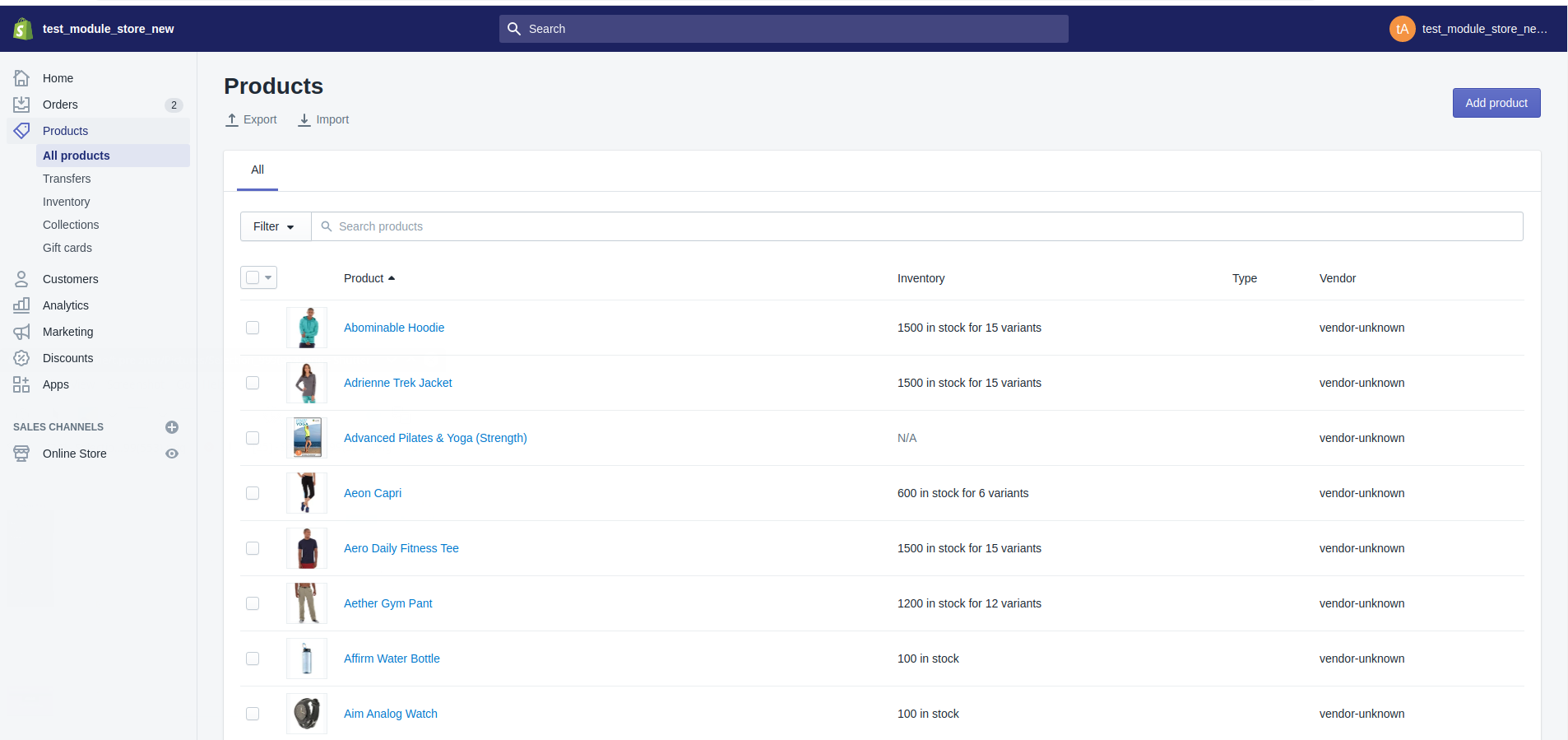 Shopify is a hosted eCommerce solution and has some peculiarities that appears in the structure of categories and subcategories. The first appears as collections, and the second - as tags, due to SaaS shopping cart structure.
Out of Stock Items Management
Quite often, store owners can't see the part of their products on the front of the store while the same items appear in the admin area. This happens, if products after migration have "0" quantity in stock and are automatically settled as "Out of Stock". This is the reason why some shopping carts automatically hide such products from displaying on the frontend of the store.
Hopefully, the above-written recommendations will help you see your Free Demo Migration results to the full extent and get ready to launch Full Migration.