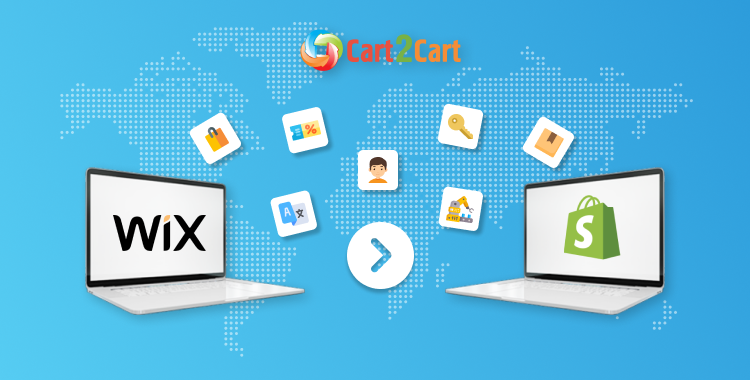 With so many ecommerce platforms out there online merchants are constantly tempted to switch to a more user-friendly and feature-rich platform (and transferring website from Wix to Shopify is not an exclusion). However, store migration needs much more convincing reasons to be carried out since this task consists of smaller (but no less important) components, like data import, SEO migration, design, addons data migration, etc. They require careful preparation and double-checking to work out as expected.
If you've ended up reading this post, you belong to the restless merchants who aren't content with their current Wix ecommerce capacity, despite the growing popularity of this solution and prefer it to a more robust Shopify.
How to Migrate from Wix to Shopify in 4 Steps
Connect your Wix and Shopify stores by providing the needed credentials.
Select data types you wish to migrate to Shopify.
Launch the free demo migration.
Start transferring website from Wix to Shopify.
What is Wix to Shopify migration?
Wix to Shopify migration is the process of transferring website data (e.g., products, customers, orders, etc.) from the Wix platform to Shopify. An automated tool like Cart2Cart will help you do it quickly and with no coding knowledge needed.
Take advantage of this long-awaited opportunity and take your web project one step further to success now! Don't forget to try our tool for free by running a Demo migration
What are the most frequent reasons for migration from Wix to Shopify?
Level up your business

According to Builtwith, Wix Stores can boast a staggering 1,595,930 live stores as of today, as it is an affordable and quick way to start a website literally in a few clicks. This makes it a frequent choice for those who want to start selling almost instantly. However, Wix hasn't been designed as an ecommerce platform but rather as a website builder. To scale their business when stable growth is achieved on Wix, merchants choose to replatform to Shopify, which leads the competition with its 3,298,025 live websites and is a "true" ecommerce solution, used by businesses of all sizes.

The diagram demonstrates that Shopify beats Wix in terms of the market share among other hosted ecommerce solutions by 2%.

More control overstore theme and design

Shopify allows a lot more in terms of changing the look and feels of the store since you can modify HTML and CSS as needed, which Wix lacks.

More apps and additional functionality

Wix category of online store apps with its 77 apps clearly loses to the Shopify app marketplace, which offers stunning 6,491 solutions for all areas of store management, promo, and design.

More powerful reporting and tracking

Shopify equips you with everything needed to track your customers' actions and behavior, enabling you to spot the bottlenecks and providing countless possibilities for improvement.

Integrations and marketing options

With Shopify, you can enable multichannel sales: sell on Amazon (Wix Amazon integration is pretty limited in this matter), and on social media, upsell and cross-sell, etc, while for Wix merchants these options are not available.

Pricing - not too cheap

Taken the limited ecommerce feature set, one would expect Wix to cost little, but it's not the case. Being based on support and storage level, Wix VIP plan for $30.94/month loses to Shopify's Basic plan at $29/month in terms of support and available features.
All in all, Wix is a great turnkey solution for starting a simple website, but a growing business might soon hit a glass ceiling when it comes to expanding and multichannel approach.
The DIY Guide on How to Migrate Wix Database to Shopify
Prepare your Shopify store
Basically, register a trial account at shopify.com.
Сhoose a theme (don't customize it, it should best be done after data migration).
Find your Wix and Shopify store admin access details (they will be necessary during your data migration setup).
Cart2Cart is a way to save time and money for data migration and is designed with non-technical users in mind (we know you're too busy developing your store):
Check out the Wix to Shopify migration page to see what data can be migrated and what are the extras (additional migration options).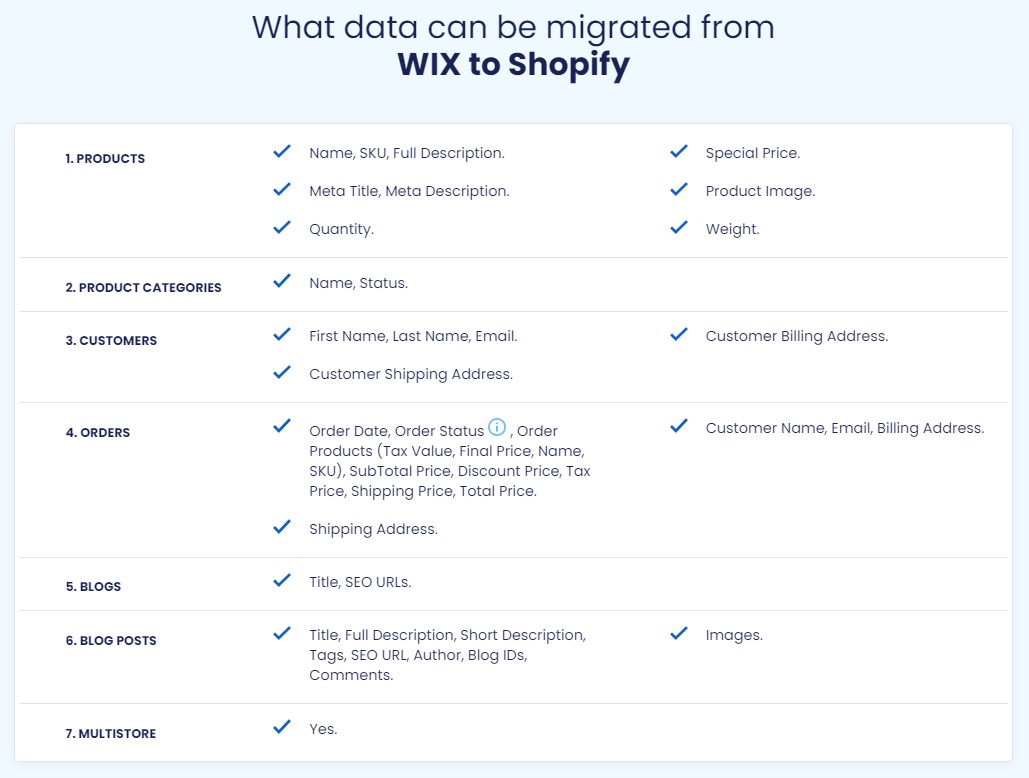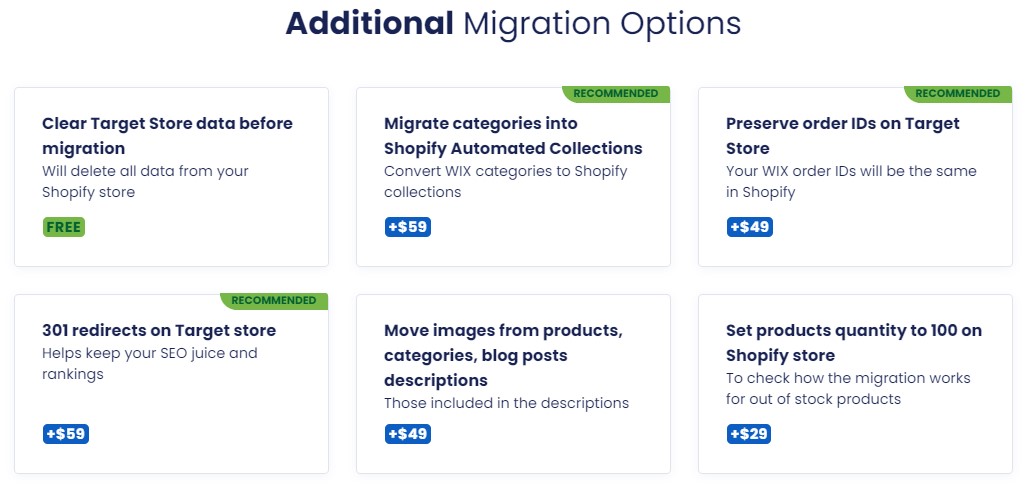 Configure your Source Cart
Set Wix as your Target cart and provide it's URL, admin email and password.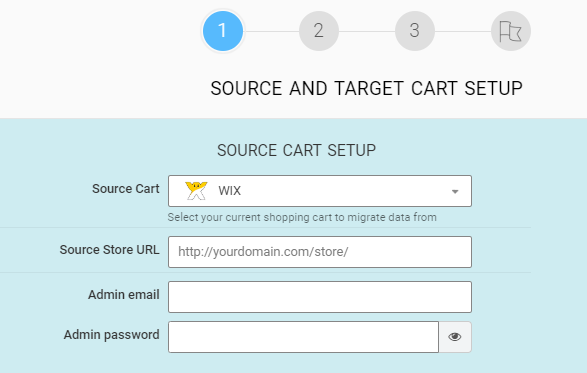 Set up Target Cart
Select Shopify from the drop-down menu and install the Migration for Shopify app to connect the your stores.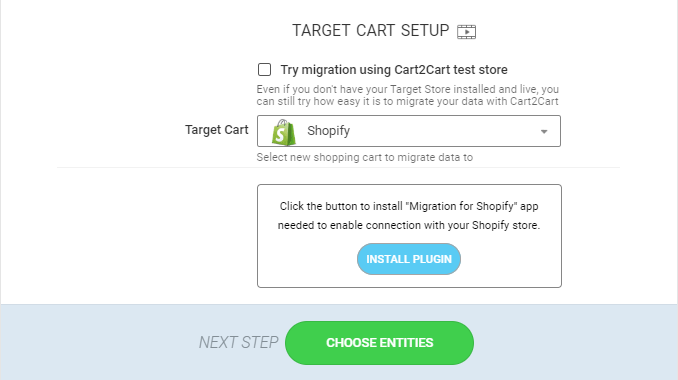 Choose data for migration
Decide what data types you want to transfer from Wix to Shopify. You can opt for separate entities or move them alltogether by ticking the Select all box.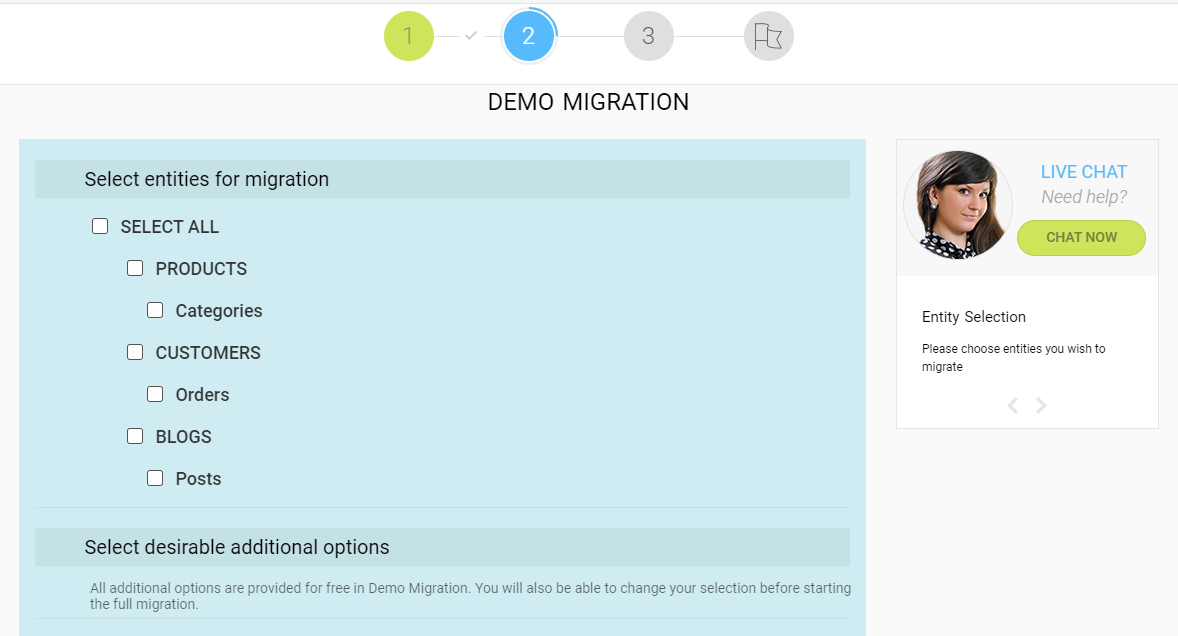 Ease migration process with extra options
To make transferring the website from Wix to Shopify even more time and effort consuming, we've created some of the additional options that will help you improve your migration experience. They are entirely up to you to choose, but here are the things to pay attention to:
It's recommended to select "Migrate Source Store categories into Shopify Automated Collections" option, which does exactly what it says
If you don't plan to set up 301 redirects manually "Create 301 redirects on your target store after migration" option can save you tons of time.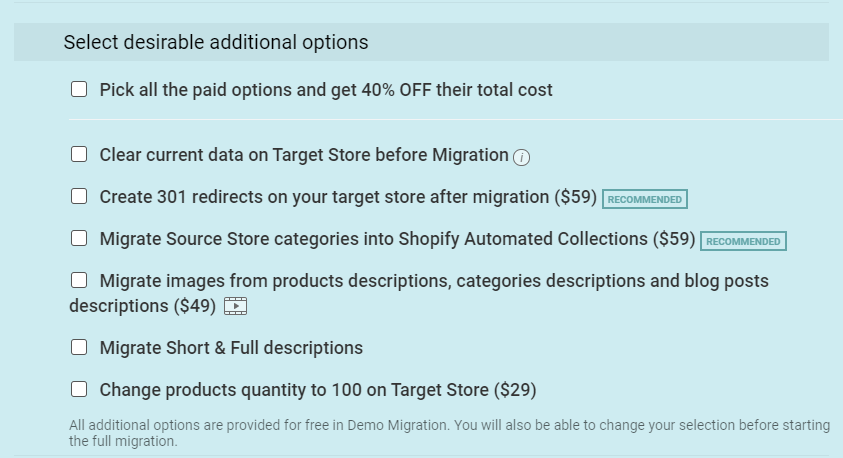 Map the data
Match the Wix stores and order statuses to the corresponding ones on your Shopify store to preserve the relations between them.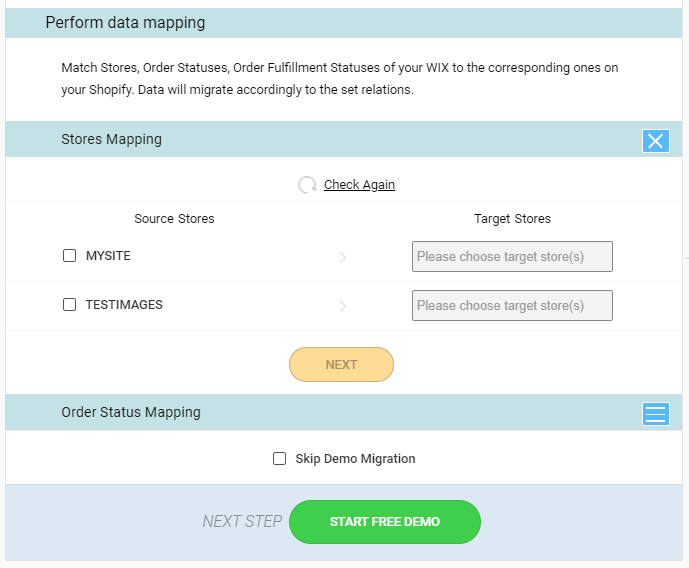 Run your demo migration migration
Launch the free demo to get the chance to test both the Cart2Cart service and Shopify platform in action. The system will move a limited number of data in just 15 minutes, totally free of charge. So, there's nothing to lose.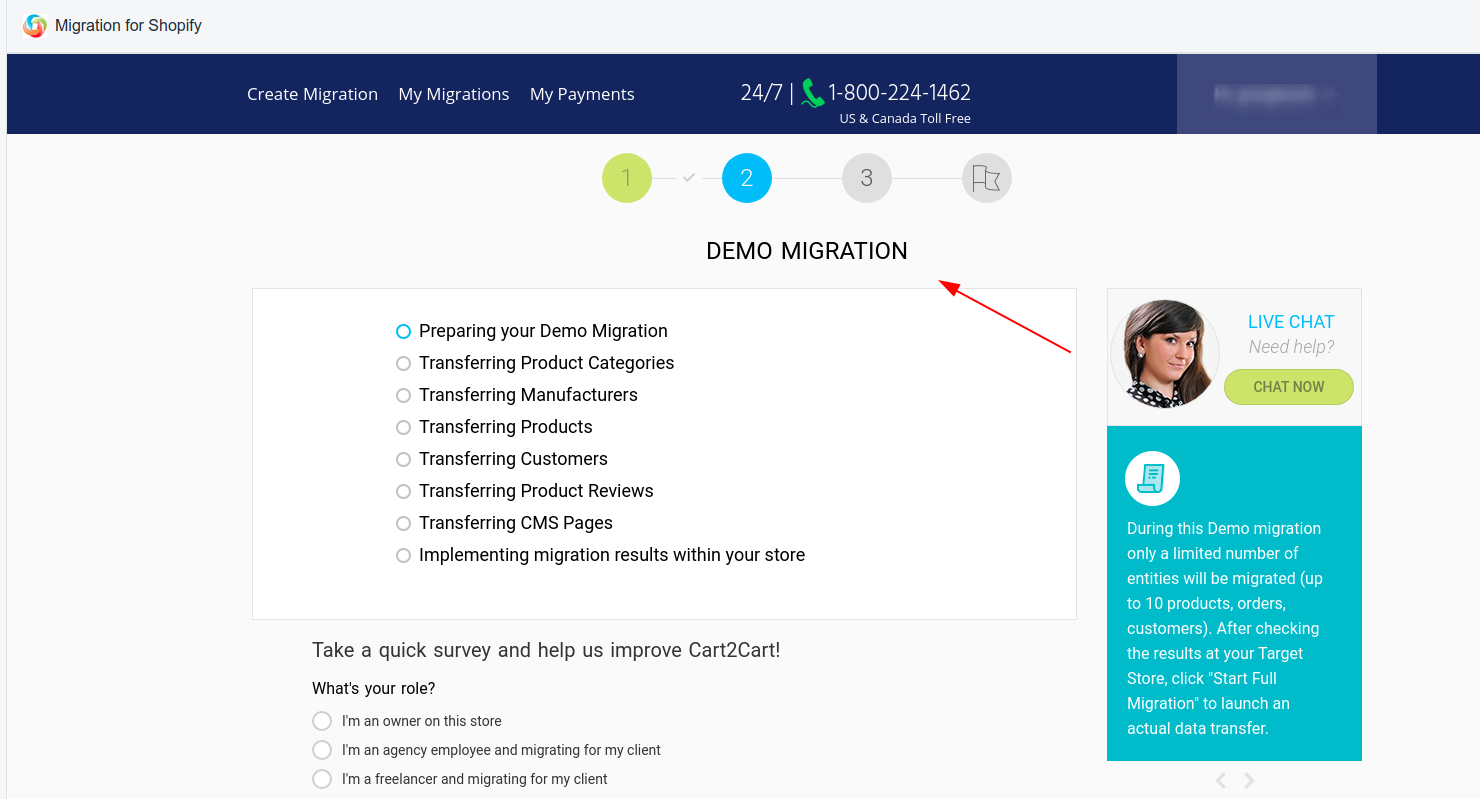 Initiate the Full migration
Check the data to make sure everything's where it should be. Once done, you can start transferring the website from Wix to Shopify within the full migration option. It requires no human involvement, so keep growing your business while we take care of your eCommerce data.
How to Migrate Products from Wix to Shopify?
In your Admin dashboard go to Store Product menu.
Export all available products into CSV file by clicking the Export button
Select the needed products and click the Export button.
Besides, you may also use the Cart2Cart service and migrate Wix products to Shopify while configuring an automated transfer in the Migration Wizard.
Export orders from Wix
Click Store Orders on your Wix dashboard
Select the orders you need to export or click "Orders" to choose all the data.
Tap the Export button to get the store's orders in CSV file.
Configure your new Shopify store
Adjust your store appearance - set up the new theme. You can either choose a free or paid one available at the official Shopify store or third-party provider.
Install the necessary apps(don't get too carried away).
Test your store functionality - check both back and front end, make a couple of test purchases, register new users, etc.
Prepare your store for the launch - make sure everything works correctly, go through the categories, products.
You can use this handy Shopify store launch checklist not to miss a thing.
Invite your customers to reactivate their accounts. You can use the Shopfiy Bulk account invite for that.
If the new data has appeared on your Wix store while the full transfer was in progress, you can use our Recent Data Migration service to move it to Shopify.
Transfer the existing domain to Shopify if needed. But also you have to make sure the domain is eligible for transfer.
Alternatively, you can give a try to the Cart2Cart Store Migration App to speed up the process of Wix to Shopify replatforming even more.
Wix to Shopify Migration FAQ Block
Can I transfer my Wix domain to Shopify?
Yes. Simply choose Domains in the Online Store menu. Select the needed domain, click the Transfer Domain button and verify it. Once completed, your Wix domain will be ready for transfer.
Can you add Shopify to Wix?
Yes, you can do it with the help of Shopify Buy Button. Therefore, you will be able to sell your Wix products using the Shopfiy improved functionality and payment system.
Can I switch from Wix to Shopify?
Absolutely. You can easily transfer your Wix database (products, customers, orders, etc.) to Shopify using the Cart2Cart service. The migration process is 100% secure, quick and hassle-free. Besides, you can continue selling while your Wix records are being moved to Shopify.
Finishing Up
Well, you're all set! Now you know how to cope with the task quickly and efficiently. Moreover, an automated migration is the prefect way out for those who wish to save time and money on eCommerce replatforming.
Store migration isn't as hard as you might have thought, so go ahead and test it out for free without any delays in just about 5 minutes!