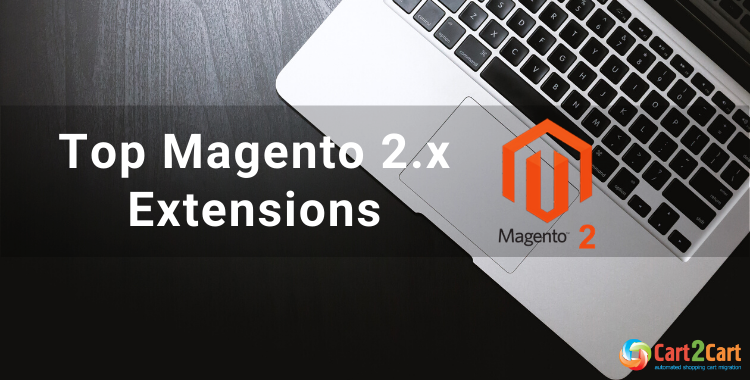 2020 marks the end of the Magento 1 era. The company will stop supporting all the 1.x versions starting June 30. We hope that you have already upgraded your store to the latest Magento 2.x. Thus, it's high time to search for ways to improve its functionality. Today we'll explore the most useful Magento 2 extensions. If you wish to increase the revenue, attract more customers, and ensure high search engine positions - read on!
What Are the Most Popular Magento 2.x Extensions in 2022?
Once you've migrated your store to the Magento 2, it's the right moment to check our list of top Magento extensions:
Smart One Step Checkout
Price: $299.00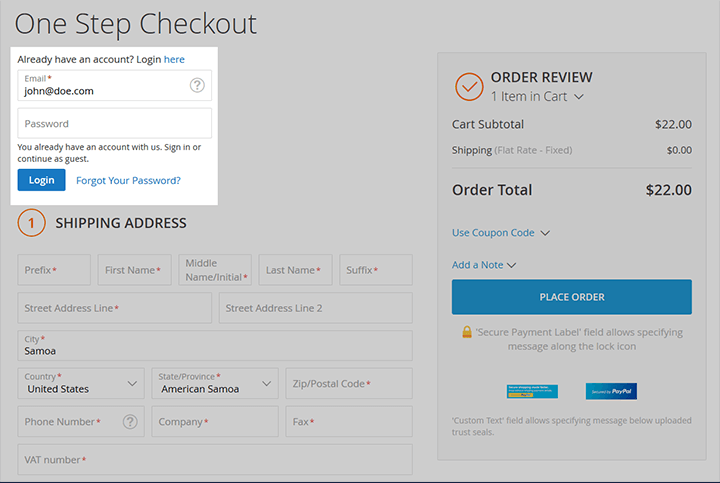 Smart One Step Checkout is one of the best Magento 2 extensions that ease and speed up the checkout process. It helps merchants to reduce the number of abandoned carts and increase the sales rate. Besides, the fully-customized checkout page is now client-centered and user-friendly. Buyers can log in, change items in the cart, use discount coupons and gift cards directly from it. Moreover, the "Place Order" button is always visible for the customers. Consequently, it minimizes the number of steps that lead to the purchase.
Benefits Smart One Step Checkout
Quick and trouble-free checkout
Mobile responsiveness and adjustable design
Configurable checkout parameters
Effectiveness of checkout and the number of abandoned carts reporting
Automatic fill-in with Google Auto Suggest and GEO IP
Editable orders (delivery date, shipping, and billing)
Guest checkout, etc.
Planning to upgrade your store to Magento 2.3.x, follow our comprehensive step-by-step guide!
Social Login
Price: $249.00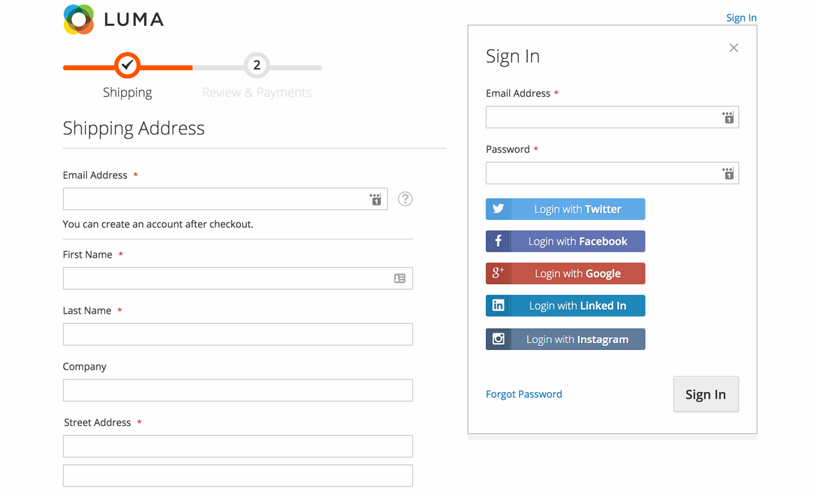 Social Login extension is an excellent tool that helps customers log in to the Magneto 2 store using social media profiles (for example, Facebook, Twitter, Google, Pinterest, Linkedin, Instagram, etc.). As a result, they don't need to register new accounts and remember extra passwords. Once the user clicks the desired social network button, his account is being linked to the store. Magento 2 extension takes all the necessary data from the social profile.
Benefits of Social Login extension:
Quick registration and authorization processes
Support of various social networks
Increased security
Mobile Friendliness
Detailed information about customers
Ability to manage and unlink social media accounts
User experience personalization
Responsive design, etc.
SEO Suite Ultimate
Price: $299.00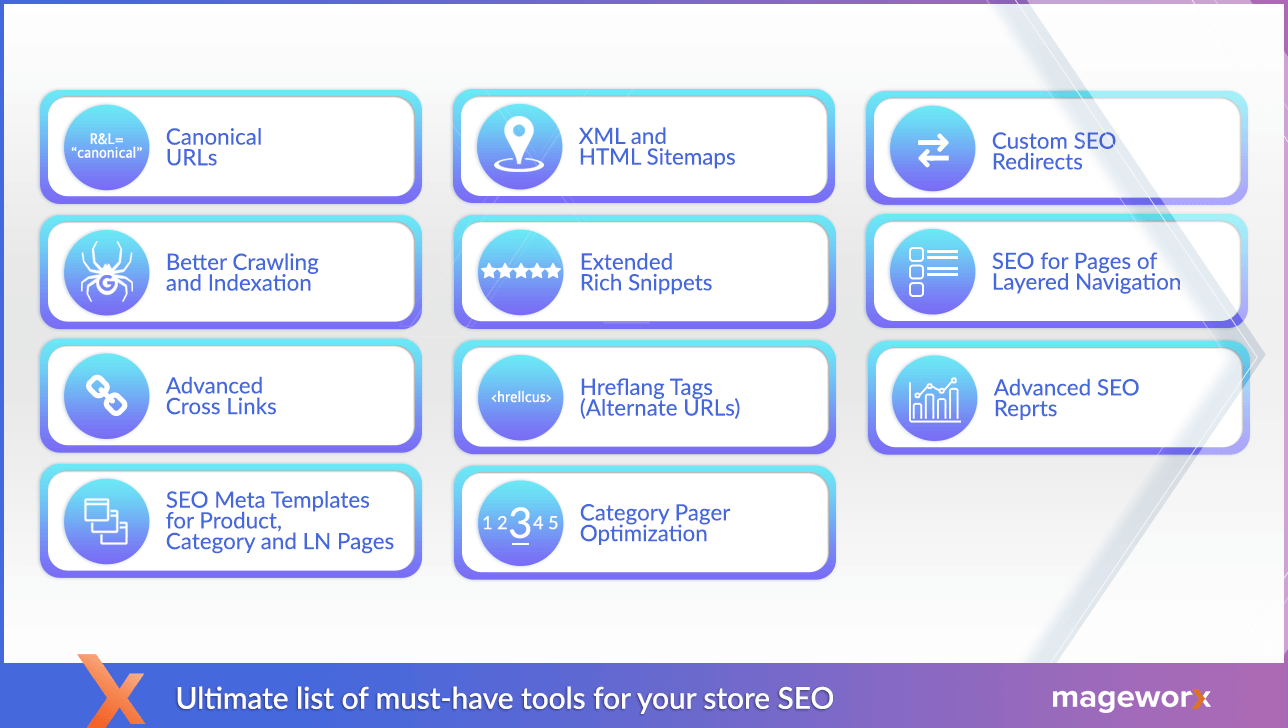 SEO Suite Ultimate is also in our list of top Magento 2 extensions. It assists in strengthening the store's SERP results and improving online visibility. The tool provides users with a large number of functions. Merchants don't have to worry about managing on-page SEO activities manually. Consequently, finding duplications, dealing with indexation, improving URLs, meta titles, descriptions and tags, setting up redirects, etc. is now possible with SEO Suite. Furthermore, it's compatible with Magento 2 security patches, receives free updates and technical support.
Benefits of the SEO Suite Ultimate extension:
Ability to add canonical URLs and detect duplicate content
Website indexation for search engines
SEO meta-templates for multiple store pages (meta titles, descriptions, keywords, etc.)
Support of rich snippets in search results and social media
SEO redirects help to solve URL problems, upgrading CMS, moving to another platform
Use of internal and external links
Support of hreflang tags
HTML and XML sitemaps
Layered Navigation templates, etc.
LiveChat
Price: Free to download, includes a 14-day free trial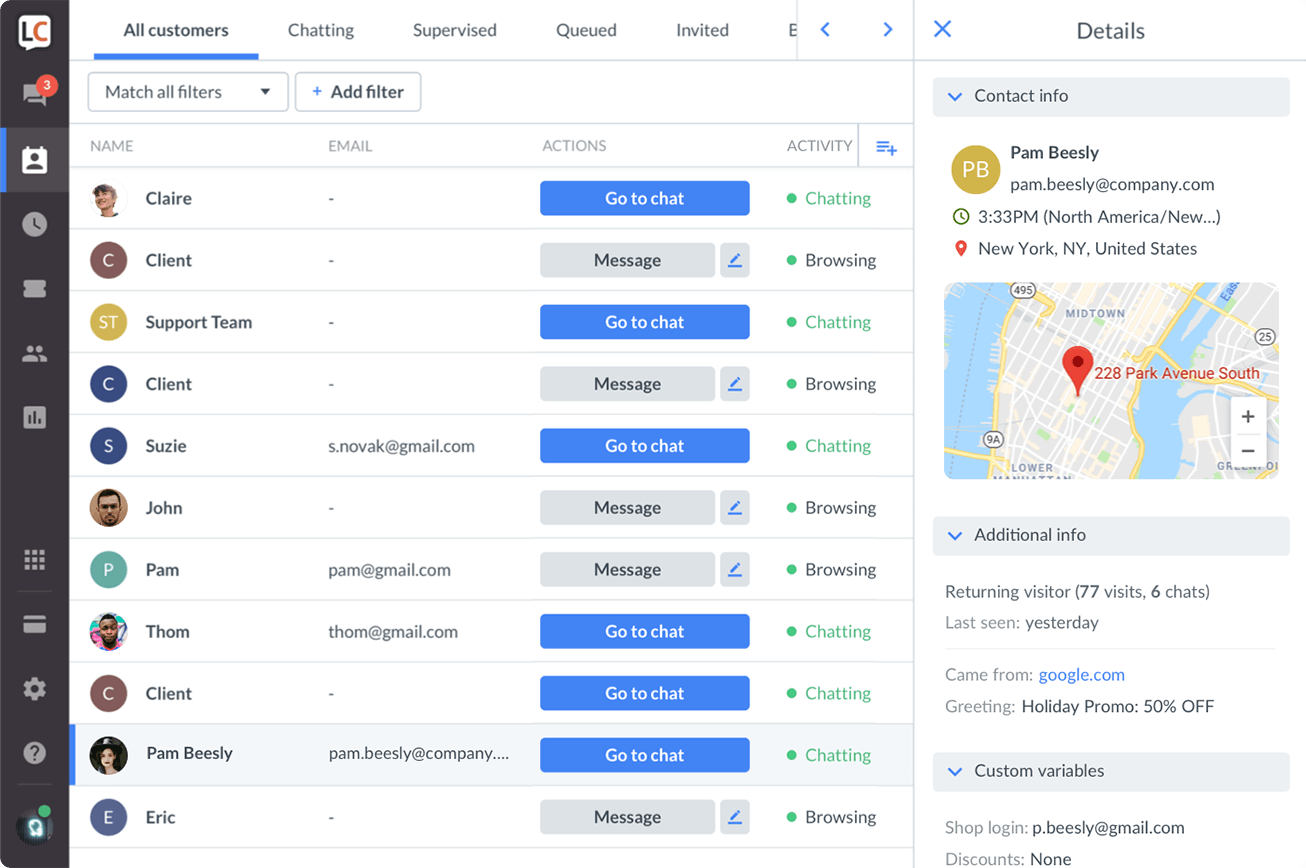 LiveChat is another useful Magento 2 extension. It aims at enhancing client servicing and online commerce. This tool helps merchants communicate with customers, answer questions, and solve problems without any delay. Store visitors can write to you via the LiveChat window at the right bottom of a webpage. Besides, you can also send them an instant chat invitation. This will help increase the store's credibility, multiply the number of happy customers, resolve the existing issues, raise the website's popularity, and boost sales. The Live Chat widget is fully customizable.
Benefits of LiveChat:
Access to numerous chat tools (e.g., chat tags, archives, notifications, file sharing, etc.)
Customer engagement (e.g., personalized greetings, chat buttons, ticket forms, etc.)
Full customizability
Ability to use reports and analytics
Enhanced level of security
Integration with the most popular Magento 2 apps
Ticketing system
Synchronization with the mobile app, etc.
Yotpo Reviews
Price: Free / Growth Plan (starting at $29 / month)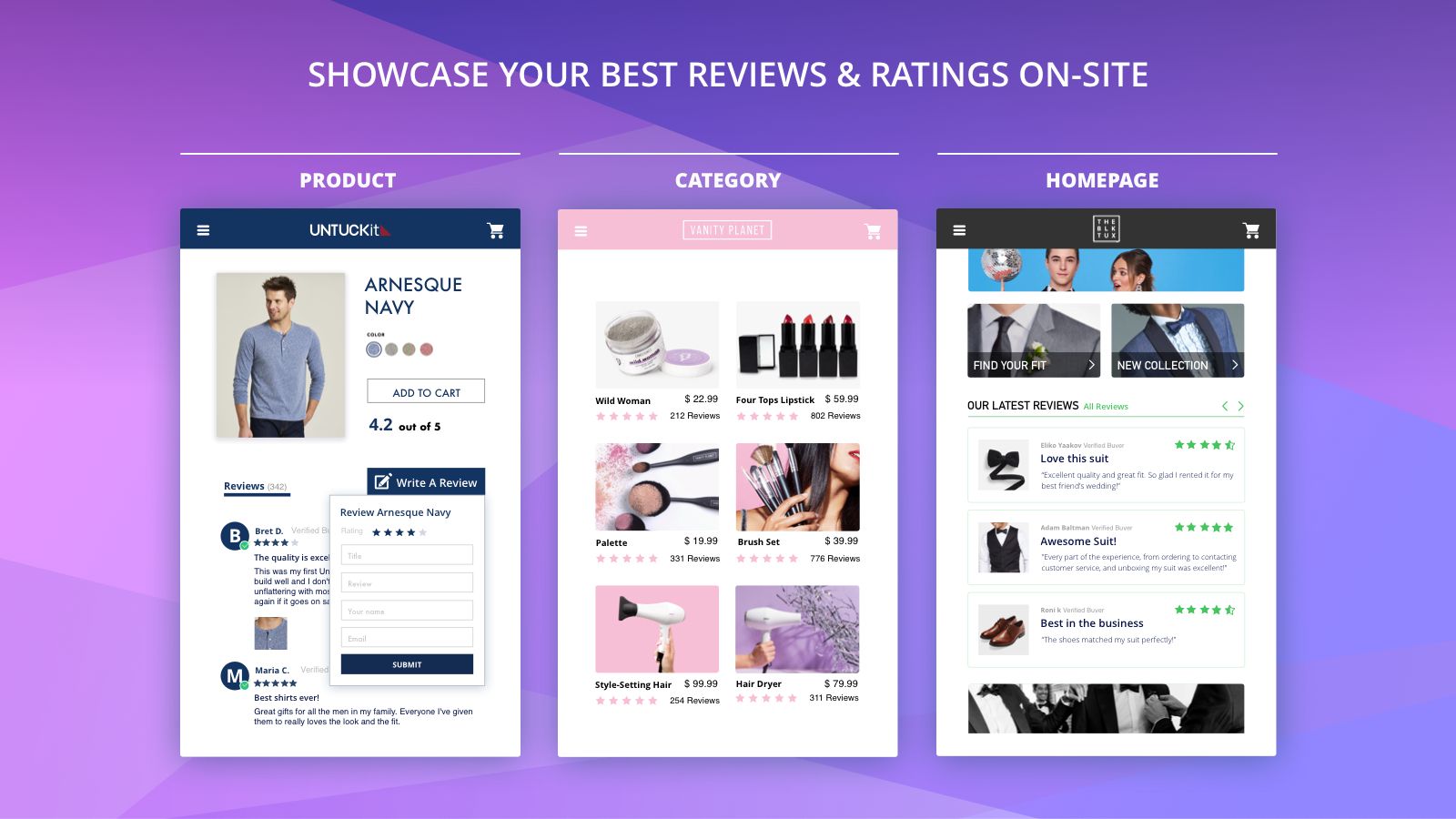 Yotpo is also considered to be one of the must-haves for the Magento 2 store owners. It's a powerful tool for gathering reviews, ratings, photos from the clients. Furthermore, it helps growing conversions and traffic, visual marketing. Yotpo is an excellent way of increasing the trust, sales, and popularity of your store. The user-friendly dashboard gives merchants access to all the feedback. Also, it allows them to optimize stores to meet customers' requirements. Yotpo free plan will be suitable for newbies and small store owners.
Benefits of Yotpo Reviews:
Up to 50 orders per month
Reviews Widget, Reviews Tab and Star Ratings
Social Push and SEO Page
Review Request Emails
Advanced Moderation and Commenting
Information on other pricing plans can be found here.
Nosto
Price: Free to download (additional fees may apply)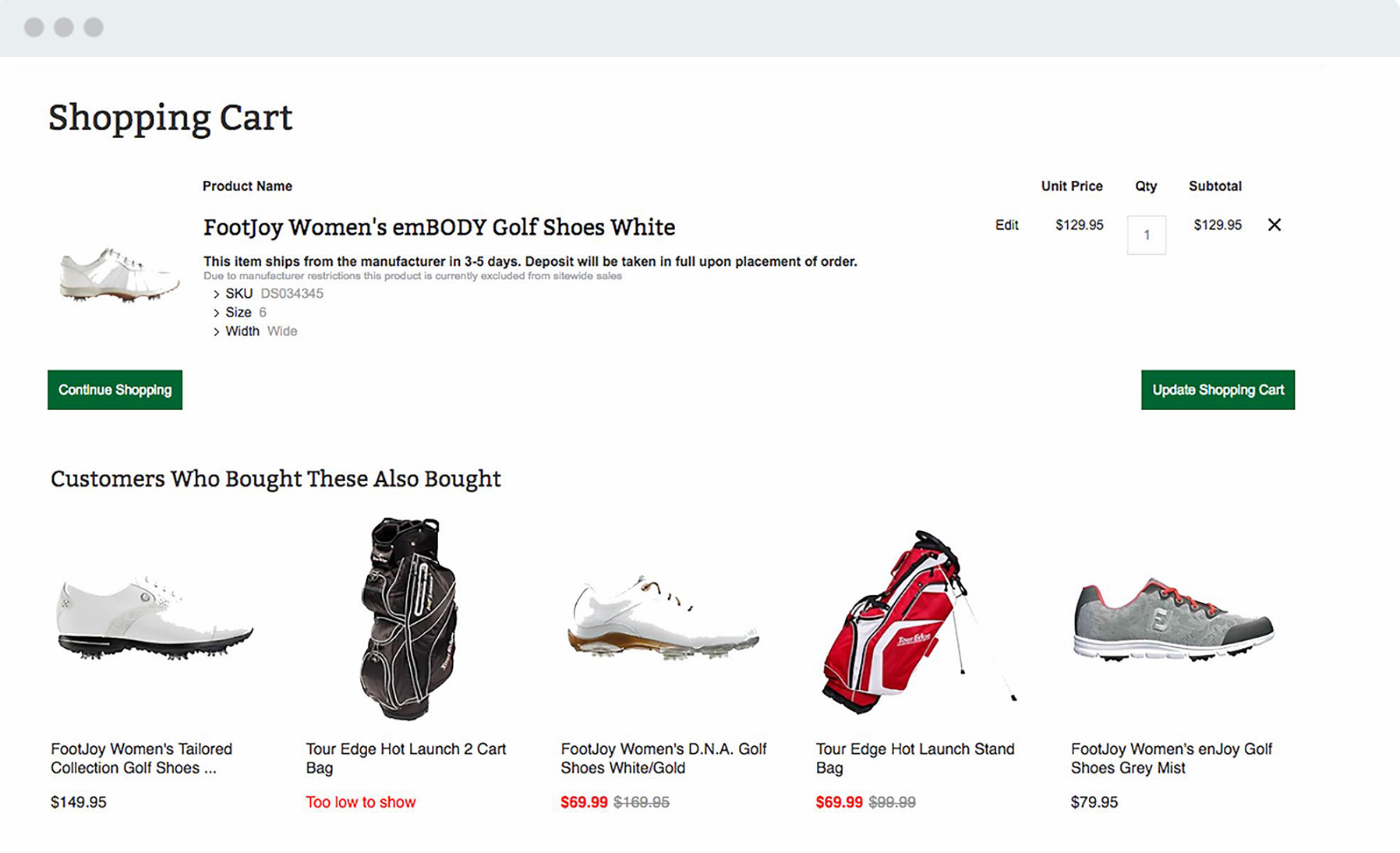 The Nosto extension aims at analyzing the data from a store. It automatically recommends the most appropriate products to the customers using the AI. The choice depends on their online behavior and interaction with different groups of articles. This Magento 2 extension improves clients' engagement, income rates, drives more sales, and increases average order value. Additionally, the app can assist in carrying out promo campaigns. The user-friendly interface and accessible tools make it possible to customize the Nosto according to your online business needs (e.g., display popular and best-selling items, suggest supplementary or pricey products, etc.)
Benefits of Nosto extension:
On-spot product recommendations and content personalization
Risk-free deployment and fast go-to-market
Build-in integration with the leading eCommerce software
Ability to operate with large product catalogs and traffic
Mobile-friendliness
Personalized interaction with clients via emails, Facebook and Instagram feeds
More information on Nosto's pricing plans can be found here.
Follow Up Email
Price: $399.00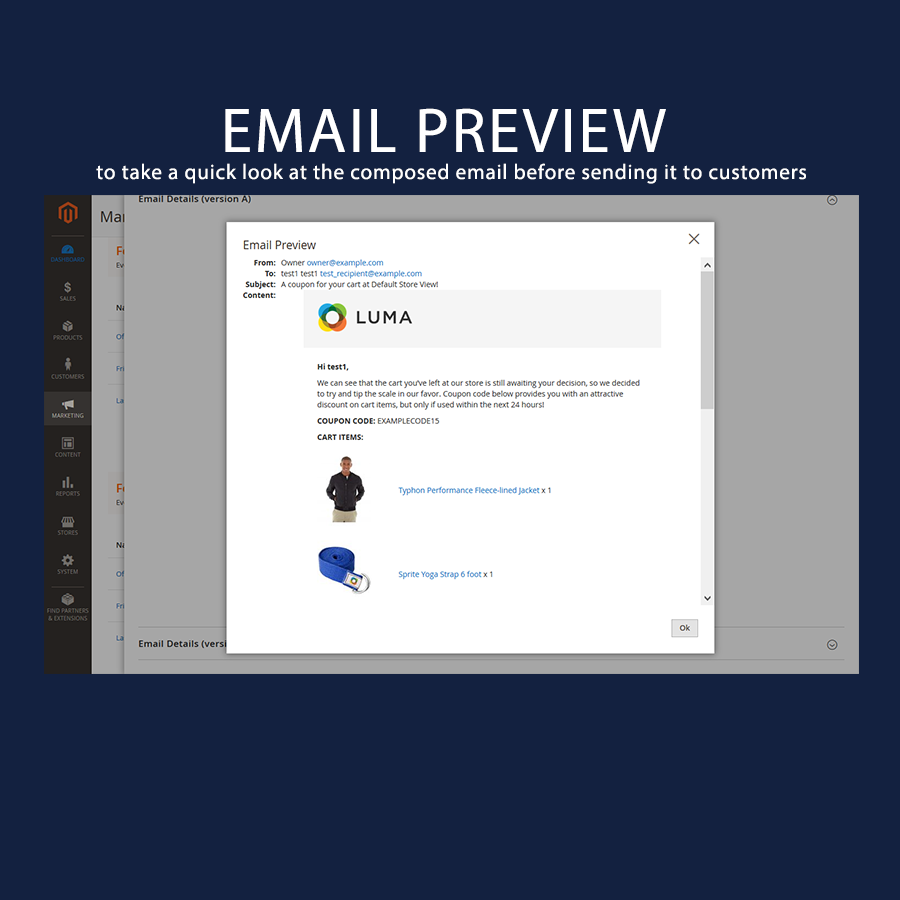 Email marketing is another powerful strategy that assists in sales increase. With the help of the Follow Up Email extension, store owners can send emails to their customers depending on the specific trigger event (e.g., cart abandonment, change in order status, new client registration, newsletter subscription, review submission, customer's birthday, etc.). Moreover, it is possible to configure the app to send these personalized emails at a particular time and date. Additionally, Follow Up Emails supports the A/B testing of emails and provides users with efficiency reports..
Benefits of Follow Up Emails extension:
Support of trigger events follow-ups
Ready-made and highly customizable email templates
Build-in editor for composing custom emails
A/B testing mode and reports on campaign effectiveness
Ability to plan email distribution
Automated spam-free email chains
Easy-to-use interface
Instagram Integration
Price: $149.00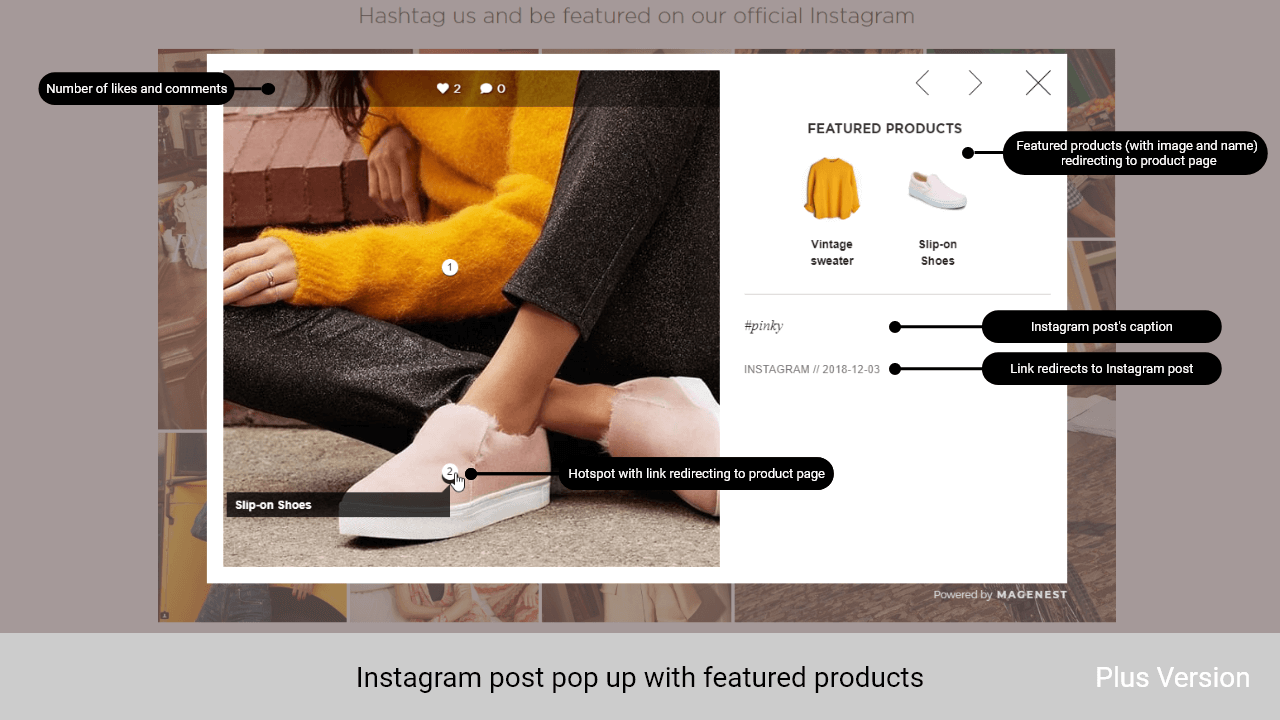 Taking into account the popularity of Instagram, it is impossible not to mention the Instagram Integration extension. It was developed specifically for those who wish to sell their products on this well-known social media platform. This app links the products from a store to the images of an Instagram profile. Thus, it eases the shopping process and makes it more convenient for the customers. Besides, Instagram Integration helps store owners create an online reputation, branding, and improving conversion rates.
Instagram Integration benefits:
Ability to tag items on Instagram posts
Use of sneak peeks that are linked to the store's website
Call-to-action button
Full customization to correspond to the store's design
Possibility to track customer engagement with posts
Constant updates from the manufacturer
Layered Navigation
Price: $249.00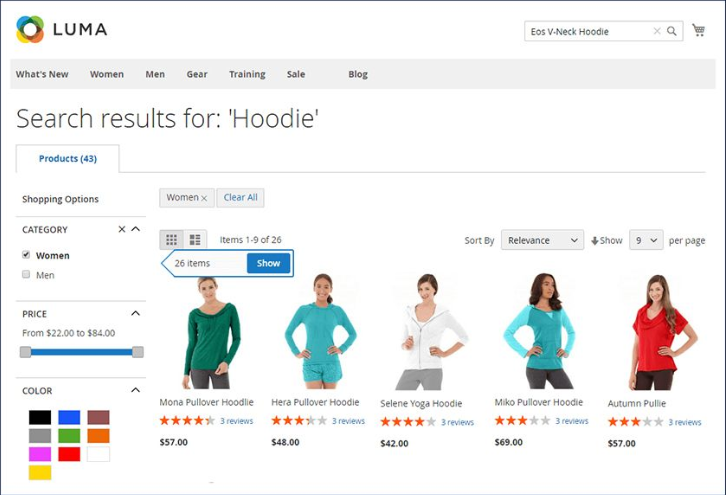 Layered Navigation extension helps to speed up the purchase and increase conversion rates. This Magento 2 extension narrows the on-store search. It enables customers to sort products according to the type, color, size, brand, and other attributes. Extra filters include new arrivals, items in stock, products on sale. Also, it is possible to choose a few product features without reloading the page. This app will be especially useful for those business owners, whose online stores have a large variety of items to choose from. All in all, Layered Navigation will improve user-friendliness, reduce filtering time, and drive more satisfied clients to the store.
Benefits of Layered Navigation:
Multiple filtering options
Easy-to-use navigation
Ajax loading page to instantly display all the matching results
Slider to filter the range of price and size
Possibility to use on any portable device
Ability to handle SEO issues (change URLs, disable indexes, meta titles, and descriptions, redirects, etc.)
Show X More button instead of scroll bars
Free Shop by Brand extension is included in the price
What Should I Do After the Magento 1.x Closes?
There are several options to choose from. It is possible to stay on the current version of your platform and do nothing. But be prepared that with the lack of updates and a number of weak points your store won't remain competitive forever. Another way out is to upgrade your store to the latest version using a Magento migration extension by Cart2Cart. Alternatively, you can begin searching for the new platform that would satisfy your needs and expectations.
So, if you wish not to miss on your store's functionality and move to Magento 2.x, consider installing the following Magento 2 migration extension:
Cart2Cart M2 Upgrade
Price: Free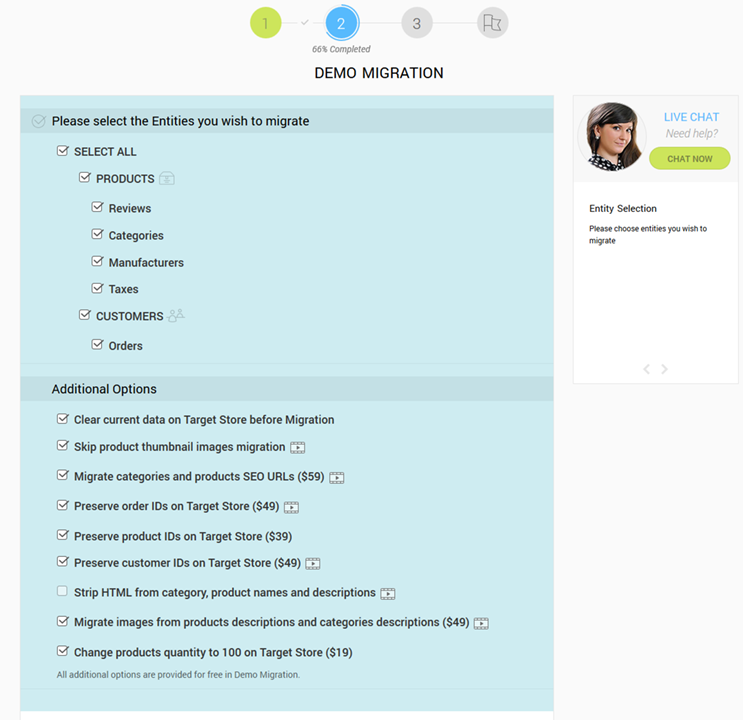 Every business owner understands the complexity of switching platforms. To ease the process of store migration to Magento 2.x, download the Cart2Cart M2 Upgrade extension. It transfers data across platforms in an automated way with minimal human involvement. After installing Cart2Cart M2 Upgrade, you'll get the possibility to migrate products, product categories, manufacturers, customers, orders, coupons, reviews, multistore, CMS pages, etc. from your Magento 1 to Magento 2 store.
See the benefits of upgrading your store with the Cart2Cart Magento migration extension:
Free Demo Migration option available
Wide range of supported entities
No coding skills needed
100% data security
Migration process doesn't interfere with the store's performance
24/7 live support
Flexible pricing that depends on the number of entities you are planning to transfer
Additional migration options that ease data transfer (e.g., Preserve order IDs on Target Store, Create 301 redirects on your target store after migration, Migrate customers' passwords, Migrate categories and products SEO URLs, etc.)
Please note! Install Cart2Cart Magento 2 Passwords Migration Plugin to transfer customer passwords.
Also, if you wish to move to Magento from other platforms, all the necessary extensions can be downloaded here.
How to Choose the Right Magento 2 Extensions?
Taking into consideration the endless list of Magento 2 extensions, it is essential not to be mistaken and make the right choice. There are lots of plugins that provide the same functionality but can impact the store's performance differently. The first thing that should be kept in mind when deciding on installing an app is its ratings and reviews. An extension that has hundreds of positive reviews and highest ratings is usually considered secure. Secondly, pay attention to the update frequency (release of bug fixes, improvements, or new features). It often happens that some of the extensions were not updated since the release. Lastly, make sure that the app was created by the Magento partners or Magento-certified developers. In that case, the company guarantees that the plugin won't affect your store in any way.
Top Magento 2 Extensions - FAQs
What is the latest supported version of Magento?
Cart2Cart always checks and supports all versions as soon as they are released, so you can be sure that latest version is supported.
Will the Magento upgrade service affect my current store?
You won't notice any impact on your store's performance with an automated upgrade (migration) via the Cart2Cart tool. It is safe to continue selling during the moving process without losing any customers or revenue.
Final Words
We hope that our list of top Magento 2 extensions will be useful for both experienced Magento store owners and eCommerce newbies. Please remember that postponing Magento 2 migration is no longer an option. So, not to miss on sales and productiveness, we advise you to schedule a store switch using one of the Magento 2 migration extensions as soon as possible. Give your business a fresh start and enjoy its success in the future!
In case you've decided to look for another platform, here's a list of Magento 1.x alternatives. In case you wish to upgrade your current Magento 1 store to 2.x version, check our comprehensive DIY guide.