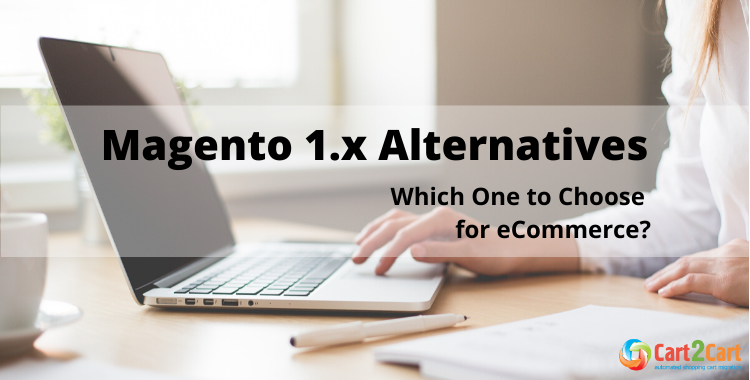 Magento is famous for its top-notch customization, flexibility, and innovative features. It's a number one choice for technically-advanced users. The platform offers unrivaled functionality and potential. So, store owners can easily handle a great number of customers and sales. But nothing lasts forever. The Magento 1 era is coming to an end in June 2020. This means that the platform won't receive any updates and support from the Company. Thus, it's high time to start looking for a substitute that would suit your business needs. Keep reading to find out a decent Magento alternative to migrate to.
In search of Magento alternatives
Having analyzed the BuiltWith statistics, we've prepared the list of top Magento alternatives. In brief, WooCommerce, BigCommerce, Shopify, PrestaShop, OpenCart, and Magento 2 are the solutions that merchants all over the globe gravitate towards when leaving Magento 1.x. Today we'll try to explore the benefits of each cart.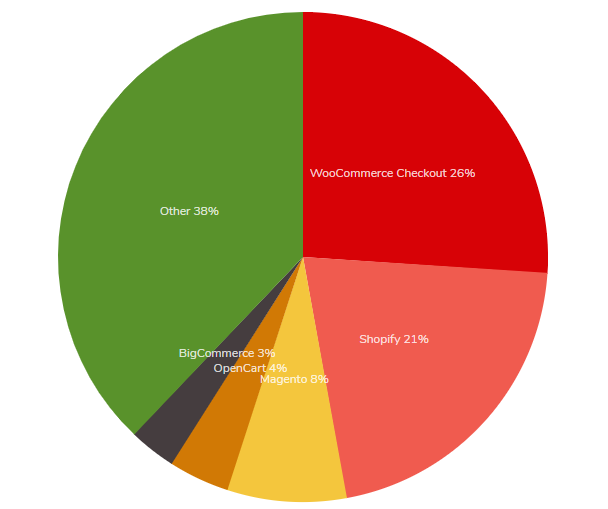 To begin with, take a look at the most crucial criteria for satisfying online store owners' needs:
High level of flexibility and customization,
SEO-friendliness,
Strong security,
Great number of qualitative apps/modules/plugins,
Solid documentation,
Active user community,
Code-level access.
Now, let's proceed with the most popular Magento alternatives.
WooCommerce — Best WordPress eCommerce Plugin

WooCommerce is first in our well-thought-out list of Magento alternatives. This open-source eCommerce plugin seamlessly integrates with WordPress. Currently, it powers 3,876,748 live websites. WooCommerce migration will make you a member of the ever-growing community with an unlimited number of users and developers. Sounds pretty promising, right?
Here's the list of WooCommerce benefits:
Complete customization and control
Due to its open-source nature, WooCommerce lets users modify their stores without any limitations. The free Storefront theme is a great tool for starting your business on this solution. Further improvements are possible with the child themes. WooCommerce can also work with any of the WordPress designs. Moreover, there are thousands of responsive themes available online, e.g., Themeforest.
Support
WooCommerce provides users with loads of solutions to any tech-related issues. You're free to use various FAQs and documentation covering the essential topics: extensions, themes, third-party plugins, WooCommerce Cookies, SSL, etc. Additionally, there are lots of active WooCommerce enthusiasts on numerous WooCommerce forums online.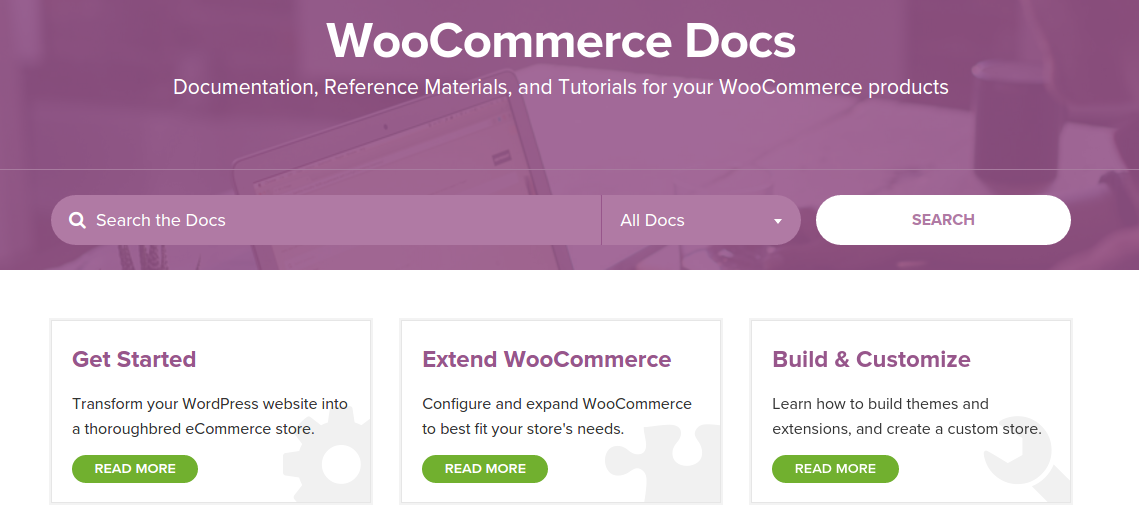 SEO-friendliness
The WooCommerce team understands that SEO is the core component of any successful online business. As an eCommerce plugin, WooCommerce benefits from WordPress's accessibility, fast speed, and fantastic blogging functionality. It offers plenty of third-party plugins (e.g., Yoast SEO, Jetpack) to help you in store management.
Safe and secure
WooCommerce has the highest level of security protocols. Besides, regular security patches and improvements fix vulnerabilities in a flash. The only thing store owners have to care about is a reliable web hosting provider. Simple precautions, like strong admin password and SSL certificate, will also minimize the chance of being hacked.
If WooCommerce fits your expectations, don't wait any longer - start a free Demo Migration from Magento to WooCommerce.
BigCommerce - SaaS with Big Opportunities

BigCommerce is also one of the worthy Magento alternatives. It is on the list of the world's most respected shopping carts. This solution competitively gains striking popularity among the store owners. Though BigCommerce is a hosted platform with no code availability, it meets both small business and big Enterprise eCommerce goals. At the moment, it hosts 47,568 live websites. What is the secret of this Magento 1.x competitor? Let's reveal the truth!
Professional yet simple interface
BigCommerce is a user-friendly platform. Its development team made a clear and intuitive UI. Therefore transforming the tiresome administrative day-to-day tasks into a pleasant, easy-to-comprehend activity.
Affordability
BigCommerce is a worthy Magento alternative if you're looking for an affordable solution for your eCommerce store. It offers users a 15-day risk-free trial. Later on, you can pick the plan that fulfills your ambitions and opportunities. The prices range from $29.95/mo to 299.95/mo. Although, get ready to pay extra money for the apps, premium themes, and developers' assistance.
The price of BigCommerce Enterprise edition depends on your business needs and is determined individually.
Huge app store
BigCommerce offers users an extensive app store. It has many alternatives to Magento 1.x extensions. They will help you to fulfill your business needs and goals. If you're used to some of the exclusive Magento 1 add-ons, you'll likely find apps offering the same set of functions.

Professional-looking themes
The store's overall look is crucial for sales. BigCommerce is full of attractive, inspirational design options. Users can effortlessly customize the templates using HTML or CSS editors. Unfortunately, BigCommerce templates have fewer personalization options than Magento ones. But who cares if they are fully responsive and so crazily beautiful?
Wide range of secure payment gateways
As well as Magento 1.x, BigCommerce works with nearly all secure payment gateways: Authorize.net, Paypal, Google Checkout, Payleap, 2Checkout, etc. They all guarantee store owners safe transactions.
24/7 support
BigCommerce Enterprise solution provides access to super-professional, world-class support. BigCommerce team is available 24/7. They offer top-notch support & consulting via phone, email, chat. Moreover, you can access various video tutorials, community forums, and blog articles.
Migrate from Magento to BigCommerce today and level up your business with this worthy Magento alternative
Shopify - World's Most Popular Hosted eCommerce Platform

Shopify is another prominent eCommerce solution among Magneto alternatives. Its setup procedure is easy and swift. Thanks to wizard mode and user-friendly admin panel, even novice users can establish the store hassle-free. You can not say the same about the Magento 1 setup, right?
However, few more things make Shopify one of the most brilliant Magento alternatives. Let's discover them together!
Attractive templates
Shopify, unlike other self-hosted services, has the most extensive range of customization options. The solution offers hundreds of super-professional and responsive themes. They allow you to ensure a seamless cross-device shopping experience. Moreover, it is possible to set up Shopify themes without the developers' assistance. Also, there are a lot of free templates. They are equally beautiful and functional.
Extensive app store
Shopify has a huge App store with various extensions. They are subdivided into categories by functionality purposes: marketing, sales, social media, shipping, inventory, customer service, etc. Consequently, you don't have to worry about the setup. It takes just a few clicks to install an app.

Strong SEO and Analytics features
Shopify provides strong SEO capabilities. These include editable title tags, meta descriptions, page URLs, ALT tags for images, customizable image file names, etc. They help your website rank higher in Google search results. Besides, Shopify gives you access to advanced reports and analytics. Therefore, this ensures a better understanding of your SEO marketing effectiveness.
Multi-channel retailing
Shopify is an excellent choice for multi-channel retail. It can easily integrate and synchronize your stock with Amazon, Facebook, Pinterest, etc. Also, you can embed your storefront to any website built with WordPress, Joomla, Drupal, Wix, and other CMSes with the help of Buy Button.
Moderate pricing
Shopify offers merchants four different plans. The price ranges from $29 to $229. However, the monthly cost also includes some extra transaction fees. Nevertheless, running a small Shopify store is pretty affordable. Especially when considering the rich functionality that comes along.
But, if you're going to run a store with Shopify Enterprise, be ready to burn a hole in your pocket. Monthly fees for Enterprise solution are high.
Dedicated Support
Shopify has excellent customer support. Feel free to contact their 24/7 support team via phone, email or webchat in case of any tech-related questions.
If Shopify's functionality satisfies your business needs, Cart2Cart will help you migrate from Magento to Shopify in the most trouble-free way possible.
An Exhaustive Step-By-Step Guide For Magento to Shopify Migration
PrestaShop - Community Driven eCommerce Solution

Have you considered PrestaShop as one of the powerful Magento alternatives? If not, it's a good idea to give it a chance. This platform is one of the most successful and feature-packed solutions. Therefore, it will help to build your dream store.
Easily operated
The overall picture of PrestaShop is similar to Magento 1. This fabulous open-source solution ensures a top-notch store performance. The PrestaShop administration panel is very user-friendly and intuitive. Multiple admin activities are efficiently executed with a maximum level of automation. On the whole, its interface is well-thought-out and shouldn't cause any confusion. Moreover, Prestashop will help you find a happy medium between Magneto's complexity and Shopify's simplicity.
Solid documentation
PrestaShop has extensive and well-organized documentation. It offers numerous guides for merchants, theme and module developers, administrators, etc.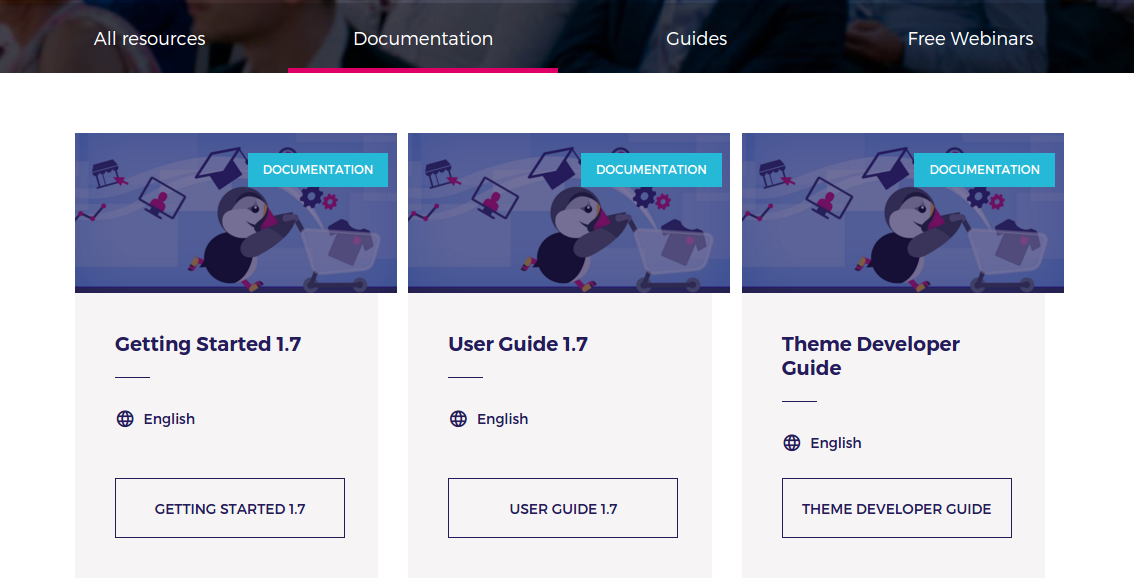 Highly customizable
PrestaShop has high-level customization allowing you to twist and tweak your store as much as needed easily. Furthermore, tech-savvy users will enjoy full code-level access. PrestaShop templates are impressively flexible and can be easily modified with the help of the convenient editor.
International community
PrestaShop is famous for its supremely developed international community. It consists of both skilled developers and simple users. You can access various blogs, countless social media groups, vibrant official forums, video tutorials. Thanks to its profound materials, it is possible to find a solution to any of the tech-related issues. Another PrestaShop's advantage is multilingualism. The platform is available in 75 languages.
Do you think that PrestaShop is your perfect fit? Migrate from Magento to PrestaShop with Cart2Cart and enjoy the benefits of the new platform in the future.
OpenCart - Open-Source. Open Commerce

Among the already listed Magneto alternatives, OpenCart probably evokes the most similar to Magento 1 feelings. The name of this platform entirely corresponds to its characteristics. Like Magento 1, it has limitless functionality. Therefore, OpecCart users have all the needed features to scale and run a profitable business.
User-friendliness
The first OpenCart's benefit is an easy-to-maintain setup. Thanks to a well-structured admin interface, all the necessary information is readily available. You just need to go through a seamless 4-step launch procedure, localizing the primary settings. Moreover, OpenCart makes it possible to manage multiple stores from a single interface.
Comprehensive documentation
OpenCart's documentation appeals both to seasoned web developers and eCommerce newbies. Extensive guides will help you manage customers, add products to your store, change layouts, track sales, and add extensions. The documentation includes a variety of tech data that is vital for developers.
Piles of extensions and modules
OpenCart offers countless in-box features and over 13 000 extensions to expand store' functionality even further. They fall into 13 major categories. The prices are moderate, however, vary significantly. Almost all modules offer trial or light versions. Therefore, it is possible to test the product before purchasing it. In case you wish to save up, there is a number of free extensions available.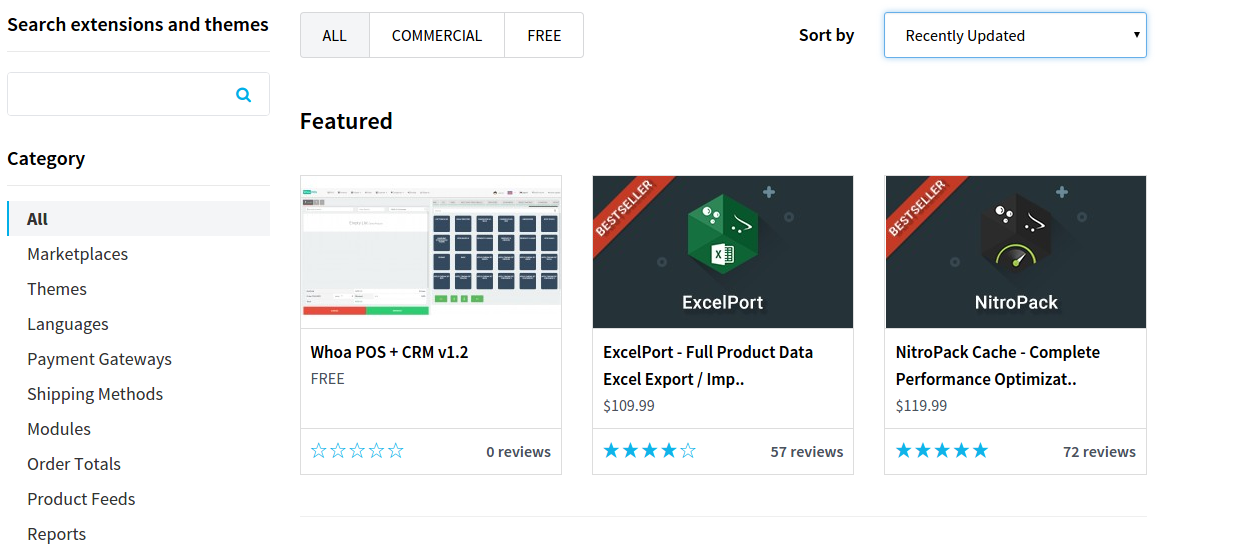 SEO-ready
Naturally, a competitive OpenCart platform has lots of advanced SEO features. OpenCart is probably one of the most SEO-packed solutions among all of the abovementioned Magento alternatives. It has all the necessary features to get your products into the tops of SERP.
Ever-growing community
The OpenCart community is big and diverse. The official OpenCart forum includes more than 110 000 registered members, 126 000+ topics and 550 000+ posts.
Many OpenCart fans are scattered around the web. They group into small communities on different forums and social networks (e.g., Facebook, Reddit, etc.) Consequently, there's a vast amount of user-generated content that might be super helpful when dealing with issues on your OpenCart store.
Wide range of professional themes
OpenCart offers you a full range of attractively-designed, ready-to-use themes. They are available either on the OpenCart template store or other 3rd party resources as ThemeForest, Template Monster, etc. They will give you a stronghold over your store customization and live it up to the fullest potential.
Benefit from Magento to OpenCart migration with Cart2Cart and establish a multi-functional store just within a few clicks!
Magento 2 - Successor to Magento 1.x Legacy

If you're a loyal fan of Magento Universe, then, probably, it's worth upgrading your store to Magento 2.x. It was first launched on November 15, 2017, and became one of the best alternatives to the Magento 1.x. Besides the well-liked features inherited from the oldest versions, it has a long list of improvements that would add functionality to your store. These include:
Enhanced scalability and performance
The new Magento 2.x is much faster than the oldest versions. Additionally, it has an improved indexer. Indexing time has reduced by 60%. Thus, making websites more optimized for sales and search engines. The separate database strengthens performance for order processing, reduced amounts of code, increased browser rendering, better image compression, and static content caching.
Easy checkout procedure
To minimize the number of abandoned carts, the Company has introduced a 2-step checkout to Magento 2.x. The shopping became much more comfortable, especially when compared to Magento's 1.x 6-step checkout. Moreover, now customers can sign up right in the checkout page. Order details now contain information about chosen products, their number, and images. Other improvements include the automatic and fast shipping rate calculation and zip code-friendly menu.
Improved security
Magento 2 allows users to customize multiple levels of security permissions. Significant improvements include Google reCAPTCHA, secondary password prompt, and PCI Data Security. Also, Magento 2.x aims at protecting the checkout process and user details. Thus, this makes the store safe for all the online payment transactions and builds customer trust. Furthermore, the software constantly releases security updates.
New backend
Magento 2.x Admin Panel became very intuitive, user-friendly, easy-customizable, and fits the non-technical users. Its benefits include flat design, well-organized and simple menus, easier data formatting, and straightforward product creation.
Powerful SEO features
One of the main benefits of Magento 2 is that it was initially SEO-oriented. The software helps business owners create SEO- friendly URLs, set meta-descriptions, and meta-keywords to the website, mark-up data on product pages using snippets, establish and optimize XML sitemaps. Also, merchants can edit robots.txt files directly from the Admin panel and apply labels to product images.
Decided to stay loyal to Magento company? Upgrade you Magento 1.x store to Magento 2.x and move your business to greater heights. Let nothing hold you back!
Upgrade Magento 1 to Magento 2: The 2020's Complete Guide
How to Safely Upgrade Magento to 2.3 In 2020
What to choose instead of Magento?
If you want a Magento alternative that offers user-friendliness and affordability, choose Shopify. Those merchants already familiar with WordPress will find it easy to use WooCommerce. If the security of your online business is of concern - BigCommerce might be the best option. But if you're comfortable with Magento 1, just upgrade it to the latest 2.x version.
So, what kind of conclusion can we come up with? The answer is simple: say YES to Magento alternatives!
All in all, because Magento 1 will no longer be an active eCommerce player, it's time to switch to a different platform. Cart2Cart automated shopping cart migration tool is ready to lend you a helping hand! The service will move your data, including products, orders, customers, categories to any above-listed shopping carts or 85+ more!
Platforms
Cheapest Plan
Most Premium Plan
Free Trial
Integrated Payments
Overall Ratings (on a scale of 1-10)
Final Verdict
Shopify
$29 per month
$299/month
14 days
Yes, but can use own solution.

Price – 9
Ease of Use - 10
Support - 10
Features – 10

Easy to set-up, all-in-one eCommerce solution, no upfront cost and no risk.
BigCommerce
$29.95 per month
$249.95 per month
30 days
Yes, but can use own solution.

Price – 8
Ease of Use - 9
Support - 10
Features – 10

Low upfront costs and a full range of features included with their standard account. One of the few platforms offering a solution specifically for B2B and whole businesses. The prices of some add-ons such as themes, apps and payments need to be considered.
WooCommerce
Free
Free
NA
No, requires extension

Price – 10
Ease of Use - 9
Support - 9
Features – 8

It is good if you are technically sound and can troubleshoot problems. Great flexibility and customization at the lowest price possible.
PrestaShop
Free
Free
NA
No

Price – 10
Ease of Use - 6
Support - 7
Features – 8

Cheap but powerful eCommerce platform. Additional support and many plugins are not free.
OpenCart
Free
Free
NA
No

Price – 9
Ease of Use - 9
Support - 8
Features – 9

Huge range of extensions, ideal for small/medium businesses, guarantees impressive site speed, multi language and currency integrations. Hosting and Security costs to be borne by the user.
Magento Alternatives - FAQs
Is Magento still relevant?
Magento provides us with a comprehensive e-commerce solution by offering a great experience to the customers and the developers and store administrators. Over the last few years, from Magento 1 to Magento 2, we all see a feature-rich e-commerce platform, prepackaged with all the fundamental tools for building a perfect e-commerce store.
Why is Magento so popular?
Magento is the most customizable platform that allows you to create a new or expand the current store to any level. And it is this feature that attracts customers.
Is Magento good for small business?
Magento can add value for many small, medium, and large businesses. Its high-quality customization tools allow business owners to own well-designed and fully-functional websites that convert customers.
Why choose Cart2Cart?
Cart2Cart is the market's popular automated migration solution. The transfer process is easy and straightforward. It lets you perform a secure and qualitative platform switch with no tech skills at all. Some of Cart2Cart's significant benefits are:
Seamless 4-step migration procedure
100% current store uptime
Widest range of supported entities
Free Demo Migration
24/7 support
High data migration speed
Feel inspired? Start a free Demo now and perform a comprehensive migration of your Magento 1 data to any of world's most popular eCommerce solutions!