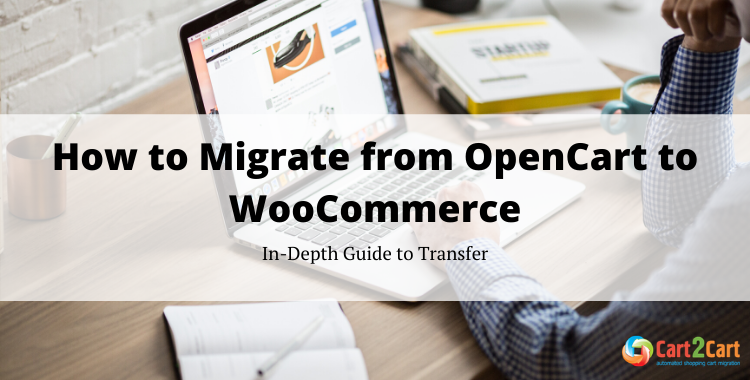 Both OpenCart and WooCommerce have proven themselves as advanced and flexible eCommerce solutions that provide a great foundation for creating powerful online stores in a very limited time and budget. Let's delve in deeply and find out why and how to transfer OpenCart to WooCommerce.
How to Migrate from OpenCart to WooCommerce in 4 steps
Copy your OpenCart and WooCommerce stores access info to the corresponding fields
Select the transferrable data types and extra options for your migration
Launch the free demo to see how the OpenCart data will look on WooCommerce
Initiate the full transfer from OpenCart to WooCommerce
Watch our video tutorial to see how easy it is to automatically migrate from OpenCart to WooCommerce with the help of the Cart2Cart migration tool:
What is OpenCart to WooCommerce transfer?
Data migration from OpenCart to WooCommerce is the transfer of store's entities (e.g., products, customers, orders, etc.) between platforms. It can be done either manually or automatically. An automated switch with Cart2Cart is fast and secure. Moreover, it suits even the complete newbies with no tech skills.
OpenCart and WooCommerce: Quick Facts
Both OpenCart and WooCommerce are great software that have all the expected functionality to create impressive e-stores of any complexity. But what exactly is the difference between these two that makes so many OpenCart e-merchants move to WooCommerce?
Comparing OpenCart to WooCommerce - WooCommerce certainly takes the cake, holding the lion's share on the market. It is a WordPress plugin, and therefore, a perfect go-to for those WP users who want to turn their websites into a profitable eCommerce business. OpenCart, alternatively, is a standalone solution known for its intuitiveness and powerful range of features.
Despite all the advantages associated with OpenCart (simplicity and intuitiveness, advanced customization options, security updates, great SEO tools), there are significant drawbacks, which make thousands of e-merchants leave it in favor of WooCommerce. To be more specific:
The simplicity of the platform comes at the cost of customization, which means it is not very easy to customize a store set up with OpenCart.
Despite being a comparatively light piece of software, it doesn't provide great performance and therefore isn't a good option for scaling even on a strong hosting platform.
It comes packed with only basic features that even mildly-ambitious entrepreneurs might prove insufficient.
Why Move Your Web Presence to WooCommerce?
Powering more than 7,168,281 live websites, WooCommerce has earned the love and loyalty of e-merchants all around the globe, because it combines ease of use with great power and customizability. The key features that make WooCommerce so popular and talked-about are as follows:
The main strength lies in its simplicity. It has a very low learning curve that makes most of its users quickly get comfortable with it.
Despite being just a WP plugin, it is a fully-functional eCommerce system that allows creating a fully-fledged online store of any size and complexity.
It's often treated as one of the most flexible platforms for online business. It allows a lot of flexibility with products - even novices in the arena of eCommerce have no problem selling the products.
As one of the most stable eCommerce solutions, it has a very low number of bugs. Besides, the team of WooCommerce developers is doing their best to improve this piece of software constantly.
WooCommerce support is one of the most remarkable advantages of the platform. Their experts are always ready to give e-merchants a hand of help in case there are some troubles.
With all that being said, there are many similarities and differences between OpenCart and WooCommerce. However, in terms of ease of use, flexibility, and support— WooCommerce is much more beneficial, allowing entrepreneurs to start their online business without intensive hands-on.
Ways to Transfer OpenCart to WooCommerce
There are many approaches that could be taken to migrate from OpenCart to WooCommerce. However, they all can be summarized into 3 migration scenarios, with automated way being one of the most effortless. Cart2Cart is a perfect go-to for store owners willing to replatform without intensive hands-on.
Manual OpenCart to WooCommerce migration
The method involves getting your hands dirty over mountains of codes and scripts by manually transferring every single bit of data WooCommerce. Requiring a lot of technical configuration, this way is not a good option for those e-merchants with little to no technical skills. However, the good thing is that this approach allows for unlimited control privileges over the store data.
Assisted OpenCart to WooCommerce Migration
This method is often treated as another manual transfer process, but in this case, the job is delegated to the 3rd party experts. In this case, the developer or even a team of developers are responsible for exporting the store data from BigCommerce, importing them into the WooCommerce platform, and then reconstructing the entire store. Because the transfer procedure itself is not a one-click affair at all, professionals typically charge a solid amount of money.
Automated OpenCart to WooCommerce Migration
Automated OpenCart to WooCommerce migration is the opposite of manual database transfer. It means conducting the store database transfer across various shopping carts without human involvement in the process. There are automated migration tools available at the web market that have been designed to simplify the whole data migration procedure to a few easy-to-do steps. Cart2Cart is one of such tools.
In case you want to have a 360 degree view of the OpenCart to WooCommerce migration process - watch our prezi tutorial:
Download the Cart2Cart: OpenСart to WooCommerce Migration plugin for even more trouble-free replatforming.
Transfer OpenCart to WooCommerce: Cart2Cart Approach
Create WooCommerce store
Once you've found a proper hosting solution for WooCommerce, you have to install the WordPress platform before proceeding with the WooCommerce. When WordPress is live, go to the WordPress plugin section, find WooCommerce and install it. When done, activate the plugin.
Preview the migration
Take time to benefit from the Migration Preview service to check how products, customers, orders and other elements from your current OpenCart shop are going to appear on the new WooCommerce.
Specify the Source & Target Stores
Once you've registered the account with Cart2Cart, it's time to enter the Source cart details. In the matching fields of the Migration Wizard choose OpenCart as the Source cart from the default list of the platform options and provide the store URL. When done, download the Connection Bridge ( we'll provide you with the detailed instructions on how to do that — it literally takes a few seconds).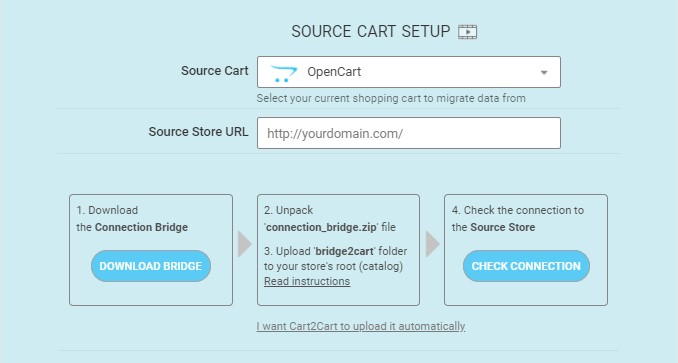 Scroll past the source cart section and proceed to the target store area. Choose WooCommerce as the Target store from the drop-down list and then type in the corresponding store's admin URL, login, and password on the adjacent field.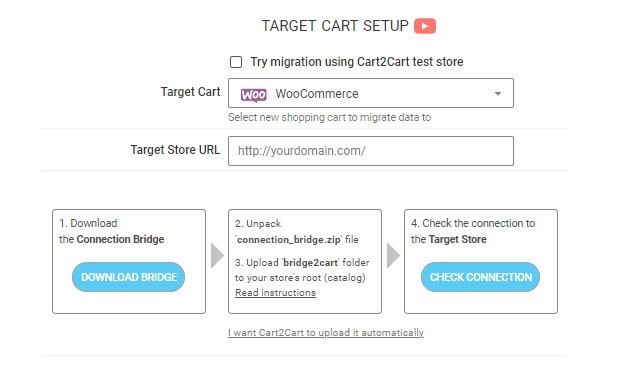 Select the data to be transferred
Choosing data means specifying the particular store components you'd like to migrate from your OpenCart store to the WooCommerce store. Cart2Cart does its best to accommodate all the essential ecommerce types of data, plus their accompanying attributes. You may click the All Entities checkbox and the service will prepare to migrate the following:
products,
product categories,
manufacturers,
taxes,
customers,
orders,
coupons,
reviews,
multistore, etc.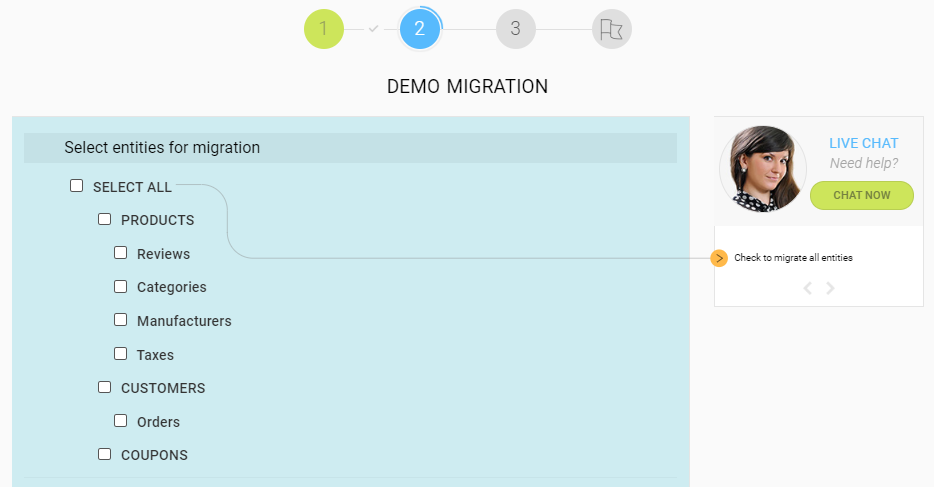 Choose additional migration options
Apart from the store entities, Cart2Cart provides its clients with a chance to select additional migration options to broaden your OpenCart to WooCommerce migration possibilities even further.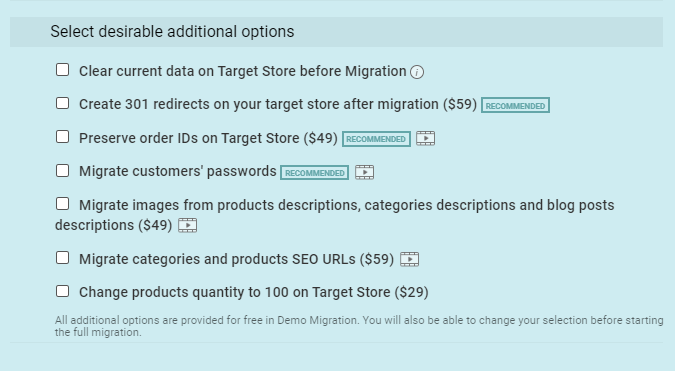 It is possible, for instance, to have the service change the product quantity to 100 on the WooCommerce store, or maybe migrate images from product descriptions, categories descriptions, and blog posts descriptions. What's more, you can take advantage of the option to preserve order IDs on the target WooCommerce store, create the 301 redirects to your WooCommerce store after migration, migrate categories and products SEO URLs, skip product thumbnail images migration, plus clear current data on WooCommerce before migration, etc.
Map data and run free Demo migration
First off, match OpenCart order statuses and customer groups with the ones on your new WooCommerce-based store.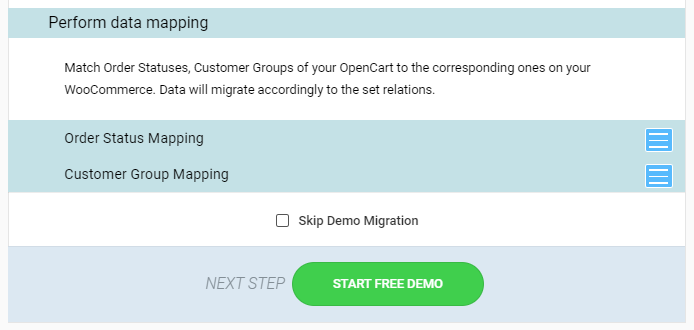 The option aims to give you a general idea of how the target store will look once the migration process is finished. It's totally free of charge and takes little time (the whole transfer process should take approximately 30 minutes). Once you find yourself happy with the Demo results - you can confidently proceed to the Full migration.
Launch Full OpenCart to WooCommerce migration
Take time to confirm the source and target cart details, go through the selected entities and review the additional options. When ready, you can go ahead and initiate the Full migration. At this step, you can even close the browser window and wait for an email alert once the process is complete.
Since this is the final step, you should expect Cart2Cart to charge a fee for the migration before executing the actual data transfer.
Check out our infographic to get a better understanding of the migration process via Cart2Cart: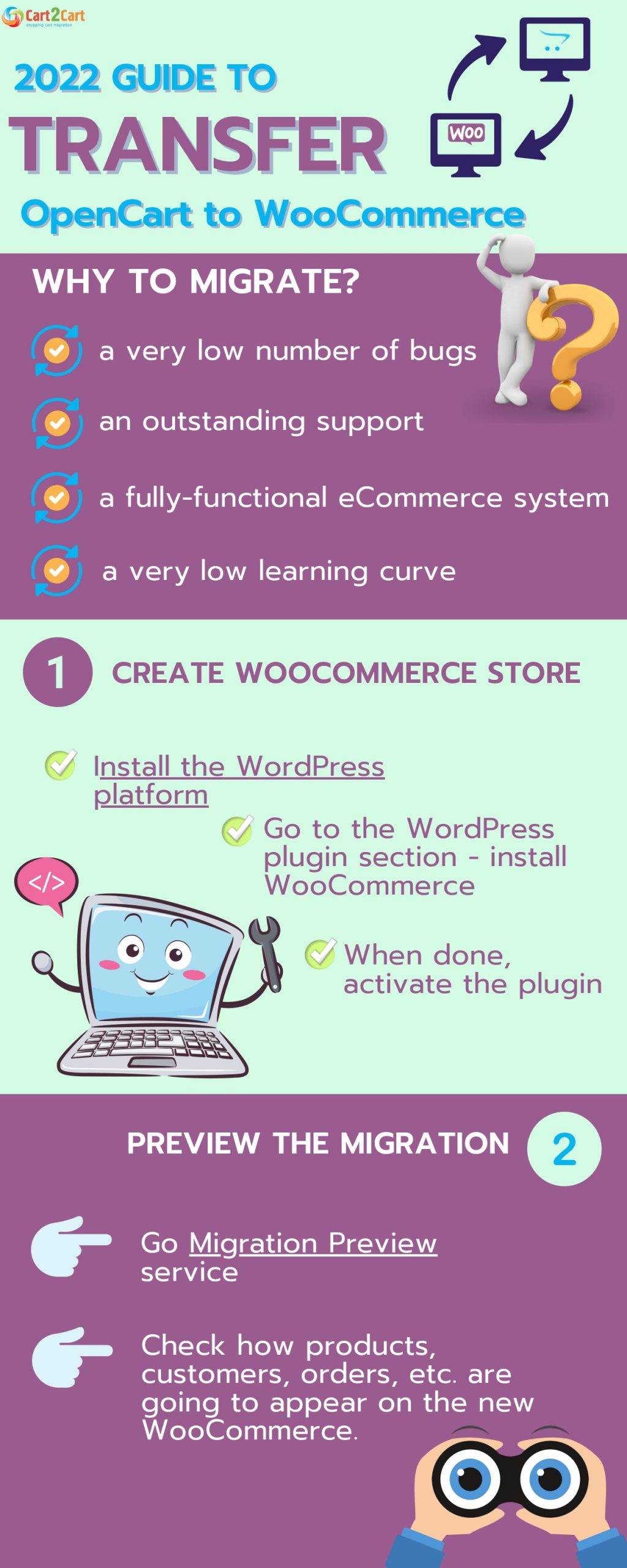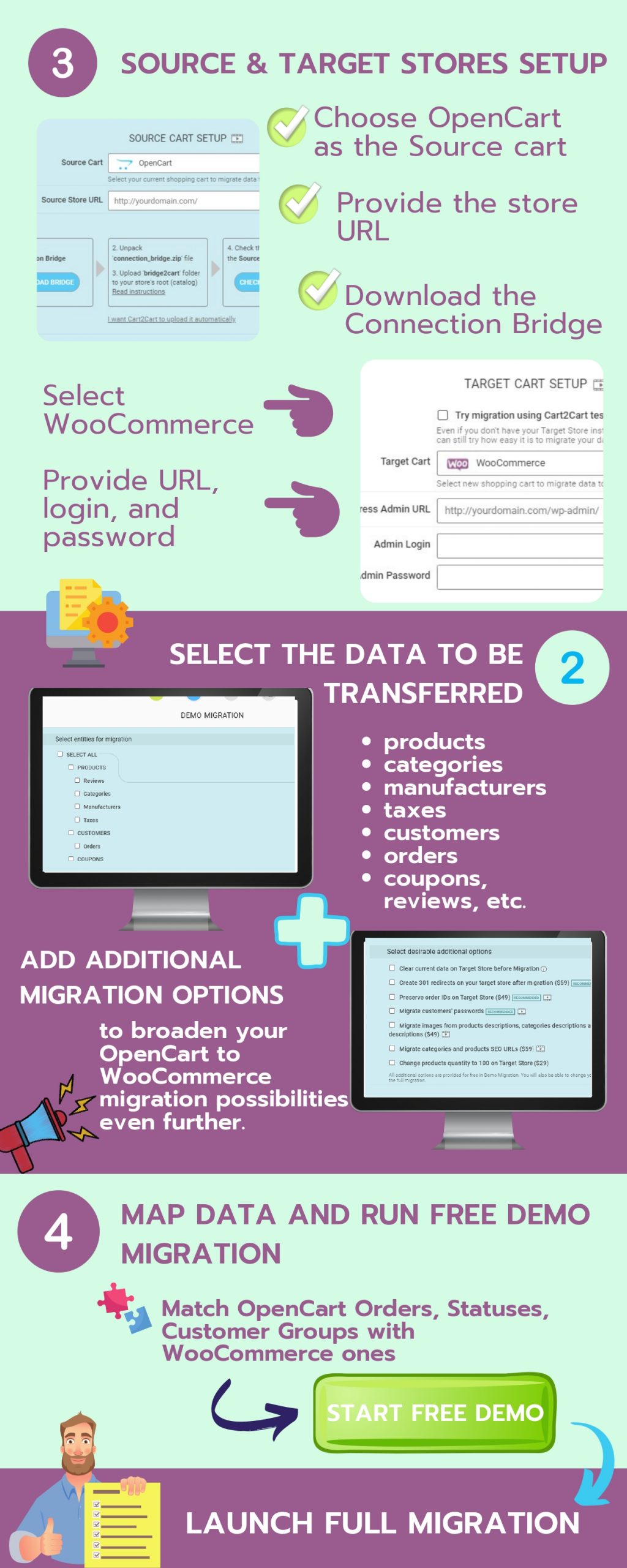 How to Migrate Products from OpenCart to WooCommerce?
Due to the fact that WooCommerce doesn't offer users the option to import products automatically, you'll have to deal with the CSV file directly. Get more detailed info in our WooCommerce export products post.
So, if you want to transfer only the products, follow these steps:
In the Product tab of your WooCommerce store admin click the Import button.
Upload the CSV file with the OpenCart products and configure your transfer.
Start the data migration by lauching the import option.
Also, you can always use and automated tool Cart2Cart. It will move all the needed data while you're busy running your business. The only thing you'll have to do is set up the transfer, and we'll deal with everything else.
How to Export Orders from OpenCart to WooCommerce?
To export your store's orders from OpenCart you'll have to install one of the paid extensions from the OpenCart marketplace. These modules support different file formats, including CSV, XLS, XLSX. Read our OpenCart export products post to find out more.
OpenCart to WooCommerce Migration FAQs
How do I export from OpenCart to WooCommerce?
Follow these steps to transfer OpenCart to WooCommerce hassle-free and in just a few hours:
Provide OpenCart and WooCommerce credentials
Tick the boxes with the data types you want to transfer from OpenCart to WooCommerce
Try the free demo migration to see how everything works
Start the full OpenCart to WooCommerce migration
Is OpenCart better than WooCommerce?
Both OpenCart and WooCommerce are open-source platforms. However, WooCommerce is easier to handle and much more intuitive. It offers a straightforward design, and tons of themes and plugins to expand the functionality of your store.
How do I export items from my OpenCart?
You can follow the OpenCart export products guide and do it yourself. Or it is possible to use an automated service Cart2Cart and delegate this task to professionals. You'll only have to configure the migration and we'll do the rest. No coding skills are needed.
Closing Remarks
eCommerce migration is not always easy, but you can handle it in no time with the right tool at hand. Therefore, no need to postpone your desired OpenCart to WooCommerce data transfer. Migrate all the needed data between carts with an automated migration service, Cart2Cart. The transfer process requires no coding knowledge and will suit both tech gurus and newbies.
If you're still hesitating whether to change your current platform now, make sure to check our detailed OpenCart vs WooCommerce comparison of both solutions.
Still hesitating? Dispel all your doubts with the free demo migration. Don't miss this unique opportunity to test-drive our tool!