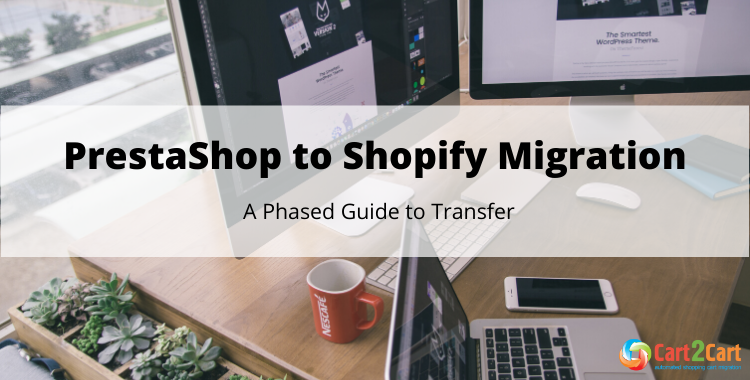 If you think that your store has outgrown the provided capabilities of PrestaShop, it is time to consider moving to a more feature-packed and scalable platform - Shopify. Read ahead to get the quick comparison of two solutions, find out their similarities, differences, and peculiarities, as well as the comprehensive step-by-step guide on PrestaShop to Shopify migration.
PrestaShop vs. Shopify: Introduction
PrestaShop and Shopify are two popular eCommerce solutions that assist thousands of merchants all over the world in running their business. They both provide the possibility to build and modify e-shops, add and sell products, accept payments, manage and finalize orders, and make the online shopping accessible to everyone.
Due to the great variety of built-in robust features PrestaShop and Shopify appear to be very similar. However, if we look closer - there's one significant difference. PrestShop is an open-source platform. It can be downloaded for free, but requires a separate web hosting. Merchants have to cope with its maintenance and constant updates themselves. Shopify, on the other hand, is a fully hosted platform and is available on a paid subscription basis. Therefore, the company hosts a store and deals with security issues, upgrades, and maintenance.
Currently, PrestaShop is home to 226,147 live websites, whereas Shopify - 1,228,023. If we compare the statistical data from the Google Trends, the prevalence of Shopify is pretty evident:
Why Migrate From PrestaShop to Shopify?
PrestaShop, like any other platform, has its pros and cons. Due to its high level of scalability, it is an ideal solution for those who are familiar with programming languages or are ready to spend a fortune on a professional developer.
But if you're looking for an easy-to-use, predictable platform that doesn't require any technical skills, Shopify should be your number one destination. It's benefits include:
Simplest and clearest interface,
Drag-and-drop store builder,
Mobile-friendliness,
Web hosting, free SSL certificate, instant upgrades, unlimited bandwidth, and 24/7 monitoring,
Possibility to add an unlimited number of products, create product variations, and organize your inventory by category, type, season, etc.,
Shopping cart and checkout customization,
Ability to use Shopify payments or integrate with 100+ external payment gateways,
One-click order fulfillment,
Built-in SEO tools,
24/7 customer support by email, live chat, and phone,
Access to discussion forums, the Shopify Help Center and eCommerce university, etc.
How to Migrate from PrestaShop to Shopify?
Cart2Cart Store Migration App is an escellent opportunity to automate your PrestaShop to Shopify switch.
As you probably know, there are several ways to migrate your store from one platform to another. But an automated one is considered to be the safest and fastest option. Services like Cart2Cart provide you with the following benefits:
Possibility to move all the necessary data just within a few clicks and a little time,
No tech skills needed, even the newbies can cope with the store transfer,
Costs less than hiring a pro,
No need to worry about the store's integrity,
Minimal human involvement,
24/7 customer support,
No business interruption,
Wide range of additional options to ease the platform's switch, etc.
Automated PrestaShop to Shopify Migration
Now, as promised, let's explore the peculiarities of automated migration with our extensive stepwise guide. Follow these simple steps and transfer your store's data from PrestaShop to Shopify:
Go through your PrestaShop Store
Check your current PrestaShop store data, delete all the outdated or irrelevant information, duplicates, inconsistencies. Keep in mind that Cart2Cart doesn't delete any data during the migration process. But you may backup the store to any of the external devices, just like a precaution.
Establish a Shopify Store
To proceed, you'll have to register a Shopify account and consider choosing a suitable pricing plan.
We advise you not to alter an existing Shopify theme, since it may negatively impact the switching process. Once the transfer is over, you may freely modify it the way you like.
Set up Source and Target Carts
Once finished, choose PrestaShop as your Source Cart, provide the store's URL, and Install the Connection bridge. To do so, please download the .zip bridge file and extract its contents to the PrestaShop root folder using an FTP panel.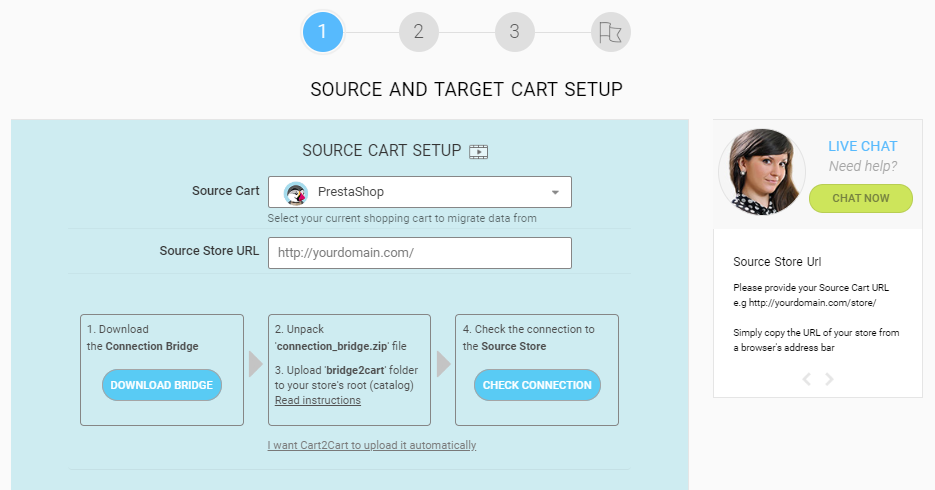 Next, pick Shopify as your Target cart from the popup list, click Install Plugin to download the Cart2Cart app from the official Shopify marketplace.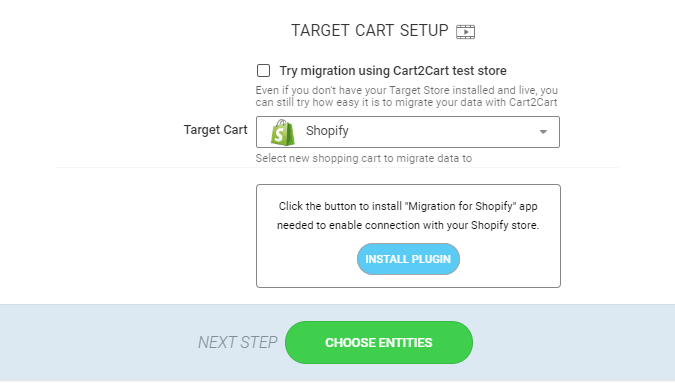 After the connection with the Shopify store is established, you may proceed to the next step of the Migration Wizard by clicking the Choose Entities button.
Indicate Data Entities
At this point, you'll have to decide which data types need to be moved from PrestaShop to Shopify store during the migration.
The list of the transferable data includes:
Products,
Reviews,
Categories,
Manufacturers,
Customers,
Orders,
Blogs,
Posts,
Coupons.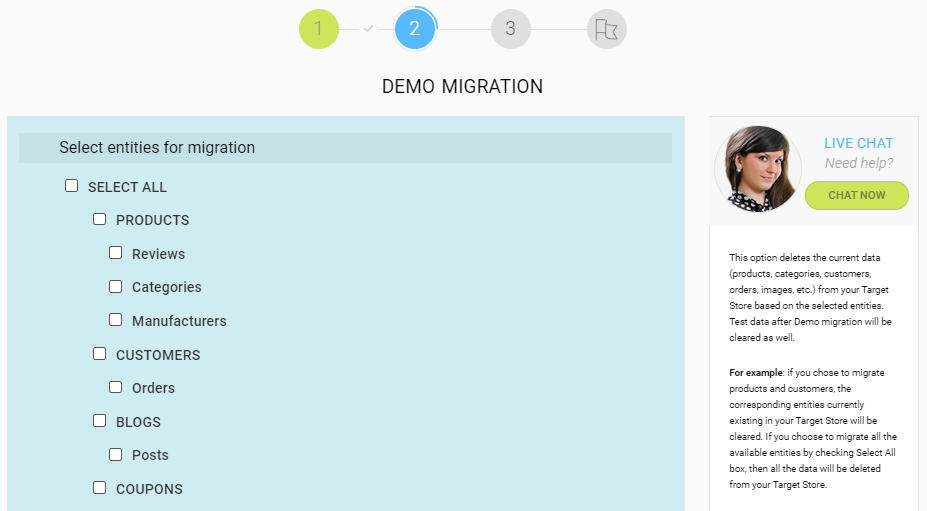 It is possible to pick all the data types by checking the box "Select all" or migrate only specific entities.
Please be informed that Shopify provides its users with the possibility to define countries to which you are planning to distribute the store items. If the list of countries on your current PrestaShop store differs from those specified on Shopify, they will be omitted during the replatforming. If you wish to avoid this, add all the necessary countries to the Shopify store prior to migration.
Select Additional Migration Options
To broaden migration possibilities and make the switching process even more, we recommend you to consider choosing some of the additional options: create 301 redirects, preserve order ID's, migrate customer groups into customer tags, and migrate source store categories into automated collections.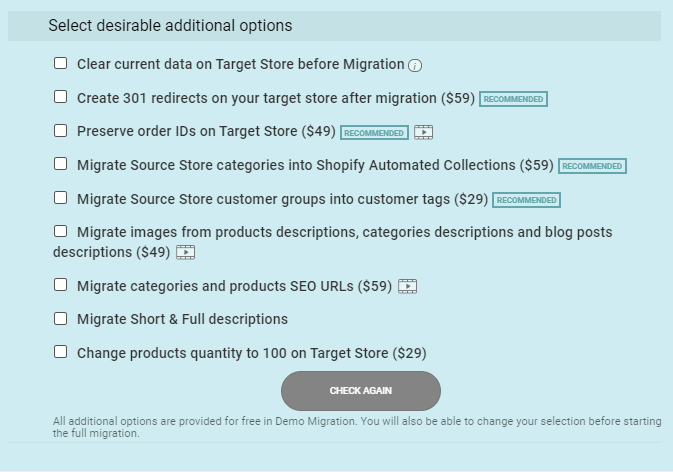 Please pay attention to the following Shopify peculiarities:
Due to the specific way of the URL creation, Categories are called collections on Shopify, and subcategories - product tags.
Additionally, Shopify has two collection types - custom and automated ones. The only difference is that the latter automatically obtains the matching products while the custom type lets merchants adapt collections to their liking and preferences.
Shopify turns categories into collections (myshopify.com/collections/), changes the URLs of the product page (myshopify.com/products/glasses), and substitutes dots with dashes at the end of links (/products/glasses-html).
If your PrestaShop store contains incorrect customer emails, our service will automatically generate new default "unknown" email address during the switch. Also, the same will happen in case your current store Orders are not associated with a particular customer.
Carry out Data Mapping
Please, map PrestaShop Order Statuses to match them to the corresponding ones on the Shopify store. If your target cart doesn't support some specific order statuses by default, don't forget to change the target cart settings and add the lacking order status types.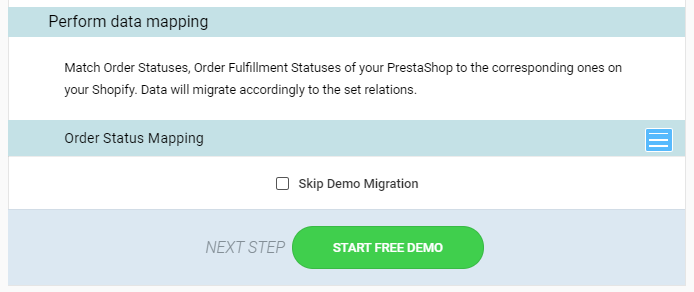 Perform Demo Migration
This step of the Migration Wizard is not obligatory, but we recommend our clients not to skip it. The Demo Migration option is free and doesn't take much time - only up to 30 minutes. Therefore, you'll be able to transfer 10-30 data entities from PrestaShop to Shopify and see the service in action.
Important note! Please, do not close the browser window when the migration is in progress.
Start the Full Migration
If the results of the Demo Migration have satisfied your expectations, feel free to proceed with the full migration of your current PrestaShop store to Shopify. Just click the Start Migration button.
Be prepared to settle the payment and begin data transfer. At this stage, you can safely close the browser window and return to ordinary business activity.
Closing Remarks
You will get an email notification as soon as the migration is over. After that, make sure to check its front end for inconsistencies, make a few test purchases, register new customers, etc. Also, now is the right time to install the theme and all the necessary apps from the Shopify App Store.
If new data (orders, clients, etc.) has appeared on the PrestaShop store in the process of replatforming, you can quickly transfer it to Shopify using our Recent Data Migration service.
So, as you can see, automated tools like Cart2Cart can save not only time and money, but also deprive you of unnecessary trouble associated with the perks of store migration. Don't wait any longer and perform the demo migration to begin a new chapter in your business strategy!