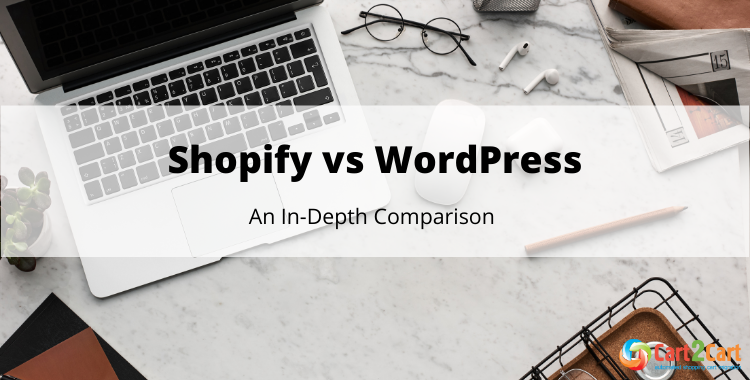 So you've finally decided to build up a new online store or migrate the existing one. Either way - it's about time! The next step is picking up the right platform. So far, the most common market offerings for startups and SMBs are Shopify vs WordPress.
Both platforms have their strong sides and weaknesses. Instead of being caught in detail, we need to determine which complies with your needs and resources best. Let's take a look at how to leverage WordPress or Shopify for eCommerce.
What is Shopify vs WordPress?
Shopify is a SaaS eCommerce platform. WordPress is two-fold: a hosted blogging platform (WordPress.com) and downloadable self-hosted software (WordPress.org.). Each software has its share of pros and cons, so to make the right decision between them, it is recommended to consider the budget and the overall business goals.
Shopify works as a website builder that everyone (i.e., people without technical skills) can build an online store. Being a SaaS platform, it comes without the hurdles of managing hosting maintenance. In simple English, you rent a cloud service on a per-user/per-month basis. This gives you straightforward access to the Shopify features and benefits online.
Have you ever heard about a WordPress store? Perhaps, not. Because WordPress is an open-source CMS (aka Content Management System). You can download a self-hosted version from WordPress.org and change the code as you like.
Hesitating which platform will suit your business best? Try a free test migration with Cart2Cart now to clear things up!
With WordPress, you can build any website, but you need an eCommerce plugin to run a store. One of the most popular is WooCommerce. The plugin creates a powerful pairing with WordPress, and it is open-source too. So you can customize it any way you want (if you have technical skills or a team). Read more in our WooCommerce review and Shopify vs WooCommerce comparison.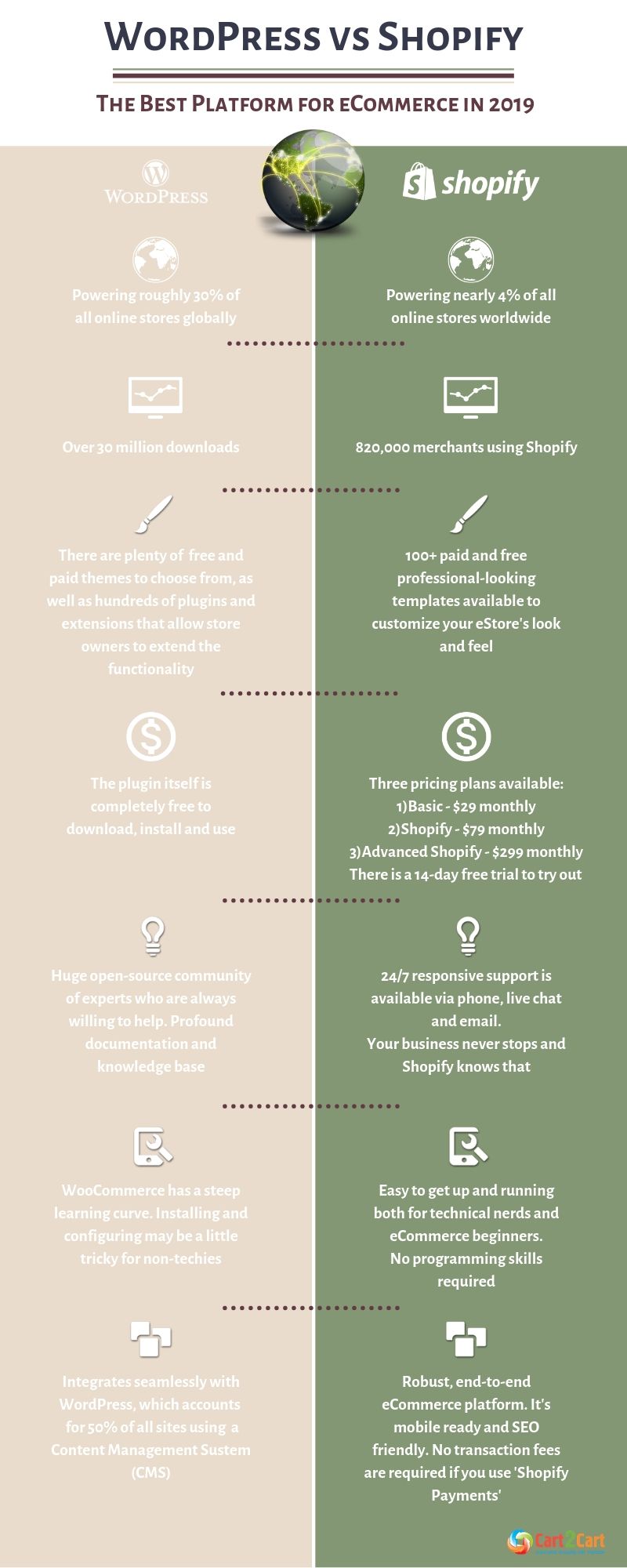 If WooCommerce to Shopify migration is on the horizon - the post How to Migrate from WooCommerce to Shopify will help you go through the switch stress-free.
Shopify vs WordPress: How Much is Too Much?
We all care about expenses and keep on looking for ways to cut back on spending without a quality loss. Starting an online store requires costs, but further maintenance may have a biting price too. Instead of burning a pile of money, you are better to calculate ahead.
Shopify offers a 14-days trial and four pricing packages. The higher the price, the more advanced functionality.
Basic Shopify for $29/mo
Shopify for $79/mo
Advanced Shopify for large businesses for $299/mo
Shopify Plus focuses on enterprises or business that need advanced API, uptime or support. Drop them a line to get a price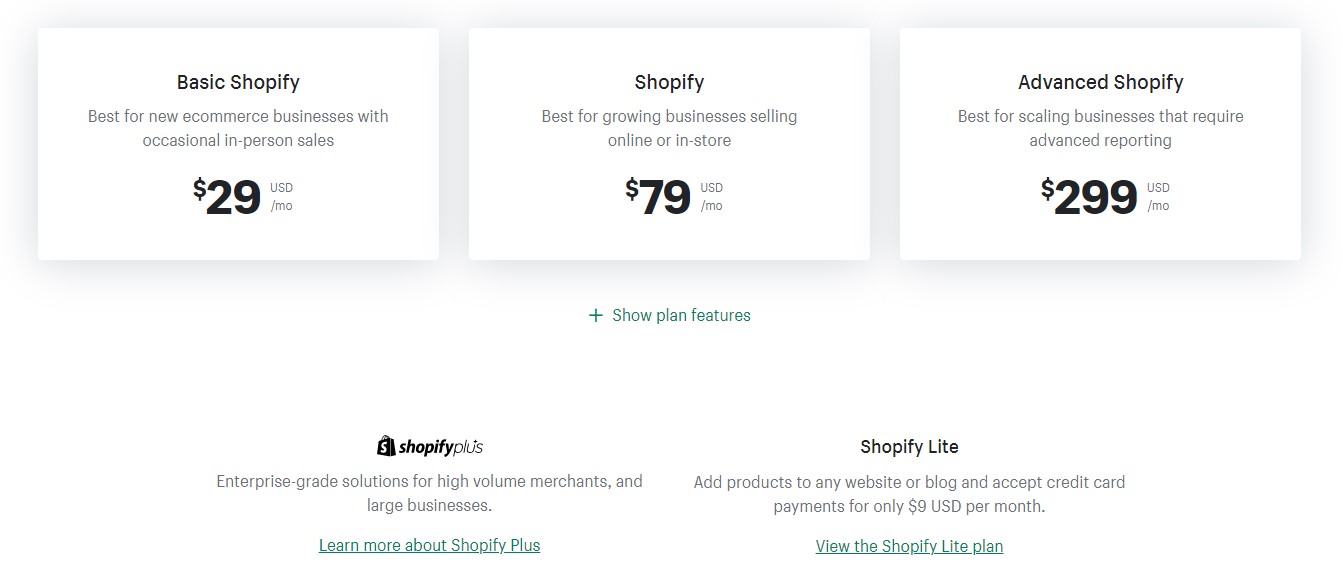 When you read: WordPress is free, hold on. You know what they say: if something seems too good to be true, it probably is. You can get only software for free from WordPress.org. From there, challenge yourself with
the hosting costs from $8/mo
a domain name goes from $2-20/year
the SSL certificate from $149
the theme from free to $5K+
WooCommerce is free, but the other plugins (payment, SEO, email marketing, drop shipping, inventory management and the like) go from $25 each
possible technical issues will need developers services. The costs estimation depends on the tasks
It all comes down to that Shopify may be cheaper in comparison to running a store on WordPress. Besides, each Shopify plan includes hosting, SSL certificate, and a domain name.
Watch the video from the WebsiteToolTester with the comparison of both platforms:
Shopify vs WordPress. How Much Time Do You Need to Build a Store?
To get started with Shopify, you need to choose a plan, buy it and sign in. Naturally, you add your products, descriptions, write posts on a blog, and so on. Simply set up your store ready to "open wide" for customers online.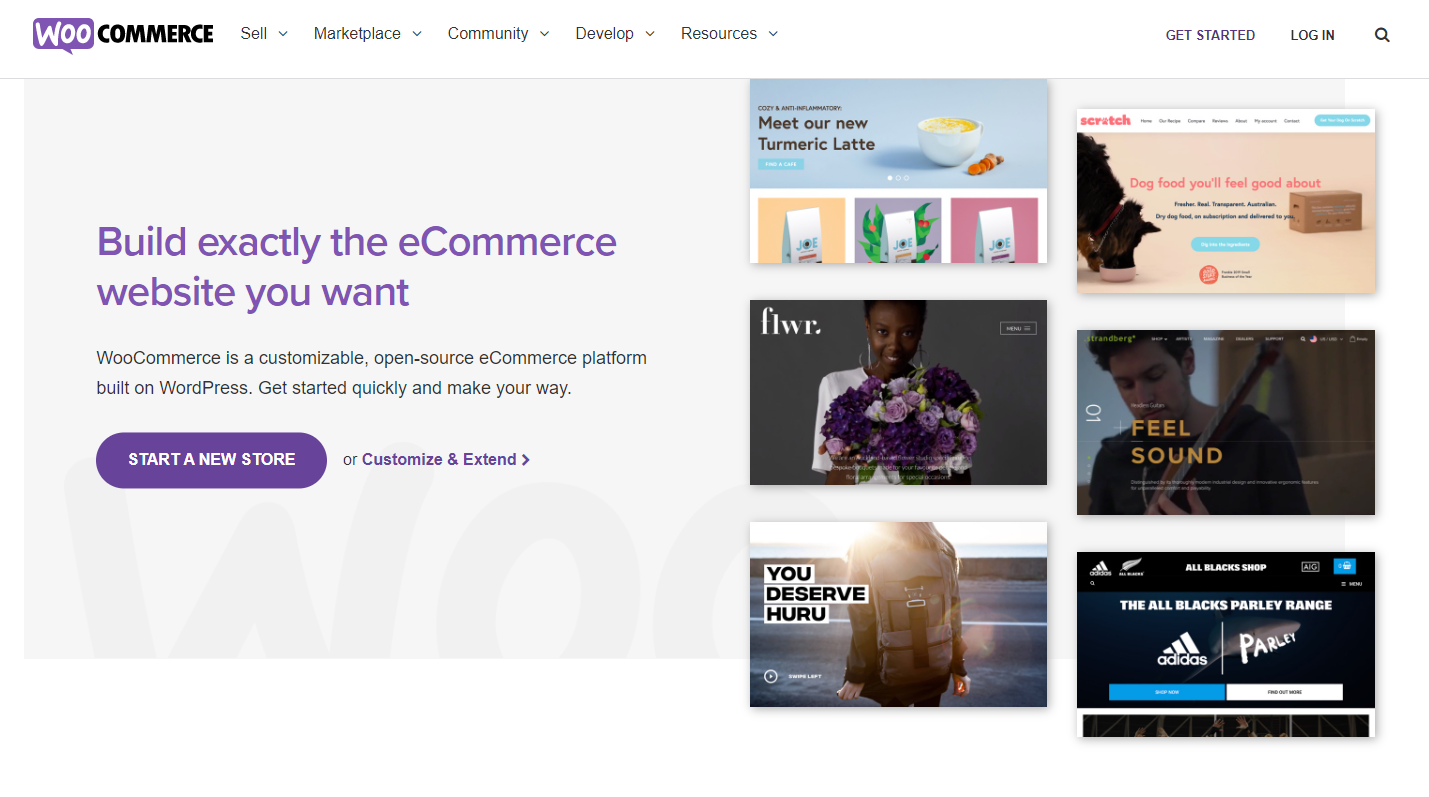 With WordPress, get ready to put a bit more effort and show a higher level of mastery. First off, you need to buy a domain, then handle a hosting question. You can host it by yourself or by third-party services. Your next step is to choose a theme, install plugins, and configure everything to make your shop go live. Unlike with Shopify, the journey with WordPress for eCommerce will be longer.
If you are going to use WooCommerce, then you will need a developer to configure and customize your software from WordPress.org.
Shopify WordPress Integration: Take Advantage of The Great Combo
Shopify vs WordPress: What Should You Pay Attention to?
Basic Requirements: User Friendliness, Mobile Apps and AMP
Overall, Shopify and WordPress (with WooCommerce) are quite comprehensible for managing. There is a left-side panel with the menu tabs on each platform, and editing/publishing options are similar. Great news for those who plan to add products or change any setting on the go. The eCommerce platforms go with mobile apps for Android and iOS devices. As for the AMP, you need to install plugins to the pages responsive either on Shopify vs WordPress.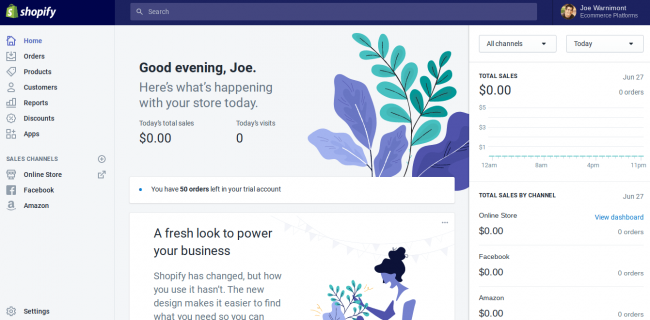 Managing Content and SEO
WordPress has more advantages in content management as it stores versions of pages and posts that can be rolled back anytime. Besides, it is possible to improve the meta descriptions and URLs for getting Google or Bing crawlers' love. Yet, you should install plugins (e.g., Yoast) to your WordPress store for better SEO performance. The blogging options for WordPress are much stronger.
In its turn, Shopify offers content structuring and navigation to match the customer's search. The platform has built-in SEO features (meta titles and descriptions, headings, canonical tags, image alt text, sitemap, and others) to "find a common language" with the search engines. Also, you can add Google Analytics in the "Preferences" section on the user dashboard.
Themes and Other Key eCommerce Features
Templates or themes are the basic layouts of your website. Shopify suggests over 70 themes - 10 of them are free. Another benefit is that all templates are mobile responsive.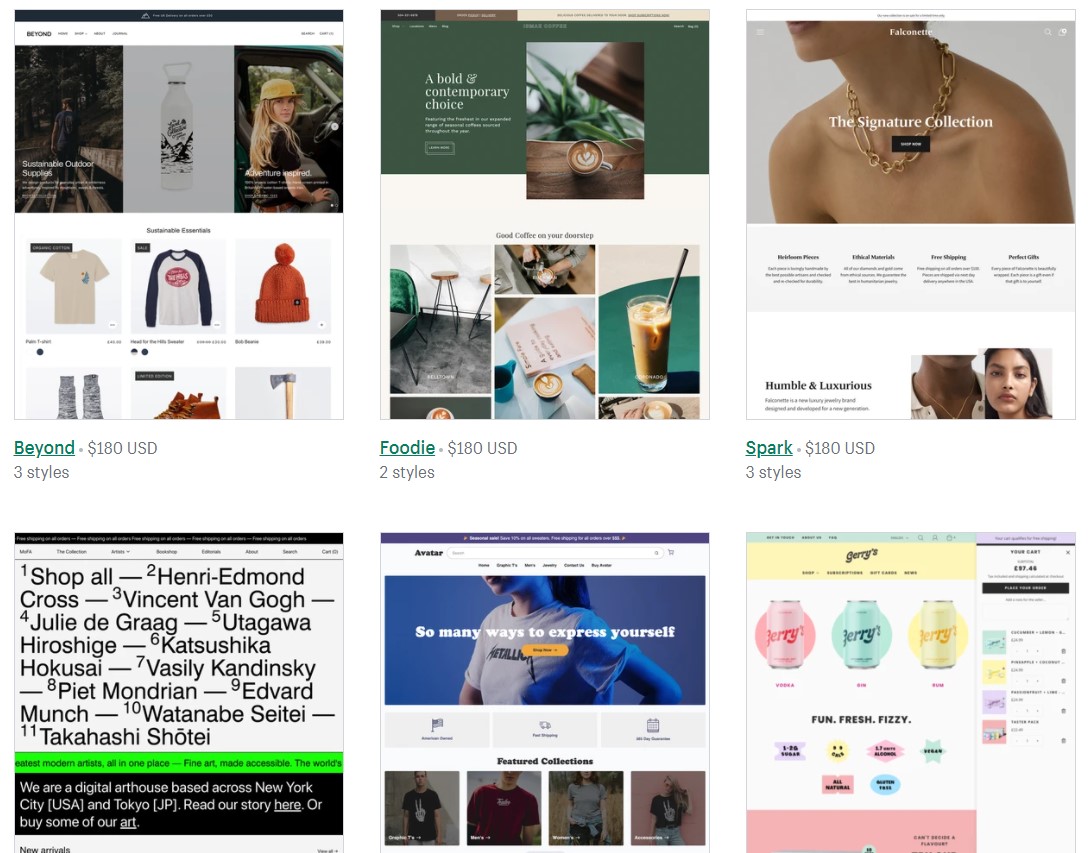 Talking about WordPress, the number of themes is (roughly speaking) endless. Many of them were developed by plugins owners. These themes are of various quality, free or paid, but not all of them responsive. Either way, it would be wise to choose an eCommerce theme created by WordPress to avoid a clash after the future software update.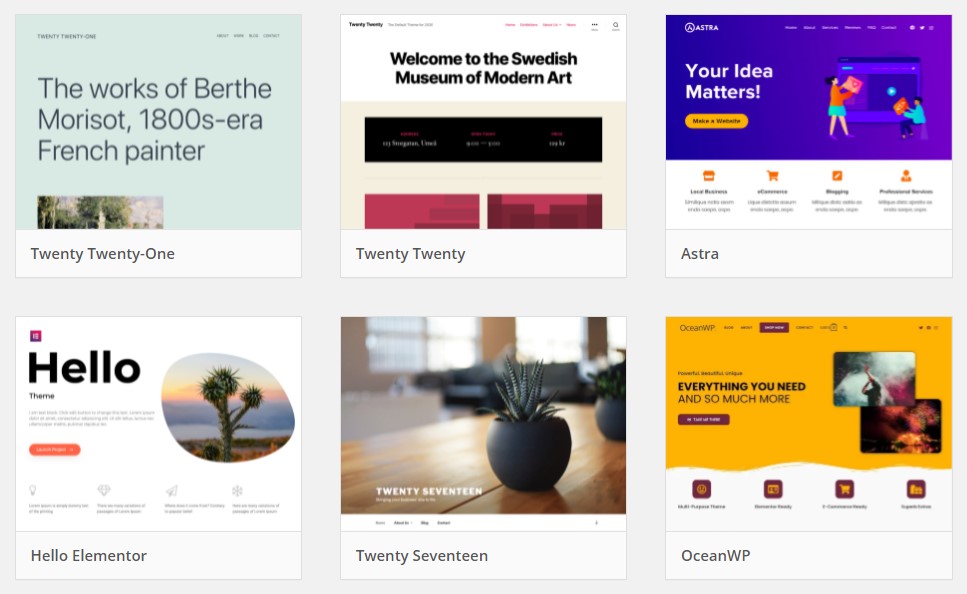 Shopify has built-in eCommerce features. WordPress can have options that are enabled by an installed plugin. Both Shopify vs WordPress support selling physical and digital goods. Now a bit more about eCommerce functions.
Shopify provides abandoned cart recovery, discount codes, dropshipping, integration with social media, and global marketplaces, Shopify product attributes. As for the products, you can add descriptions, pictures, set prices, manage stock, and organize products with types, vendors, or collections.
But Shopify has two kinds of limitations. The first one deals with options and variants. You can set three options (e.g., size, color, and style) and up to 100 variants. The second one is a ban on certain products type (e.g., gambling or adult content.)
Let's look at WooCommerce features. You add the product's basic information: a description, an image, a price, stock, category, and tags. If you need a dropshipping option, you can install an extension. A plus is that neither WordPress nor WooCommerce set any limitations. You can also install other plugins to advance product management.
Hard to believe that WooCommerce amazes users with its diversity in terms of design? Go for more to put doubts behind. Also, check out our ecommerce engine for small business post.
Payment Options, Transaction Fees and Taxes
The multiple payment gateways play a critical role in how much sales your online store does. Shopify and WooCommerce enable the major payments: credit and debit cards, PayPal, Stripe, Square, Amazon Pay, Apple Pay, and others.
It is worth noting that Shopify has its payment gateway. It supports major currencies and doesn't charge a transactional fee. The vendor takes 0.5% to 2% per transaction if you use other gateways.
For WordPress, payments are available via plugins, and they don't charge you an extra fee per transaction.
Shopify vs WordPress enables you to display prices with and without taxes. What's more, the platforms can calculate the taxes depending on your location.
Maintenance and Security Challenges
Don't lose your sleep over security. Shopify is a SaaS platform that means the vendor handles all security and updates in the background. They also inspire whitehat hackers to test their platform for breaches in security. Shopify delivers an SSL certificate and supports two steps authentication. Besides, it is PCI compliant what is vital for accepting credit card payments.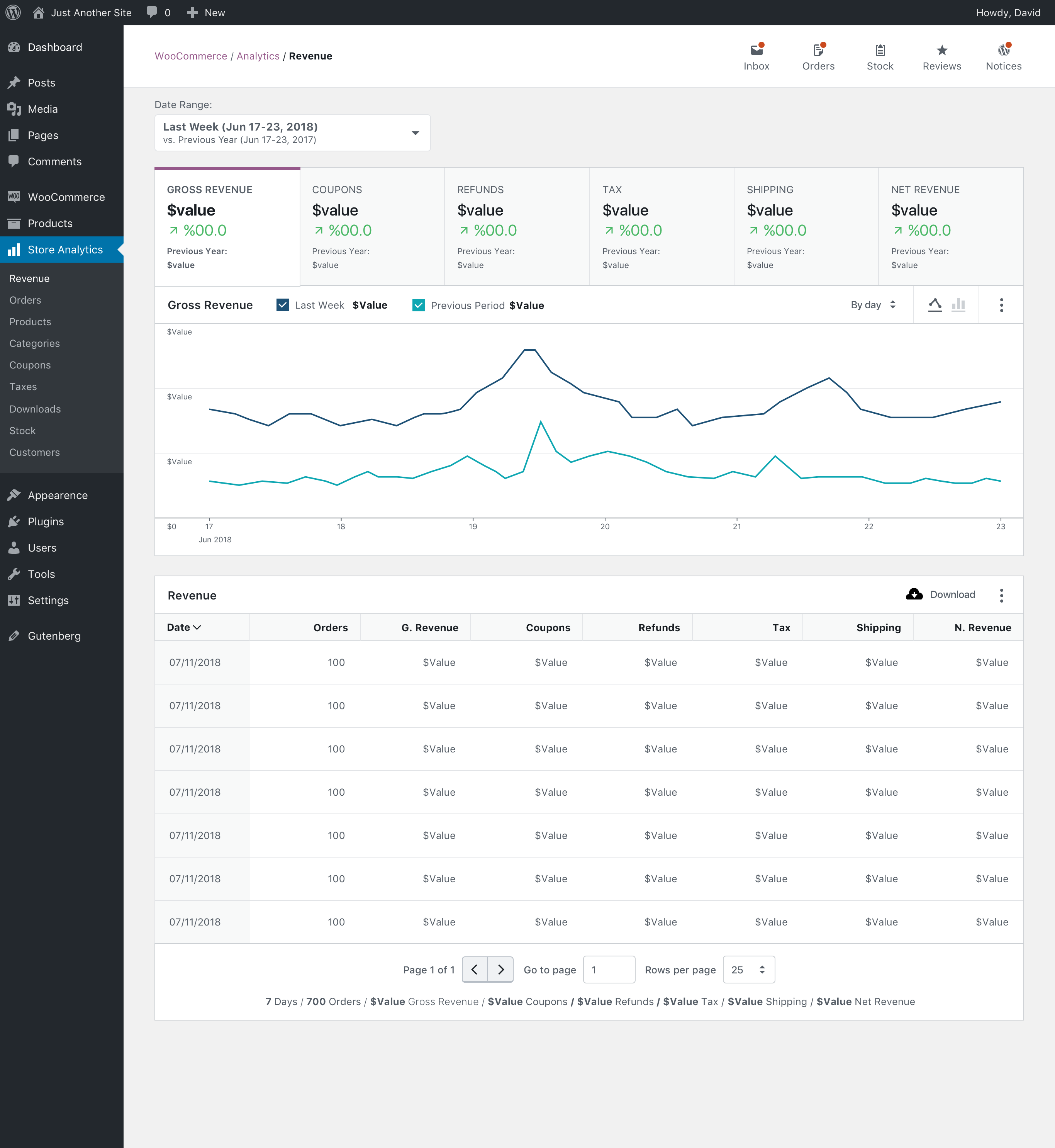 Things are a bit different if you chose WordPress and WooCommerce. If you download and set up WordPress by yourself, then security issues are lying on your shoulders. Another way, you can hire a third-party service to handle your WordPress eCommerce store, maintenance, and security. However, WooCommerce has no PCI compliance as a default feature.
Exploring the Extensions
The retail market keeps evolving and offers dozens of third-party extensions to advance your platform. The most popular are lead generation, SEO, analytics, email marketing, product reviews, outreach tools, multilingual capabilities, etc. Each from Shopify vs WordPress bring a handful of various paid and free plugins and extensions.
Shopify offers APIs and App Store so you can integrate third-party plugins or even create and integrate your own extension. The costs for paid apps vary and some of them even have a recurring subscription.
Wondering how to choose the best Shopify add-ons to use? Read the post about the best Shopify apps to get insightful recommendations.
WooCommerce has far more extensions and plugins due to the simpler WordPress submitting process. You can also hire a developer and create your plugin, but the customization of WooCommerce will be cheaper and faster.
Customer Support
Even if you use the most intuitive software, questions and problems may still arise. With Shopify, you can get help 24/7 via email, phone, or live chat. There is also self-service that offers customer community, video tutorials, and webinars.
Being open-source, WordPress doesn't enable dedicated customer service. Thus, there are dozens of WordPress forums and communities. It delivers free helpful stuff, but be ready to sort out the information - not all tips are useful and true.
WooCommerce provides the documentation, tutorials, guides and a user forum on its official website.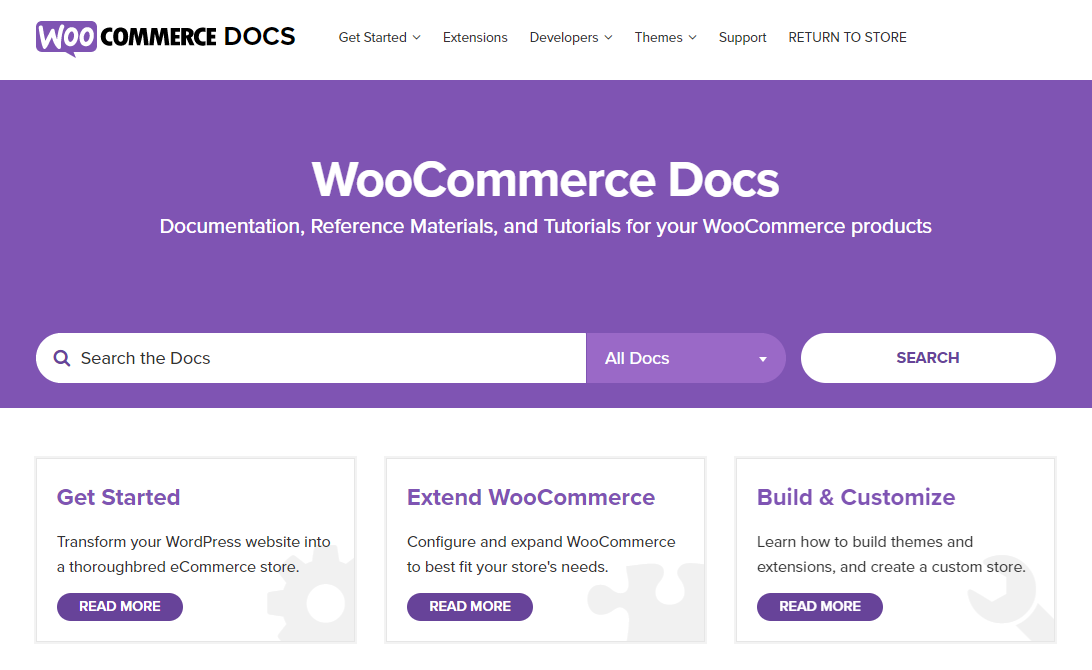 As for the other plugins and extensions support, you should turn to developers of those products for help.
Don't know how to choose the best eCommerce platform? Read out post to get all your questions answered!
Before you jump to any conclusions, let's check out the advantages and drawbacks of Shopify vs WordPress.
eCommerce by Shopify. Pros & Cons

requires no technical skills to setting up
the bulk upload and comprehensive dashboard helps to go on selling fast
70+ responsive themes designed by Shopify
enables the basic features for selling and scaling your online business
supports more than 100 payment gateways and in-house gateway
content management offers fewer features than it is available in WordPress
has arbitrary limits for products types and options
has built-in SEO features for a store optimization and better ranking
the vendor handles the updates and security
24/7 human support via email, chat or phone and customer forum
doesn't take transaction fees only with Shopify payment
WordPress for eCommerce. Pros & Cons

more technical but delivers extensive customization
requires more time and efforts, plus to sell you need to install eCommerce or another eCommerce plugin
thousands of themes that come free or paid and the quality varies a lot
eCommerce plugins include main features, but you need to search for other tools to run a store efficiently
payment and transaction fees depend on the plugin you use
content management is more feature-rich
doesn't impose limits on products or content
need to install a paid SEO plugin
you should keep an eye on hosting, WordPress and the plugins updates
you have to maintain the servers and platform or purchase the third-party service to handle these tasks
no human support, but lots of tips and tutorial available for free
Level up your e-store right now!
Move to WordPress or Shopify with Cart2Cart securely & trouble-free. No tech expertize is needed.
Migrate now
FAQ Block
Which is better Shopify or WordPress?
If you're looking for a quick start for your business with minimum tech adjustments, it is better to use Shopify. This all-in-one platform has all the needed functionality to run a successful eCommerce business. Besides, it has a huge app store. But in case you plan to dedicate your attention to the slightest details of the e-shop and create everything from scratch, go for WordPress. But get ready to do some tech and coding activities.
Can you use Shopify with WordPress?
Absolutely. Shopify integrates with WordPress with the help of a Buy Button. All you have to do is create this button on Shopify and then embed the special code to the WordPress site.
Can migrate website from WordPress to Shopify?
Sure. You can do it either manually by exporting data from WordPress site and importing it to Shopify. Also, it is possible to hire a developer and get the job done for you. Alternatively, you can always use and automated migration service Cart2Cart and move the eCommerce records yourself with no tech experience needed.
What is difference between WordPress and Shopify?
The main difference between WordPress and Shopify is that WordPress is a content management system and Shopify is an eCommerce platform. The Shopify platform is designed for business owners and comes with eCommerce capabilities.
Is Shopify as good as WordPress for SEO?
There isn't much difference between them in most aspects, which makes it difficult to say which is better. Despite that, there are some major differences between them when it comes to SEO. That's why you should consider both Shopify and WordPress' SEO capabilities before choosing a platform.
Shopify vs WordPress: Wrapping Up
The eCommerce platform is a life-giving part of any online retail business. Let me guess: "So why should I use Shopify or WordPress with WooCommerce?" has sprinkled your mind. Because these platforms are tailored to serving startups and SMBs. Each of them will help you to provide a hassle-free experience for your customers.
How to make a wise choice? Here is the last tip for today. If you already have a WordPress website, then you are better to choose WooCommerce. Yet, if you want to start an online business from scratch, it makes more sense to turn to Shopify.
Сonsidering switching your current store to Shopify or WooCommerce? Reach out Cart2Cart sales managers, who will help you choose the best migration strategy based on your needs and requirements.
Run a free Demo today to try the Cart2Cart service in action!