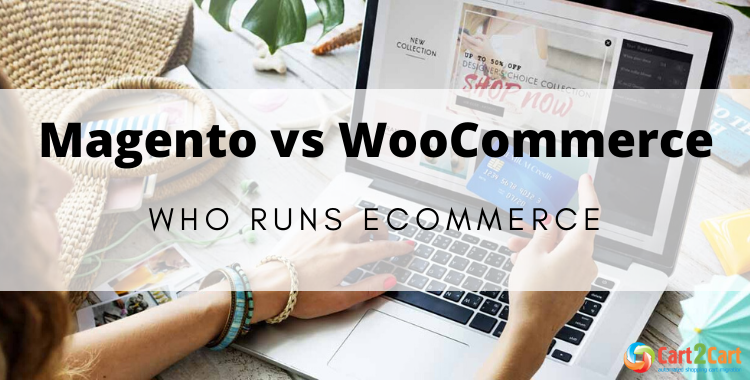 Nowadays the eCommerce industry is full of effective platforms. Developers spend lots of time creating even more robust solutions. Thus, to get top-notch technology, store owners need to perform regular upgrades or even switch the shopping carts. Today we'll talk about the two leading shopping carts, define which one will suit your business best and why. Fasten the belts, we're starting Magento vs WooCommerce 2020 battle of the year!
Magento and WooCommerce are two of the most used and talked-about eCommerce platforms in 2020. Both are free open source solutions based on the PHP programming language. Similarly, they allow building any kind of an online store.

But don't let these numbers deceive you. The final choice depends on your specific business needs, goals, and budget.
Magento vs WooCommerce. What's in common?
If you think of starting an online business, these two will undoubtedly be in your shortlist. Experienced merchants must have also heard of these first-rate shopping carts. So which one is better to go with, Magento or WooCommerce?
Let's take a closer look at their similarities and differences.
It is worth mentioning, that both platforms have open-source nature. Magento, as well as WooCommerce, will give you access to the original code. Therefore, you'll be able to modify it to your specific liking.
The biggest advantage of any open-sourced platform is the unprecedented flexibility and ability to customize every corner of your store. By the way, both solutions have powerful communities of developers. You can ask questions on forums and get direct help from other users.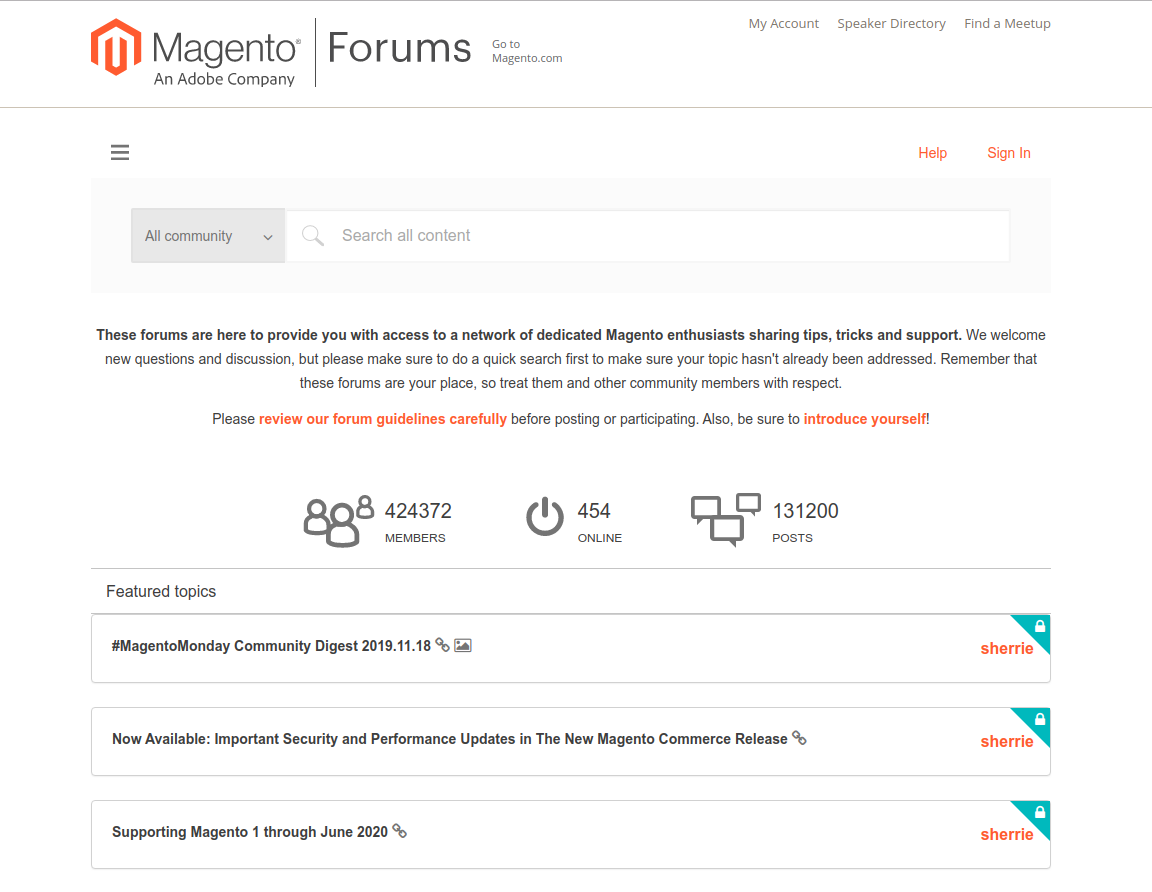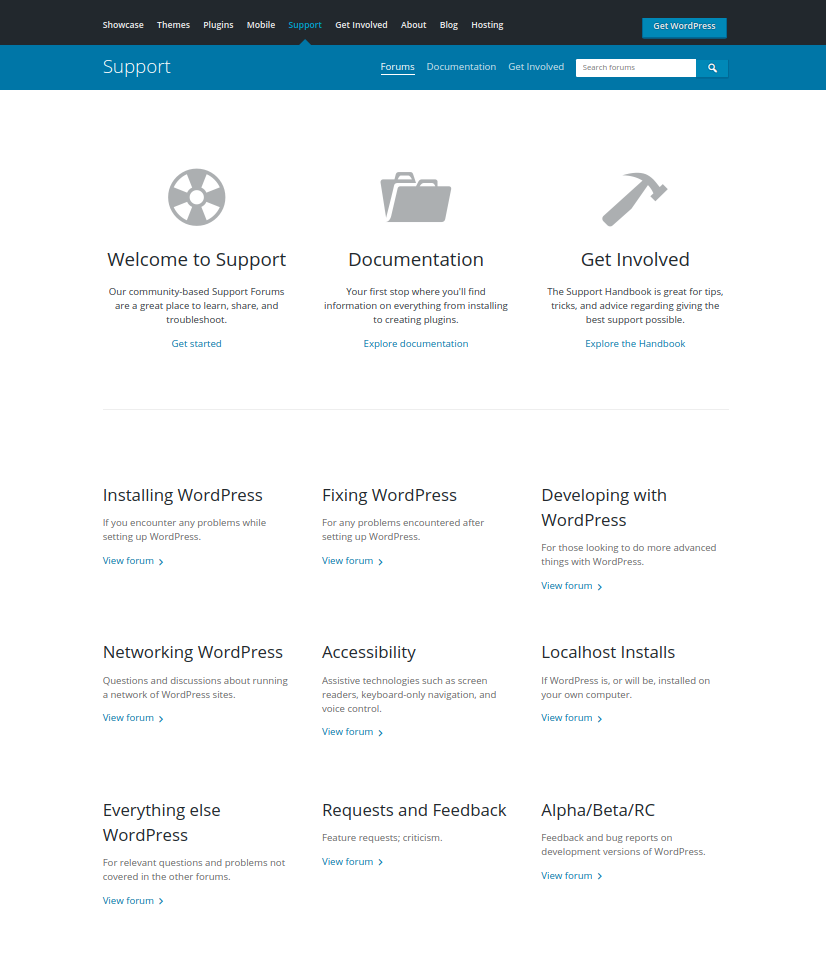 Moreover, Magento vs WooCommerce have lots in common regarding product management and communication. They make it possible to sell unlimited products and run a blog simultaneously (due to the effective blogging functionality). This feature can significantly influence your SERP visibility.
Keep in mind that Magento requires you to install one of the blogging extensions. While WooCommerce, being WP plugin, has it all by default.
Regardless of your choice, both Magento vs WooCommerce run on "freemium" business model. But this doesn't mean they are completely free (check the post "Why Free Shopping Cart Software Isn't Free?"). Magento and WooCommerce make money selling plugins and extensions that ease store management. Also, due to their open-source nature, the two solutions require you take care of the hosting, domain name and SSL certificate.
Magento vs WooCommerce - common strong points:
Open-source nature
High flexibility
Numerous plugins and extensions
Huge developer's community
Unlimited number of products
Free versions to download
Intuitive interfaces
Responsive design
High SEO-optimization
Extensive blogging functionality
It seems that the two eCommerce leaders have lots of similar characteristics. Yet, to find out who's better, we need to figure out their differences. Let's dig deeper...
Magento vs WooCommerce. What's different?
WooCommerce is a WP plugin. It offers progressive eCommerce features for small to large-sized online businesses. Magento, contrarily, is a well-developed standalone platform. It is suitable for medium and large online stores. This solution provides users with superb functionality and a robust set of e-trade tools.
Magento advantages over WooCommerce:
Fully customizable
More secure (almost no chances to get hacked)
High-end admin area
Best choice for large enterprises
Leader in B2B
Advanced and sophisticated statistics and reports
Multiple stores and store views are in free default features
Progressive ERP integration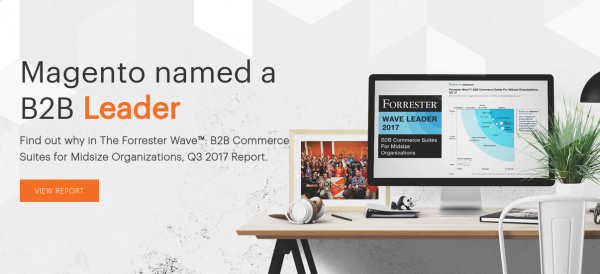 WooCommerce advantages over Magento:
User-friendly and easy to handle
Much cheaper in maintenance
Faster to launch (suitable for beginners)
Requires less hosting capacity
Suitable for any-sized businesses
Bigger variety of free and paid themes
Better content management system (WP integrated)
Supports more languages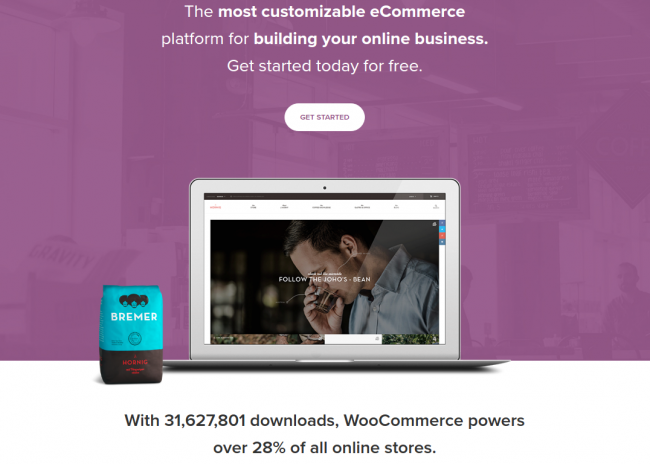 Magento vs WooCommerce: Common Strengths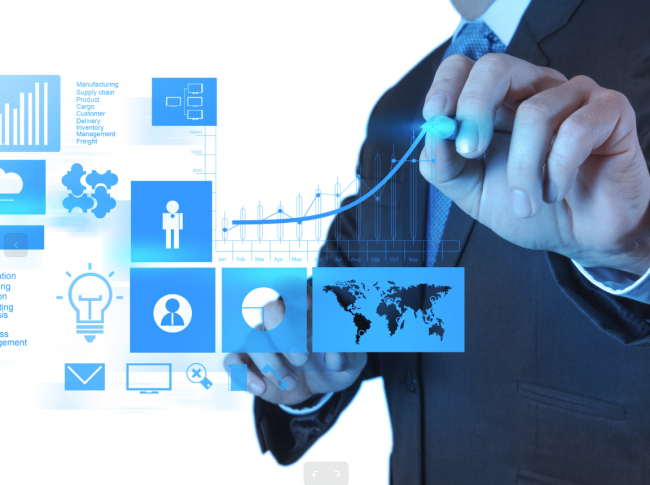 WooCommerce is easy to start with. If you have a WP site and want to add the eCommerce functionality to it - WooCommerce is the best plugin to settle for. It will relieve you of getting used to new interfaces or moving to another platform.
Even if you are not WP user - WooCommerce is an excellent choice for eCommerce newbies. Store management and daily routines are relatively simple. Besides, numerous video tutorials are there to help you out.
The new version of the software includes lots of improvements that can boost your store performance. Modern filters will allow you to manage your subscriptions and sort out extensions by installed/activated/download/update. This will facilitate the daily routine and notify you about the statuses of your addons and updates.
When speaking about Magento, we should mention that before the release of Magento 2, the platform was hard to handle. Now all the processes much easier, and the Magento interface has become user-friendly. The shopping cart offers many video guides on its management. Some difficulties may occur when you start adding extensions. But you can always hire an experienced developer to do this job.
With the release of a new Magento 2.3 merchants got even more progressive features. While store owners are migrating from Magento 1 to 2, developers intensively update new versions of second "Industry standard" generation. They have already fixed bugs and made minor changes, added new Fraud Protection functionality, and Advanced reported module. Besides, now customers can create a cart with more than 300 line items, and store owners will easily process it. The new version is stable and provides many new effective features to B2B online businesses.
Magento vs WooCommerce: Themes and Design
Both WooCommerce vs Magento can boast of beautifully designed templates and unlimited customization possibilities. There are thousands of free and paid responsive themes to chose from.
You can find amazing Magento templates on Magento marketplace or pick up some exclusive themes from the third-parties e.g ThemeForest or TemplateMonster.
No matter which one you'll choose, they all look clean and attractive.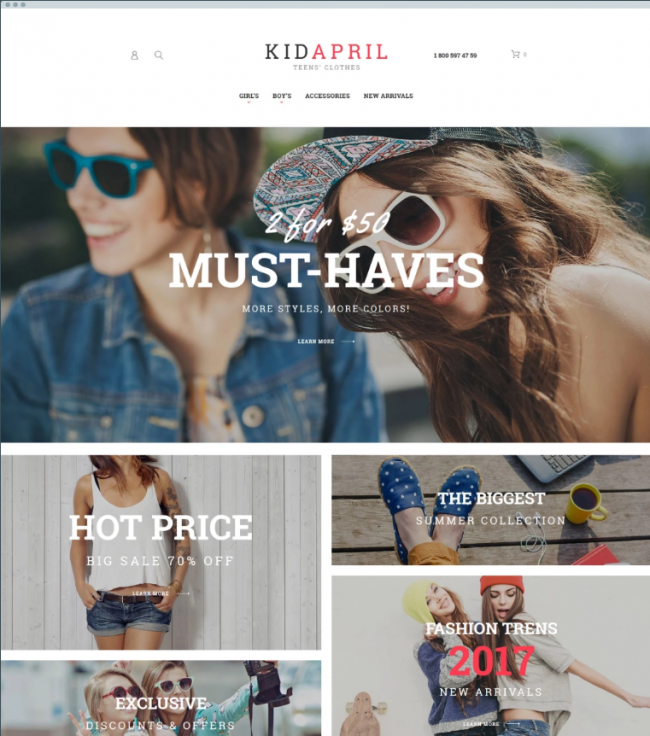 WooCommerce has some advantage over Magento when speaking about design possibilities. Apart from native WooCommerce themes, you can apply any of the WordPress designs (there are tons of them on the Internet). Sounds great, right?
By the way, you can find WooCommerce templates on other marketplaces, e.g., ThemeForest. WooCommerce also offers one free default theme called Storefront. This native Woo design helps you to focus on important elements of an e-store and grow revenue. And it looks good.
These are some of Storefront themes: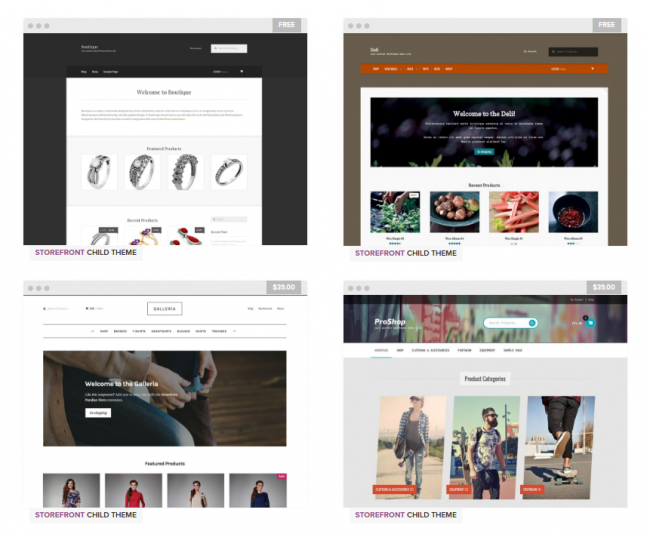 Magento vs WooCommerce: Marketing and SEO
When speaking about SEO, the WooCommerce solution works with all the basic WP search engine tools. The system creates titles and metadata for the search engine results. Unfortunately, WooCommerce doesn't provide customers with an extended list of SEO and marketing features. However, there are numerous plugins that help to improve the store's management and visibility (e.g., Yoast, MailChimp, etc.).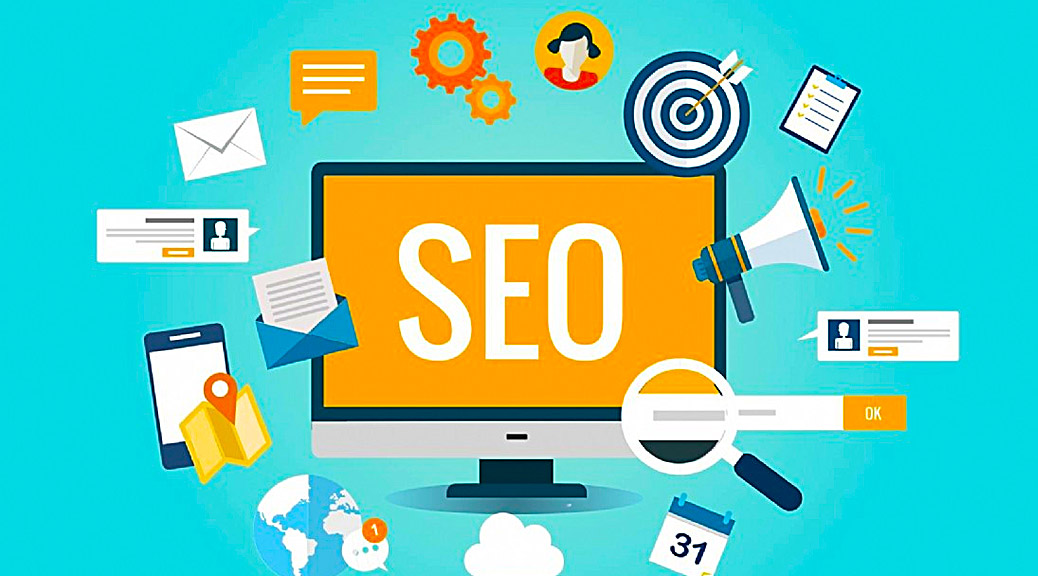 Magento, contrarily, configures SEO automatically. As for marketing features, merchants can upsell products, offer promo pricing, and distribute coupons to attract customers. More advanced options can be added by modules available at the official Magento marketplace.
Magento vs WooCommerce: Security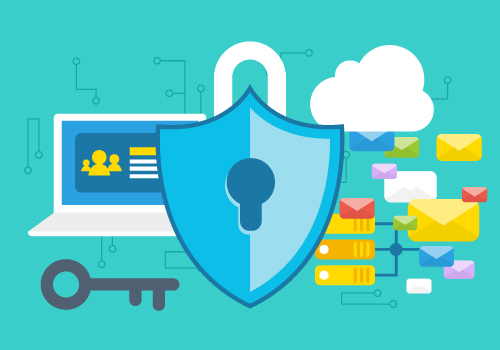 Store's safety is one of the major points that should concern every business owner. In the case of open-source platforms, it is particularly important to choose the reliable web-hosting provider, payment gateway, and get your own SSL certificate. The WooCommerce platform has a secure code and is constantly checked by the website protection company. At the same time, Magento has a Security Center that helps to deal with the store's vulnerabilities for an additional cost.
Which is Better WooCommerce or Magento?
WooCommerce is comfortable to work with for non-tech users who wish to build small or midsize businesses. Also, it will suit those who already run WP sites. Magento is an ideal choice for large enterprises or companies that manage stores on behalf of their clients, as well as B2B businesses.
In general, both shopping carts are capable of developing an advanced and profitable online store. Even though Magento was designed to handle eCommerce stores, it doesn't make WP plugin WooCommerce less effective or weaker in functionality. Therefore, there isn't a definite answer to which solution will fit your e-store best. Your choice should depend on the budget, business size, and final goals.
If you're still hesitating, try and set up a store on Magento and WooCommerce to play around and decide which one you're most comfortable with.
In case your current solution lacks some advanced functionality, you can transfer your data from Magento or WooCommerce or vice versa. Cart2Cart automated migration tool can help go through the migration procedure without intensive hands-on. Get your store to a new level and enjoy the excellent functionality of the desirable platform.
Sign up and start a free Demo now. 24/7 live support is always ready to assist.