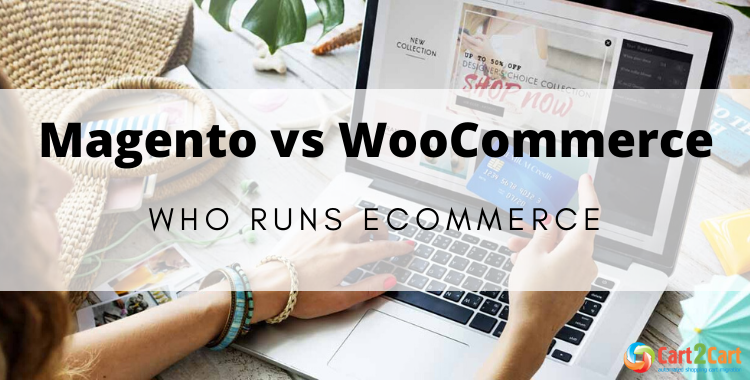 Magento vs WooCommerce – two formidable forces in the eCommerce realm. As great as they both might be, the reality is, no two eCommerce platforms are created equal. Only one can emerge victorious in this head-to-head battle for supremacy. This Magento (Adobe Commerce) vs WooCommerce review takes an in-depth look at both solutions to help you determine which one will propel your business to the next level.
What Is Magento vs WooCommerce?
Magento is an open source platform built for eCommerce websites. By open-source, we mean that anyone with a coding background can contribute to the development of the software. WooCommerce is also open-source, but it isn't an eCommerce "platform" per se. It is a plugin that converts any WordPress website into an online store.
Magento vs WooCommerce: Pros and Cons
Below is a list of the benefits and drawbacks of each platform.
Magento Pros
Scalable with no limit on customization ability.
Ideal for enterprises with an in-house web development team.
It integrates third-party payment gateways like PayPal and Authorize.Net straight out of the box.
Magento offers both free and premium themes.
It supports a wide range of extensions.
Magento Cons
Users need some type of web-development experience.
Configuring a commerce business takes time.
The additional costs for integrations.
Wish to migrate your e-data just in a few clicks? Try the free Cart2Cart demo migration now!
WooCommerce Pros
It has a pretty solid SEO framework.
It is designed for small businesses.
Supports the sale of an unlimited number of products.
It comes with a well-stocked theme store.
Users have access to hundreds of WooCommerce plugins.
WooCommerce Cons
The WooCommerce plugin only works with WordPress websites.
It doesn't support multi-channel selling.
No dedicated customer support team.
Magento vs WooCommerce vs Shopify vs OpenCart vs PrestaShop Review
Magento vs WooCommerce: Key Aspects Comparison
Ease of Use
While there's nothing inherently wrong with a somewhat complex platform, it can be a bit of a toughie if you intend to do everything yourself.
Magento is anything but beginner-friendly. The learning curve is steep, and there's a good chance you might need a professional to step in and get things set up for you. If you have some coding experience, then this shouldn't be much of a problem.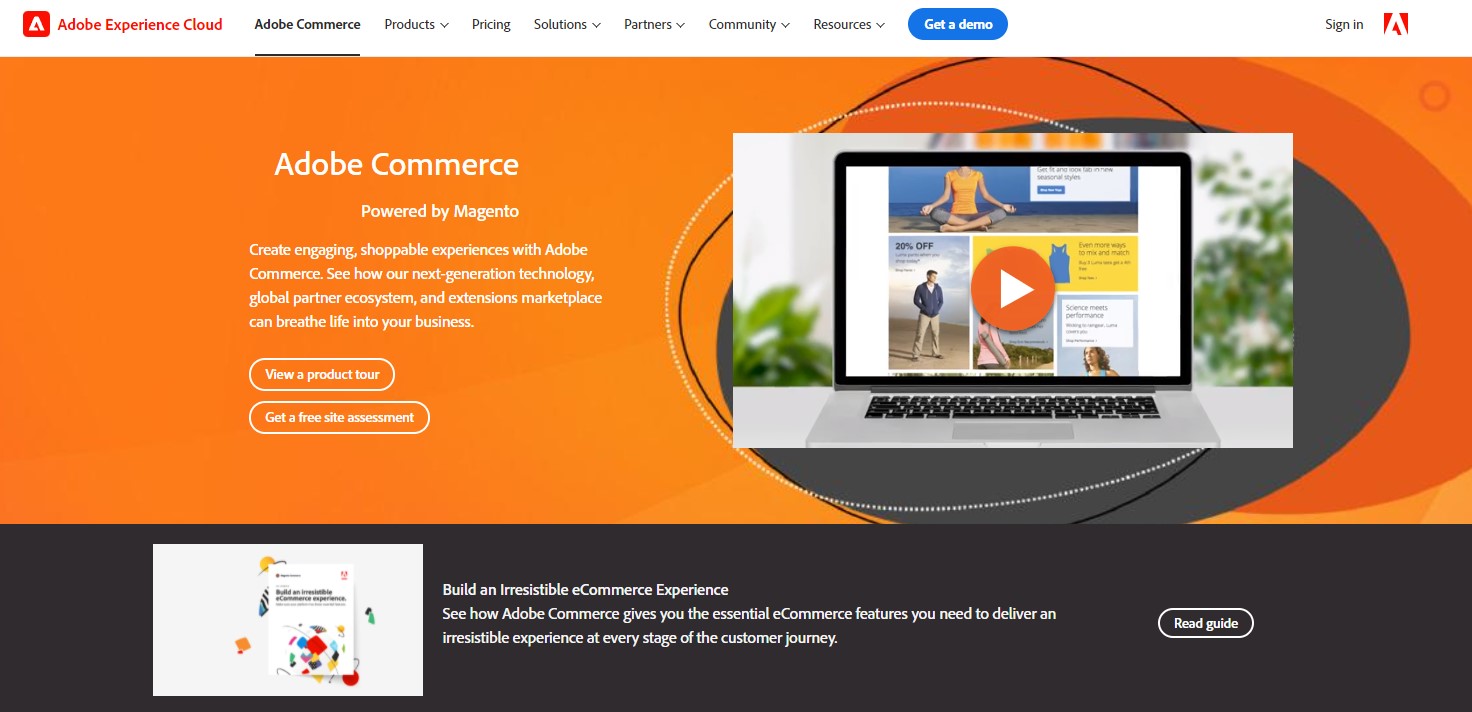 If you're looking for a platform to DIY an online store, WooCommerce is a no-brainer. It is designed for beginners with no web development background.
Design
The next thing we looked at was the platform's design from an admin point of view.
Magento scored extra points for its user-friendly dashboard. It is clear the developers took time to make it easy and efficient as far as managing your online store. The navigation is highly-intuitive and smart, allowing store owners to switch between pages seamlessly, regardless of the device they're using.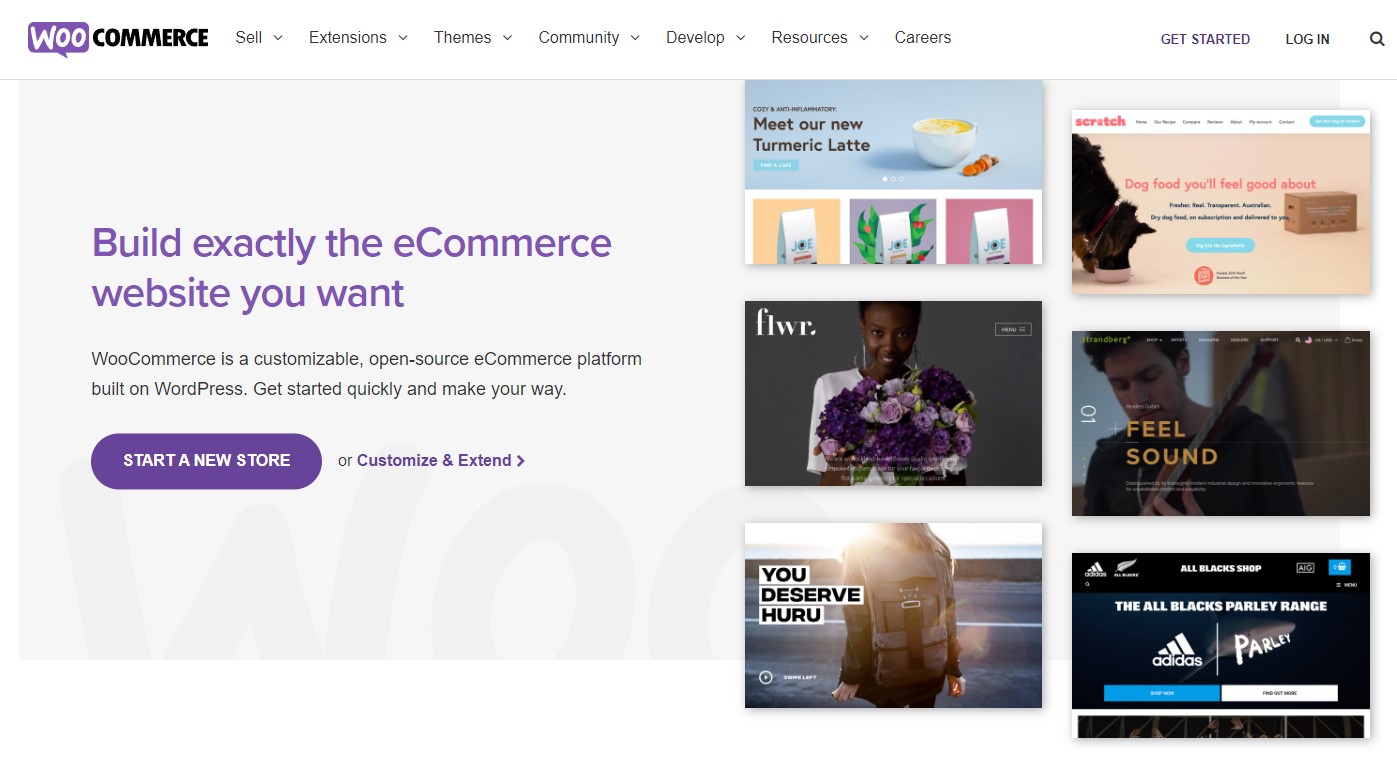 WooCommerce uses the WordPress dashboard. It may have the bells and whistles Magento comes with, but it is also quite impressive. The interface is ultra-easy to use and non-obtrusive, which is always a good thing.
Choose the best B2B Shopping Cart for your online store
Pricing
Magento and WooCommerce are both open-source software. It means they are free to install. Keep in mind that just because a particular platform is free to use does not by any means mean there are no costs incurred to run it. Here's what we mean.

Magento is free to install, but it is a self-hosted platform. You will need to identify a web hosting service and pay for a domain, the hosting solution itself, security, and any extensions you'll need to enhance the functionality of your site. It could cost you anywhere between a few dollars to a couple hundred.
Magento Commerce is the premium paid version of the platform with out of box features you don't get with the free version. The exact amount you'll pay depends on your business' gross revenue.
WooCommerce is a free plugin for any WordPress site. Nonetheless, you will need to pay for WordPress hosting, a domain, and security certificates. The exact cost all comes down to your hosting provider.
Apps and Plugins
Magento's collection of apps and plugins is nothing short of impressive with 4,000+ extensions to choose from. From the right POS system for synchronizing orders to a Magento mobile app to boost mobile sales, there's no limit on what your online store can do.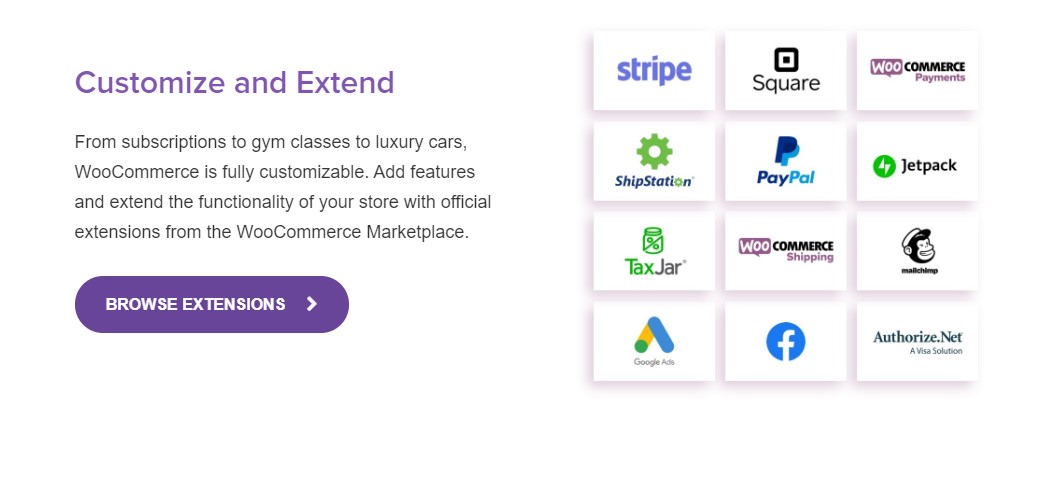 While the WooCommerce extensions store also has a pretty decent collection of apps and plugins, it is nowhere near what Magento brings to the table.
The good news is – both platforms offer app integrations for shipping, accounting, marketing, order management, and lots more. You're bound to find everything you require to enhance your store's functionality.
SEO features
If we had to pick a winner for Magento vs WooCommerce SEO, it would have to be Magento.
Don't get us wrong. There's nothing wrong with WooCommerce since its SEO rides on WordPress as its foundation. It means you don't have to incorporate a blog function to add content capability. Plus, it gives you access to popular optimization tools like Yoast.
The reason we went with Magento has to do with all the built-in prompts and guides it has compared to WooCommerce. These nudge you to add extra elements to make your store visible to search engines. This sophisticated SEO toolset gives Magento a slight edge over WooCommerce on that front.
How to migrate from Magento to WooCommerce
Security
As far as Magento vs WooCommerce security goes, both platforms require you to be hands-on since they are technically self-hosted. It means that you'll need to install relevant security plugins from their respective extensions stores to keep your online store safe from hackers. Some of these usually have a subscription cost attached to them, so keep that in mind as well.
Take your e-business a step forward towards success!
Migrate to any of the described platforms with Cart2Cart just in a few mouse clicks.
Migrate now
Customer Support
Magento and WooCommerce are both open-source platforms. Like most open-source software, they do not have a dedicated customer support team on standby. Magento's support comes in the form of the community of Magento developers and the comprehensive library of resources you can use to find a solution to your issue.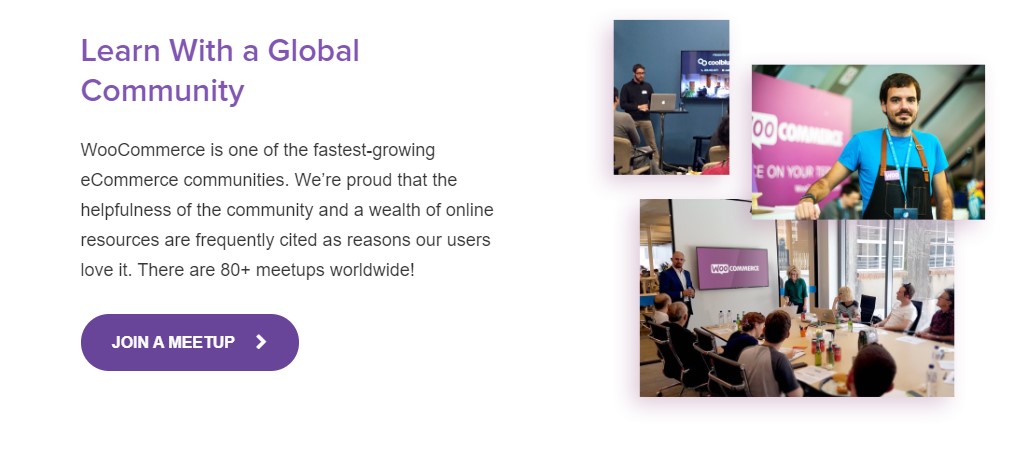 The same goes for WooCommerce. There's the option to consult the vibrant community of online users, consult a WooExpert, or use the site's FAQ section to find an answer to your specific question.
Check out our infographic to get a better understanding of the migration process via Cart2Cart: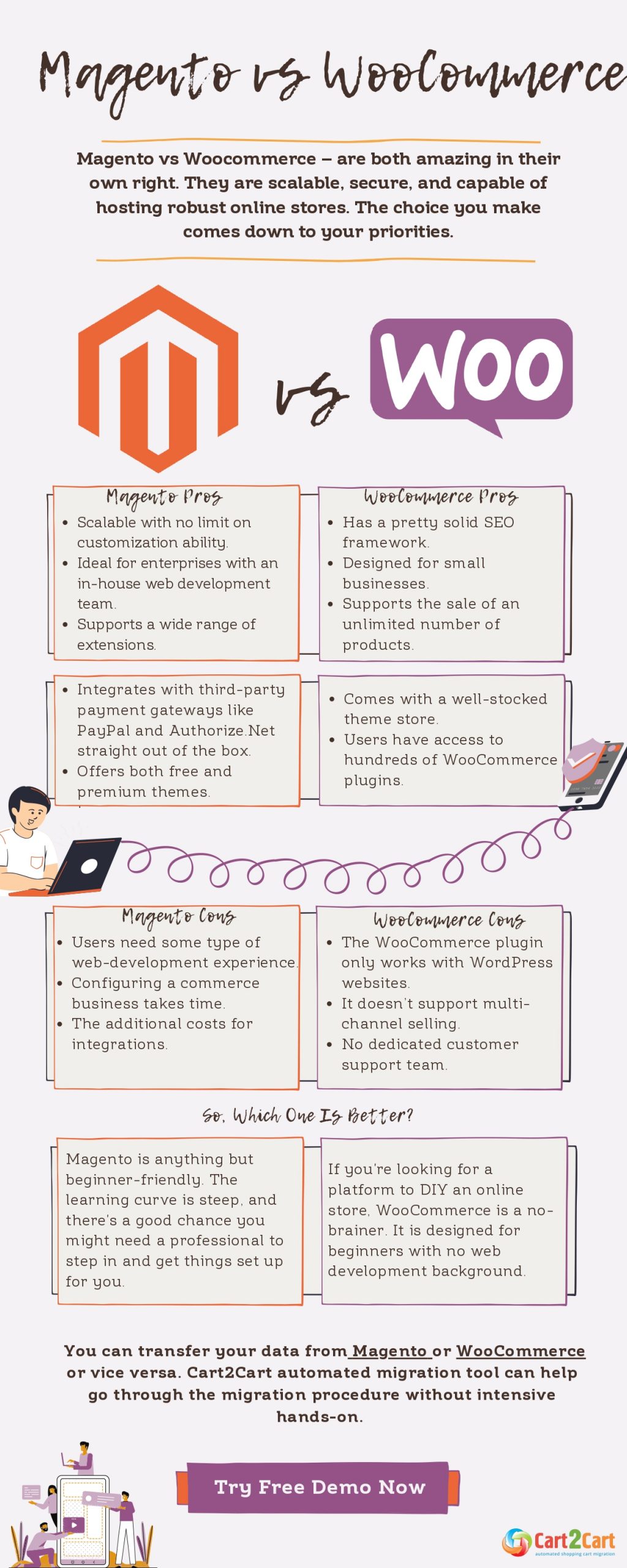 Magento vs WooCommerce FAQs
Is WooCommerce better than Magento?
It depends on who you ask. WooCommerce trumps Magento in terms of ease of use. It is designed to be user-friendly, which explains why it is the second-leading eCommerce platform worldwide. From a performance standpoint, Magento scores higher mainly because of its unlimited scalability and customization abilities. It all depends on your end goal.
Is Magento better than WordPress?
Yes, it is. As an eCommerce solution Magento is more powerful and supports unlimited scalability. This is what you want when you're running a medium to large-scale enterprise. However, it does fall short when it comes to the number of themes it offers.
Is Magento good for eCommerce?
Yes, it is. The platform is built as an enterprise-level eCommerce solution for bigger sites that require advanced features and enhanced functionality. This also makes it more technical, meaning you may need some knowledge of web development.
Does Magento work with WordPress?
No, it does not. Magento and WordPress are two independent platforms. If you're presently running your online store on WordPress and want to switch to Magento (or vice-versa), you would have to use a data migration tool like Cart2Cart. All your store data like order, product, and customer files will be automatically transferred to the new platform with a few easy clicks.
The Verdict
Magento vs Woocommerce – which of the two solutions have we crowned the winner? The truth is that they are both amazing in their own right. They are scalable, secure, and capable of hosting robust online stores. The choice you make comes down to your priorities.
For a user-friendly platform with an extensive array of themes to choose from, WooCommerce might be just what the doctor ordered. If you want something more powerful, Magento stores are designed for enterprise-level commerce businesses.
In case your current solution lacks some advanced functionality, you can transfer your data from Magento or WooCommerce or vice versa. Cart2Cart automated migration tool can help go through the migration procedure without intensive hands-on. Get your store to a new level and enjoy the excellent functionality of the desirable platform.
Are you thinking of switching from your current eCommerce platform? Sign up to Cart2Cart today for a free demo.