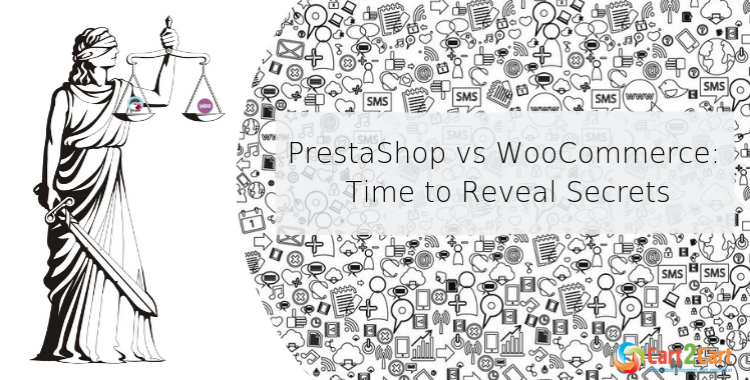 Looking for the ultimate e-solution for running an online business but still, have doubts? Assess the utmost severity of PrestaShop vs WooCommerce judgment. In this article, let us clear up all the strengths and weaknesses of both, reveal all sins and hidden secrets to be 100% sure where your Eldorado lays. So, let's get down to business!
What is PrestaShop vs WooCommerce?
The core difference between PrestaShop vs WooCommerce is that WooCommerce is a WordPress plugin, while PrestaShop is an independent eCommerce platform. Both solutions have their pros and cons. PrestaShop is considered to be more technically advanced and requires more time to get started with. WooCommerce is perfect for beginners.
Defendant Number One - PrestaShop
Name: PrestaShop (previously phpOpenStore)
Date of birth:

2007.

Nativity: Paris, France.
Parents: Igor Schlumberger and Bruno Lévêque.
Profession: open-source e-commerce solution.
For the glory of justice, the court obliges PrestaShop to swear to speak the truth without hiding or distorting anything. This will be the final confession where all the good and bad deeds will be taken into account.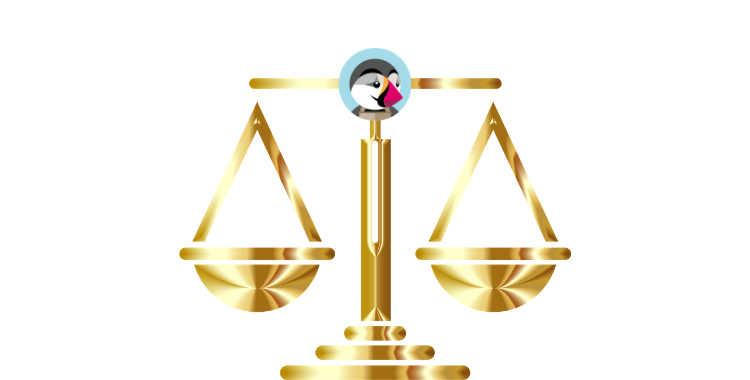 Can't decide which eCommerce solution to choose? Grab the unique chance to run a free demo with Cart2Cart now to see the desired platform in action!
Check out the video from ImprintNext comparing both eCommerce solutions:
Design and Templates
PrestaShop themes are clean, responsive and professionally looking. Choose the one you like the most from more than 4 000 free and paid ready-to-use templates. Be a picky customer while theme selection to significantly boost conversions with a bright design that matches your products and your customers' preferences.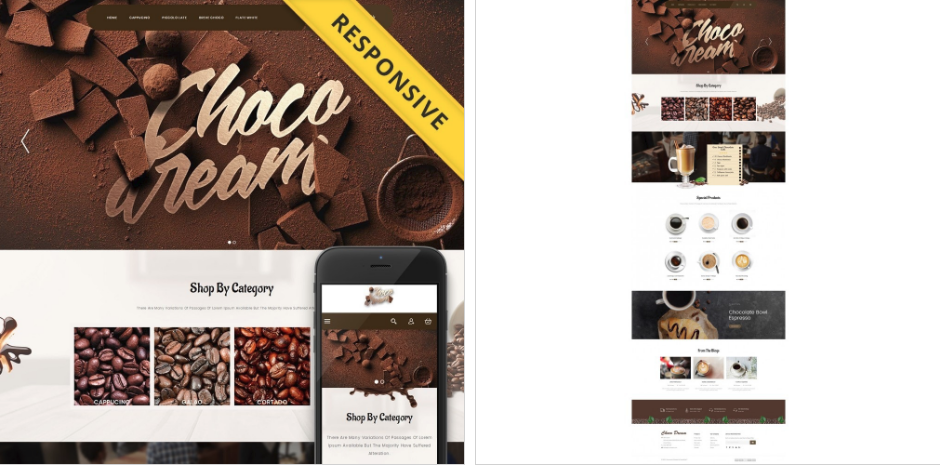 After you have chosen your favorite one among PrestaShop themes, you're welcome to enjoy how easy it may be to set up and customize each of them. There are a few ways on how to get PrestaShop templates:
choose among hundreds available on the website;
search on the ThemeForest;
go to Template Monster and check the accessible collection.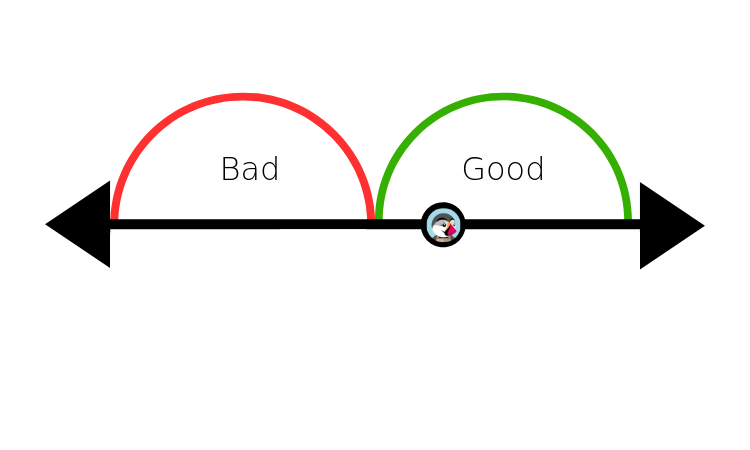 Ease of use
PrestaShop is open-source ecommerce solution, so - no payments. There also no trial version, but you can launch Free Demo to check the service in advance. Setting up the whole PrestaShop shopping cart takes some time. The approximate scenario of this process is like that:
download PrestaShop shopping cart;
create a database;
upload the software to your server using an FTP client;
click on the install button.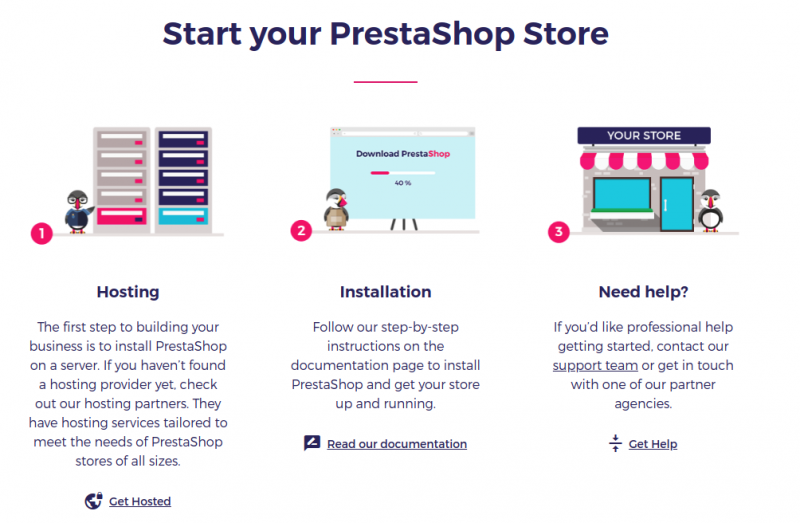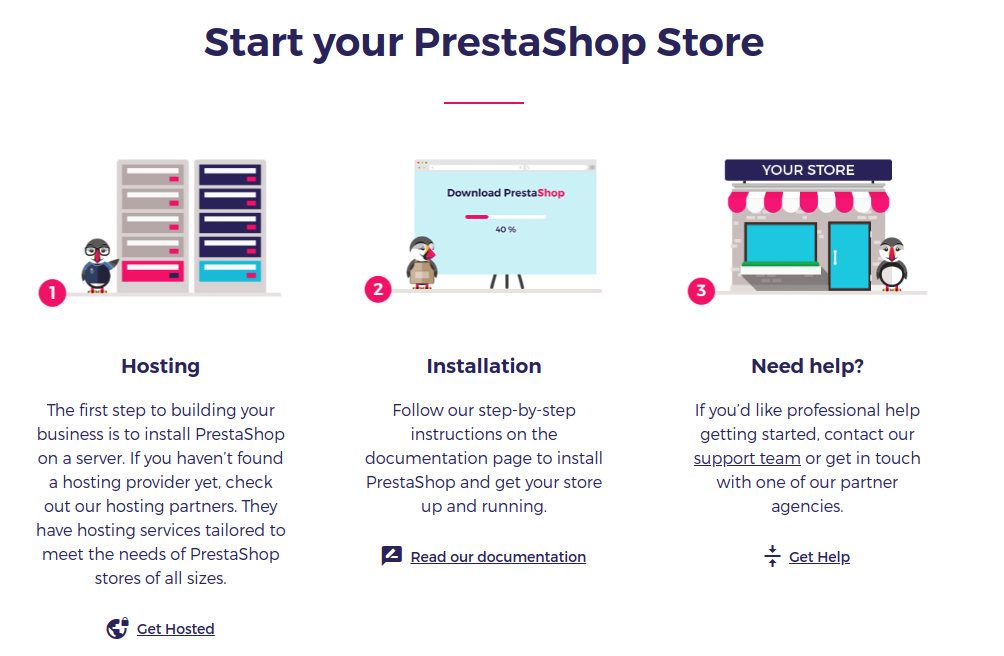 If you're already scared of complications you may be involved in with PrestaShop installation, stop doing it! Because that's the end of everything that may seem confusing. If you can cope with the initial store set-up, the rest of the operations are just a piece of cake.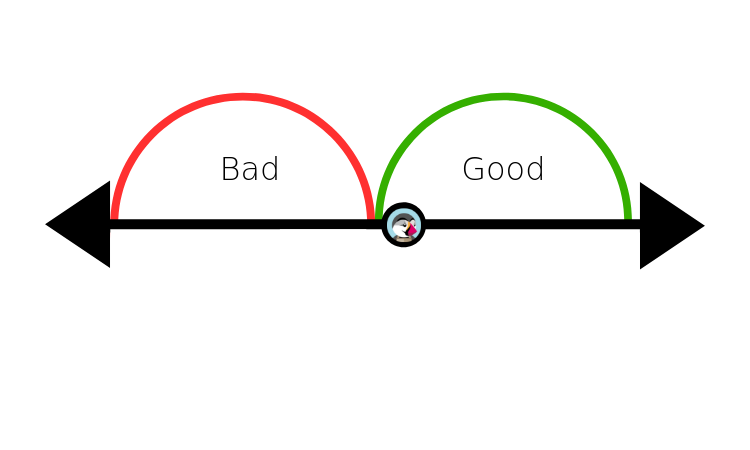 eCommerce functionality
When it comes to functionality, PrestaShop will astonish you with the great number of features. Let's put in order all of them.
Products' creation. Establish the products for the online store, easily navigate and track the inventory of all your store's products. Making your production look as you want is as easy as drinking a glass of water. You can create and configure packs of products, sell digital content, control the messages to display for out-of-stock items. And do not forget about categories and subcategories creation options as well as about product suppliers configuration.
Online Store Customization. Please your customers with various payment methods, determine the offered shipping methods prices, define the highest measures of the packages, or enable SSL. Configure and monitor the products' display, put in order all products in the e-shop, inform the customers about all the substantial changes in your store or in case of availability - display the physical stores via Google Map.

Everything concerning laws. If you're a responsible business owner, you'll find this information useful. PrestaShop is where all the possible opportunities for doing business legally and with no fears are available. Creating CMS or legal content pages, compliance with related laws, taxes configuration, and many more you'll find after choosing PrestaShop.
Special offers. This includes coupons configuration, discount mode and price rules choosing, free shipping methods, etc.
Orders management. Here, you can overview, create, or edit all the orders from the admin. Also, benefit from informing your clients about the evolution of their orders.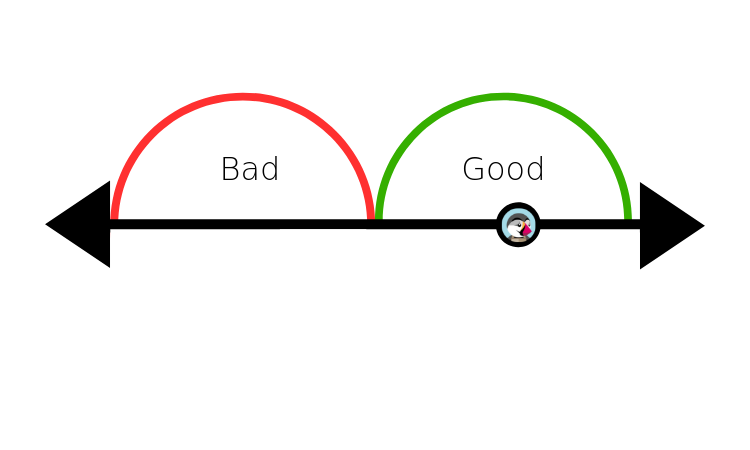 Plugins and Extensions
Visit Prestashop Add-ons Marketplace to find the winning way of increasing your store capabilities in a few clicks. Benefit from these and many other multiple plugins, addons and modules for crazy boosting your store work.


In case that's not a peak of your demands, check the TemplateMonster with the complete list of numerous plugins and addons with powerful features for every occasion.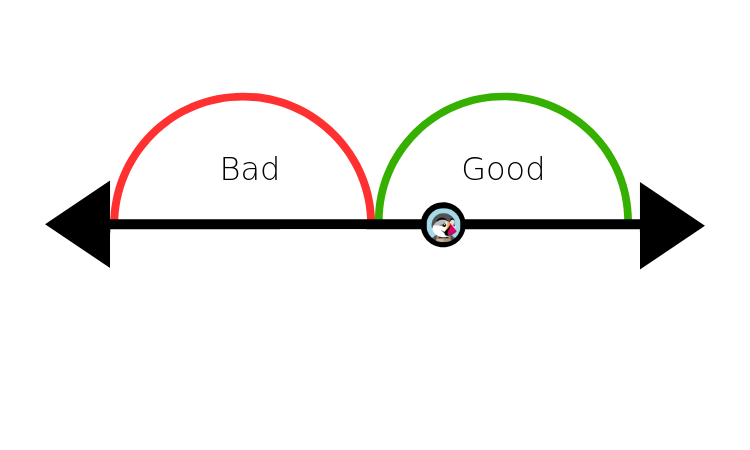 Magento vs WooCommerce vs Shopify vs OpenCart vs PrestaShop Comparison
Pricing
Selling goods or services, physical or downloadable products, reservations, or marketplaces, PrestaShop is 100% free with no monthly fees and sales commissions. But everything is not so good.
A lot of built-in features are not available with PrestaShop. The free PrestaShop version is a basic solution limited to standard features to run a medium-sized business without advanced functionalities. To achieve something more, you have to buy additional modules, which are a little bit costly.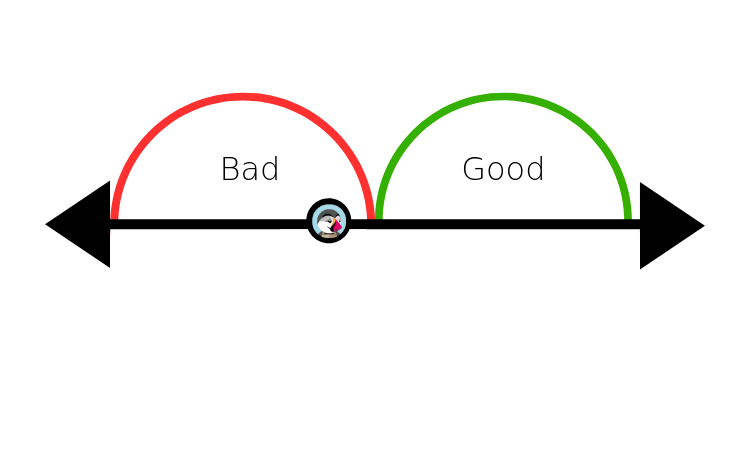 Support
How do you like it: no official PrestaShop support team to help the customers with their online shops. BUT! Some of Presta-clients do not think this is a problem, because there is a large user community with over 1 000 000 + members who are constantly out with a hand of help and assistance.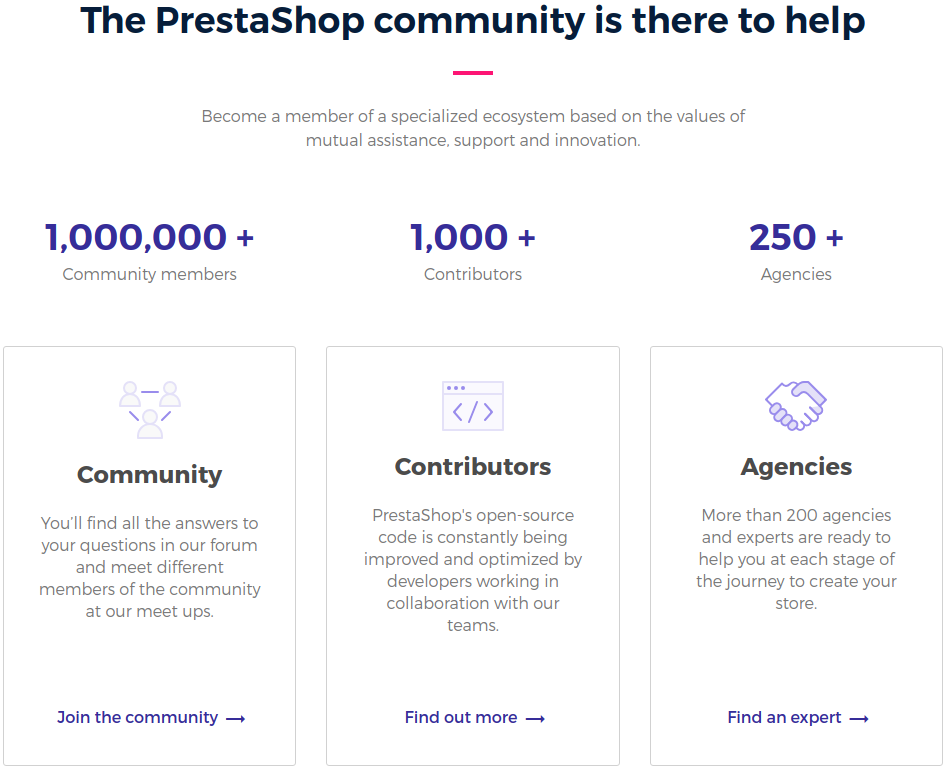 PrestaShop Review: Will the Platform Fit Your Business Needs?
There are Facebook and Twitter support pages and PrestaShop FAQs and user guides section.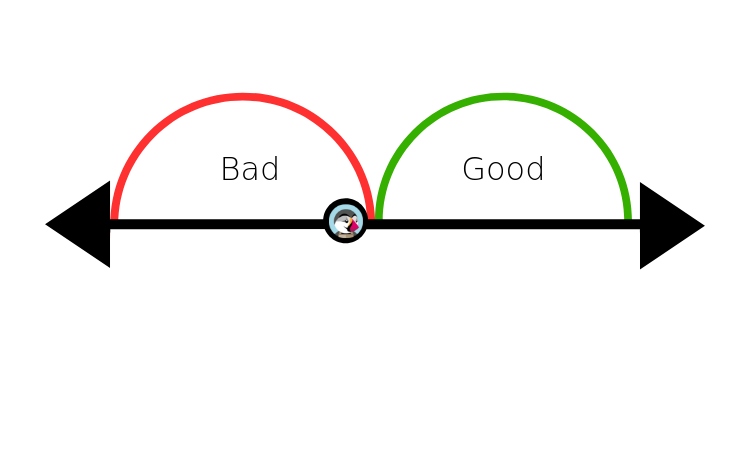 SEO and Marketing Tools
There is a whole set of techniques and best practices to improve the website visibility on search engines. PrestaShop is a place where you can find excellent tools for easy meta tags and URLs replacement for effective website work optimization.
Concerning marketing, PrestaShop offers strong tools and strategies for store promotion. It includes add wishlists, launching flash or private sales, creating newsletter campaigns, building referral and loyalty programs and many more.

All the ways to drive and increase the traffic and sales on your website are included in various PrestaShop Promos and Marketing Modules.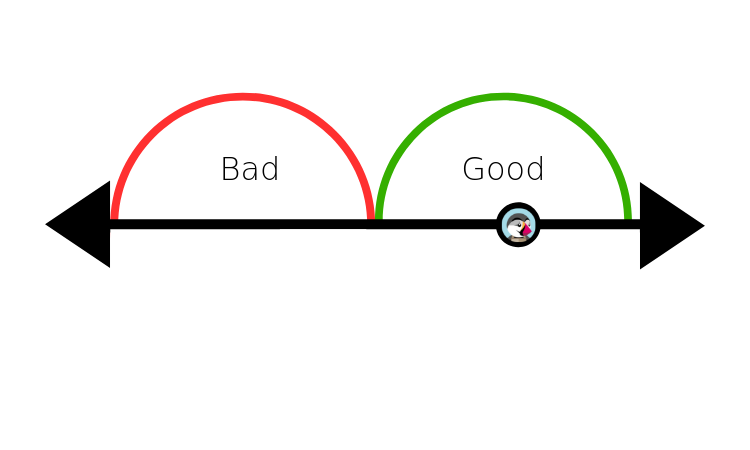 A Supreme Court's Decision
Prestashop is one of the extremely growing ecommerce platforms. It tries to provide qualitative service in the open-source eCommerce solutions genre. PrestaShop consumers are successful entrepreneurs from all over the world. It is honored as one of the most robust, professional eCommerce shopping carts; it is free to download and install.
According to the following PrestaShop's features:
no cost;
easy to learn and manage;
crucial functionality;
responsive and rich themes;
simple customization options;
intuitiveness;
heightened security.
WordPress vs PrestaShop: Which Platform will Suit Your Store Better
… the justice of Supreme Court proclaims: PrestaShop is professionally-built shopping cart and is RECOMMENDED for moving to and running e-store.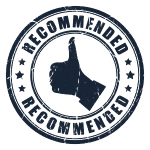 Defendant Number Two - WooCommerce
Name: WooCommerce
Date of birth: 2007.
Nativity: California.
Parents: Mike Jolley, James Koster.
Profession:WordPress plugin.
For the glory of justice, the court obliges WooCommerce to swear to speak the truth without hiding or distorting anything. This will be the final confession where all the good and bad deeds will be taken into account.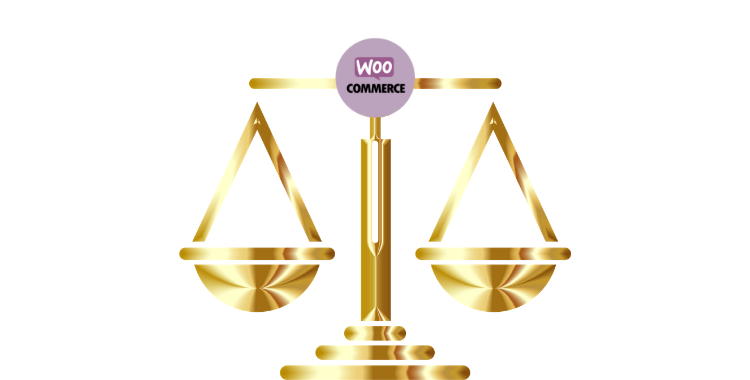 Design and Templates
Judging the book by its cover is a bad thing, but in the real world, this works strictly vice versa. What can grab the shopper's attention when he comes to your store at first? Of course, the design.
WooCommerce themes are classy and stylish. The astonishing variety will match different types of e-business: fashion and clothing stores, selling physical or digital products, cosmetics, and many more. WooCommerce templates make it easy to impress the customers because there are a lot of sparkling themes.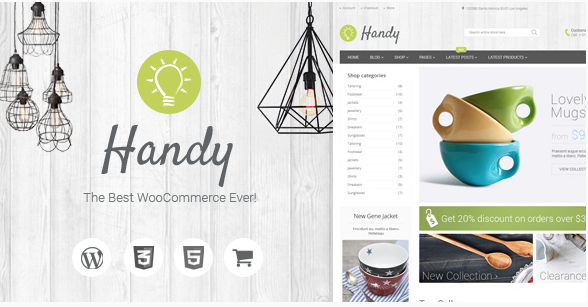 Choose the best one from free or paid collection in WooThemes Store. Since WooCommerce is integrated with WP,for the pickiest business owners, there is WordPress templates' list.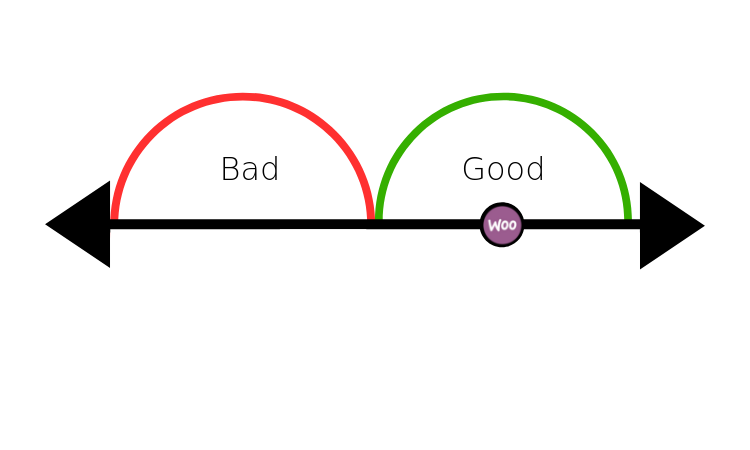 Ease of use
WooCommerce is a WordPress plugin, and you need to perform a few operations before you get to work with WooCommerce itself. First of all, you have to get domain name, then - sign up for a hosting account and install WooCommerce. Good news - to avoid all these operations, WooCommerce has many free and paid plugins to automate this process for you.
WooCommerce is very customizable. The whole platform is under your control. Unfortunately, there's no built-in drag-and-drop design-builder. You can choose it from the WordPress collection, but that's not free.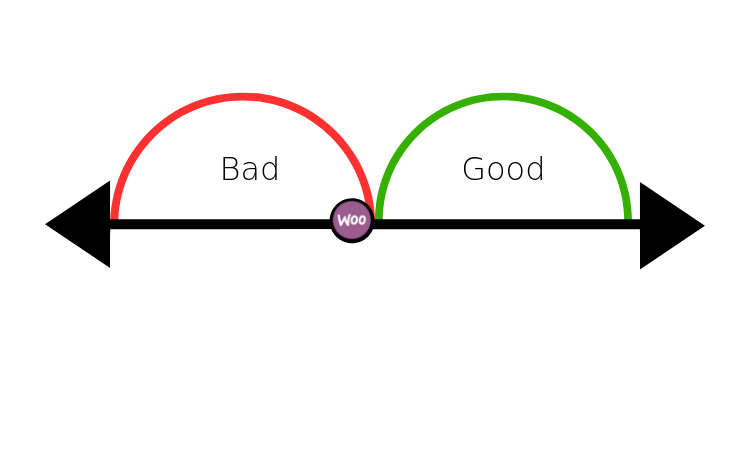 WooCommerce Review. The Ultimate Truth of Running eBusiness on WooCommerce
eCommerce functionality
WooCommerce is the best plugin to choose when it comes to ecommerce functionality.
Even if you're a newbie in the area of online trading, working with this shopping cart will be pretty simple. Store management or daily routines are also fairly straightforward. The store built on Woo includes plenty of enhancements to boost the shop's performance. This can assist the progress of your daily routines and keep you in touch with the current addons statuses of updating processes.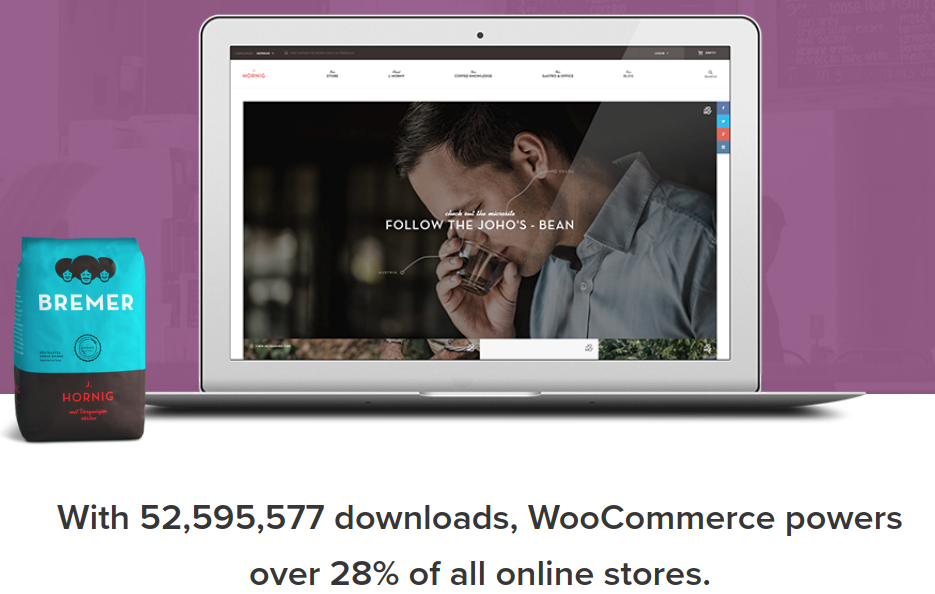 To be more concrete, the platform suggests the following features:
Precise stock level tracking;
Constant alerts;
Regular sales reports;
Intuitive product data panel;
Variable mobile apps;
Auto-Tax calculations;
Profitable Integrations;
Additional WordPress themes;
Firm store management.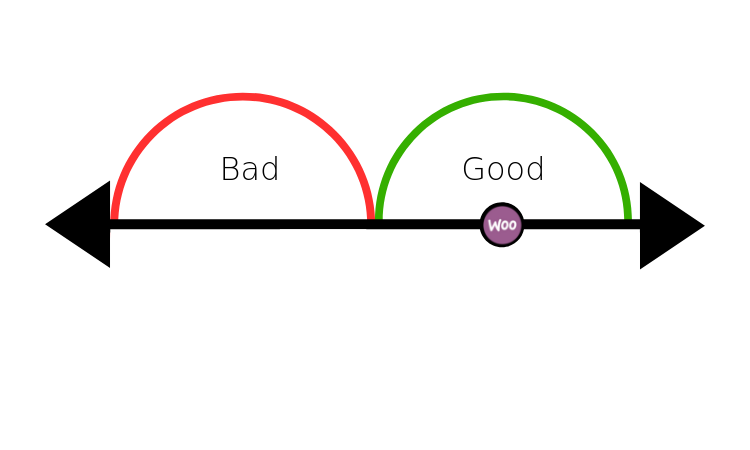 Check out the guide on how to migrate PrestaShop to WooCommerce
Plugins and extensions
There no success without growing. The same with the ecommerce business. If you're standing still, you're moving back. In this case, growing means the ability to extend your store possibilities.
WooCommerce extensions are subdivided into several groups related to:
Bundles (Everything you need for the store customization via Woo all-in-one bundles.)
Enhancements (Which includes cart and checkout features, merchandizing, product page features, search and navigation);
Marketing (email, promotions, reporting, social media);

Payments (direct, form, iFrame, Off-site);
Product types
Shipping (carries, delivery and shipping options, inventory and fulfilment);
Store management (accounting, admin notifications, customer service, import and export, point of sale, tax);
Subscriptions.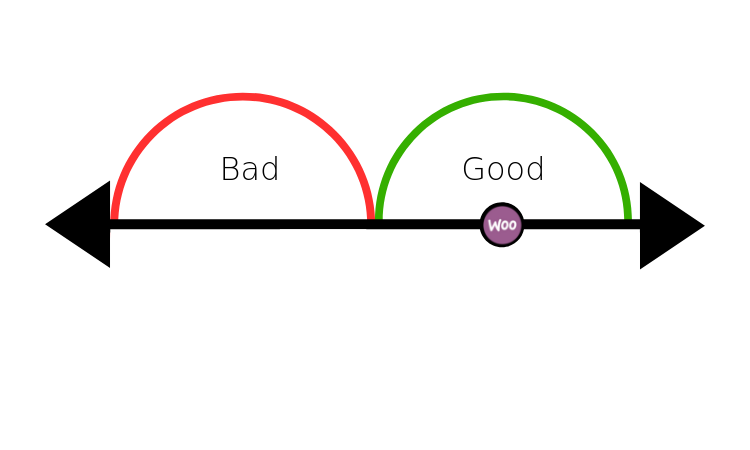 Pricing
Since WooCommerce is the WordPress plugin, there is no cost. The only thing you have to do is download it from the website, install it on the WordPress interface, and create the online store. The following modifications are all up to you since it's an open-source solution. For those who want to expand their possibilities with special extensions, there are a lot of them. For example, if your business sells member access to the websites, you'll have to download a specific extension.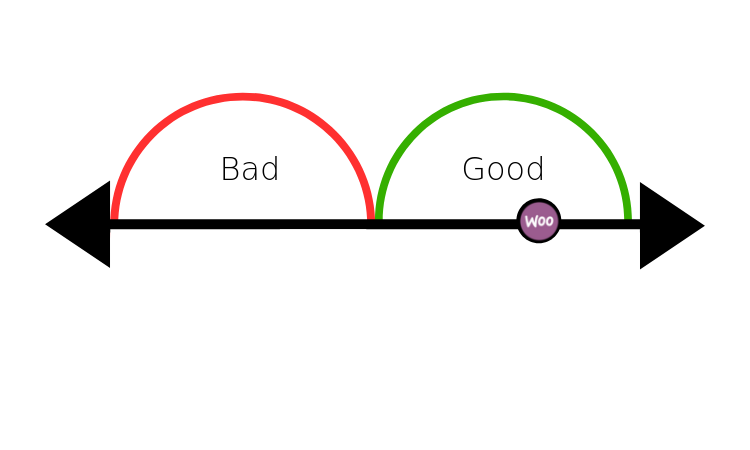 Support
Woocommerce Support system is subdivided into three ways. Go to the My Account tab in the WordPress admin dashboard to achieve this function. Then, the Woo service offers the following ways:
find general questions in the documentation;
open a support request.
fill out the form and support team will get in touch with you.
Besides this, you can use forums, blogs, or knowledge bases.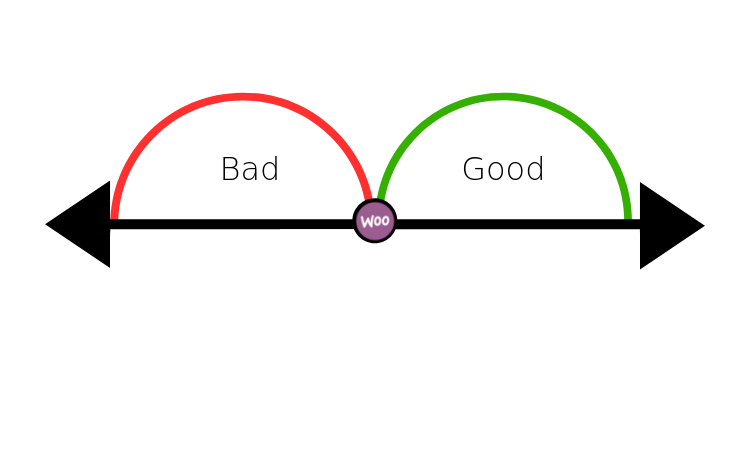 SEO and Marketing
WooCommerce powers up to 30% of all online stores and is well SEO optimized. It proposes for acceptance the variety of discount and coupon options, email and social integrations or reports powering.Using the WordPress editor, you have the opportunity to modify the body content, or URLs, meta descriptions or alt tags, and even more to optimize product pages.
The platform is a great solution for store owners without coding skills since it's very simple.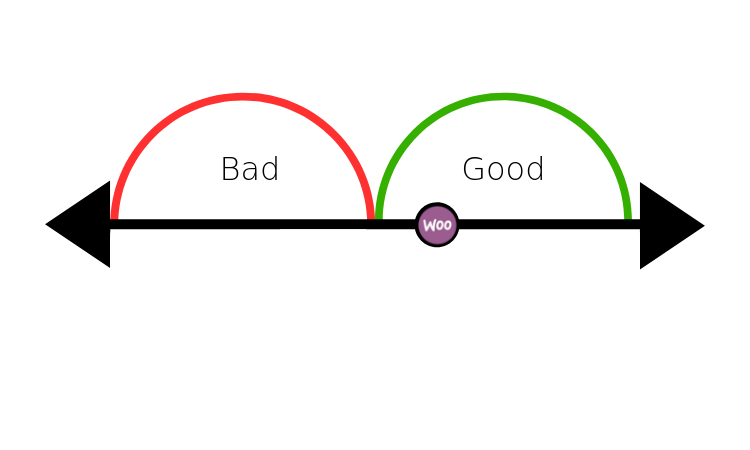 How to choose the best eCommerce platform: Tips and Tricks
A Supreme Court's Decision
WooCommerce is one of the best shopping carts for your business. You can effortlessly set up the store without programming knowledge. It is created for all kinds of business- from small to large-sized WordPress users. It is simple to install and manage. Now, this is the most customizable shopping cart for online trading. With 48,850,412 downloads, this ecommerce solution is HIGHLY RECOMMENDED by the justice of Supreme Court.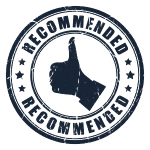 If you're still not a Woo user, please, hurry up to reach your finest hour!WooCommerce migration is the next step here.
Find out what is the best B2B shopping cart
Why use PrestaShop?
In short, PrestaShop looks like as a perfectly good choice if you:
require a scalable solution;
have some programming expertise;
ready for additional developmental expenses;
need high security platform.
Take your e-business a step forward towards success!
Migrate to any of the described platforms with Cart2Cart just in a few mouse clicks.
Migrate now
Why use WooCommerce?
On the other hand, WooCommerce sounds right if you:
have a small store with up to 2500 SKUs;
seek simplicity;
need a robust blogging functionality;
have limited development budget.
Check out our infographic to get a better understanding of the migration process via Cart2Cart: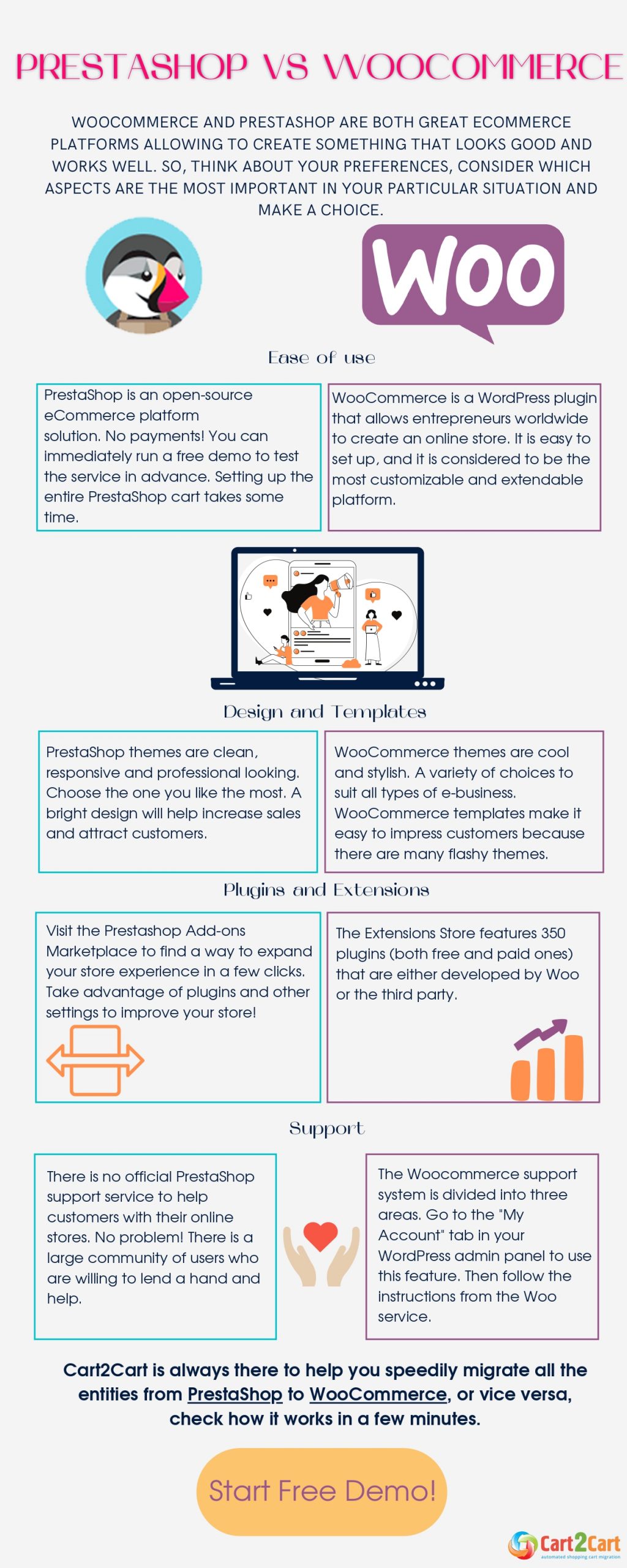 PrestaShop vs WooCommerce FAQs
Which is better WooCommerce or PrestaShop?
WooCommerce offers users tons of good-looking designs and multi-functional modules. Besides, it works perfectly with the WordPress addons. Running a store on WooCommerce will be cheaper. PrestaShop, on the other hand, is more technically advanced and requires developer's help in setting up.
Is PrestaShop faster than WooCommerce?
WooCommerce is the most popular solution on the eCommerce market. When it comes to speed, it is very individual. If you have a big store on WooCommerce it may be slower than a small one on PrestaShop. We advise you to try out the two platforms to make the final decision. Run the free demo migration with Cart2Cart.
Can I use PrestaShop with WordPress?
Yes, you can sync PrestaShop with WordPress with the help of additional modules. But if you have an eCommerce store on PrestaShop and wish to migrate it to WooCommerce, it is better to use an automated migration service Cart2Cart. This way you'll save time and effort.
Is PrestaShop cheaper than WooCommerce?
PrestaShop's average price for themes and modules starts at $54.99/year, almost five times more than WooCommerce's ($19/year) for a domain name, hosting, and SSL certificate.
Which platform is more SEO-friendly, WooCommerce or PrestaShop?
In terms of SEO, WooCommerce would beat PrestaShop. The first benefit is that WooCommerce inherits all of WordPress's SEO capabilities, especially when it comes to blogging. More specifically, users can create a blog directly from the WordPress dashboard. The PrestaShop blog module, on the other hand, requires the installation and is significantly expensive.
Wrapping Up
Think about your preferences, consider which aspects are the most important in your particular situation and make a choice. Cart2Cart is always there to help you speedily migrate all the entities from PrestaShop to WooCommerce, or vice versa, check how it works in a few minutes.
First of all, try Free Demo Migration to move the limited amount of data and evaluate the quality of the service. Feel the difference after migrating to WooCommerce or PrestaShop store and be prepared for Full migration. With Cart2Cart everything is smoothly and speedily!