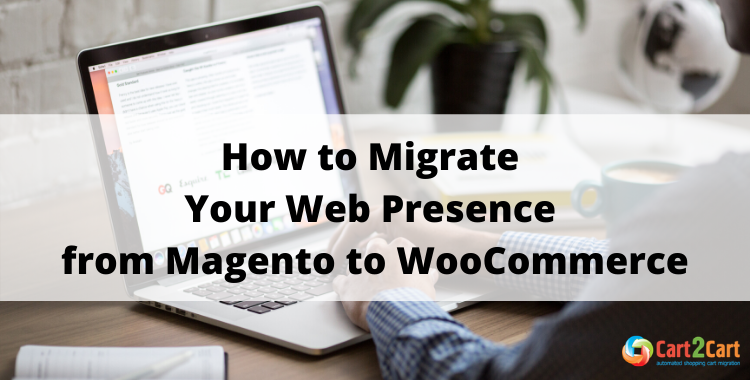 Magento and WooCommerce are both stable and mature CMS solutions that provide all the necessary tools to create gorgeous do-it-yourself stores and make those stores run successfully. The post aims to look for specifics on why people prefer migrating from Magento to WooCommerce and present an all-the-way route of migration from one software to another.
Magento and WooCommerce are world-known eCommerce solutions that have been around for a long time and have earned love and loyalty all around the globe. Both are open-source software packages and each of them being developed by a community of thousands of developers and enthusiasts. Also, both platforms are continuously being improved producing new, more advanced and sophisticated versions. Despite the fact that both tools perform pretty the same action, they completely differ on the user-end.
Despite the fact that both Magento and WooCommerce take their respectful places at the web market, WooCommerce wins the race powering approximately 26% of the web market. So what are those prominent features that make so many users all around the world gravitate towards WooCommerce?
Simplicity & Intuitiveness. There are no special skills expected to get comfortable with the platform. In fact, even the greenest of minds will find it easy to get started and manage a WooCommerce online shop.
CMS functionality. Since it is the WordPress-based plugin, the content management possibilities are endless.
Price. WooCommerce is absolutely free to download. You do not have to pay any charges for the installation or something else.
Extensive library of themes & plugins. It allows making your store look and feel as required with the help of numerous themes or expand it with the required functionality via extensions.
Though Magento is treated as one of the leading eCommerce solutions, its powerful out-of-the-box functionality has become synonymous with enterprise-level performance. And that is the main reason why the Magento to WooCommerce migration trend is growing with each passing day.
Magento to WooCommerce. 3 Migration Methods
When it comes to Magento to WooCommerce replatforming, basically there are 3 ways to get around the problem.
The database from Magento to WooCommerce can be transferred manually, but it is appropriate only for the owners of small stores. To illustrate it, firstly all the Magento store data should be exported as CSV files. When done, go to WooCommerce → Products -> Import. There, you'll see a built-in product CSV importer. Click Choose File, select the CSV file that you want to import and click Continue button. When done, select Run the Importer and wait until the process is finished. Repeat these steps for the rest of your CSV files.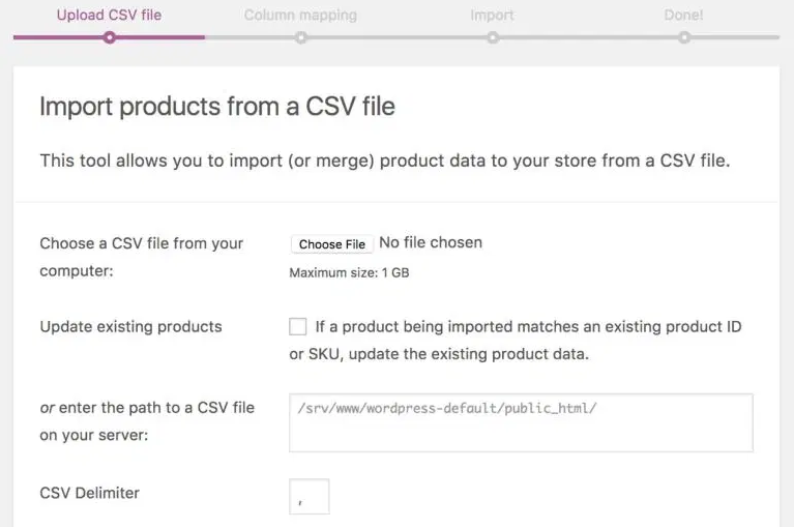 Another way to migrate from Magento to WooCommerce is finding a developer or even a team of experts who you'll delegate the task to (assissted way). At WooCommerce you can find a list of hand-picked WooExperts who are always ready to give you a hand of help in all the migration-related issues. Once you've narrowed the list to a few experts, take time to discover their work samples, pricing data, and information about their experience. Connect with the developer who fits your requirements best and let him take care of the migration.
And the 3rd way is to perform the migration with the help of the automated tools (like Cart2Cart). Cart2Cart is an automated migration service that has been designed to make shopping cart replatforming in a fully automated manner. The service has all the functionality required to perform the database transfer from Magento to WooCommerce without intensive hands-on.

How to Migrate from Magento to WooCommerce?
Generally, there are 3 migration scenarios to choose from - manual, assisted and automated. Those e-merchants willing to replatform from Magento to WooCommerce without intensive hands-on usually turn to automated tools (like Cart2Cart) to get the job done.
Download the Cart2Cart: Magento to WooCommerce Migration plugin to ease the replatforming process.
Magento to WooCommerce Migration. Cart2Cart Route
Prepare your WooCommerce store
Before initiating the Magento to WooCommerce migration, take time to install the new WooCommerce store. Firstly, you should download the WordPress installation at the official website and when done, download the WooCommerce plugin.
Note: If you don't have a WooCommerce store yet or haven't decided what eCommerce platform to choose, you can benefit from Cart2Cart Migration Preview service and migrate to the test store.
Setup Your Source Cart
Once you've registered at Cart2Cart, choose Magento from the drop-down list and enter the store's URL. After that, you have to install a Connection Bridge (download the corresponding file, extract it from the zip archive and paste to the root directory. Alternatively, Cart2Cart can do that for you - just provide your store credentials).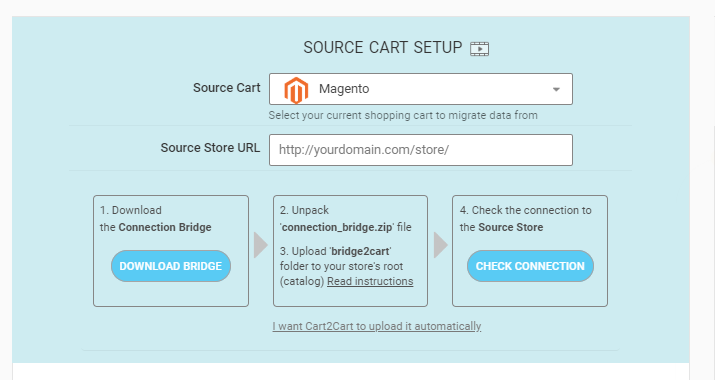 Setup Your Target Cart
Select the WooCommerce cart from the menu, provide the WordPress Admin URL, login and password. Once done, click the choose entities button.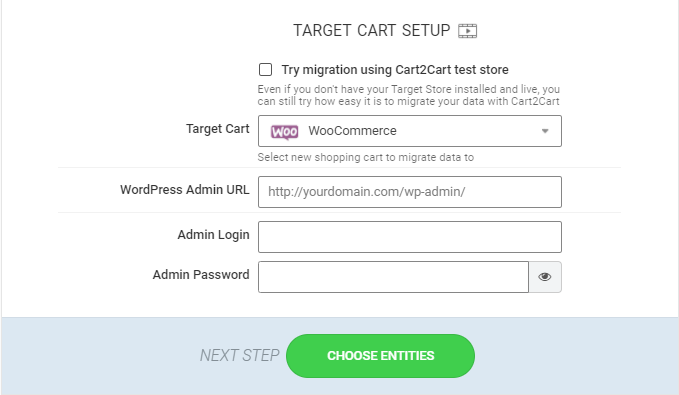 Select Entities & Extra Migration Options
Now it's time to select the types of data you want to be transferred to the WooCommerce store. Here are some of the currently supported entities that can be migrated:
Product data — names, prices, descriptions, SKUs, weights, and variants,
Tax classes, names, and rates,
Customer data — names, emails, addresses, and passwords,
Product categories,
Order information — date, status, price, quantities, discounts, and shipping,
Coupon codes and discounts,
Page titles, dates, URLs, and descriptions,
View all available migration data.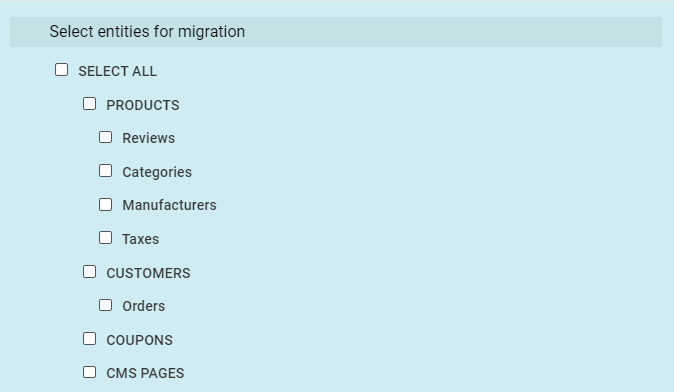 Next, consider choosing some of the additional migration options to ease the switching process: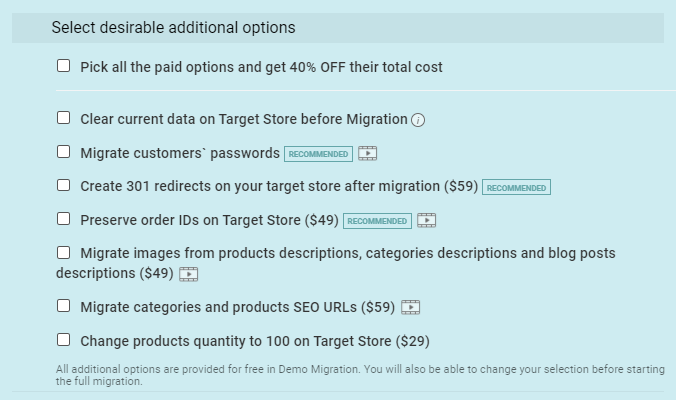 Perform mapping
Match your Magento Order Statuses and Customer Groups to the corresponding ones on WooCommerce store: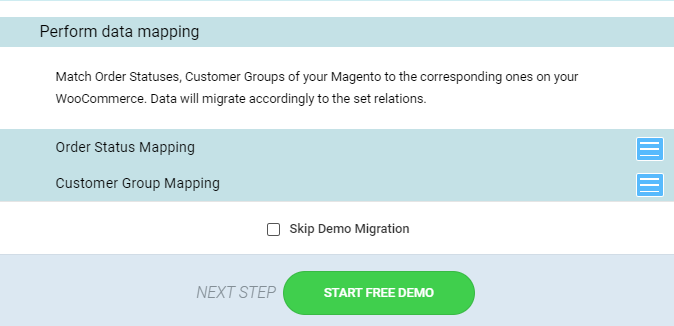 Start Demo Migration
Those e-merchants willing to observe the service in action can take advantage of the Demo migration by transferring a limited number of entities (products, orders or customers) for free. If happy with the outcome, it is possible to proceed with the Full migration.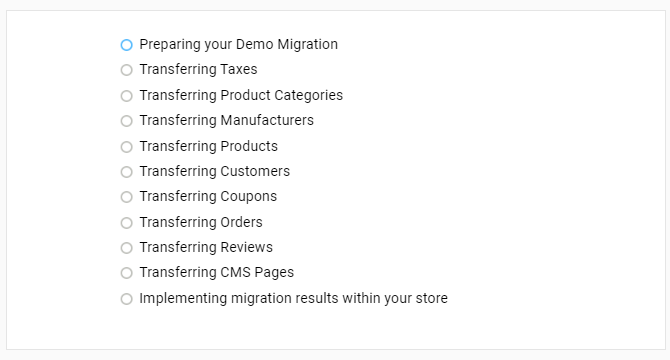 Note: Your current Magento store can still run in the background during the transfer, so there's no lost revenue!
Launch Full Migration
Right at this point, you can start Full Migration. Check if you have enough funds on an account. It is also possible to use coupon code if you have one.
At this point, you can close the browser window. You will receive an email when migration is finished. The results of data transferring will be visible on your WooCommerce store. After that, you have to test your newly established shop to make sure everything works fine.