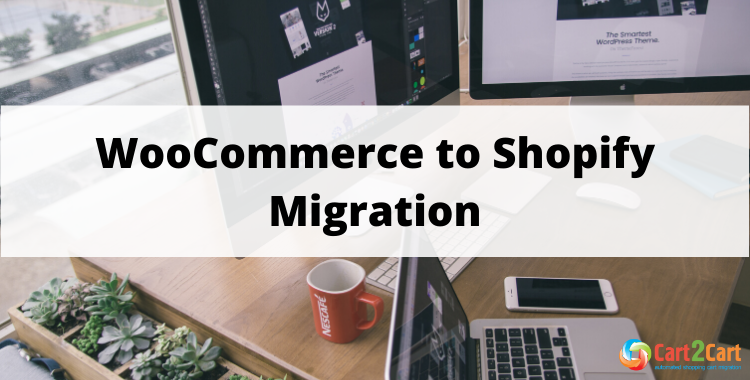 Web-shopping has become an integral part of our lives. There are thousands of shops that provide their customers with different types of products and services. Thus, business owners have to do the impossible to stay competitive. That's why choosing the right eCommerce platform is essential for the success of an online business. Taking into consideration the vast number of eCommerce platforms that are currently available on the market, it is very important not to be mistaken and choose the right-your-size solution. But if your current platform doesn't suit you the way it should, no worries. There's a perfect way out - replatforming. Today's post will be useful for those who plan on migrating their store from WooCommerce to Shopify. We'll outline the benefits of switching to Shopify and provide you with a step-by-step guide on how to perform the migration. So, read on!
Wish to know more about Shopify vs WordPress? Take time to look through the post Shopify vs WordPress. Which Is the Ultimate Store Builder for 2020? and get all your questions answered in short of time.
Foreword
WooCommerce is an open-source plugin for WordPress. At the moment, it powers 3,876,748 live websites and holds the leading position among all the eCommerce platforms (27%). WooCommerce was explicitly designed to meet the needs of small to large-sized businesses.
Shopify is a hosted solution that is suitable for businesses of any size due to its flexibility. 1,350,379 live websites are currently using Shopify as their home platform (19% in the eCommerce usage distribution).
Statistically speaking (according to Google Trends), Shopify's popularity has increased over the past few years:
Why Choose Shopify?
Shopify is viewed as one of the most popular and fastest-growing eCommerce platforms on the market. Shopify has been designed to assist merchants in building flexible, customizable stores with numerous noteworthy out-of-the-box features, countless apps, and themes. It enables business owners to sell products straight from the websites or via various marketplaces and social media channels.
The benefits of switching to Shopify include:
User-friendly interface
Ease of use
Variety of free templates and apps
Hosting is "included."
Affordable pricing plans that depend on the size of the store
24/7 customer support and lots of self-aid documentation
In-build security and two-factor authentication
Top-notch SEO features
Multi-channel integration
Get rid of all the migration-related issues by automating the process of WooCommerce to Shopify replatforming with the Cart2Cart Store Migration App.
How to Migrate from WooCommerce to Shopify Automatedly?
In a case, you've decided to perform WooCommerce to Shopify migration, Cart2Cart will lend you a helping hand. The process of data transfer is fully automated, so you don't need to possess deep coding skills. The time of migration depends on the quantity of data entities you wish to move. All you have to do is to follow an easy step-by-step instruction.
Prepare Your WooCommerce Store
To do so, we advise you to follow these steps:
Perform your current store's audit to get rid of all the outdated and unnecessary data (e.g., product details, categories, passwords, orders, reviews, etc.)
Please note that Cart2Cart doesn't delete any files from your WooCommerce store, but it is highly advisable to backup all the content to any of the external devices
Ensure your future Shopify plan provides enough capacity to store all the products you are planning to move
Calculate the exact price of WooCommerce to Shopify migration with the help of free Cart2Cart's Migration Estimator
Set up Source and Target Stores
Select WooCommerce as a Source cart from the pop-up menu and enter the store's URL. After that, install a Connection Bridge. To perform that, download a file to your computer and unpack it from the zip archive. Then paste it to store root directory. For more detailed information, please watch our video tutorial:
Choose Shopify as your Target cart and install the "Migration for Shopify" app.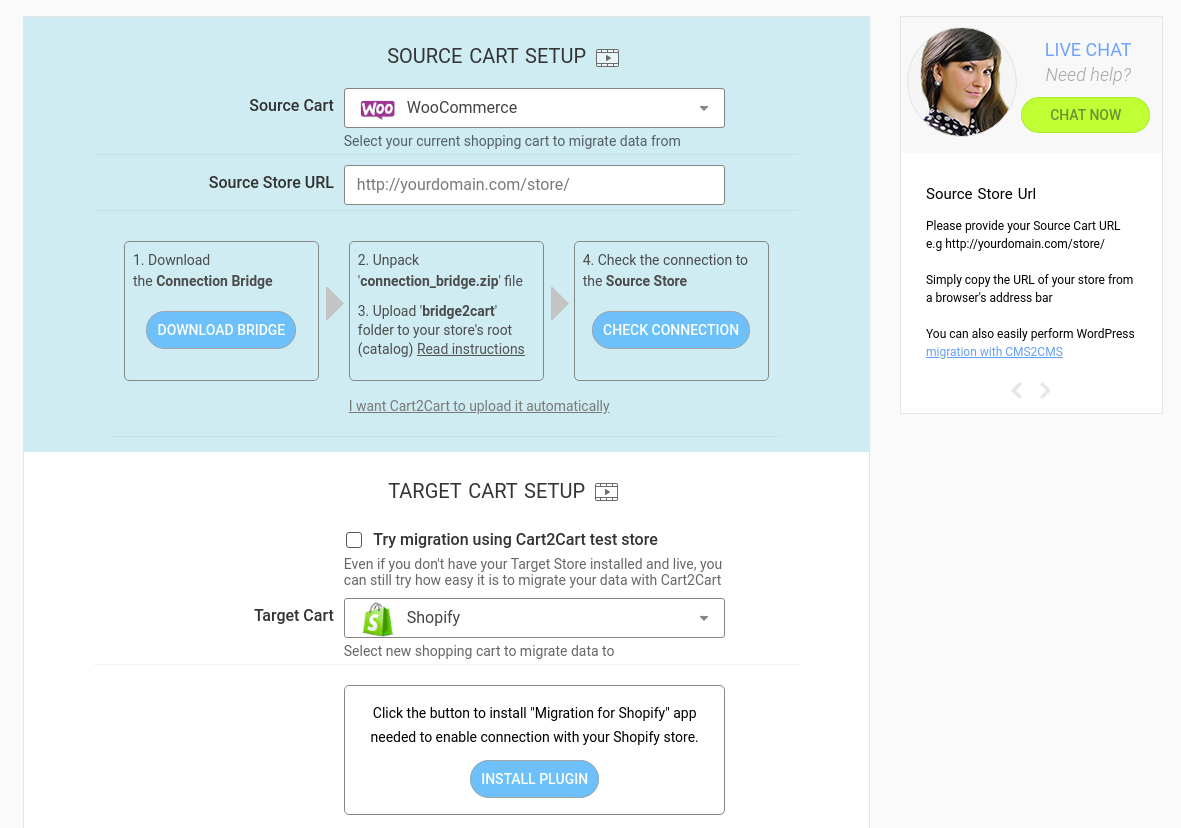 Decide on the Data Entities
At this point, you will be able to choose entities, which you wish to transfer to the Shopify store. You will also be able to select additional options.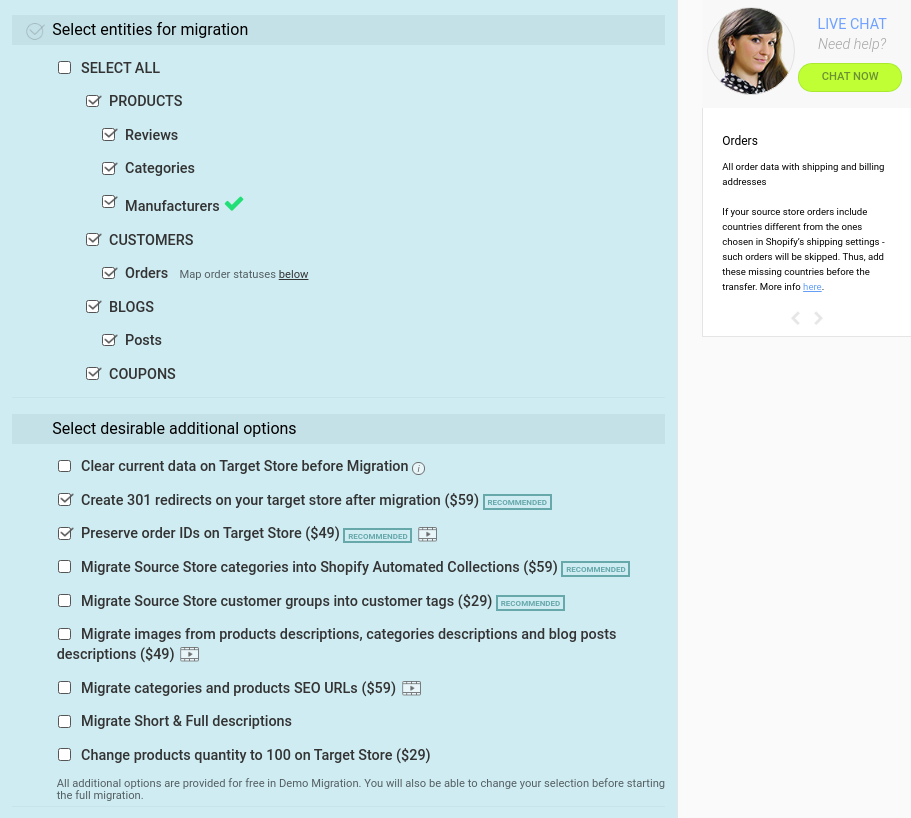 We recommend our clients to pay attention to the following additional migration options that would ease the process of store switch:
Migrate Source Store customer groups into customer tags
Migrate Source Store categories into Shopify Automated Collections
Preserve order IDs on Target Store
Create 301 redirects on your target store after migration
Migrate categories and products SEO URLs
Please note:
Shopping carts usually organize store entities differently. Thus, products are organized into collections (categories) with particular tags (subcategories). Additional information can be found here.
Also, in its stores' URLs, Shopify puts collection instead of category, adds word "product" to each product page, and changes dots into dashes at the end of the links.
When migrating Customers to Shopify, Cart2Cart will automatically establish a new default "unknown" email address if the customer's email on the Source cart is incorrect. The same will happen during the migration of Orders (in case they are not linked to particular customers, and were created in the guest mode.
Start Demo Migration
Demo Migration is the process, which will help you to understand how the service works. Cart2Cart will transfer up to 10 entities to Shopify for free just within 30 minutes. It is advisable not to skip this option. Also, please, do not close a browser window when Demo Migration is in progress.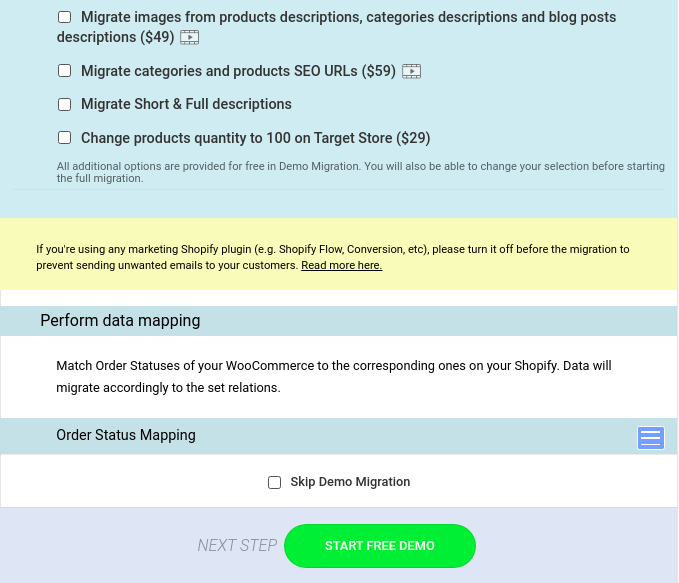 Launch Full Migration
In case you are satisfied with Demo Migration results, the next stage is the Full Migration of your store from WooCommerce to Shopify. Before you start, check entities one more time and make sure you have enough funds. Now press Start Full Migration button.
The process of migration will take some time, so at this point, you can close a browser window and continue running your business. You will receive an email notification when migration is completed. After that, proceed to the last step of our guide.
Post-Migration Tips & Tricks
Once the Full Migration is completed, please consider the following:
Check the performance of the store - the frontend, links, categories, etc. Also, try to make a test purchase to check if everything works properly.
Install the theme and all the necessary apps from the marketplace.
Invite your customers to reactivate their accounts. As an alternative, you may use the paid app "Bulk Account Invite Sender." It will automatically send the invitation to all your clients.
Keep in mind that Shopify perceives each transferred order as the newly-made. Thus, you will receive multiple notifications concerning the creation of orders (which are actually the transferred ones). To disable these notifications, log in to Shopify, go to settings->notifications and click "Disable" in the right bottom corner of the page.
In case new data entities (e.g., orders, customers, etc.) have appeared on your WooCommerce store during or after the migration, we can offer you to use the Recent Data Migration service.
Should you have other questions concerning the migration process, please check out the Shopify's Detailed migration guide.
That's practically all you have to know to perform the successful WooCommerce to Shopify migration. As you can see, store transfer is not that difficult, especially when done with proper guidance. Don't wait any longer and take your business to new heights!