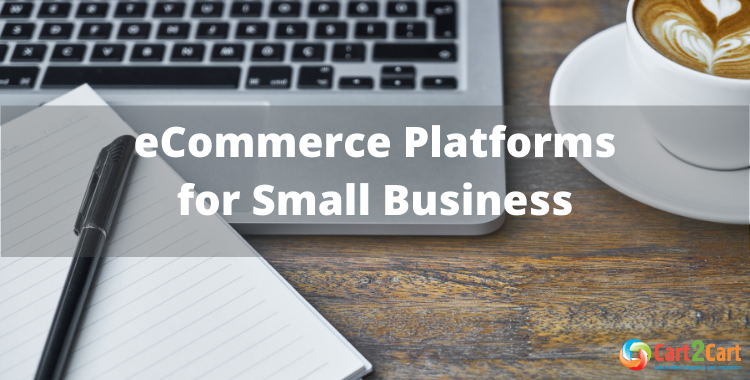 The eCommerce industry is booming with an impressive amount of platforms that aim to take your startup to a new level. Undoubtedly, choosing the store's platform is a crucial aspect for transferring young online retailer into a profitable, growing business. However, it may turn into a struggle for иупшттук entrepreneurs and novices. Luckily, there are many efficient and affordable options, and Cart2Cart is pleased to provide you with the list of the best eCommerce software for small business.
But first, let's make 100% sure you have a deep insight into what an eCommerce platform is, how you can benefit from it and why it is essential to make the right choice. Take your time and let's dive into our gripping review together!
What is an eCommerce Platform for Small Business?
An eCommerce platform is a software application that enables online businesses to manage their website and sell products and services online. Depending on the type of an eCommerce solution, it can build both a single-page website or an extensive, highly-functional, multimillion product catalog.
Why is online presence vital for small business?
Benefits of online presence are crystal clear. It ensures you boost in sales allowing to build a multi-channel store that integrates with world's popular platforms: Amazon, Pinterest, Facebook, etc.
Another reason is lower operating costs; you can run the store directly from home or any other portable device.
A big plus is that e-commerce makes it possible to be online and available 24/7.
What can't be left unnoticed is an advanced marketing. It allows promoting the business utilizing platforms add-ons and optimizing the store to get top SERP results without extra costs.
The next benefit is a tracking system that gives an accurate reports to follow the customers' flow and see what they want to find on your pages. It means you can collect the contact info of your clients and set new targets to their preferences.
Let's check the statistics: the number of online buyers is expected to reach 2.05 billion in 2020, and that is practically 26.28% of the world's population. Impressive, isn't it? Now you'll definitely decide on launching an online version of your brick-and-mortar store, won't you?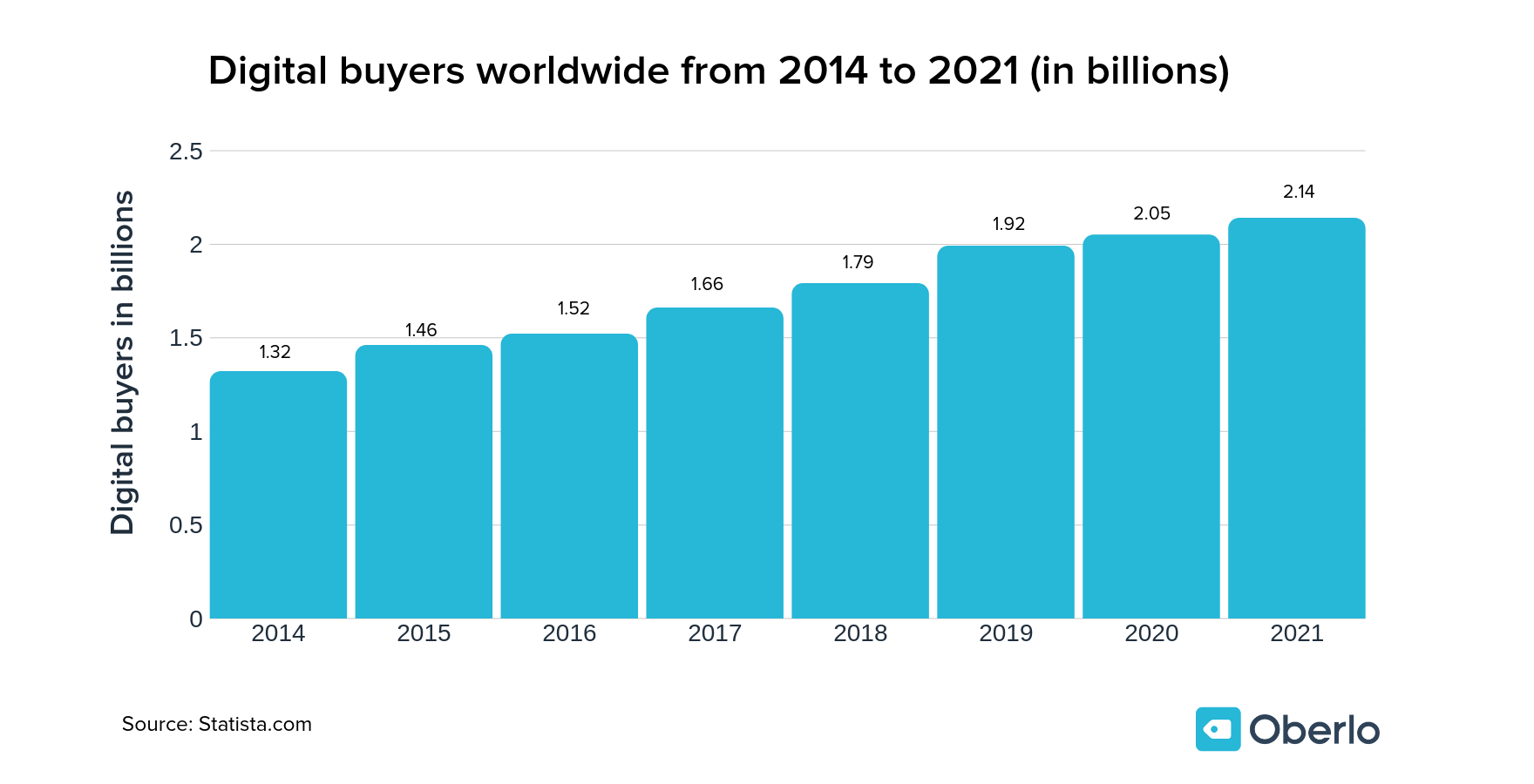 Why sell via shopping cart?
Nowadays, marketplaces like Amazon, eBay, Etsy, along with social networks, are considered to be the keys to a prosperous retailing. But can they fulfill your small business potential?
No, they can not.
Running a standalone store has a broad range of benefits that are yet to be revealed in the next paragraphs.
The advantages of selling via shopping carts instead of marketplaces and social networks include:
Total control over the online store
Owning a store on one of the ecommerce platforms provides you with the ability to choose the design, layout, product placement, descriptions, etc. It concerns both open-source shopping carts with endless customizable options but more complicated maintenance and hosted solutions with easy-to-use functionality but fewer customization features. The examples of open-source eCommerce engines for small business are WooCommerce, OpenCart, Magento, PrestaShop, while world-known hosted solutions are Shopify, BigCommerce, 3DCart.
According to BuiltWith eCommerce Usage Distribution in the Top 1 Million Sites is the following: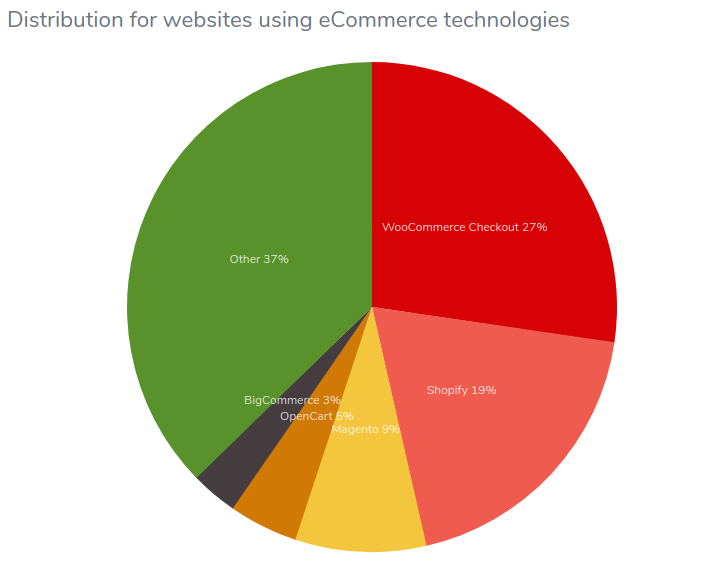 eCommerce platforms are SEO friendly
According to statistics currently Google receives over 80,543 searches per second. It's not a secret that good SEO is your lucky ticket. Thanks to its cost-effectiveness and developed optimization, it'll ensure your store an everlasting flow of customers without paying top dollar to ads campaigns. Also, note that almost all the eCommerce platforms have SEO-ready URLs and guarantee top positions in SERP.
Direct access to customers
Another benefit of owning an ecommerce store is the ability to contact your customers directly. You can send targeted emails, reach clients via ads, communicate in live-chats, connect with those who already purchased something from your store. Also, to enable better support service, it is possible to analyze customer behavior and perform relevant marketing activities, including abandoned shopping cart recovery.
Integration possibilities
A considerable advantage is that your eCommerce platform can integrate and synchronize stock with Amazon, Facebook, Pinterest, etc. We've already mentioned that selling via marketplaces and social networks alone won't help you achieve impressive results. But if you integrate the online store with marketplaces and social networks, it'll bring a phenomenal outcome. This functionality is being offered by the majority of eCommerce platforms for small business. However, instead of selling straight away from there, it's advised to primarily build your store using a shopping cart and afterward transform it into a multi-channel retail.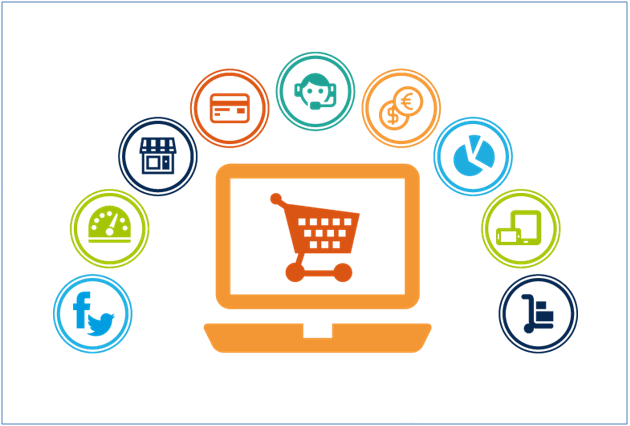 Statistics show that 86% of buyers would pay more for the great customer experience. So, let's now proceed to the next part of our post.
What do customers expect from an eCommerce store?
Having analyzed users' expectations from an online store, we determined the following factors:
Mobile-friendliness
Before making purchases, lots of users surf the Internet for the necessary product, while many of them buy goods directly via cell phones. It's essential to make the right conclusion and start providing your customers with a pleasant shopping experience. Mobile commerce has become a major way of shopping. Based on Business Insider Intelligence predictions, in 2024 it will own 44% of the e-commerce market ($488 billion).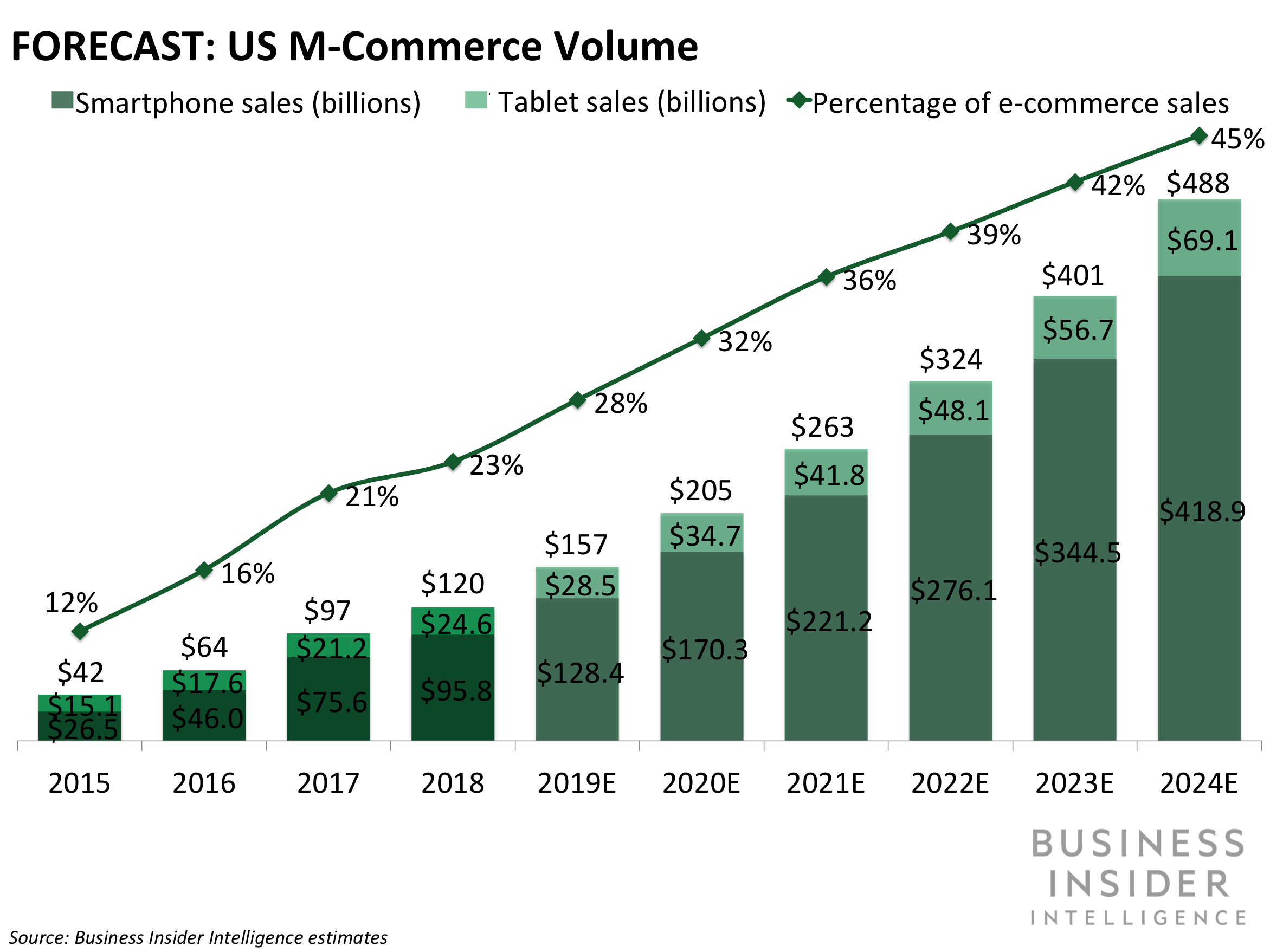 Beautiful and clear design
Have you heard the statement: "People judge the book by its cover"? The same goes for your online store. Every business owner should care about his website's appearance and make it unique and attractive with the help of the templates that the ecommerce platform has to offer. The understandable and user-friendly design usually indicates that the products are sold by a solid company. To avoid the most common mistakes in website's interface, we advise you to read Neil Patel's article.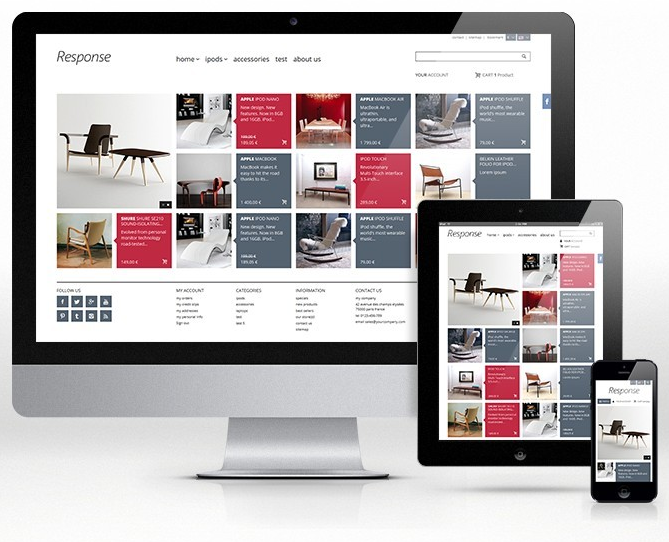 Fast loading time
Store's loading time is another thing that significantly improves the user's experience.
In digital retail world, speed is money. MachMetrics Speed Blog demonstrates the statistics of eCommerce platforms loading speed where the average is 4.7 seconds on desktop and 11.4 seconds on mobile.
To have a better vision of customers' expectations, take a look at the chart of 10 top reasons why users abandon their shopping carts: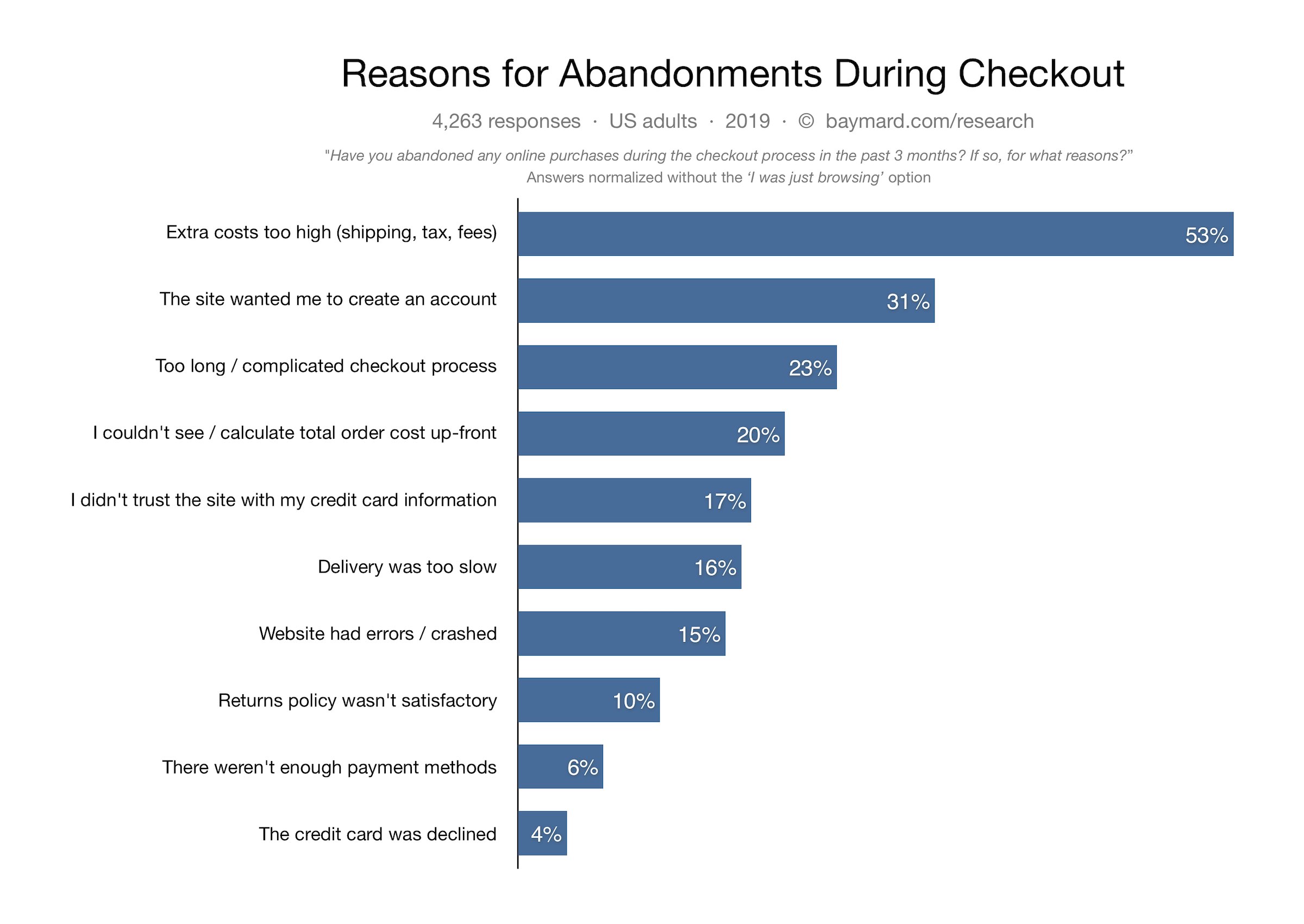 Product choice
To succeed in retailing, every merchant should understand that it's not the quantity, but the quality that matters. So, it is important to provide customers with the possibility to quickly find the necessary item, limit the number of clicks to checkout, prioritize, and reduce the selection of products available on a website. Also, keep in mind to include advanced search functionalities with proper filtering.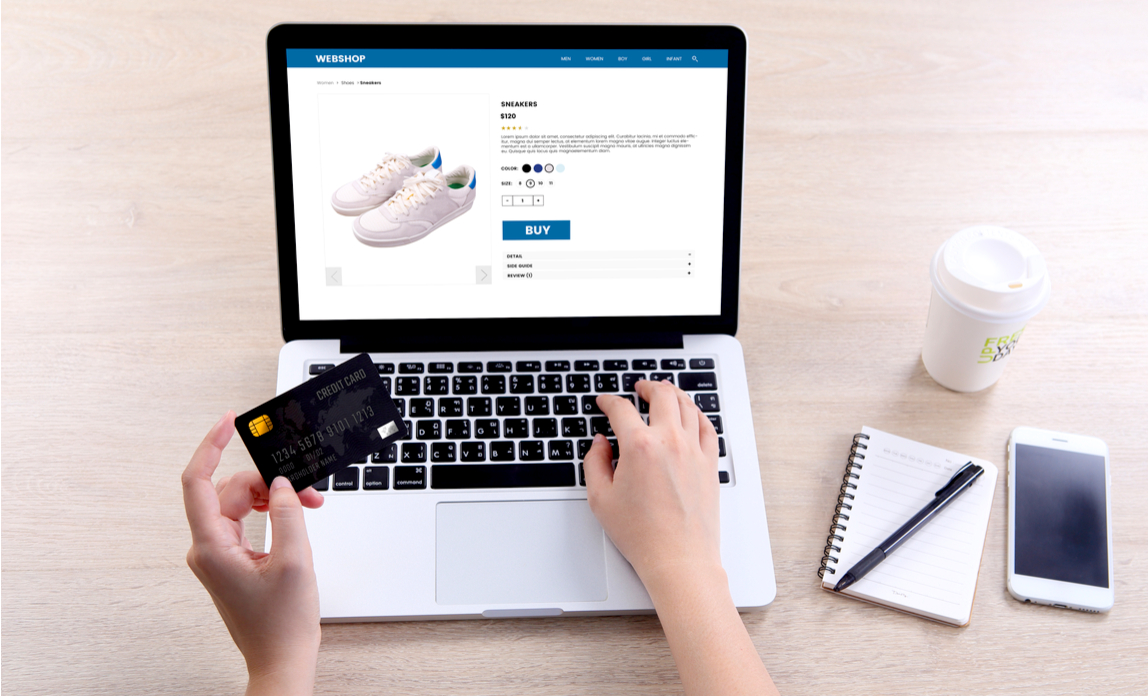 Delivery time, fees and payment methods
Make sure that your store's webpage includes the expected delivery time section, as well as information concerning shipping fees. It's an excellent way to notify customers of some extra charges before the checkout. Hence, this will significantly reduce the number of abandoned carts due to the unforeseen additional expenses. Also, it is advisable to list all the supported payment gateways and possible payment methods.
Now we've finally approached the last part of our interactive discussion: Which eCommerce platform will suit small business?
In search of the best eCommerce platform for small business
As we've already mentioned, sometimes it's hard to figure out which eCommerce shopping cart corresponds to your needs and expectations. Being a small business entrepreneur, you can choose a free platform and pay for the developer's assistance in setting up the retail. Alternatively, it is possible to select one of the feature-rich but paid eCommerce engines for small business that is easy to establish. Everything is up to you, be careful with your choice.
Before weighing your decision, let us help you get a more in-depth insight into eCommerce shopping carts for small business that are currently available on the market. Hopefully, after this fresh overview, you'll find your perfect platform!
Shopify is one of the fastest-growing platforms. It impresses millions of store owners by its user-friendliness, flexibility, and developed customization options. The setup process is easy-to-comprehend, which allows retail novices to maintain the site without tech assistance. This is the main reason why Shopify is considered to be a universal solution.
Another Shopify's strong point is an advanced integration. Running a store with this engine allows you to add Amazon to the Sales Channel. All you need is to create Amazon listings from existing products and accept orders directly from Shopify Admin Panel. Shopify integrates with Facebook and Pinterest that boost your audience along with sales.
Regarding the pricing, Shopify offers four plans where the price ranges from $29 to $299. We can't say that it's the cheapest eCommerce solution, but it will dress up your store with the richest, all-in-one functionality.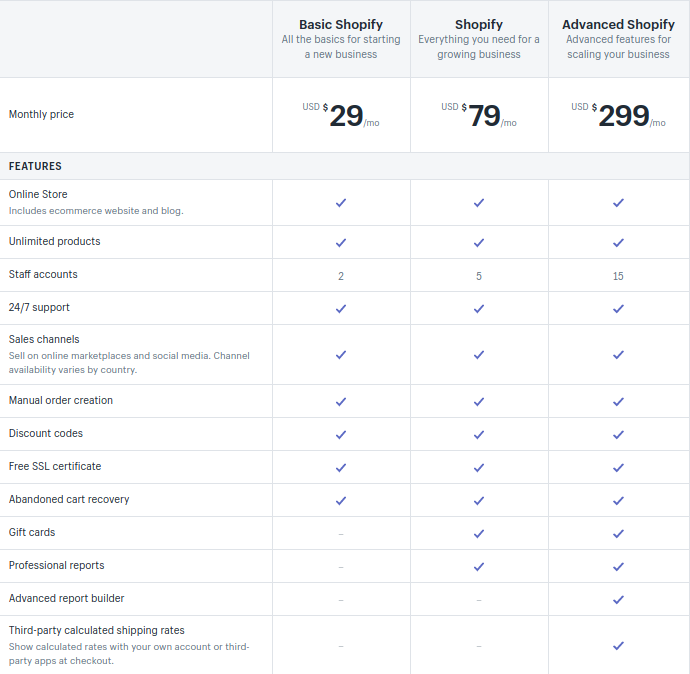 We advise you to check up some of the useful articles on Shopify migration:
An Exhaustive Step-By-Step Guide For Magento to Shopify Migration
BigCommerce to Shopify. Every Step of the Way Migration Guide [+ Checklist]
PrestaShop vs. Shopify: How to Win Buyers and Influence Sales
WooCommerce is a feature-packed open-source plugin for WordPress, which currently powers 3,876,748 live websites. Based on statistics, it is the most widely used eCommerce cart and the reasons for such superiority are evident.
WooCommerce offers advantageous customization options, numerous fantastic and responsive themes. Official WooCommerce store provides its users with 17 themes (both free and paid ones). Moreover, retailers can additionally choose from more than 1300 themes on a Themeforest website. With a code access availability, you'll be able to customize them to fit your taste and requirements.
It's important to mention that being a plugin itself, WooCommerce works well with almost all of the WordPress extensions. Platform has a great variety of both native and third-party plugins that will make your optimization efforts even more effective.
Speaking of the price, WooCommerce holds a leading position among the eCommerce platforms for small business, since it's completely free to download and use. But keep in mind that this shopping cart requires a separate domain and hosting (you can either host it by yourself or turn to third-party services).
If compared with Shopify, WooCommerce is more affordable and will be a right choice for small business owners who are more technically challenged and wish to customize their stores.
Useful posts:
Shopify vs WordPress: Which is the Ultimate Store Builder for 2020? [7 Aspects Compared]
BigCommerce vs WooCommerce: Best eCommerce Platform for Small Business In 2020
Wix vs WooCommerce: Easy Online Website Builder or Robust eCommerce Plugin - Pros, Cons, Features [2019]
PrestaShop is another open-source representative of eCommerce platforms for small business that constantly surprises its users with modernized innovations. Covering over 249,081 live stores, this solution offers a well thought out interface that shouldn't cause any trouble or confusion. Various admin activities are effortlessly executed with the maximum level of automation.
Like Shopify and WooCommerce, PrestaShop can boast of enhanced customization features, providing its users with multiple templates and modules (both free and paid). Moreover, they can be easily modified by a skilled developer.
One more reason for PrestaShop's surprising popularity is its integration with global marketplaces like eBay, Amazon, etc. PrestaShop has a large community and an extensive forum with over 700,000 active members, including both experienced tech geeks and simple users). These resources will provide you with handy tips and robust documentation for store integration.
We may say that PrestaShop will be a perfect choice for tech-savvy store owners or for those who are planning to build a large shop from scratch.
For more information on PrestaShop, please read the following posts:
Prestashop vs Magento. 2019 Review & Comparison
PrestaShop vs WooCommerce: The Judgement Day Has Come [2019]

BigCommerce is one of the world's respected self-hosted eCommerce platforms for small business that is considered to be a worthy alternative to Shopify. In comparison to Shopify, which significantly relies on plugins, BigCommerce has an extensive range of out-of-the-box features that will meet all the small business goals. At the moment it is home to 46,622 live websites.
Thanks to its user-friendliness, hundreds of store owners praise this software for transforming everyday administration tasks into simple maintenance activities.
Similar to Shopify, WooCommerce, and PrestaShop, it has an extensive range of professionally-looking themes that can be easily customized by HTML or CSS editors.
If you want to expand your eCommerce store functionality, BigCommerce offers you a huge app store where you can find the additional set of options for your online business.
In comparison to open-source shopping carts, BigCommerce (like all hosted solutions), is a paid platform with pricing plans that range from $29.95 to 299.95 per mo. However, no free, open-source platform will provide you with such an extensive number of apps, premium themes, and 24/7 developers' assistance. So, we advise you to weigh your thoughts carefully before rushing to conclusions.

Additionally you can check these posts:
Magento vs BigСommerce: Which One is Faster, Cheaper, and Future-Ready [2020]?
Bigcommerce vs Shopify: Make a Difficult Decision Simple
How to Perform BigCommerce Migration In a Few Simple Steps
Reaching the Conclusion
We've already outlined the main benefits of each solution. As you can see, each of them is unique and has its peculiarities. So, now it's up to you to decide. Take your time to think which of the above-listed eCommerce carts will meet all your requirements and expectations.
In case you've already created an online store and feel that your current platform does not fulfill its potential, Cart2Cart will lend you a helping hand!
Our service provides users with the possibility to migrate an online retailer to another platform. All you have to do is follow the Migration Wizard and start replatforming just within a few clicks. Cart2Cart will swiftly and securely transfer the necessary data entities to any of the 85+ supported eCommerce platforms.
Do not pass up this unique opportunity to transform your store. Take your chance and start Free Demo Migration to soar your business to greater heights!
Note: If you want to unlock one more channel of revenue - high paying affiliate programs might be interesting for you.