If your current PrestaShop platform no longer meets the demands of your growing business, we'd like to meet you halfway and present a simple guide to import PrestaShop to WooCommerce. You'll be able to move all the needed data between platforms without hiring a developer. Read on!
How to Migrate from PrestaShop to WooCommerce in 4 Steps
Provide your Source (i.e. PrestaShop) and Target (WooCommerce) carts access details.
Choose the data you want to transfer from PrestaShop to WooCommerce.
Launch the free demo migration.
Start the full data transfer of your online store to WooCommerce.
Watch our video tutorial to see how easy it is to automatically migrate from PrestaShop to WooCommerce with the help of the Cart2Cart migration tool:
What is PrestaShop to WooCommerce Import?
In case you've decided to change the current PrestaShop platform to WooCommerce, you'll need to move the store's database to a new solution. To save time and money, it is better to use an automated migration tool, Cart2Cart. Migrate all the needed data like customers, products, orders, and more in just a few clicks. No tech background is required.
What Is Better PrestaShop or WooCommerce?
PrestaShop is a free open-source platform written in PHP. It was launched in 2005 in France. Currently, it is being used by 715,955 live websites. This solution is popular among small to medium-size business owners due to its intuitive dashboard and rich default functionality. PrestaShop is considered to be rather user-friendly and easy-navigable software that is suitable for tech-savvy people and for those who want to customize their store according to individual needs and requirements.
Don't miss your chance to test-drive our service with a free Demo migration now. Take your business to new heights!
WooCommerce, on the other hand, is a free plugin for WordPress. It was released in 2011 and is now being used by 13,321,890 live websites. WooCommerce provides merchants with all the necessary tools for creating beautifully-looking and multi-functional online stores within just a few hours. It is most suitable for small business owners who already operate a WordPress website and want to get into selling online.
According to Google Trends, the popularity of both platforms has decreased over the last five years. But despite that, WooCommerce still holds the leading position.
PrestaShop, as well as WooCommerce, have their strengths and weaknesses. But if you are a non-techie, seek simplicity, have a tight budget, and wish to explore your store's full functionality, go for Woo. It's a 100% customizable and flexible software, thus you will get access to a ton of both free and paid themes and extensions. WooCommerce can be customized to sell physical, virtual, or downloadable products. WordPress's SEO features and plugins (like Yoast) are unique and help users rank high in Google search. Additionally, the following shopping cart has an active community of developers and experts and offers merchants access to a vast number of documentation, articles, and guides.
Migration from PrestaShop to WooCommerce
If you've decided to migrate from PrestaShop to WooCommerce, Cart2Cart will help you do it quickly and trouble-free. Besides, if you want to calculate the exact price of re-platforming, use our Online Estimator.
So, to perform the migration from PrestaShop to WooCommerce, follow these few simple steps:
Prepare WooCommerce Store
Establish a WooCommerce store
First of all, register a WooCommerce account. Alternatively, if you're still hesitant, whether WooCommerce will suit your needs, use our free Migration Preview Service. This option allows business owners to perform Demo migration of a limited number of entities from their current store to Cart2Cart's test store (please note that it will be live for 3 days). All you have to do is check the result of data transfer and then proceed with the Full Migration.
Configure the newly-established store
Make sure to install all the necessary plugins that will ease the process of replatforming:
Set up PrestaShop and WooCommerce carts
Setup your Source store
Choose PrestaShop from the drop-down menu. Next, you'll have to provide the store's URL, download the Connection Bridge file and upload it to the root folder.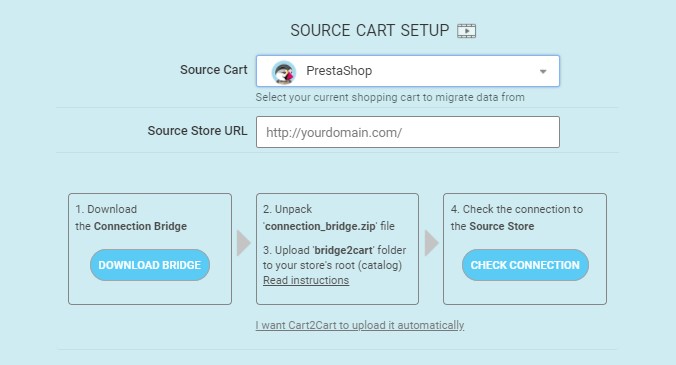 Configure Target cart
To configure your WooCommerce cart, simply copy the admin URL, login, and password to the corresponding fields.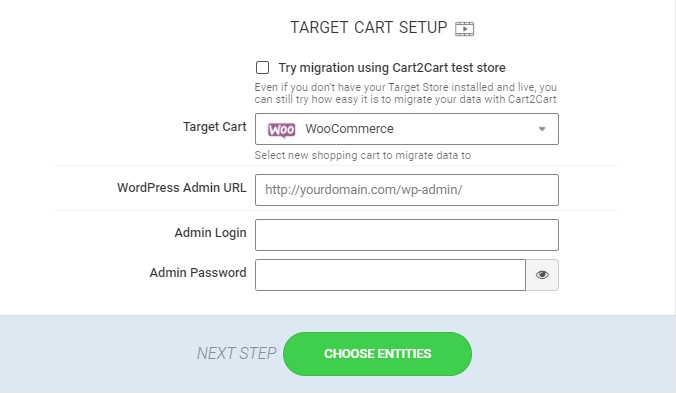 Select data and extra options for your transfer
Choose the data types you want to import from PrestaShop to WooCommerce, as well as the additional migration options (in needed).
Please note that if you've installed some of the abovementioned plugins, remember to tick the necessary box: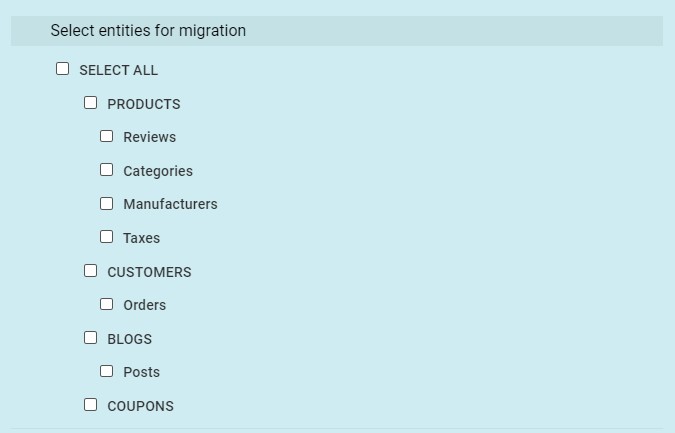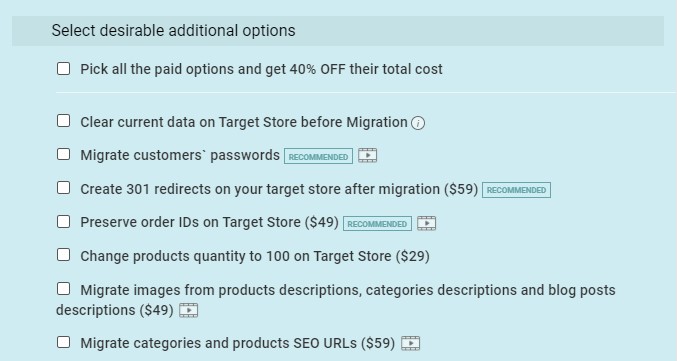 Run demo migration
If you've completed all of the abovementioned steps, proceed to Free Demo Migration. It allows users to transfer up to 10 products with related data within just 15 minutes.

Launch Full migration
After the test migration is complete, check its results. If everything works correctly and you are satisfied with our service, launch Full Migration by clicking the "Start Migration" button.
The best time to switch is now!
Try Demo migration and see how easy it is to migrate from PrestaShop to WooCommerce with Cart2Cart.
Start free Demo now
Check out our infographic to get a better understanding of the migration process via Cart2Cart: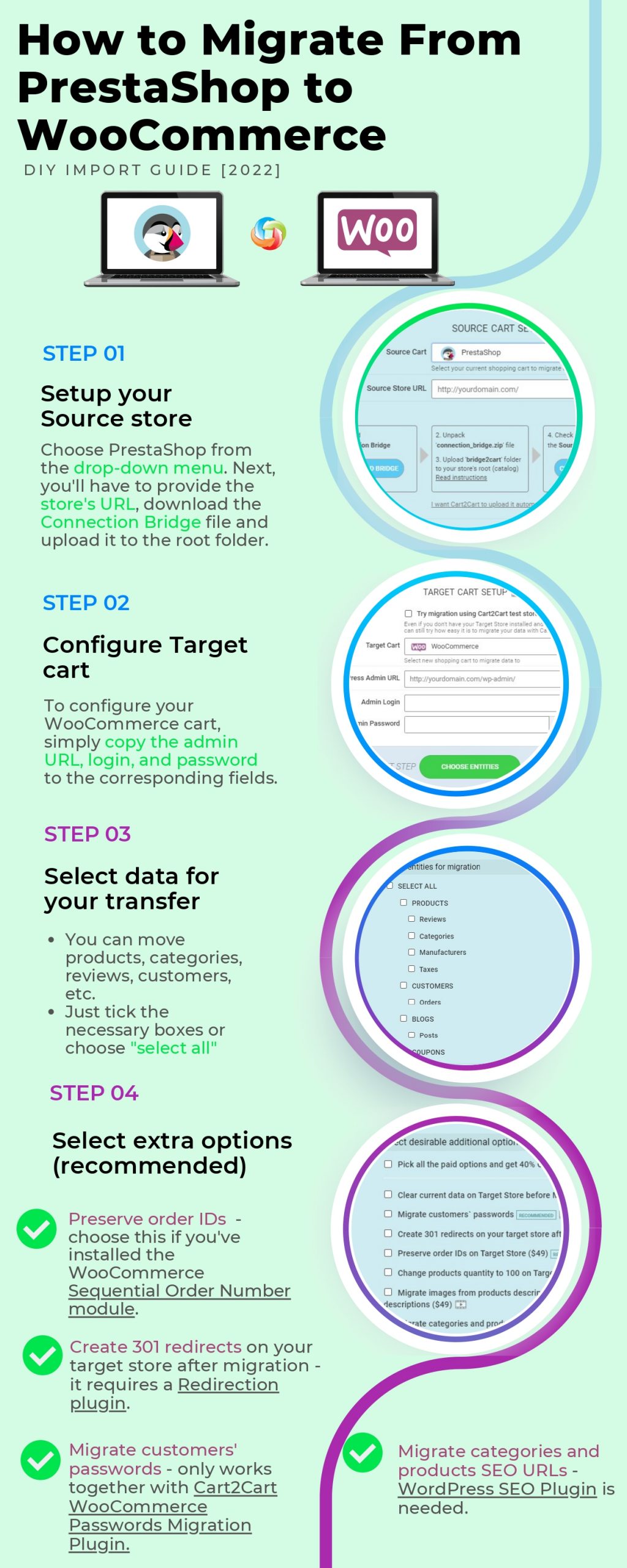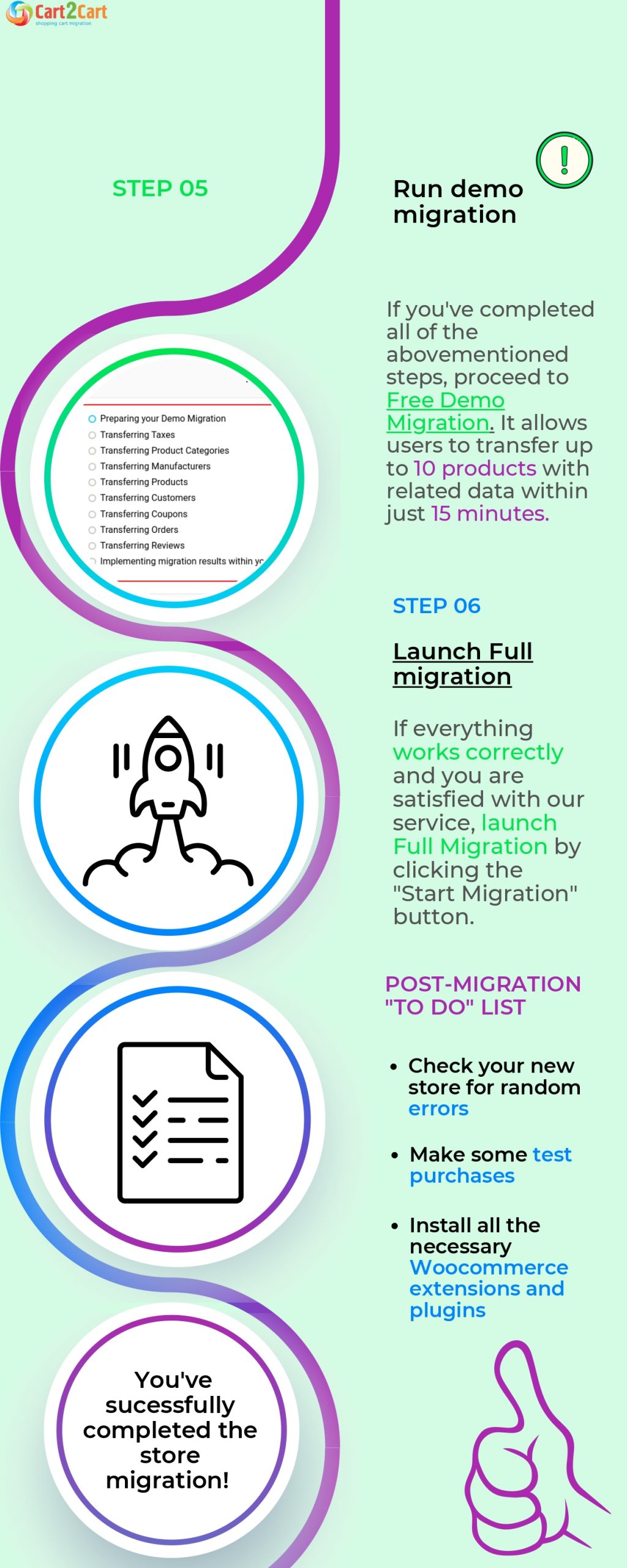 How to Migrate Products from PrestaShop to WooCommerce?
If you have a CSV file with your PrestaShop products, navigate to the Products menu in your WooCommerce admin panel.
Next, tap the Import button to upload the CSV file.
Once finished, launch the importer to migrate products to WooCommerce.
Alternatively, you can use Cart2Cart tool to move all your products in a completely automated manner with minimal human involvement.
Is it Possible to Export Orders from PrestaShop to WooCommerce?
Once you've settled your mind on orders import from PrestaShop to WooCommerce, the first thing you have to do is create the CSV file. To cope with the task, visit the official PrestaShop marketplace and download any of the available apps. Besides, read our post to get more information on PrestaShop export products and orders.
Post-Migration "To Do" List
Once Full migration from PrestaShop to WooCommerce is complete, we advise you to do the following:
Check your new store for random errors (e.g., inspect the visibility and correct categorization of products, perform a few searches, go through all the links, etc.).
Make some test purchases to ensure that everything works correctly, and your customers won't face any problems in the future.
Go to WooCommerce Store and install all the necessary extensions and plugins that will add functionality and extra features that are not included in the custom version of WooCommerce.
Turn to the Recent Data Migration Service in case new products, orders or customers have appeared on the PrestaShop store during or after the Full Migration, and we will ensure they are transferred to the new WooCommerce store correctly.
PrestaShop to WooCommerce Migration FAQs
How do I import from PrestaShop to WooCommerce?
You can do it either yourself by exporting data from PrestaShop and importing in to WooCommerce. Or you can use an automated tool Cart2Cart and follow these steps:
Configure PrestaShop and WooCommerce platforms
Select the data for import
Run the free demo migration
Start the full data transfer from PrestaShop to WooCommerce
Is PrestaShop better than WordPress?
Both PrestaShop and WooCommerce have all the necessary functionality to run a successful online store. However, WooCommerce offers users more choice when it comes to themes and modules. Besides, it is perfecct for those who seek the high level of scalability and have a limited development budget.
Can I use PrestaShop with WordPress?
Yes, it is possible to use PrestaShop with WordPress. If you want to show your PrestaShop goods on WordPress or vice versa, make sure you have one of the available integration modules installed.
Cart2Cart: Migration to WooCommerce extension is a great opportunity to automate your eCommerce replatforming.
In fact, this is all you need to know to perform the migration from PrestaShop to WooCommerce correctly. If any additional questions arise, please contact us via live chat, and we will eagerly help you find a correct solution.
Don't wait any longer, infuse your life with action and perform the migration of your store with Cart2Cart today!