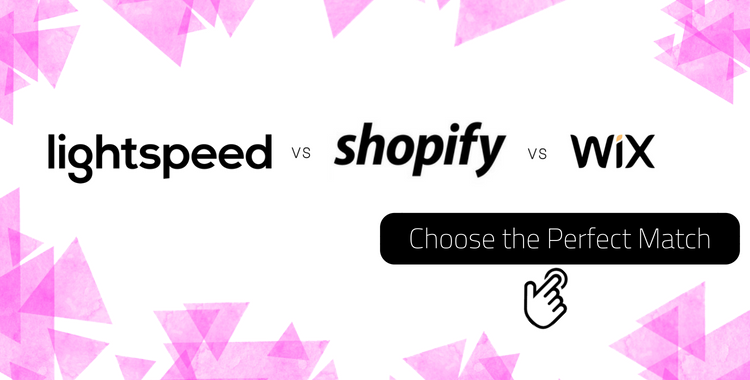 The jungle of various eCommerce shopping carts has grown very thick, and the competition between the solution has hardened. Therefore, shopping for the suitable platform to satisfy your business needs becomes more challenging, particularly when comparing the popular ones like Lightspeed vs Shopify vs Wix. Let's outline the primary functionality choices and pricing options of these solutions to help you simplify the process of selecting the desired software for your organization.
Lightspeed vs Shopify vs Wix:
Accelerate Your Company Success
Depending on the business size, budget, requirements and objectives, the following platforms can help you boost sales and enhance the organization performance.
1) Lightspeed ecommerce platform attracts the small and medium-sized companies. Being designed in 1994 specifically to cater the active traders, the solution stands out for:
2) Shopify is a leading solution on the eCommerce market designed for the companies for all sizes. Launched in 2004, the popular solution obtains a wide array of features at a price that is scalable to fit any organization's demands:

3) Wix is one of the best-known brands in the website builder product type that helps to manage the small businesses. Being around from 2006, the solution can help you create professional looking website sites that can be updated and edited with the effective functionality:

By and large, the above-mentioned platform have their advantages, your task is to select the one that fits your business needs to boost sales and improve company processes. Take the information into consideration, make your choice and move your eCommerce data to the desired solution. Walk through WIX eCommerce review for more info.
ECommerce Data Import: Jump into Successful Business Environment
Thus, when you decide to transfer information from your current shopping cart to the desired one, in this case, you can benefit from Cart2Cart automated migration service. The SaaS helps you perform the switch sweetly and securely and offers you the following beneficial features:
Final Slice
Akin the stepping out of your comfort zone, choosing the perfect shopping cart between Lightspeed vs Shopify vs Wix and migrating to the future solution can be a difficult decision. Consider the hints and reasons above for transfering to your new platform, run the import and make your business stay competitive.