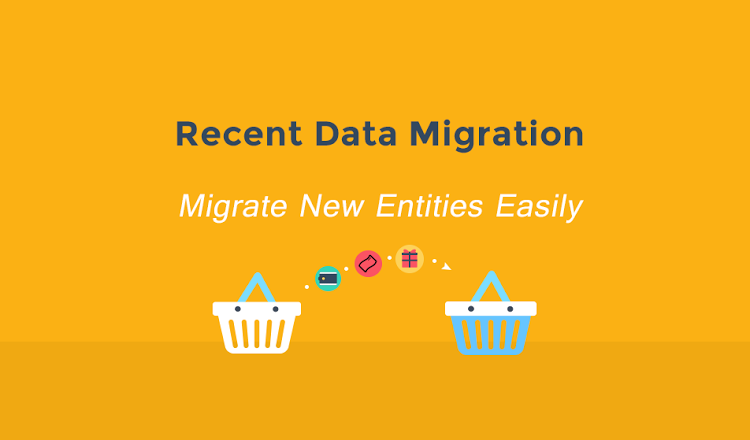 Let's imagine a scenario. Your Cart2Cart migration has just been completed and for a while now, you'll be busy setting up the new shop. You'll customize its design, figure out the new admin panel, learn cart's SEO capabilities, etc. Meanwhile, your old store will be online and active the whole time (Cart2Cart migrations don't affect your source cart in any way) - receiving new entities, such as new orders from your customers.
That happens a lot within Cart2Cart service, so we came up with a special solution for such occasions - Recent Data Migration. It's an additional service we provide, that permits to transfer all new products, customers and orders (or just the entities you select) after you've performed a full switch.
How can you benefit from Recent Data Migration?
No matter how much time you spend setting up your new store, two days or two month, - Cart2Cart will let you migrate new entities to your target cart with no complications.
You'll be able to move new items from any source cart to any target cart using Recent Data Migration.
Such transfer will cost you 50% of standard migration price (based on amount of created data)
How do I Launch Recent Data Migration?
Log in to your Cart2Cart account
Step to My Migrations List

Find the needed migration - the one where you want to transfer new entities additionally and click on Recent Data Migration button
Press Start Migration in the window that'll appear.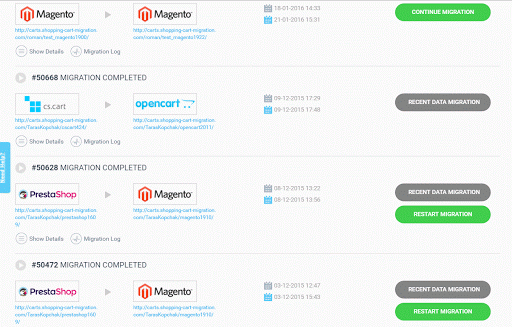 Finally, repeat the same simple procedure as during the initial migration. This time, only your new entities will be moved to the target cart.
Recent Data Migration Peculiarities
1. You can transfer only those entities you moved during Full Migration. For instance, if you only migrated products, you can't move customers and orders during Recent Data Migration - just products or product related entities.
2. Due to the peculiarities of several shopping platforms it's necessary to upload data to Migration Wizard manually, in CSV format, to migrate from them. If your shopping platform is one of these - Volusion, Big Cartel, Actinic, AbleCommerce - you'll have to reupload the CSV files again during Recent Data Migration. The service will sort out the new data and transfer it exclusively.
3. A few additional options aren't available for Recent Data Migration, such as:
Delete current data from the Target Store before the migration
Preserve product IDs on the Target Store
Preserve order IDs on the Target Store
Preserve customer IDs on the Target Store
Preserve category IDs on the Target Store
Don't lose a single valuable order or customer after switching to the target cart. Synchronize all of your e-Commerce data easily with the help of Recent Data Migration. Good luck with your online business!