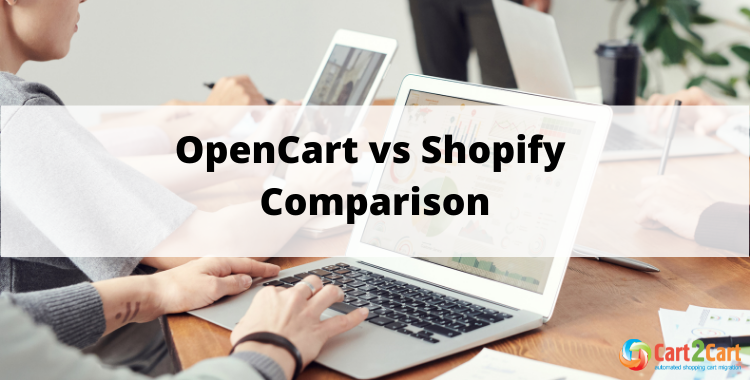 When it comes to OpenCart vs Shopify - both shopping cart solutions are widely used for eCommerce. They have their weaknesses and strengths and serve different goals. Which option is right for you depends explicitly on several things like usability, budget, SEO, mobile, community, and support.
For those who don't know: there are two types of shopping carts for online businesses - hosted and open-source. The first option is more user-friendly and easier to get started with. The second requires some technical knowledge but offers more features and customization options. And although the final choice is up to you and depends on your personal needs and business requirements, we are happy to give you some tips about both platforms. Let's get familiar with the two best eCommerce platforms from both camps - OpenCart vs Shopify - open source vs hosted solution.
What is OpenCart vs Shopify?
Both OpenCart and Shopify are excellent platforms for building your eCommerce store. However, OpenCart is an open-source solution, and you will have to take care of the domain, hosting, and other arising issues yourself. Shopify, on the other hand, is a hosted cart. It has all the necessary built-in functionality to create online retail with no extra help needed.
OpenCart vs Shopify. Why Choose Shopify?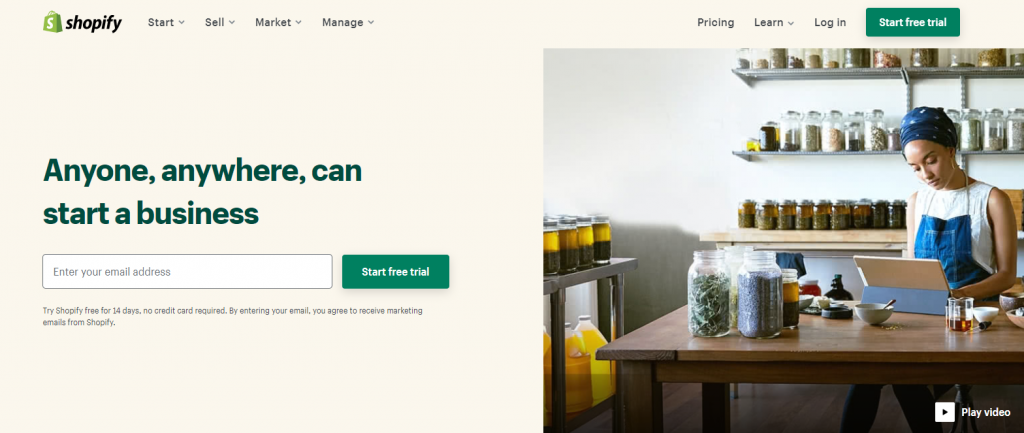 Shopify is a hosted platform that allows you to set up an online store in a few clicks. In other words: your store is ready to go online right out of the box after installation. All you need to do is add a few products, and you're good to go.
Need to migrate your online store's data but don't know where to start? Don't miss the unique opportunity to run a free demo with Cart2Cart now!
Once you've settled your online business on Shopify, you'll enjoy all of its main benefits: compatible hosting, 99.9% uptime, total data security, professional support, and one of the most intuitive admin panels in the industry.
Although Shopify has limited customization options like any SaaS solution, this doesn't make the templates less beautiful. You can easily choose one of the 80+ professional default templates (free and paid) directly from the admin panel or purchase one from an official App Store. You get both a user-friendly design editor and full access to CSS and HTML files - everything you need to make your store shine brighter than others.
OpenCart vs Shopify. Why stick with OpenCart?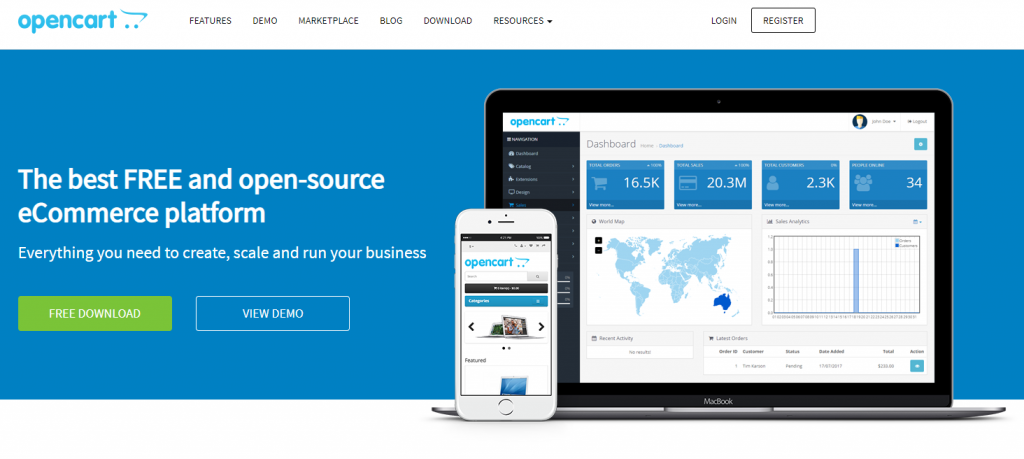 OpenCart is a free, open-source solution known for its extreme simplicity and wide range of features. Since it is a self-hosted solution, you need to go through the installation procedure of the platform and find a decent hosting provider. All of this can be done effortlessly.
Unlike most open-source platforms, OpenCart is relatively simple to customize. Thanks to an advanced template system, you can easily and effectively change the look of your OpenCart e-store. Keep in mind that deep customization of the store requires a sufficient amount of effort and can seem more complicated than Shopify.
Shopify vs OpenCart. Main Pros & Cons
Though both platforms have powerful sets of features, each of them has its own strong and weak sides.

Shopify Pros
Shopify helps you focus on your business and avoid any technical issues. That's why the platform puts a lot of emphasis on marketing and SEO tools - everything you need to boost your sales.
Marketing tools include coupon codes and discount system, email marketing system, and free advertise credits, and social media integration
Perfect fit for the beginners
Built-in CMS that allows utilizing content marketing strategy by establishing a blog
Extensive app store with tons of multi-purpose modules
Abandoned cart recovery
Default possibility to set up a mobile version of your Shopify shop
Ability to sell via multiple channels
SEO friendly URLs, meta descriptions, and automatically generated sitemap
Multiple shipping and payment gateways right out of the box
No need to handle the security and hosting issues
Painless checkout
Dedicated support team
Built-in business reports
Multiple currencies, languages, and taxes
For these reasons, the software solution has become the choice of major eCommerce market leaders. Companies that use Shopify include Budweiser, The Economist, Sunday Somewhere, Penguin Books, Tesla Motors, Red Bull, The New York Stock Exchange, Kylie Cosmetics, and many other world-renowned brands.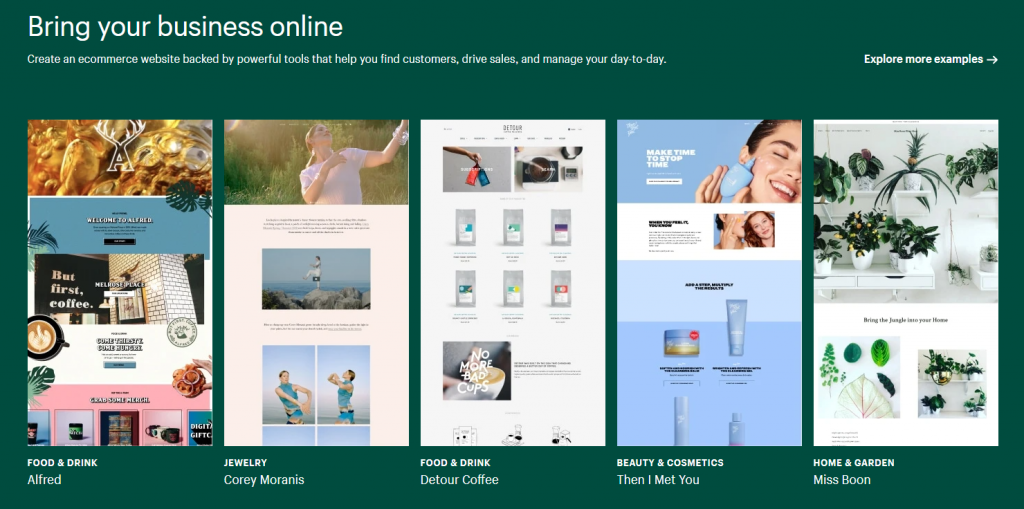 Shopify drawbacks
Unfortunately, the monthly plan fee only makes up a portion of the money you pay Shopify for its service. Except that, users are required to pay a 1-2% fee on each transaction. The cheaper the plan, the less functionality you get. While OpenCart offers everything at once, Shopify requires you to pay extra for additional features. So the magic is a bit expensive. Shopify's pricing can be costly for certain types of businesses.
Other Shopify disadvantages include:
Expensive themes and apps
Some of the addons can be a bit complicated to understand
Limited access to CSS and HTML customization

OpenCart Advantages
OpenCart gives you almost the same features as Shopify and even a bit more out of the box.
Freemium model platform
Wide variety of eCommerce templates and designs
Multiple store functionality support
SEO-friendliness with meta tags access
Greatest customization freedom
Possibility to edit and customize the store
Magento vs WooCommerce vs Shopify vs OpenCart vs PrestaShop Ultimate Comparison is exactly what you need to choose your next go-to destination!
OpenCart drawbacks
Despite being one of the most straightforward solutions among open-source platforms, OpenCart still loses out on usability compared to Shopify and its advanced eCommerce features. Extensive shopping cart customization requires sufficient programming skills.
Mid-sized businesses running their stores on OpenCart may feel that the limited functionality prevents their business from growing. At this point, online retailers are advised to migrate their store to another, better-featured platform.
Also, the OpenCart platform:
Has a steeper learning curve
Limited customer support when it comes to bugs and fixes
Full functionality is achieved through pricey addons and modules
OpenCart vs Shopify: Pricing Comparison
Both solutions are pretty affordable for an average user and offer all the features needed to start an online business. Shopify is a subscription-based platform. Its price starts at $29 for the Basic plan. Also, the company has other plans for more advanced users with the expanded functionality.

When it comes to OpenCart, there are no monthly fees. You can download and use the platform for free. However, due to its open-source nature, there will be additional expenses - security, hosting, domain name, extensions, etc.
Don't know how to choose the best eCommerce platform? We've got you covered! Read the post with all the needed tips
OpenCart vs Shopify: Customization Capabilities
The eCommerce world means competition. Thus, to succeed in this never-ending race, you should create a unique online space to attract customers. The two platforms are equipped with all the needed tools to get started.
With the built-in Shopify drag-and-drop option, you can easily create a webshop that will suit your current business needs. Changing your store's look and adding elements has never been easier. Besides, there are tons of pre-made templates for you to choose from.
Also, there's extensive documentation and guides on creating a professionally looking e-store without hiring a developer.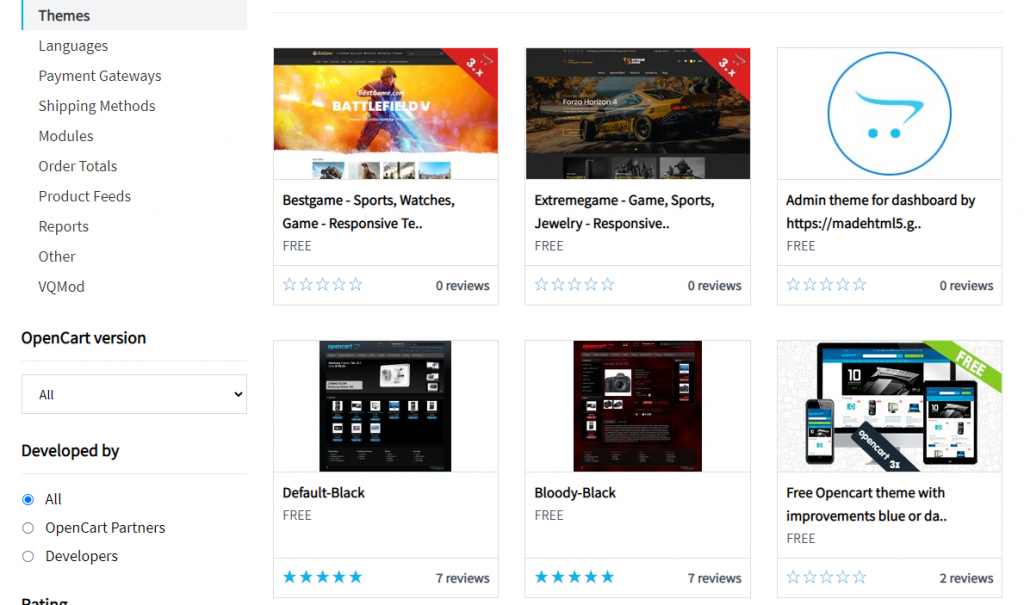 OpenCart is one of the leaders on the market when it comes to customizing an online store. This open-source cart is perfect for those who know how to deal with code and wish to enhance the store's look to personal liking. Also, there are hundreds of extensions available to help you with the task. Unfortunately, if you're new to coding, the only way out will be hiring a developer. But that can be costly.
Launch the automated data export right now!
You only need to go through a simple 3-step migration setup via Cart2Cart and the service will do all the rest.
Let's try
Check out our infographic to get a better understanding of the migration process via Cart2Cart: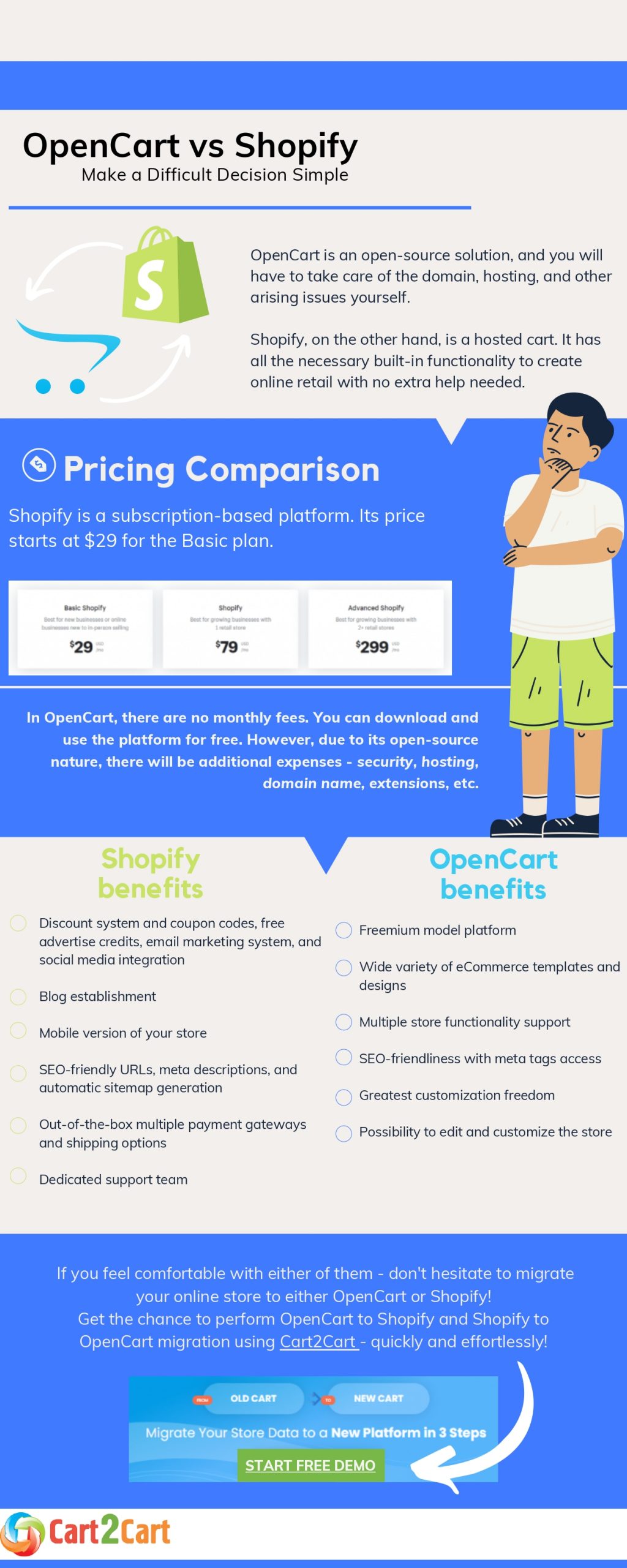 Migrate your e-data from OpenCart to Shopify in just a few clicks with out DIY guide!
FAQ Block
Is OpenCart better than Shopify?
Both are great eCommerce solutions. But keep in mind that Shopify is a SaaS platform while OpenCart is an open-source one. Therefore, with OpenCart you will get freedom to customize your store. And the all-in-one Shopify has all the needed functionality included (e.g., domain and hosting). Besides, Shopify is more popular among the store owners.
What are the advantages of Shopify over OpenCart?
Besides being one of the makrets' leaders, Shopify offers tons of creative themes, all-purpose apps, great SEO capabilities and customer support via chat, phone, email, numerous documentation and social media channels.
Can I change from OpenCart to Shopify?
Definitely. All you have to do is choose the migration method. We advise you to go with an automated migration. Therefore, you will be able move all the needed data entities (e.g., products, customers, orders and more) from OpenCart to Shopify with minimum effort spent and no tech skills required.
Shopify vs Opencart. Which One Should You Choose?
When it comes to Shopify vs OpenCart, there is no one-size-fits-all solution. It's a subjective decision, and that's why the debate will continue. The best advice would be to try each of the two solutions before making a final decision by evaluating the pros and cons of each.
Since OpenCart is totally free to download/use and Shopify offers a free 14-day trial, you have a perfect chance to go ahead and test each of them yourself!
And if you feel comfortable with either of them - don't hesitate to migrate your online store to either OpenCart or Shopify!
Get the chance to perform OpenCart to Shopify and Shopify to OpenCart migration using Cart2Cart - quickly and effortlessly!
Perform a Free Demo Migration now to test the benefits of an automated migration with Cart2Cart!