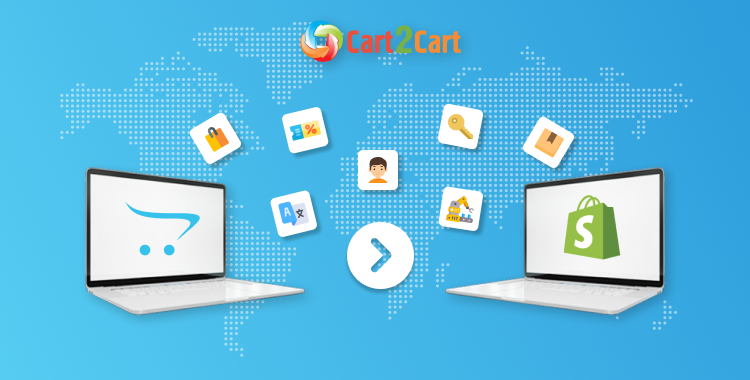 Digital shopping has already become an indispensable part of our everyday life, and ecommerce platforms offer more and more opportunities for merchants to set their stores apart and win customers. It is only natural online store owners are tempted to switch their software to get more capabilities with sales. Today, our topic at hand OpenCart to Shopify migration - key reasons and the "DIY" way to bring over your ecommerce data like products, customers, orders, etc.(in fact, a lot more) without coding skills.
How to Migrate from OpenCart to Shopify in 4 Steps
Connnect your current OpenCart and new Shopify stores
Decide on data entities for the migration
Try out the free demo migration option
Begin the full migration of your e-Data from OpenCart to Shopify
Watch our video tutorial to see how easy it is to automatically migrate from OpenCart to Shopify with the help of the Cart2Cart migration tool:
What is OpenCart to Shopify Migration?
When you migrate OpenCart to Shopify, it means that you move the eCommerce data like products, orders, customers, etc., from an old platform to a new one to bring more functionality to your store. The data migration often requires tech skills, but there's no need to deal with the code if done automatically. It's quick and hassle-free.
Reasons to Trade OpenCart for Shopify?
Unlike OpenCart, Shopify is a hosted solution, so it's easier to manage, and there will be no more dealing with hosting, backups, and stuff like that.
Shopify is very user-friendly and allows even a newbie to perform pretty much all basic store operations by themselves.
OpenCart presents more freedom with customizations, but unless you want (and can) get your hands dirty with some programming, you're going to need some professional help.
Shopify is one of the most popular and quickly growing platforms. This means, if you're running a store on Shopify, you'll be up for the freshest updates and features in the ecommerce world.
Shopify's got tons of marketing features, multiple sales channels, and integrations available to maximize selling effectiveness.
Shopify offers a built-in blog functionality to attract customers at all stages of the sales funnel.
Are you ready to give your business a fresh start on a completely different platform with limitless possibilities? Run the free demo now!
Shopify vs OpenCart: important statistics
According to SimilarTech stats, Shopify is clearly the leader in this competition.

Besides, according to Google Trends, Shopify is a hands-down winner in terms of popularity worldwide in the last 5 years.
But… Nothing's perfect and Shopify is no exclusion
Time for a fly in the ointment, is it? All the benefits of Shopify come at a price - a fixed monthly fee starting from $29 ( it's $9 actually, but it's not so easy to find) you pay for using it plus transaction fees. OpenCart, as you know, is free to download and use.
So why do people leave it? In many cases, managing an OpenCart store requires hiring a developer, especially if you have specific requirements, which isn't cheap either. If you run an OpenCart store and are worried about the financial outcome of the migration, calculating your current expenses and potential Shopify pricing is an easy way to evaluate the gains or risks.
OpenCart to Shopify Migration Checklist. Best Tips & Practices
Is Shopify right for you?
Shopify is a good fit for merchants who want to focus on selling, have control over their store appearance (drag and drop editor provides for this) and functionality, and not worry about technical aspects of their store, plus don't mind paying the price the convenience.
For more info on the carts in question, check out our post with a full-fledged comparison of OpenCart vs Shopify.
As to the migration process itself, below you'll find a detailed guide to an affordable and user-friendly database transfer. Also, we recommend you to watch our video tutorial on automated OpenCart to Shopify migration:
Pre-Migration arrangements
Get your new Shopify store ready
To start with, sign up for a trial account at shopify.com and select a theme for your store.
Transfer your OpenCart store data to Shopify hassle-free with the Cart2Cart Store Migration App.
Note. It is best if you save the customizations for later and choose the default theme before the data import to Shopify.
Find your OpenCart and Shopify store admin access details
The access credentials will be necessary during your data migration setup.
If you are planning to migrate user reviews, you will need a "destination" for them, and a free Product Review app might be one, and it should be installed before the migration. Check the import reviews Shopify installation instructions.
How to Migrate From OpenCart to Shopify with Cart2Cart
Data migration is one of the bottlenecks of store migration - and no need to explain why - without the right tools, it might take days or weeks to transfer the content (or significant sums to pay a specialist who will handle this task).
Cart2Cart is an automated tool that enables data exchange between your two stores and allows you to move your ecommerce content to the new platform in hours, after a quick setup via a handy app.
Magento vs WooCommerce vs Shopify vs OpenCart vs PrestaShop 2022 Review
Establish a connection with your OpenCart store
Basically, download a connection bridge file and upload it to the OpenCart root directory via FTP (you can also choose to have it done automatedly by typing in the necessary credentials).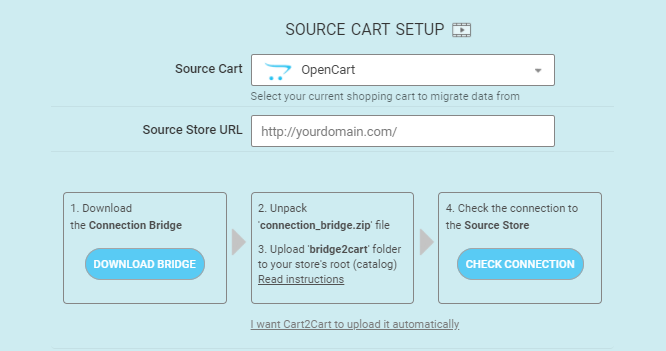 Connect your Shopify store
All you need to do here is to download and install the Migration for Shopify app.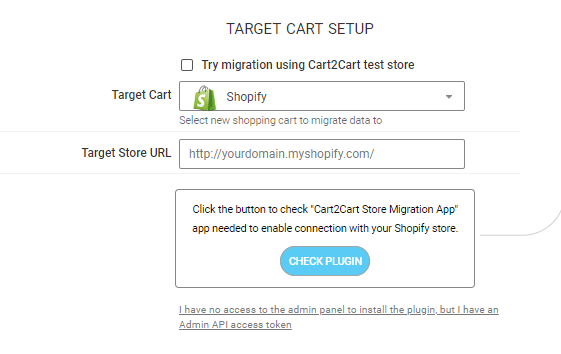 Choose the data entities you need to move to Shopify
Here, you have to decide which data entities you want to move from OpenCart to Shopify, or migrate them altogether by checking the Select all box.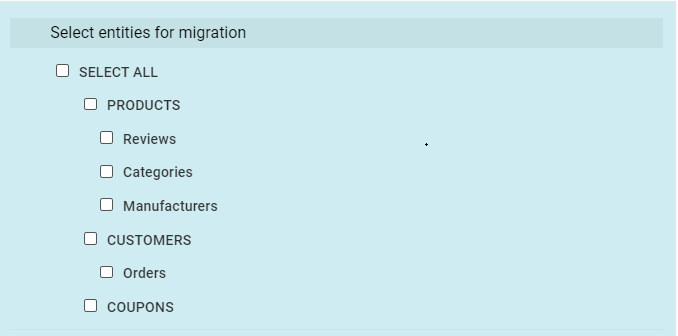 Pick the desired additional migration options
Though they are optional, below are the things we recommend you to pay attention to:
pick "Migrate Source Store categories into the Shopify Automated Collections" option, to have your OpenCart categories migrated.
consider choosing "Create 301 redirects on your target store after migration" option to preserve your SEO juice.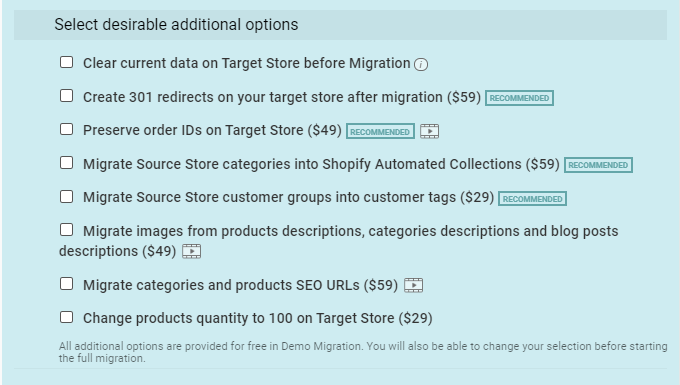 Perform data mapping
Map the stores' data to match OpenCart Order statuses to the ones on your new Shopify store.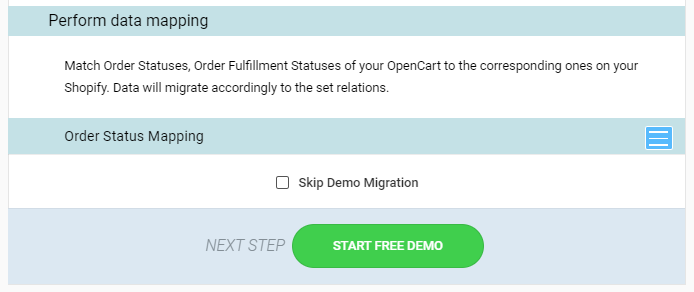 Launch your Demo migration (it's totally free)
If you wish to see how your OpenCart data will look on the Shopify store, make sure to try our free demo migration option. It will take only 15 minutes of your time and give you an idea of how the service works.
Launch Full migration
After the demo migration is finished, please, check if its result suits your expectations. If yes - go for the complete transfer of your eCommerce data from OpenCart to Shopify. It won't interfere with your current store's activity. So, continue running your business affairs and selling your goods.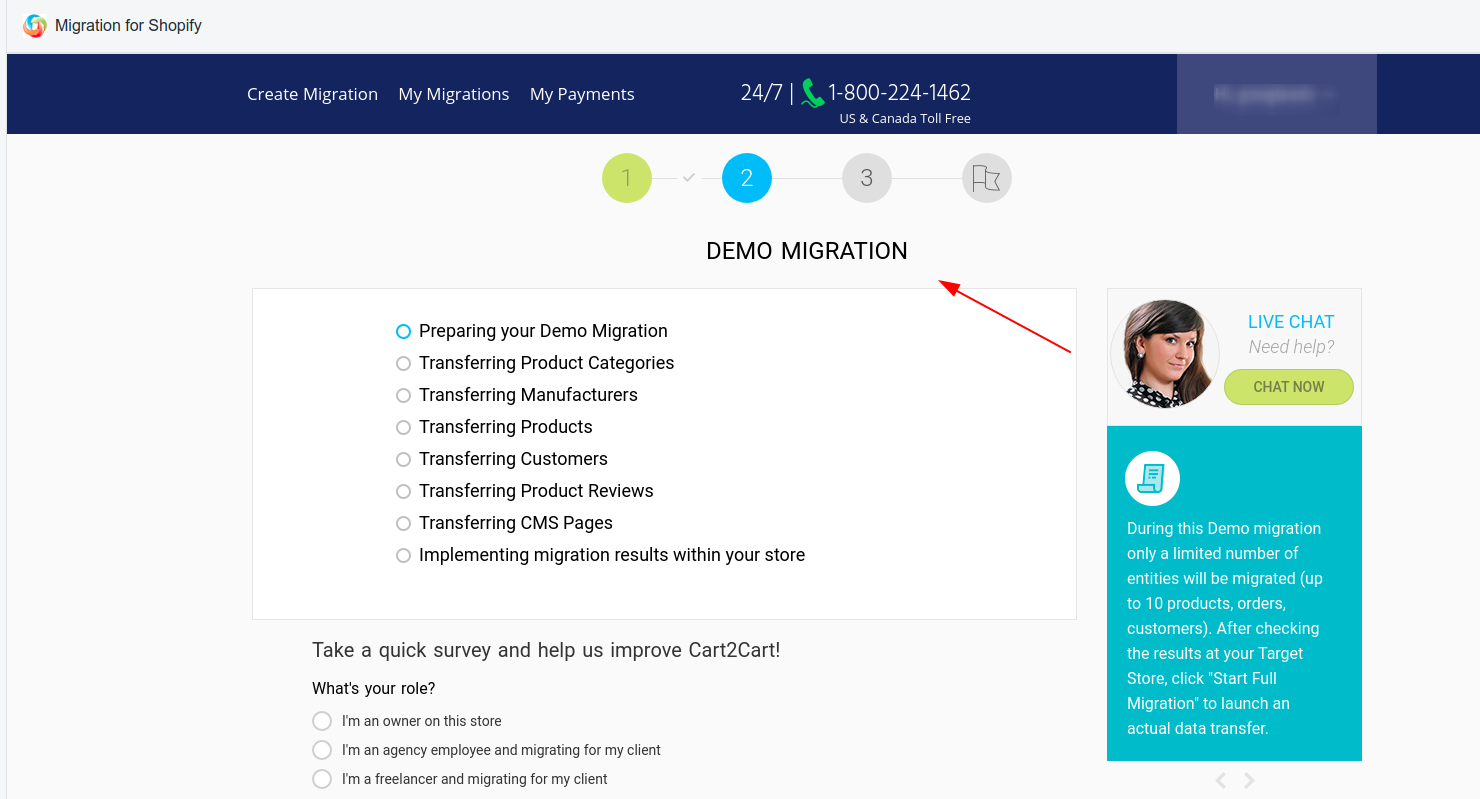 Check out our infographic to get a better understanding of the migration process via Cart2Cart: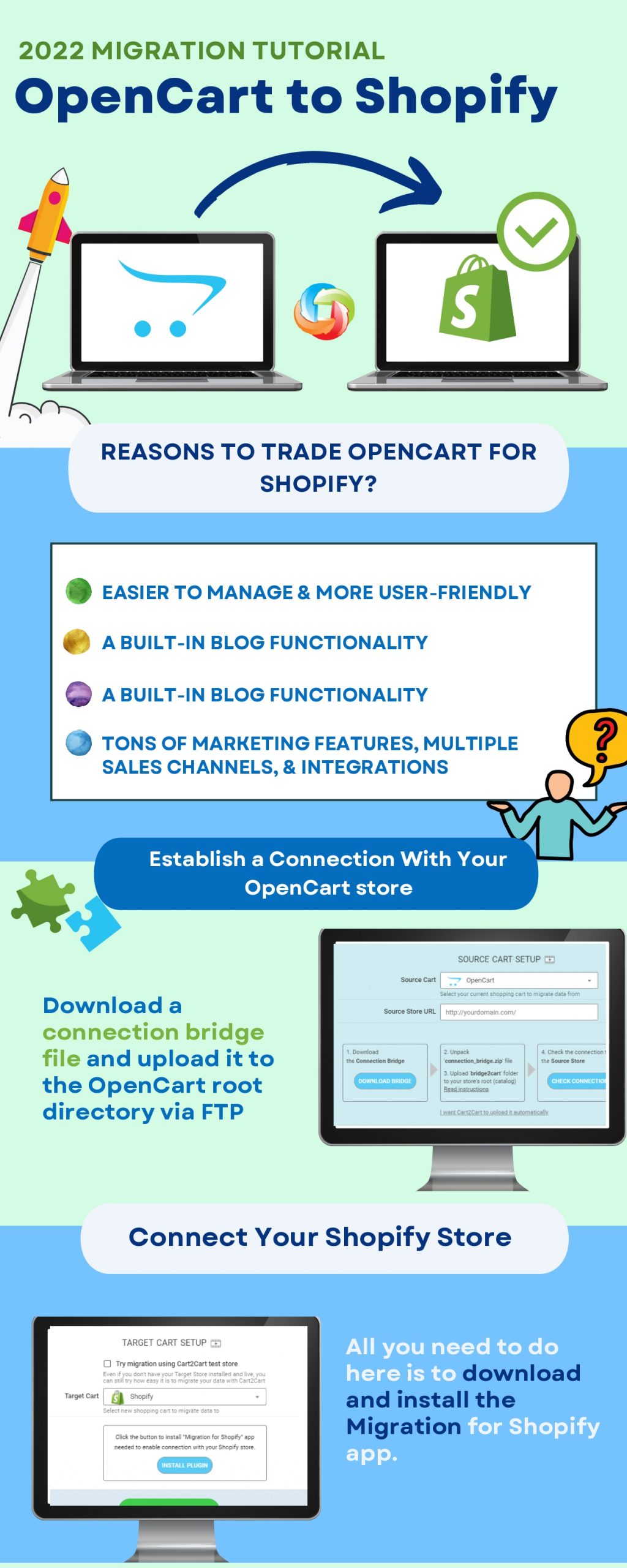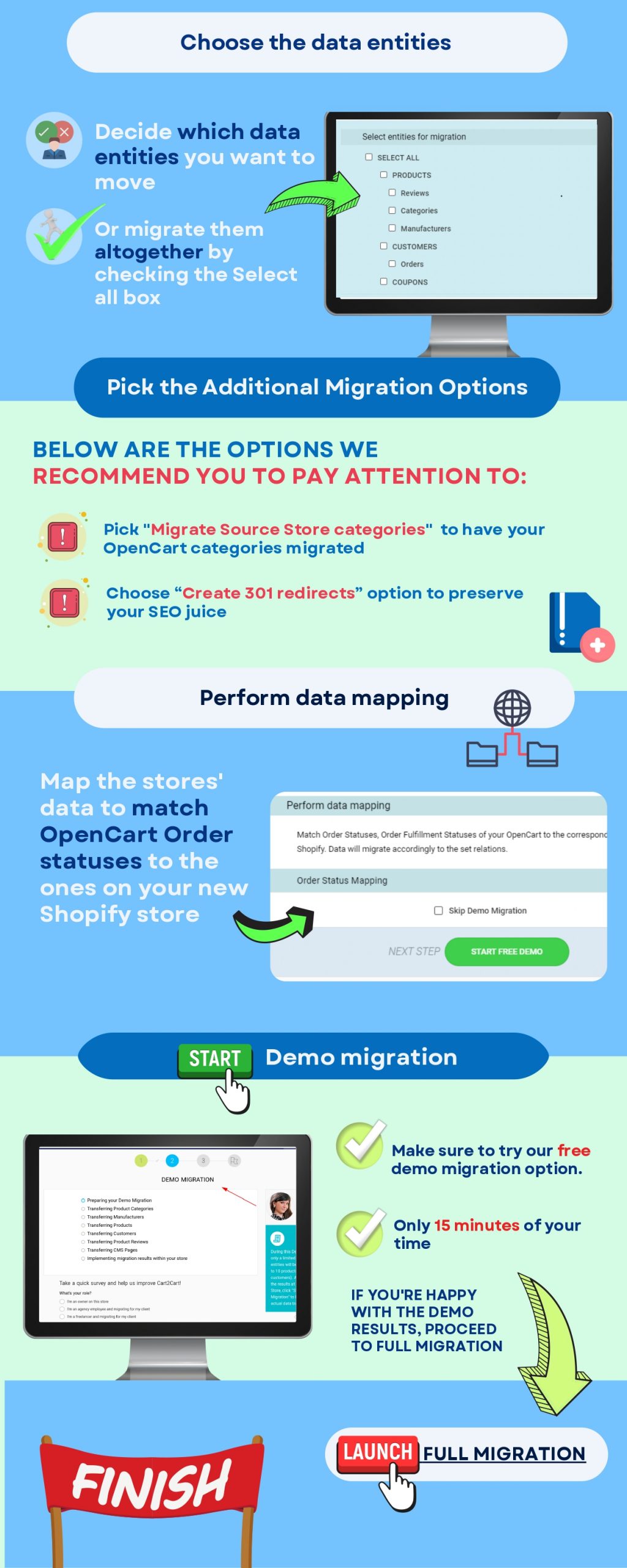 Please keep in mind that:
Due to peculiar system of Shopify entities organization, your Shopify Categories and Subcategories will become Collections and Product tags. Therefore, this will influence the URL creation.
If the customer email on your OpenCart store is incorrect, Shopify will automatically create the "unknown" Shopify email address. Also, the same will happen to your Orders if they are not assigned to any particular customer or guest.
To make your old URLs working on Shopify, make sure you choose the additional option "Create 301 redirects on your target store after migration" while configuring your particular migration to create Shopify redirects.
How to Migrate Products from OpenCart
To migrate Products from OpenCart, you can either install the Bulk Export/ Import app and do the following:
Choose Export/ Import option in your OpenCart admin. To do so, just go to System → Maintenance.
Select the data you wish to migrate in the Export subcategory.
Fill in al the necessary fields and tap the Export button.
Optionally, you may just configure the Cart2Cart Migration Wizard and we will help you move your products from OpenCart to Shopify automatically.
Ways to Export Orders from OpenCart
In case you need to export Orders from your existing OpenCart store, please, download one of the apps available at the official marketplace. These are the paid apps, but almost all of them provide users with a free demo. So you can easily test them before purchasing.
Post-Migration Activities
Go on setting up your Shopify store
Select a new theme or customize the existing one as you like.
Install the apps from the marketplace (start with the necessary ones).
Test your store - check both the front and backend, go through categories, descriptions, make a few purchases, register new customers, etc.
Get ready to welcome customers. You can use this handy Shopify store launch checklist not to miss a thing.
Inform your customers you've moved (they will need to reactivate their accounts). We recommend the "Bulk Account Invite Sender" app to send an invitation email to all your customers.
Feel inspired to move from OpenCart to Shopify?
Start a free Demo with Cart2Cart and take the migartion headaches off your back!
Start free Demo now
FAQ Block
Can I transfer OpenCart to Shopify?
Of course. If you feel that your current OpenCart platform no longer meets your expectations, you can easily move all the data (customers, orders, products and more) to Shopify either manually or automatically. It all depends on the level of your tech expertise.
What are the advantages of Shopify over OpenCart?
Shopify and OpenCart are two completely different solutions. Shopify is perfect for eCommerce newbies. Its marketplace offers tons of apps and themes to customize your store. Besides, Shopify has a community of active users, 24/7 customer support and there's no need to handle the security and hosting issues.
How do I migrate from OpenCart to Shopify?
To migrate your OpenCart store data to Shopify do the following:
Connect the OpenCart store by installing the Connection Bridge
Install the Migration for Shopify app
Choose the data for your transfer and additional options to simplify the transition
Migrate all the needed entities to Shopify in just a few hours
Summing Up
And that's it! At this point, you will be ready to welcome buyers into your new online shop. Do share your tips or ask questions ( we'll be happy to know if there's anything we've missed). There's no need to postpone your eCommerce migration if you feel it's time to switch your current platform to something more advanced. Level up your business with Cart2Cart
And now it's time you started your own migration to Shopify - you're a few clicks away from starting a new life of your store. Run a free demo now!