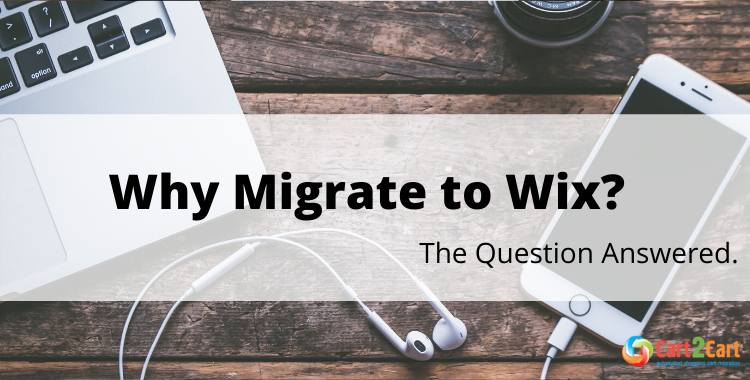 Wix is known as an incredible website builder that allows creating amazing do-it-yourself websites without using any codes or scripts. According to BuiltWith real-time research, there are 3,800,881 live websites settled on Wix, and that isn't a figure to ignore. Over the past few years, Wix's popularity has grown dramatically and suggests any sign of decreasing: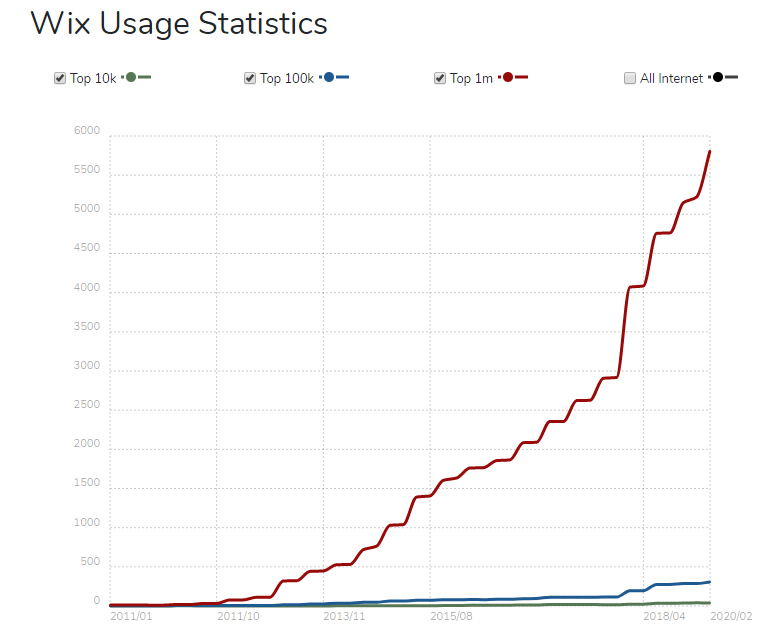 Furthermore, W3 Techs states that Wix is the sixth most popular Content Management System (CMS) in the world, and it outraces such dominators as Magento, OpenCart, and PrestaShop: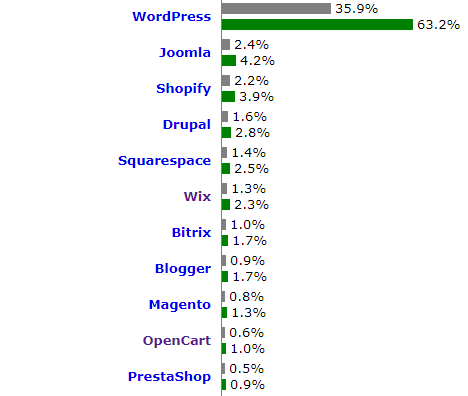 While Wix may not be the most popular content management system, don't let this fact deceive you. Statistics for websites using Simple Website Builder technology shows that Wix is currently the most widely used option in this category. With a 37% market share, it outranks Squarespace, Weebly, and the GoDaddy website builders.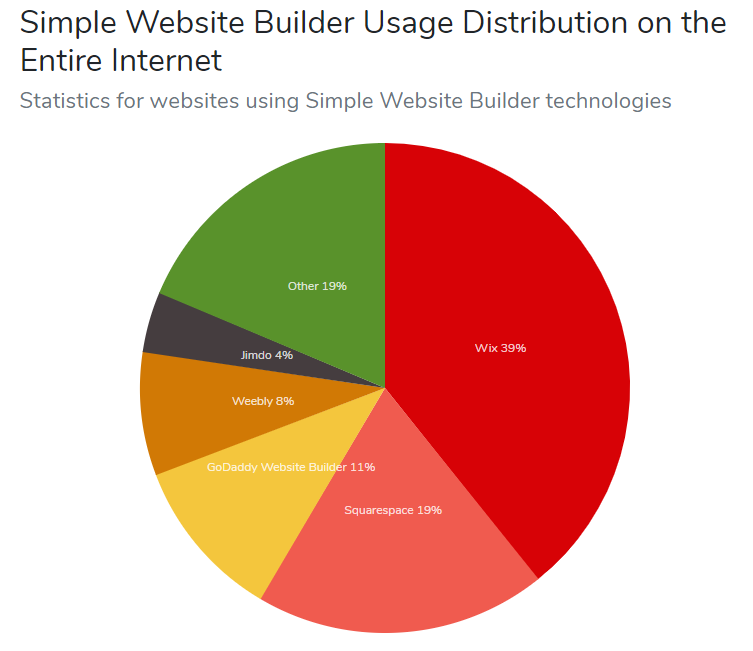 As you can see, Wix is a trendy website builder. But have you heard that it also lets you add the eCommerce functionality to your website?
How to Turn Your Wix Website Into an eCommerce Store?
Wix Stores is a powerful eCommerce store builder app for Wix that is packed with all those standard features that are expected from any eCommerce platform. It is available at Wix App Market(link) and offers one-click integration with your existing Wix website. Wix Stores allows to sell products online, drive traffic to the online store, build relationships with the customers, grow social presence, etc.
Why Migrate to Wix Stores?
Established in 2006, Wix managed to earn the love and loyalty of e-merchants all around the globe due to the following features:
It is easy to use. With Wix, you can build a professional website for your online business without going into mountains of codes and scripts. There are only a few buttons on the dashboard, allowing you to modify pages, add components, design items, go to the app market and mess around with your settings. This enables you to get online with a commercial site in minutes.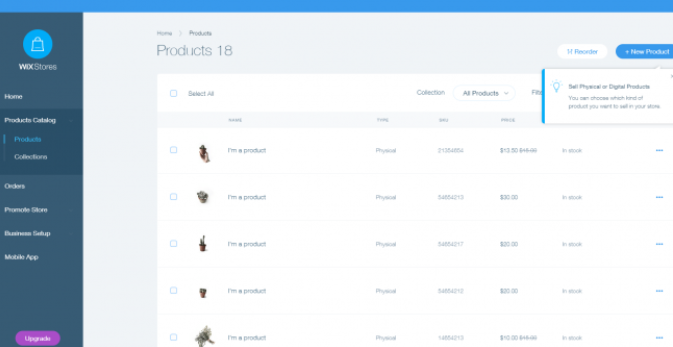 Besides, Wix is known for its intuitive drag and drop interface (allows to drag elements like text boxes and to place them wherever you want them on your pages) and WYSIWYG (What You See Is What You Get) website builder (lets you edit your pages and at the same time see exactly how your site will look once it's live).
It has a decent collection of tools and features that have been designed for your store to work and flourish. They are being enhanced regularly and should suffice for most of the small and medium-sized stores. More specifically, they are:
Product management,
Order management,
Marketing tools,
App marketplace,
Shipping,
Payment processing and fees,
Professional themes and templates, etc.
There's the App Store packed with tons of 3rd party apps, allowing you to expand the eCommerce functionality of your online store far beyond its initial limits. These apps offer a wide range of features like:
Run advertisements,
Launch marketing campaign,
Get found in the Google and Bing maps,
Install multiple options for payments,
Optimize mobile store,
Add contact forms, gallery, comments, social media buttons, etc.
While most of the apps are free or have a lite version, others require monthly payments and vary in prices. There are 250+ apps in the App Store, and they cover the most commonly requested features by site owners.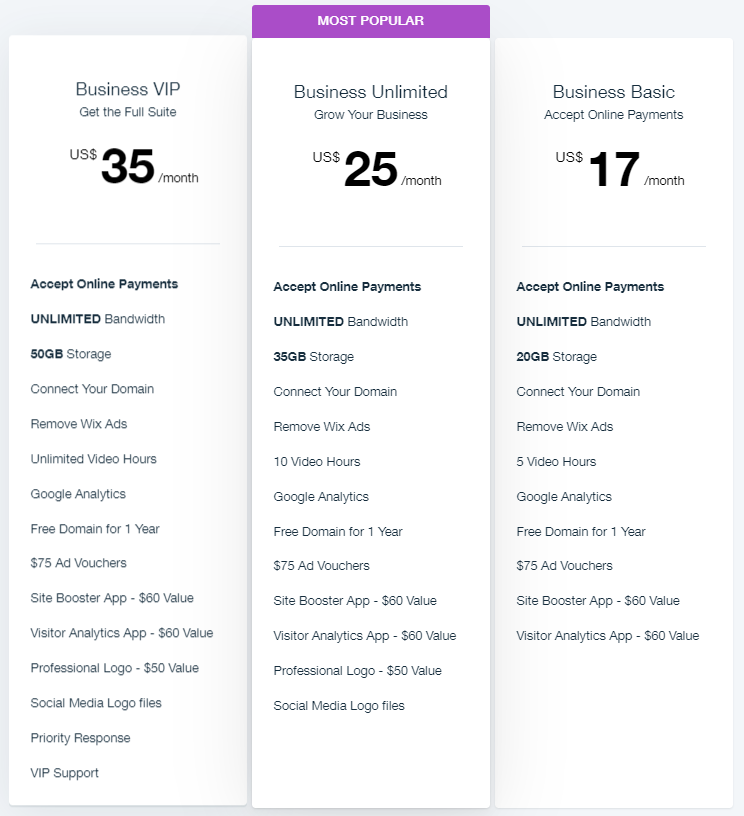 The Business Basic plan ($23 per month) is the cheapest option for those e-merchants who're just starting out with an online business.
The Business Unlimited plan ($27 per month) is the most popular of Wix's eCommerce plans and is often chosen by growing businesses, and has the extra features to prove it.
Wix's most expensive Business VIP plan ($49 per month) is a perfect go-to for established businesses which require more advanced functionality.
To test the things out with Wix and see whether it's a good option for your online business you need to sign up to one of these three eCommerce plans. Instead of a free trial, Wix offers a 14-day money back guarantee, so if you see that Wix is not the right-your-size platform, you can get your money back with no questions asked.
With each of the three pricing plans, users will get a connected, unique domain, zero Wix ads, and unlimited bandwidth. If data storage is of concern, the basic plan has 20GBwhile the VIP goes up to 50GB. These storage options may not be enough for large enterprises, but they are perfectly suited for small businesses.
It offers a colossal template collection. There are over 500 Wix templates allowing you to make your online store look and feel as required. Their designers are constantly updating the library in accordance with the current design trends.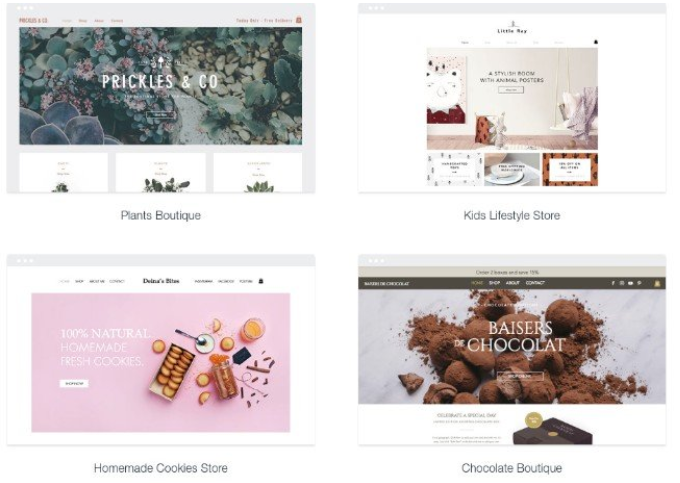 The templates are of high quality, professionally-looking, and what's more, responsive on mobile devices. They are different in terms of structure and graphic solutions, but they are all beautiful in their own way. They are organized into intuitive categories so that you could effortlessly find a template that meets your specific business needs.
Since users are on one of the above eCommerce plans, the price of the template is included in the package, so there's no need to pay another fee for themes.
It boasts of an extremely active community. Wix's active community of developers is always ready to give you a hand of help if there are any troubles along the way. They offer tons of useful tutorials, helpful guides, and suggestions to address almost any issue.

 
Each editable element in the template includes a question mark – just click on it for more information and practical tips. It is a very handy feature because there's no need to waste time searching for the answer to your question, which is just a click away.
If you have stumbled upon any severe problem, you can always contact them via live chat, which connects you to a representative quite quickly. Otherwise, you can also make use of phone support to speak directly with their Wix professional who knows their stuff and is happy to help out.
Who Is Wix eCommerce a Good Fit for?
Wix is not a typical eCommerce solution. What differentiates it from Shopify, Magento, or other top website builders is the fact that it's super easy to use and very user-friendly. So anyone can start selling online using Wix, without having to learn anything about design or programming, and without spending a fortune. Generally speaking, it does an excellent job for:
Small and medium businesses that want to build a nice store with minimal time and money investments,
Solo entrepreneurs like artists, designers, musicians, stylists who need to create a personal portfolio to attract new customers,
Bloggers who want to set a blog sharing their ideas with the world.
PROS
CONS

Even new eCommerce users will find it easy to use
Setting up and selling is easy and quick
Tools for building websites (ADI, Editor, Editor X) are of the highest quality
High degree of flexibility
More than 800 free themes and templates for your website
Apps and add-ons available in a wide variety
Domain registration for the first year is free

In comparison with other eCommerce platforms, it is a bit slower
It is not possible to checkout with multiple currencies
Some selling features rely heavily on third-party or pluginis
How Can You Start a Wix Online Store?
Setting an online store with Wix is easy:
In case you haven't an online store yet, register an account. Just share some basic information and provide a username and password.

If you have your online store settled on another eCommerce solution - migrate to Wix via Cart2Cart.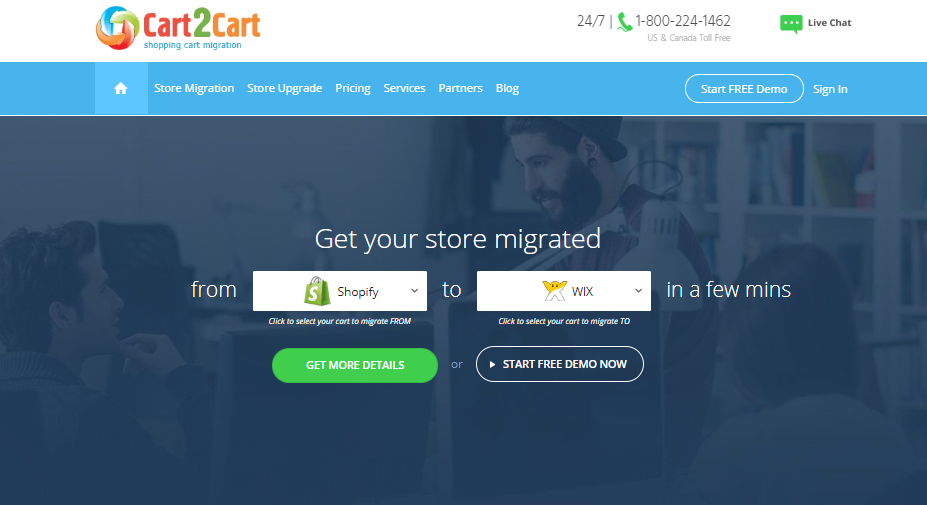 There are literally a few steps required:
Specify your current shopping cart as a source cart and Wix as target,
Install the plugin,
Choose the data you want to transfer,
Launch Full Wix migration.
Add a Wix store. Adding a store to your existing website doesn't take much time and can be done in just a few mouse clicks:
Look for the 'Add +' button on the left of the Editor,
Click 'Store',
Click on '+Add to Site'.
When done, you'll see a new My Stores button on the left of your Editor tab. Click this to get to work on your new store.
Customize your Wix store. There are two options for building a store - Wix ADI and WIix Editor.
More specifically, WIX ADI (Artificial Design Intelligence) designs a website for you once it has a few details, such as the topic of your build and what kind of theme you would like. In other words, you start by answering a few questions regarding the kind of store you want, the features you need, and what style you'd like the store to have. Once done, Wix ADI will generate your website for you.
Wix Editor, alternatively, uses drag-and-drop functionality – similar to PowerPoint – giving you total control over every aspect of the store and allows you to build a site from scratch. Also, once the Wix ADI has made a design, you can use the WIX Editor to make changes.
Choose the template. The foundation of the Wix online store is the template, so take time to create and decorate your store wisely. Wix has over 500 stunning templates that can fulfill any business need, so take your time to pick the best for your store.

Add products. Once the design is ready, you can add the products (either physical or digital) you want to sell. Digital files can be uploaded as images, audio, or document files. If adding physical products, Wix makes it possible to upload product images and videos and has various fields for product name, price, discount offers, custom text fields, etc.

Connect a payment method. Wix offers dozens of integrated payment gateways that include options like PayPal, Stripe for credit card payments, and Apple Pay. It is also possible to take payment by credit card, or stick to PayPal accounts at the beginning, or keep it all offline entirely. Here's how you set up a payment method on Wix Stores:
Go to your Wix Dashboard -> click the Settings tab, Accept Payments.
Specify the payment methods you want to use -> hit Connect Me button -> click Complete Setup to connect the payment method you chose to work with.
Set shipping and tax rules. Wix allows setting different shipping rules ( like free shipping, flat rate shipping fees, tiered shipping bands for different geographical areas, discounts for orders over a certain amount, etc.). When it comes to tax rules, it is necessary to follow the requirements of your location and sometimes also the location of the buyer. Check what the regulations are and then set your tax rules to comply.

Connect Analytics. With plenty of analytics-related tools and integrations, you can easily track the performance of your online store. Set up the analytics and choose how you want to view the statistics so you can keep an eye on important data points, like visitor numbers, conversion rates, and cart abandonment.

 

Launch your online store and make it public!

 
Why Migrate to Wix - FAQs
Is Wix free?
The Wix platform is available for free for as long as you want. If you need professional features like your own domain name or ecommerce, you must choose from one of their premium plans ranging from "Combo" to "Business VIP". The cheapest ad-free plan with a custom domain name costs $16 per month.
Is Wix safe?
The short answer is yes! Wix comes with a ton of built-in features that help to keep your website safe and secure. These include:
In-built SSL certificate
Customer log-in area
Ability to have securely pre-saved card details
PCI Compliant
Double payment authentication for online payments
Is Wix good for eCommerce websites?
Wix is a great choice for building your first online store, and then taking it to the next level. Its drag-and-drop builder and integrated ecommerce features make it easy for beginners, while its extensive App Market makes it powerful enough to achieve your ambitions.
Final Thought
With all that being said, Wix's intuitive website builder, an abundance of tools and features, hundreds of integrations make it easy to build a beautiful, full-featured online store that suits almost every business, even if you don't have a background in web design.
Feel inspired to become a part of Wix glory? Catch this long-awaited opportunity and migrate to Wix in a totally automated way!
Further read: check out our Weebly vs Wix vs Shopify in-depth comparison.