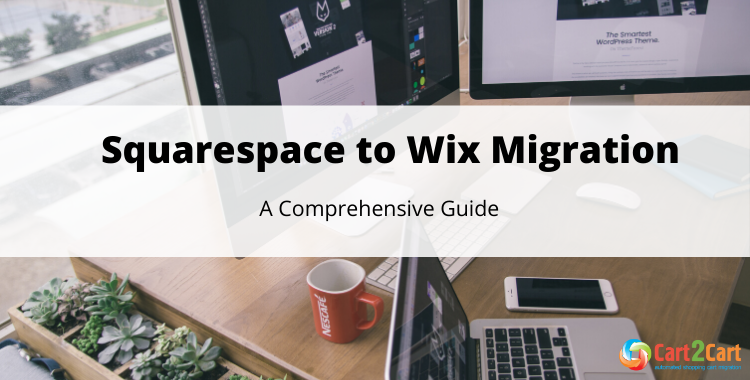 Are you thinking of changing the Squarespace platform for something more user-friendly? Or perhaps your store has outgrown the capabilities of the current solution? Transfer Squarespace to Wix. This revolutionary website builder is well equipped to satisfy even the most demanding business needs. Our comprehensive step-by-step guide will help you easily cope with the switch. Let's dive in and explore the fastest way of Squarespace to Wix migration!
Wix and Squarespace hold the leading positions among other website builders. They both provide users with all the necessary tools for creating an online store from scratch. Wix is very user-friendly and offers scope for creativity. It suits the owners of small businesses who want to get online quickly. Squarespace, on the other hand, focuses on creative industries and can boast of its stunning design. Its average user is a person with loads of time and necessary tech background.
According to Google Trends, the number of those willing to transfer Squarespace to Wix is growing rapidly:
Why Should You Transfer Squarespace to Wix?
There are numerous reasons for switching Squarespace to Wix. The most popular ones include:
Ease of Use. Wix is incredibly beginner-friendly. Its drag-and-drop functionality makes it possible to create a website in a matter of minutes. Moreover, the futuristic Artificial Design Intelligence (Wix ADI) will help you turn store establishment into an enjoyable experience. Squarespace, on the other hand, is more technical and takes longer to get used to.
Enhanced features and tools. Wix has a decent amount of in-built instruments for store customization, product and order management, payment processing, shipping, marketing, blogging, etc. Additional functionality can be added through various apps (both native and 3rd party ones). Squarespace, similarly, has lots of integrated tools. But, unfortunately, its Extensions Marketplace is quite limited.
Affordable pricing. Wix offers its users three Business plans for running an eCommerce store. The price ranges from $17 to $35 per month. With Squarespace, you'll have to pay $26-$40 per month to fulfill a growing business's requirements.
SEO capabilities. When it comes to SEO tools, Wix has all the necessary features to improve the store's rankings. Besides, the company offers the possibility to make use of the Wix SEO Wiz. This AI-driven assistant helps in SEO enhancement, based on the answers to the series of personalized questions. By contrast, Squarespace provides its users only with the guide to the SEO strategy.
Diverse payment gateways. Wix supports 30 payment options, whereas Squarespace works only with Stripe and PayPal.
Customer support. In case you encounter any problems, it is possible to reach the Wix support team via phone, email, social media, and blogs. Moreover, the company has a Help Center with numerous documentation, community forums, and FAQ sections. The downside of Squarespace is that it lacks the 24/7 phone assistance and the on-page editor support.
| | | |
| --- | --- | --- |
| | Wix | Squarespace |
| Ease of Use | With its simple drag-and-drop editor, Wix is very user-friendly for beginners. Wix ADI means you could have a website live in the afternoon. | Squarespace has made massive improvements in its UX, meaning that it's now easier to use than ever. As with most website builders, it can take patience to figure out how to use the editor. |
| Design Flexibility | Wix has over 800 templates to choose from. There are many attractive and customizable designs, but some of them don't seem to be as modern as they should be. You also can't switch once your site is live. | Squarespace has one of the best quality templates on the market. It has a smaller range than Wix, but the designs are consistently stunning. |
| Features & Tools | Wix has a wide number of built-in features covering customization, and eCommerce, marketing, and more. Additionally, you can expand the functionality of your website using its huge app market. | Most of Squarespace's features are built-in, and they're the best quality features on the market. |
| Apps and Integrations | Wix has many apps in the Wix App Market that you can install for extra functionality. | Squarespace has an app store, called Squarespace Extensions - although its range of integrations is smaller than Wix's because most of its features are built in-house. |
| eCommerce | It's easy to add an online store to your Wix website. A site's power can be increased even further when you add apps like Ecwid. | Squarespace has built-in eCommerce tools and is great for showing off products. You can add integrations to boost your store's functionality. |
| Blogging | Wix has basic blogging tools built-in, but its app store really lets you take your blog to the next level. | Squarespace has an impressive range of blogging tools ready for you to use. |
| Marketing | Wix's marketing tools include SEO, its own email marketing system, and its all-in-one business solution, Wix Ascend. | Squarespace comes with marketing tools such as SEO, social media integration, and its own email platform. |
| SEO | Wix has built-in SEO tools, plus in-depth support resources to guide you through optimizing your website. Beginner-friendly, interactive, and creates a personalized step-by-step plan, Wix SEO Wiz makes SEO easy for everyone. | Squarespace has built-in SEO tools to use and has designed its pages to be SEO-friendly. In addition to an SEO checklist, the tool includes in-depth support resources to assist you. |
| Help & Support | Wix offers phone, email, and social media support, as well as on-page editor support, too. However, the company's knowledge center isn't as comprehensive as it could be. | Squarespace offers high-quality support service via live chat and email, plus a thorough help center with guides, videos, webinars, and a forum. |
How to Transfer Squarespace to Wix?
Considering the complexity of manual migration and pricey developer's assistance, we advise you to turn to an automated migration service. This is the fastest and most reliable way of transferring the store's data from Squarespace to Wix. Services like Cart2Cart will help you to perform the transition with no data loss, business interruption, or end-user confusion.
The benefits of using Cart2Cart include:
Official partnership with Wix,
Ability to transfer data across platforms with minimal human involvement,
Suitable for both tech newbies and experienced users,
Less expensive than the developer's assistance,
24/7 user assistance,
No business disruption,
Wide selection of extra migration options, etc.
Migrate from Squarespace to Wix: an Automated Approach
Follow these simple steps of our migration guide and transfer your store to Wix just within a few clicks and a little time:
Establish a Wix Store
Getting started with Wix is pretty straightforward. First off, you'll need to register an account. If your current template doesn't include Wix Stores, be ready to add eCommerce functionality separately:
Tap the 'Add +' button in the Editor menu,
Click Store,
Click + Add to Site.
Therefore, the new "My Stores" button will appear in the Editor menu. Just click it and start creating your online store.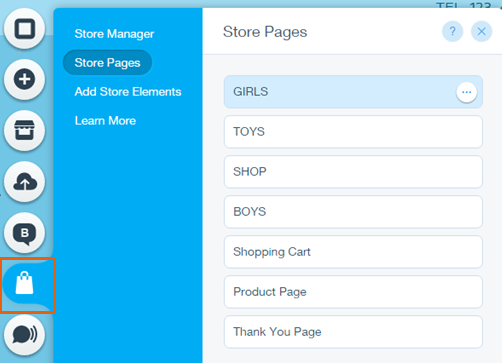 Configure Source and Target Carts
For starters, you'll need to set up the Source cart. Choose Squarespace from the pop-up menu. Provide your store's URL, admin email, and password.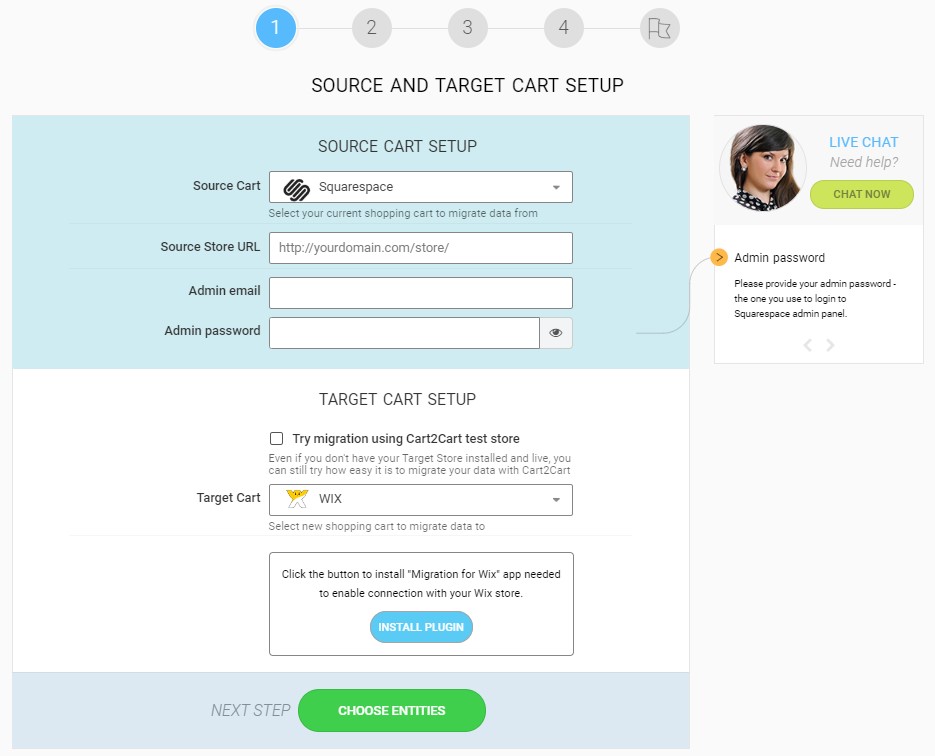 Now it's time to set up your Target cart - select Wix from the drop-down list. Next, click the "install plugin" button to get the Cart2Cart Migration Module from the official Wix marketplace. You'll be redirected to the Wix website. Once the module is installed, you can proceed with the data transfer. Simply press the "Choose entities" button and proceed to the next step.
Download the Cart2Cart Wix Migration App to simplify the process of replatforming.
Specify data entities and additional options
Right now, you'll have to decide which data types you wish to transfer from Squarespace to Wix. Just tick the needed boxes, or click the "Select all" square to migrate all the store's data. Furthermore, you can consider choosing some of the additional options that will ease the switching process.


Map the data and launch Demo migration
At this point, you'll need to match Squarespace order statuses to those on your Wix store. Additionally, you can take advantage of our Demo migration option. It's totally free. You'll be able to move a limited number of data entities to your new store. The process will take just about 15-30 minutes. As a result, you'll have an opportunity to test the service in action.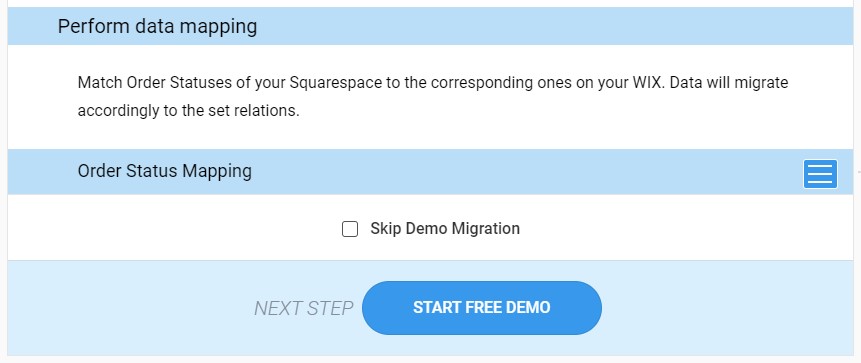 Note: Please, do not close your browser window while the migration is in progress!
Initiate Full migration
Check the results of the Demo. If they meet your expectations, go ahead with the full migration of your store from Squarespace to Wix. At this point, it is safe to close all browser windows and return to your ordinary entrepreneurial activity.
Note: Make sure you have enough funds on your credit card to settle the data transfer.
Ready to take your e-business a step forward towards success?
Migrate from Squarespace to Wix with Cart2Cart just in a few mouse clicks. No coding skills or developer's assistance is needed.
Migrate now
Post-Migration Hints
Once you receive an email notifying that your store has been transferred to Wix, we advise you to do the following:
Test the store to ensure everything works correctly (e.g., the frontend, links, images, items, etc.). Also, register a few new customers, make purchases.
Pick and install a new theme that would correspond to the overall idea of your store. Wix offers its users more than 700 beautifully-designed templates to choose from.
Visit the Wix App Market, and download all the necessary apps. There are tons of both free and paid apps available.
Transfer Squarespace to Wix - FAQs
Which is more customizable: Squarespace or Wix?
Wix is a "pure" drag-and-drop builder, meaning you really can drop whatever you want, wherever you want it. Squarespace isn't exactly the same – you can't drag elements around as freely as you can with Wix. This means it takes a little longer to get used to.
Which is better Wix or Squarespace?
If you're a beginner and don't know where to start, Wix's vast array of high-quality features makes it so you can add everything you want without ever learning a line of code. Wix excels in being beginner-friendly, and with its functional templates and a free plan, it's never been cheaper and easier to build your website.
If you're creative and you want a visually stunning website that will impress your visitors from the get-go, Squarespace is the choice for you. Its beautiful templates provide more structure than Wix's, so it's great if you'd rather not rely on external apps, as most of its features come built-in.
Does Cart2Cart migration process impact my Squarespace store performance?
Your existing Squarespace e-shop won't be affected by the database migratio via the Cart2Cart n either in terms of speed or performance. The Cart2Cart migration service exports the records from your Squarespace e-shop and pastes them into your new WIX store - thus, so you can continue selling.
Final Statements
Altogether, store replatforming is not an easy task. But if the downsides of your current platform outweigh the fear of migration, you should definitely go for it. Make sure to double-check whether Wix meets all your business goals and expectations. If yes - transfer your store from Squarespace to Wix in a totally automated way and benefit from it in the future!
Squarespace vs Wix: Find a Perfect Tool for Building You eCommerce Store
Don't forget to test-drive our free Demo option and if satisfied - enjoy the smooth and trouble-free way of moving across platforms.