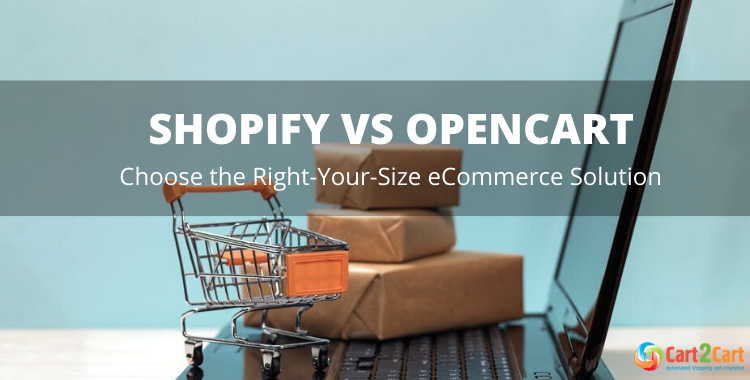 When it comes to Shopify vs OpenCart - both shopping cart solutions are widely used for eCommerce, have their weaknesses and strengths, and serve different goals. Which option is the right choice especially for you depends on a number of things like ease of use, budget, SEO, mobile, community and support.
For those unaware, there are two types of shopping carts to power online business: hosted and open-source. The first option is more user-friendly and easier to start with. The second one requires some technical skills but offers more features and customization possibilities instead. And though the final choice is up to you and depends on your personal needs and business requirements, we'll be glad to give you some tips on both platforms. Let's get familiar with the two best eCommerce platforms from either camp - Shopify vs OpenCart - hosted vs open-source solution.
Why Choose Shopify?
Shopify is a hosted platform that allows establishing an online store in a few clicks. In other words, your shop will be ready to do business right after installing - all you need to perform is just add some products and you are ready to start. Once settled your online business on Shopify, you will enjoy all its main advantages: compatible hosting, 99.9% uptime, full data security, professional support and one of the most intuitive admin panels in the industry.
Though as any SaaS solution Shopify has limited customization capabilities, this fact doesn't make the templates less beautiful. You can easily choose one of 70+ professional default templates right from the admin's panel or purchase one from an official App Store. You get both user-friendly design editor and full access to CSS and HTML files - everything you need to make your store shine brighter than others.
Why Stick With OpenCart?
OpenCart is a free open source solution known for its extreme simplicity and powerful range of features. Being a self-hosted solution, you'll need to go through a platform's installation procedure, as well as find a decent hosting provider. All these can be done effortlessly.
Unlike most open source platforms, OpenCart is fairly easy to customize. Thanks to an advanced template system, you can modify the look of your OpenCart e-shop easily and effectively. Keep in mind that going deep into the store customization may require some sufficient effort and appear to be more complicated than doing so on Shopify.
Shopify vs OpenCart. Main Pros & Cons
Though both platforms have powerful sets of features, each of them has its own strong and weak sides.

Shopify Advantages
Shopify will help you to concentrate on your business and avoid any technical issues. That is why the platform makes a strong emphasis on marketing and SEO tools - everything you need to boost your sales.
Marketing tools include coupon codes and discount system, email marketing system, free advertise credits and social media integration
Built-in CMS that allows to utilize content marketing strategy by establishing a blog
Default possibility to set up a mobile version of your Shopify shop
SEO friendly URLs, meta descriptions and automatically generated sitemap
Multiple shipping and payment gateways right out of the box
Painless checkout
Built-in business reports
Multiple currencies, languages and taxes
For these reasons the software solution has become the choice of the major eCommerce leaders. The companies that use Shopify include: Budweiser, The Economist, Sunday Somewhere, Penguin Books, Tesla Motors, Red Bull, The New York Stock Exchange, Kylie Cosmetics, and many other world-known brands.
Shopify Disadvantages
Unfortunately, the monthly plan fee makes just a part of the money you pay Shopify for its service. Except that, users are obliged to pay 1-2% fee on every transaction. The cheaper the plan, the less functionality you get. While OpenCart offers everything at once, you'll have to pay extra for additional functionality when using Shopify. So, the magic is a bit pricey. Shopify pricing might be costly for particular types of businesses.

OpenCart Advantages
Straight out-of-the-box, OpenCart can offer you almost all the same features as Shopify does and even a bit more.
Free-of-charge
ECommerce Templates and Design
Multiple-store functionality
SEO meta tags per product and category
13 000+ extensions
The fullest freedom of customization
Customer Support
OpenCart Disadvantages
Despite it remains one of the easiest solutions among open-source platforms, OpenCart still loses in usability if compared to Shopify and its advanced eCommerce functionality. An extensive shopping cart customization requires sufficient programming skills. Medium-sized businesses that have their stores on Opencart might feel that limited functionality prevents their companies from growing and at this point, online merchants are advised to migrate their store to another, more enhanced platform.
Shopify vs Opencart. Which One Should You Choose?
When it comes to Shopify vs OpenCart - there is no one-size-fits-all solution. It's a subjective decision and this is the reason why the debate will continue. The best advice would be to try each of them before doing a final decision evaluating the advantages and disadvantages of each of them.
Since OpenCart is totally free to download/use and Shopify offers a free 14-day trial, you have a perfect chance to go ahead and test each of them yourself!
And if you feel comfortable with any of these - don't hesitate to migrate your online store either to OpenCart or Shopify! You have an opportunity to perform OpenCart to Shopify and Shopify to OpenCart migration using Cart2Cart - easily and effortlessly. Have you decided on Shopify vs Opencart winner? Perform Free Demo Migration to check the benefits automated migration with Cart2Cart offers!