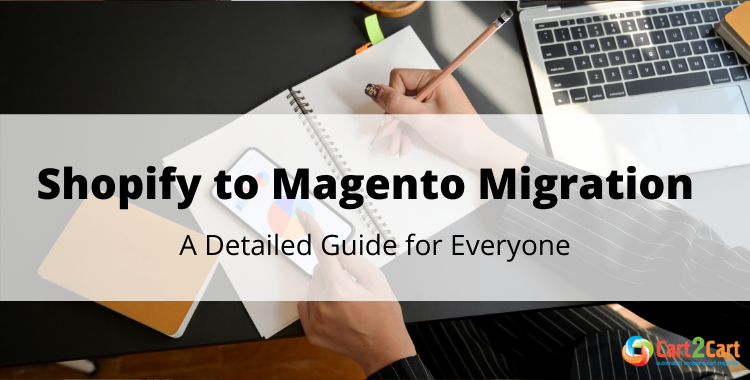 If you wish to migrate Shopify to Magento, but the fear of replatforming keeps you off the "Go" button - the post is exactly what you need. It breaks down the migration procedure into manageable phases and provides lots of time-tested suggestions and recommendations for you to perform the replatforming as stress-free as possible.
It has to happen at least once in a lifetime that an online entrepreneur faces the problem of eCommerce replatforming. Merchants tend to avoid it because they consider it to be a risky, time- and resource-consuming task. Let's take an honest look at the Shopify to Magento migration and dot all the "i" regarding the problem.
Shopify vs Magento
There are a plethora of eCommerce solutions available at the web market, with Shopify and Magento capturing the lion's share of the market. According to Builtwith stats, Shopify is home for 21% of websites, while Magento powers 7% of global websites.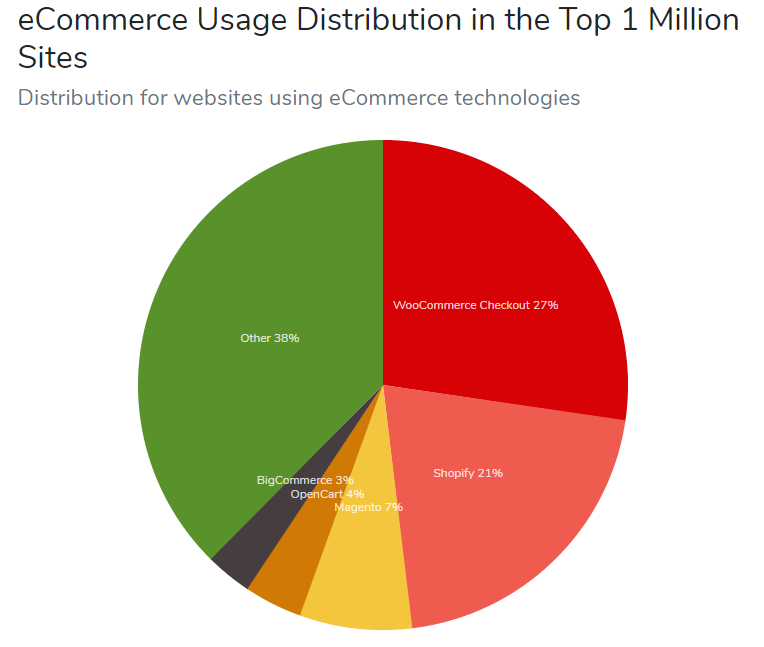 But don't be deceived by these numbers/percentages, because it doesn't mean that one platform is better than another. Shopify and Magento are both excellent choices in their way. However, Magento is better for enterprise-level ecommerce stores, while Shopify works best for smaller stores.
| | | |
| --- | --- | --- |
| | Shopify | Magento |
| Cost | Paid service ($9, $29, $79 or $179 plans); free 14-day trial available. | Free community version; Cloud version ($2,000/yr), Enterprise level ($22,000/yr). |
| Accessssibility | Simple interface designed with beginners in mind. | Designed for those with some experience coding or withe commerce sites |
| Design | One of the largest libraries of free design templates and themes. | Paid themes and templates available for download. |
| Customization | Cannot update base code for exact customization. | Templates can be customized; advanced customization with coding |
| SEO | Limited to Shopify's default SEO options | Designed for SEO best practices and to retain authority |
| Customer Support | Customer support available 24/7 via chat, mail or ticket | High quality customer support available 24/7 |
If you're looking for more info on Shopify vs Magento - this post might come in handy for you.
Why Choose Magento Over Shopify?
Both Magento and Shopify are reputable and stable platforms, but Cart2Cart migration tendencies show that there are a lot of online store owners that leave Shopify in favor of Magento. But what are the major reasons for Shopify to Magento migration?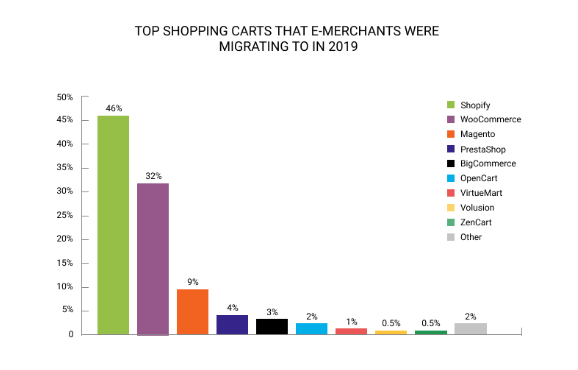 Generally speaking, Shopify is a more user-friendly platform and is a perfect go-to for entry-level. On the other hand, Magento provides a bit of a complicated user interface, but it is a better fit for businesses looking to grow and scale in the future.
What Can I Transfer from Shopify to Magento?
To recreate your current Shopify-based store on Magento shopping cart, you need to transfer data, design, and functionality. In practice, however, it is possible to export only the database entities (e.g.products, customers, orders), and then tweak the store look and feel as required.
Watch our video tutorial to see how easy it is to automatically migrate from Shopify to Magento with the help of the Cart2Cart migration tool:
How to Migrate Shopify to Magento?
While there may be a few reasons to migrate from Shopify to Magento, there's one time-tested way to perform replatforming with minimum headache. Automated eCommerce migration is a next-generation way of database transfer that has already been practiced by millions of e-merchants all around the world.
Cart2Cart is one of the most advanced and reputable tools that allows transferring all the store database stuff with minimal human involvement in the process. It comes with an intuitive, easy to use Migration Wizard that offers only five quick steps to set up a full automatic Shopify to Magento data migration.
Automate your eCommerce migration with the Cart2Cart Migration From Shopify extension.
Migrate Shopify to Magento. Cart2Cart Route
Let's now go through all the steps of migrating your online store from Shopify to Magento with Cart2Cart for you to see how it works in progress.
Pre-migration preparation
Set up Magento store
Once you've chosen the hosting provider for your Magento, install the latest release of the platform, and create an account. When done, you can proceed with the setting up of a new theme - however, we don't recommend doing it at this stage, since any configuration at this point could interfere with the process of the data migration.
Find your stores' access details
Take time to prepare the Shopify store's URL address and API password. As for the target store details - only your new Magento store URL is required.
Run demo migration
The goal here is to give you a general idea of how the newly-created Magento store will appear once the migration process from Shopify is finished. If the demo migration turns out fine, you can proceed with the migration itself.
Shopify to Magento Migration. A Step-By-Step Guide
Provide your source & target details
Start by specifying Shopify as your source cart from the default list of platform options. Once done, enter the Shopify store URL and API password. Scroll past the source cart section and proceed with the target platform credentials. More specifically, pick Magento as the target cart and type the store's URL.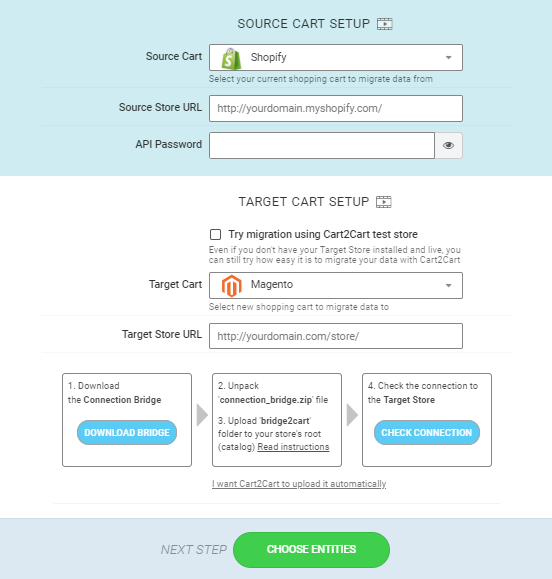 Once done, the next step involves installing the Magento Connection Bridge, which will serve as the principal data export point between the two platforms. So, click on the Connection Bridge link and download the zip file. You should then extract a "Bridge2Cart" folder from the zip archive and paste it to the root folder of your Magento site using an FTP panel.
Specify the store entities you'd like to transfer
At this step, you have to choose all the data elements you'd like to import from your Shopify to Magento store. Cart2Cart displays a checkbox next to every single entity so that you could specify only those you want to migrate:
Products,
Product categories,
Manufacturers,
Customers,
Orders,
Coupons,
Reviews,
Multistore,
CMS pages, etc.
Otherwise, you could click on the "Check All" option to migrate everything.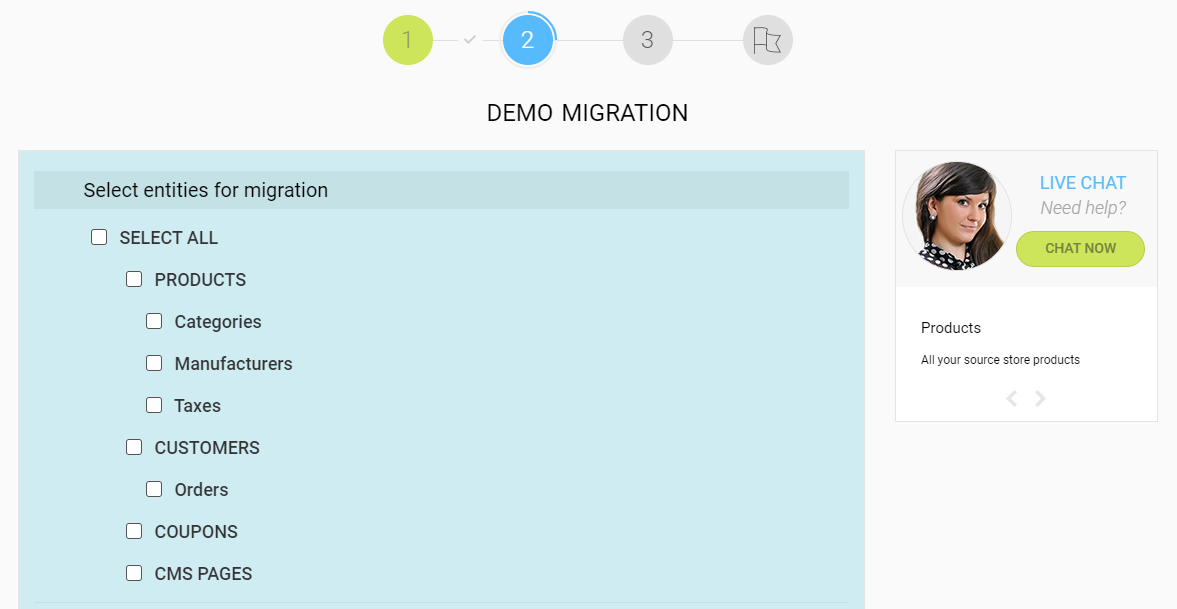 Expand your data migration possibilities
Cart2Cart makes it possible to customize the migration process to the last detail. Scroll down to the Additional Options section and choose your specific preferences from the available options.
To illustrate it, you can Preserve order IDs on Target Store, Migrate categories and products SEO URLs, Create 301 redirects on your Magento store after migration, etc.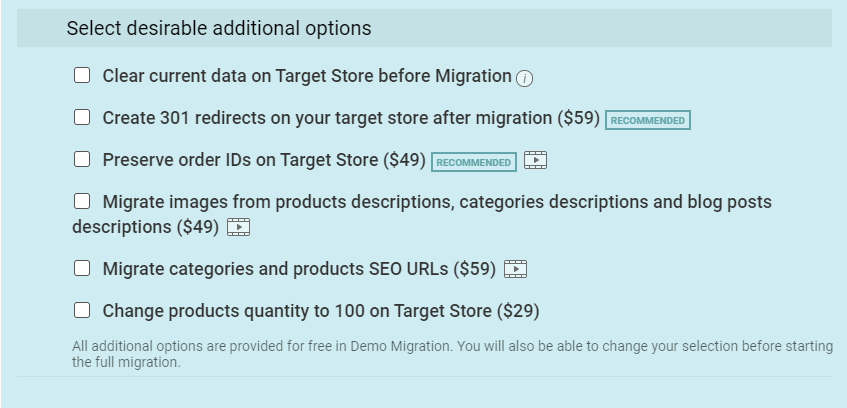 Carry out data mapping
Match your Shopify stores, order statuses, and customer groups to the corresponding ones on Magento.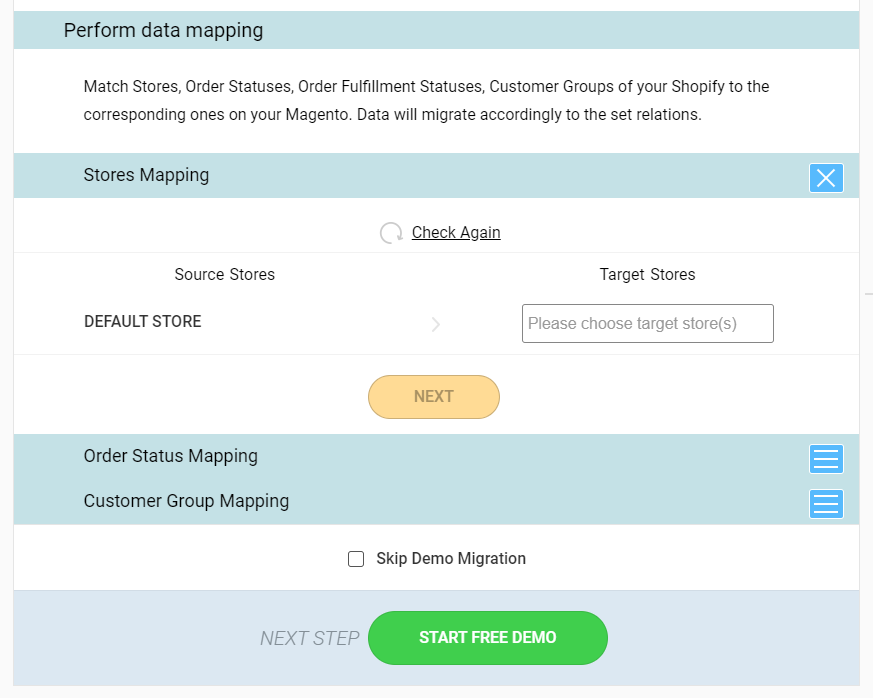 Perform free test migration
Though demo migration is not an obligatory step of the migration Wizard, it provides users with valuable, much-needed insights into how their target store will turn out after migration. If time is of concern - no more than 15min is required for Cart2Cart to transfer a limited amount of data to Magento. Finally, if everything turns out okay, you can confidently move on to the next step - full migration.
Launch a full Shopify to Magento migration
At this point, take time to check all the Shopify to Magento entities and options that you've chosen to migrate. If there's nothing to change and you're ready to click the "Go" button - launch the full Shopify to Magento migration. It will take a couple of hours. Once finished, Cart2Cart will send you an email notification.
Post-migration checklist
As soon as you have your Shopify to Magento replatforming finalized, it's not yet the right time to make your Magento store public. Take the time to thoroughly review the backend and frontend areas. When done, audit the store for broken links. If you encounter any, fix them by redirecting them or removing them altogether. Finally, run test orders and perform a test purchase to make sure that everything runs the way it should.
Note: In case new orders, products, or customers have appeared on your Shopify store during and after the migration to Magento - Recent Data Migration service can come in handy for you. It aims to import all the recent data from Shopify to Magento (or just the data entities you select) to make the new store totally up to date.
Migrate Shopify to Magento. Frequent Questions
Will migration affect my SEO juice?
Needless to say that eCommerce migration is not an easy road, and the SEO can really be impacted negatively. To avoid this, we recommend taking advantage of the "Migrate categories and products SEO URLs" additional option by picking it from the available list. For more detailed and in-depth info about SEO migration, read this post.
Is it possible to migrate design?
Unfortunately, design migration is impossible due to the technical limitations of the platforms. However, if you're pleased with the design of your current store, you can recreate it with the 3rd party developer's help. Otherwise, you can refresh it using dozens of Magento themes and templates.
Does migration influence my store?
No, migration with Cart2Cart doesn't influence your current store. It is 100% available online during the whole process of migration, so you'll keep selling during the migration.
How to transfer data from Shopify to Magento?
Follow the steps below from the Cart2Cart Migration Wizard and export Shopify store data to Magento automatedly:
Set up your Source and Target platforms
Choose the entities you want to transfer to Magento and specify the additional options to refine your migration.
Map your Shopify languages/currencies/order statuses to the corresponding ones on Magento.
Run free Demo migration.
Launch Full database migration.
Can I import manufacturer images from Shopify to Magento?
Yes. Cart2Cart supports migration of manufacturer images from Shopify to Magento. However, you need to install an additional free module on your Magento store prior to migration.
Does Cart2Cart support Shopify to Magento multi-store migration?
Cart2Cart supports multi-store migration across these shopping carts. Despite the standard benefits, the transfer of related products, up-sell and cross-sell bundle, and grouped products are available.
Wrapping Up
Although the migration process is often treated a bit confusing to the e-merchants with no or little technical skills - in fact, it's not such a tedious and complicated process if equipped with the right tools.
So, catch this opportunity and launch your zero riskfree Demo migration right away. Soon, you'll be able to become a part of Magento glory and take your online business a step ahead towards success.