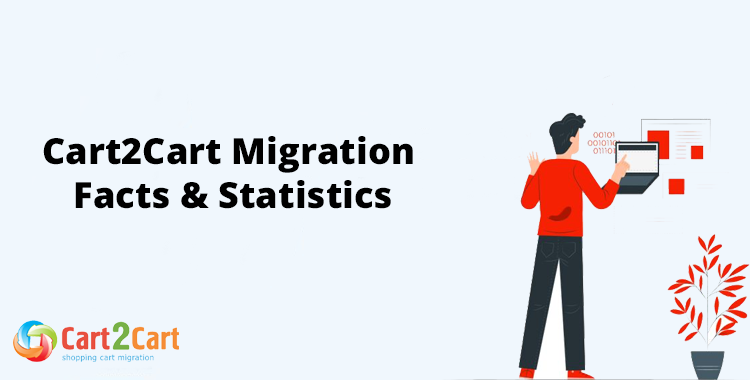 Needless to say that many store owners are considering migrating to another platform. When you hear why they chose their current provider in the first place, you can understand why many find that they have to make a change after some years.
You would think that someone who wants to generate an income from an online business would do due diligence to make sure they commit to the best possible solution for their purpose.
However, the reasons given for having chosen a particular e-commerce platform are often the same as those given for choosing a car:
Looks like everyone is using it
My friends are using it
Other businesses are using it
My colleague is using it
I saw some great-looking examples online
An e-commerce provider suggested it
Because these decisions were often based on a perception of popularity, the reality of what is required to run a successful online business was not investigated in-depth, with the result that it becomes necessary to migrate to another platform after a few years.
Why do store owners migrate between shopping carts?
Apart from the above mentioned reasons, there are various other reasons why online merchants change e-commerce platforms.
The existing platform is outdated
According to Deloitte's 2022 Retail Industry Outlook survey, 67% of respondents cited ongoing issues with old and outdated platforms as their reason for investing in alternative e-commerce and online shopping platforms.
If the current platform was chosen decades ago, it might be outdated and not have enough developer support. Outdated platforms are not able to handle large-scale traffic or massive transaction volumes.
It may be that the current platform no longer meets the needs of the business. The business has grown so much that it has outgrown the capabilities of the platform. For example, the business may require a more advanced billing system.
Data security needs
As an online store grows and provides more products and services to a growing number of customers, data tracking, analysis, and security become a burning issue. A merchant might decide to move to a hosted platform where the service provider is responsible for data protection.
Also, an online merchant may decide to sign up for an enterprise solution. These platforms offer top-of-the-range data security, tracking, storage and analysis, which is essential for business success these days.
Saving costs
Many people are initially tempted by the fact that open-source solutions are free. But they very soon run into additional costs that can add up and make the so-called free solution expensive.
Also, you may sign up for a platform that charges high fees, thinking that you can afford it, but as your business grows, the costs just keep on adding up, and you find that it's no longer an affordable option for you.
The arrival of new technologies
In the race for new customers, e-commerce solution providers that innovate will be the winners. Those platforms that make use of the latest technologies like artificial intelligence, augmented reality, or 3D product animations are likely to attract business owners who want to provide the best possible shopping experiences.
Improved performance
These days, the performance of websites is non-negotiable. Factors like load speed, search engine optimization, and conversion optimization are the foundation of modern-day online success.
Merchants who are serious about making money online work hard to grow their businesses and need an infrastructure that can accommodate large sales volumes and heavy traffic.
Different functionality
Some e-commerce platforms, like Shopify, rely on third-party extensions and plugins to increase and personalize the functionality of a website. Other solutions, like BigCommerce, have these functionalities ready to use, which brings down the cost of the website, but makes it less personalized. A merchant might want to change from one type of solution to the other for various reasons.
The most often chosen platforms in 2022
According to Statista figures, WooCommerce was the worldwide leading e-commerce software platform in 2022, with a market share of 36.68 %. Squarespace Online Stores and Woo Themes ranked second and third, with shares of 14.49 and 14.42 per cent, respectively.
The e-commerce industry has been changing dramatically in recent years, with e-commerce platforms falling in and out of favour. For instance, Shopify stands second at 20% in the top 1 million sites with a global market share of 11%, while WooCommerce commands 23%.
In the meantime, Magento has fallen from 13% in 2018 to 7% in 2023, mainly because the platform has become more complex at a time when other platforms are becoming more user-friendly.
Let's now see if this statistics match the Cart2Cart in-house figures based on 2022 investigation. Having analyzed the internal statistics of the previous year, we've determined top shopping carts that entrepreneurs most frequently migrated TO and tried to escape in 2022.
Platforms the most migrated TO
As illustrated below, the most demanding shopping carts that merchants have chosen to migrate TO during the previous year, Shopify has proved itself as the most popular one with its 46%. Then comes WooCommerce counting for 32% and Magento with its 9%. OpenCart and PrestaShop end the top 5 with their 2% and 4% correspondingly.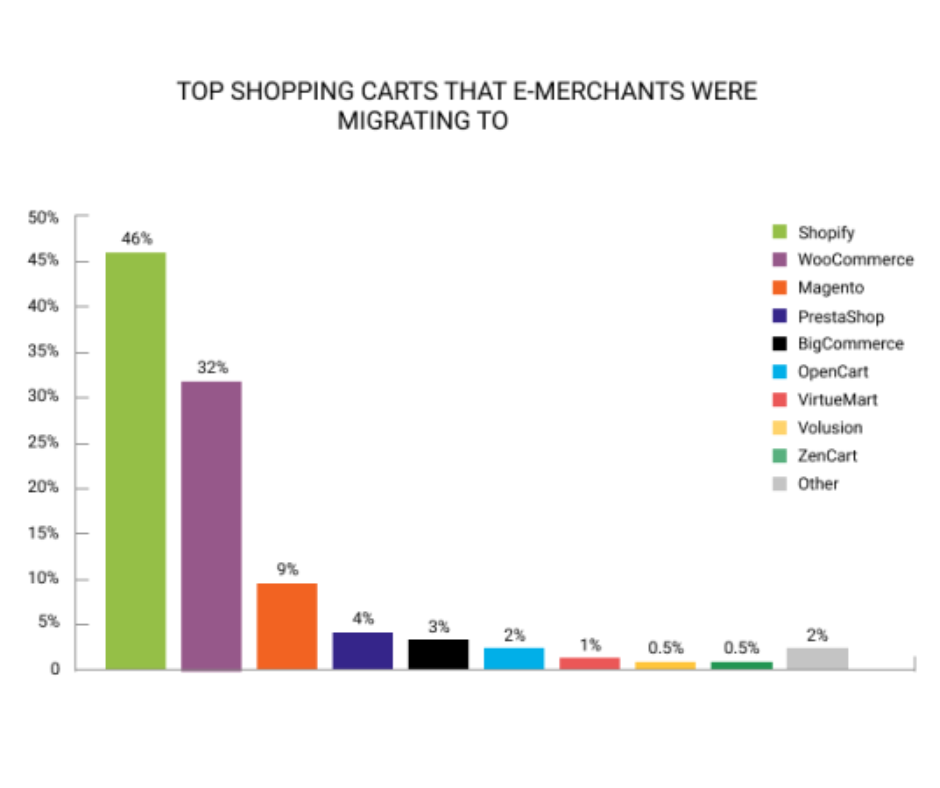 Platforms the Most Migrated FROM
When it comes to the top eCommerce solutions that store owners were leaving in 2022, Magento turned out to be the prevailing migrated-from eCommerce solution. OpenCart, Shopify, and WooCommerce take the second position with 11%, 11% and 10% accordingly. Then go BigCommerce, PrestaShop, and Wix (9%, 8%, and 7%).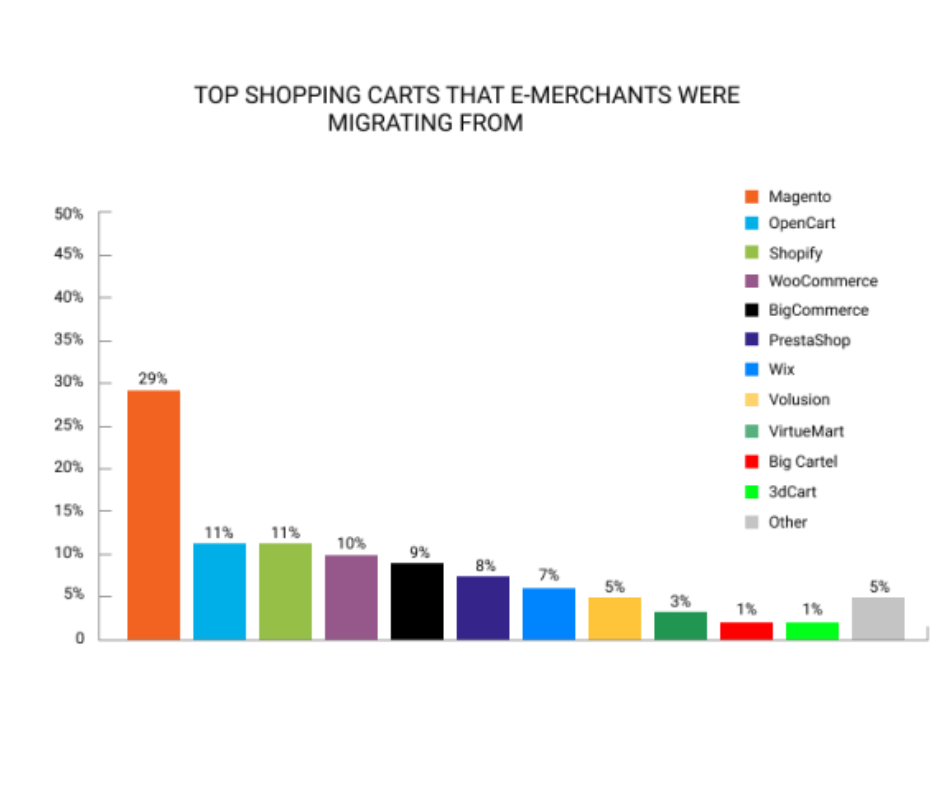 Note: Don't be deceived by what these numbers/percentages show - that doesn't necessarily mean that one platform is better/worse than another. In fact, deciding between various shopping carts depends not only on business purposes but also on the size of the business, the entrepreneur's expertise, budget, etc.
Open-source vs hosted carts. Which of them was on top in 2022?
With open-source e-commerce platforms, anyone can modify the source code, giving merchants endless customization possibilities. These solutions allow merchants to build unique e-commerce stores, but in-depth coding skills are required. Open-source carts are free to download.
Hosted e-commerce platforms are the all-in-one shopping cart solution, which offers store owners all the infrastructure they need to run an online store, including tech support. Hosted platforms are also referred to as SaaS or web-based shopping carts since they are cloud-based. They offer a subscription-based model to users.
Shopify is a hosted solution. It became the second-largest e-commerce website platform in 2018 and kept that spot until this year. It is now the third-largest. Many e-commerce entrepreneurs are migrating to Shopify because of its user-friendly interface.
Shopify Plus is also gaining traction. It is a user-friendly and scalable enterprise e-commerce platform for high-volume merchants. It is ranked among the top ten most popular platforms by the review site G2.
BigCommerce is a popular SaaS e-commerce platform that has become a major player in the e-commerce industry, currently powering more than 600,000 stores in 150+ countries.
Wix is another well-known hosted solution. It is the most popular hosted website builder. According to W3techs, Wix's market share is 3.6%, which makes it the third-most-popular website-building solution after WordPress and Shopify. Among website builders for people with no technical skills, Wix is the leader with 44% of the market share, according to BuiltWith. Squarespace has 16%.
Squarespace is a user-friendly e-commerce platform for small business owners, but big players are using the platform to great success, including Etsy, Harpers Bazaar, HBO, and Accenture.
In terms of open-source platforms, WooCommerce ranks among the top-rated open-source platforms, with an ever-increasing adoption rate. It's a highly customizable platform. Being so popular, the platform has a massive base of users that offers support to each other.
Magento is another open-source e-commerce platform. Magento has a super powerful search engine. It's a fast and secure platform, but it's complicated and expensive.
PrestaShop is an open-source e-commerce platform that is popular with newcomers because of its simplicity. It's a popular choice for up-and-coming entrepreneurs. It's straightforward to install, and users have access to live chat support.
OpenCart is another solution used by those who want total control over every aspect of their online store. OpenCart is gaining popularity. OpenCart stores increased 17% year-over-year in 2022 Q4, adding thousands of stores.
In fact, there are different criteria to decide between various shopping carts, but the open-source vs hosted principle usually brings the most confusion among store owners. Basically, both open-source and hosted shopping carts have all the functionality required to fulfill even the most demanding business requirements.
However, such benefits as greater customization possibilities and open access to the cart's core code have made 3 times more Cart2Cart users gravitate towards open-source eCommerce solutions than hosted ones.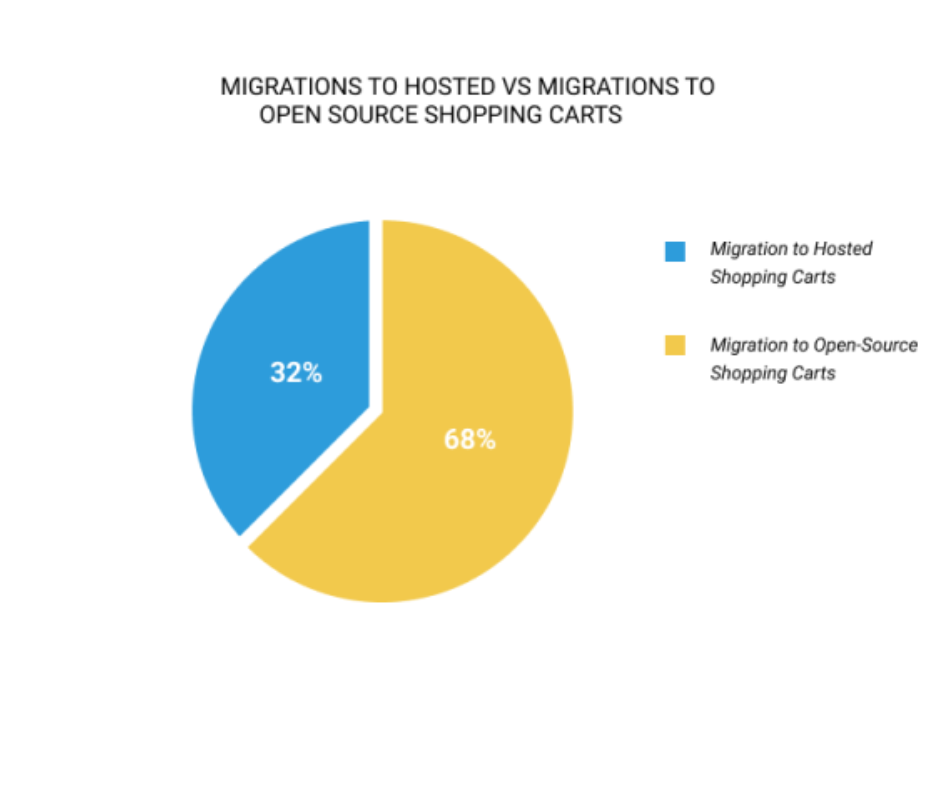 Despite the fact that most e-merchants still prefer open-source platforms to settle their online business on (68%), the latest trends reveal the fact that hosted platforms are constantly increasing in their popularity (if compared with the previous years, e.g. 2021).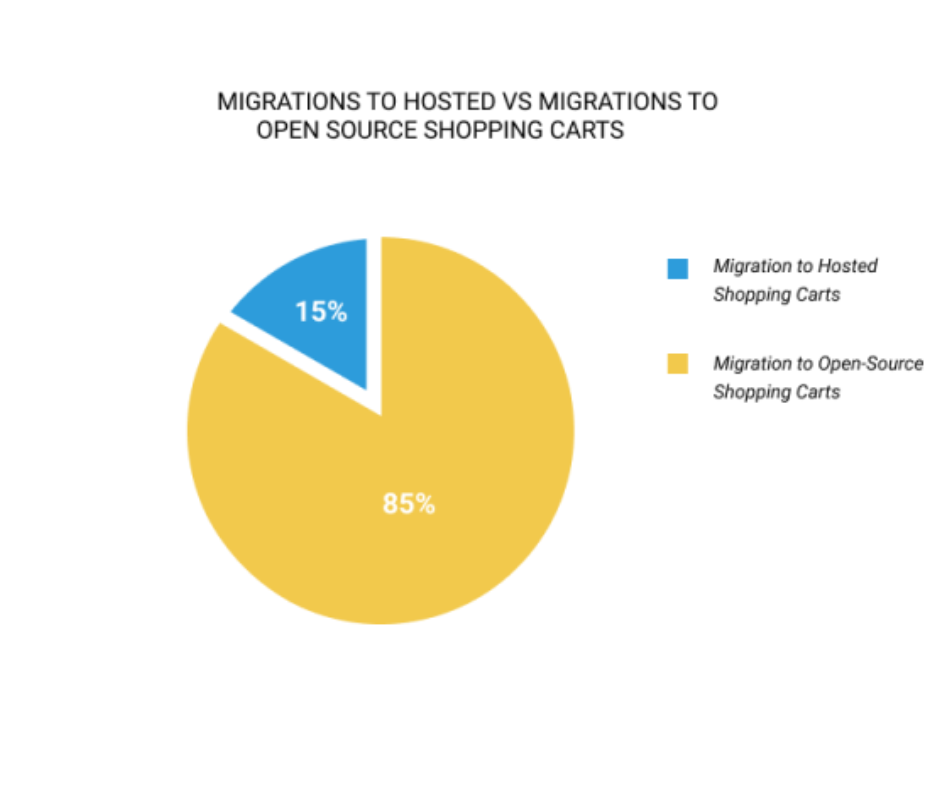 Conclusion
The e-commerce industry is in an evolutionary stage. There is stiff competition among the various e-commerce platforms, both hosted and self-hosted, with the adoption rates for different platforms still in flux. Only time will tell who will end up on top of the pile.
Are you planning to migrate your store? If you are thinking of migrating your store to or from any e-commerce platform, the Cart2Cart Shopping Cart Migration tool can accomplish it for you with no fuss. Ours is an advanced automated migration tool that transfers all your data to another platform quickly and securely.