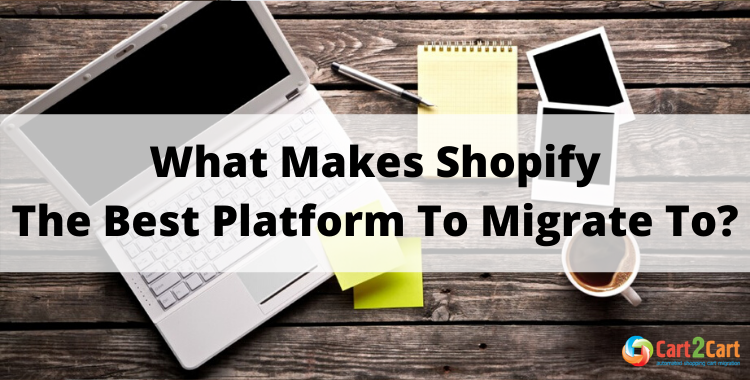 In this Shopify review, we'll cover the Shopify pros and cons, along with market share and migration challengies. Besides, read on to discover the Shopify benefits that make online entrepreneurs all around the globe choose Shopify.
Launched in 2004, Shopify is now recognized as one of the most reliable and robust eCommerce software. It can boasts about 20% of the market share. It's second only to WooCommerce and outpaces competitors like BigCommerce, Wix, and Magento.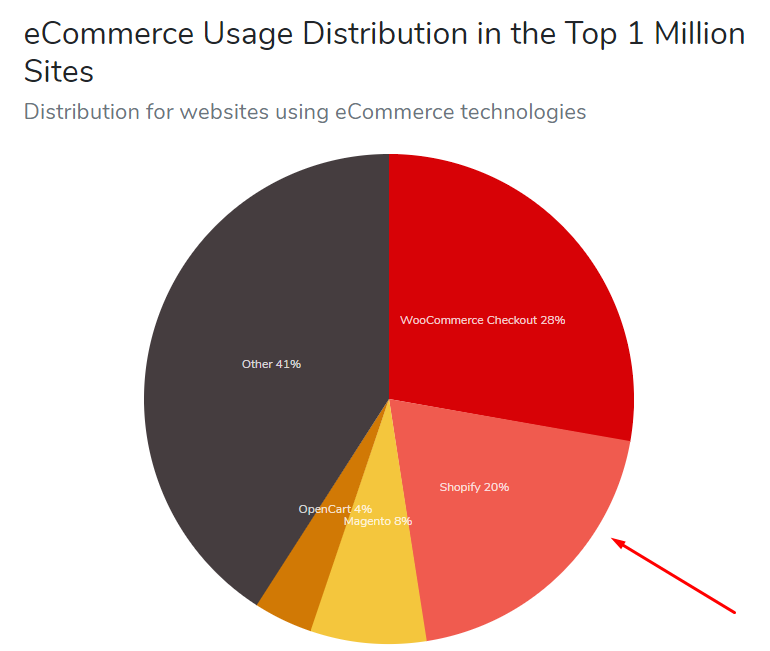 Shopify takes the upper hand over other platforms in terms of ease of use, compelling features, and themes variety. If you take a look at the chart provided by Google Trends, you can notice how Shopify's popularity grows with each passing year: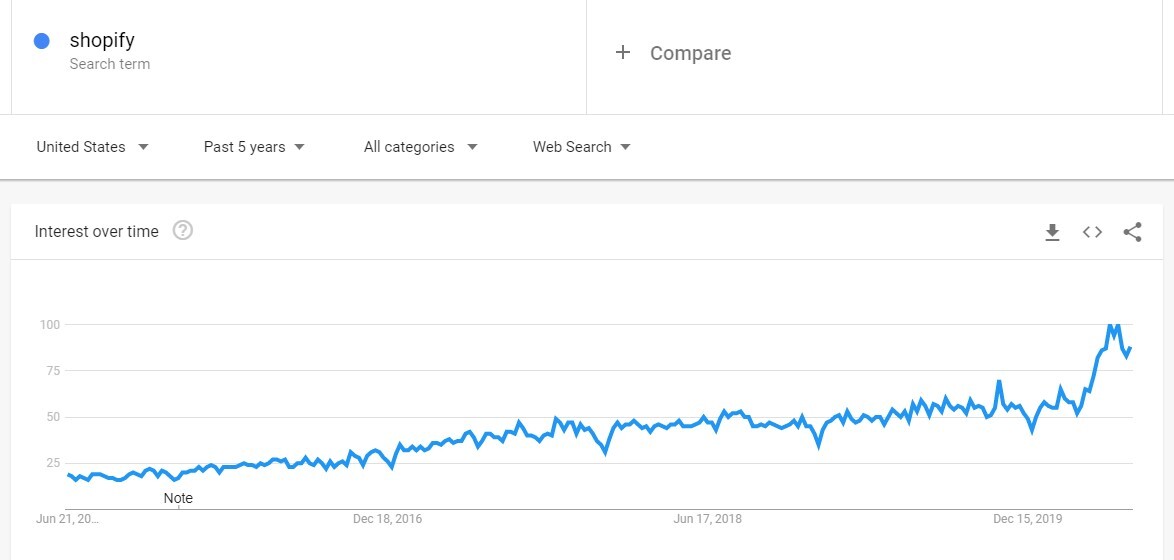 Shopify comes packed with a full spectrum of useful features allowing you to create online stores of various shapes and sizes. What's more, it provides all the necessary functionality to organize products, customize storefront, accept credit card payments, track orders, and more.
According to the Cart2Cart migration statistics, Shopify is the leading eCommerce solution that online entrepreneurs chose to migrate to during 2019.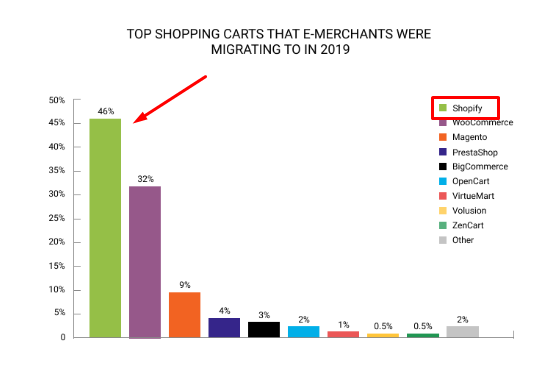 What are the Shopify pros and cons?
Below are the key reasons why merchants choose this shopping cart among dozens of other eCommerce solutions available at the web market:
Shopify benefits. Easy to use interface
Shopify comprises the core features of the online shop that are powerful to exploit and maintain on a daily basis. The shopping cart is simple to set up and manage. It includes a drag-and-drop builder for easy customization and allows moving the elements around the page to accommodate your specific demands.
Shopify benefits. Extensive App store
Shopify offers 3,000+ different apps that can help to automate various business tasks. There are several categories available to assist them with accounting, customer service, inventory, reporting, shipping, and more.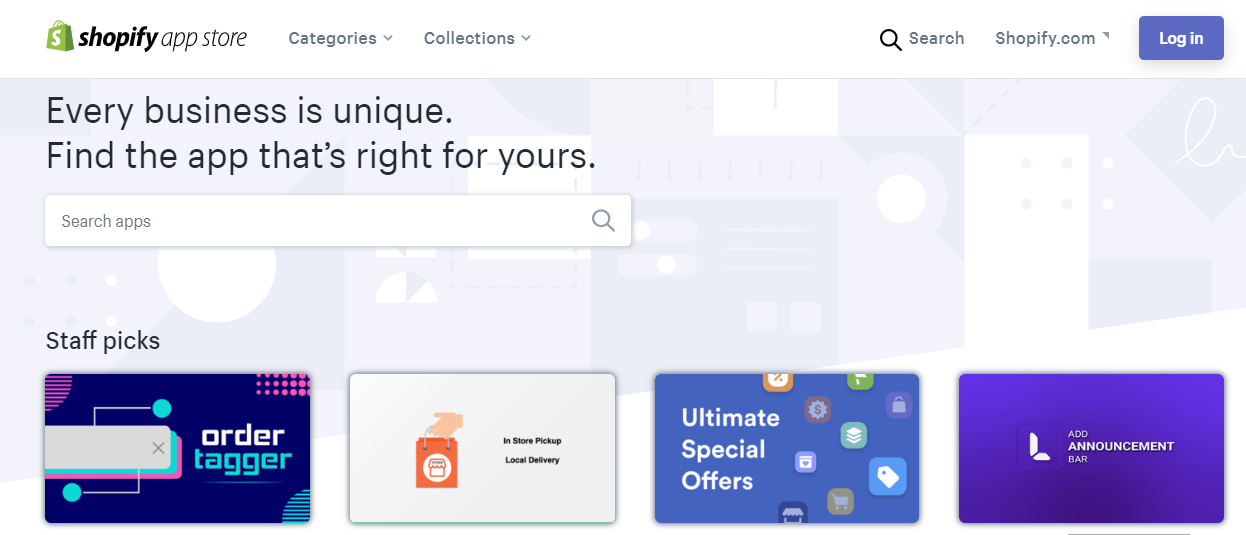 Shopify benefits. Beautiful themes
The platform offers store owners beautiful storefront templates that help them to retain customers. There are plenty of templates available, both free and paid, that will leave your site looking aesthetically pleasing whilst also professional.
Shopify benefits. Professional marketing tools
Even the basic version of the platform provides marketing tools - automation, discounts and selling on social media , just to name a few.
Shopify benefits. Great SEO Capabilities
Shopify's is extremely SEO-friendly and allows you to optimize a store for search engines even if you're not a pro. Its structure makes it possible to organize the products into categories, which is great for improving search results. Additionally, there are plenty of SEO integrations you can use, some of which come free with the Shopify plans.
Shopify benefits. Payment Gateways
With 100+ payment methods to select from, Shopify has a significant edge over other shopping carts. The gateways consist of 3 sections, so you get the possibility to choose the one that satisfies your business needs the best: major, international, and additional payment gateways by country. One of the primary platform's benefits is its own payment processor that allows you to manage the payments directly in the user dashboard.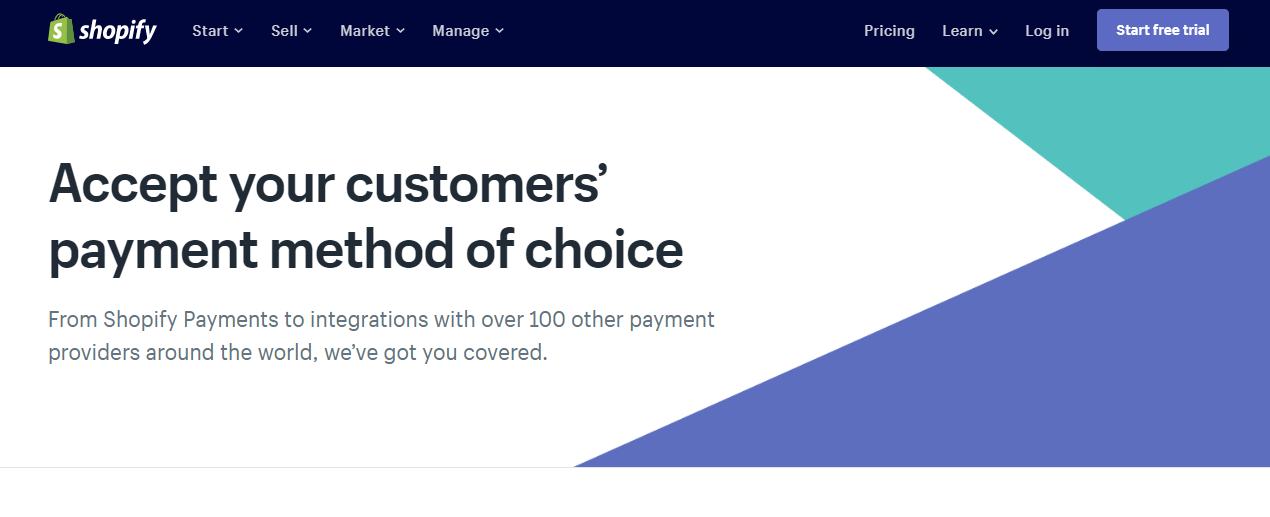 Despite all the benefits associated with Shopify, there are still some limitations. Consider the following Shopify drawbacks before settling your online store on this eCommerce solution:
Monthly subscription payment model. Most of the Shopify's add-ons require a monthly payment. The emerchants who are just at the very beginning of their Shopify path, may start incurring monthly costs just to keep their store up and running.

Limited content management. The retailers who wish to enrich their store products with videos, carousels, etc., won't be able to do that with Shopify. It is optimized for selling products only.

Customization difficulties. With Shopify, you're locked into using their own coding language called Liquid. Therefore, if any changes are required, some level of tech skills are necessary. Otherwise, you might need to hire an expert.
Why is Shopify good for eCommerce?
Let's now clarify the Shopify pros and cons that make so many store owners all around the world gravitate towards it:
There's no need to worry about server costs. Since Shopify is a hosted platform, store owners are billed monthly for their services. There are several pricing plans, each covering all aspects of the service, including web hosting, access to the software, customer support, security, etc.

It's easy to set up and use. The process of getting started with Shopify is simple and intuitive. There are no technical capabilities expected to set up and launch an online store within hours.

Shopify can grow with the business. The platform is equipped with all the necessary functionality to grow and scale with the business. It provides a reliable web hosting and gives users access to dozens of various integrations, that allows to expand the platform as required.

Cross-channel selling is possible. Shopify allows selling across different channels and platforms, for instance via Facebook using the Shopify Facebook App. Additionally, they also offer capabilities to sell on other platforms, like Twitter, Houze, Wanelo, and Pinterest.
Who is Shopify best suited for?
Due to its multipurpose nature, Shopify is a perfect go-to in the following cases:
Shopify is very intuitive to set up and manage, so even the greenest of minds with no tech skills can get comfortable with it shortly.

The platform is very reasonably priced, so it's an attractive choice for small businesses that are just starting out and want to minimize costs.

Shopify also offers offline software, therefore the brick-and-mortar store owners can integrate it with the operation that is already set up.

Because Shopify makes it easy to expand the store far behind its initial limits, growing businesses can also benefit from using Shopify.
Is Shopify worth the money?
When we've settled with the Shopify pros and cons, it's time to delve into how much does Shopify cost. Before we describe the pricing plans, let's mention a 14-day free trial offered by Shopify. It unlocks all the features, so users can test all the platform's ins & outs before sticking with any of the premium plans.

When it comes to the actual costs that you can expect going with Shopify, there are three main pricing plans:
Basic Shopify plan costs $29 per month, plus 2.9% and 30¢ per transaction. Those online entrepreneurs who need a professional-looking and functional online store, but don't want to pay for the additional features provided in the more expensive Shopify plans, usually find this solution a perfect go-to.

The most popular - Shopify package - goes for $79 per month, with 2.6% and 30¢ per transaction. This plan works best for companies that plan to scale up shortly, since the unlimited products and unlimited storage ensure that all of your items fit well into the site.

Advanced Shopify is priced at $299 per month, + 2.4% and 30¢ per transaction. This package serves nice for high-revenue companies that need advanced reporting, since it allows for testing and projecting.

Apart from those plans, there's also a Shopify Lite plan that costs only $9 per month. It enables merchants to start selling on your existing website or social media pages. Besides, it makes it possible to add eCommerce functionality to the already settled online project. For instance, you can install the Shopify Lite on your WordPress site.
Not to mention an enterprise-grade plan, Shopify Plus, that starts at $2,000 per month and grows according to the business' specific needs (for instance, the traffic levels). It is targeted at high volume merchants and large businesses which sell thousands of products on a daily basis. However, the pricing remains stable from the day of initial sign on.
If you want to migrate your Magento Enterprise store data to the Shopify Plus platform, you can do it in a totally automated way.

You can upgrade, downgrade or cancel your Shopify plan at any time, as long as you pay on a monthly basis
How to Migrate Your Store to Shopify?
If you wish to migrate your current store to Shopify, you might consider various migration scenarios. More specifically - manual, assisted and automated. Realizing the complexity of manual work and the cost of hiring an expert - the automated migration solutions can come in handy.
Make sure to watch our video to see a step-by-step process of automated Shopify migration with Cart2Cart service:
Finishing thoughts
With all Shopify pros and cons, it is a great eCommerce software for newly launched and already established businesses alike. The amount of useful features and add-ons is impressive. Shopify's team tries its best to constantly improve the platform, adding new features and services that aim to make the life of online entrepreneurs much easier.
However, the final decision whether to settle your online store on Shopify is only up to you. Consider your specific business needs and objectives, budget and tech skills, and finally make the right choice.
What's stopping you? Achieve success by migrating your eCommerce data to Shopify right now!