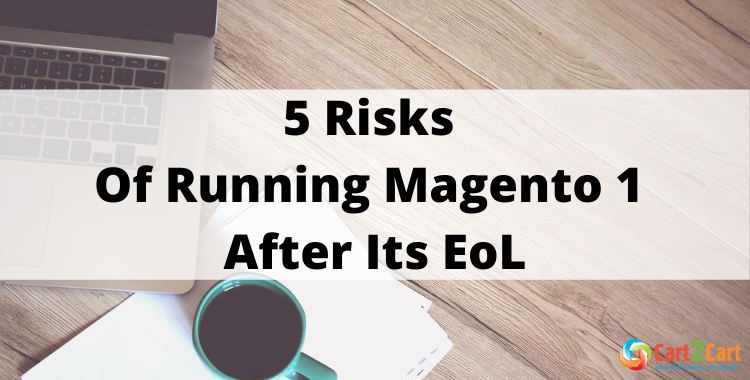 Magento wants everyone to update to its latest Magento 2 version to take advantage of its regular update cycle. But what happens with those online retailers who haven't upgraded to M2 because of some reasons? Let's look at what business risks you're likely to face with Magento 1 end of life.
With so many (over 100,000) Magento 1.x stores still working, lots of retailers are faced with a big dilemma of whether they should continue running Magento 1, upgrade to Magento 2, or even replatform, and lots of other related questions. Therefore, we've decided to put together the most popular questions of Magento 1 store owners and provide answers to them.
What Does Magento 1 End Of Life Mean?
As it has been stated at the official Magento Website, Magento 1 end of life has ended in June 2020. That means you no longer receive any security or feature updates from Magento Inc., no matter if you run Community or Enterprise Edition. With no security patches after the cut-off date, any sites that missed out on the migration to Magento 2 would be vulnerable to cyberattacks and hacks.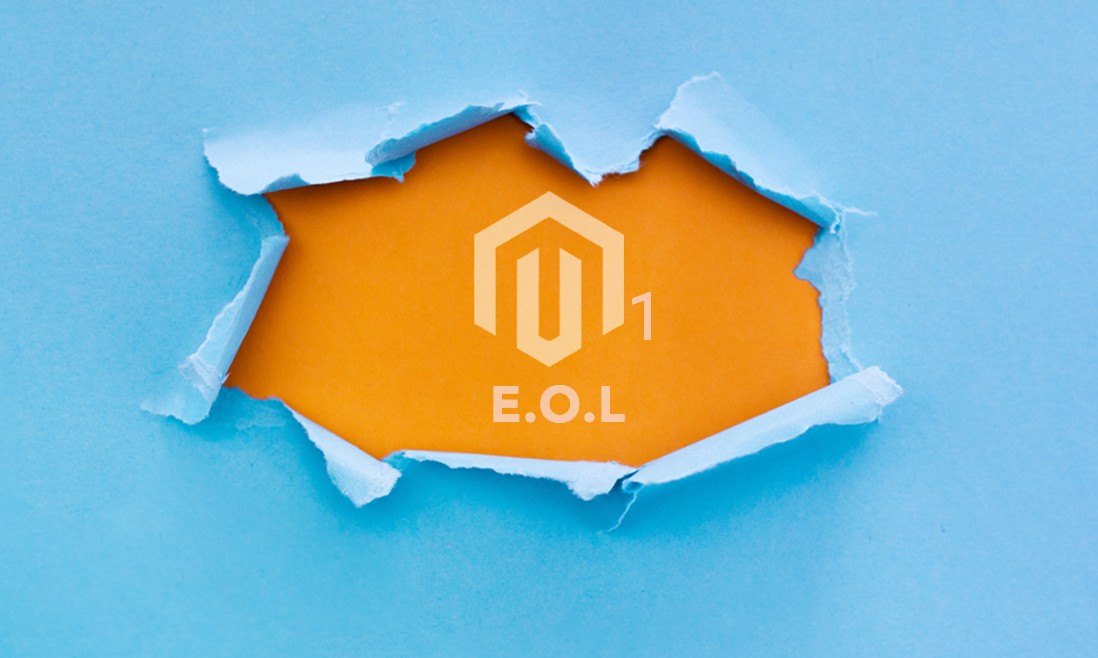 What happens if I continue running my estore on Magento 1?
If you have to remain on Magento 1 after its EoL, here are the main risks and repercussions of this decision. Take a look at the list below that highlights the main dangers of staying on Magento 1 after June 30, 2020:
The security of your store is now at risk
While you can still continue selling goods through your Magento 1, your site is no longer secure. This will result in hefty fines, a loss of reputation, and a potential setback from which your business may not recover.
You're missing out on eCommerce innovations
With Magento 1 end of life, your Magento store is no longer receiving any feature updates and innovations that means it is quickly becoming outdated. As a result, it's going to be challenging to remain competitive and keep up with the continually evolving consumer demand.
Maintaining your Magento 1.x store is now more expensive
Since many Magento 1 experts start focusing on Magento 2 development, it now becomes difficult to find support for Magento 1 software. If you manage to find the developer that can do the work for Magento 1, it will be more costly and time-consuming.
You're losing the PCI compliance
With Magento 1 end of life, your store is no longer PCI compliant. Google will mark your store as "not secure" before the website's URL, which will keep away potential customers. Besides, by staying on an unsupported version of the platform, e-merchants run the risk of violating PCI compliance, which has a number of negative effects on a business (monthly penalties, damaged reputation, revenue loss, etc.).
Note: PCI DSS compliant means that your e-commerce site meets the latest Payment Card Industry Data Security Standard.
Extensions become unavailable or malfunction
With Magento 1 no longer updating, the majority of extensions became non-functional and obsolete. Since your business processes depend heavily on such extensions, it will cause functionality problems.
| | | |
| --- | --- | --- |
| Release | Release Date | End of Software Support |
| Enterprise Edition 1.9 | July 2010 | July 2012 |
| Enterprise Edition 1.10 | February 2011 | February 2013 |
| Enterprise Edition 1.11 | August 2011 | August 2013 |
| Enterprise Edition 1.12 | April 2012 | April 2014 |
| Enterprise Edition 1.13 | October 2013 | June 2020 |
| Enterprise Edition 1.14 | June 2014 | June 2020 |
| Enterprise Edition 2.0 | November 2015 | March 2018 |
| Enterprise Edition 2.1 | June 2016 | June 2019 |
| Magento Commerce 2.2 | September 2017 | December 2019 |
| Magento Commerce 2.3 | November 2018 | |
What should I do if I'm still on Magento 1?
If you're still running your online business on Magento 1, there are two ways to solve the problem:
upgrade to Magento 2,
move your store to another platform.
What should I choose - Magento 2 or some other platform?
Despite being challenged by other eCommerce platforms, Magento still is one of the most popular and talked-about eCommerce solutions at the web market. Besides the popular features inherited from the previous versions, it has a long list of improvements that would add functionality to your store. It includes excellent site performance, mobile-friendly experience, and a better checkout if compared with Magento 1.
Magento 1 To Magento 2 Migration: Top Reasons To Perform The Switch
If you find yourself in two minds between Magento 2 or some other eCommerce solution - read our overview of the most popular Magento alternatives in this article - Magento Alternatives 2020: Which Solution To Choose After Magento 1 Closes?

What are Magento alternatives?
In brief, WooCommerce, BigCommerce, Shopify, PrestaShop, OpenCart, and Magento 2 are the solutions that merchants around the world choose when leaving Magento 1.x. If you're looking for more user-friendliness and affordability, Shopify is an excellent way to go. Those merchants already familiar with WordPress will find it easy to use WooCommerce. If the security of your online business is of concern - BigCommerce might be the best option. But if you're comfortable with Magento 1, just upgrade it to the latest 2.x version.
Top 5 eCommerce Platforms For 2020. Shopify vs Magento vs WooCommerce vs OpenCart vs PrestaShop
As you can see, choosing the right-your-size shopping cart isn't a one-click affair at all. Consider your specific business needs and objectives, skills, and the amount of time and money you'll be ready to spend.
Can I replatform by myself?
If you don't have strong coding skills, it would be better to utilize specialized tools. Cart2Cart is an automated migration service that allows transferring all the store databases across various shopping carts without hiring a developer. The transfer may include products, customers, orders, manufacturers, product categories, product attributes, images and other content of older online shops to the new ones in a simple and fast way.
Magento Migration Tools: How To Choose The Right One? Magento Database Migration: How To Back Up & Restore Files?
Automated shopping cart migration with a tool like Cart2Cart is an innovative way to transfer the store database from your Magento 1 to its new destination without shelling out for a developer. It requires no special skills to operate it properly and can be used even by the tech novices.
Is it possible to migrate Magento themes and extensions?
Unfortunately, it's impossible to import your current theme from Magento 1 to Magento 2 or some other eCommerce platform. Alternatively, you can find a free one or buy a quality ready-made theme and apply it on your new store.
Similar to the theme migration, extension transfer isn't possible as well. Instead, you need to find and install new modules for Magento 2 or another platform, that provide the same functions as those for Magento 1.
How To Manage Your Store After Magento 2 Migration
Risks Of Running Magento 1
What is the latest supported version of Magento?
With Cart2Cart you can easily update Magento and move your products, customers, orders, coupons, etc within all Magento versions from 1.1 to 2.4.
How to upgrade Magento to the latest version?
If you want to upgrade Magento to the latest version, please follow the steps below:
Install the latest version of Magento.
Connect your Magento stores (old and new one) by following the setup steps of the Cart2Cart wizard.
Select the transferable data entities and the additional migration options.
Run a free demo migration.
Start the Magento upgrade process (full data migration from your old Magento store to a new one).
What data entities can I migrate during the Magento upgrade with Cart2Cart?
The full list of data entities that can be moved to a new version of Magento during your Magento upgrade process is presented in the table above.
Final Slice
Many of the businesses have already left Magento 1.X with no regrets at all. Now is your time to make the decision and take your online business a step forward towards success.
Left with a strong desire to upgrade your Magento 1 to Magento 2 or replatform to another eCommerce solution? Benefit from FREE Demo migration provided by Cart2Cart and see how easy it can be to migrate your store without the need of an expert.