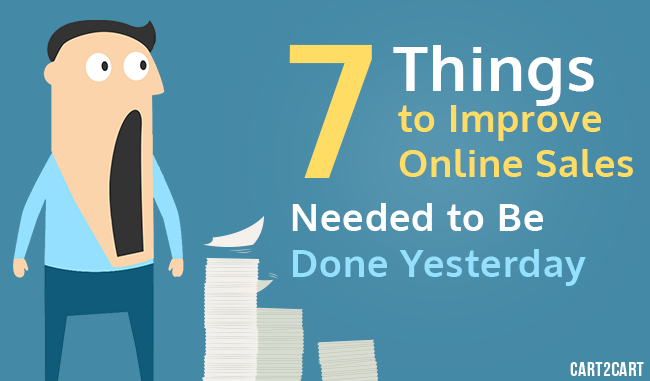 Do you know what procrastination is? It's "the avoidance of doing a task which needs to be accomplished" -- the seed of corruption in each of us. It's a big, sloth-like beast that keeps putting things off, stretching the deadlines and pushing you back from succeeding.
Some call it "the greatest entrepreneur's enemy", others procrastinates to define it, and some fight it back. And which camp are you to join?
If you're continuing reading these lines though, you've stepped on the path of an e-Commerce warrior 🙂 Now, here's the shortlist of 7 things to improve your online sales you should have started doing yesterday. But it's never too late, right? Let's set the wheels in motion!
1. Implement A/B Testing
Intuition is good, but numbers are more trustworthy. If you've never done such essential thing as A/B testing, start doing it now. There are a number of tools to help evaluate any change you do to your website by collecting the fullest data of user's behaviour. Unbounce, VWO, Google Analytics Experiments and other services will give you precise conclusion on what landing page or an element of it is more successful in terms of goals you set. Eventually, just a few simple tests will undoubtedly have a positive result on your conversion rate.
2. Analyze Competitors
Remember that famous quote from The Godfather Part II, "Keep your friends close but your enemies closer"? Well, stick to that rule, boy! *puffs a cigar*
There are a plenty of services to keep track of your competitors at day and night. Such tools as MOZ, Spyfu, SemRush, Semanticforce and Mention, for example, allow you to detect every move and step, every post and every change in SERP of your rivalries. With all these info at hand, you'll be able to analyze their marketing efforts timely and use it to your own advantage to keep your sales rising.

3. Start a Newsletter
Think about it: 44% of email recipients made at least on purchase in 2015 based on a promotional email. Doesn't it seem you're missing something out if email marketing is still not on your weekly (or monthly) agenda?
A regular newsletter is a great way to keep your customers on top of your company's news, increase traffic and build loyalty. Make sure, though, your emails are not completely promotional or even "spammy". Every time you knock on the email box of your customers (who have kindly agreed to receive updates from you), the letter should contain some benefit for them. This could be either a special offer, a coupon code or simply a useful piece of information.
Uh-oh, what do you mean you have no subscription base? Don't worry, here's something for you 🙂
4. Update Your Blog Often
First off: do you have a blog? If no -- go and build one. If yes -- put more efforts into updating it with qualitative content. Regularly.
We guess there's not need to write much about why blogging is important. A website filled with good thematic content does not only create additional value to your customers (which makes your business more credible), but drive target traffic from search engines. Most important -- blog posts need to be unique, well-written and SEOed.

5. Start Your YouTube Channel
Video blogging (or vlogging) is by far one of the most underutilized e-Commerce strategies. Being an easily devourable content, videos have an incredible ability to increase conversions and build strong relations between you and your target audience.
But does it make sense to blog AND vlog? Certainly! First of all, video takes much more resources to produce than to write a blog post. Secondly, since search engines are still not capable of "watching" a video, text posts are more beneficial in terms of SEO. Thirdly, video and text are often used for different purposes: text blogs are awesome for describing a topic or product in general, while videos are great for demonstrating the product in use.
It's estimated that a qualitative, high-resolution video may increase the possibility of buying a product by 63%. Well worth the efforts, isn't it?
6. Commit to Self-Education
Obviously, you already committing to self-education and improvement right now, but let's put it on a regular basis, ok? Spend at least 10 minutes a day on market research, reading e-Commerce news, show cases and insightful articles on effective marketing and retailing strategies. Also, it would be a great idea to go through a several practical courses on Udemy or HubSpot. Sooner or later, you'll get a chance to see your knowledge in use and improve sales considerably.
Start with these Top 10 e-Commerce Blogs to Fuel Your Inspiration we've prepared for you earlier.
7. Get More Personal on Social Media
Nobody is going to be impressed with dry, official-like posts on social media. Instead, try to turn to an informal style of conversation and add some personal charm to draw some additional community attention. Why not dilute business talk with jokes, curious facts and offtopic? That's how you'll show your personality, build loyalty and even personal affection, if to do everything skillfully.
Here's a curious example of how F*ckoffee Cafe handles it out on Twitter.
Serving a coffee pic.twitter.com/PAzHnUSK2L

— Fuckoffee (@fuck0ffee) October 9, 2015
It may seem somewhat extreme, but that's how F*ckoffee got its 7,700 followers and hundreds of retweets daily. We wouldn't recommend you to choose such an aggressive tactic of running social pages, but… well, who knows what's best for you? 😉
At last but not the least, how about switching to a more progressive shopping cart? A proper e-Commerce solution that suits your business model and requirements can improve your online sales considerably simply by doing what it should in the best possible way -- selling. So consider perform an automated shopping cart migration by starting with a free demo now!