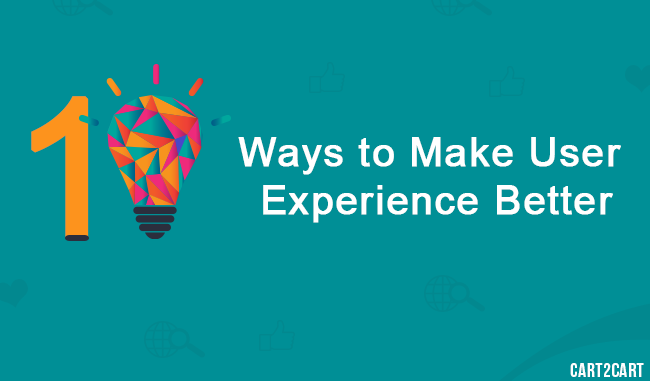 Do you remember underground bands - The Velvet Underground, The Pixies and so and such, that never agreed to simplify their music and make it more appealing to a common listener? Well, they were dead wrong, with their stupid dignity (kidding of course, they're the best). But if a long history of human commerce has taught us anything - it's that merchants should suck up to clients shamelessly in order to become even remotely successful.
So, what is it that shoppers want you to do?
You and I were customers a few times, right? I bet you'd agree that the #1 demand in that position is ease. We're all seeking for user experience that doesn't make us sweat. Complex interface, on the other hand, much page load time, confusing navigation, absence of security badges and testimonials are all deadly sins in the bible of e-Commerce. As fussy buyers, with lots of options, we do not forgive such horrors and run away promptly to the nearest store offering more comfort.
But how to make your shopper never want to leave? Here are the 10 ways to make user experience better!
1. Include reviews and testimonials
Modesty isn't a great policy when it comes to acquiring clients - showing off is. Demonstrate social proof by highlighting testimonials and including at least a couple of well-written, praiseful reviews to your website. It dispels doubts of the first time shoppers and reduces anxiety - which is essential to creating a good user experience.
2. Be mobile-friendly
Cumbersome computers are becoming obsolete, whilst smartphones and tablets are now something of a vital life part for each of us. That's not a secret for a long time. Isn't it great to make online orders whilst sitting in a coffee shop or during a boring conference? Provide clients with such option! Everyone else (successful) does.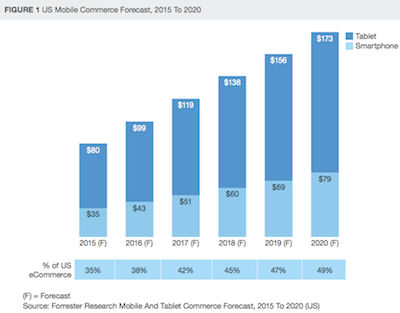 According to Forrester, mobile sales are expected to reach 114 billion in 2016.
3. Use bullets
"Brevity is the sister of talent" Chekhov said, but it's also the sister of a great user experience. People don't want to fish out the needed info about products, features, services, terms of use etc. from the never-ending texts riddled with technical terminology. They'd much rather read distilled, summarizing sentences that are bullet points.
Such writing approach also gives you space for creativity - put cool icons next to your bullets to convey the message quicker and make your web pages more visually pleasant.
4. Colors matter!
According to Kissmetrics, women prefer colors blue, purple and green to other ones, especially to grey, brown and orange. On the other hand, men like blue, green and gray, whilst can't stand purple, orange and brown. Great research, isn't it? Use this knowledge if you're selling specifically feminine or manly items. Or, if you distribute something neutral, like books, just infest your store with the color blue, apparently you can't go wrong with it.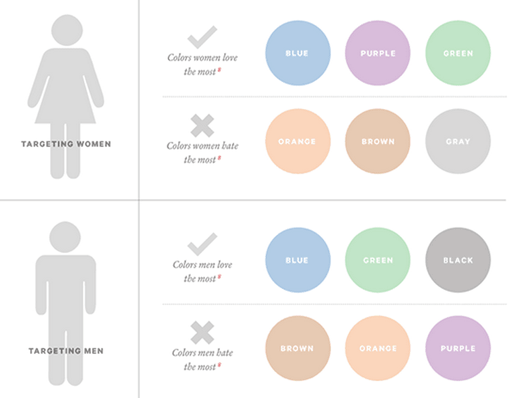 Image from: http://blog.kissmetrics.com/how-colors-affect-conversions/
Don't get obsessed, though - remember it's still all about the content. But putting the words into stylishly colored frames can never hurt.
5. Pick the right images
Being on the topic of visual perception, let's discuss the pictures you use. Evidently, they make a huge difference. Jamie from Signal v. Noise states he witnessed a 102.5% increase in sign ups after changing a dry white background to a picture with a real smiling person on it. Then, the test progressed - he added some more company info to the person photo design and, curiously enough, the sign ups dropped by 22.77%.
So, take a few lessons from him and perform a similar A/B testing on your own - it is both curious and useful for enhancing UI.
6. Provide simple navigation
Obviously. Make sure customers don't feel they're trapped in impenetrable thickets when they pay you a visit. Otherwise, they'll leave. We advise such measures for improving navigation:
Consistency - don't make customers learn a new navigation structure on each new page. Keep it consistent throughout the website.
Divide categories distinctly - if there is a plethora of categories and subcategories on your website, ensure they're all clearly separated to avoid confusion. For instance, it is highly not recommended to put more than 7 categories on the homepage.
Describe images - Include ALT texts to each image, especially to those that link to other pages. Turn them into road signs that inform shoppers about which page are they going to enter by clicking on a particular image.
7. Ensure Trust
Nothing contributes more to a joyful user experience than the feeling of safety. Little symbols like SSL certificate symbol, McAfee Secure, PayPal verified are proven tools to make customers feel protected, and increase conversion. Make sure your webpages are flooded with them.
Other helpful trick is to take as little personal data as possible. No one feels comfortable putting their credentials on the web, so keep this nuisance to a minimum. By reducing the number of registration fields you'll also improve store's look.
8. Offer a language selection
If you're selling products abroad, it's clear you should translate your website to improve the experience of your foreign customers. But, offering a language selection is also useful when you're just a local retailer. The presence of such option alone creates an impression of a high-scale, global business. The kind of business shoppers feel safe to deal with.
9. Use Calls to Action (CTAs)
Not only do calls to action increase conversion rate, they're great for navigation purposes too. When clearly written, they serve as pointers - explaining customers how to proceed along the website, where to click to get a product or a service they're seeking for.
10. Make it quick
Nothing else murders the first store impression as effectively, as the slow page load. It makes customers want to escape and never enter your retailer again.
Here are two facts on the matter:
47% percent of customers expect websites to load in less than 2 seconds.
57% of them will abandon pages load time of which exceeds 3 seconds.
Thus, put all the effort you can into decreasing the time your webstore pages open up - use tools to track the speed and plugins for effective caching, gzip your website and optimize each single image. Combined, these measures will improve user experience drastically.
That's it. That's been a list of suggestions we hope will help you make user experience better. It certainly isn't complete - there are hundreds of things you can do additionally to improve UI, but, at least, a great starting point.
Good luck with your online business!