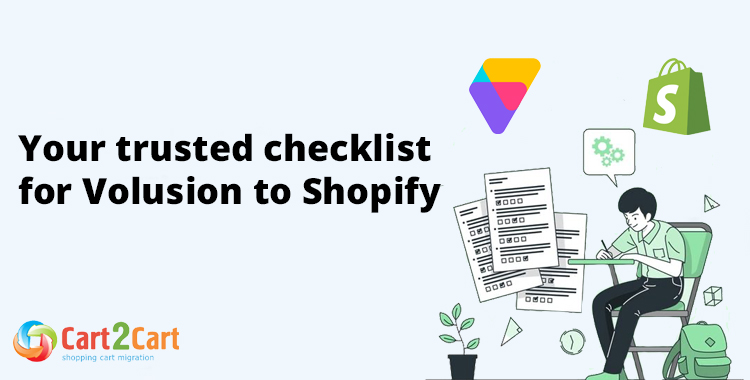 On 27th July 2020, Volusion announced that it had started filing for Chapter 11 Bankruptcy. This move was caused by a security breach at the company, which led to thousands of customer payment card records being sold on one of the dark webs. This turn of events have made many merchants who run their stores on Volusion jittery and many have decided to migrate to other ecommerce platforms, including Shopify.
Volusion to Shopify migration
In short, store migration is the process of transferring data, design, and functionality from the existing store to a new store. The process allows merchants to export the database (products, customers, orders, etc.) to the new store and configure the store's look and feel. Moreover, it allows to install the necessary apps to add functionality.
What is Volusion to Shopify Migration?
The eCommerce migration is the transfer of data like products, customers, orders and more from your current Volusion store to the new Shopify one. It consists of a few simple steps if done in automated manner, takes only a couple of hours and requires no tech skills.
With Cart2Cart, it's a simple four-step procedure to migrate Volusion to Shopify. The store migration process will preserve your order IDs and SEO, and move all your store data safely. Your existing store's data is not affected by the migration. What in fact happens is your data is simply copied to your new store. In the meantime, while all this is happening, you can keep operating your store. Cart2Cart 100% guarantees the security of all your store data.
Pre-Migration Tips
Prepare your Volusion store
Get your Volusion store ready for the move by auditing all your Volusion store data. Go through all the current Volusion store records, back up what you want to keep and decide what needs to be edited or deleted.
Prepare your Shopify store
Get your Shopify store ready. Do this by creating an account at Shopify.com and make your store available online.
Set up the theme for your new store
Choose a default theme for your Shopify store, but don't customize it yet. Should you do that, it might compromise the migration process. You can do customize your Shopify store after the migration.
Volusion to Shopify Migration Checklist
Set up Volusion to Shopify data transfer by first configuring the Source cart and then specifying the Target cart.
Set up the Source cart
Choose Volusion from the drop-down menu and paste in your current store's URL. Provide the Client ID, API Path and API Token from the admin account (find a detailed guide on how to do that in our FAQ).
Specify the Target cart
Choose Shopify from the drop-down list and click the "Install Plugin" button and provide your store's URL. When done, install the Migration for Shopify app by clicking on the matching button.
Select data for migration
You can choose each item you want to transfer. You can transfer orders, customers, products and product categories, manufacturers, coupons, reviews, and CMS pages, or you can select to transfer everything by clicking the "Select All" box.
Customize your data transfer with additional options
Cart2Cart offers many migration extras, including 301 redirects, preserving product image URLS, preserving customers, migrating customers' passwords and invoices and more.
Map customer groups & order statuses
Match your Volusion order statuses and fulfillment statuses to the corresponding ones on Shopify.
Launch a free Demo migration
For this, first transfer 10 products in 30 minutes so you can check that the transfer works as you envisaged.
Start Full migration
Click the Start Full Migration button to start the actual Volusion database transfer to your new Shopify store. When it's completed, check the migration results and start business on your new platform.
Post-Migration Recommendations
Make sure your website migration went without a hitch and that your new store works correctly. Test the whole shopping process by creating a test product and placing an order. Select shipping and payment options and check that everything works perfectly.
Make full use of the vast array of Shopify apps to replace the ones you used for your Volusion store and optimize the functionality of your Shopify store.
This is the time for you to customize your store to look the way you want.
Notify your customers that your store lives on another platform and invite them to activate their accounts.
Volusion to Shopify Migration - FAQs:
Should I change from Volusion to Shopify?
To answer this question, we recommend to carefully consider your business goals and requirements. Shopify offers a wider range of templates, comes with a sophisticated point of sale system, facilitates multi-currency selling, and has blogging functionality built-in. Additionally, it is easier to use when compared with Volusion. If this suits you, then migrate to Shopify.
What are the peculiarities of users' migration from Volusion?
When automatically migrating from Volusion, keep in mind that only those users with the "Customer" status (marked as "C" in the "access key field" of your CSV users file) can be transferred to Shopify via Cart2Cart. The process will not include users with other statuses, such as "Partner".
What is the actual price for Volusion to Shopify migration?
Cart2Cart has a flexible pricing policy that varies according to the volume of transferable data and the extra migration options you choose. You can calculate the price of your Volusion to Shopify migration by choosing your Source and Target platforms in the Cart2Cart Estimator.
Congratulations! You have successfully transferred your store to Shopify. Enjoy the new experience!