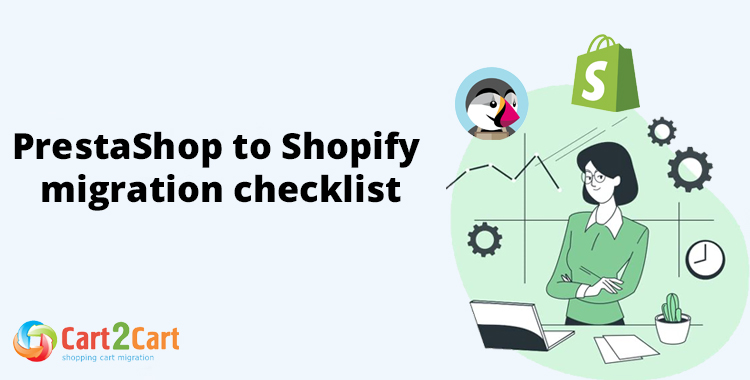 PrestaShop is a free open source shopping cart platform. It is used by small companies to create online stores and sell their wares online. PrestaShop is self-hosted so merchants need to have a hosting plan and the technical and coding knowledge to set it up. The problem with this is that each product added to the PrestaShop catalog occupies a lot of hosting space, which causes loading time issues.
A common complaint of PrestaShop users is the lack of customer support and accompanying lack of online documentation to make up for the lack of human support.
Also, the platform ends up not being free since users have to buy extra modules to meet their needs. Depending on the number of modules that are required, the costs can add up. These are some of the reasons why PrestaShop users may want to migrate to Shopify.
PrestaShop to Shopify migration
In short, store migration is the process of transferring data, design, and functionality from the existing store to a new store. The process allows merchants to export the database (products, customers, orders, etc.) to the new store and configure the store's look and feel. Moreover, it allows to install the necessary apps to add functionality.
What is PrestaShop to Shopify Migration?
The eCommerce migration is the transfer of data like products, customers, orders and more from your current PrestaShop store to the new Shopify one. It consists of a few simple steps if done in automated manner, takes only a couple of hours and requires no tech skills.
With Cart2Cart, you can migrate your whole PrestaShop to Shopify in four steps. The migration process is guaranteed to preserve your order IDs and SEO, and move all your store data safely.
Pre-Migration Tips
Prepare your PrestaShop store
Prepare your PrestaShop store for the move to a new platform by analyzing all your PrestaShop store data to determine what data needs editing or deletion.
Prepare your Shopify store
Get your Shopify store ready. Do this by creating an account at Shopify.com and installing your store.
Set up the theme for your new store
Choose a default theme for your Shopify store and, for now, keep the default Shopify store theme you chose. Don't do any customizations at this stage.
PrestaShop to Shopify Migration Checklist
Set up PrestaShop to Shopify data transfer by first configuring the Source cart and then specifying the Target cart.
Set up the Source cart
Choose PrestaShop from the drop-down menu and paste your current store's URL. Provide the Client ID, API Path and API Token from the admin account (find a detailed guide on how to do that in our FAQ).
Specify the Target cart
Choose Shopify from the drop-down list and click the "Install Plugin" button and provide your store's URL.
Select data for migration
You can do this in two ways. Either choose each item you want to transfer separately, or select to transfer everything by clicking the "Select All" box. You can transfer orders, customers, products and product categories, manufacturers, coupons, reviews, and CMS pages.
Specify migration extras
You can optimize your store migration by opting for several of Cart2Cart's many migration extras. These include 301 redirects, or preserving products, customer and order IDs on the Target Store, preserving product image URLs, and more.
Map customer groups & order statuses
Match your PrestaShop order statuses and fulfillment statuses to the corresponding ones on Shopify.
Launch a free Demo migration
Test the service by launching the demo migration. It will allow you to transfer a limited amount of data so you can see how it looks and works on the new platform.
Start Full migration
Activate the Start Full Migration button to start the Full PrestaShop database transfer to your new Shopify store. When it's completed, check the migration results and start business on your new platform.
Post-Migration Recommendations
Check to see if your website migration went according to plan. Test your store to see if everything works properly. Create a test product and place an order. Select shipping and payment options and check that everything works perfectly.
Go to the Shopify store and extend the functionality of your store with any of the Shopify apps available.
Now you can go ahead and customize your store to look the way you want.
Let your customers know that your store is now operating from Shopify and invite them to activate their accounts.
PrestaShop to Shopify Migration - FAQs:
What is the difference between PrestaShop and Shopify?
The main difference between PrestaShop and Shopify is that Shopify is more easy-to-use platform. It requires little technical knowledge to build a fully-functional e-store. PrestaShop, on the other hand, is more complicated to get full advantage of it but is more customizable.
How much does it cost to migrate to Shopify?
The cost of migration depends on how many entities you intend to import to Shopify and which extra options you have chosen. Cart2Cart offers Migration Estimator so that you can effortlessly calculate the price of your migration case. If you want to get your website transferred to Shopify without your involvement in the process, choose one of four Data Migration Service packages that also differ in price and the scope of customization capabilities.
How long does it take to migrate from OpenCart to Shopify?
There are many factors that determine migration duration, such as the number of entities you want to migrate, how much customization is required, etc. Please, use the Migration Estimator to find the duration of your OpenCart to Shopify migration.
Congratulations! You have successfully transferred your store to Shopify. Enjoy the new experience!