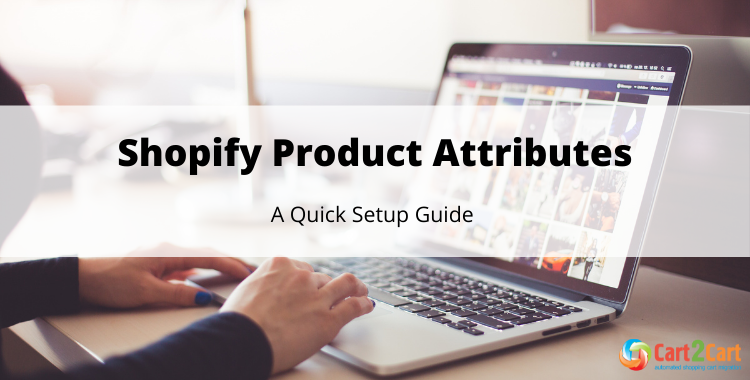 There is no denying that Shopify eCommerce platform comes with a long list of advantages. Among them its well-designed themes, lots of impressive features, excellent customer service, user-friendly interface and many others. However, there are some important issues concerning Shopify product attributes which should be examined and clarified.
Shopify Product Attributes: Explanation
Shopify product attributes refer to specific characteristics or properties of a product that provide detailed information to customers and help them make informed purchasing decisions. Product attributes can include details like size, color, material, weight, dimensions, and any other relevant information that describes the product's features and specifications.
For instance, you have a dress that comes in several different sizes and colors. Instead of making a separate listing for each item, you would like to set up all these variants of sizes and colors in one listing. In this way, it would be easier for your customers to find the product they want without searching the entire shop. Besides, you would avoid lots of extra work and what is more important, there won't be duplicate content on your website.
Shopify product attributes are essential for providing comprehensive product information, managing inventory effectively, and enhancing the customer shopping experience on your online store. They allow you to offer a wide range of options and choices to meet the diverse preferences of your customers.
Setting Up Shopify Product Attributes
In order to show your customers all the options that they can choose from, you have to create product variants. This step-by-step instruction will help you to set up Shopify attributes correctly and effortlessly.
While you're adding a new product, click Add variants on the Add a product page.
Then, you can either accept the default Option name (Size) or type a different one into the field.
In the Option values field, enter comma-separated values.
In case the product attributes Shopify differ in multiple ways then click Add another option to create another layer of choices. For instance, if the item is available in various colors as well as in different sizes.
Pay attention that Shopify eCommerce platform allows you to have a maximum of three options names.
Now you can customize the variants you plan to create. Simply uncheck the boxes with any combinations that are not relevant to product range you are selling. At this stage, you can also to set up prices, SKUs, and barcodes for individual variants.
Click Save once you are done adding the variants.
Options drive businesses and world of e-Commerce isn't an exception. Providing customers with a set of options can enhance their shopping experience and boost your conversion rates.
Shopify Product Attributes Limitations
Shopify is a powerful eCommerce platform which provides businesses of all sizes with plenty of opportunities. Unfortunately, there are some limitations concerning product attributes which you should know about.
The 100 Variant Limit

A variant is one variation within an option. For example, while "size" in an option, "small", "medium" and "large" are the variants. If you have a dress that comes in 5 sizes and 5 colors, you already have 25 variants for it. The main purpose of variants in Shopify is to allow distinctive SKUs to have diverse prices and inventory levels (e.g. 26 red Medium dresses, 45 green XL dresses, etc.)

To check out the number of variants, go to the Products page in Shopify admin panel and under the Inventory column you will see how many variants a product has.

Maximum 3 Options Names

A maximum of 3 options are allowed per product, for example Size, Color and Style. Note that these options can differ for each product. One item might use Size, Color, and Style, and another might use Weight, Finish, and Material.

Thus, 3 options and 100 variants sometimes aren't enough to display the complete range of a product. That is why you have to look for the workarounds to Shopify product attributes limitations.
The best time to switch is now!
Try Demo migration and see how easy it is to migrate to Shopify with Cart2Cart.
Start free Demo now
Workarounds to Shopify Product Customization
There are some solutions you can use to hit 100 variants and 3 options limitations.
Editing Your Theme Code

If you are selling products which have more than 3 options and 100 combinations, then it is possible to modify your theme code to extract line item properties. This workaround is presented on the Shopify Help Center website. Pay attention that the tutorial mentioned above is not supported by Shopify and it requires strong and solid knowledge of programming languages such as HTML, CSS, Javascript and Liquid.

Rethink the Product

Another solution to the current problem is the product separation. You can logically split the product variants into distinctive ones which can be later connected by a link. In this manner, using product filtering options, your customers can easily find the item they are interested in.

Third-party App Usage

If your product range is vast and 3 options only can't cover it, then it makes sense to invest in the applications. Thus, you will be provided with an opportunity to add fields to your customizable items smoothly.
Here is the list of apps which can be useful for your e-shop.
This application includes unlimited options, free installation and 14-day free trial. Its Basic Plan comes with the Basic price $19.99 per month.

This app comes with such possibilities as unlimited options with price per option feature, free installation and 10-day free trial. Its price is $7.99 per month.

Unlimited number of custom options, possibility to edit templates for specific products and 15-day free trial are the features available in this application. Monthly fees are $14.99.

This app provides your customers with an opportunity to build their product. They can pick color, size, style, etc. Moreover, when a customer selects an option, the image appears in the preview panel. It can be a 2D or 3D image. The application also comes with a fully functional 14-day free trial. Due to its advanced features, the price of an app goes up to $60 per month.
Shopify Product Attributes - FAQs:
How to add product attributes to Shopify?
Below you will find the steps you need to take to add attributes to your Shopify store:
Navigate to Products > Add Product.
Select the Attributes to tab from the Product Data window. Choose any of your created attributes from the dropdown menu and click Add.
What are Shopify attributes?
Attributes or variants are distinct types of products in your shop, such as color, size, weight, etc. Attributes help customers find the products they want without having to search the entire store.
What is the difference between attributes and options?
In Shopify, "attributes" and "options" are related but distinct concepts used to define and customize product variants. Here's the difference between the two:
Attributes refer to the inherent characteristics or properties of a product. These characteristics help customers distinguish one product variant from another. Common attributes include size, color, material, and style.
Options are specific values or choices within an attribute. Options allow you to define the available selections for each attribute. For example, within the "color" attribute, the options could be "red," "blue," and "green."
Bottom line
All in all Shopify eCommerce platform offers good opportunities for driving your online business. Although its variant limitation can become a stumbling point for certain merchants, it can be easily overcome with code customization or 3-rd party plugins. You can seamlessly and swiftly move all the data from your existing shopping cart to Shopify platform with a fully automated Cart2Cart migration service. You will also be provided with the possibility to use an online estimator. Simply type in a number of products, customers and orders which you are going to transfer and figure out the future cost.
With Cart2Cart Free Demo migration you will be able to estimate the real look and functionality of your e-store on Shopify eCommerce platform.