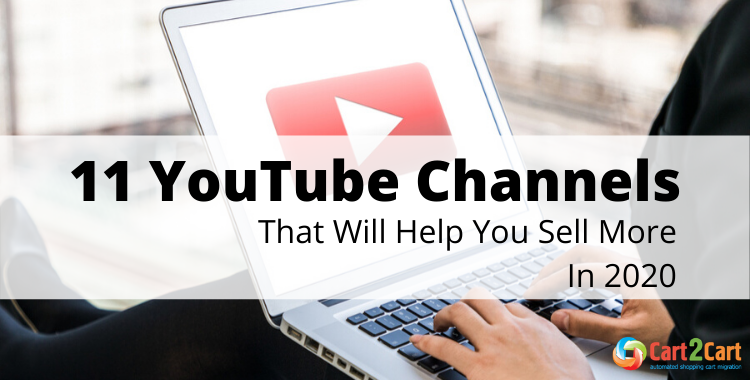 To keep pace with evolving web technologies, you should constantly learn more about building and running your online business correctly. Сovering everything from productivity tips to personal branding, YouTube is exactly what is required to get the daily dose of inspiration for your ecommerce success.
YouTube is growing in popularity with each passing day and is considered to be a perfect alternative to blog posts, conferences, and business consultants. In-depth articles and meetings are, undoubtedly, great but it's not always easy to find time to sit down and read a lengthy post, travel to the conference or hire a coach. In this case, YouTube with its vast library of short videos is the perfect source of consuming content on-the-go.
There are tons of YouTube channels that aim to help entrepreneurs develop their online business and be the best version of themselves. For those unsure where to start, here's our shortlist of 11 channels every entrepreneur should subscribe to in 2020. In order to make this list, we've taken the time to sift through lots of business-oriented YouTube videos and grouped them by type.
eCommerce Channels
Gary Vaynerchuk
Business guru, expert, serial entrepreneur and the founder of a successful international digital agency, Gary Vaynerchuk knows a lot about entrepreneurship. His channel features talks not only about social media and marketing strategies, but also how not to fail as startup. There are several types of video content in his channel – a daily video blog (DailyVee), a question and answer show (AskGaryVee), conference keynote presentations and more.

Subscribed: 2.43M
Frequency: 2 videos a week
Travis Marziani
Travis Marziani left his corporate job almost 6 years ago in favor of online business. He has launched his YouTube channel where he offers some free advice on ecommerce-related topics (like how to setup an online business from scratch, how to sell on Amazon, etc.). Through his 15-25min videos Travis aims to teach you the secrets of internet marketing trends and how to create a business avoiding typical mistakes along the journey. Besides, he promises to help entrepreneurs gain freedom through Ecommerce in ⅕ the time it took him.

Subscribed: 56.5K
Frequency: 1-2 videos a week
Neil Patel
Neil Patel is another excellent source of marketing trends and strategies. When he was 16, he built his first website and hired a few marketing firms to promote it, but they provided no results and took all of his money. He had no choice but to learn marketing on his own. On his YouTube channel, he presents dozens of short how-to videos about how to generate more traffic and sales to a website, how to realize white-hat practices to boost rankings, etc.

Subscribed: 487K
Frequency: several videos a week
Casual Ecommerce
It is another YouTube channel that is run by Jake Alexander, and aims to help merchants with step by step tutorials on creating websites, marketing, and more. Its videos are usually short and easy to digest and provide a lot of useful Shopify-related content.

Subscribed: 44.7K
Frequency: 1 video a day
Cart2Cart
You didn't think that we'd leave out our own channel in this highlight, did you? The Cart2Cart video channel provides entrepreneurs and online business owners with dozens of how-to videos aiming to make the ecommerce replatforming as easy and seamless as possible. Our videos are short, ranging from around 3-10 minutes, and always offer actionable advice for entrepreneurs and small business owners how to perform shopping cart migration in the most error-free manner.

Subscribed: ~1K
Frequency: several times a year
The Big YouTube Business Channels Business Insider
The Business Insider channel is focusing on reporting from inside companies in finance, tech, retail and other industries. It provides its subscribers with success stories, tutorials, reviews, etc. about how to succeed in life and in work. Their lineup is polished, the animated videos are entertaining, and the messages are on point.

Subscribed: 2.45M
Frequency: every weekday in the evening
Entrepreneur Online
Entrepreneur Online is the YouTube component of Entrepreneur Magazine featuring the latest news and industry trends, and providing growth strategies and advice to small business owners. Being packed with exciting interviews, technology tutorials, and industry podcasts this channel is not the one you want to miss.

Subscribed: 514K
Frequency: 1 video a week
Big Business Experts Y Combinator
The channel is a real treasure for those interested in startups but are at the very beginning of the ecommerce path. Its shortlist includes interviews with successful entrepreneurs and animated advice videos. You can also find there a number of "how to" videos on developing and running a startup, podcasts with big minds sharing their life experience and video recordings of some of their conferences.

Subscribed: 199K
Frequency: several times a month
Behind the Brand
This YouTube business channel features interviews with famous industry experts telling the stories behind their success and sharing their advice on how to avoid the mistakes they made along the way. It's something like a backstage pass inside the brands, companies and lifestyles of some of the smartest and most interesting people on the planet.

Subscribed: 160K
Frequency: several times a month
Your Personal Business Consultants Tim Ferriss
Tim Ferriss is an entrepreneur, early-stage startups investor and the bestselling author known for its "The 4-Hour Workweek", which has been translated into 40+ languages. His YouTube channel contains dozens of useful videos with world-class performers talking about their tactics, tools, and routines they use to achieve success. It is a valuable resource for business owners searching for productivity hacks and business advice.

Subscribed: 507K
Frequency: 2-3 times a week
Marie Forleo
Marie Forleo is a motivational speaker, life coach, and founder of the company that focuses on small business and personal development training for entrepreneurs. Her YouTube channel comes packed with inspiring interviews and business advice on how to build a meaningful business and train yourself to be more productive in order to "create a business and life you love".

Subscribed: 605K
Frequency: 3 videos a month
Final Words
YouTube channels are an optimal way to incorporate continued learning into the weekly routine. The short-video format makes it easy to find time and get in touch with thought leaders and expert people from various industries and keep learning on the go.
Hopefully, the above-written list of YouTube channels will help you take a step back from your daily routine and shed light into what direction you should move in order to take your online business a level up towards success.