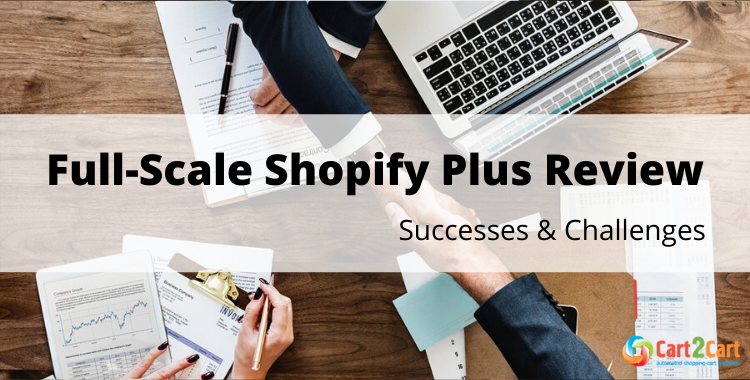 Thinking of leveling up your online business, but don't know which eCommerce solution to stick with? Read the article to discover why Shopify Plus should be the answer to your evolving business needs.
With more than 120 eCommerce platforms available on the market, it's not that easy to choose the right-your size solution that will accommodate your specific business needs and objectives. When it comes to enterprise-grade shopping carts, Shopify Plus is one of the most trusted and talked-about solutions that has all the functionality to meet any growing business requirements.
What is Shopify Plus? The Basics

Shopify Plus is a next-generation eCommerce platform that has been specifically developed for high-volume enterprise businesses that generate millions of dollars of revenue. Due to its unmatched reliability, scalability and ease of management, Shopify Plus is now the fastest growing enterprise eCommerce platform on the market that is trusted by thousands of enterprise-sized stores around the world (acc. to BuiltWith).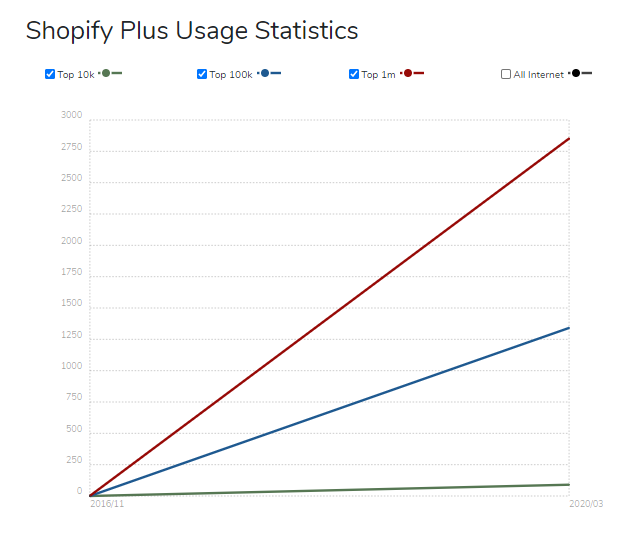 To get an idea of how powerful the software is, take a look at the following global brands that are powered by Shopify Plus:

What is the Key Difference between Shopify vs Shopify Plus?
When it comes to Shopify vs Shopify Plus, the core difference between them is that Shopify is targeted at small and medium sized businesses that require a powerful platform that can grow with them. Shopify Plus, contrastingly, is geared at enterprise-level companies who need to sell thousands of products every single day starting just now.
With that in mind, it becomes clear why Shopify currently powers over 3 millions of eCommerce stores, while only a little over 7,000 stores are using Shopify Plus.
Why use Shopify Plus?
Shopify Plus is more than just an upgraded version of Shopify, but actually a supercharged alternative that is equipped with features usually required by big businesses. Read on to know more:
Extended scalability. The Shopify Plus platform has been developed with large enterprises in mind. That means the platform has all the necessary functionality to match any growing business needs (high volume of sales, multiple languages and currencies, fully customized checkout, unlimited staff accounts, etc.).

Exclusive customization. For deeper control over customizing and design, the platform has introduced the so-called Sections (a simple drag-and-drop editor that makes it even easier to customize the look and feel of anestore) and Liquid (its own templating language with the help of which you can get into the code of your storefront and make the required changes).

Total reliability. Shopify Plus guarantees 99.99% uptime, with servers capable of handling millions hits per second, and thousands of transactions per minute, without impacting the overall store performance.

Incredible ease of use. Though the platform is capable of handling huge amounts of store operations, it still remains simple in managing. The essentials (like orders, products, customer records, reports, apps, etc.) can easily be found on the dashboard. Besides, managing settings and handling orders can all be done with just a few clicks.

Sophisticated app integration. As your online store evolves, you may want to extend the initial functionality of the platform far and beyond. Shopify Plus presents tons of apps to assist its clients with inventory management, accounting, marketing, customer service, special offers, discounts, and dealing with wholesale customers.

Multiple sales channels. Being a multi-channel solution, Shopify Plus enables you to sell everywhere your customers may wish to buy - from the main website to social media platforms like Facebook, Instagram, and Pinterest.

Priority support. Shopify Plus merchants are granted access to 24/7 priority phone and email support. This means they can talk to the high-skilled Shopify support team members whenever they need, without having to wait on hold.

In-depth analytics options. Shopify offers a detailed analytics dashboard where store owners can view stats like sales, top products, landing pages or referrers, returning customer rate, and more.

Fixed pricing. Pricing plans for Shopify Plus merchants start at $2000 USD per month and increase according to the business' specific needs (for instance, traffic levels). However, Shopify pricing remains stable from the day of the initial sign in.

High security. Shopify Plus is a highly secure SaaS platform (level 1 PCI DSS compliant, which means that customer data is protected the same way as in banks), so its merchants can have a total peace of mind regarding their sensitive data.
What are the Biggest Shopify Plus Drawbacks?
No platform is perfect, and Shopify Plus has its drawbacks as well. If you consider this solution to settle your online business on, you should be aware of the following disadvantages:
Content limitations – because Shopify Plus has been designed purely for eCommerce, there are some limitations in case you want to promote your products through content. Though the platform possesses some built-in blogging tools, publishing is not the Shopify Plus' forte.

Platform lock-in – any financial issues in Shopify Plus put your business at risk. Still, that's the same issue with any hosted platform.

Learning curve – though the platform is treated as user-friendly, Shopify merchants should gain some knowledge of the Liquid language to take full advantage of it.
How Much Does Shopify Plus Cost?
Shopify Plus pricing is a subject surrounded by confusion. No prices are determined at the official website, and prospective users are encouraged to reach out for a quote.

The minimum fee you can expect to pay going with Shopify Plus is $2,000 per month, and most of the retailers fall in this category. Once your revenue reaches $800,000 - $1,000,000 per month, the fee turns into a revenue-based model and you'll pay 0.25 % of your monthly revenue.
What are Shopify Plus Alternatives?
There are three main competitors offering enterprise-level solutions that can compete with Shopify Plus.
BigCommerce Enterprise
Shopify Plus and BigCommerce Enterprise are two of the main competing eCommerce solutions for businesses with revenue of over $1,000,000. Although they are a bit similar, there are certainly some differences that set the two platforms apart. Because Shopify Plus has been around for a lot longer, therefore, it is considered to be more advanced and experienced in coping with the bigger issues that enterprise-level business encounter on a daily basis. BigCommerce, alternatively, is targeted at those companies willing to level up but are not ready to commit to the more expensive and robust Shopify Plus solution.
Magento Enterprise
Being open-source and hosted independently, Magento Enterprise offers more scalability and flexibility compared to Shopify Plus. Thus it is a better choice for higher volume entrepreneurs that require complete control over the store. All these advantages have their price though - Magento Commerce will cost more because all fees around the platform are likely to be higher.
Furthermore, when compared with Shopify Plus, Magento Enterprise is much more difficult in use. Therefore, it is possible to benefit from using it only if you have deep coding skills or have an army of experts at your disposal.
If you're currently running Magento Enterprise store but consider it to be too costly, you can replatform to Shopify Plus without any migration-related hassles.
Shopify Advanced
While Shopify Plus boasts of its unlimited flexibility and scalability, Shopify Advanced is still a very feature-rich version of Shopify's powerful SaaS-based platform. It is packed with less functionality and benefits, but it offers quite a robust foundation for settling huge online stores. One of the biggest disadvantages is that with Shopify Advanced you do not get a dedicated account manager and are limited to one store (that means those retailers running two stores shouldn't consider Shopify Advanced).
How Do I Migrate to Shopify Plus?
If you feel inspired to become a part of Shopify Plus glory and are ready to migrate to it, you might consider various migration scenarios, more specifically - manual, assisted, and automated. Taking into account the complexity of manual work and the cost of hiring a developer - the automated migration solutions can come in handy.
Watch our video to see a step-by-step process of automated Shopify migration with Cart2Cart service:
Wrapping Up
If your business sales volume is outgrowing your current eCommerce solution, it might be the right time to consider moving to Shopify Plus. Hopefully, the above-written review will help you make the right decision and soon you'll take your online business a step forward towards success.
If migration issues are of concern - give a try Cart2Cart service and get the job done stress-free. Benefit from simple migration wizard, the widest range of transferable entities, amazing migration speed, 24/7 support and assistance, 100% current store uptime and the main advantage - Free Demo Migration. Don't waste your time! Try the Shopify Plus platform right now and be one step closer to your dream online store.