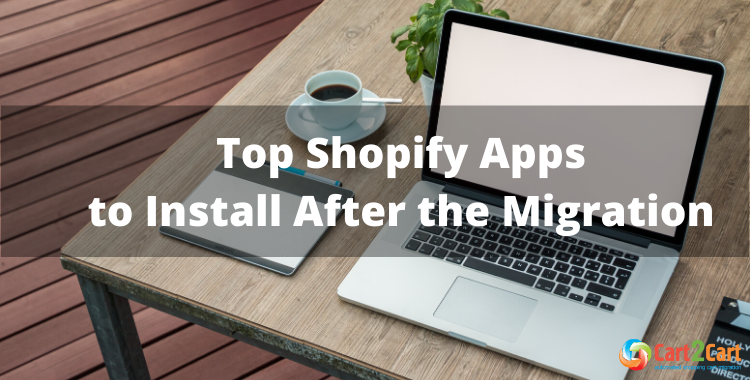 Shopify is considered to be one of the most popular ecommerce platforms and currently powers 2,782,663 online websites. It has a user-friendly interface, affordable price, efficient management tools, a wide range of themes, etc. But setting a Shopify store is not enough to double sales, generate revenue and hold top positions amongst the closest competitors. Merchants should use every possibility to enhance the functionality of their retail, upgrade it and be up to date with the latest trends.
What are the Best eCommerce Shopify Apps to Install in 2020?
Shopify keeps on growing and expanding new ecommerce opportunities for its customers. It has one of the biggest app stores with both free and paid plugins that will help increase sales, attract customers, ease website management process, logistics, and handle other business requirements. Therefore, today's post will be dedicated to the most popular Shopify apps that will definitely come in handy in 2020.
Yotpo: Product & Photo Reviews
Pricing: Free plan covers up to 50 orders per month. There's a possibility to upgrade to a Premium plan (demo option included)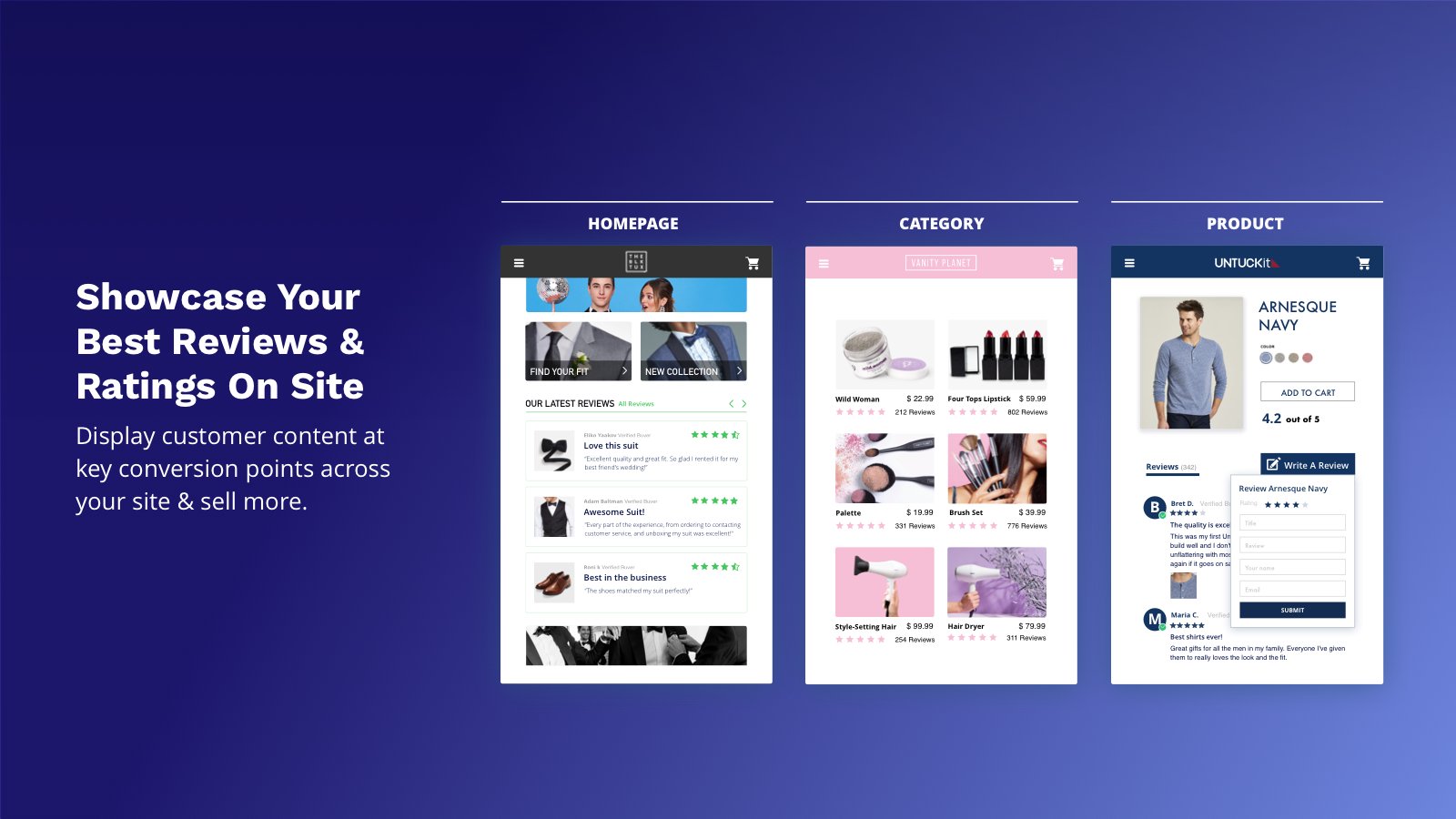 There's no doubt that online shopping has deeply penetrated our lives. Sometimes it's much easier to click a button and make the purchase than go to a brick-and-mortar store. But the limits of our nature are set, and we can never cross them. Thus, to be sure about the quality of the goods, the first thing we do before buying them is search for the reviews. The more - the better. No matter whether these are good or bad reviews, they all help us come up with the final decision.
Yotpo app is like a magic wand that assists merchants in collecting customers' reviews & ratings, placing them on the website, building traffic, and increasing sales. Additional options include the ability to share the feedback via social media, gain the leading positions in search engines, build an improved buyer journey, etc.
The Free Yotpo plan is designed for the growing businesses and consists of:
Basic content generation and moderation.
On-site widgets.
Core customization features.
Analytics.
Enterprise privacy and security.
Yotpo is easy to install, and it integrates with all the popular social media networks and many Shopify apps.
Auto Currency Switcher
Pricing: Free and Premium ($9.95/month) plans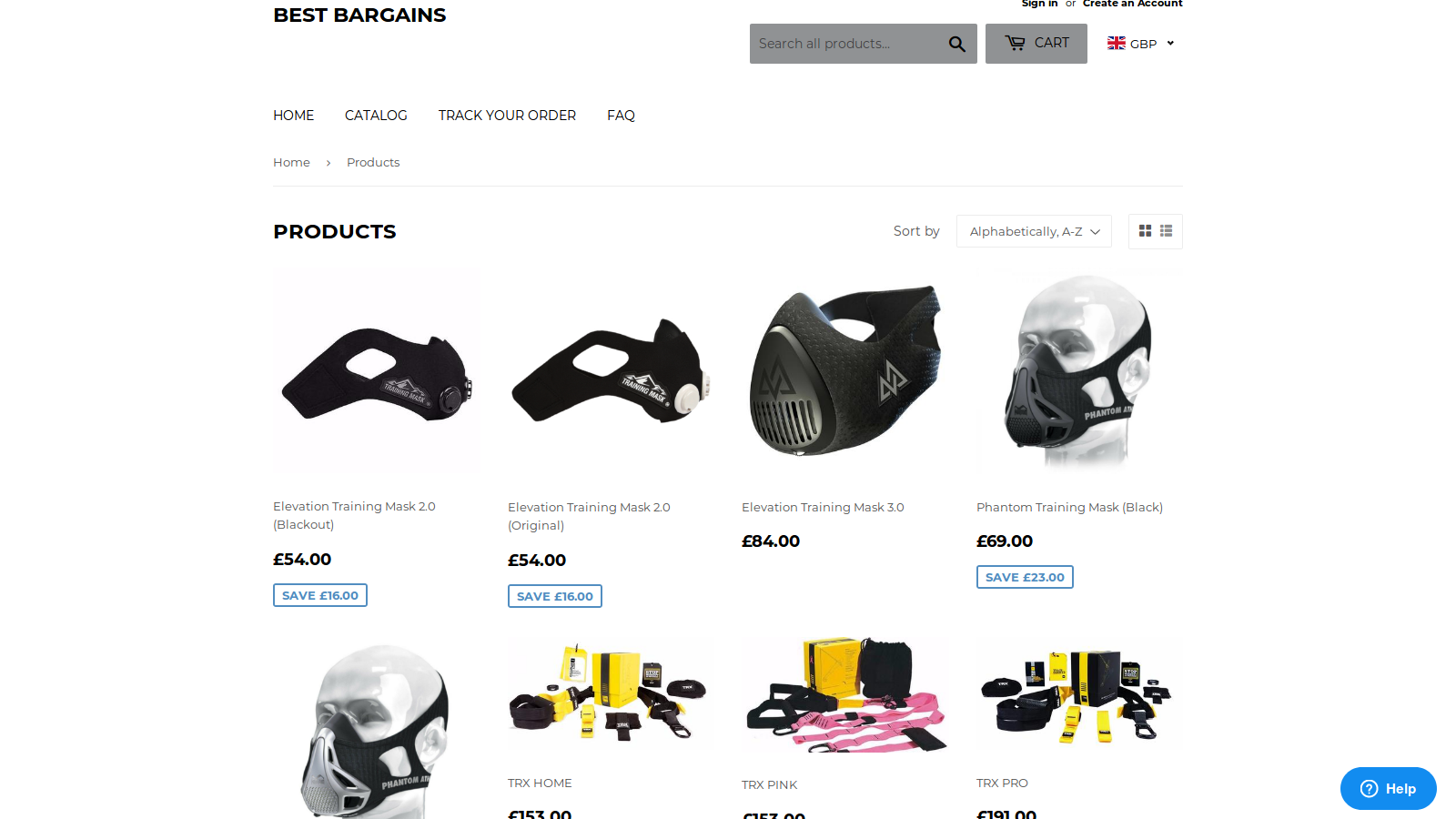 Do you want to boost your sales and enter the international market? Then make the clients' seamless shopping experience your priority number one. Start selling goods in their home currency. This will deprive customers of unnecessary calculations, and you'll benefit from the reduced number of abandoned carts.
Auto Currency Switcher app has been specifically designed to meet the requirements of both business owners and their clients from other countries. It can automatically detect the customer's country based on the IP address and convert the price to the needed currency. Moreover, its compatibility with Shopify's multiple currencies feature will significantly ease the checkout process. Online buyers can also change the type of currency manually. Please note that the rates for currency conversion are being updated twice a day.
This app is quick and easy to install. It adjusts to all types of devices and receives 24/7 customer support.
Free Shipping Bar
Pricing: Free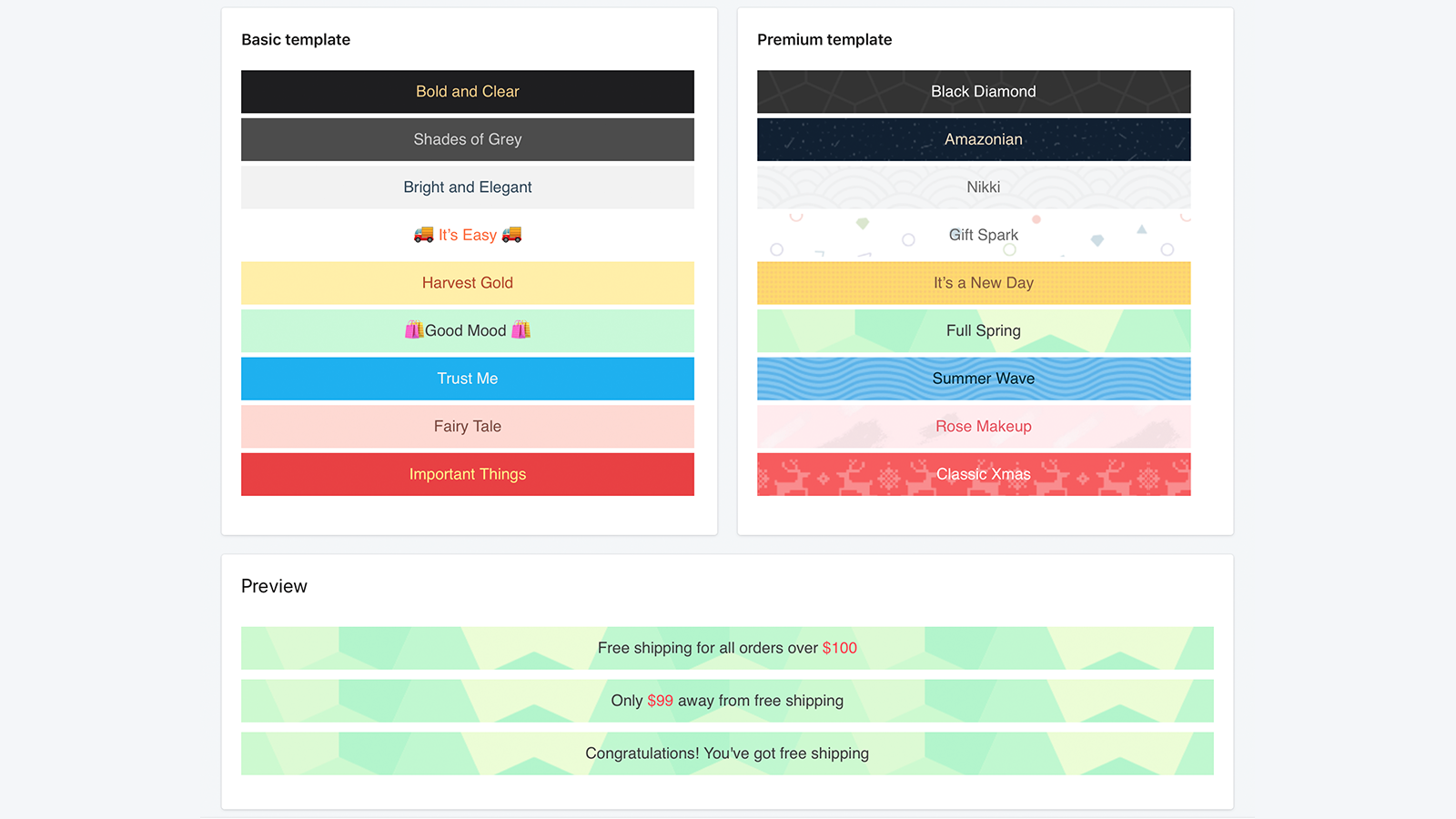 Have you ever added some of the extra products to your cart just to get the free shipment? Right, we've all been there. The free shipping option is one of the key factors that influence the purchasing decision. Customers consider it to be a nice little bonus for buying many goods from a store. In fact, according to statistics, 65% of customers look for free shipping even before adding items to the cart.
The Free Shipping Bar app will allow you to notify clients of the possible free shipment offers. All you have to do is add a fully-customizable bar to the top of your website (you can set the background image, include the text with emojis, configure bar's size and position, etc.).
Also, this app will provide you with the ability to:
Personalize shipping offers to visitors from different countries.
Set the display of bars on different pages of the store.
Convert prices to the native currency of the customer.
The Free Shipping Bar is an excellent tool for gaining more customers and increasing sales.
Plug in SEO
Pricing: Free version and Paid Edition (with a 7-day free trial) - $20/month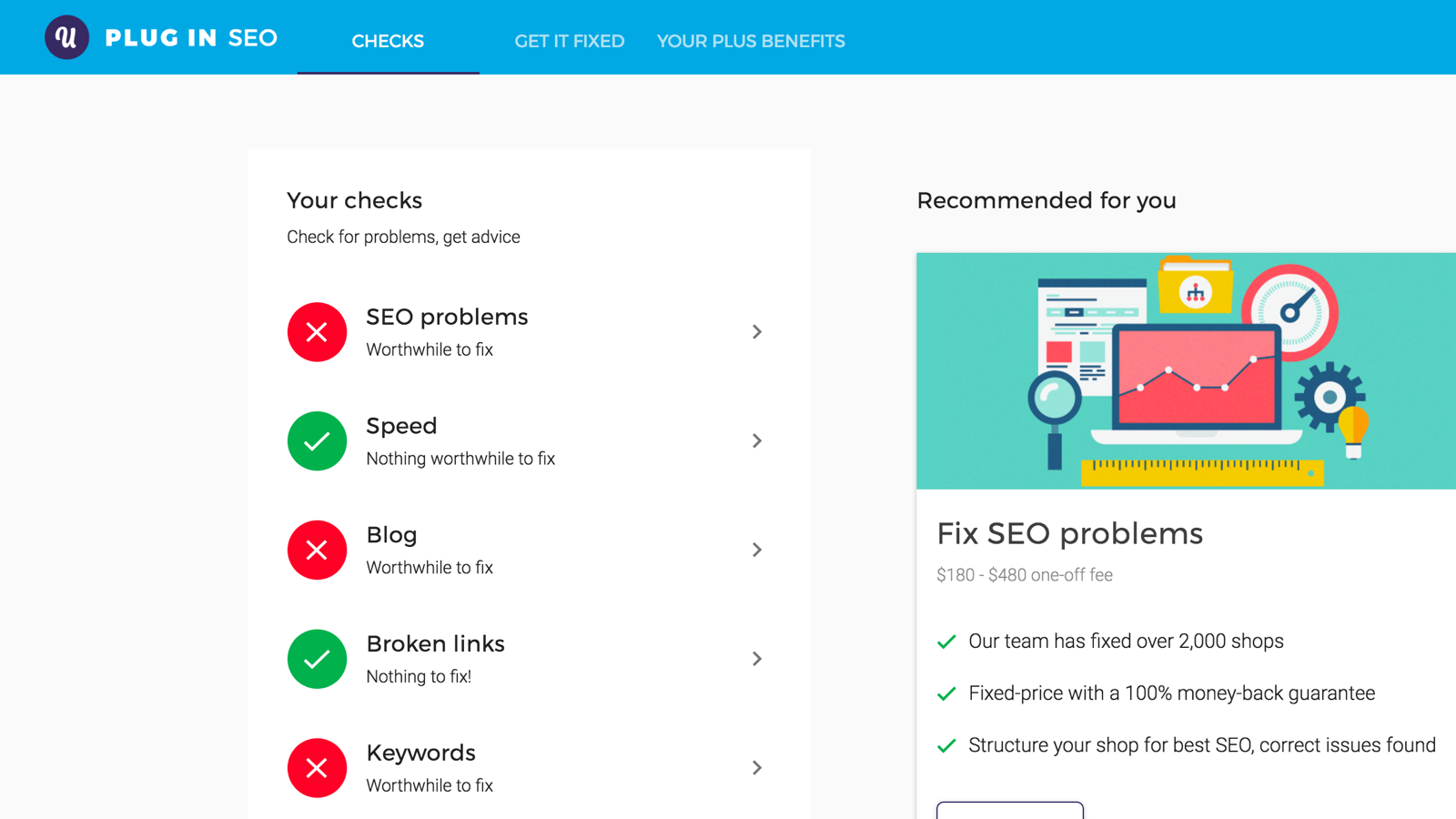 Every merchant understands that online visibility is vital to the success of your store. It is impossible to run a profitable ecommerce business when it lacks traffic. The number of sales directly depends on your store's SEO. But how can you improve it?
That's the prerogative of the Plug in SEO app. It helps you to check the store for the SEO issues automatically (e.g., broken links, meta titles, meta descriptions, headlines, keywords, speed, content novelty, etc.) and provides you with tips on how to fix them. The free version of the software includes:
Integration with built-in Shopify SEO features.
Review and guidance for products, collections, pages, blogs.
Compatibility with all other installed apps.
Monitoring of speed and blog.
Live Google overview.
Please note that basic SEO scanning can be performed for free, but more options will be available only in the paid version.
Plug in SEO app will definitely come in handy for those who want to manage their stores' SEO and sell more without a lot of extra work.
Crush.pics - Image Optimizer + Image Compression
Pricing: 4 pricing plans: Free / Micro ($4.99) / Pro ($9.99) / Advanced ($19.99)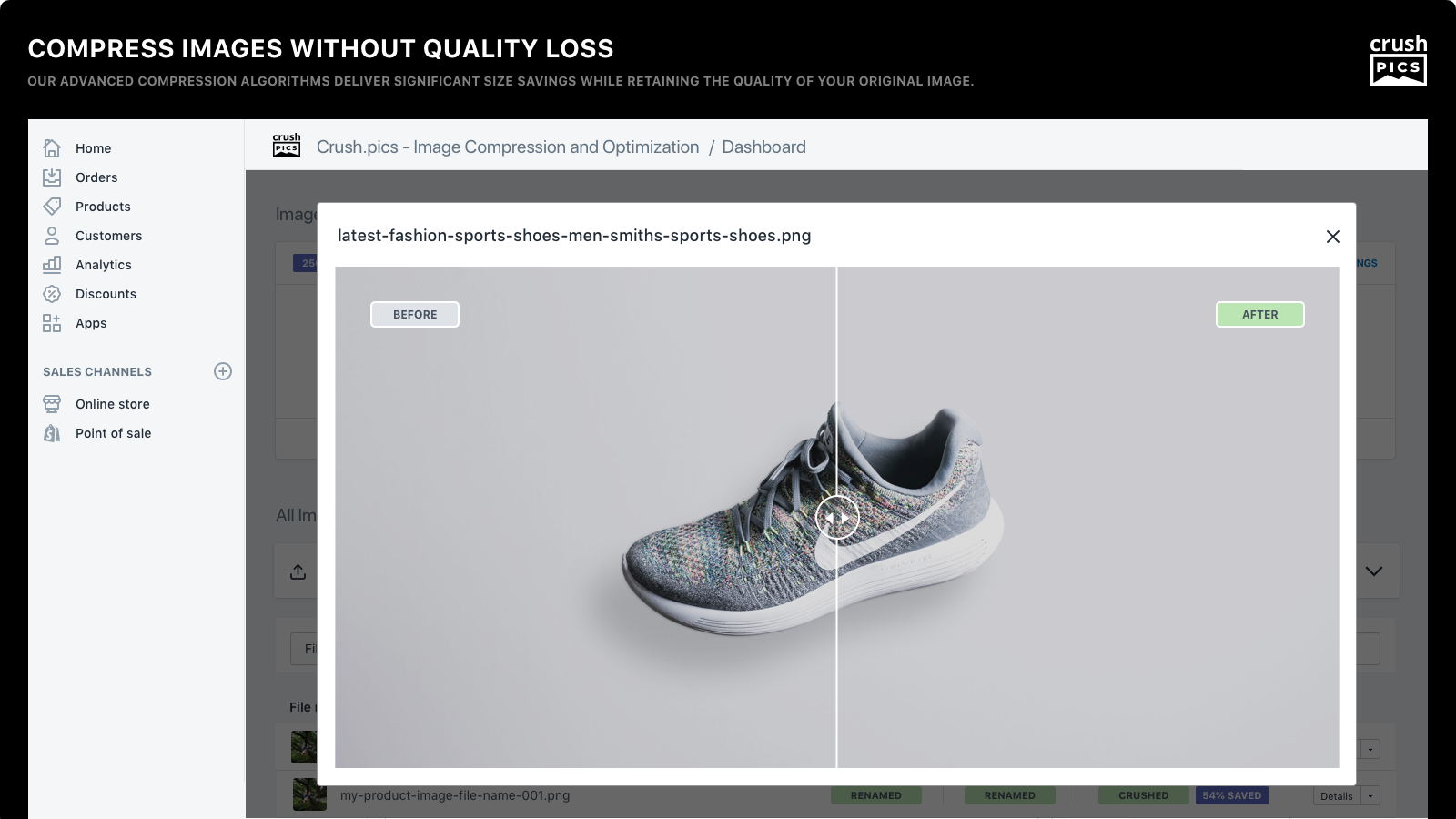 It usually happens that online stores are overpacked with images. Merchants want to increase the sales rates by attracting customers with the help of pretty visuals. The more - the better. But quantity doesn't always mean quality. Business owners tend to forget that large images may slow down the loading time of the website, and this will drive away lots of clients.
Crush.pics is an automated tool that compresses photos without losing quality. Additionally, it optimizes them for search engines. This means that your store will rank high on Google, and potential buyers will find it more easily. The app can be used both in store management and during the migration process.
The Free Crush.pics plan offers the following:
25 MB of images (one-time).
30 days of backup.
Compression of product images.
Manual picture uploading.
To get more functionality (e.g., advanced compression, complete automation, ALT tags, high-level support, etc.) and enjoy the app to the full extent, it is advisable to switch to one of the paid plans.
Kit
Pricing: Free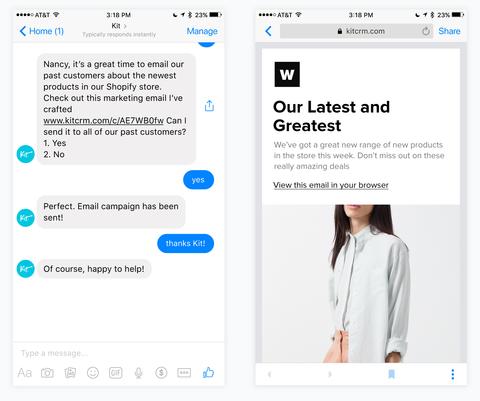 Owning a good-looking Shopify store with a wide range of products is not enough to succeed in an online business. You need to promote yourself to become known among the customers. But how to achieve that if you're a novice in marketing, have no time for learning or money for hiring a professional marketer? The answer is simple - download Kit, an official Facebook Marketing Partner. It's an entirely free app that allows small business owners to manage social media ads (on Facebook and Instagram) and reach the targeted audience from a single user-friendly interface.
So, once you've decided to begin the promo campaign, just send a message to the Kit bot. It is available 24/7 and will build your ads, emails, and social media posts to drive more traffic to the store, thus saving time and money. Moreover, this AI assistant can create retargeting campaigns, generate reports on sales and marketing performance, promote discount codes, and send back in stock notifications to your loyal customers.
Instagram shop by SNPT
Pricing: Free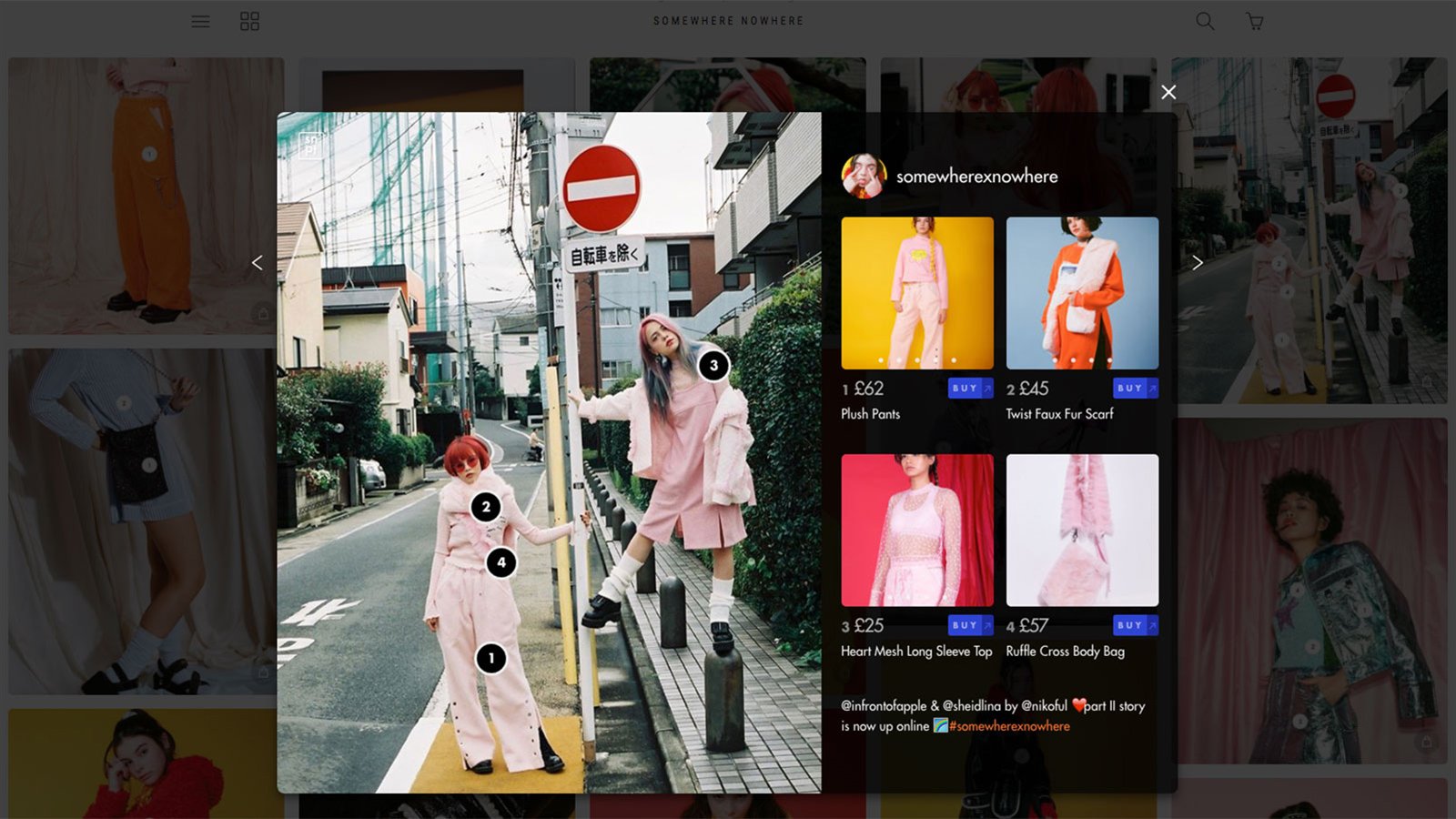 According to statistics, Instagram with 1 billion active users ranks 6th in the list of most popular social networks worldwide. 90% of the accounts follow the business on Instagram. Owners of both world-known brands and independent online stores consider it to be a perfect fit for e-commerce marketing. This platform gives customers the ability to explore new products and shop favorite trademarks. So, if you're still considering whether to sell on Instagram, we urge you to do it!
Instagram shop app has proved to be a handy tool for improving online shopping. It customizes the feed and helps merchants tag products on images, thus making them instantly shoppable. All you have to do is connect the app to your Instagram account, link images with products, and embed shoppable galleries to your store. Voila! Now all the images are linked with the "Buy" button, and your customers will be able to make purchases directly from the insta-feed. Additionally, the Instagram shop app provides its users with information on customer engagement and conversions.
Referral Candy
Pricing: 30-day free trial; Paid plan starts from $49/month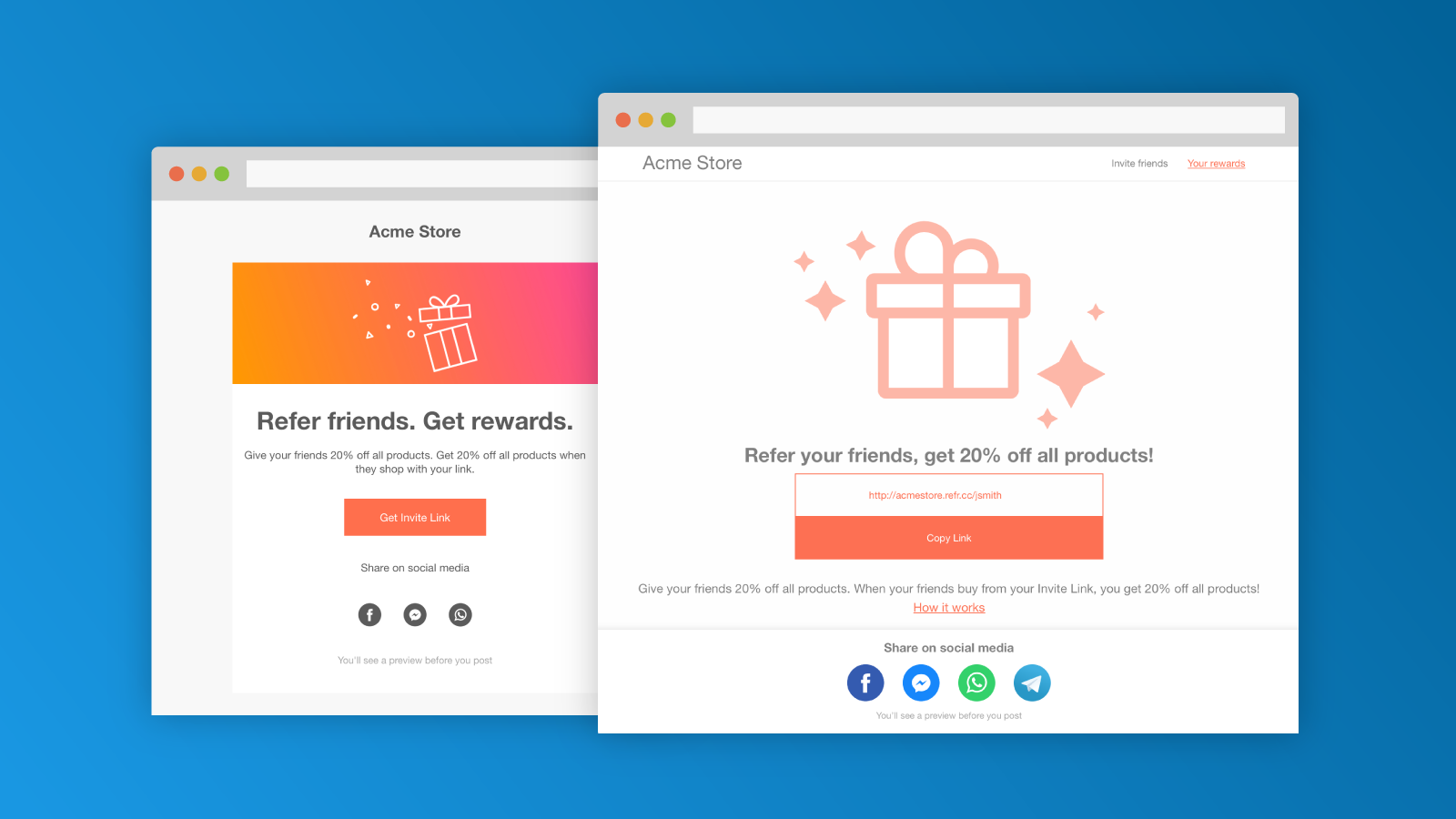 How many times have you bought something by the recommendation of a friend? Or shared your positive shopping experience with the closest people? We do that in everyday life. The same happens on the Internet. Reviews rule the online ecommerce industry since they are considered to be a useful tool for sales increase. The only problem is that happy customers usually forget to spread word-of-mouth. So, in order not to miss out on potential sales and accelerate the growth of your store, we recommend using the Referral Candy app. This user-friendly tool helps merchants create custom referral awards (e.g., cash rewards, coupon codes, special gifts, etc.) that are forwarded to clients automatically.
Additionally, the plugin sends email reminders to those who forgot about sharing the referral links. Thus, helping you generate more sales. The app is highly customizable, so it's possible to create messages that include your design and brand. Other useful features include actionable analytics and detailed dashboards that help track traffic sources and see which customers are better referrers.
One Click Social Login
Pricing: 3 pricing plans - Basic ($0.99/month) / Standard ($4.99/month) / Pro ($9.99/month)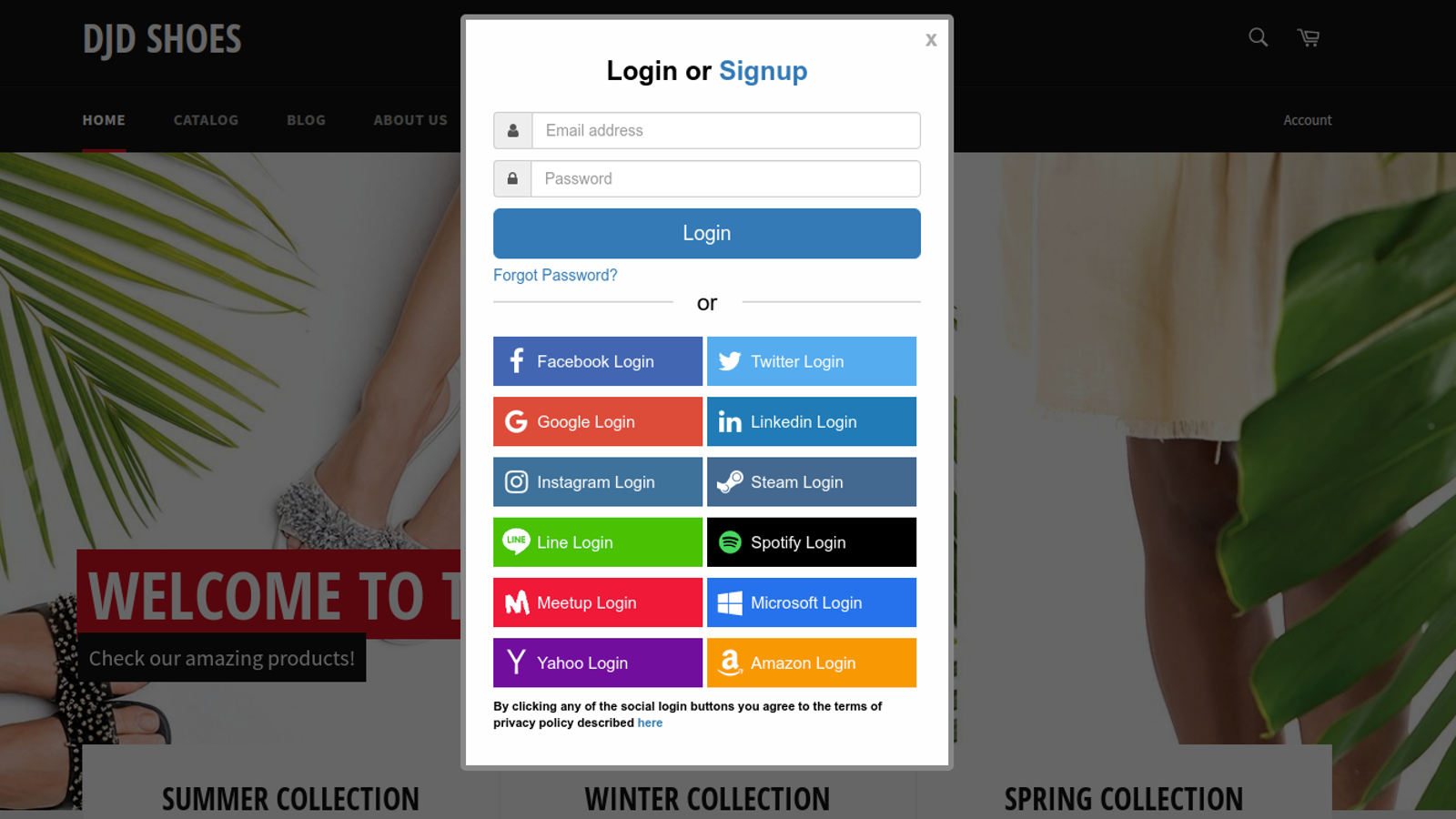 Our world is being ruled by social media. That's the undeniable fact. Nowadays, it is hard to find a person that doesn't have an account in at least one of the popular social networks. Needless to say that these people also shop online. So, merchants should turn this fact to their advantage and simplify the account creation process by installing the One Click Social Login app. It will help buyers register on your Shopify store by logging in with their social media credentials (meaning that they won't have to remember another new password). This plugin works out of the box and integrates with more than 10 following networks:
Facebook
Twitter
Google
Instagram
Linkedin
Amazon
Spotify
Yahoo, etc.
Back In Stock: Customer Alerts
Pricing: 4 pricing plans - Free / Startup ($19/month) / Small Business ($39/month) / Medium Store ($59/month)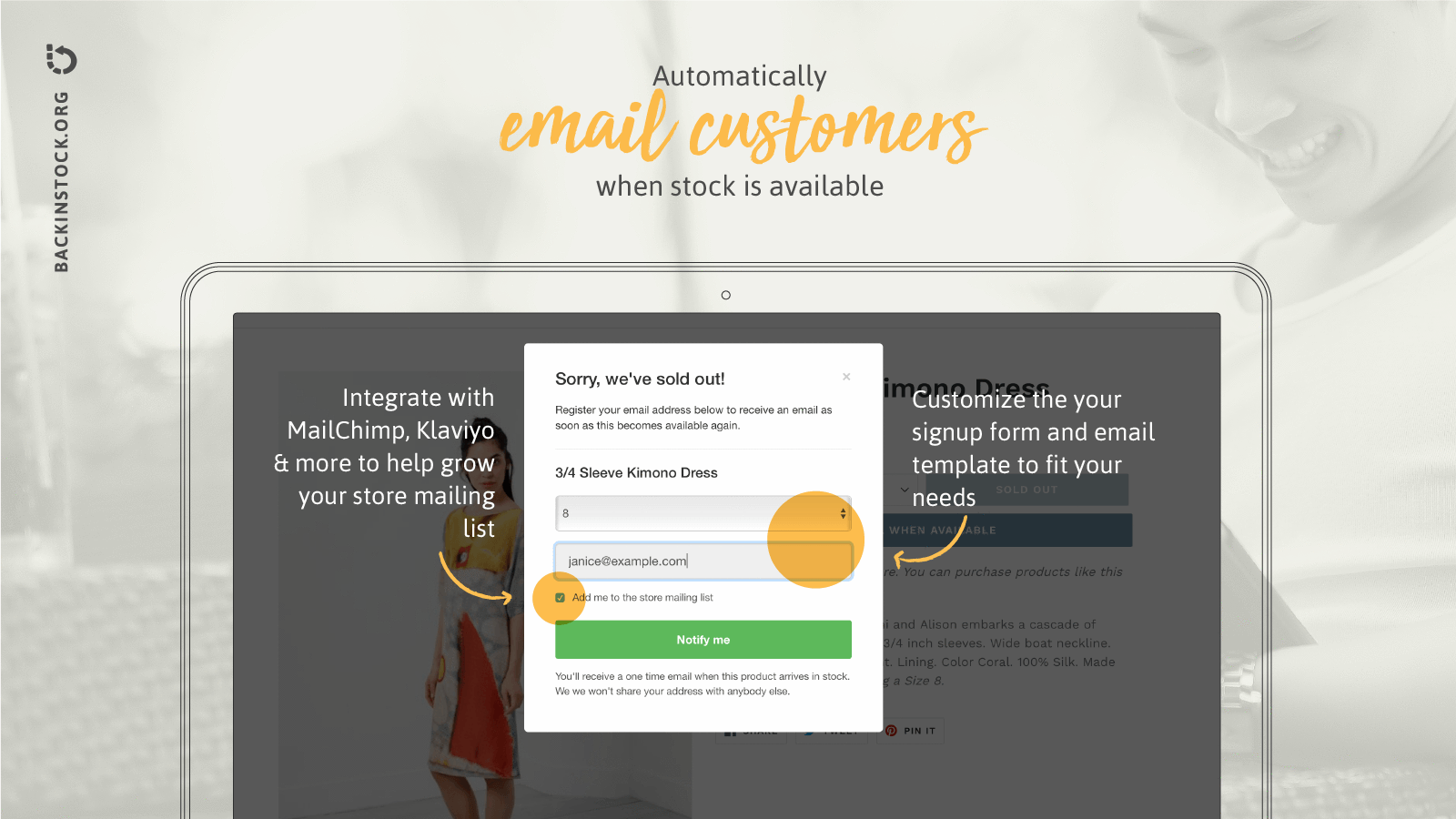 Imagine that you've decided to buy something from an online store, but that item is out of stock. Disappointed, right? So are your customers. It's a common practice that the goods tend to run out and reappear in a store. We all understand that, but to make the shopping process more comfortable and less frustrating, it is recommended to install the Back In Stock app. It helps not to lose sales and money while clients wait for the product. All they have to do is sign up for a back-in-stock notification (via email or text message) by clicking the "Email me when available" button. Once the desired thing is back in stock, your customers will receive an automatic invitation to come back to the store and finish the purchase.
Additionally, the app can be configured to send out alerts concerning the requested size and color. It provides business owners with high-level engagement and conversion rates and helps them trace the most popular products. Back in Stock can be personalized to correspond to the theme of your store. Moreover, it is possible to create a unique button using the provided JavaScript API. The plugin has several pricing plans depending on the size of the store.
Cart2Cart Store Migration App
Pricing: Free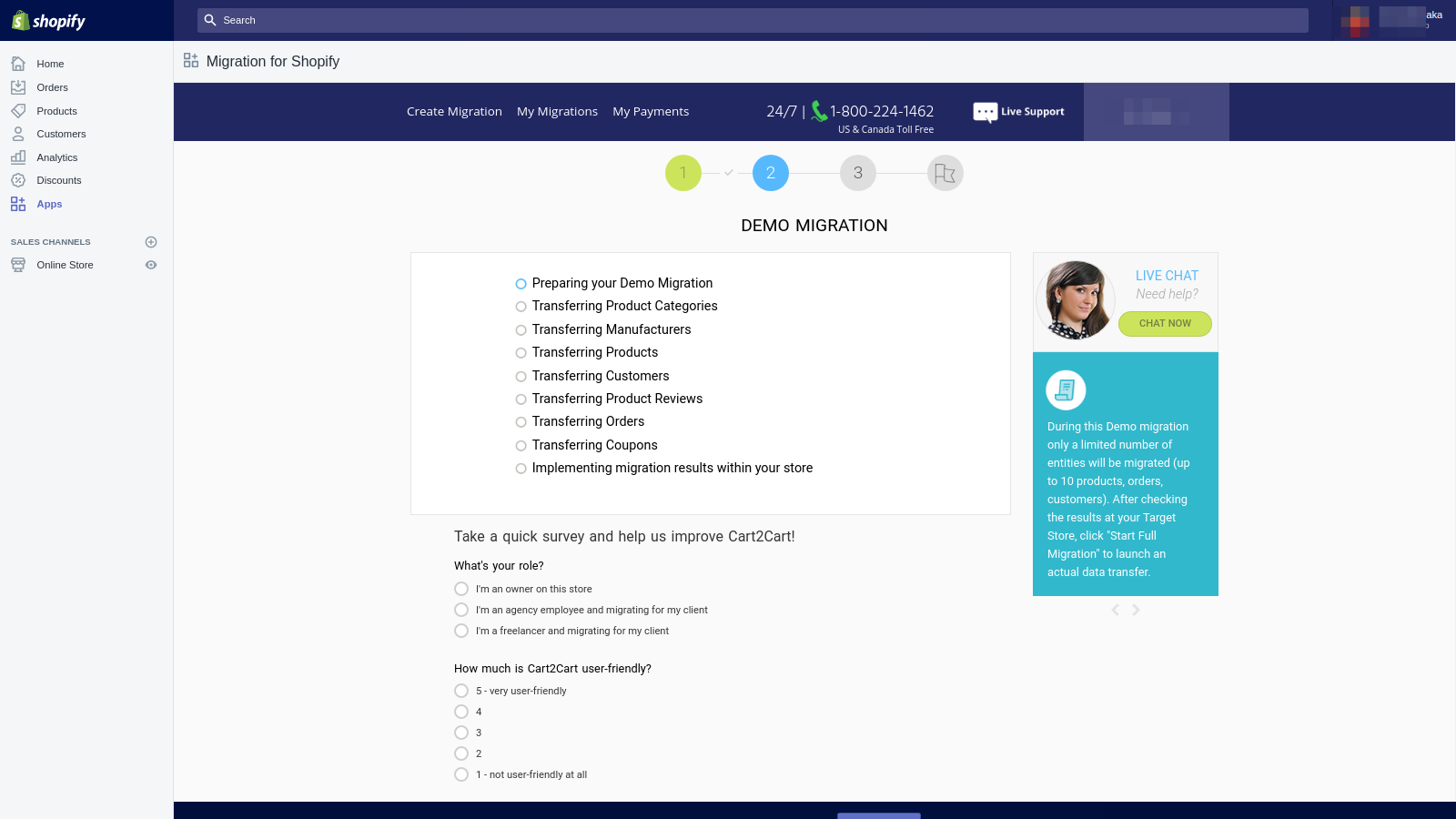 Taking into consideration the ever-changing world of ecommerce, every business owner will eventually face the problem of store migration. The need for better functionality, advanced management options, higher level of customizability, improved customer experience and performance indicators, lower cost - these are only a few reasons why merchants decide to switch their current solution for a more suitable one.
Store migration is considered to be a rather complicated task. Thus entrepreneurs try to avoid it as long as possible. To ease the replatforming procedure, we recommend you to use the Cart2Cart Store Migration app. It will help you effortlessly import all your data (e.g., products, orders, customers, categories, reviews, images, etc.) from one cart to another without impacting the overall performance of your store. The app supports migration to Shopify from 80+ most popular shopping carts, including Magento, WooCommerce, OpenCart, PrestaShop, Bigcommerce, etc. Also, the automated migration service provides its customers with the Free Demo Migration option.
Additionally, to ease the process of migration and make it more seamless, it is advisable to install a few more plugins:
Once you've migrated options and attributes to your new Shopify store, consider installing a free Metafields Guru plugin to create, update and delete metafields for products, smart and custom collections, customers, orders, blogs, pages directly from the admin panel of your Shopify store. Otherwise, you won't be able to view and edit metafields through the admin area.
To migrate reviews to Shopify, install a free Product Reviews app to your Shopify store (before or after the migration) and follow these simple instructions.
Also, don't forget to invite customers to reactivate their accounts at Shopify after the completion of the migration. Alternatively, you can install the Bulk Account Invite Sender app (the price ranges from $1 to $50) to do the job for you.
So, these are only a few favorites from the endless list of noteworthy Shopify apps. They are all unique and will undoubtedly help you in up-selling, store management, and customer attraction. In case you're using other Shopify plugins that are worth mentioning, please share them in the comments below. After all, sharing will enrich everyone with more knowledge!