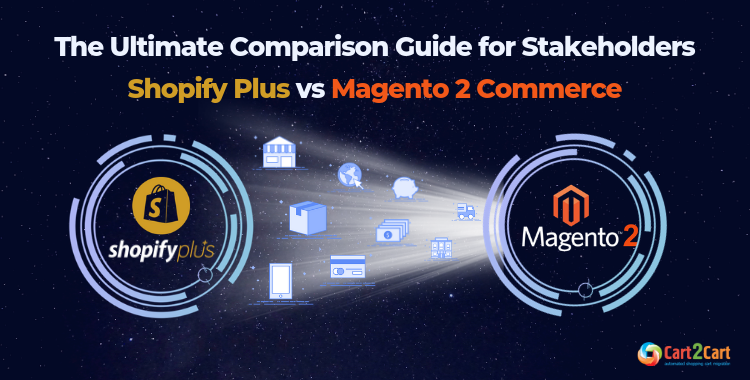 Describe your business in three words. What comes to your mind first? Is it large, forward-looking and lucrative? Great, but there are no limits to perfection.  Sooner or later, a well-structured project grows up to the enterprise level. It's all well and good having a beautiful online shop, but how do you know it's time for migration? Perhaps when the other website builder can offer more.
'The best way to predict the future is to create it'.

Abraham Lincoln
What is Shopify Plus? Many Shopify Plus clients are coming to the platform just to accommodate the massive loads associated with flash sales. These flash sales often see thousands of concurrent checkouts. Migrating to Shopify Plus means never having to worry about infrastructure, hosting, networking, or load testing again.
Magento 2 Commerce (formerly known as Magento Enterprise Edition) is a premium edition of Magento, a cloud-based platform that was purchased by Adobe in 2018.
What's the difference? Compare Shopify Plus vs Magento 2 Commerce and choose your leader!
Set Up A Budget: Make Your Financial Goals A Reality
Choosing the reputable platform for the enterprise-level business can cost you more than you could ever imagine. Every successful financial plan starts with a sound budget. Your first order on eCommerce market is finding out exactly how much you're spending each month. Running the enterprise-level business, don't work under the delusion "the more you spend, the more you get". Your investment needs to be well-considered and paid-off to get you where you want to go. Most retailers focus on pricing page when choosing the most beneficial shopping platform. Extend beyond this step to put a solid budget plan into action. Since the plan costs far from the only spending that lies ahead. We'll guide you through what's to be born in mind when calculating expenses and determining payoff goals.  
Support & Maintenance Retainer
Being a newbie is always a tough challenge: if you've just replatformed your eStore, you'd face a lot of troubles in terms of month-to-month bug fixing, deployment, and updates, regardless multi-years of eCommerce experience. That's where customer support becomes a major point for consideration.
Shopify Plus clients can get tech help via multiple channels, including online trustworthy forums, a help centerer, 24/7 phone support, live chat, and email. They also get access to the largest community of specialists including an expert team of Launch Engineers, Solution Engineers, front-end designers, and dedicated support staff. Each retailer assigned a Merchant Success Manager, providing brands with ongoing personalized technical help. You have not to pay any extra charge, it's already included in the monthly license fee (read through Shopify vs Shopify Plus Comparison Guide to know more).
Moreover, due to the fact that Shopify Plus is fully-hosted, security patches and updates are handled for you. If you have lots of backend functionality and want to add it to your platform, then the third-party agency will charge you on an hourly basis, and you're more likely to be on Magento 2. If this step isn't your priority or/and money is tighter, opt for Shopify Plus.
In turn, Magento 2 offers all customers tech resources, forums, and guides, as well as access to 24/7 phone support (get to know about the difference between Magento Community vs Enterprise). Magento Cloud users can also get assistance from Magento's account management team, but this comes at an additional cost. For self-hosted Magento clients, most of your support queries will need to go through your hosting provider, which can mess things up. Unlike Shopify Plus charging a fleet fee, the execution Magento timeout depends on your plan price. Commerce Cloud provides two pricing options: Gold (waiting time is up to 4 hours) and Platinum (concerns will be addressed within 2 hours).  
With a dedicated Success Manager assigned to you at no extra cost and hassle-free workflow, Shopify Plus is hands down the best platform for ongoing support & maintenance.
On-going Development Costs
On average, Shopify Plus build projects requires less backend development (database work, complicated functionality work, etc.), and less time for integrations than Magento 2. And though Shopify Plus developers can charge higher hourly rates than Magento 2,  the number of hours needed to build the site is significantly reduced.
Very roughly speaking, depending on the set of your functional requirements, you can expect to pay the following for a website build or rebuild project:
Magento 2 Commerce BAU development cost ranges from $36,000 to $120,000 and $150,000 - $500,000 to start a website.

Shopify Plus build projects are priced around $100,000 and BAU development costs between $36,000 and $60,000.
Hosting Expenses
Going with Shopify, you shouldn't care about paying a third-party hosting provider. This SaaS (Software as a service) solution is becoming an increasingly popular alternative for self-hosted website builders, like Magento 2. Today more and more retailers shirk off responsibility regarding PCI compliance, SSL certificates, security patches, and downtime. Therefore, you don't ever have to wake up in the middle of the night in a cold sweat, worrying about your eStore security. From a development point of view, web-based subscription models leave traditional self-hosted software far behind, since all the system updates are automatic and a retailer won't waste time and financial resources on manual upgrade. Shopify hosting costs are already included in the license fee, so don't be afraid of additional charges. Unlike Shopify, Magneto 2 is self-hosted, which means you have two options: hire a third-party company to host your website or host it yourself. Should to be a fun challenge, taking into account that hosting Magento 2 requires a robust server, which can result in astronomical operation charges. So if your eStore runs into tech troubles, you'll hardly get away with the headache. That's why most merchants turn to the professional hosting company, that could handle the security updates and performance improvements automatically. This solution provides a user with flexibility and full control but comes with additional expenses. So, you may expect to be billed around $1,000 per month on top.
To win back some customers from Shopify Plus, Magento has recently released its fully-hosted version: Magento Commerce Cloud. This PaaS (Platform as a service) is much newer than Shopify Plus, less refined, a lot pricier and hasn't been widely tested. The cloud version comes in at $3,333 monthly. If you want to have your hands untied and, going with a self-hosted platform, set your heart on Magento. But prefer Shopify plus, if you're looking for an easy-to-manage site and a smaller monthly bill.
License Fee
Demanding a flat monthly licensing fee of $2000, Shopify Plus worths to be named an all-inclusive solution. With a hosting, unlimited staff accounts, 24/7 phone, and live-chat support, all your expenses will be covered for that price. This cost is capped at $800,000 orders a month, so if your eStore exceeds that order volume, you'll have to pay a higher rate.
For Magento Commerce Cloud, which includes licensing and hosting, your monthly fee is likely to be around the $3500 mark. Magento with third-party hosting is $3000 a month. Magento charges this upfront annually based on 'gross merchandise value,' with a minimum of $22k.
Total Price of Ownership
Think twice when deciding what platform to choose. First, create a realistic financial play and define certainly how much you should invest to hit the jackpot. If you make a mistake, the platform you pick will cause a lot of work and create unmanageable costs.
Because it's quick to deploy and requires less maintenance to keep it running, Shopify Plus ends up being considerably cheaper than both the self-hosted Magento platform and Magento Commerce Cloud. Magento 2 Commerce pricing has been going up. So, if you're looking to increase your profit margin, Shopify Plus is the way to go.
Shopify Plus vs Magento 2 Commerce
The Ultimate Comparison
Features and User Experience

Shopify Plus

Magento 2 Commerce

Types of Cloud Computing Service

Proprietary source SaaS (Software as a Service) The code is owned and developed by individuals and the source code is not available for modification. Doesn't require as much on-going maintenance from a retailer in the future
Open source PaaS (Platform as a Service) The source code for the software is available for everyone to see, modify, and build upon

SEO

Shopify Plus imposes certain kinds of restrictions concerning SEO. Users cannot edit the robots.txt file, URLs, etc. They're able to set up canonical URLs, hreflang references, "noindex" tags, etc.
As for SEO, Magento is much more flexible. There are no real limits, so developers can perform heavy customizations without worrying

Maintenance

99.9% uptime. Included with updates to the platform several times a day
Uptime depends on maintenance. Regular updates with tests. Takes more time and efforts than Shopify Plus

Blog

Yes (native)
Not out of the box; an extension's to be installed

Facebook Pixel (via the Admin Panel)

Yes (built-in)
Not out of the box; an extension is required

Expertise

Promotions

Merchants should rely on apps (e.g.Scriptor Editor or Launchpad). Cart-level discounts can only be created by means of Ruby coding, based on default Shopify templates. To deny using the code, retailers can turn to third-party apps or partners for developing custom templates and discounts
Build-in (advanced features of the promotion engine are available with an extension)

Interface

No matter whether you're an experienced user or newbie, Shopify Plus is pretty easier for traders to navigate and use    
Magento is often hard to navigate, so you'll barely keep the eStore up and running without development assistant (that is pretty pricey)

Security

PCI Compliant. Shopify Plus manages all aspects of security for you, so you don't have to think about it, the data protection concerns are delegated to eCommerce experts
Self-handled security. Multiple security patches are released every year and have to be managed directly by the store owner or third-party hosting agency

Marketplace

Limited to Shopify API. Every app is nurtured and approved by Shopify, creating a strong ecosystem
A large selection of apps exists but finding and maintaining a reliable one can be quite challenging

Shipping

Shopify lacks a native solution for adding dimensions to products and variants. This means a need to add another app to the eStore  
There is an in-built solution for adding dimensions to products and variants

Hosting Type

Fully-hosted
Self-hosted (Magento Commerce Cloud or third-party hosting)

Speed

Shopify Plus maintains the server, that's why it's little or no downtime
Site speed is largely dependent upon the server you choose

Multi-language

Yes (an extension is required). For example, Langify extension, which has numerous limitations, including poor SEO and the necessity of backends.     
Yes

Tech Assistance

Vendor support via a help center, 24/7 phone support, live chat, and email. And bing! A Merchant Success Manager is assigned
Vendor support via documentation, forums, guides, and 24/7 phone support

Payment Gateways

Over 70 modes of payment  are supported, including:  

Apple Pay
Google Pay
PayPal

PayPal (native)
Klarna
Cybersource
Worldpay
EWay
Amazon Pay
Braintree

Apps

2300+
3000+

Themes

150+
100+

Faceted Search

No. Shopify Plus  requires a third-party solution to support faceted search - something that can cost up to $500 per month
Yes, Magneto is equipped with Elastic Search that can be extended using an app for less a one time $500 purchase

Target Audience

B2C. Small and medium-sized businesses. No B2B offering or version, aside from customer groups
B2C and B2B. Medium to upper market; multinational enterprises needing store-views in multiple languages and multiple websites residing on the same architecture A vast B2B set is included: approximately 20% of B2B features, which meet 80% of B2B usage needs  

Installation and Configuration

Simple The platform can be mastered quickly by developers and the client. It's extremely intuitive and manageable to understand
Complex The platform has a steep learning curve, requires knowledge in programming and experience to master the platform. This is true both for developers and for clients

Multi-store Views

Yes, but with some kinds of road bumps like URL issues, duplicate maintenance for each site and duplicate costs for each site
Yes, this is one of the best B2B eCommerce platforms

Code Flexibility

Shopify's core functionality can't be modified, but it integrates with lots of important extensions. An issue could arise if the option you need is not included or available with Shopify  
The Magento 2 platform is flexible and can be personalized. It is easier to customize the platform because you have access to the code

Pros

Concerning Shopify Plus benefits, the first high-flying feature is usability. Simply put, you can set up the website even being dead drunk
The best in class functionality and flexibility. The largest pool of development tools

Cons

Scare customization opportunities, vendor lock-in
Magento 2 Commerce needs some time to reach the same volume of expertise as others
Check out our infographic to get a better understanding of the migration process via Cart2Cart: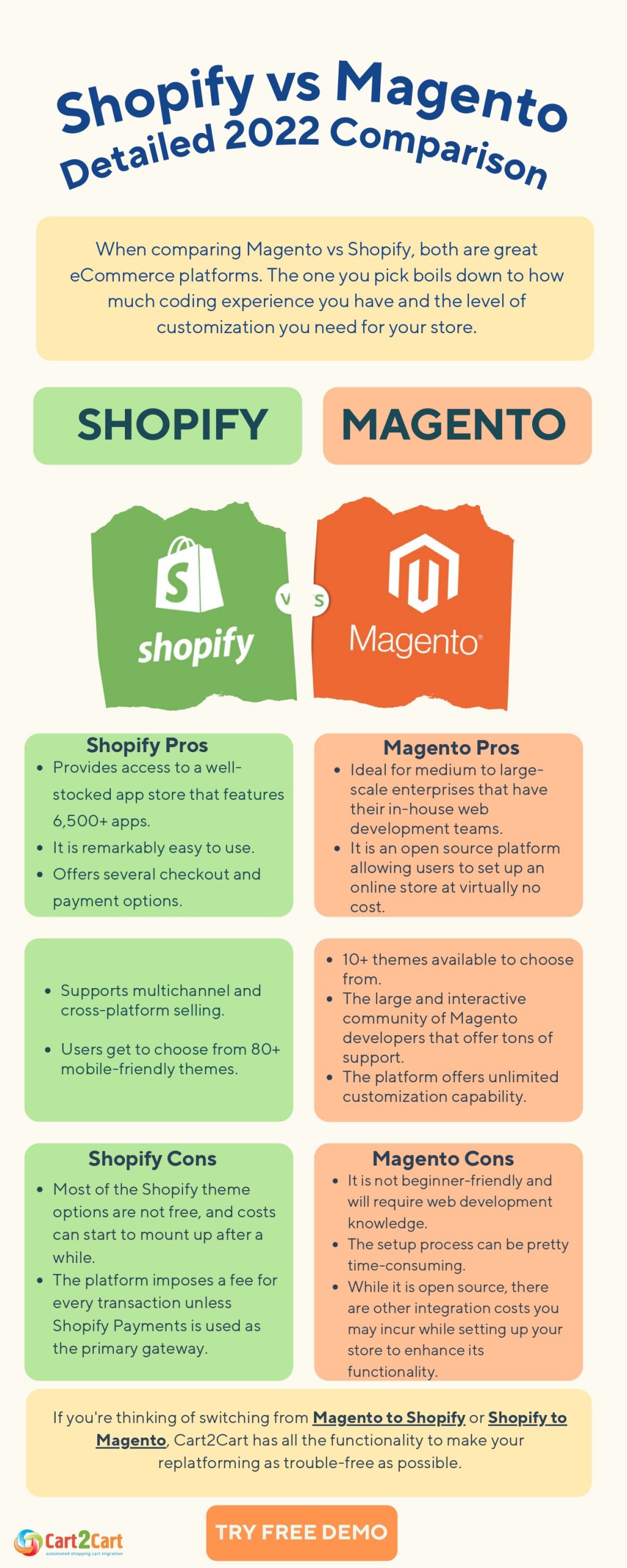 Shopify Plus vs Magento 2 Commerce - FAQs
Is Shopify Plus better than Magento?
Shopify Plus vs Magento Commerce are both ideal for big sellers, enterprise-level businesses, and businesses that are expanding. Each of them has state-of-the-art features that make managing those brands' stores easier. As a result, it's hard to decide which one wins.
Does Magento require coding?
The Magento Commerce subscription fee includes the option of self-hosting or cloud-hosting. With the self-hosted edition, you need to be tech-savvy, whereas with the cloud-hosting edition, you don't need to worry about programming or coding.
Executive Summary
eCommerce  Enterprise Platforms must not only be easy to use and have beautiful themes. They must also have online search support and data analytics features to help websites achieve high ranking in online search and facilitate management and analysis of website data and information.
Shopify Plus gives high-growth, high-volume merchants the scalability, reliability, and flexibility they need, without all the hassles, long timelines, and expense of an on-premise solution.
Magento 2 Commerce stands out for its enormous range of functions.
If saving time and cutting down on the platform maintenance costs and efforts sound good to you, you can migrate your Magento Enterprise data to Shopify Plus.
No matter which platform you prefer, both of them can prove that the best is not the enemy of the good. Try Free Demo Migration, drive growth for your brand!