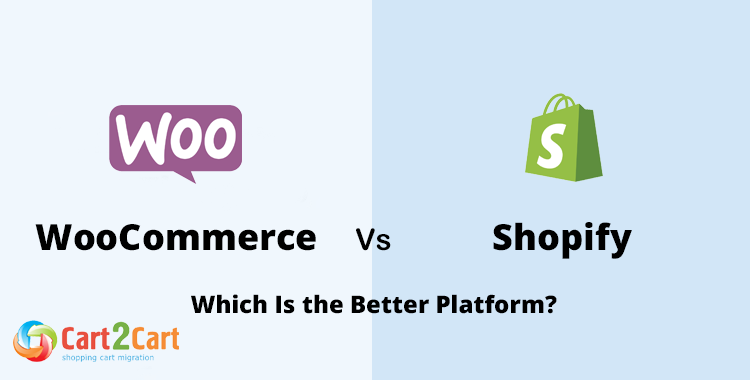 There are many excellent online store-building tools on the market, and knowing which is the most suited to your business can be very difficult. Both Shopify and WooCommerce are well-known in the market and deliver excellent e-commerce capabilities, but which one is right for your business?
Let's look at the two platforms in more detail to bring you closer to a decision.
What is WooCommerce?
WooCommerce is an open-source plugin for WordPress. It turns a WordPress website into a fully functioning e-commerce store. WordPress users simply install the WooCommerce plugin on their website, and the store will be installed. Simple.
WooCommerce was launched in 2011, eight years after the launch of WordPress, which is the most popular CMS worldwide. WooCommerce (built on WordPress) is the world's most popular e-commerce platform, with over 36% of the market share.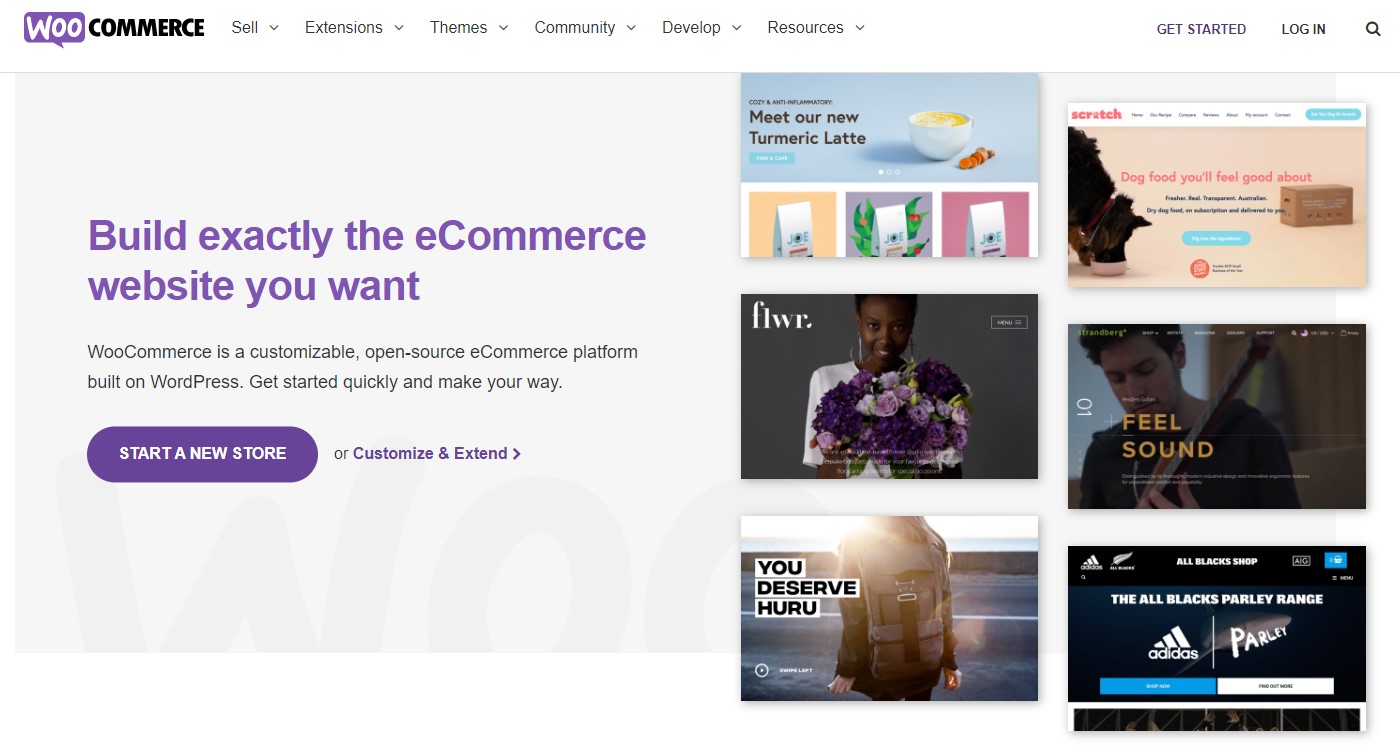 According to the Internet statistics company BuiltWith, WooCommerce powers 7.2 million live sites on the internet.
What is Shopify?
Shopify is a website builder. Shopify is hosted in the cloud, and users pay a monthly subscription fee to use it.
The platform allows users to build and customize their own online store and sell their wares on the web, in person, on mobile, in brick-and-mortar locations, and in pop-up shops across multiple channels, including social media and online marketplaces like Amazon.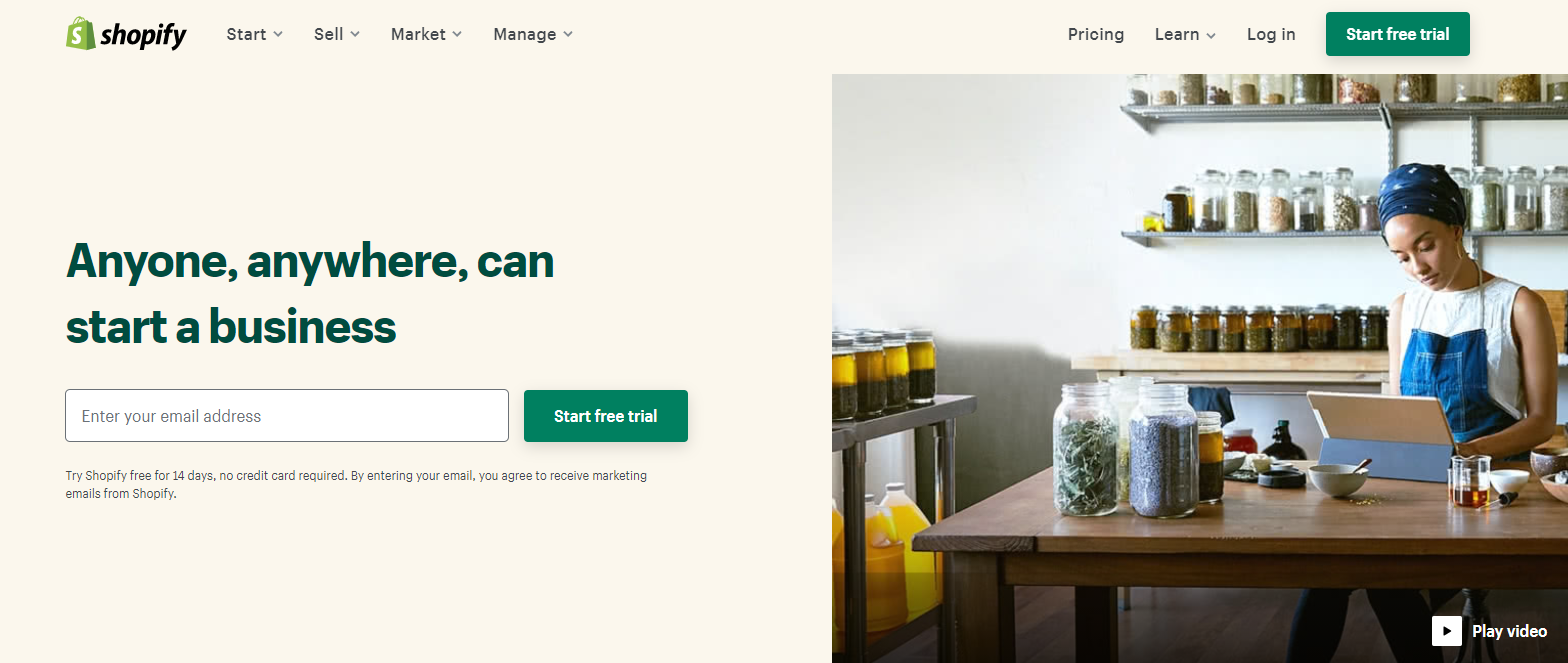 Shopify provides its users with a wide range of themes that can be customized to meet each store owner's individual needs.
The platform was built to let beginners with no coding skills build an online store themselves.
Shopify was launched out of Canada in 2004 and is hugely popular – it powers more than a million online stores.
Cost Comparison: Shopify vs WooCommerce
Cost of Using Shopify
Shopify has five pricing plans.
Starter
For $1, you can use the Starter plan for 3 months to sell products through social media.
This plan doesn't give you a complete online store, but you get a point-of-sale and a Buy button generator to sell on your blog or existing website. The plan also includes invoices, reports, customer profiles, order management, product management, discounts, and other basic features.
Basic
Monthly subscription price: $25, $19 if paid yearly.
Includes everything you need to create your online store, including unlimited products, multiple sales channels, discount codes, a website builder, free SSL, abandoned cart recovery, and gift cards.
The plan includes basic reports, up to 1,000 inventory locations, and 2 staff accounts.
Shopify
Monthly subscription price: $65, $49 if paid yearly.
Everything from the previous plan, plus professional reports, lower credit card rates and transaction fees, better shipping discounts, and international pricing and domains.
The plan includes professional reports, up to 1,000 inventory locations, and 5 staff accounts.
Advanced
Monthly subscription price: $399, $299 if paid yearly.
The advanced plan also provides an advanced report builder, third-party shipping calculations, improved shipping and credit card rates, and individual product pricing for international sales.
The plan includes a custom report builder, up to 1,000 inventory locations, and 15 staff accounts.
Shopify Plus
Shopify Plus is an enterprise solution that starts at $2,000 per month.
Shopify Plus is for merchants selling in high volume. Shopify Plus has everything a merchant needs to expand their business.
The plan includes everything from the advanced plan, plus optimized checkouts, improved product pages with built-in media, localized shopping experiences, advanced shipping rates and discounts, specialized apps and channels, and the necessary API resources for integration.
Cost of Using WooCommerce
Being an open-source plug-in, WooCommerce is free to download, but users have to pay for a domain name and hosting. A domain name can cost around $12 annually), and hosting costs $5-$25 per month through providers like Bluehost or Cloudways.
Since your WooCommerce is connected to your WordPress website, you still have the WordPress costs that you need to cover, which include:
Subscription fees (if using hosted through Bluehost)
Hosting fees (if using self-hosted WordPress)
SSL certificates
Maintenance fees
Themes
Premium plugin fees
You can opt for a cheaper solution by shopping around for shared hosting and using free themes and plugins, but what would that store look like and how well will it function?
The thing is, you could do it very cheaply, or you could end up spending a lot of money to get your site off the ground. It boils down to what your requirements are, what your skills are and how deep your pockets are.
In reality, it costs several hundred dollars per month to run a WooCommerce store. The software is free; the store is not.
Ease of Use Comparison: Shopify vs WooCommerce
Ease of use – Shopify
Shopify is a drag-and-drop website builder, which is fairly straightforward to use once you get the hang of it. You can choose from more than 70 professional and free Shopify templates that are fully customizable. You don't need to be a website designer or have coding skills to be able to build a Shopify store.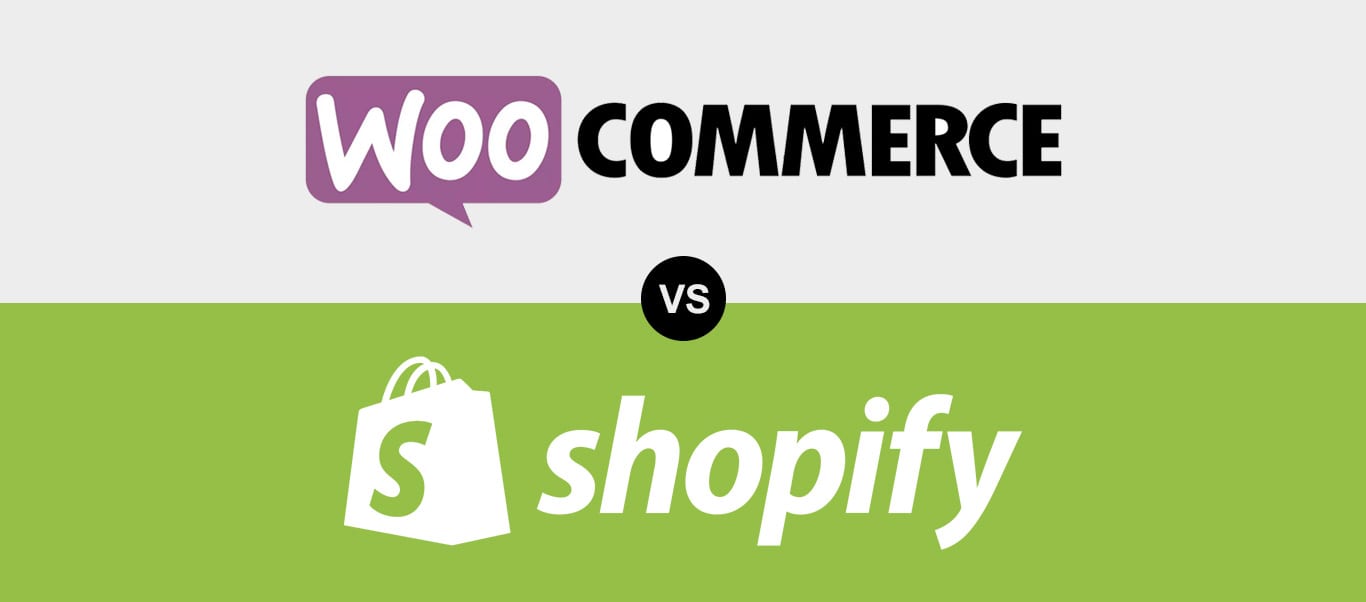 Ease of use – WooCommerce
Being an open-source solution, WooCommerce requires a certain level of technical know-how to implement and maintain. WooCommerce users have to handle things like updates introduced by WordPress, do their own backups, and take responsibility for the security of their store.
If you don't have a WordPress website already, you have to install WordPress first, which is quite technical to do.
WooCommerce does not have a theme store, but marketplaces like ThemeForest have a myriad of professionally designed WooCommerce themes for sale.
Design and Themes Comparison: Shopify vs WooCommerce
Both WooCommerce and Shopify offer well-designed themes that you can customize to suit your needs. Shopify themes are stunning, but the choice is limited compared to WooCommerce. But then, you can customise a WooCommerce theme to look just as good or better than a Shopify store. It depends on your skills and the time you have to invest.
Shopify design and themes
Shopify is known for its elegant themes that make beautiful stores. The Shopify theme store has over 70 free and paid themes to choose from. Some of the themes have a few variations, so it adds up to a choice of more than 100 themes.
There are also a large number of third-party themes available from different online stores. However, it's probably wiser to get one from the Shopify theme store, because those themes are supported by Shopify or the developer of the theme. You can be sure that one of these themes will work with everything you want to have for your store.
Shopify themes are designed specifically for e-commerce, so they have all the features needed to make sales. All the themes are mobile-friendly, so your customers can find you wherever they are and at any time.
Shopify does a good job of helping users to find the ideal theme for their purpose. The platform uses filters to separate different features that users might want for their stores, like a stock counter. So if you have many products, you can ask Shopify to show you themes that include a stock counter.
In addition, Shopify themes can be customized with the help of the theme editor. For themes without settings to make changes, Shopify allows you to edit your theme code using HTML, CSS, and Liquid.
The premium themes in the Shopify theme store cost from $180 to $350. That may seem a bit pricy, but for that price, you get a high-quality theme that looks professional and is configured for e-commerce.
You can get premium themes on the WooCommerce theme store for much less.
WooCommerce design and themes
WooCommerce Storefront is a free WordPress theme for integration with WooCommerce. It is a clean and simple theme that's fully mobile responsive.
Then, of course, there are more than a thousand WooCommerce themes for sale on ThemeForest and many more elsewhere online. The effectiveness and appearance of your store using one of these themes will depend on your technical skills (or your developer's).
An enthusiastic community of developers and freelancers continually come up with stunning themes for WooCommerce sites.
Regarding flexibility, learning how to edit and customize Shopify themes is easier. People with little or no coding skills might find WooCommerce themes challenging to adapt to their needs.
Payment Methods Comparison: Shopify vs WooCommerce
In order to accept payments, you need to connect your store to a payment gateway. A payment gateway is a software developed for processing credit cards online, such as PayPal, Stripe, and PayFast. Both WooCommerce and Shopify offer more than 100 payment gateways.
Payment Options in Shopify
Shopify has its own payment solution called Shopify Payments, powered by Stripe. Shopify Payments accept credit card and debit card payments as well as Apple Pay.
If a merchant uses Shopify Payments, transaction fees are avoided.
However, should you choose to use one of the many third-party payment gateways supported by Shopify, you will have to pay a fee of 2% on each transaction. This is in addition to the transaction fees charged by the payment gateway.
You do have to pay credit card fees if you use Shopify Payments. Credit card fees for the Basic plan are 2.9% + 30¢. The fees for the more advanced plans are lower – 2.5% + $.30 per transaction on the Shopify plan and 2.4% + $.30 per transaction on the Advanced Shopify plan.
Payment Options in WooCommerce
WooCommerce comes with WooCommerce Payments integrated. The payment gateway, specially developed for WooCommerce, accepts credit and debit cards as well as local payment options with no setup or monthly fees.
In addition to its own payment gateway, WooCommerce supports all major payment gateways like PayPal, Square, Alipay, and Stripe. PayPal and Stripe are free, but you will need to buy extensions for other gateways.
WooCommerce also supports many regional payment services, which makes it stand out from other e-commerce platforms.
As a self-hosted platform, WooCommerce charges no transaction fees. Merchants are responsible for fees charged by their chosen gateway. WooCommerce also doesn't charge fees for credit card payments.
Apps and integrations Comparison: Shopify vs WooCommerce
You can use apps and integrations to customize your store, so it has all the functionality you need to be successful online. Both WooCommerce and Shopify offer loads of integrations to enable merchants to do anything they need in terms of selling online.
Integrations in Shopify
Shopify has a lot of functionality out of the box for things like discounts, shipping, and payment methods. In addition to these and other core functionalities in Shopify, users have access to the Shopify app store.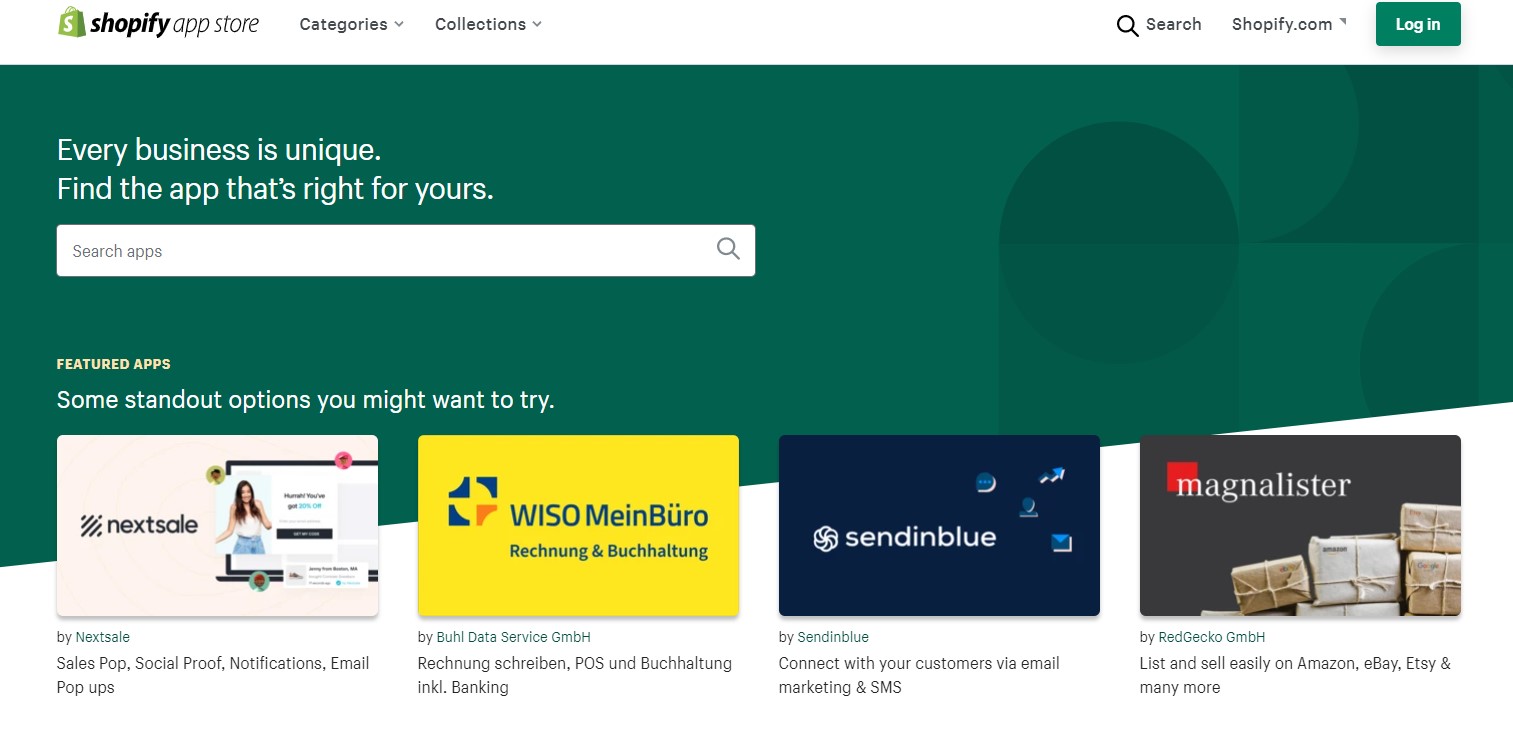 Shopify has one of the biggest e-commerce app stores, with more than 8,000 apps for sale and free. The apps are there to add functionality to a store or to allow the store to integrate with other tools and e-commerce solutions.
This unbelievable choice of apps is one of the reasons making Shopify an attractive e-commerce solution, but it also has a downside. You have to pay for many of the apps, which adds to the cost of a Shopify store and the more apps you add, the slower your store will function.
There is something to say for e-commerce platforms with more functionality built-in out of the box.
Integrations in WooCommerce
The number of WooCommerce integrations is truly astounding. Being part of WordPress, WooCommerce has access to a huge range of WordPress plugins — around 60,200. How anyone can have the time to make sense of that number, is beyond me, but fortunately, as far as a WooCommerce online store is concerned, they don't all apply.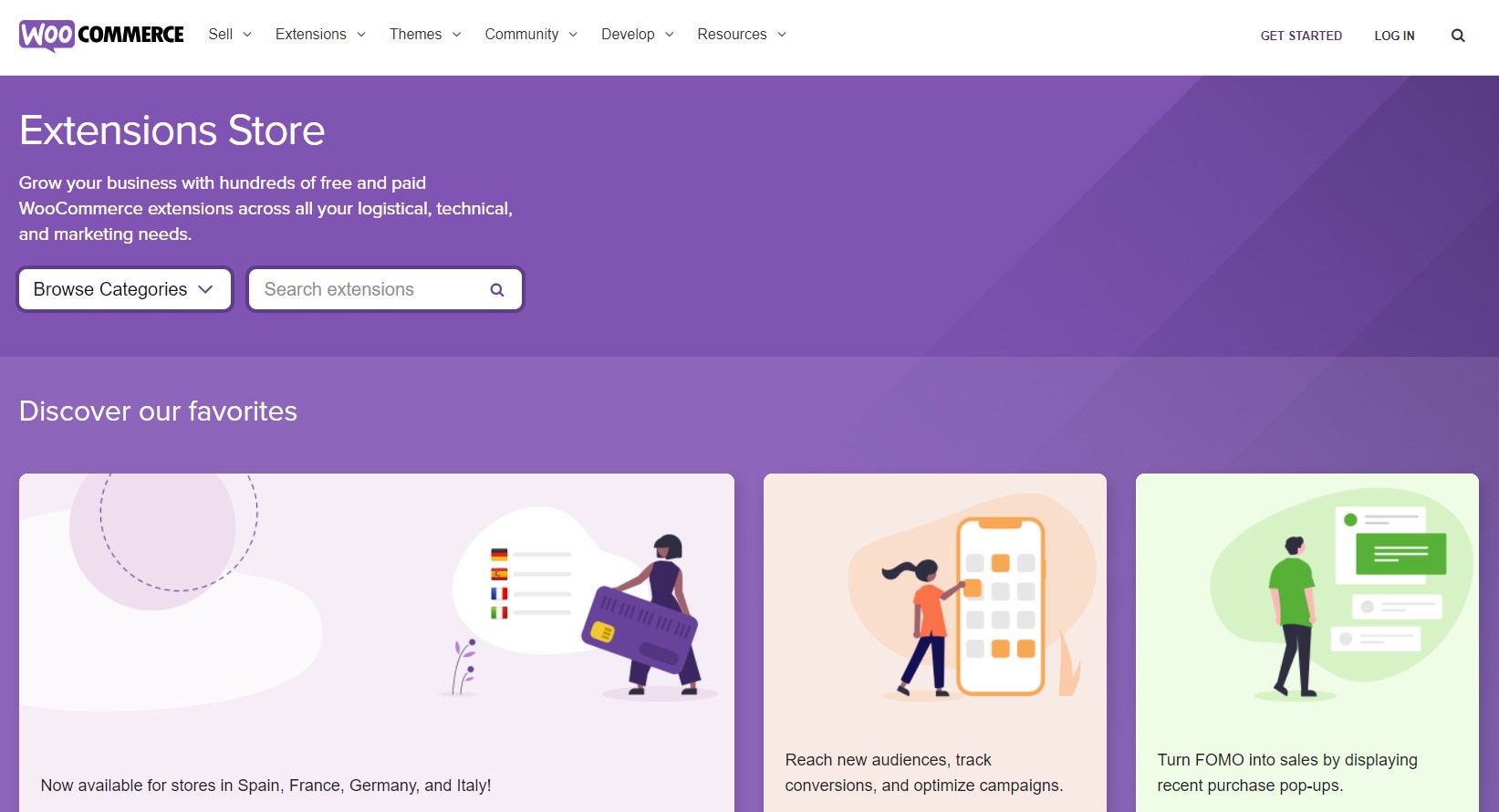 Not all of these plugins will be suitable for WooCommerce or even for e-commerce. There are only about 1,000 WooCommerce-specific plugins in the WordPress dashboard. That's quite enough, but merchants are free to search online for additional plugins, of which there are thousands.
Search engine optimization (SEO) Comparison: Shopify vs WooCommerce
When comparing SEO features in WooCommerce and Shopify, one is actually comparing WordPress SEO with Shopify SEO. WooCommerce is a plugin in for WordPress, so you need a plugin like Yoast for WooCommerce SEO.
And one can't make a blanket statement about how good WordPress is for SEO because it depends on so many factors, such as the type of hosting, the plugins being used, etc.
Both platforms do a lot of basic SEO matters very well, like allowing merchants to change URLs, meta descriptions, page titles and other key SEO elements.
When it comes to SEO for website and server optimization, there is more of a difference between the two platforms. With Shopify, you have all the basics included, like good-quality hosting and the ability to access the speed of the store in relation to other websites.
SEO technicalities that can speed up a site can improve its crawl ability by search engines are done very well in WooCommerce.
With a WooCommerce store, merchants have the opportunity to outshine Shopify stores if they have access to good technical skills and the budget to pay for top-quality hosting. If this is done well, WooCommerce could prove to be very competitive regarding search engine results.
To conclude – with the right hosting and access to technical skills, a WooCommerce store can outshine a Shopify store, but, in reality, it's probably not within the budget of most new store owners.
Dropshipping Comparison: Shopify vs WooCommerce
Dropshipping is the modern way to sell goods. It is seen as the ideal solution for small businesses and solopreneurs who want to start an e-commerce store.
With drop shipping, the business person or solopreneur doesn't manufacture anything, store, or deliver anything. It's all done by a third party – the store owner just takes the order and passes everything on to the supplier, who packs and ships the goods for a fee.
Both WooCommerce and Shopify enable dropshipping for their users. Shopify does it through third-party apps, and WooCommerce does it through plugins.
Dropshipping on Shopify
In addition to a free dropshipping starter kit, Shopify has a large number of dropshipping suppliers and apps that store owners can use – more than 440 dropshipping apps are available in the Shopify app store.
It may be a good idea to look into Shopify's dropshipping starter kit, which gives users several days of free access to Shopify as well as all the information they need to start a dropshipping store.
Dropshipping on WooCommerce
WooCommerce has fewer dropshipping options. For drop shipping, you need a dropshipping plugin or add-on that's compatible with WooCommerce, such as WooCommerce Dropshipping, WooDropship, DropshipMe, or AliDropship, which are four of the 15 dropshipping options available for WooCommerce users.
You may be able to extend your options if you make use of dropshipping plugins for WordPress.
Comparison: Shopify vs WooCommerce Point of sale
A point-of-sale (POS) system is crucial in today's world. POS is when payments for goods sold are processed in person at a physical location like a market or a retail store.
POS integrations help merchants to sell products and services across multiple channels by sharing product, inventory, sales, and customer information between both systems.
In practice, this involves a card reader and other software when accepting payments for products. The magic is that each sale is recorded in the online store, and inventory levels are updated automatically.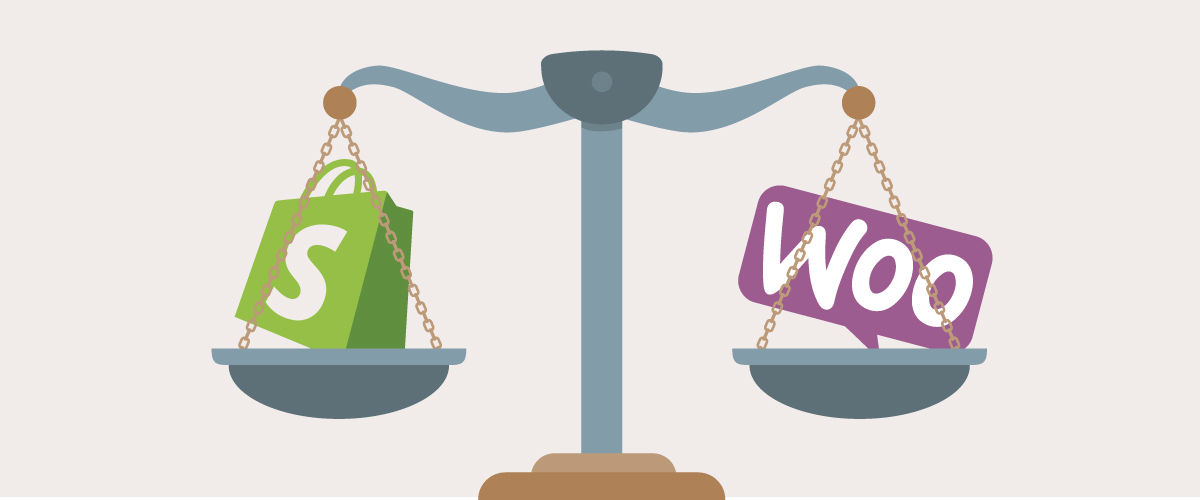 Shopify and WooCommerce facilitate point-of-sale selling, but they do it differently.
With WooCommerce it involves a plugin, third-party services and third-party hardware. Shopify comes with POS built in for all its plans except the Starter plan. POS hardware is available in the Shopify POS hardware store.
While Shopify provides its own software and hardware, the WooCommerce approach means more selling hardware is available for WooCommerce store owners.
he benefit of Shopify's approach is that users don't need to do a lot of configuration. Besides, the number of selling hardware available from the Shopify POS hardware store is quite competitive.
Also, if you're not happy with Shopify's solution, you can buy a third-party POS app on the Shopify store.
Reporting and Analytics Comparison: Shopify vs WooCommerce
Both Shopify and WooCommerce provide users with various reports, so they understand how their stores are doing and what may need improving.
Shopify
The Analytics page shows key sales, orders, and online store visitor data, so you know how your store performs across all your sales channels.
For example, on the Analytics page, you can:
check recent sales value and compare it to other time periods
compare the performance of your various sales channels
track your average order value
The metrics give you insight into the behaviour of your customers, for instance, the type of device your store was viewed on and how long.
The list of metrics available to Shopify store owners is very extensive.
WooCommerce
Analytics for WooCommerce is provided through the free WooCommerce Google Analytics Integration. It provides basic e-commerce and site analytics and uses e-commerce tracking to provide valuable metrics on your store's performance.
WooCommerce also provides a number of key reports on sales, customer downloads, coupons used, and much more.
Naturally, as with everything else, the reporting features in WooCommerce can be extended with plugins, but you have to pay for them.
Customer Support Comparison: Shopify vs WooCommerce
Shopify support
Shopify store owners receive 24/7 support over the phone, live chat, and email. In addition, the Shopify library houses a host of helpful guides available in 21 languages, and there is a community forum.
When you first sign up, there is a setup wizard to guide you through everything you need to know to set up your store.
One thing that's pretty annoying is that you have to consult the help pages for a solution before you can get the contact details of someone on the Shopify support team. That wastes a lot of time when you can rather get a straight answer from a person. Besides, for really technical issues, the help pages are not always helpful.
WooCommerce support
WooCommerce users who use Bluehost to power their store have no customer support worries. Bluehost offers fantastic customer support, including 24/7 phone and live chat support – support doesn't get better than that.
In addition, Bluehost has a vast knowledge centre filled with useful information.
If you are not a Bluehost client and use WooCommerce support, you need to submit tickets for general support and reconcile yourself to reading loads of setup guides to help you build your store.
You also have the choice to get an improvement to your customer service with customer support for WooCommerce plugins.
Store maintenance and Security Comparison: Shopify vs WooCommerce
Being a hosted solution, Shopify store owners don't have to worry about maintaining their stores, Shopify takes care of that, including software updates, hosting, server configuration etc.
For WooCommerce store owners, it's a completely different ballgame – they are responsible for:
Using the most up-to-date version of WordPress
Using the most up-to-date version of WooCommerce
Configuring their hosting
That theme and plugins are up to date
It is important to make very sure that everything is up to date, otherwise the store is vulnerable to hacking.
Shopify vs WooCommerce Security
Shopify Security
Because Shopify is a hosted solution, it is responsible for the websites it hosts. Shopify has to ensure that all stores are PCI-compliant, in other words, that they meet the security standards of the Payment Card Industry Security Standards Council and that card transactions and cardholder data securely are processed securely.
Of course, all store owners must follow basic security rules like enabling two-factor authentication and ensuring they use a strong password.
Shopify does fail store owners in one respect, though. The company does back up all store data but doesn't give store owners access to it in case something goes wrong. Store owners must be aware of this and take their own steps to safeguard their data. Of course, there are apps for that.
WooCommerce Security
With WooCommerce, the responsibility for store security lies squarely with the store owner. They have to see to it that the WordPress software and WooCommerce plugin they use are fully up to date, as well as any other plugins or themes they may be using.
Unfortunately, some WordPress themes and plugins can contain malicious code, especially those from third parties. You should always be very cautious when adding anything to your store.
Also, all plugins for processing payments in WooComerce must be PCI-compliant.
As with Shopify store owners, WooCommerce store owners must also make sure to back up their stores regularly. Again, there are various plugins to help with this.
Keep in mind, if you choose a high-quality hosting service, they will likely back your site up automatically as part of their service.
WooCommerce vs Shopify: Comparison Table
| | | |
| --- | --- | --- |
| | Shopify | WooCOmmerce |
| Nature of platform | Hosted platform/ technical issues taken care of | Open-source solution/user must pay for hosting/ domain name/ responsible for security of site |
| Pricing | Monthly subscription fee/5 plans | Free, open-source platform but need to pay web developers, domain name, and hosting |
| Ease of use | Drag and drop editor/suitable for beginners | Requires coding skills |
| Build time | Fast, it's possible to build a store under an hour | Time-consuming/have to build website from scratch |
| Design and Themes | 17 free themes and 70 paid themes/ stunning themes designed by professionals | Open-source platform offers limitless customization/hundreds of themes available on marketplaces |
| Sales Features | Abandoned cart recovery, customer segmentation, Instant Purchase, secure payments, Elastic Search, dropshipping, promotions, discounts | Abandoned cart recovery, discount codes, physical and intangible products, promotions on site, time-based discounts, coupon codes, dropshipping |
| Plugins and Integrations | Over 6,700 plugins | 50,000+ extensions |
| Marketing Tools | Built-in marketing - email campaigns, advertise and sell on social media, support multilingual sites | Marketing through extensions and plugins |
| Payment Options and Transaction Fees | Shopify Payment = no transaction fees. Supports 100 payment options = translation fees | Stripe and PayPal free/ extensive list of supported gateways, including for some regions |
| SEO | Built-in tools for SEO, but fewer apps for SEO | Wide range of excellent SEO plugins/helpful SEO guides and prompts/super customizable |
| Security | SSL Certificate and PCI-DSS compliant | Owner is responsible for all security certificates |
| Customer support | 24/7 phone, email, and live chat support, plus community forums, help center, API documentation, and video tutorials | If hosted by Bluehost, users have access to 24/7 professional support |
WooCommerce vs Shopify – Which is better?
As you can see, there is no straightforward answer to this question – it depends on many factors. If you already operate a WordPress website, then WooCommerce will make perfect sense as the plugin has proven itself as a creator of e-commerce stores for WordPress users.
On the other hand, if you want to choose an elegant theme, which was developed especially for online stores, and you don't want to be bothered with technical issues like hosting and site security, Shopify should be your choice.
Both these platforms are heavyweights in the e-commerce industry. You won't make a mistake if you choose either of them. Just make sure what you want and what you are capable of in terms of coding.
FAQs
Can I run WooCommerce without WordPress?
No, WooCommerce is a plugin specifically for WordPress. It can't be run independently.
Why is WooCommerce a good choice for an e-commerce store?
No matter what problem you face, there's usually an app that can solve it for you.
Is WooCommerce too difficult for most people?
No, anyone can learn the coding skills needed to set up a WooCommerce store. Especially if you only need a simple store.
Can I use Shopify with WordPress?
You can install the Shopify Buy Now button, which will take your customers to the Shopify cart to complete the checkout. However, this is not advised as it doesn't provide a seamless customer experience.
If you are planning to migrate your website, consider using the professional migration tool Cart2Cart. Cart2Cart facilitates the migration of small to mid-size stores and large and enterprise-sized e-commerce stores. Your data is migrated safely and securely.