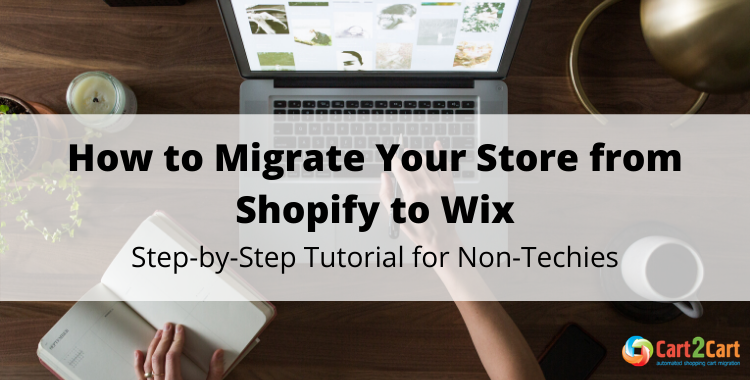 Truth be told, migrating across various shopping carts can be quite a daunting and complex process, however quite manageable if equipped with the right tools. If you find yourself in need to migrate from Shopify to Wix, you've landed in the right post.
Wix is widely known as one of the most affordable website builders that is a perfect fit for small businesses with not big assortment. Shopify, contrastingly, is the right choice for little-to-large businesses aiming to conquer the market with top-notch tools.
Watch our video tutorial to see how easy it is to automatically migrate from Shopify to WIX with the help of the Cart2Cart migration tool:
That said, this may come as a surprise, but there's a growing number of online store owners who wish to leave the Shopify platform in favor of Wix, and the tendency shows no signs of stopping (according to Google Trends).
Why Migrate From Shopify to Wix?
So what are the key reasons that make many Shopify e-merchants gravitate towards Wix?
Ease of use. While Shopify is the most popular platform chosen for settling an online business on, it isn't the easiest to use. Setting up a Shopify-based store is not a one-click affair at all, requiring a couple of hours to configure everything and get comfortable with the platform. Wix, on the contrary, makes it possible to create incredible DIY stores in a matter of minutes even by the greenest of minds.

Product presentation. When it comes to presenting the products, Shopify allows adding 3 variants for size, color or material. Wix offers 6 variants and up to 30 options. Both let you create titles, descriptions and image galleries with cool zoom effects. Plus, Shopify doesn't support carousel videos in all of its themes, while Wix does.

Marketing features. Wix has packed all marketing campaigns into Wix Ascend - all-in-one solution allowing to effortlessly manage marketing campaigns in one place. Shopify relies heavily on third party apps for marketing.

Pricing factor. Wix's pricing plans (which give you ecommerce functionality) start from $20 per month and climb up to $41 per month. Shopify's plans, on the other hand, start from $29 per month and rise to a whopping $299 per month.

Customer support. Despite the fact that Shopify provides around-the-clock support, the quality of Wix's support is much better. It offers a more comprehensive help center and in-editor help. With Shopify, you have to click back and forth between the documentation and your store, while Wix makes it possible to receive help directly within the editor.
Overall, whatever the reason you're considering migrating to Wix, the guide below will walk you through the detailed steps on migrating from Shopify to Wix.
The best time to switch is now!
Try Demo migration and see how easy it is to migrate from Shopify to Wix with Cart2Cart.
Start free Demo now
Migrate From Shopify to Wix: DIY Migration vs Getting 3rd Party Help?
Shopify and Wix are two different eCommerce solutions with completely different data structures. Therefore, there's no one-click migration button that you can press and transform your Shopify store into Wix.
If you have a very small website and find yourself competent in the niche - you can try manual migration importing products directly through a CSV file. The method works very well for relatively small online shops with no more than 20-30 pages and posts. Though the method is time-consuming, it is free. Besides, it has the benefit of providing more control over the process and the ability to check links and formatting during the transfer process. Most users, however, lack this knowledge and thus are looking for third-party tools.
If you have a huge Shopify store or are short of time, migrating with the 3rd party tools is a good way to go. It entails hiring an expert or utilizing an automated migration tool (like Cart2Cart) to get the job done. Though the tool is charge-based, it is quite reasonably priced (the starting pricing point is $29). What's more, it aims to minimize human involvement in the process, allowing store owners to keep selling while it takes care of all the migration hassle.
Note: Cart2Cart is the only automated migration service that is officially recommended by Wix.
Migrate From Shopify to Wix. An Automated Path
If you have decided to go the automated route when migrating from Shopify to Wix, you'll have to use the automated migration service/tool. Cart2Cart is currently one of the most advanced and talked-about services developed to perform Shopify to Wix eCommerce migration without business confusion and end-user interruption. So, let's get started.
Take your online store a step forward and migrate it to Wix with the Cart2Cart Wix Migration app.
Pre-Migration Do's
Create a Wix store
Setting up an online store with Wix is easy. First, you have to register an account, provide some basic information (email and password) and type in the username and password. When done, add an eCommerce functionality to your Wix site. Adding a store to your existing Wix website doesn't take much time and can be done in just a few mouse clicks: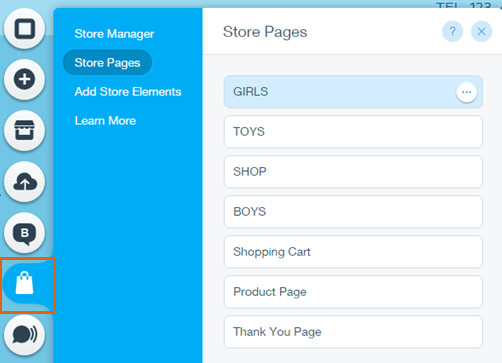 Look for the 'Add +' button on the left of the Editor,
Click 'Store',
Click on '+Add to Site'.
When done, you'll see a new My Stores button on the left of your Editor tab. Click this to get to work on your new store.
Wix Migration Itself
Set up the Source & Target stores
As soon as you have your Source (Shopify) and Target (Wix) stores prepared for the transfer, it's time to initiate the Shopify to Wix store data transfer. Enter the source cart store URL and API password; and choose Wix as your destination cart. Once ready, install the Wix Migration module needed to enable connection with your Wix store. When done, click the Choose Entities button.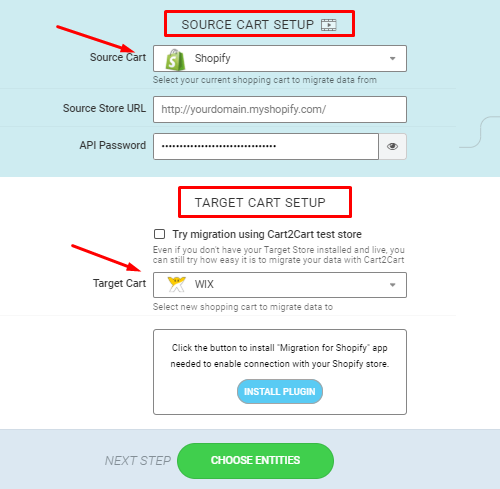 Note: The store access details are required to establish the connection between the stores automatedly. They are totally secure and protected according to the Cart2Cart Privacy Policy.
Choose the data to migrate
At this point, you'll be asked to select the store data that you wish to be transferred from Shopify to Wix. Just activate the corresponding checkboxes or click the Select All button to migrate all the store data. When ready, take time to specify the additional migration options to broaden the Shopify to Wix migration possibilities beyond its initial limits.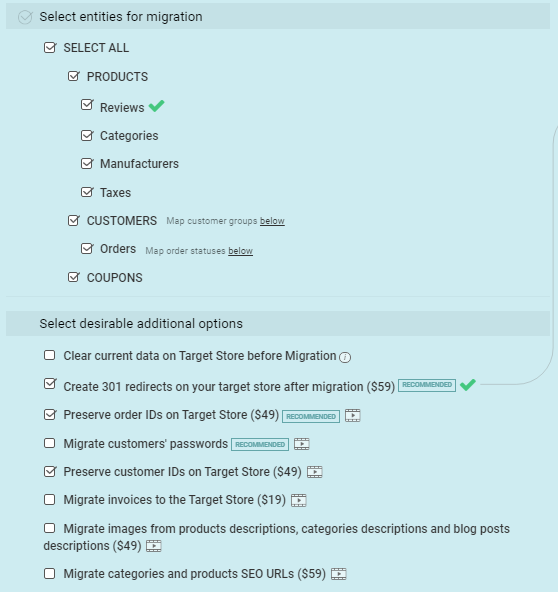 Test out demo migration
Before you launch the Shopify to Wix data transfer with Cart2Cart, you can give the demo migration a try. It will take you up to 15-30min and provide you with a good idea of what to expect after the transfer is completed.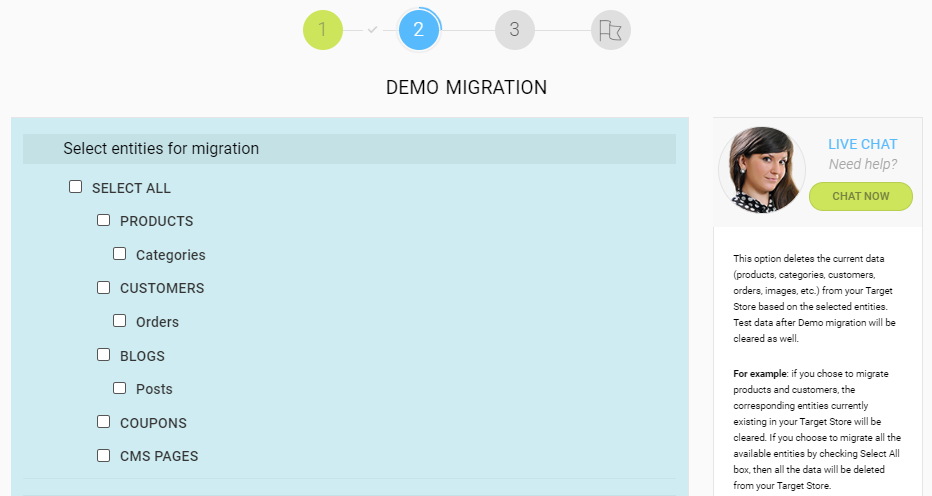 Note: The demo migration from Shopify to Wix will move up to 10 pages of your store data, which may work for small sites. If you want to move more data elements, you'll have to pay for it.
Start full migration
By activating the Start Full Migration button, you'll initiate all your Shopify store data migration to Wix in a fully automated manner.
Check out our infographic to get a better understanding of the migration process via Cart2Cart: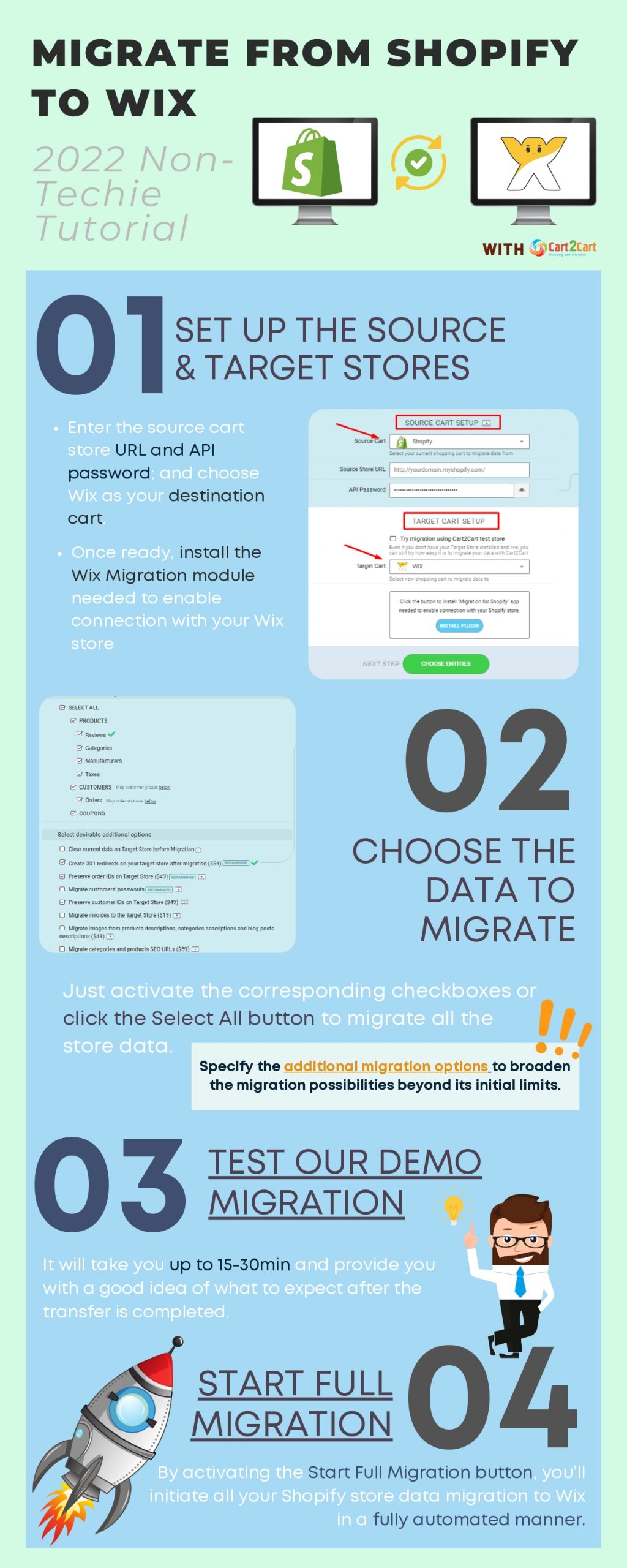 Post-Migration Tips
While automation takes out most of the migration, there are still certain actions to take before your Wix store goes live.
Choose a theme
When switching from Shopify to Wix, you need to install a new theme for your Wix store. It is impossible to use the template you were using with Shopify unless you hire a developer to recreate it. Wix offers more than 500 templates allowing you to make your online store look and feel as required.
Check internal links
Store migration often results in occasional formatting errors and broken links. Take time to review every page of the store and fix the issues if there are any.
Test the store
Crawl your new Shopify store to make sure everything is working as it should. Double-check all internal links, menu items, and media files to make sure there are no problems.
Migrate From Shopify to Wix: Final Thoughts
Store migration is not an easy road, but it's admittedly much easier than using the platform that doesn't fit your specific business needs and requirements. Having replatformed from Shopify to Wix, you'll reap the benefits of the new platform in the nearest future.
The best time to switch is now - try Demo migration and see how easy it is to migrate from Shopify to Wix with Cart2Cart.